THE ARCHITECT
THE ARCHITECT
Dr. Raḥmatu'lláh Muhájir-

Hand of the Cause of God and a Knight of Bahá'u'lláh

Volumes could be written about the numerous guidance that the Hand of the Cause of God Dr. Raḥmatu'lláh Muhájir gave the community in Malaysia. It is beyond the scope of this story  to detail out each event and episode associated with his visits to Malaysia. This is a humble effort to place on record some salient aspects of the impactful role he played in guiding the Malaysian community in the early days.
Dr. Muhájir is fondly remembered as the "Architect of the Malaysian Bahá'í Community" for several arduous efforts he undertook to place the community on a new pedestal at the global stage. His first association with the Malayan Bahá'ís was at the first Bahá'í Convention held in Jakarta in Riḍván 1957 to elect the first Regional Spiritual Assembly of South East Asia. Since his appointment as Hand of the Cause in October 1957, he had been visiting the then  Malaya with the first Summer School held in Malacca in December 1957. His visits continued throughout the time he was alive. Although records show that 12 Hands of the Cause had visited this country, it was Dr. Muhájir who took on the lion's share in guiding and nurturing the community.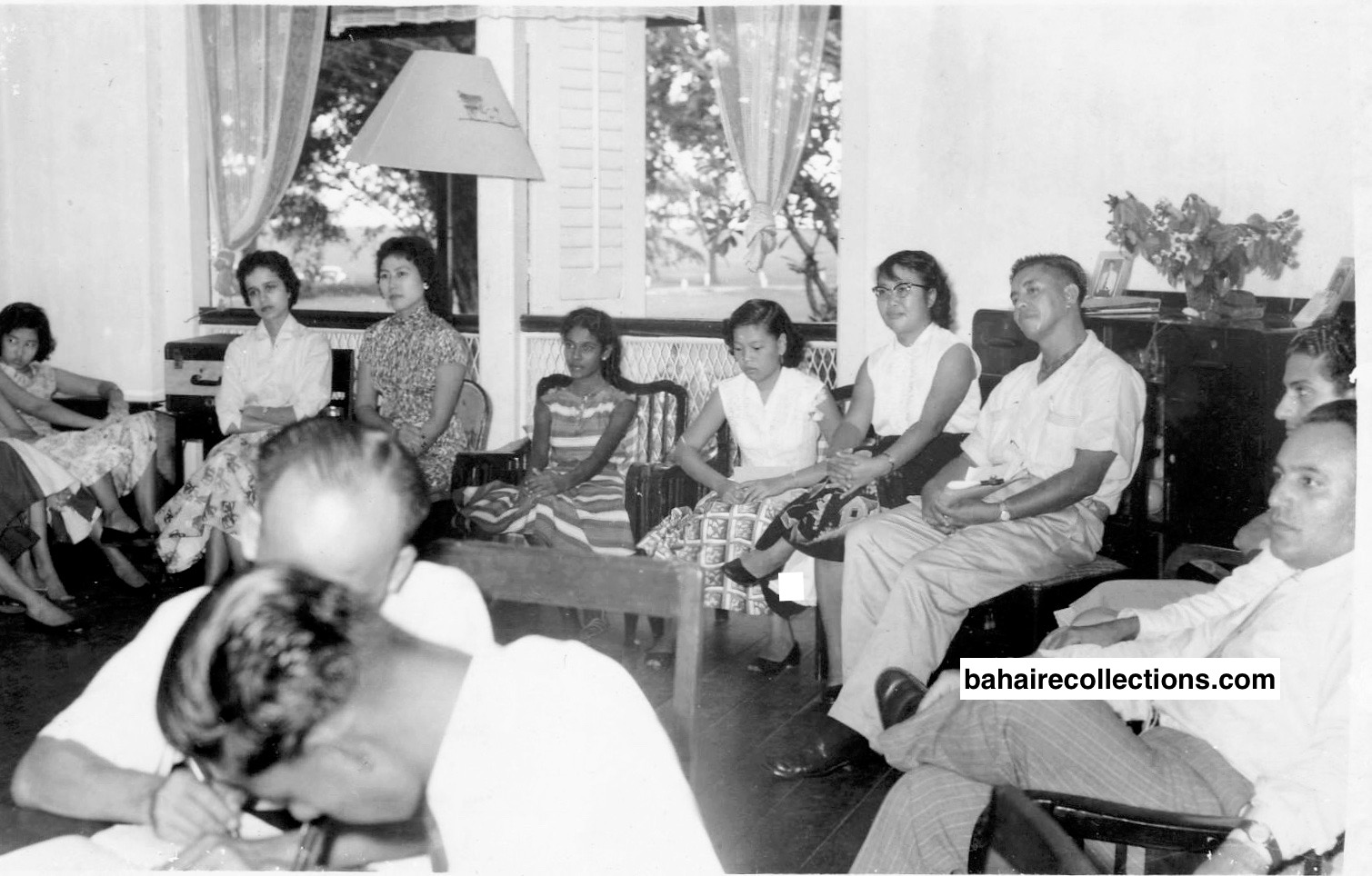 Dr. Muhájir seated at extreme right, at the First Summer School in Malacca in December 1957.  That was his  first coming  to Malaya.
SOME FIRSTS
There were also several firsts that Dr. Muhájir gave the country of which a few are mentioned here. He emphasised the use of the Bahá'í greeting of 'Alláh-u-Abhá'. It was through his encouragement that Yankee Leong undertook his first teaching trip to the Asli areas in the jungles of Perak state starting in 1958.
Dr. Muhájir was the prime mover of teaching activities in the entire Malaya. When Dr. Muhájir came to Malaya in 1957, he had made a personal request to Leong Tat Chee of Malacca and Yankee Leong of Seremban to travel around the country to teach the Cause which they did with much love and dedication. It was through his initiative that by January 1958, Miss Jeanne Frankel, a pioneer from America had produced a study guide based mainly on the book Paris Talks'.
Dr. Muhájir told the Bahá'ís not to spare any part of Malaya from receiving the redeeming message of Bahá'u'lláh. In June 1960 the first teaching trip ever was made to the east coast. Dr. Muhájir himself made trips to the east coast states in 1960. Since then, he had gone with Bahá'í s to many parts of the then Malaya, places less travelled by many local believers. To spur the teaching activities in the country he introduced the Pan-Malayan Teaching Conferences effective in 1960. Mrs. Shirin Fozdar has said, "These Teaching Conferences were bound to be considered historical in future when the history of the Cause in these areas would be recorded." In 1960 he also took a few friends to visit the Asli villages in Simpang Bekok, where Dr. Muhájir spoke in simple Malay and won the hearts of the Asli people. The birth of the first Bahá'í magazine – 'Bahá'í News' ever in Malaya was the idea of Dr. Muhájir. The talented Malacca town Bahá'í community produced the first Bahá'í magazine in 1960. In his visit to Seremban in 1961, Dr. Muhájir created the first batch of home front pioneers with S. Satanam going to Jelebu and Sabapathy going to Kuala Pilah. In his visit in 1962, Dr. Muhájir made Krishnan Kandasamy, or 'Postman Krishnan', the first full-time travel teacher in the country. He was also the first 'Asli Pioneer' and had done wonderful work in bringing many aboriginal people into the Faith and translating Bahá'í materials into the Semai dialect of the aborigines.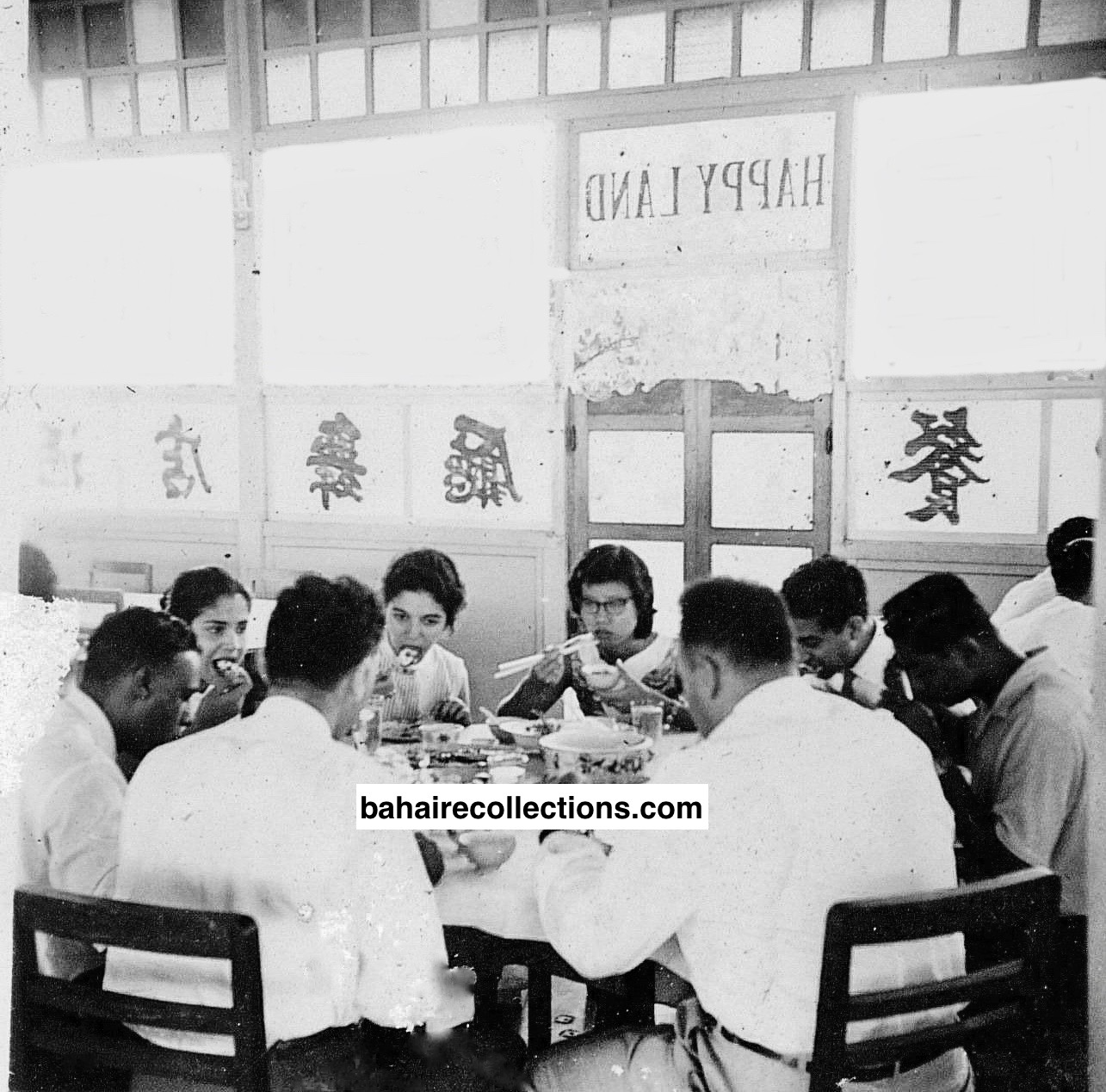 Lunch Break at the First Pan- Malayan Teaching Conference.
Dr. Muhájir identified the talents and capacities of individuals and set them to specific tasks. To cite a point, in 1964, Satanam became an Asli teacher, heeding the request of Dr. Muhájir. At the behest of Dr. Muhájir in 1967, Lim Kok Hoon single-handedly completed the tribal translation goals under the Nine Year Plan. Certainly, some of the pioneers who left the country forever or for short terms were handpicked by him.
The first formal children's class materials were introduced by Dr. Muhájir. In 1965, Dr. Muhájir gave some children's class materials to Sathasivam, a schoolteacher at Masjid Tanah, who later devoted himself to the development of children's classes in several areas in Malacca state. From 1965 to 1974, Sathasivam ensured children's classes were regularly run in all the eighteen nearby estates, a high record, using the guidance that Dr. Muhájir provided. In 1966 his own book for children called 'Book One' was printed in Malaysia. In 1965 the first training institute was erected in Malacca with the idea emanating from the brilliant minds of Dr. Muhájir. It was the National Teaching Institute' which was also the first of its kind in South East Asia.
In 1967 he further initiated the South Thailand Border Teaching Committee to get the Malaysian believers to open up the much-neglected and vast border area between Thailand and Peninsula Malaysia. Through this twinning programme    Dr. Muhájir created a working link between the two countries.
The proclamation of the Faith in Malaysia took a new dimension when the National Spiritual Assembly launched a five-year-long intensive proclamation of the Faith in Malaysia, from 1968 to 1973 and Dr. Muhájir was in the middle of things. The highly successful proclamation in Malaysia centred around a chart that Dr. Muhájir created and captioned 'Pattern for Teaching and Proclamation' containing various quotations from the writings of the beloved Guardian and the Supreme Body pertaining to the proclamation.
It was Dr. Muhájir who in the year 1968 first brought the concept of twinning Local Spiritual Assemblies in order to pool resources and achieve goals in a cooperative effort. The first event was a public talk given by Jeanne Frankel in Merlin Hotel, organised by the State Teaching Committee of Selangor state. Thereafter monthly meetings continued to be held in the conference room of Merlin Hotel. These public talks were given by different guest speakers, drawing larger audiences each month. These talks became part of the proclamation programme for Selangor state. A group of communities working together as a cluster is what we are witnessing today. But in 1968 itself Dr. Muhájir had planted the seed.
It needs to be mentioned that it was with the encouragement of Dr. Muhájir that the Bahá'í community of Sungei Petani purchased its first Bahá'í Centre in 1977.
HIS MIND-BOGGLING PLANS
No mention of Dr. Muhájir could be made without reference to the great plans that he introduced in this country. His gateway to Malaysia was through Malacca town which he visited in 1957. Having made Malacca the premier community, he visited other parts of the country where he meticulously and accurately identified the talents and strengths of several communities and individuals. On his first visit itself – the first Summer School in December 1957 that Dr. Muhájir launched the first Ten-Point program that decided the fate, destiny, and future direction of the community. And in all his subsequent visits too Dr. Muhájir introduced new plans, appointed committees, and selected individuals to achieve those plans.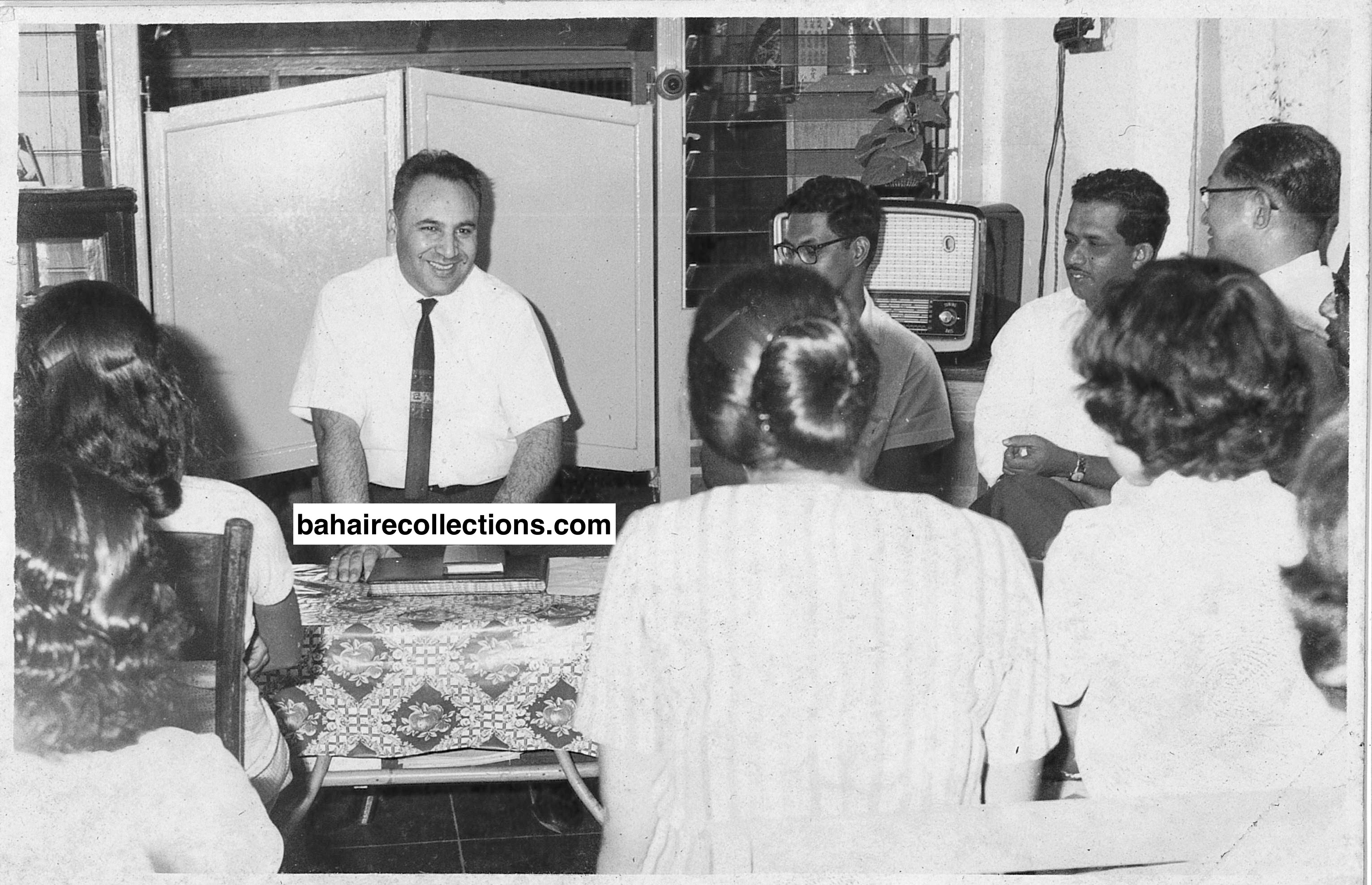 Visit of Dr. Muhájir to Malacca, 1963 to urge them to spearhead the completion of the goals of the Ten Year Plan. He created Malacca town as the premier community in the country.
In stages he gradually widened his plans to a larger number of communities at conferences and summer schools, roping in the existing committees. After the election of the National Spiritual Assembly of Malaysia in 1964, Dr. Muhájir consulted with the national institution and let them make decisions. The national institution, impressed with his mind-boggling plans lovingly adopted them and strategically implemented them. When introducing his well-thought-out plans, Dr. Muhájir made sure they were aligned with the plans given by the Supreme Body. He also never failed to remind friends to be obedient to the Universal House of Justice in arising to fulfill the goals given to them.
In almost all his visits to Malaysia, Dr. Muhájir followed a specific modus operandi. He always began his talks by inspiring the believers, by relating the success stories in other parts of the world or countries he visited last. Then he would say, "I am sure if they can do it, you Malaysians also could do the same, or even more…" and smile at the crowd. He would call on communities to emulate one another. And by this time the spirit of the friends would have soared to new heights and then he would come down to business and introduce his new plans for Malaysia. On each visit, he knew exactly what was discussed on his previous trip. He never carried notes or notebooks. He simply had an elephant's memory. What surprised many was his uncanny ability in remembering even remote places in Malaysia, along with the names of almost all active believers in the country. When away from Malaysia he was always writing letters to the national institution to keep them focused on their plans and in the process also keep track of the activities being undertaken in this community, a community that he dearly loved.
He used to say, "Small plans are good only for birds". He suggested a series of gigantic tasks as never been attempted before by the Malaysian Bahá'í community. He advised that when an area is receptive for the Faith, believers should capitalize on the mood before resentment sets in. As he was the master planner of teaching plans, some of the local teaching plans were named after him. Such plans were implemented by the Area Teaching Committee of Selangor state and the Local Spiritual Assemblies. The communities where plans under his name were implemented were Kajang, Teluk Intan, Malacca, Nibong Tebal, and Kluang.
Every time Dr. Muhájir came, he made it a point to do two things – firstly, to launch a new plan, and secondly to reap the fruits of the earlier plan that he had launched on his previous visit. Dr. Muhájir's plans became more and more challenging as the community grew in strength. Each time Dr. Muhájir came, he raised the challenges to a higher level – testing the stamina and strength of the believers. He would make plans for all segments of the Bahá'í community – adults, youth, children, women, ethnic groups, and so on. He also gave plans to the various national committees. His plans had many facets. He would suggest building up personal libraries as well as libraries at the Local Spiritual Assembly level to deepen the believers, increasing the number of believers, proclamation activities, firesides, and teaching trips, carpeting the main towns in the country with pamphlets in various languages, publishing of literature, conquering all the islands around Malaysia, 24-hour prayer vigil for the fulfillment of the goals, and assist other countries, to name a few. When goals were achieved, usually ahead of time, he would then suggest supplementary goals, which too were affectionately accomplished.
He made sure that the Malaysian Bahá'ís had a plan in their hands at any given moment and stressed that believers should never rest on their laurels, continually urging them on to new heights. Resting on the laurels of victories won and feeling of complacency to him was a disease that could stifle the spirit. Whenever goals were achieved he would get the Malaysians to ask the Supreme Body for supplementary goals. Dr. Muhájir was both a launcher and overseer of the plans. In return, he was always assured of full and rich harvests.
His plans were systematic and carefully conceived ones and in turn, they were then meticulously examined and rigorously pursued by the Malaysian believers. The Malaysian Bahá'ís were able to rise to the occasion to fulfill all the goals, often ahead of the deadlines he set for the plan, as Dr. Muhájir repeatedly and emphatically stressed to them the pressing character of these plans. He was always there to fortify their faith and inflame their zeal. At one of the meetings where Dr. Muhájir introduced a new plan, the believers asked him to give a name to the plan, and he quipped 'Never At Home'. The believers burst into laughter, having caught how important it was for them to be away from home to win the goals of the plan. Poignantly, that sentiment also reflected the beloved Hand's own life – away from home in constant service to the Faith and to the friends. He had the pulse of the community in his hand and therefore fully grasped their strengths and areas for development.
Dr. Muhájir not only gave his plans, but also prayed for the success of those plans. He was always punctual for gatherings held in Malaysia. At times he would arrive slightly late, and the reason was that he was reciting the Tablet of Ahmad or the Fire Tablet in his hotel room for the plans to be successful. Sometimes he hardly had any rest; everybody wanted to consult him, pester him and discuss with him.
The plans he devised for Malaysia were highly successful that he brought the same vision and spirit to some other countries, instructed them to do exactly what had been done in Malaysia.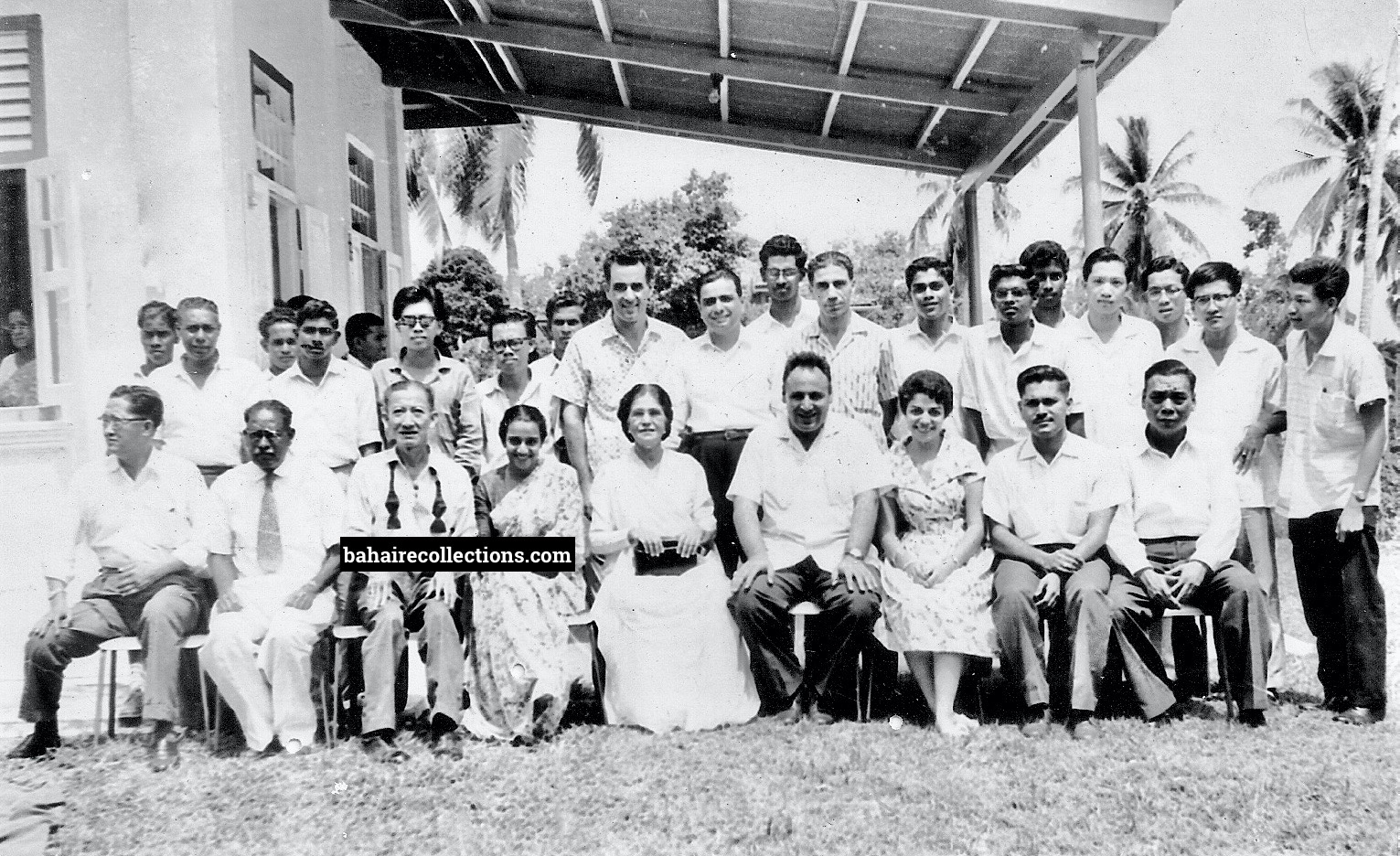 Summer School of August 1960. Another launching platform for plans for the whole of Malaysia with formation of committees and assignment of individuals to execute the plans.
PRAISE FOR MALAYSIA
Somehow Dr. Muhájir had taken a deep liking for this country and all his thoughts seemed to be focussed on this community, perhaps they never shirked any tasks that he gave them.
In 1961 he wrote in his diary of the future of Malaysia, "This is just the first of the good news. This is just the beginning." He had clearly been noising abroad, especially among his fellow Hands about the greatness of this blessed community. It was on the encouragement of Dr. Muhájir that Hand of the Cause Mr. Tarázu'lláh Samandarí first came to this country. He came to Malacca town in 1961 to witness for himself how a vibrant community was taking shape.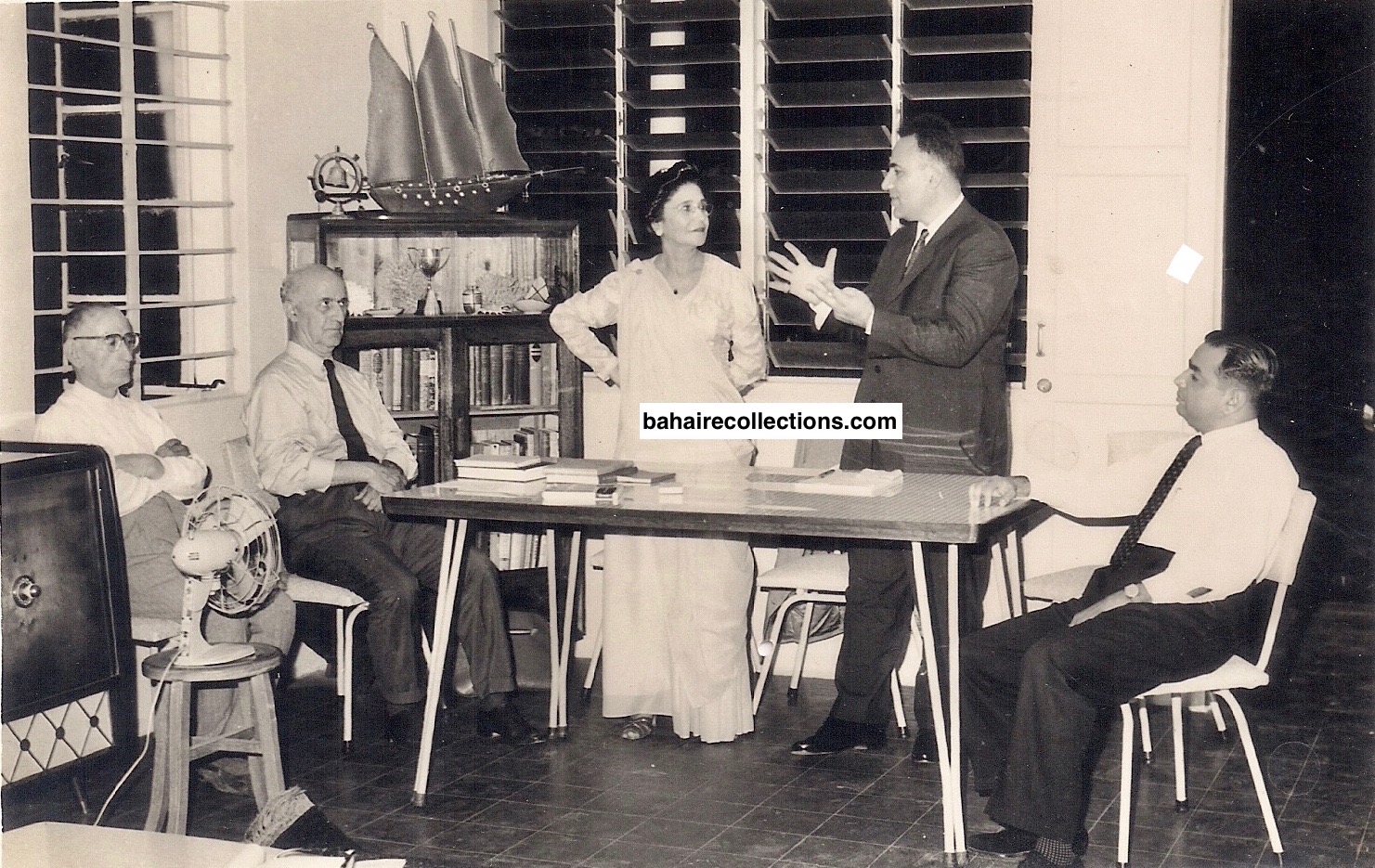 Visit of Dr. Muhájir and Tarázu'lláh Samandarí to Malacca in 1961. L-R: Tarázu'lláh Samandarí, Ahmad Samimi, Shirin Fozdar, Dr. Muhájir and Kishen Khemani.
In 1961, he made a tour of several Asian countries and made a country-by-country evaluation of the status of the Faith in those countries. As for Malaya, he noted, 'Malaya is on the way to maturity and pretty soon will distinguish itself among the communities of the world. The Guardian's instructions that we should concentrate our efforts in one place and gradually expand to other areas is what they are practising.' Dr. Muhájir's diary dated 13 February 1961 states the following about the strength and indomitable courage of the Malayan Bahá'í community, 'Malaya has a well-developed community capable of managing all teaching campaigns.' At a gathering in 1961 in Seremban Dr. Muhájir was happy and praised the enthusiasm and unity of the youth. "This is the start of great victories in Malaya," he noted. In his 1963 visit to Malaya, he said that Malaya had the greatest facilities when compared to other countries in the region to work on a mass-teaching project, and that we should lose no more time. He gave practical solutions to the many teething problems in the community, especially those pertaining to issues touching ancient customs and traditions. As early as 1967 Dr. Muhájir had commented to Isaac DCruz on the future of the Asli community as well. "Watch and you will see one day how these down-trodden people grow into the Faith, and how their children's children would become champions of the Cause". How prophetic was the Hand of the Cause! In 2014, one Asli believer was elected onto the National Spiritual Assembly of Malaysia and in 2018 yet another was elected. In November 2020, Ms. Marijini Deraoh, was appointed a Counsellor. There is a very active Central Bahá'í Regional Council with its own buildings, including Central Bahá'í and training facilities.
During Riḍván 1967, when Dr. Muhájir was in Laos, he expressed that Malaysia had a very mature National Spiritual Assembly and that the Malaysian believers were destined to play a key role in the advancement of the Cause in the Bahá'í World. He stressed that the outside Iran, he saw the Malaysian community as the strongest with the Faith having strong roots, and its believers well deepened and its institutions well matured. He said Malaysia's neighbouring countries had much to learn from them. In his detailed letter to the Supreme Body dated 17 November 1976, Dr. Muhájir praised the Malaysian community for its rapid growth and for fulfilling most of the important goals of its Plan. He stated that Malaysia had a unique position in the Faith because of its excellent administration. He added that the secret of its success was that every believer pulled their weight in teaching the Cause.
His love for the Malaysian believers is best described by his wife Írán Furútan Muhájir:
"Had Rahmat been asked to name a community which he considered a jewel amongst all others, he would certainly have named Malaysia. He frequently spoke of the Malaysian Bahá'ís and praised their unity, their absolute devotion to the Faith, their unwavering obedience to the instructions of the Universal House of Justice, their presence of mind and their understanding of the urgency of teaching and fulfilling the goals. He said that the potential of their community was so great that they could accomplish a hundred times more than they were then achieving. When he travelled to Malaysia, he went eagerly; he said that he could rest there, as he could not tell the friends anything they did not already know. His high regard for the friends in Malaysia encouraged him to undertake more with them than with any other community. He was never surprised with their victories. The more that was asked of them the more they achieved. He once told me that the Malaysian community was like a child who is always awarded A+ at school.
TIME FOR HARVESTS
Having nurtured the local Bahá'í s from 1957, Dr. Muhájir felt the time was ripe to send out teachers from Malaysia to the Far East – Taiwan, Hong Kong and Macau where manpower was always needed. In 1965, Leong Tat Chee, and Yankee Leong left as travel teachers for Hong Kong, Macau, and Taiwan to answer an urgent call for teaching assistance from these places. They were the first Bahá'ís of Malaysia to go travel-teaching out of the country. In 1967 he created the first pioneers – Kit Yin Kiang to Taiwan, S. Vasudevan to India and Lean Beng Liew to Solomon Islands. He also encouraged Sabapathy who was a travel teacher to Kuala Pilah to move out and he went to Thailand, India and finally to Mozambique. Laos was preparing to elect its first National Spiritual Assembly in Ridván 1967, and Muhájir sent Yankee Leong to Laos to assist them. He worked with other pioneers and local friends for the election of their first National Spiritual Assembly. In 1968 he requested the National Spiritual Assembly of Malaysia to assist the young National Spiritual Assembly of Brunei. That resulted in four members of the National Spiritual Assembly of Malaysia flying to Brunei in December 1968 to consult with the National Spiritual Assembly of Brunei. In 1969 he was instrumental in sending newly married couple – Raymond Peter and Joan Featherstone to pioneer to Ceylon.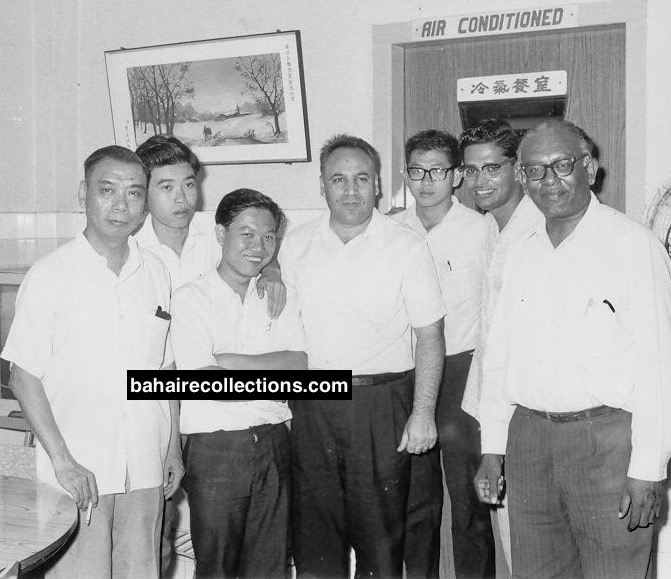 Naw Ruz Lunch, 1967. L-R: Wong Kok Mee, Lee Wai Kok, Kit Yin Kiang, Dr. Muhájir. Lim Kok Hoon, Vasudevan and Appu Raman.
With the strong encouragement of Dr. Muhájir at the National Convention of 1971 Yin Hong Shuen of Kuala Lumpur, Teh Teik Hoe of Alor Star, and Lee Tiew Kiang (T. K. Lee) of Petaling Jaya arose to serve in Hong Kong and they returned after making Malaysia and Dr. Muhájir proud in their posts.

Dr. Muhájir giving away the Rose of Ridvan trophies to the representatives of the winning Local Bahai Youth committees at the National Convention of 1971. At left is Teh Teik Cheow of Alor Star, and at right is Nathesan Sellappan of Glendale Estate.
Dr. Muhájir paid a visit to Tamil Nadu in 1972. When the local believers were planning to organise teaching activities in many parts of the country, Dr. Muhájir gave an elaborate plan. From his guidance was born 'Operation Locomotive' by which the believers were to travel by train whenever and wherever possible to keep the cost down, especially avoiding accommodation costs in hotels. After two months of intensive teaching Operation Locomotive came to a successful end on 18 February 1974 with resounding success to be appreciated by the institutions.
In 1972 some countries in Africa needed assistance in fulfilling the unfinished goals of the Nine-Year Plan and Dr. Muhájir knew where to look for the right manpower. After consulting with the Supreme Body, he flew to Malaysia where he was able to get six believers to various parts of Africa, and that marked a new stage in the maturity of the Malaysian Bahá'í community.
Inbum Chinniah, N. S. S. Silan, and S. Bhaskaran from the national institution, Mr. Ravichandran Sinnathamby and Mr. Thanabalan Thambipillai from the National Teaching Committee, and Miss Kamachee serving as an administrative assistant for the National Teaching Committee arose to serve in Africa. Dr. Muhájir was most joyful that the challenge he threw to the community was met immediately by the valiant members of this community. They flew to Africa in August 1972. Miss Nargis Astani from Indonesia too joined them. Inbum Chinniah was assigned Tanzania; Thanabalan, Bhaskaran, and Kamachee were assigned Cameroon; Ravichandran was assigned Swaziland while Silan and Nargis were assigned Kenya. When Dr. Muhájir visited Africa, he mentioned that Bahá'ís must learn from the Malaysian believers on how to be fully dedicated and become all-rounders in the field. Of the six travel teachers to Africa, Kamachee is the only one to have settled for good in that vast continent (Lesotho). Bhaskaran returned to Malaysia in 1973 and took along his entire family to join him in Africa for a few years more. With that his family became the first as a family to pioneer, credit goes to Dr. Muhájir. Ravichandran who had arrived with a six month visa as a travel teacher converted his status to that of pioneer by extending his stay. Those who went travel teaching to Africa won the love and admiration of the Hand of the Cause Dr. Muhájir, the National Spiritual Assembly of the Bahá'ís Malaysia and the National Spiritual Assembly of the host countries, and the Universal House of Justice itself. Their services were much praised at the Bahá'í International Conference held in Paris in August 1976, graced by a few Hands of the Cause of God.
In 1977 some countries in Africa still needed assistance from their sister communities. Based on the good track record of Malaysians assisting some African countries during the last year of the Nine-Year Plan in 1972, Dr. Muhájir once again turned to the Malaysian Bahá'ís to undertake a similar colossal task. Earlier, at the South East Asia Bahá'í Regional Conference held in Port Dickson in December 1976 over 200 arose to pioneer and travel teach, five of whom were members of the National Spiritual Assembly. His face was beaming with so much radiance. Perhaps he found the conference producing his desired results.
For those who arose to pioneer to African countries, Dr. Muhájir had a one-to-one conversation with some of them. With that G. Appala Naidu, Isaac DCruz, Sathia Narayan, R. Ganasamurthi, Sam Appalasami and Remala went to Africa in 1977. Appala Naidu went to Tanzania, Malawi and Seychelles, while Isaac was in Tanzania, Nigeria, Cameroons and Seychelles before returning through Sri Lanka. Sathia Narayan was in Nigeria till 1985. Ganasa Murthi was in Tanzania. Sam Appalasami and Remala were in Tanzania till 1980. They were all well praised by the receiving countries for their services.
In 1977 Dr. Muhájir initiated the historical South India Teaching Project, with manpower coming from the Tamil speaking believers of Malaysia. Universal House of Justice granted its blessings by contributing US$10,000. Amatu'l-Bahá Rúhíyyih Khánum gave a personal contribution of another US$10,000. The National Spiritual Assembly of the Bahá'ís of Malaysia and the International Pioneering and Goals Committee pooled their resources to ensure the success of this ambitious project. The community was informed that the South India / Sri Lanka Teaching Project would involve a two-year period commencing. A place called Sulur near Coimbatore city in Tamil Nadu was used as a base. Dr. Muhájir himself visited India on two occasions to encourage the teachers. The South India teaching project that started off in the Sulur area of Tamil Nadu was extended to the other three states of Karnataka, Kerala and Andhra Pradesh, as well as Sri Lanka. In his visit to Malaysia in 1978 Dr. Muhájir was praising the great works the Bahá'ís of Malaysia were doing in the South India Teaching Project.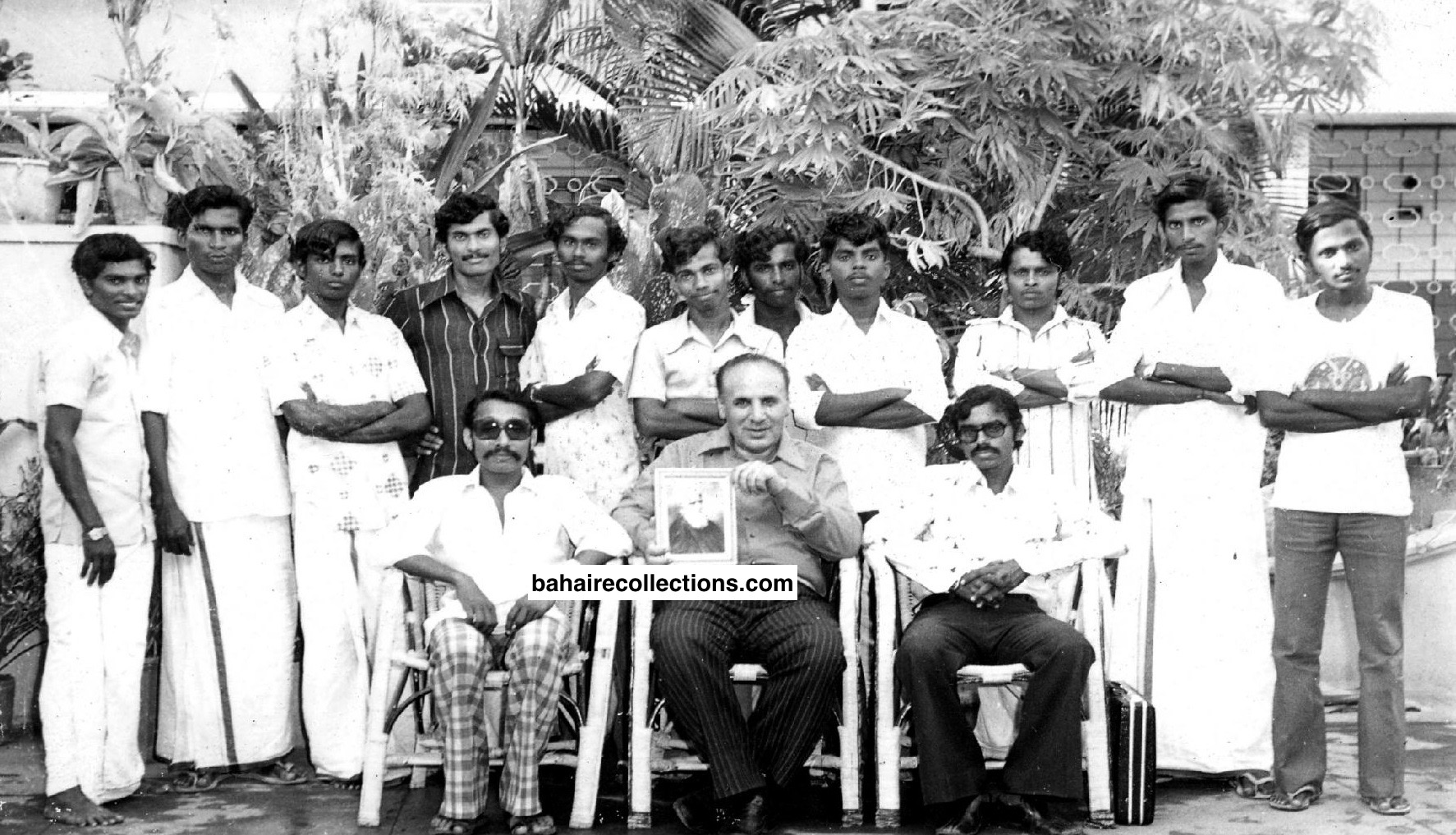 Dr. Muhájir visiting the teachers in Kanyakumari, South Tamil Nadu, 1979. On his left is Dr. Sree Ganesh, the Project Manager of the South India Teaching Project.

Earlier in 1976 Dr. Muhájir encouraged William Lai Kai Ban of East Malaysia to pioneer and it came to fruition in 1984 when he pioneered to Marshall Islands from March 1984 to December 1990.
Dr. Muhájir not only sent out pioneers but made it a point to go to the remote corners looking for them not only to give encouragement, but also to give them additional and practical teaching plans suited to the local conditions.The countries that received these pioneers extolled them as some of the best pioneers. Such praise even came from several of Dr. Muhájir's fellow Hands, prominently Amatu'l-Bahá Rúhíyyih Khánum.
Many Malaysian Bahá'ís had a great admiration and love for Dr. Muhájir. One great Malaysian soul who surrendered himself entirely to the will of Dr. Muhájir was Leong Tat Chee. To Leong Tat Chee, the Faith was everything for him. Another one was Inbum Chinniah, who was so attached to Dr. Muhájir that he himself passed away a month after the passing of Dr. Muhájir as the passing the latter had taken a toll on Inbum Chinniah. Dr. Muhájir worked so closely with the Malaysian Bahá'ís and remembered many of them by name.
APPRECIATED GESTURES
Whenever something good was done for the Cause, Dr. Muhájir would remark "Good, good" with a warm smile. From the early days till his last visit, he always appreciated the believers for anything good they had done. Although not all could be listed here suffice to quote a few incidences. In 1964, Tushar Kanti-Paul and Bhaskaran in Malacca town had produced a booklet called 'Manual for Pioneers', which also contained extracts from 'The Advent of Divine Justice'. Dr. Muhájir, who was profoundly impressed by this effort, urged them to send two copies to the Universal House of Justice, as he felt the Universal House of Justice should have a record of all publications.
During the South East Asian Bahá'í Conference held in 1967 he was so impressed with a booklet produced by the National Bahá'í Youth Council of Malaysia called 'Accent on Youth' containing a plan of five years for the youth, that Dr. Muhájir requested for 40 copies to be shared around the world.
ONE AMONG US
In the early 1960s, whenever Dr. Muhájir came to Seremban, he used to stay in a modest local hotel in the town, or in the government rest house. He had also spent nights at the home of Yankee Leong at 333, Rahang Road, which was used as a Bahá'í Centre, especially when he had many teaching plans to discuss with Yankee Leong. He felt very much at home staying with Yankee Leong. When he visited Alor Star for the first time in 1964, he spent a night in the residence of S. Nagaratnam on a Chinese foldable canvas bed, with both his legs dangling at the far end of the bed. There are moments when he had taken short nap in the home of Inbum Chinniah.
His care for a fellow human being was so sincere and real. In his visits to the Holy Shrines, he used to pray for individuals facing stormy tests, and would inform them that he did pray for them. He was one person to whom anyone could open his heart. He was the greatest balm to the wounded heart.
At some gatherings the tone of his speech was very moving, and his face turned red as he spoke with so much emotion. The believers who saw the depth of his love for them that they could not control the tears that kept flowing down their cheeks as Dr. Muhájir continued speaking. He walked into the Asli jungles, walked on the laterite roads leading to rubber estates. When visiting families in the estates where there was no benches, tables, or chairs, he would sit on the floor naturally without the least hesitation and carry on a conversation with the family members. Dr. Muhájir always accepted readily whatever drinks or food served. The parents of these Bahá'ís came to know the spirit of the Faith. Many of these parents became stoutest defenders of the Cause. Although he was occupying an eminent position as a Hand of the Cause of God, he never demanded observance of protocol. Yet he was always conscious that he was a Hand of the Cause. He knew he had the duty to diffuse divine fragrances and edify the souls of men through his chastely talks, thoughts and actions.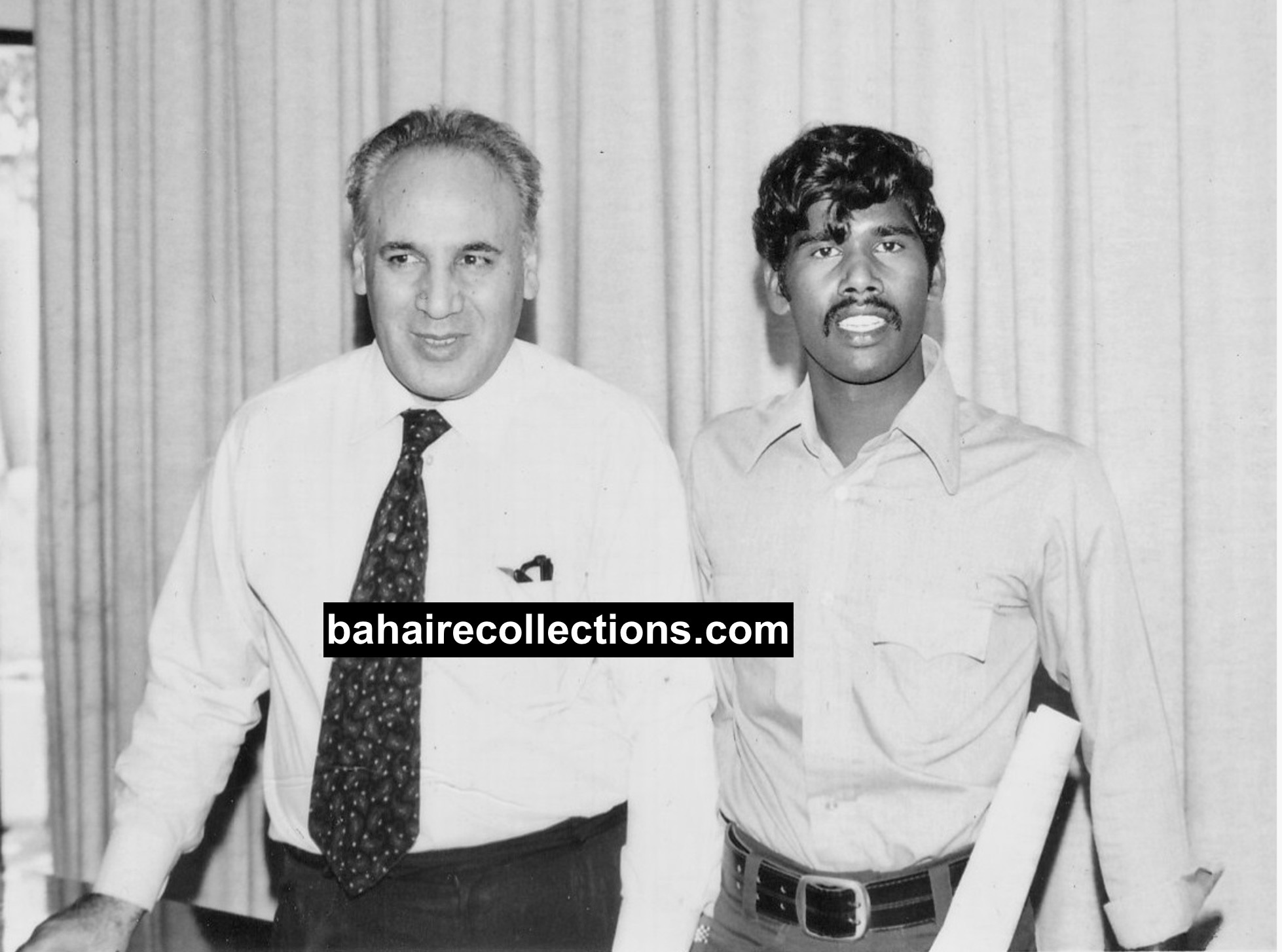 Ponnusamy, one of the thousands of believers who had attained the presence of Dr. Muhájir.
On many occasions, Dr. Muhájir used to land in Malaysia without notifying anyone. Only when he telephoned the National Centre on the following morning the staff would know that Dr. Muhájir is in town. Traveling by public bus on a hot afternoon and sweating profusely and eating very simple food are no issues for him. There were some early believers who used to smoke in the presence of Dr. Muhájir. Dr. Muhájir never rebuked those talented believers. He was only interested in they getting the work done for the Cause. There had been several instances where Dr. Muhájir proved to be the embodiment of humility. Once, after visiting some villages in Malacca town area, Dr. Muhájir had made arrangements to meet the youth at 3:00 in the afternoon. Dr. Muhájir arrived at the house of Leong Tat Chee at 1:30 in the afternoon to have a short rest. As Leong Tat Chee himself was resting inside the house, Dr. Muhájir did not wish to disturb him. So, Dr. Muhájir sat on the veranda outside for two hours, under the scorching heat of the afternoon sun, and wrote a letter to his wife, while waiting for Leong Tat Chee to wake up on his own. It was only years later that Leong Tat Chee learnt of this and felt so sad. But to Dr. Muhájir this was nothing. That was how Dr. Muhájir led a life of humility and taught others by example. It was in such loving ways that he always moved the Bahá'ís to action.
Dr. Muhájir worked very closely with institutions and members of the institutions, especially the Counsellors. Among the resident Counsellors with whom he worked on many projects for the furtherance of the Cause were Dr. C. J.Sundram, Inbum Chinniah and Yankee Leong. He also moved closely with the Board members serving during his time.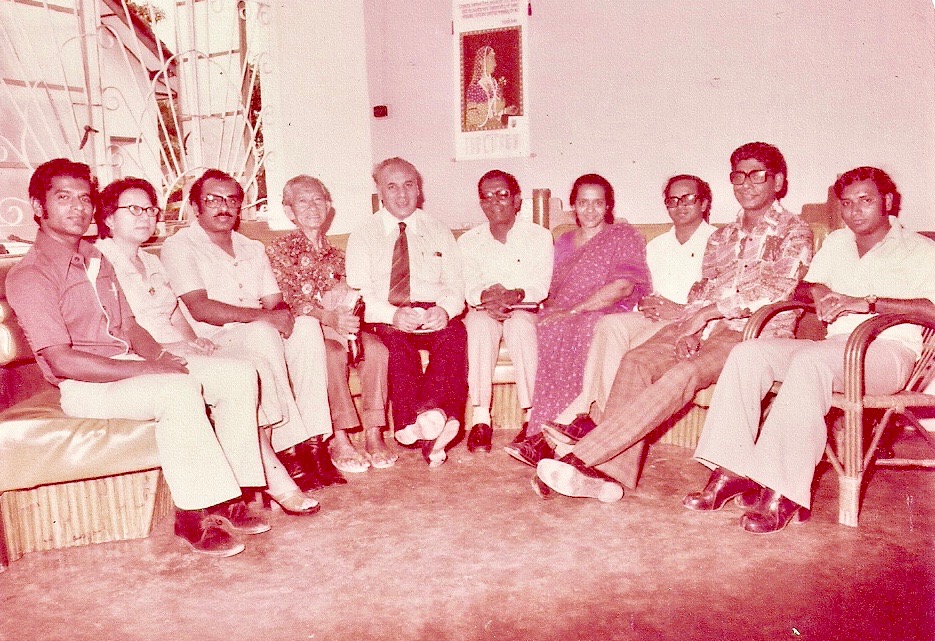 Dr Muhájir meets some members of the institutions in Malaysia in May 1978. (L-R) member of the National Spiritual Assembly Isaac D'Cruz, Board member Theresa Chee, Board member Dr Sreenivasan, Counsellor Yankee Leong, Dr Muhájir, Counsellor Inbum Chinniah, Board member Shantha Sundram, Board member R. Ganasa Murthi, members of the National Spiritual Assembly S. Nagaratnam and S. Balasekaran.
He used to bring his coat but seldom wore it and preferred to be simple in his attire. One meeting of the National Spiritual Assembly of Malaysia where Dr. Muhájir was present dragged past teatime. One member of the national institution who had a great urge for tea remarked why tea had been delayed. Dr. Muhájir slowly walked out of the meeting and the members thought he was going to the washroom. A few minutes later, he came back with a tray with a teapot and cups for the members of the National Spiritual Assembly. Dr. Muhájir was fully familiar with the facilities of the National Bahá'í Centre, and he knew where the kitchen was located. He himself had prepared the tea for all the members of the national institution. The members of the National Spiritual Assembly were most touched, and the meeting stopped for a moment, not only for tea, but to reflect on the utter humility of Dr. Muhájir.
DROPS FROM HIS OCEAN
Dr. Muhájir moved the hearts of the believers in several ways. Three among the most significant factors were his exemplary life, his great plans, and his soul-penetrating talks. Lives of many believers were transformed his talks. Dr. Muhájir had a rare gift of driving home strong messages in the most loving way. His constant advice was to use wisdom in all his actions and to resort to continuous prayers for guidance and protection. It was the love with which he motivated individuals, institutions, and the community. There was one talk on the opposition that he delivered in Port Dickson in April 1977, which has been recorded and is now available all over the world. Believers who heard that talk were amazed to learn of the so many positive outcomes of opposition for the Faith. Dr. Muhájir's parting statement was "Let's pray the opposition comes early". That day the fear of opposition vanished from the hearts of those who attended his talk.
Among the memorable pieces of advice, he gave the Malaysians were: …One must sacrifice personal interests for the Cause… Sincerity means serving without any motive. Only such sincerity will attract the bounty of God… For the Faith to spread around the world, the greatest power was the power of movement, i.e., action… Only when we are a part of this movement would the bounty of Bahá'u'lláh be with us… Praying is important but sitting at home and praying yields no result… We must pray and then move… Sincerity and action are the two qualities that are needed for success in promoting the Faith… When one is sincere and makes a mistake, the mistake will be corrected… But when one is insincere and makes a mistake, then he has to face punishment… The greatest bounty in this world is teaching the Faith and showing love for mankind… The greatest bounty in the next world is attaining the presence of Bahá'u'lláh… Sincerity means to work with no axe to grind… It is such type of sincerity that will surely draw forth the bounty of God… It is a sin to hurt others, but the greater sin is to feel hurt… When two Bahá'ís have a misunderstanding, it has to be patched up immediately. Otherwise, this will in stages spread to other places and split the community… What can be achieved tomorrow can be achieved today… Do not read the books by the Covenant-Breakers even for the purpose of protecting the Faith; we have to protect our own souls first… When two Bahá'ís are involved in a quarrel, both are in the wrong… Position in the Faith is temporary, as positions come, and positions go. Only one thing is permanent, and that is 'service'… A few believers, however talented, should not dominate in the work for the Faith… There should be 'spiritual generosity' where work is shared and distributed so that there is universal participation, and it is through universal participation that we get the best results… Bahá'ís should not get the feeling of complacency. The secret of service is continuous struggle… The Bahá'í community should avoid the fear of success when a few Bahá'ís are able to bring great achievements for the Cause. Instead, the Bahá'í community should support the successful Bahá'ís… Lack of prejudice should be the distinguishing feature of the Bahá'ís. In order to be free of prejudice, every Bahá'í must first review his own self, identify the set of prejudice he has developed, and must gradually remove them one by one… We must stop thinking of ourselves along racial lines such as Chinese Bahá'ís, Indian Bahá'ís, Christian Bahá'ís, etc., and always remember that we are Bahá'ís more than anything else. That is the way of building up a Bahá'í civilization… We should teach all groups. We should not teach only one group at the expense of another. The Faith needs all groups… We should immediately involve those whom we bring into the Faith in the Bahá'í Administration… Our plans should be to make universal participation possible for all Bahá'ís… We should learn to receive from each other ideas, plans, and strength to serve… We should learn to see everything through the eyes of Bahá'u'lláh; otherwise, we may tend to doubt His teachings. These days we should learn to see everything through the eyes of the Universal House of Justice… When you want to undertake any work for the first time, do not wait for perfection. Just start your work, perfection will follow sometime in the future… It is alright to have different opinions on some matters, but those differences should not lead to conflicts and contention. But there cannot be opinions on the teachings and principles… The lesser the fault we find with others the more will be our own spiritual growth.
In one of his talks he said, "When you go teaching that is the start of every good thing to come. In the first place you will get divine confirmations from the Blessed Beauty. And we have assurance from the Writings that the angels of God would surround you and accompany you in the teaching field. 'Abdu'l-Bahá says you will get assistance when you go for teaching, which will be stopped when you stop teaching. You will see the power of Bahá'u'lláh in the teaching field, as He has promised He will come to your help when you take the first step. As you teach the Faith you also get deepened in the course. Then, you will get more believers coming into the Faith. When you have more people coming into the Faith you will get more contribution to the funds with which you can serve the Cause in manifold areas, such as purchasing property and sending out pioneers. With new believers coming in you get people with new ideas to serve the Cause; and you will have additional manpower and new blood to serve the Cause through institutions. With more believers coming into the Faith, you get more people to serve on the institutions."
In many of the meetings, Dr. Muhájir kept repeating that there is a power latent within this Cause, to help the believers understand apprehend the greatness and the stupendous glory of Bahá'u'lláh's Revelation. He used to say the Faith is contagious as divine outpourings are tremendous in this age, and whosoever comes across them will contract these spiritual outpourings. With that everyone on this planet, he would say, is receptive to the Faith.
END OF AN ERA
Dr. Muhájir developed the Malaysian Bahá'í community gradually with his guidance and love. The Malaysian Bahá'ís loved Dr. Muhájir as much as he loved this community. The Malaysian Bahá'í community always held the admiration of Dr. Muhájir, on account of them achieving what they pledged to undertake for the Cause. Several times Dr. Muhájir made it known that he made a point to re-route his trips to Malaysia for "spiritual relaxation". Spiritual relaxation for him meant listening to the success stories of the Bahá'ís in winning victories for the Cause. Such news always served to flood his soul with joy. However, he kept demanding for more victories. That simply meant sustained work for the believers. As the Malaysian Bahá'ís cherished his love and confidence, they were ready to rise to perform sacrificial service for the Cause.

A radiant Dr. Muhájir at the Summer School held in Kuantan in July 1978.
The Malaysian Bahá'í community had always been in the heart and soul of Dr. Muhájir. He used to quote the names of many Malaysian Bahá'ís in his visits to other countries, and always kept a close eye on this community that was an apple of his eye. His last mention of Malaysia in his diary was dated 18 April 1979. On several pages of his diary, Dr. Muhájir had listed names of Bahá'ís and areas in Malaysia as well as notes proposing certain people who should be asked to help in the teaching work. Dr. Muhájir passed away on Saturday, 29 December 1979. His earthy remains were laid to rest near Quito, Ecuador, the jewel-like white city in the Andes Mountains. When this news was broken by a visibly shaken Counsellor Inbum Chinniah at a large gathering in Jaya Puri Hotel in Petaling Jaya, the believers were totally stunned, benumbed, and shocked that the meeting was adjourned for a later time. Uncontrollable sobbing was seen everywhere. The community just refused to come to terms with this cruel news!
Many Malaysian believers had rich memories of him, far too many to be mentioned here. It was Dr. Muhájir who trained and nursed this community to become the most active Bahá'í community, sending pioneers all over the world. He was the spiritual father and advisor to many in Malaysia. His love and encouragement were boundless.
Dr. Muhájir, a Hand of the Cause of God and a Knight of Bahá'u'lláh is no more among us. Every individual, believer or otherwise who had attained his presence or listened to his talks have some stories to relate. Their lives were certainly transformed through his majestic personality and talks that had penetrative influence.  With the passing of the beloved Guardian in 1957, the appointment of Hands of the Cause has ceased. We are left with very few believers of the early days who had attained the presence of the Hands of the Cause. The time will come soon first-hand accounts of meeting them would also cease.  Dr. Muhájir and the other Hands who had visited this country shall be fondly remembered and forever missed by the Malaysian believers.  The pages of the Malaysian Bahá'í history shall forever be decorated with the great contributions of those much-loved Hands of the Cause.
More on Dr. Muhájir and eleven other Hands of the Cause who visited Malaysia could be read in the author's forthcoming book of 0ver 800 pages:
DIFFUSERS OF DIVINE FRAGRANCES
An Account of the Hands of the Cause of God Who Visited Malaysia
A. Manisegaran
31 August, 2023
Copyright@bahairecollections.com