"…every man hath been, and will continue to be, able of himself to appreciate the Beauty of God, the Glorified. …For the faith of no man can be conditioned by any one except himself".
– Bahá'u'lláh, Gleanings from the Writings of Bahá'u'lláh, p. 143.
Leong Ho San- Australia
I was recently in Melaka for my 75th birthday (3 September 2016) and celebrated it joyously and gratefully, in the loving company of family and friends at the Bahá'í Centre, which is our former family home, but looking of course very different today from the original humble abode where we lived for many years since 1953. It felt like coming home full circle for me, and I was starting to remember what it was like at the time when the Bahá'í Faith came into our lives and changed the course of our family forever. The years rolled back and I could see quite clearly how it all happened, in a strange sort of way, almost like it was yesterday and the family doing things together like most other families in the neighbourhood, especially going out to supper at night, a very popular and favourite pastime by Malaysians, young and old.
We had moved from the original family home at 21 Pengkalan Rama Road where we grew up as children. There are seven of us in the family, four girls and three boys, and I am the 2nd youngest. In those early years of our childhood we grew up in traditions and rituals that were typical of the migrant Chinese families in the country, following religious customs taught by priests in the Chinese temples and participating in the numerous festivals that marked special events throughout the year. We burned joss sticks and incense papers, offered food at the altars to the gods that we prayed to, for their favours and, not least of all, sought their assistance for good luck, health and prosperity to befall the members of the family. So these were the rituals that became part and parcel of our lives, making sure that the deities that were located in different parts of our home were always looked after almost on a daily basis, like the kitchen god or the gods that looked after the entrance and back of the house. Ancestor worship was important, and for this we had a family altar in the living room with plaques of family elders who had passed on, for they had to be remembered and looked after in terms of their material and spiritual needs. For me, all these rituals were quite a puzzle and they did not make  much sense at all, but we followed as a matter of filial piety and obedience, and did not ask too many questions!
It was my father Leong Tat Chee, to his credit, who wanted to know more about the meaning of life and its purpose, not just blindly follow a ritual or form that did not quite relate to a spiritual search. I remember that he subscribed to newsletters and books of the Theosophist Society and the Rosicrucians, and he would also make a concerted study of the Bible. Preachers from different Christian churches like the Mormons and Jehovah Witnesses, would come and conduct Sunday classes, but nothing materialized out of this, and we continued in our merry old way of doing things, the Buddhist and Taoist ways. Then, one fateful day sometime in 1954 I believe, he must have seen an advertisement in the local newspaper about a Bahá'í fireside, and it aroused his curiosity. He went to the meeting and heard about the teachings of a new religion, the Bahá'í Faith, from Dr. K.M. Fozdar and his dearly loved wife Shirin who in years to come would always be addressed and remembered lovingly as "Mummy Fozdar" in the Malaysian Bahá'í community. It set the stage for some months of soul-searching and attempts to get to the truth of the Faith, and in the process entered into heated discussions and arguments mainly with Dr. Fozdar, who out of desperation it seemed threw a challenge at him to really study the Writings. So, armed with several books borrowed from Dr. Fozdar, my father took leave from his work for 2 weeks or so, and, secluding himself in his room, began his studies.
As the saying goes, the rest is history. He emerged from his room confirmed in his new found religion and almost immediately turned his zest and enthusiasm on his family, such was his belief that the Bahá'í Faith was not just for him alone. He wanted his wife and children to know and learn about it.  And so, night and day, seven days in the week, we were taught mainly at meal times the salient teachings and why it was important in our lives today. We got somewhat tired of this, being fed the teachings at the dinner table, and also elsewhere in the house when friends and guests came to visit we would be somewhat embarrassed by his direct approach, talking about the Faith almost non-stop. I was initially annoyed that this continued on and on, and would argue with him without any real knowledge, only from what he had taught from day one! So I made up my mind to read the books that were available to us at the time, books like "Bahá'u'lláh and the New Era", "Renewal of Civilization" and "The Promised Day is Come". I was also intrigued by the teaching on progressive revelation, and what struck me most at the time was the phrase "Manifestation of God" referring to Bahá'u'lláh. I had not heard of the word "Manifestation" before, it was new to me, but it struck a chord and I was deeply moved, knowing that in our lifetime we had the rare opportunity and privilege to know and hear about this. And then, the teaching of the Oneness of God, the Oneness of the Religions of God, and the Oneness of Mankind, made a great impact, simple straight-forward and yet so powerful, this great Law of Unity for the day and age we live in.
Before long I believed in my heart with a sense of awe and wonderment; it was not a conversion but a conviction of its truth, its application and relevance in my young life, at the age of sixteen. And so it was on the 20th October 1957, the Birthday of the Báb as it was celebrated then before the recent introduction of the Badi Calendar in 2015 that I made my declaration of faith, a simple act of signing a card. It was the start of a long thousand mile journey, beginning with a first single step, my father's favourite quotation from the teachings of Confucius. It is true that I did not discover the Bahá'í Faith on my part, that my father found it and taught it to my mother, my siblings and me, but I had to believe it for myself, not just follow him in obedience because he was my father. Bahá'u'lláh taught that "… the faith of no man is conditioned by any one except himself…", how appropriate then is this teaching, this independent investigation and search for the truth.
Thus began a new life, as it were, for me and the family when we became so much involved with teaching activities in Melaka (known as Malacca in those days) and these extended later on to nearby town in the districts of Jasin, Masjid Tanah and Alor Gajah. When I managed to obtain my driver's licence a year later, I assisted whenever possible in driving my parents to these areas particularly where the rubber estates were located, and many accepted the Faith. We are talking of course about the 1950s during the Ten Year Crusade (1953-63), the Bahá'í Faith was little known, there was scant literature available but the spirit of teaching caught on and many arose to take on the challenging tasks of teaching and consolidation of new communities, and the establishment of local administrative institutions (Local Spiritual Assemblies). Our family home became the Bahá'í Centre for the community, with activities ranging from study classes to holding calendar events like NDF (Nineteen Day Feasts) and Holy Days. Many of the stalwarts in the first two decades of the Faith in Malaysia came from Melaka, and some are still alive and actively involved in  core activities today. It was a soul-stirring time, very special and remarkable, and the story of the early history of Melaka is recorded and written elsewhere. I have made some mention of it here as an indication of what it was like at the time when the Faith took root in the country and grew almost like wildfire.
In September 1958 a large International Conference was held in Singapore and I was fortunate enough to attend together with a good number of friends from all over Malaya. It was originally scheduled to be in Jakarta, Indonesia but approval was withdrawn by President Soekarno, and hastily reconvened in Singapore at the 11th hour. For all of us it was the very first time that we saw such a large diverse gathering of Bahá'ís from all over the world, we experienced the love and unity and saw the Faith in action, and it made us realize its universal appeal. Nine Hands of the Cause of God were present. Certainly it was an eye-opener, and I still remember vividly seeing the two dearly loved Hands of the Cause of God, Agnes Alexander and Enoch Olinga walking arm in arm together towards the stage on the opening day. It was a breathtaking sight, a dark handsome African gentleman with a petite white American lady, walking with such humble dignity and grace as everybody stood up and looked upon them with so much love and respect for their rank and station in the Faith.


The Historic Intercontinental Conference, graced by the presence of 9 Hands of the Cause of God
During my university days in the early 1960s I had spent many a weekend in Kampong Chang in the state of Perak where the Orang Aslis (aboriginal people) lived. There was a fairly large Baha'i community then and I really enjoyed the experience of their simple village life, unspoilt in many ways. There were also other small villages that were close by easily reached by road, and they too heard of the Faith and became its early believers. Deraoh Leman, from Kampong Chang, had the privilege of representing his people at the First Bahá'í World Congress in London held at Ridvan 1963, marking the successful conclusion of the Ten Year Crusade and the election of the Universal House of Justice. I travelled with him and fellow believers from Malaysia to attend and celebrate this wonderful and unique event, joining over 6,500 believers from every  corner of the world who had gathered in The Royal Albert Hall at that time.  It was a feast for the eyes and the spirit!

First World Congress, 1963, London
A year later in 1964, I had the good fortune to attend the dedication of the Bahá'í Temple in Frankfurt in early July. The Temple was an imposing structure with grounds that were well landscaped, and the dedication service was conducted by Amatu'l-Bahá Rúḥíyyih Khánum in the presence of some 300 believers who came from all over the world for this special occasion. We had the bounty of viewing the photograph of Bahá'u'lláh, an unforgettable experience, as we all lined up in reverence waiting for our turn.
My first pilgrimage took place in November that same year, such a high point in my life, joining a small group of pilgrims who came from different countries. In those days we had the bounty of staying and having our meals at the pilgrim house in the vicinity of the Shrine of the Báb on Mt Carmel. Included in the program was the added privilege of spending two glorious nights at the Mansion of Bahji. Pilgrims today are able to visit in large numbers in their hundreds at a time, however they do not enjoy and share in those personal privileges that were accorded to us back then.
Another pilgrimage but this time to the House of the Báb in Shiraz, some years later in August 1968, on my way home to Malaysia after spending some four years living in England getting to know what it was like to live in the British Bahá'í community, and making some enduring friendships. How special it was then to pay homage to the sacred spot where the Bahá'í Faith began, with the historic meeting of Mullá Husayn and the Báb on 23 May 1844,  and to trace the steps leading up to the room where His Declaration was announced. It's hard to believe, and sad too, that we do not have it anymore, destroyed by the Iranian authorities in 1979.
Life took on a new meaning for me when I met Mariette in late 1968 when she and her sister Joan had travelled from Adelaide, Australia to attend the first South East Asian Regional Youth Conference in Kuala Lumpur. They had hoped to travel on to India afterwards but fate intervened! Both the Featherstone sisters stayed on, with Joan getting married and settling down in Kuala Lumpur where she is presently living. Well, I married Mariette and in December 1971 we set sail for Australia and settled in Sydney where our first daughter Mei-Ling was born in early 1973. It was an exciting time learning about married life and bringing up a child in a two bedroom apartment in a big city, and happy to be close to the Bahá'í House of Worship located in the northern suburb of Ingleside. We would visit the Temple often for the normal Sunday morning service. For a brief spell just before leaving for our pioneering post in Papua New Guinea, Mariette joined the Temple choir and sometimes we both would be called upon to read from various holy scriptures at the service.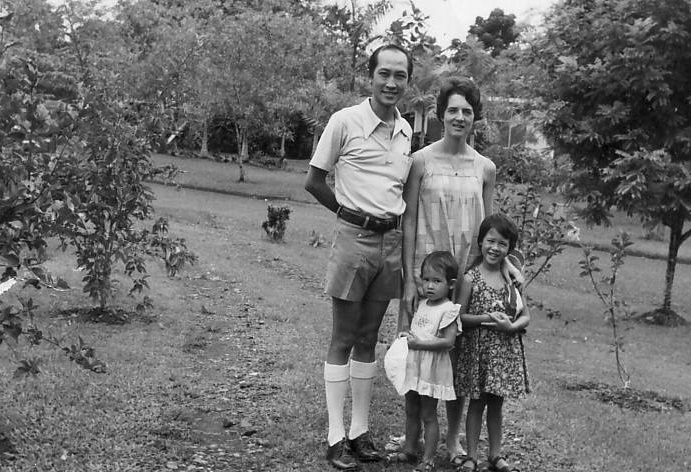 Pioneering in Papua New Guinea
It was at this time that we saw an appeal from Papua New Guinea in the Australian Bahá'í Bulletin for caretakers at their national office and property in Lae. We offered our services and ended up not as caretakers but instead I took up a data processing officer position at the PNG University of Technology Lae. So it worked out very well for us, and on the 8 May 1974 left for that country. When we arrived at Lae airport, to our surprise, who should be there to meet and welcome us to the country but two distinguished Bahá'ís, Hand of the Cause of God Collis Featherstone and Knight of Bahá'u'lláh Violet Hoehnke.
Before we left Australia we knew that Mariette's father would be in PNG to attend their National Convention and also visit the community in different parts of the country. Needless to say it was such a wonderful, joyous and precious reunion, a wonderful start to our pioneering days in Papua New Guinea where we lived for 20 years spanning over a 26 year period. It was a time when two of our four children were born in Lae, and when we also adopted Seff Homerang, the year after our arrival, who is from Madina village in New Ireland. She is married now, and lives in Dubai UAE, with her husband Zia Saunders. Their two grown up children, Samira and Senai are at college in America. When we were both serving on the National Spiritual Assembly we had the privilege of attending, as delegates, the 1978 International Convention in Haifa, Israel for the express purpose of taking part in the election of the Universal House of Justice. This is but one of the many, many bounties that were showered upon us in those years, and they will always be remembered and treasured (see photo attached below).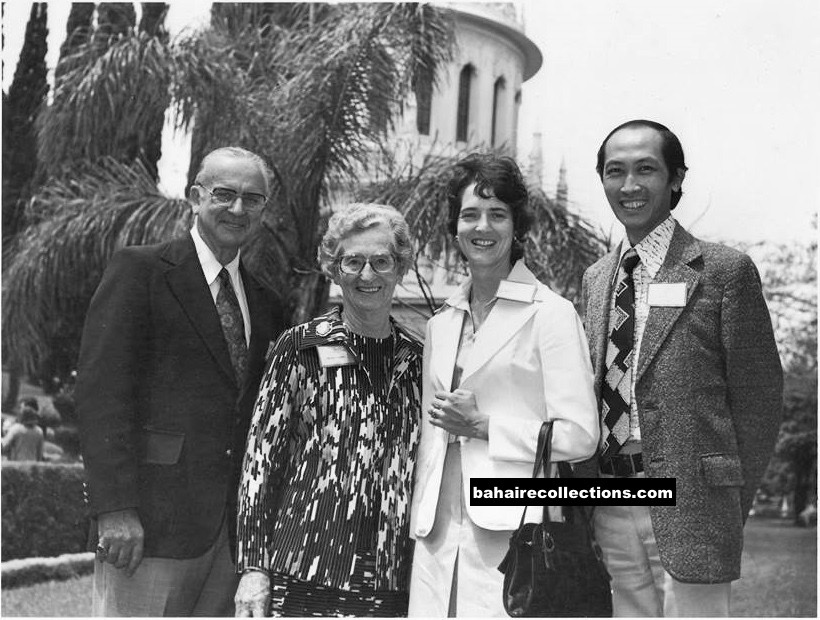 With Hand of the Cause Mr. Collis Featherstone and his wife Madge
at the International Convention, May 1978
A very special highlight of our life in PNG was in 1984 when Hand of the Cause of God Amatu'l-Bahá Rúḥíyyih Khánum, accompanied by Mrs. Violette Nakhjavani, made a historic visit to the country. The believers were simply overjoyed when they learned of this and made every effort to meet her. Rúḥíyyih Khánum went to several village areas around the country and inspired the local friends with her stories of the Guardian and her travels around the world, talking about the fundamental teachings and explaining what it meant to be a believer in this wonderful day, no matter who and what we were. We have often heard her say, over the years following her visit, that she would be quite happy to live in PNG if she didn't have to be in the Holy Land, such was her love for its people!
Another unforgettable occasion was in 1985 when the book "The Promise of World Peace" was launched worldwide by the Universal House of Justice. We had the task of presenting the special edition of this book to the Governor General of PNG, and the book had not arrived two days before the presentation was to take place at his official residence in Port Moresby, the national capital. Numerous phone calls were made during those anxious moments, and, finally at 11pm, we received a call – from Canada, if my memory serves me right – that the book was on its way. It arrived the next day, and we made it to the residence in time to hand it to the Governor General, at the afternoon tea reception.
I believe the most stirring experience of our time in Papua New Guinea was the Holy Year of 1992 when the Most Holy Book, the  Kitáb-i-Aqdas, was released worldwide. When the local friends heard of this they were simply ecstatic and delighted that they would have this special book. As I recall it, they approached the National Spiritual Assembly to ask the government to declare a public holiday for its official arrival and reception in the country. Well, this did not happen, however the different communities around the country decided, instead, to prepare for the day when they would receive it.
Some villages built a special home for it – Haus Tambaran, or Spirit House – and on the day when the book was delivered in person, they marked the occasion with a great celebration and feasting to honour its reception. The believers were illiterate, by and large, but that did not deter them from showing their utmost reverence  and love for the gift of the Kitáb-i-Aqdas in their lives! We have often said that in Papua New Guinea, the longest distance was from the mind to the heart, but the shortest was from the heart to the mind. It was a great lesson for us.
In January 1993 in Madina village, the Bahá'is  held an auspicious traditional ceremony to mark the Holy Year. One of the chiefs gave a talk about flying foxes that fly in the night and eat the fruits off the trees. After feasting on them the flying foxes all leave and fly far away. In doing this they scatter the seeds to new regions which in time sprout into trees and bear new fruit.
In like manner the Bahá'í community of Malaysia has grown from just a handful in the beginning to the tens of thousands of devoted believers today. The early believers like my father knew in their hearts that they found the religion of love and unity, and became very passionate about sharing its truth and teachings. Their lives took on a whole new meaning and they have left behind them a legacy and spirit of service and dedication, for posterity.
"The days pass swiftly as the twinkle of a star. Make your mark now, at this crucial turning point of a juncture, the like of which shall never return. Make that mark in deeds that will ensure for you celestial blessings-guarantee for you, for the entire race, a future beyond any earthly reckoning."
 The Universal House of Justice, Ridvan 156, 1999, p. 4
Leong Ho San
Sydney
©bahairecollections.com