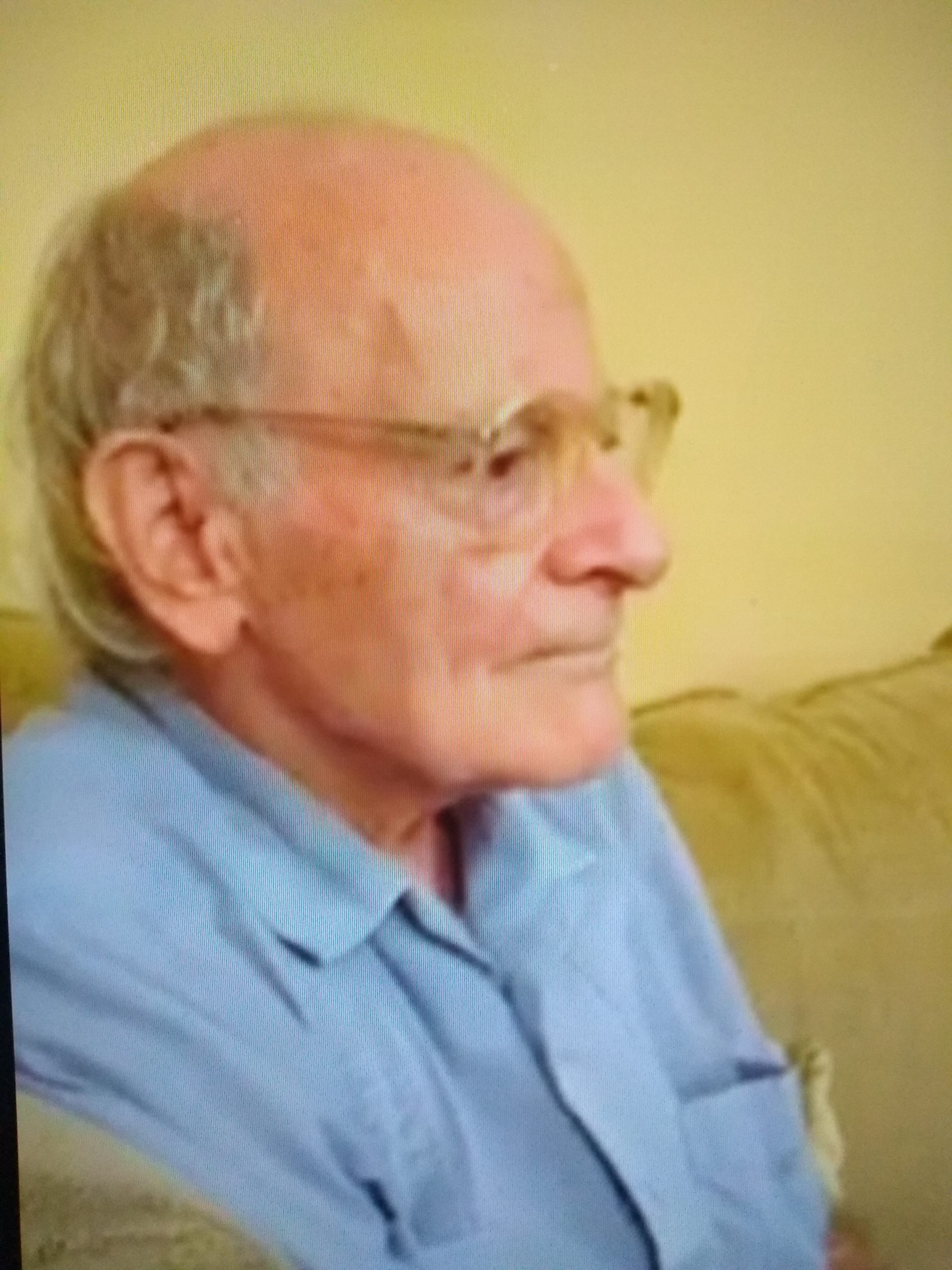 BILL  SMITS
This is the story of William Walter Smits or Bill Smits, one of the most intriguing believers I have met since arriving in Hawai'i in January 2016. At the time of writing, Bill is 90, and still vividly recollects many of the most precious anecdotes and incidents in his life. Since accepting the Faith in 1952 he has participated in numerous history-making events and met several historical figures. His recollections, some of which are shared for the first time, are sure to inspire readers and provide rare and invaluable insights that  decorate the pages of history. Time alone would speak volumes of the weight and value of some of the stories Bill is sharing with us.
Bill had known of the Bahá'í Faith from his childhood days, as he lived in Chicago and had first seen from the outside the Bahá'í House of Worship in Illinois at the tender age of three. Bill's father Mr. Christiaan Smits used to take him and his siblings for a drive around Chicago on Sundays, and the House of Worship was one of the places they passed by. Although Bill was only three, he could not forget the majestic sight and magnetic attraction of that House of Worship from the moment he saw it. On the second trip to the temple when Bill was thirteen, he asked his father on the nature of that edifice and the father replied that it was a kind of a Jewish temple. As the car passed by Bill noticed a signboard and asked his father to pull over so that he could read the signboard. As his father pulled over, Bill jumped out of the car and approached the signboard which read, "Bahá'í House of Worship, Our Services Are Sundays 2 pm." Bill then ran back to the car. That was Bill's first exposure to the Faith.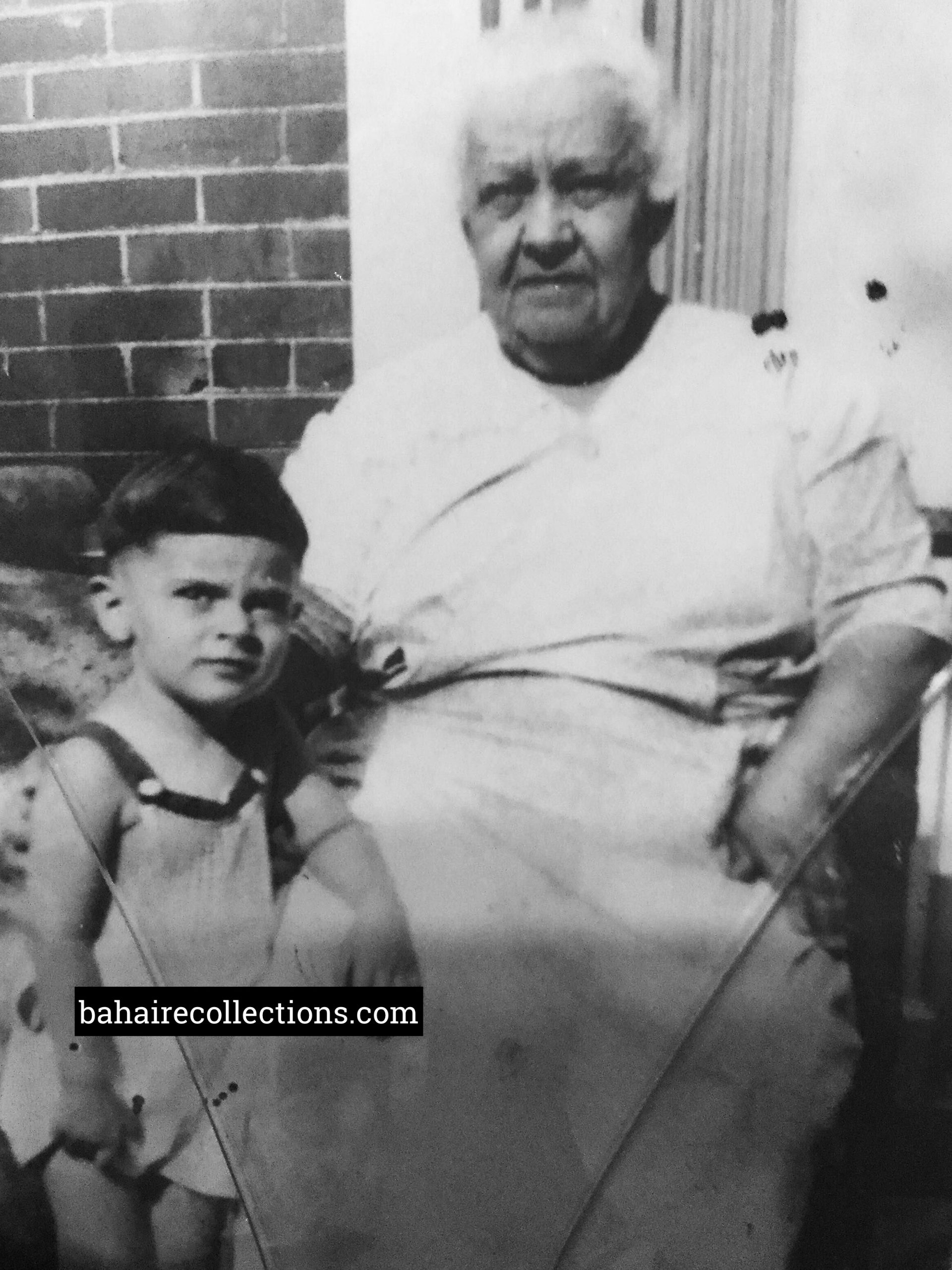 Bill with Ana Swenson, his maternal Grandmother from Norway
Bill's father Christiaan had a strong influence on Bill's early upbringing, and combined with the Teachings of the Faith later, Bill grew up with a very remarkable personality. Bill's father was not a college educated man, but it was through strong determination and clarity of vision that he became the Senior Vice President of one of the largest banks in Chicago- The Continental International Bank. He worked with the bank for forty years, from the age of 16 immediately after his high school. In each of the departments he was transferred to he always rose to be the head, all through an inherent strong driving force to succeed in life. His father had taught Bill how to be generous, and at the same time frugal. The father ensured that Bill received what he missed out in his own life- college education. Bill graduated from the Mogan Park High School in Chicago on 31 January 1948. . He then went to the DePauw University in Greencastle, Indiana on 1 February 1948 and took up Pre-Medical Science. There he completed three semesters. But Bill left his university for one year to work in a tannery in Milwaukee, Wisconsin. When he returned to the University he changed his subject from Pre-Medical Science to English Composition. However, he soon went back to Pre-Medical Science.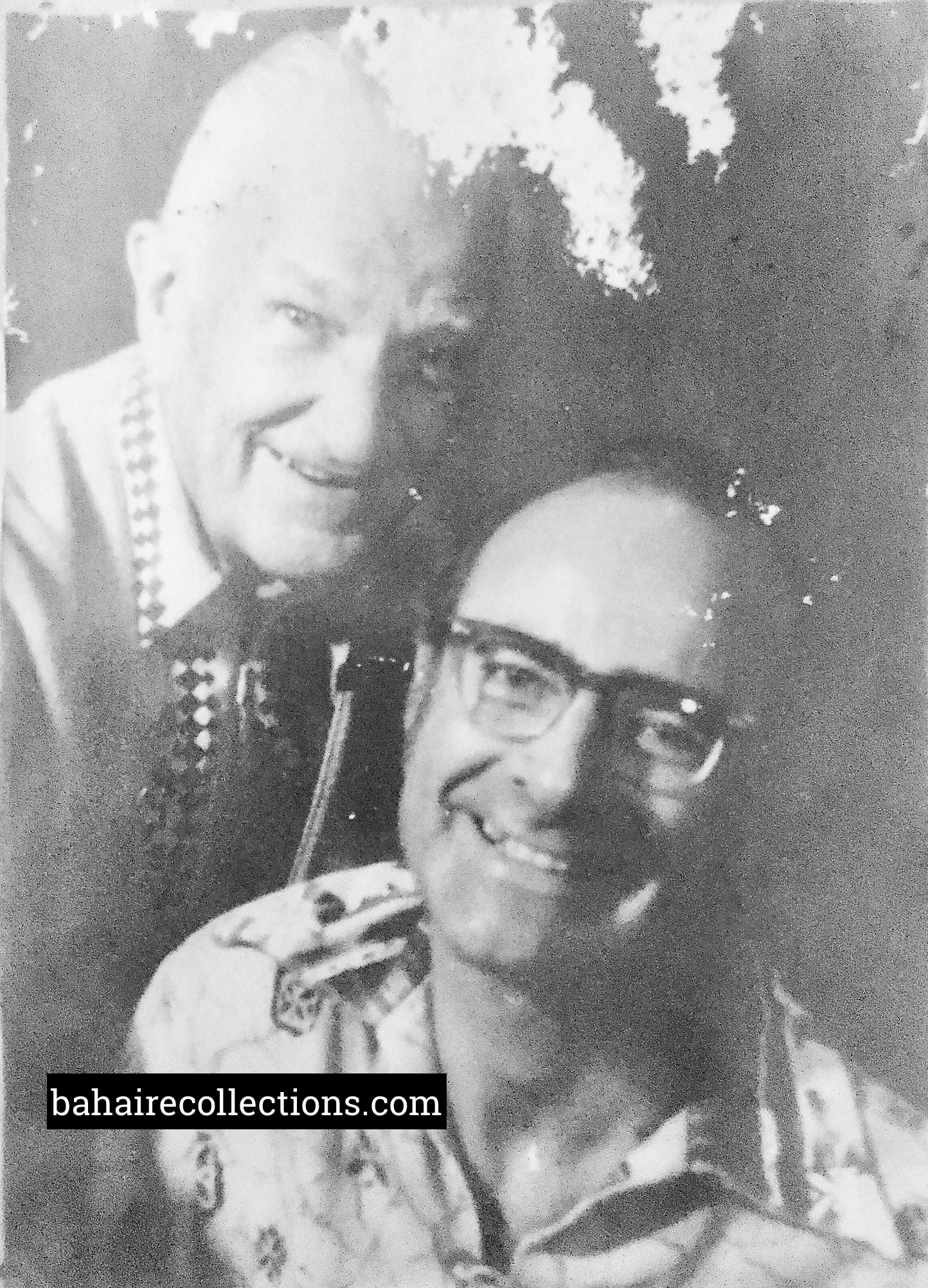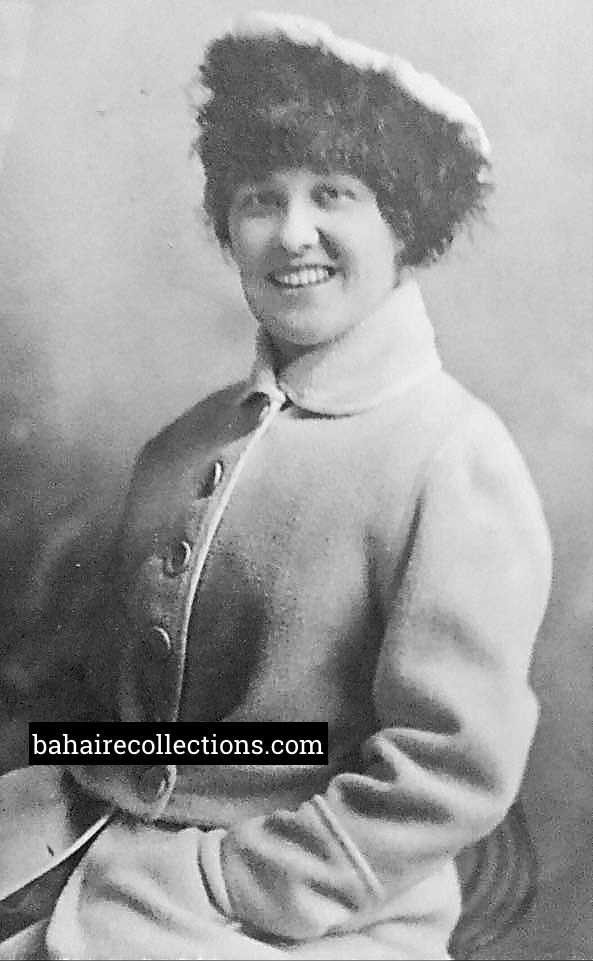 Left, Bill with his father Christiaan; Right mother Dorothy
It was while in this university that Bill was destined to be guided into the Faith. One day a friend of Bill by name of Bob Holmes who had graduated earlier returned to the University and stayed in the man's dormitory of the campus where Bill lived. As they entered into conversation Bob mentioned to Bill names of certain girls that Bill ought to know with view to matrimony. He mentioned a lady by name of Florence Maria Kelly nee Ullrich who was four years younger than Bill. But Bill had met and already befriended Florence at the same DePauw University in an introductory Psychology course. She stayed at the Delta Zeta house while Bill was at the man's dormitory. When Bill told Bob that he knew Florence as a good friend and a wonderful lady, Bob suggested that Bill ought to get to know her better. Bob then said Florence was a Bahá'í which surprised Bill. The next time when they had a class together  Bill sought out Florence after the class was over and asked her directly if she was a Bahá'í. Florence was startled by his question  and admitted she was a Bahá'í. That would ultimately lead Bill into acceptance of the Faith. Bill started attending firesides at the home of the parents of Florence in Oak Park, Illinois. It was here that Bill got to know that Florence was a niece of Hand of the Cause of God Mr. Leroy Ioas. The mother of Florence was Margaret Ullrich, the sister of Mr.  Leroy Ioas. Bill also met the two daughters of Leroy Iaos, Farukh and Anita. Farukh was a very intelligent lady, who graduated from the Stanford University. It was Farukh who was the speaker at the firesides.
Bill recalls that the talks of Farukh at firesides were simply excellent. She was so brilliant and everything she said about the Faith was absolutely accurate that Bill could not resist the truth of the Redeeming Message of Bahá'u'lláh. Bill says if not for her excellent and convincing answers he would have walked away. But Bill says Florence was not to be seen at firesides probably because she must have attended far too many. After attending the firesides each week for one full year Bill became a Bahá'í on 9 July 1952, the Holy Day that marks the martyrdom of the Báb. Following his acceptance of the Faith, Bill became an avid reader of a wide range of Bahá'í literature
Bill's immense knowledge on the Faith came to the fore at a fireside held at the University where Florence gave a wonderful talk. But when the students started to ask some difficult questions, she got stuck. She whispered to Bill who was sitting in the front row if he knew the answers. By this time Bill had already read the books Some Answered Questions and Bahá'u'lláh and the New Era from cover to cover. Bill rose from his seat, faced the students answered four questions, after which there was pin-drop silence. After the meeting was over, Bill and Florence walked back with one other Bahá'í on campus, Bill Alison, an African American man coming from Georgia. Florence and Alison praised Bill for having saved them from the disaster by answering all the questions and expressed their gratitude and Bill felt quite uncomfortable with the praises they heaped upon him.
Bill Alison from Georgia was the only black Bahá'í among the 2,500 students in the university. At first he did not disclose to anyone that he was a Bahá'í due to the rampant racial prejudice prevalent on the campus. But Bill was openly talking about the Faith to everyone while attending firesides at the home of Mr. Leroy Ioas. When the black Bahá'í saw Bill talking about the Faith, he came forward to identify himself as a Bahá'í. Bill, Florence and Bill Alison moved very closely, and this was noticed by other students on campus.
In June 1953, Bill graduated from the DePauw University, majoring in Pre-Medical Science and a minor in English Composition he applied to more than twenty medical schools but was not successful as he did not get the required marks. And with that his desire of becoming a doctor was crushed. Bill candidly calls himself a mediocre student who was somewhat lazy. According to the law of the United States at that time, once out of university the students would be drafted into the army. And having graduated from university he knew that he would be drafted into the army at any time and would be posted to any part of the world where the USA  had established army bases. He knew Bahá'í institutions existed in many parts of the world and Bill wanted to be in touch with the Bahá'ís wherever he was posted. Keeping the Faith uppermost in mind in his first venture in the outside world, Bill went to see Mr. Horace Holley, who was then Secretary of the National Spiritual Assembly of the Bahá'ís of United States and Hand of the Cause of God at the same time.
Bill remembers the Guardian referring to Horace Holley as the foremost authority on the Bahá'í administration in the world. Bill knew of course that it was actually the Guardian who was the foremost authority, and referring to Horace Holley as such only demonstrated the humility of the Guardian. But certainly, as being on the National Spiritual Assembly of the United States for thirty-five years, Horace Holley would know pretty much about Bahá'í administration.
Bill knocked on the door of the house of Horace Holley. His wife opened the door and Bill said he wanted to meet Mr. Holley, who was informed of a visitor at the door. Mr. Holley welcomed Bill with a warm smile. Bill mentioned that he had just graduated and would be drafted into the army, and he could choose either Europe or Asia where the USA had army bases. Bill said he was allowed to choose the continent but wanted to know from Mr. Holley going to which continent would benefit the Cause more. Mr. Holley replied, "Of course going to Asia would benefit the Cause more, but I am not able to specify to which country in Asia you should go. If you want to know to which country you should go, please go over to that little house over there." He pointed his finger to the house of Miss Charlotte May Linfoot across the road.
She was secretary of the newly formed Asia Teaching Committee, responsible for coordinating pioneers for the Ten Year Crusade goals in Asia. Bill went over and introduced himself as one sent by Horace Holley. She suggested the countries in Asia in the following order: Japan, Korea Formosa, Hong Kong and Macau. And Bill was  drafted into the Army in September 1953. Joining the Army posed a tricky situation for Bill, as would any other believer. Bahá'ís are not to take up combatant positions that would lead them to kill fellow human beings. Since Bill graduated in Pre-Medic, he selected to be a Medical Lab Technician in line with the Bahá'í teachings of not harming another human being. Bill underwent 8 weeks of basic trainings in Virginia and another 8 weeks of special trainings in Texas.
While Bill was under training in Virginia he was under the impression that he was the only Bahá'í in the Army base there. But soon he came to know he was not the only one. There was another Bahá'í at that base, but both did not know each other as Bahá'ís. That other Bahá'í too joined the army as a Medical Lab Technician. John, an army friend who knew both as Bahá'ís. While relaxing in the service club of the army, John introduced Bill to the other Bahá'í, by name of William Maxwell. Bill and William were excited at the first introduction and both pointed the fingers at each other simultaneously, as cowboys would draw their guns, and both asked at the same time, "Are you also a Bahá'í ?" And both replied, "Yes." Bill and William were so excited  and embraced each other and in the words of Bill they "went crazy." John who introduced them also went crazy, according to Bill.
Mr. William Maxwell was in the army in Korea from 1954 to 1955, but stayed on and taught in a university in Kwangju, thus becoming the first resident pioneer in Korea. He was appointed a professor  at the university.  He was appointed Auxiliary Board member in 1957. In 1960, he married Miss Mary Hill, an American pioneer to the Caroline Islands and both stayed on in Korea until 1963 when they returned to the USA. Mr. Maxwell had pioneered to several other countries and was appointed on the Continental Board of Counselors for North West Africa in 1968. Mr. Maxwell would later serve on the National Spiritual Assembly of the Bahá'ís of United States for two different terms. In 1967 he acquired a doctorate in the Harvard university,   and has written a number of books on various topics. He worked with the governments of Korea, Fiji and Nigeria in enhancing the field of education. Today he lives in Hot Springs, Arkansas, spending his time writing books.

Professor Dr. William Maxwell 
Everything was set for Bill to go to Korea. There were two ships going to Asia- one to Japan and the other to Korea. Bill informed the Captain that he wanted to sail on the ship bound for Japan, since as Charlotte Linfoot from the Asian Teaching Committee had prioritized Japan. The captain appealed to Bill's superior, but a decision was already made by then that Bill should be stationed in Korea. Bill sailed on the ship to South Korea and he landed in Pusan. Upon landing Bill phoned Charlotte in USA and said, "I tried my very best to go to Japan, but was sent to South Korea. I shall look for the first opportunity to get transferred to Japan." To his surprise, Charlotte replied, "Don't transfer to Japan. There are three Persian families that have arrived in Japan. You stay on in Korea." Bill was disappointed  as Korea was reconstructing itself from the war, and the infrastructure was in bad way. Bill would have preferred Japan, but stayed on in South Korea as he knew there has to be a wisdom in why he was sent there. He was in South Korea for sixteen months. This was just after the Korean War. In Korea, Bill took 14 flying lessons hoping to become a pilot but that was never realized. Bill was in the army for 24 months in all, and his trip to Korea was for a tour of Army duty.
In his first trip to Korea, both Bill and Maxwell carried out a lot of activities for the Cause. When Miss Alexander made a three-week trip to Korea in her capacity as Auxiliary Board member, Bill and Maxwell arranged several meetings for her.
A letter written on behalf of the Guardian to Mr. William Smits and Mr. William Maxwell follows and signed by R. Rabbani dated 12 March 1955 reads:
He [the Guardian] was overjoyed to receive the wonderful news you conveyed of the progress being made in Korea, of the activity of the dear Korean believers, and the fact that new souls are being interested. He was particularly glad to receive the pamphlets printed in Korean, an achievement of which he is truly proud. Please express on his behalf to the Korean friends who assisted in this work his deep appreciation of this historic service they have rendered the Faith, and tell them that he is praying for them in the holy Shrines, and that, through them and with your help, their fellow-countrymen may come to hear of the Faith, and receptive souls be found who will arise to serve it.
While Bill was serving in South Korea, his course mate Florence had pioneered to the Principality of Monaco on the French Riviera in Western Europe and became a Knight of Bahá'u'lláh in the process. Bill who felt very proud of Florence who had established the Faith in that virgin territory. Bill kept writing to her each week, and she in turn replied each of his letters. While there she was acquainted with the Prince and she was sometimes invited to the palace. Florence also knew Princess Grace Kelly who was killed in car accident at the age of 57. Florence later married a Navy Officer by name of Lawrence Kelly. Florence had a remarkable Bahá'í life even after marriage. she joined her husband in travelling to several countries he was posted to on the call of duty. While busy assisting her husband where needed, yet foremost in her life was the Faith, with Lawrence providing every assistance and support. Some of the places she went to were Florida, California, Pearl Harbor and Hawai'i. In Hawai'i she was elected to the Local Spiritual Assembly of Ewa and in 1966 elected to the National Spiritual Assembly of the Hawaiian Islands. Next they went to Northern Virginia and Korea and finally back to Hawai'i and continued to be involved in Bahá'í activities and in various women's groups. She represented the Bahá'í International community in many of her trips undertaken abroad to various United Nations Non-Governmental Organizations women's conferences. She had visited the Bahá'í House of Worship in Samoa. When Florence passed away in Hawai'i in 2016, Bill and I were there for the memorial service held at the National Center of the Bahá'ís of the Hawaiian Islands and the burial at the Garden of Light Bahá'í Cemetery, both on the island of O'ahu.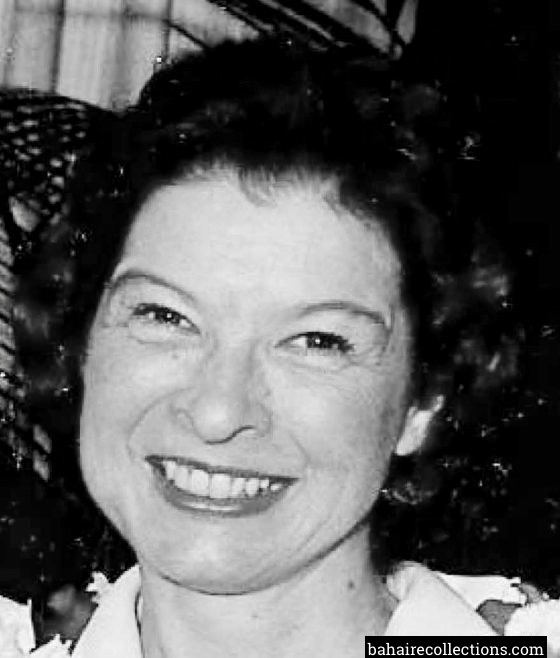 Florence Maria Kelly, a Knight of Bahá'u'lláh
Meanwhile, from Korea, Bill wrote to the Guardian seeking permission to go on pilgrimage. The reply came to Korea in the handwriting of the Amatu'l-Bahá saying, "The Guardian has received your letter requesting to make a visit to the Holy Land. The Guardian has a list of pilgrims waiting to visit this Most Holy Land. He will place your name on that list, and will let you know later at what time it will be possible to receive you here, at which time you would be most welcome. Signed R. Rabbani, " In that letter the Guardian had penned in his own hand writing a sentence- "May the beloved bless, guide and sustain you and aid you to promote the best interests of His Cause- Shoghi". Bill was waiting for the next letter indicating when he could visit the Holy Land.
Two weeks after arrival in USA from South Korea in July 1955, Bill was discharged from the Army. But just one day before he was discharged from the Army on a Monday, Bill went to the Bahá'í House of Worship in Chicago on Sunday for the service. While sitting on the chair someone tapped him on his left shoulder and it was Hand of the Cause of God Amelia Collins. She indicated with her finger to Bill to the effect that she wanted to see him later outside where she gave Bill her phone number. After phoning her and confirming an appointment Bill arrived at her home. He told her about his communication with the Guardian about his pilgrimage. Amelia once again shook her finger at his face and said, "Don't you leave the United States before letting the Guardian know exactly where you are. That would enable the Guardian to write to your latest address to invite you to the Holy Land." Taking her advice, Bill wrote to the Guardian providing the address in Holland which he would be visiting soon.
He boarded the ship in New York and arrived in Rotterdam in Holland. It was on this journey that another miracle awaited him. The vessel had only 330 people on it while it was capable of accommodating over a thousand people. Therefore, instead of having three passengers in a cabin, that each passenger had their own cabin. And that was how Bill had one whole cabin for himself. Soon he got acquainted with many other passengers on the ship. Every day they would gather at the dining hall. One day a lady next to Bill informed everyone that Bill was a  Bahá'í who was  going to the Holy Land on a pilgrimage. The lady on her own had given publicity on the Faith to a large group of passengers.
Each day Bill would speak about the Faith to a steward who came to clean is cabin. On the ninth day of his voyage, Bill placed a 5 USD bill and a three by two-inch photograph of 'Abdu'l-Bahá  in an envelope  for his steward. Unbeknownst to Bill, while he was trying to teach the Faith to the steward, someone else was being miraculously guided into the Faith. As Bill was about to enter the Mess Hall in the ship, he was met by a beautiful woman holding in her hands a photograph of  'Abdu'l-Bahá. She came up to Bill and introduced herself as Jeanne Frankel. She said that she was looking for him the whole morning. Bill asked her where she got the photo of 'Abdu'l-Bahá. She said the cabin steward rushed into her cabin that morning and handed over that photo. Bill asked if she was a Bahá'í to which Jeanne replied, "No, but I have known about the Bahá'í Faith in 1939 through one Miss Amily when my family was staying in Florida. When I was nine years old I used to go for walks on the beach with Amily. One day she gave me a photograph of 'Abdu'l-Bahá, the book "The Wisdom of 'Abdu'l-Bahá", and prayer beads which 'Abdu'l-Bahá Himself had given to her. She taught me the first prayer, "Allah'u'Abha", which I still remember. My parents too used to have firesides at our home. Later in 1948 I attended several firesides when I moved to Beverly Hills, California."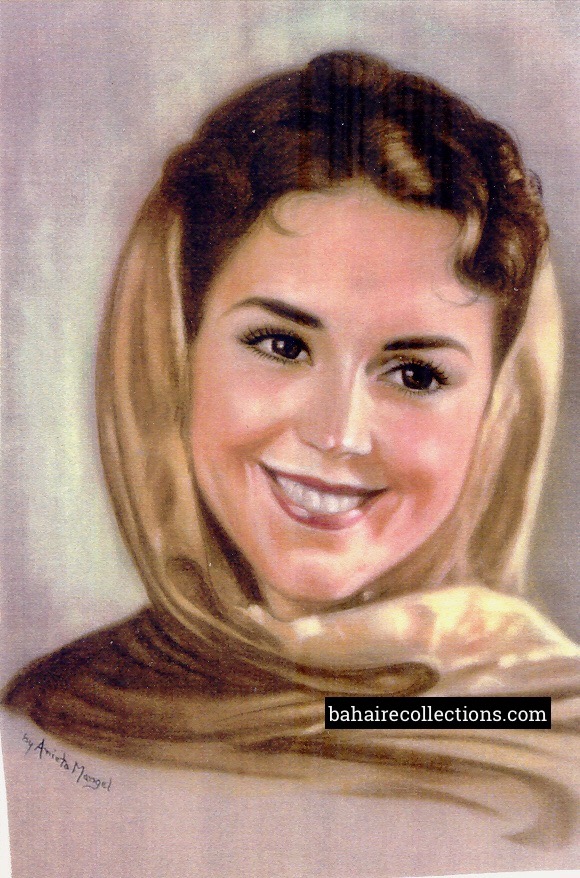 Jeanne Frankel, a painting

The curious Bill asked her, "Are your parents Bahá'ís?" to which she replied, "My father is an Unitarian and my mother is into something else." Bill then asked her to join him for lunch the following day and in the following days they would have lunch together. Bill said he would be staying with his relatives in Holland, but Jeanne said she had not confirmed her hotel and got Bill's address in Holland and promised to contact him once she had settled down. Bill was happy he had found a true sister whom he was determined to guide into the Faith, as she was already so  close to the Faith.
Arriving in Holland, Bill passed his first week in the house of his father's first cousin. Bill told them that he was expecting a telegram from a lady whom he had met in the voyage. While having breakfast the following morning, there was a ring on the doorbell and a man delivered a cable. Bill's cousin brought in the cable and Bill opened it. It said, "WELCOME PILGRIMAGE, FIRST WEEK FEBRUARY. SHOGHI," Bill never expected this one. Three minutes later there was another ring at the doorbell. This time a cable came from Jeanne Frankel which read, "THE PARK HOTEL, THE HAGUE".
On one of the days in that one week, Bill brought Jeanne to the home of his cousin and he then  went over to The Park Hotel in The Hague and booked a room. While staying there he and Jeanne met often and spoke about the Bahá'í Faith. They went through two books. One was the Will and Testament of 'Abdu'l-Bahá and the other was the Dispensation of Bahá'u'lláh. At the end of five days she said she wanted to become a Bahá'í . Bill had a declaration card on which she signed. The happy Bill told her that he was going to meet up with the Spiritual Assembly of the Bahá'ís of The Hague and asked her to come along.
Arriving at the center Bill first met with Chairman of the Assembly by name of Albert van der Borst and was invited to meet with the Assembly. Bill explained to the Assembly that  Jeanne   had accepted the Faith but soon felt uncomfortable when the Assembly started to consult on the matter in his presence. The members were all Dutch but were consulting in English as apart from   Dutch and they all knew the three other languages -English, French and German as Holland was surrounded by these countries. The issue during the consultation was accepting Jeanne's   application to become a Bahá'í. One of them said, "She is an American and she should become a Bahá'í in the United States." Bill who already had Jeanne's declaration card with him was restless and raised his hands and said, "My dear friends, when are you going to meet the applicant?" The Chairman asked if it was possible to meet her to which Bill informed that Jeanne has been waiting outside the door for the past twenty minutes. Jeanne was invited into the room while Bill went outside and waited there. The consultation with Jeanne went on for about another twenty minutes. When she came out both she and Bill waited outside the meeting room the assembly consulted on whether to accept her as a Bahá'í. Twenty minutes later Jeanne was about to leave the place and Bill felt very embarrassed. Bill said softly, "You know Jeanne, sometimes it is not so easy to become a Bahá'í ." No sooner had he uttered these words than two teardrops   rolled down her cheeks. With her voice choking Jeanne replied, "That's what I am trying to become." Just then the door opened, and the Chairman hugged her and so did the other eight   members of the Assembly. In all she got nine hugs from nine members. She knew she was officially accepted as a Bahá'í and the date was 12 December 1955. To Bill that was a terrible experience, but he was happy it ended fine and Bill felt very grateful.
The first thing Jeanne did was to contact her mother Mrs. Margaret Kelly Bates (also called Jeanne Bates or Peggy Bates) who was working at the YMCA in Brooklyn, New York. She informed her mother to sell off everything and to join her, mentioning that she had found the Truth. The mother immediately sold everything and took the earliest ship she could get to join Jeanne in The Hague. Later, Hands of the Cause of God Leroy Ioas would ask Jeanne and her mother to go to the town of Nice in France to help form the first Local Spiritual Assembly, joining Marzieh Gail, Harold Gail and a few other pioneers already there. It was in Nice that Margaret officially signed her declaration card. With her declaration, she became the ninth adult believer in Nice. At Ridván 1956, a Local Spiritual Assembly was formed in Nice. Following that they were all involved in active teaching, with many accepting the Faith in Nice. At the request of the Guardian, the pioneers in Nice dispersed to other areas. Jeanne and Margaret went to Orleans in the Loire Valley, France, forming the first Assembly there too.
Bill too came for a visit to Nice. When he met Mrs. Margaret Bates in Nice, he asked her how it was possible for her to respond to the request to sell off everything and join her daughter in the Netherlands.  Margaret replied to Bill, "When Jeanne was three years old, we both went to a palmist. The palmist read her palm and said Jeanne has a great spiritual destiny and that I should not miss up any opportunity that comes to me. So, when she asked me to sell everything and join her, the words of the palmist came to my mind and I did exactly that."
While still in France, Jeanne and her mother were studying the map of the Ten Year World Crusade, and realized that only three of the virgin goal areas mentioned in the Plan remained to be fulfilled. Margaret and Jeanne wrote to the beloved Guardian, seeking his advice as to where they should go next to serve the Cause. The Guardian encouraged Jeanne and her mother, both from Christian background, to open up the Nicobar Islands, which was inhabited mainly by Christians. The cable from the Guardian arrived with the message:
"ADVISE NICOBAR. HIGHLY MERITORIOUS. ASSURE FERVENT LOVING  PRAYERS."
After so much difficulties the mother and daughter entered the Nicobar Islands on 3 July 1957 on a tourist visa. The Government assigned a guide called Nicolas to care for them. After a few weeks of their stay there, Nicolas became the first Bahá'í of the Nicobar Islands, thus fulfilling that goal of the 10 Year Crusade, for which Margaret and Jeanne were named Knights of Bahá'u'lláh. But they could not remain too long in Nicobar. At the end of 1957 they arrived in Malaya and were preparing to go to their next pioneering post in the Cocos Keeling Islands in 1958, which was already opened to the Faith 1956 by Frank Wyss, another Knight of Bahá'u'lláh.
While waiting in Malaya for a visa for the Cocos Keeling Islands, they concentrated their teaching activities in Penang Island, Malacca town, Jasin and Masjid Tanah. They brought in the first batch of believers in Penang Island, and helped in teaching and consolidation of believers in other parts of the country. They were speakers at the first-ever Summer School of Malaya in Malacca town in December 1957, graced by the Hand of the Cause Dr. Raḥmatu'lláh Muhájir. Jeanne initiated the first Correspondence Course based on the book Paris Talks. She was instrumental in the formation of the Local Spiritual Assemblies in Penang and Jasin towns. Many were the spiritual children that Jeanne and her mother brought into the Faith in Malaya and they all served with distinction. Years later many served on Local Spiritual Assemblies, some became pioneers to other countries, some Auxiliary Board members and two became Counselors. Suffice to say Jeanne had a great role in nurturing the early Malayan communities into maturity.
After Ridván in 1958 they went over to Cocos Islands and from there returned to the USA in 1960 and continued to make positive waves through their services in the USA. In the early 1970s, Jeanne and her mother pioneered to Escazú, Costa Rica, where Jeanne worked in the Department of Tourism, and also participated in trade activities all over the world. She was also a translator of legal documents on diplomatic matters from Spanish to English. In 1976, Jeanne was requested by the government of Costa Rica to serve as Consul for Costa Rica in the  USA, and she and her husband established the country's Consulate in Florida as well as the offices in Miami and Orlando. Margaret passed away in Costa Rica, at the age of 100 years and 3 months on June 21, 1997. Jeanne returned to the USA and passed away of lung complications and heart failure in Orlando on 1 May, 2012. Bill recalls what the palmist had told Margaret- that Jeanne had a spiritual destiny that she will fulfill. And Bill felt very gratified that his spiritual daughters  had made the history of the Faith proud.
Meanwhile Bill Smits went on Pilgrimage from 31 January 1956 to 8 February 1956. Upon arrival in the Holy Land the pilgrims were wondering how Shoghi Effendi was to be addressed. Bill remembers being told to address the Guardian as Shoghi Effendi and Amatu'l-Bahá Rúhíyyih Khánum as Rúhíyyih Khánum. Addressing them by name? Bill saw the utter humility of the Guardian and Amatu'l-Bahá when learning of this requirement to address them by their names. It did not take long before Shoghi Effendi presented himself to the pilgrims as their true brother, as he would end his letters. The very first meeting of the Guardian was highly memorable to Bill. When Bill was ushered into the presence of the Guardian in the Western Pilgrim House, the Guardian extended his arm, shook hand, and welcomed Bill. Bill spontaneously kissed both the cheeks of the Guardian, who in turn kissed both cheeks of Bill. When Bill related this incident to the Hand of the Cause of God Dr. Raḥmatu'lláh Muhájir  years later, Dr. Muhájir mentioned that the Guardian never kisses the cheeks of Bahá'ís, and that Bill was the most privileged.
Bill attained the presence of the Guardian six times at the dinner table. Each of the meetings lasted for two hours. But Bill wanted to ask something of a very personal nature to the guardian and wanted a private moment with him. he asked Amatu'l-Bahá to ask this of the Guardian, which he granted and thus Bill was alone in the presence of the guardian for five minutes. Bill asked the Guardian if soul mates were created in pairs for matrimony, and if praying to God would guide the partners to find each other. The Guardian opened his eyes wider, smiled and replied, "That is a mystery. But do not wait too long and do not to expect someone to fall from the sky." Bill was already about 26 when he met the Guardian. Bill recollects the Guardian was of an arresting personality and had a great spiritual charm about him.
During the same pilgrimage, the Guardian who had known that Bill had been to Korea  wanted Bill to return to Korea. He told Bill, "It will be very meritorious if you would return to Korea and establish a Spiritual Assembly in Seoul, the capital city by Ridván, and if you could enter the Sakhalin Islands, that would be very very meritorious."  Fired by his overwhelming love for the Guardian, Bill found it an honour to heed to the call of the Sign of God on Earth.
Thus, Bill went to Korea the second time and it was in March 1956 when he arrived. The formidable challenge the Guardian gave him to establish a Local Spiritual Assembly there by Ridvan was only one month away. When he arrived, there were only seven adults in Seoul, and he became strenuously involved in teaching activities with the sole aim of getting sufficient enrollments by Ridván. However, just ten days before April 21, still with only seven adults around Bill cabled Miss Charlotte, Secretary of the Asian Teaching Committee in Chicago. The cable read: SEOUL WILL NOT HAVE AN ASSEMBLY. After sending the cable, Bill felt very dejected, but he had to give an honest report  to the committee  of the ground reality. To the surprise of Bill, on April 21 a miracle happened. On that day five new people met Bill and said they wanted to become Bahá'ís. But Bill had not met taught them the Faith. Bill gave them the declaration cards for them to sign. Now there were a total of 12 adult believers, nine men and three women, to form an assembly. The election took place and Bill was elected into the Assembly and became Chairman. That was the first Local Spiritual Assembly of Seoul. All the nine had never been on an Assembly before. Bill wondered how this miracle happened. A realization dawned upon Bill that it was the prayers of the Guardian which created this miracle.
As for Sakhalin Island, Bill did not go there, but Mr. Abbas and Mrs. Rezvanieh Katirai would later pioneer there in 1990, and became Knights of Bahá'u'lláh as it was the last unopened territory under the Ten-Year Crusade.
In this second trip to Korea, Bill was employed as a Professor in a university that was then called the Foreign Language College of Korea where he taught English. Bill always loved English literature and till this day, at the rich age of 90, he is able to recite from memory very long passages from Shakespeare.
During this time in Korea a new Unification Movement (Moonies Movement) founded by Reverend Sun Myung Moon was gaining popularity as a new religion. Bill Smits and William Maxwell were guests at one of its events and the Reverend wanted to rope in a white (Bill Smits) and a black (William Maxwell) to represent the religion in the West. But they respectfully declined the invitation.
In Korea, Bill met a lady in the city.  This lady's name was Kim Lee and she did not know a word of English. Yet they fell in love and finally married according to Bahá'í rites, at the home of William Maxwell who was still in Seoul, Korea. Bill married in 1960 when he was thirty years old and his wife was twenty. That marriage became the first bond between an American Bahá'í and a Korean Bahá'í. Through this marriage they have five children, sixteen grandchildren and five great grandchildren.
After five years in Korea they went to Hawai'i in 1965 where Bill headed a government program called Teacher Corps in Waianae. There Bill received his Masters Degree and a teacher certificate. That paved way for him to become a teacher.
I have met four of the five children of Bill -them that live in Hawai'i. He has three sons and two daughters. The eldest son by name of William Lee Smits lives in Indiana,. The second son Albert Smits lives a block away from where I am on Eames Street. He has been elected to the Local Spiritual Assembly of Wahiawa. The third son is Christopher who stays on the property of Bill. The two daughters of Bill are Rúhíyyih and  Bahíyyih who are gems. Bill wanted to be a doctor during his university days or a pilot during his first Korean days, but did not succeed in both. It is amazing to learn that these two positions were achieved by his sons- William Lee Smits is a doctor in Indiana and Albert Smits is a pilot with the Hawaiian Airlines.
The first Convention of the Bahá'ís of North East Asia took place in Tokyo, Japan, in April 1957. Tokyo which had been designated by the Guardian to be the seat of the new National Spiritual Assembly Bill and Maxwell were among the four delegates from Korea. In 1964 Bill was elected to the National Spiritual Assembly of Korea and became its Correspondence Secretary.
While in Korea the second time, Bill went to Malaya a number of times. The longest was three months. Bill attended two of the five Intercontinental conferences of 1958- one in Sydney, Australia in March 1958 and another  in Singapore in September 1958.
The Intercontinental Conference that was held in Singapore was originally scheduled to be held in Jakarta in September 1958. Bill and Maxwell from Korea arrived in Jakarta and met ten Hands of the Cause who had already arrived there. They were Leroy C. Ioas, Taráz'u'lláh Samandarí, Abu'l-Qásim Faizi, Harold Collis Featherstone, Dr. Raḥmatu'lláh Muhájir, Agnes Alexander, Shu'á'u'lláh 'Alá'í, Dr. 'Ali Muhammad-Varqá, Enoch Olinga, and Dhikru'llah Khadem. With the revoking of the permit by the authorities at the last moment, the Conference was moved from Jakarta to Singapore. Since Mr. Dhikru'llah Khadem had to return to the Holy Land directly from Jakarta, he could not come to Singapore for the conference that was held from 27 to 29 September. But the nine other Hands and a total of 300 believers from the region participated in this historical conference. Among the many highlights were the soul-stirring talks by the Hands of the Cause and the display of the portrait of Bahá'u'lláh.
At the conference, an announcement was made that the first Bahá'í wedding in Malaya would be held on 5 October 1958 in the town of Malacca. Singapore and Malaya are connected by a very short causeway. After the Conference, several participants traveled by bus for the wedding, including Hands of the Cause A.Q. Faizi and Agnes Alexander. Bill and Mr. Maxwell too went for the wedding and after the wedding, Bill stayed back in Malaya and travelled to some communities like Penang, Malacca town and Jasin, which were visited earlier by his spiritual daughter Jeanne Frankel. In these communities he deepened the friends on the Will and Testament of 'Abdu'l-Bahá and the Dispensation of Bahá'u'lláh, which had created a great impact on the believers. But Maxwell returned to Korea after the wedding.
Bill says, "In those days, the National Spiritual Assembly of the United States made it conditional of enquirers to read two books and passing a test before being accepted into the Faith. This was also the practice in some other countries. Unfortunately it was too rigorous a condition and those countries retracted that policy on the Guardian's advice in a letter dated 9 July 1957, written on his behalf to a National Spiritual Assembly. It read, "…he feels that the friends should be very careful not to place hindrances in the way of those who wish to accept the Faith. If we make the requirements too rigorous, we will cool off the initial enthusiasm, rebuff the hearts and cease to expand rapidly. The essential thing is that the candidate for enrolment should believe in his heart in the truth of Bahá'u'lláh. Whether he is literate or illiterate, informed of all the Teachings or not, is beside the point entirely. When the spark of faith exists, the essential Message is there, and gradually everything else can be added unto it."
Of the Malacca community Bill says, "The Chairman of the Local Spiritual Assembly of Malacca was Mr. G. Saurajen but the most important Bahá'í there was a man of Chinese ancestry by the name of Leong Tat Chee. I got along very well with Leong Tat Chee as he spoke English. His wife spoke Chinese which I did not understand. But she was a wonderful woman. Leong Tat Chee had seven children with whom I got along well. They all lived in one house. I was the best man for the marriage of the eldest son Leong Ho Chiew who had the nickname of Charlie. The younger son Leong Ho San who had the nickname of Sunny, married a daughter of the Hand of the Cause Collis Featherstone. That was a great family. The Malacca community was very deepened and devoted in the Faith, and served the Faith all over Asia."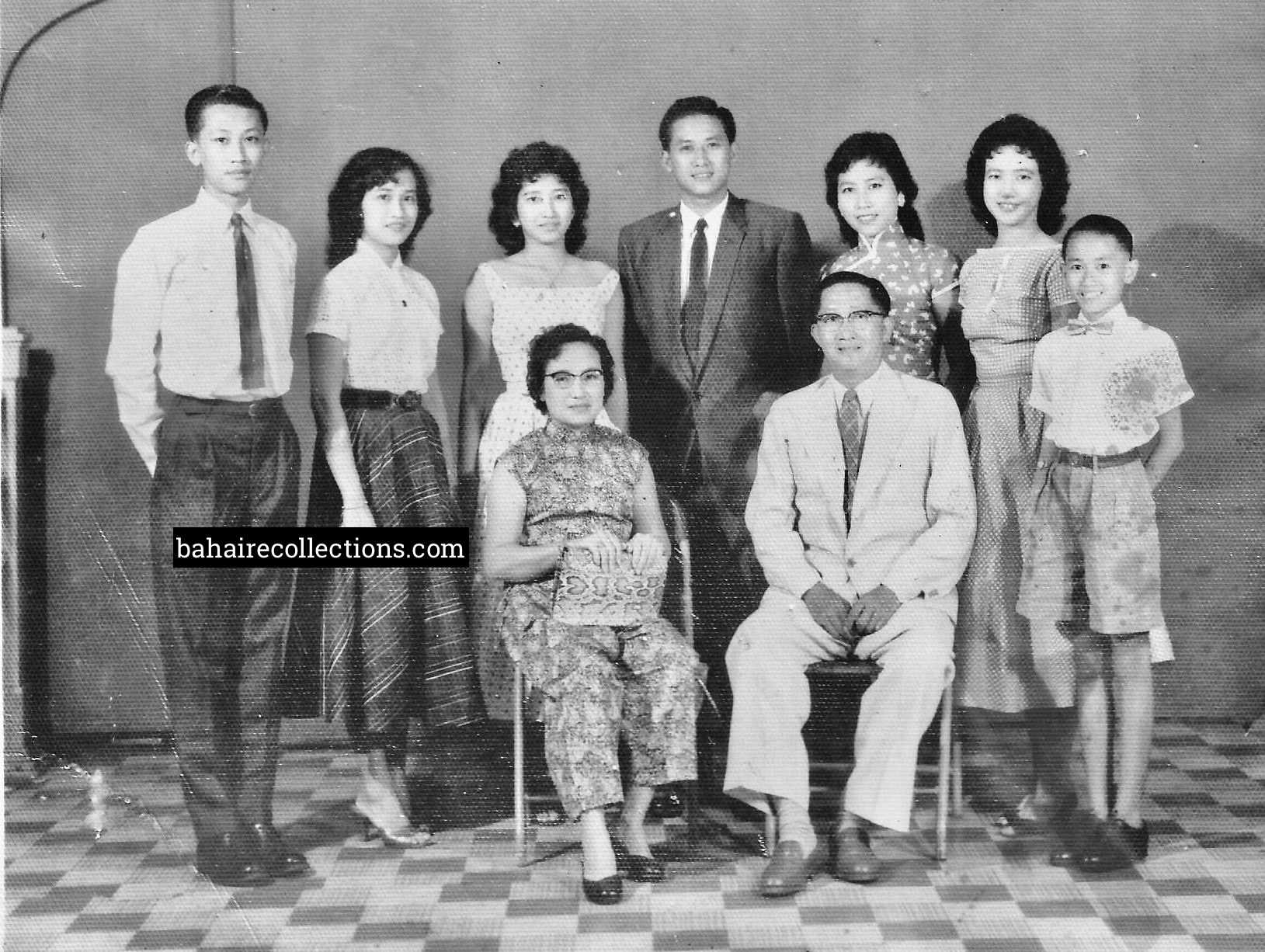 The Leong Family that Bill met in 1958. L-R: Leong Ho San,  Lily Leong Wye Heng,  Mary Leong Wai Yoon, Leong Ho Chiew, Annie Leong Wai Heong and Leong Ho Min. Seated are Mrs Leong and Mr. Leong Tat Chee.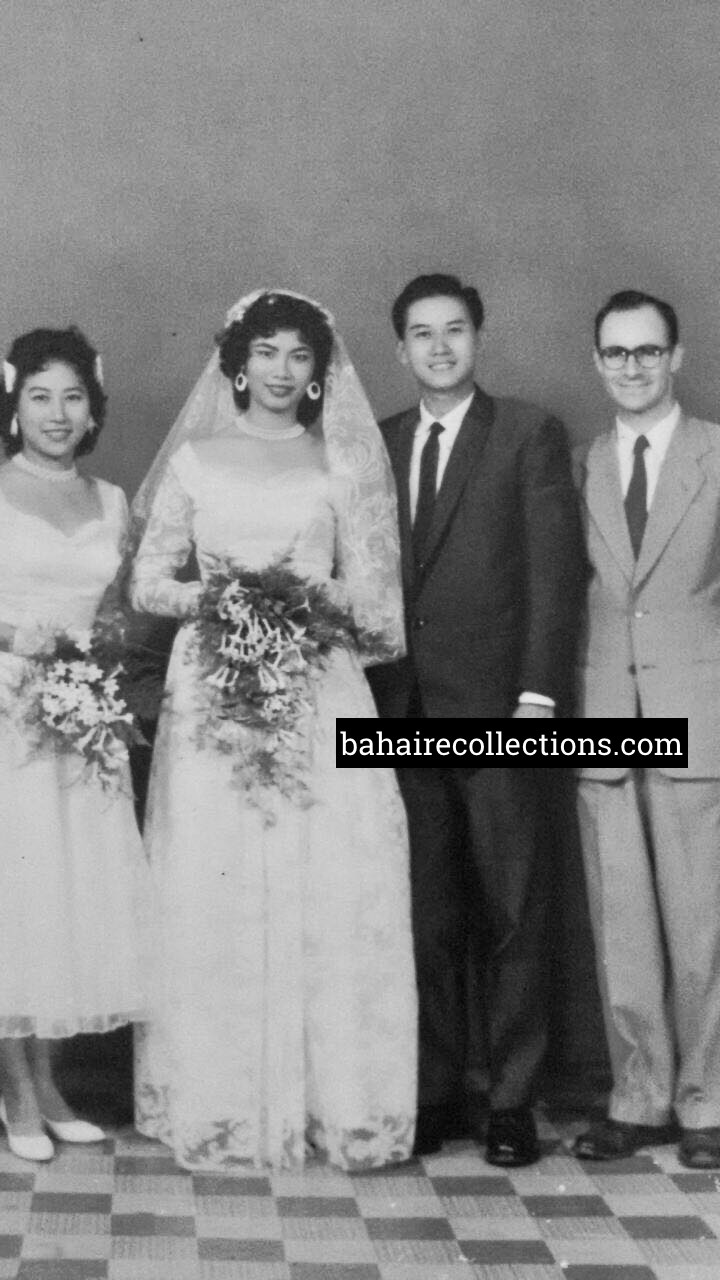 The second  Bahá'í wedding in Malaya 1958. L-R: Lily Chinniah the Bridesmaid, Gina Lee Lun Chou the Bride, Leong Ho Chiew the Groom and Bill Smits the Best man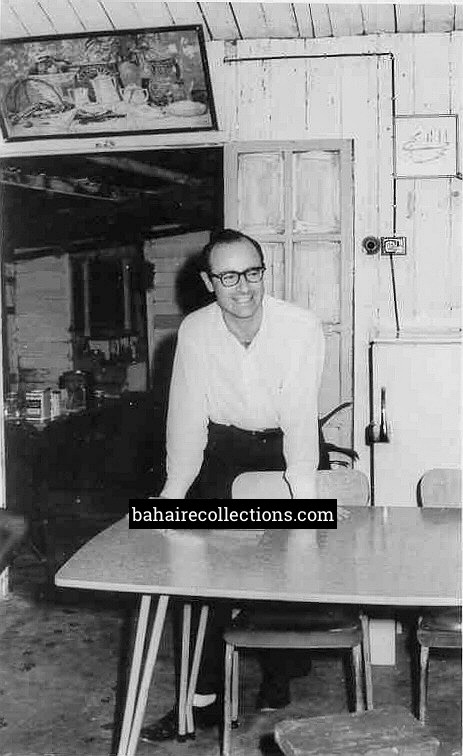 Bill conducting deepening at the Bahá'í Center at 333 Rahang Road, Seremban, 1964
While in Malacca, Bill bought several plots of government reserve lands for residential township. Bill even thought of settling in Malaya at a later time. After a period of three months, Bill realized that he could not stay in Malaya and returned to Korea. When he came again to Malaysia in early 1964 (Malaya became Malaysia in 1963) on a visit, he sold his land to the National Spiritual Assembly. On the suggestion of Hand of the Cause of God Dr. Raḥmatu'lláh Muhájir, the National Bahá'í Teaching Institute was built on this land. It became the first of its kind in the entire South East Asian region, in which several local, regional and national events are being held to this day.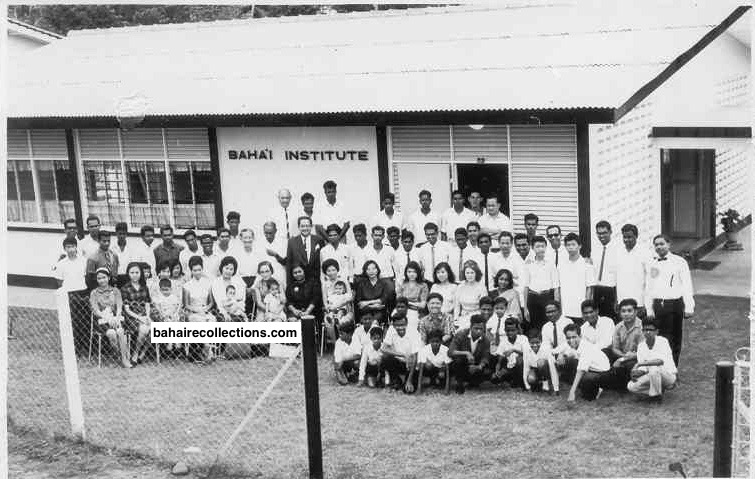 The official opening of the Bahai Institute in Malacca, on  2 January 1966
One of the life-changing events that Bill often recalls was  the First Bahá'í World Congress held in London in 1963 where he witnessed the Ten-Year Crusade making its triumphal close. Participating in the Congress with his wife, he was very moved to see the coming together of more than 6,000 believers from across the world- the biggest ever gathering of the Bahá'í world until then. His wife had the bounty of saying a prayer in the Korean language on the second day of the Congress. Just prior to the Congress the election of the first Universal House of Justice took place in Haifa, and all the nine members of the newly elected Supreme Body arrived in London to join the gathering. Bill had known in person each member of the first Universal House of Justice. Bill speaks in glowing terms of several events of the Congress.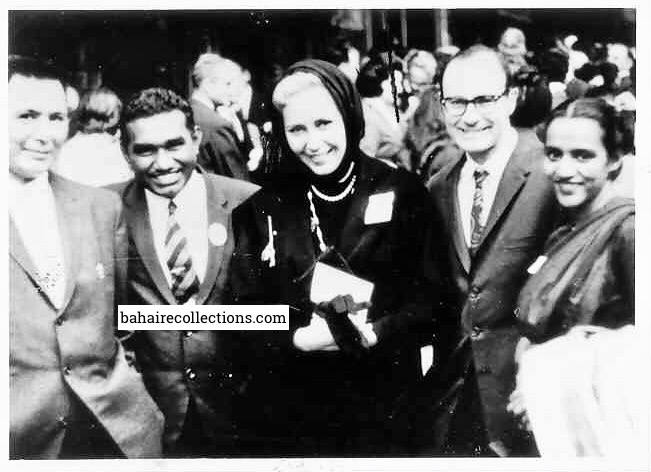 Bill at the First Bahá'í World Congress in London with three of his spiritual children from Malaya. R-L: Shantha Sundram, Bill, Jeanne Frankel, Raymond Peter.
Bill and his wife stayed at the Welcome Hotel which was a walking distance to  the resting place of the Guardian. During the days he was in London, Bill visited the resting place of the Guardian   an amazingly unbelievable 95 times, a testimony to his boundless love for the Guardian. Bill recollects that when news came of the passing of the Guardian, Bill was totally devastated. His faculties froze for a moment and the world stood still for him. When he regained consciousness, he cried and thought to himself that the Guardian was too young to be taken away.
Bill had met all the living Hands of the Cause of God appointed by Shoghi Effendi except for George Townshend. Bill had made several trips to the British Isles but did not have the opportunity to meet with George Townshend.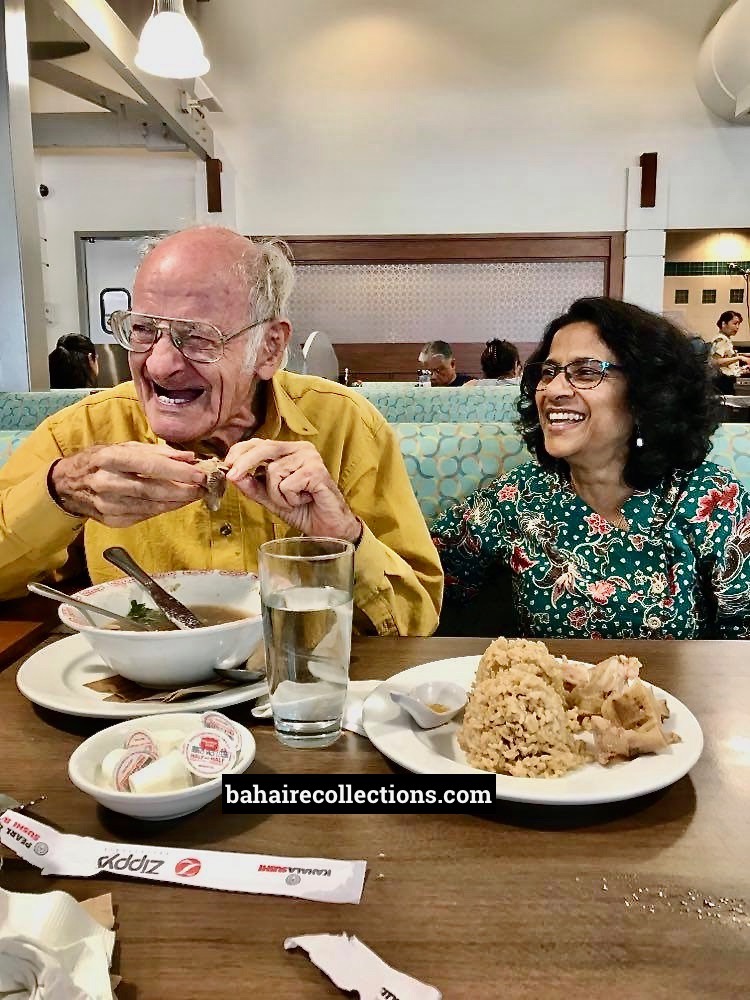 Bill with his spiritual great grand daughter Susheel Croft, June 2019 in Hawai'i. The parents of Susheel-Dr. Chellie J. Sundram  and Mrs. Shantha Sundram accepted the Faith in Malaya through Jeanne Frankel in 1958. Jeanne Frankel herself accepted the Faith through Bill in Holland in 1955. Susheel today resides in Perth, Australia.
One word in conclusion. Bill Smits grew up as an adopted son. He had an opportunity to meet up once with his biological mother in Illinois through an organization called Truth Seekers in Dark Suit. Bill met his mother for 20 minutes, without identifying himself as her son. When Bill returned home, he received a call from the facilitator that upon Bill's  departure, his mother was informed that the gentleman to whom she conversed was none other than her own son whom she gave away for adoption. Bill asked what his mother's response was and was told that his mother said, "Well he seems to be a nice man." On hearing that Bill just laughed.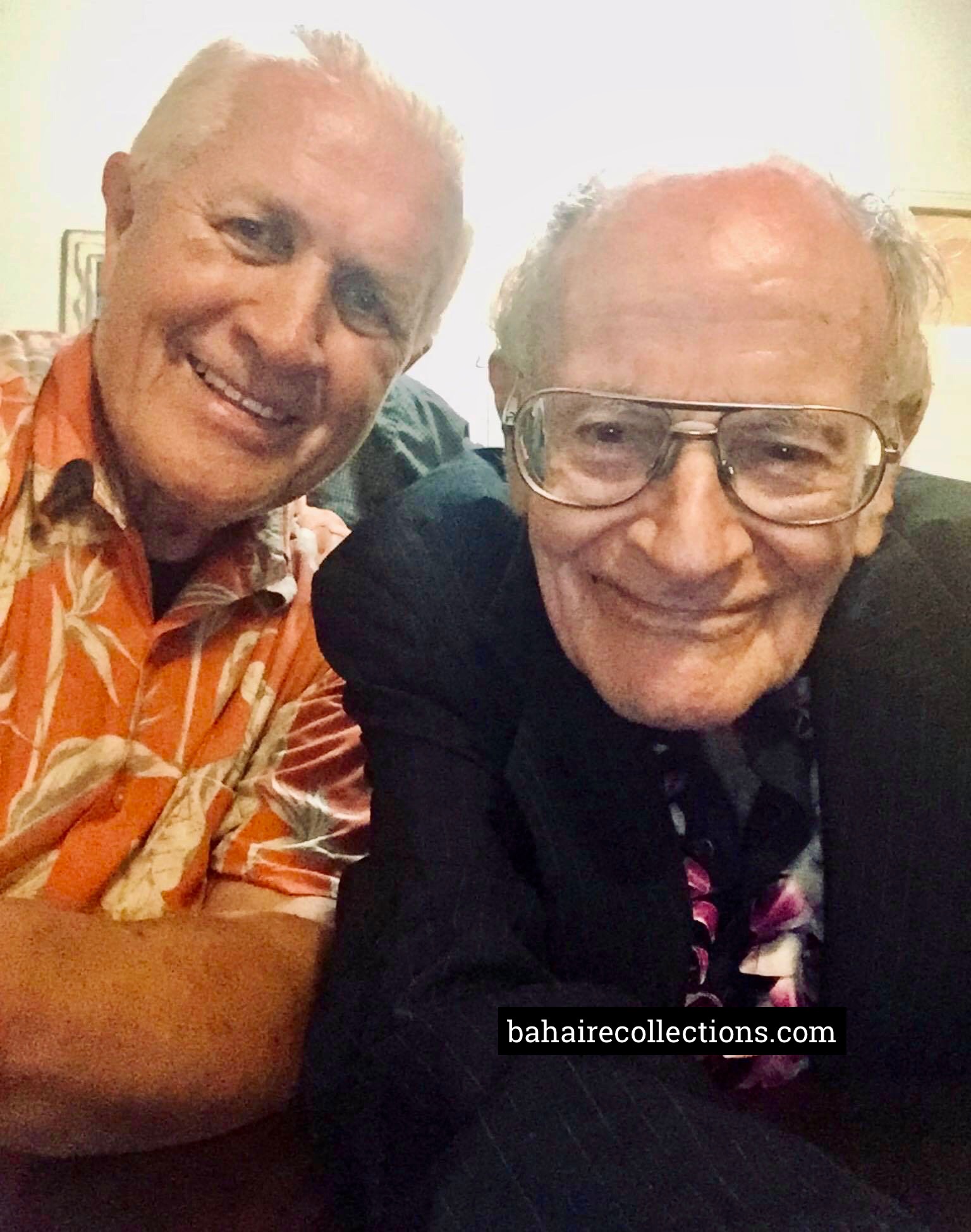 The Author Lee Lewis with Bill, 2019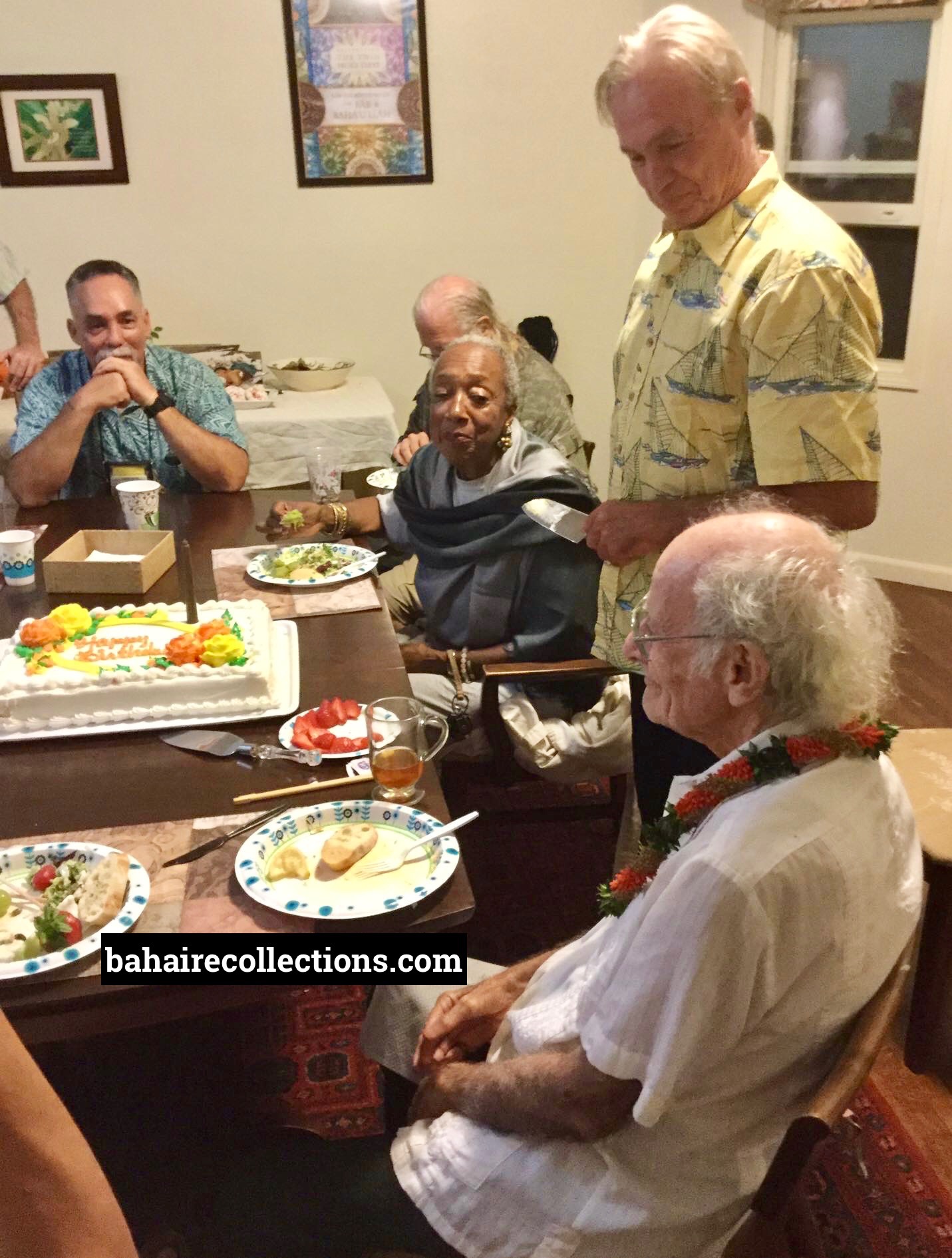 Bill celebrating his 89th birthday in 2019, at a fireside where he was the speaker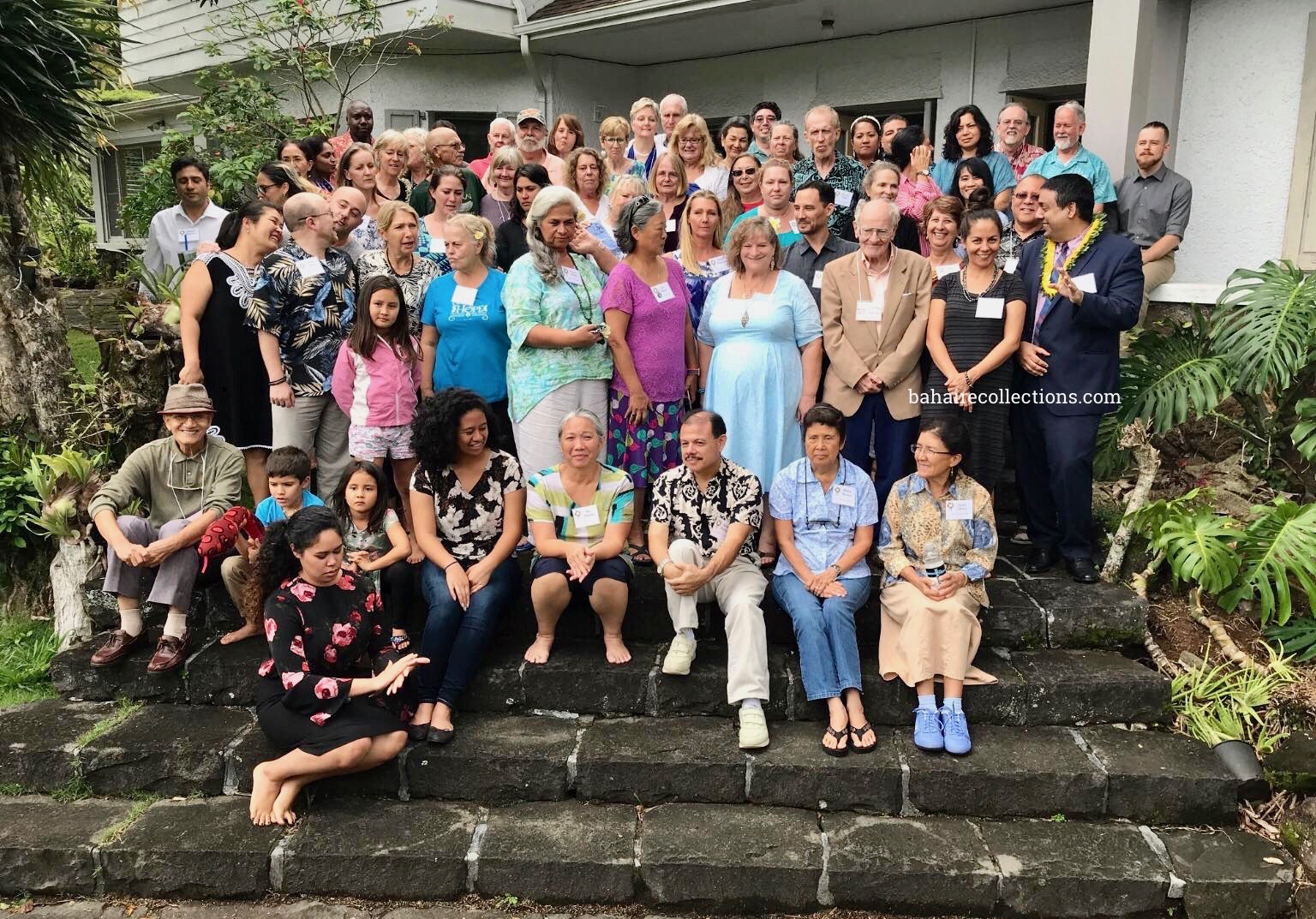 Bill stands third from right at the National Bahá'í Convention held at the National Bahá'í Center, 2019
Numerous have been the interesting stories he has shared with me, from which I have sifted some for the readers. Bill is 90 and is still mentally and physically strong, with acute memories of the past. Methinks Bill has been given a long life to enable him to share such rare memories  which  have not been published before.
Bill has had so many ups and down. He used to quip, "I was born during the Great Depression, and so depression has become second nature in me. But he always relies on this assurance from Bahá'u'lláh: "Nothing save that which profiteth them can befall My loved ones." It is this verse that has given him the needed strength to withstand all sufferings with an unflinching strength.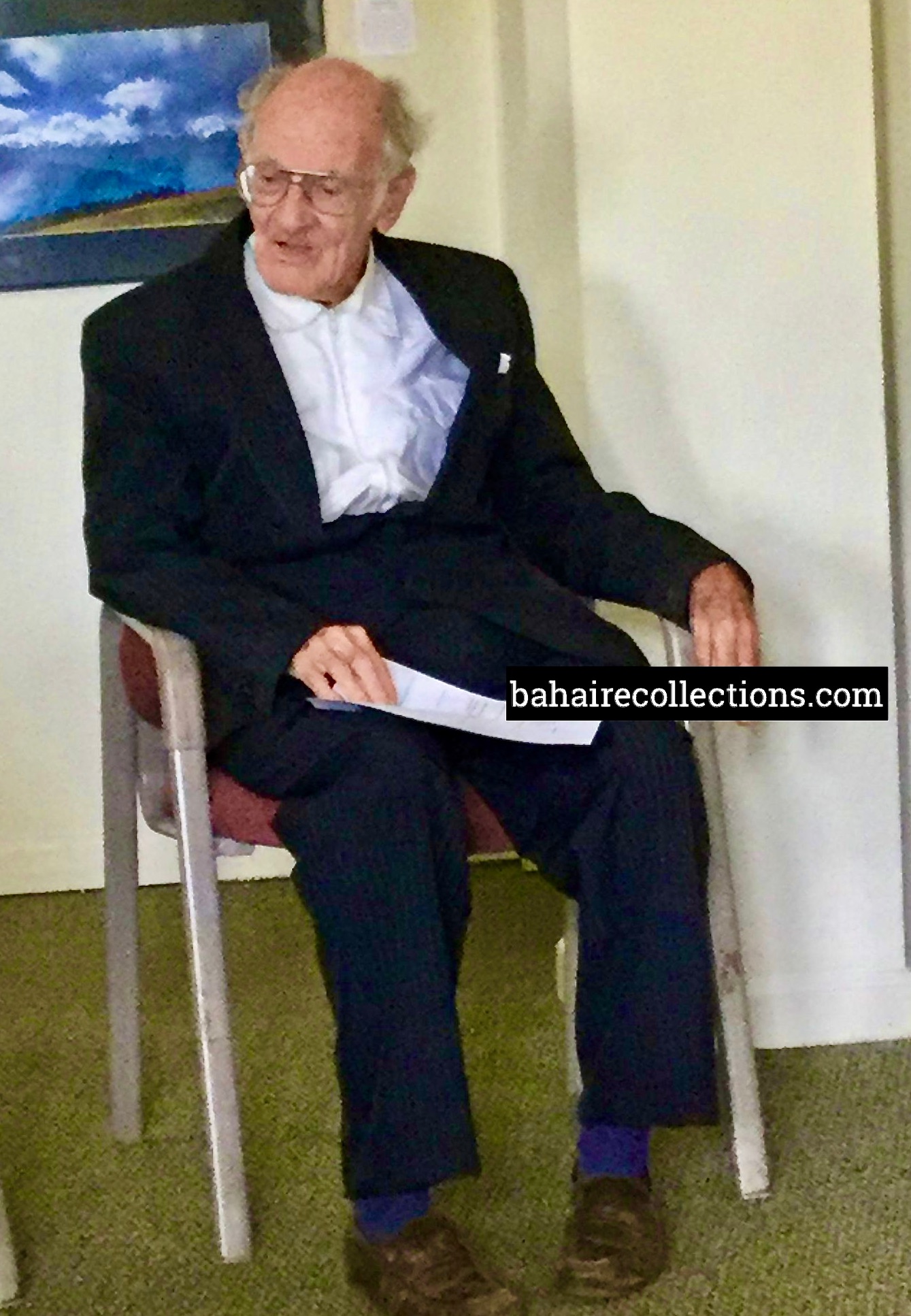 Bill  today at 90, with a keen, sharp and active mind
Bill retired more than 25 years ago and is staying in Honolulu, Hawai'i and has served on the Local Spiritual Assembly. Bill is an active bridge player- a game that is a highly sophisticated and difficult card game that requires great memory and finesse. He is one of the 1,200 global bridge players, and has reached the level of "Master Bridge Player" since the 1920s.  This is an exceptional accomplishment considering there are millions upon millions of bridge players worldwide. He is also a serious coin collector and has earned certification as a Master Coin Collector. Bill is a lover of paintings, art and culture.  What had astonished me most was to witness the amazing speed with which Bill used to recall with acute accuracy of dates of events that had taken place some 70 years ago, and his ability to recite from memory long passages from the Writings, with no detection of any flaws. Bill shall always be well remembered and will hold a special place in the hearts of everyone who crosses his path for a very long time.
Bill reciting with acute accuracy a  Bahá'í Writing.
Bill and I meet almost every Friday evening at the National Bahá'í Center of Hawai'i for firesides, and every now and then at the resting place of Hand of the Cause of God Martha Root. Bill joins me on occasions at an event held every Saturday at my home where we have breakfast together. I call it "Lee's Breakfast Club,"  a personal initiative to help bring about the unification of the entire human race.
Readers may post give their comments in the blog through this email:  info@bahairecollections.com
Lee Lewis
Honolulu
Hawai'i
30 November 2020
Copyright@bahairecollections.com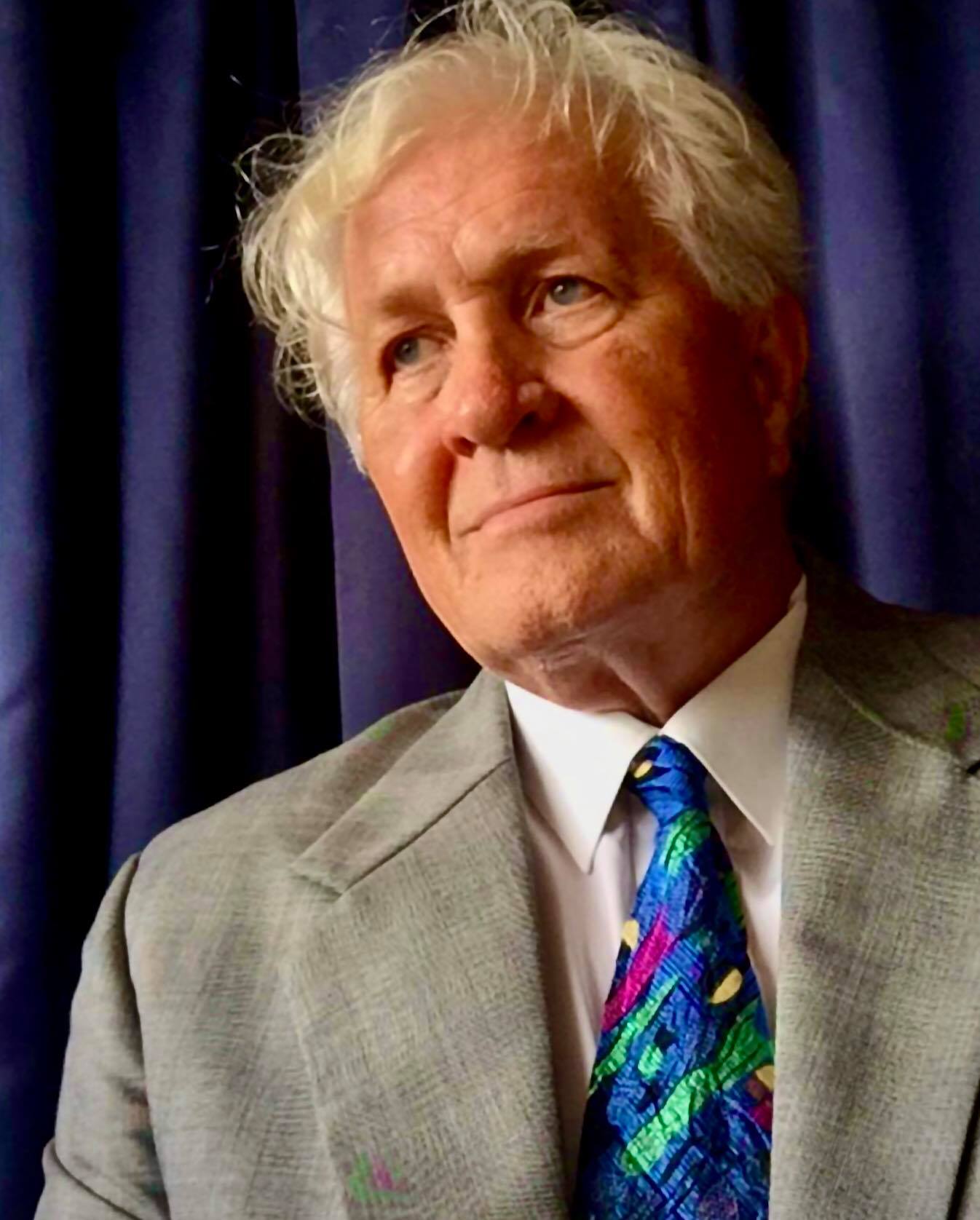 About the Author:
Lee Lewis learned of the Bahá'í Faith on his very first day at the University of North Dakota in late August, 1969, and accepted the Faith at age 19 on 12 November 1970 that marked the birthday of Bahá'u'lláh. He served on the Bahá'í Councils of four universities. He studied Engineering, Architecture, Education, Dance and did his undergraduate teaching assignment in Copenhagen, Denmark as a high school mathematics classroom instructor. Lee taught the Bahá'í Faith to his fellow college students and adults throughout Minnesota, North Dakota, South Dakota and Montana on weekends during his undergraduate days. He has attended Bahá'í Summer Schools in Minnesota, Texas, Wisconsin, Denmark, Scotland, Canada and Hawaii.
Lee has served on Local Spiritual Assemblies in three different countries, went on Pilgrimage the in 1973 and was a delegate to the Annual Bahá'í Convention in Norway in 1974 during his time as a classroom instructor of mathematics at the Stavanger International School, Stavanger, Norway. Today he serves as Chairman of the Local Spiritual Assembly of the Bahá'ís of Wahiawa, Hawai'i.
Professionally Lee has been an explorer of oil under the depths of the ocean as a Certified Offshore Oil Blowout Prevention Specialist and installation manager of the world's largest and most technologically advanced drill ships. He built over 350 custom homes, over 50 healthcare facilities and developed several country estate subdivisions. Currently he is building 100% off-the-grid tiny homes, manufacturing the #1 cold-pressed juice in Hawai'i and promoting health and wellness through proper hydration, nutrition and lifestyle.