REMEMBERING PHUNG WOON KHING

6 April 1932 – 30 July 2015
Mr. Phung Woon Khing, known as "Phung" among his peers and "Uncle Phung" among the youngsters was one of those early believers whose quiet and yet indelible services for the Cause of Bahá'u'lláh had decorated the pages of Bahá'í history. He undertook works for the Cause quietly and without any publicity, in the spirit of "fewness of words and abundance of deeds" as his guiding principle.
Phung born in Penang in 1932 had in later years befriend Mr. S. Nagaratnam through whom Phung was guided into the Cause. Phung would later recollect that Nagaratnam was a classmate, colleague and course mate. Phung first studied at the Malay Boy's School in Sungei Petani town, and upon passing the examinations in 1946, he pursued his education in the Ibrahim Secondary School in the following year. Even while studying at the Ibrahim School, he took an advanced course in the Chinese language during night classes in the neighboring Sin Min Primary School and graduated in December 1952. From 1953 to 1955 he became a teacher of English in the Ibrahim Primary School, and Malay language in the Ibrahim Secondary School where Nagaratnam too taught. While teaching in that school they attended the Normal Class Training held during weekends. Considering the difference of races and personalities between them, somehow Phung and Nagaratnam were drawn to each other and became closest of friends. Although Nagaratnam was younger to Phung by six months, Phung treated Nagaratnam as an elder brother. In their olden days they used to spend time together, enjoying each other's company. Nagaratnam was an atheist and activist, fighting for justice the oppressed in society, and had socialist leanings while Phung who was steeped in traditional Chinese customs preferred a quiet life and thus was reluctant to be involved in Nagaratnam's audacious thinking and activities. Yet Nagaratnam would find ways to drag Phung into discussing his ideas, sometimes for hours under a lamp post after both visited some labourers. Over time, Phung came to have the highest regard for his friend and grew to admire him greatly.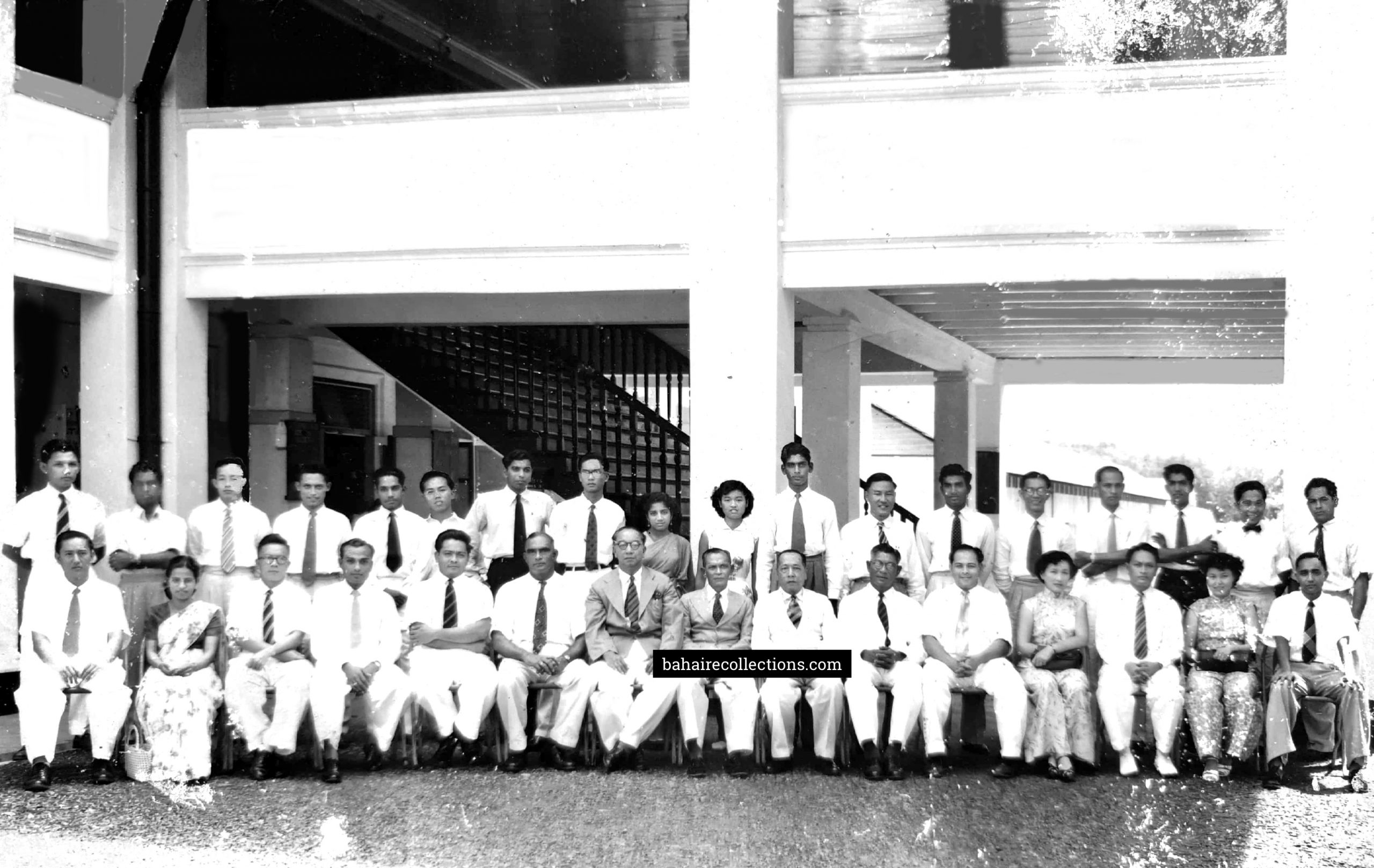 Phung, standing sixth from left and Nagaratnam standing tallest beside the pillar. Group photo taken when both were teaching in Ibrahim Secondary School, 1954
In 1955 Nagaratnam was posted to Alor Star town to teach in the Sultan Abdul Hamid College while Phung was posted to the town of Kuala Nerang to teach in the Kuala Nerang English Primary School. They continued meeting up often on weekends at Nagaratnam's residence in the Teacher's Quarters of Sultan Abdul Hamid College in Alor Star. Sometime in mid 1963 Phung witnessed a sudden change that came about Nagaratnam. Nagaratnam was no more that old aggressive activist and atheist. He had toned down, become calm and God-fearing. This unexpected transformation in Nagaratnam triggered the surprised Phung to investigate the roots of this change in his friend. Nagaratnam broke the news to Phung that he had accepted one new religion known as the Bahá'í Faith on 23 June 1963. Seeing the enormous influence the Bahá'í Faith had created in Nagaratnam, Phung was naturally moved to investigate the new religion. Even while investigating the Faith, Phung was slowly becoming a changed person. Nagaratnam had a very strong influence on the character and personality of Phung, and Phung too wanted to become a changed person, and the first thing he did was to give up drinking and smoking, as Nagaratnam himself had done after accepting the Faith.

Nagaratnam and Phung in a photo taken in 1958
Phung became a serious investigator and made frequent visits to Nagaratnam. Whenever Phung came down during weekends they always ended up talking about the Bahá'í Faith until past midnight, and sometimes extending till early dawn. Although Phung was interested in learning about the Faith, it was not easy convincing him, as he raised many questions. At the last meeting on the night of 29 August 1963, Nagaratnam discussed the Faith with Phung with much details and answered all his questions very satisfactorily. Yet Phung was not bent into accepting the Faith. Something was still bothering him deep inside.
As a strange coincidence it was only several days prior to this last meeting with Nagaratnam that Phung had seen some strange light that he could not explain. At first Phung thought that it could be his mere imagination, but it happened to be real that was new altogether! Phung was convinced on the teachings of the Faith, but there was one major doubt that remained a hurdle into accepting the Faith. According to Chinese traditions, he was used to praying to ancestors and the loved ones who have left the world, especially his mother whom he loved dearly. Phung thought that by accepting the Faith his practice of praying to his mother who had passed away in 1959 had to stop and had to be replaced by praying directly to God. He was truly perplexed. But Nagaratnam clarified that the Bahà'i Faith emphasizes and encourages believers to say special prayers for the departed and mentioned that the Manifestation of God had revealed several prayers for that purpose. Phung who very happy with this clarification would relate later, "I was very happy to know that I can still pray for her instead of praying to  her!." As soon as he heard that satisfactory answer at 3:00 am on 30 August 1963, tears flowed down Phung's cheeks. When his tears rushed down something very bright appeared in front of him, reminding him of what he had seen quite recently. Then the convinced Phung felt that he should not delay accepting the Faith any further and signed in the Bahá'í declaration card. For many years Phung was reluctant to relate about the strange light he saw just seconds before he signed up as a Bahá'í, for fear that the listeners would misunderstand or take it to be a mere hallucination. Yet in his mind's eye he knew that he was clearly guided into the Faith through that light. The early hours of 30 August 1963 would be an unforgettable event in the history of the Faith in Malaysia for, as one looks back at the spotless life and indelible services of Phung for the Faith, one would be convinced that he had been handpicked by the Blessed Beauty for some special services in the Faith. That was the sweet beginning of the manifold areas of services Phung would render the Cause. Phung remained grateful to Nagaratnam for guiding him and nurturing him in the Faith. By his own admission it was Nagaratnam who was also the actual muscle in Phung's growth in the Cause.
As soon as Phung accepted the Faith he was immersed with love for his newfound Faith and wasted no time in serving it. He teamed up with Nagaratnam and first took the Faith to many youths  in Alor Star. Teh Teik Cheow and Choo Yeok Boon were two young men who had already known something about the Bahá'í Faith but accepted it later with the persuasion and encouragement from Phung and Nagaratnam. Teh Teik Hoe warmly recollected that when he accepted the Faith on 1 January 1966, Phung said a prayer for him. In those days it was  a customary practice in Alor Star to say prayers each time someone accepted the Faith.  The youth of Alor Star rallied around Nagaratnam and Phung whose company elevated their spirit. Phung's warm and radiant smile and his well-groomed mustache, rare for a Chinese, shall ever be etched in our hearts as his special trademark when bringing him to remembrance.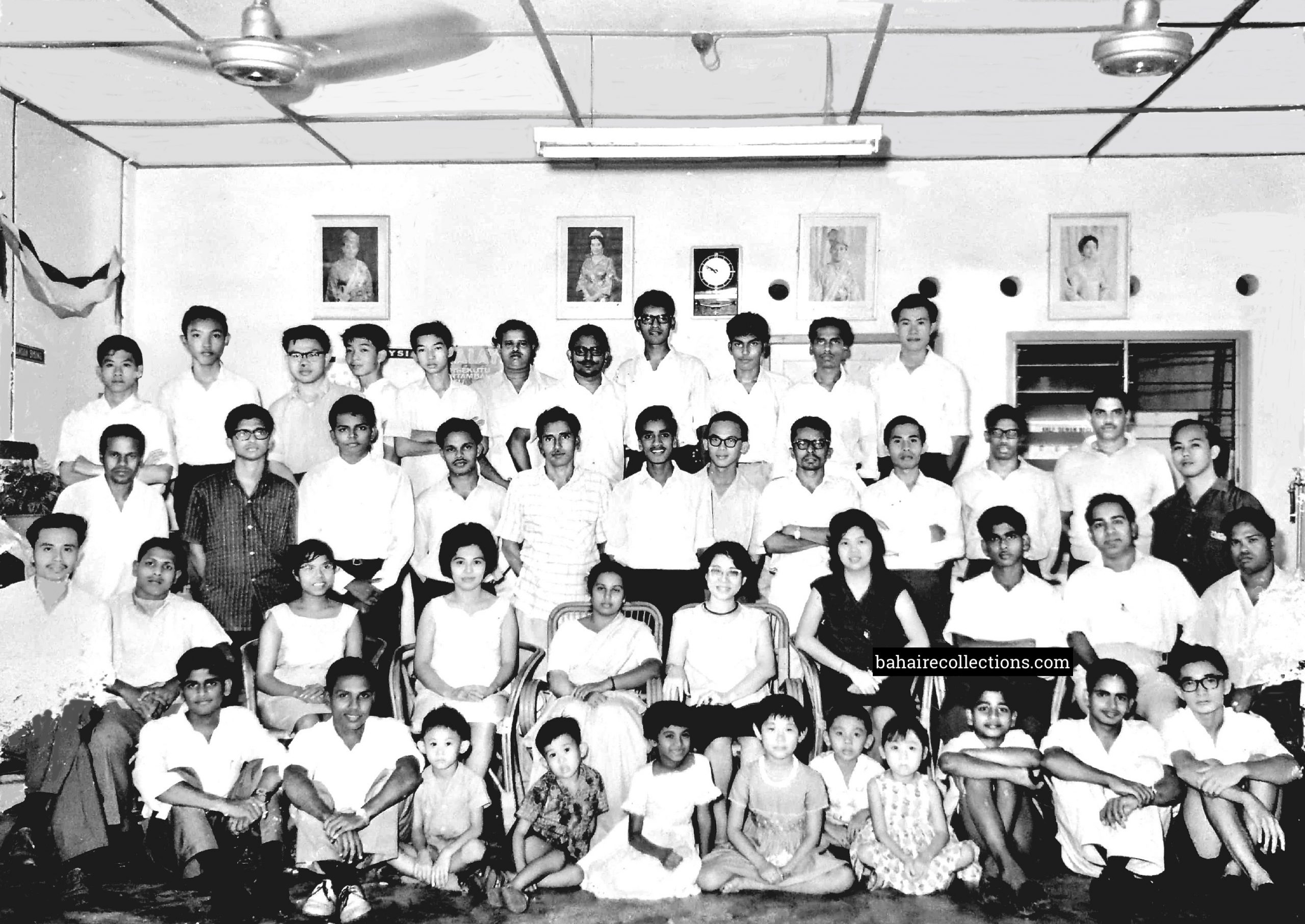 A December 1963 photo of farewell for Mrs. Theresa Chee leaving for Ipoh, seated sixth from left, with Mrs. Rajambaal Nagaratnam to her right. Nagaratnam is seated third from right. Phung is standing at extreme right. Standing second from left at back row is Choo Yeok Boon with Mei Siew Hong standing at extreme right in the same row.  Seated on the floor from right are Yin Hong Shuen, R. Ganasa Murthi and V. Manoharan. Seated on the floor at extreme left is V. Nadarajan. Nadarajan and Manoharan are nephews of Nagaratnam who had accepted the Faith.
Next Phung started undertaking teaching trips throughout the states of Kedah and Perlis and later to other parts of the country. Nagaratnam, his spiritual teacher, always involved him in teaching activities, with both travelling by public bus and motorcycle to places. Going out teaching with Nagaratnam gave Phung so much experiences and confidence and taught him how to give explanations on many Bahá'í subjects, as those teaching trips also became deepening sessions for him.

Phung and Nagaratnam on a teaching trip by boat.
It is testimony to his radiant spirit that Phung loved undertaking teaching trips to rubber estates in the state of Kedah where Tamil speaking people resided  in abundance. When state level conferences were held in other parts of Kedah state for the Tamil speaking friends, Phung also participated and spoke in simple Malay. Phung also picked up a few words in the Tamil language to communicate with the Tamil-speaking friends. He became much loved by the Tamil-speaking friends at all gatherings.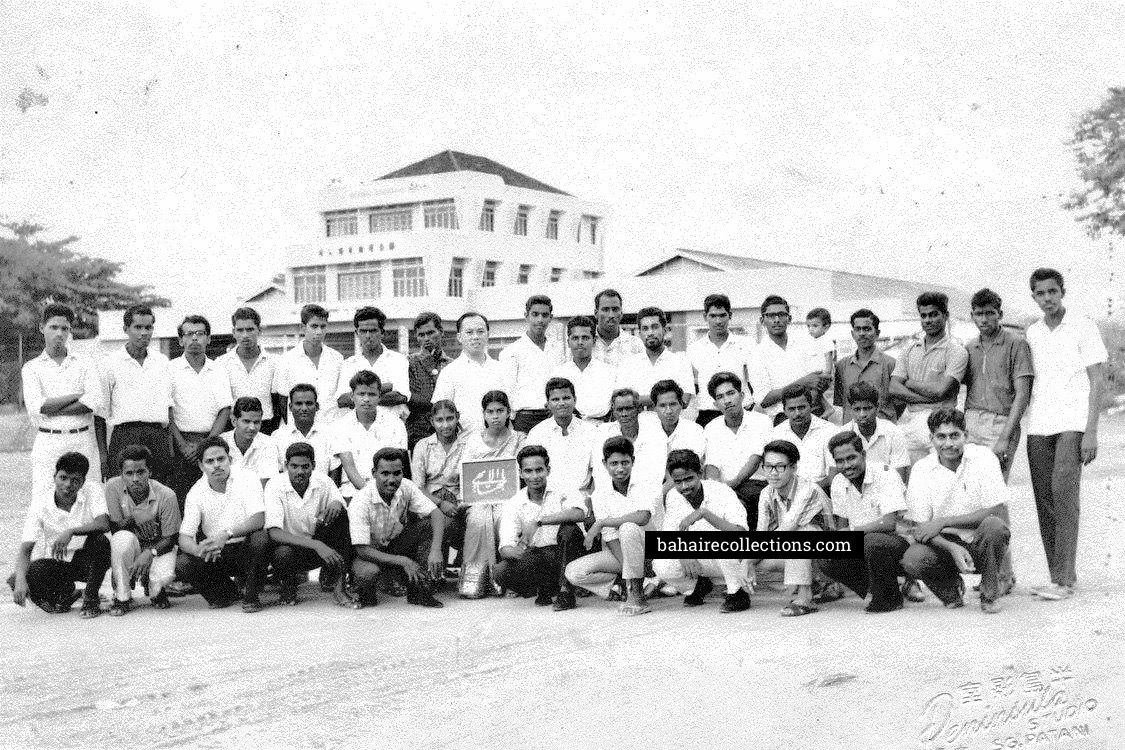 Phung, who chaired a Teaching Conference held  in Sungei Petani in May 1967  stands in the centre. Nagaratnam is squatting at extreme right.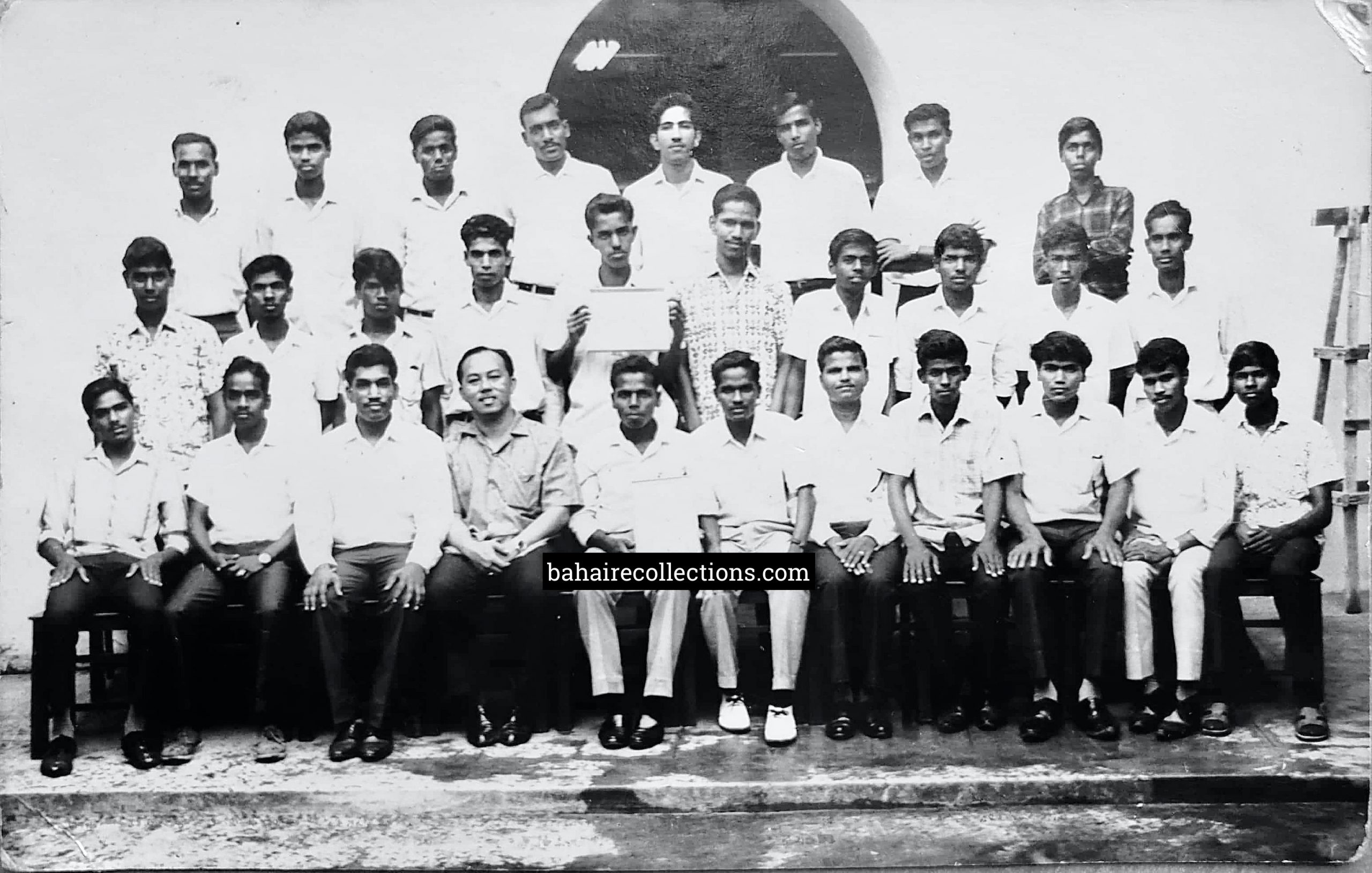 A Tamil Teaching Conference held in Kulim town in May 1969, with the ever lovable Phung, the only believer from Chinese backround is seated fourth from left, with Kesavanathan to his right. To the left of Phung are Birkan, V.S. Maniam, and P.U. Suppan. S. Krishnan stands middle at back row with Arul Sivanathan to his right. At extreme left in the same row is Kannaiyah Adaikkalam. 
Phung was passionate in nurturing a Bahá'í environment for his family. In 1964, that is one  year after Phung became a Bahá'í, his wife Madam Chan Soo Moy too accepted the Faith. Interestingly Phung did not give the Faith to his wife directly. She was first attracted to the drastic transformation she saw in him and wanted to know the reason for that change in him. She then read some Bahá'í books that Phung had kept in the house. Going through the books, she found the Faith resonating her own thinking. She for once never believed in those worn-out traditional beliefs and superstitions current in society and grew loathing performing any of the Chinese traditional praying ceremonies. She just could not bring herself into accepting the practice of offering material food to God and making offerings to those dead. Her own position was that if something does not square with reason it has to be superstition. Having read and investigated the Faith on her own she accepted the Faith.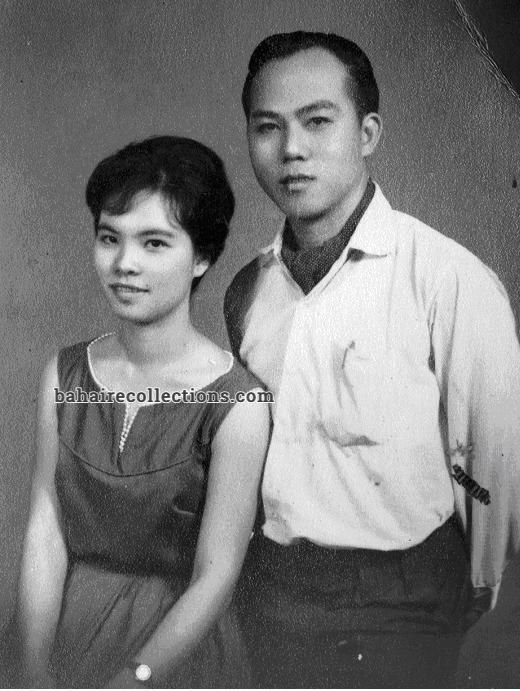 Madam Madam Chan Soo Moy and Phung Woon Khing.
The happy Phung and his wife began to instill the Bahá'í way of life in their children by telling them Bahá'í stories, teaching them prayers and songs and taking them to children classes. In later years his three  daughters – Judy Phung Li Lian, Phung Li Tan and Phung Li Chen and the only son Shehab Phung Chee Wei accepted the Faith. Phung himself set example for his children by saying the dawn prayers, performing ablutions before saying the obligatory prayers, observing the fast, attending Feasts, commemorating the Holy Days and reading the Holy Writings in the mornings and evenings. The children also saw him say the midnight prayers. While the children did not understand the significance of these acts on the part of their father, later it just became a second nature in them in obeying the laws of Bahá'u'lláh. As often as possible Phung would get the family members to sit and pray together. He would urge them to say the prayers for those departed- both within and without the family.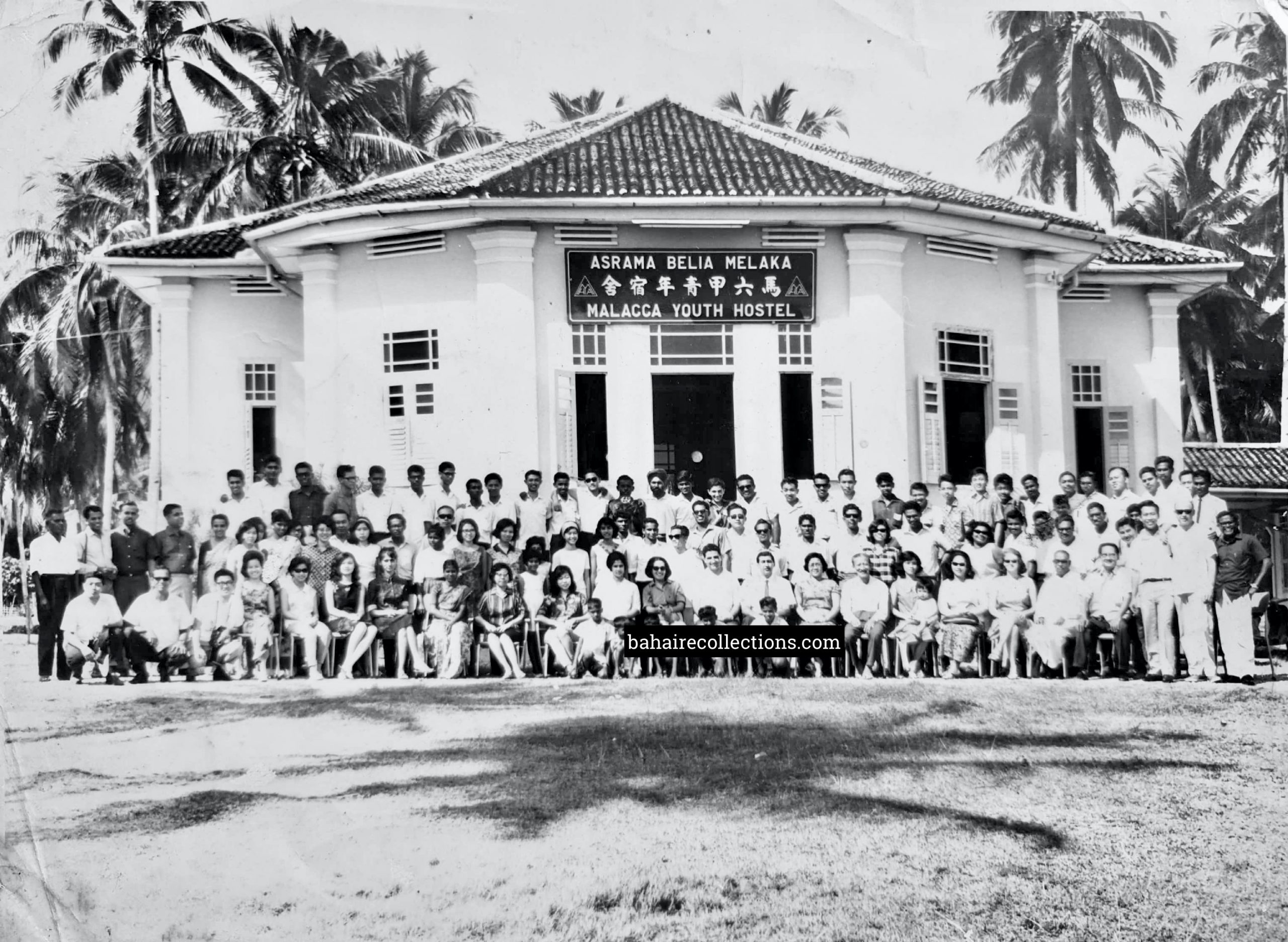 Summer School of 1965  in Malacca Youth Hostel. Judy Phung Li Lian,  barely two years old is seated on her mother's lap who is seated fifth from right. Phung stands fifth from right at back row.
Phung was a firm believer in severing from blind imitations of the past. Cash gifts that were traditionally handed out to children for the Chinese New Year celebrations were replaced by new dresses for Naw-Rúz celebrations. The children enjoyed the fasting month each year as they would go to the different homes for the breaking of the fast and pray, deepen on some aspects of the Faith and break the fast together, which helped them in building strong bond among the Bahá'ís in their community. The Phungs themselves would open their home at least once in the fasting month to break the fast at the community level. The children were encouraged to fast even before they attained the age of 15, though without any coercion. Going to annual Summer and Winter Schools were always a family trip that everyone looked forward to. He subscribed the then United State Bahá'í Magazine, the "Child's Way" for his children. He would take his children along for teaching trips, including the rural areas and estates. His constant lesson to his children was, "Whatever we do, our thoughts should be centered around serving the Cause. When we put the Faith first everything will fall into place." It was this thought that prompted him to enroll his daughters Judy Phung Li Lian and Phung Li Tan in English medium school and daughter Phung Li Chen and son Shehab in Chinese school. He instilled in them love for books,  and to this day they have a very good collection of books passed down to them from their father.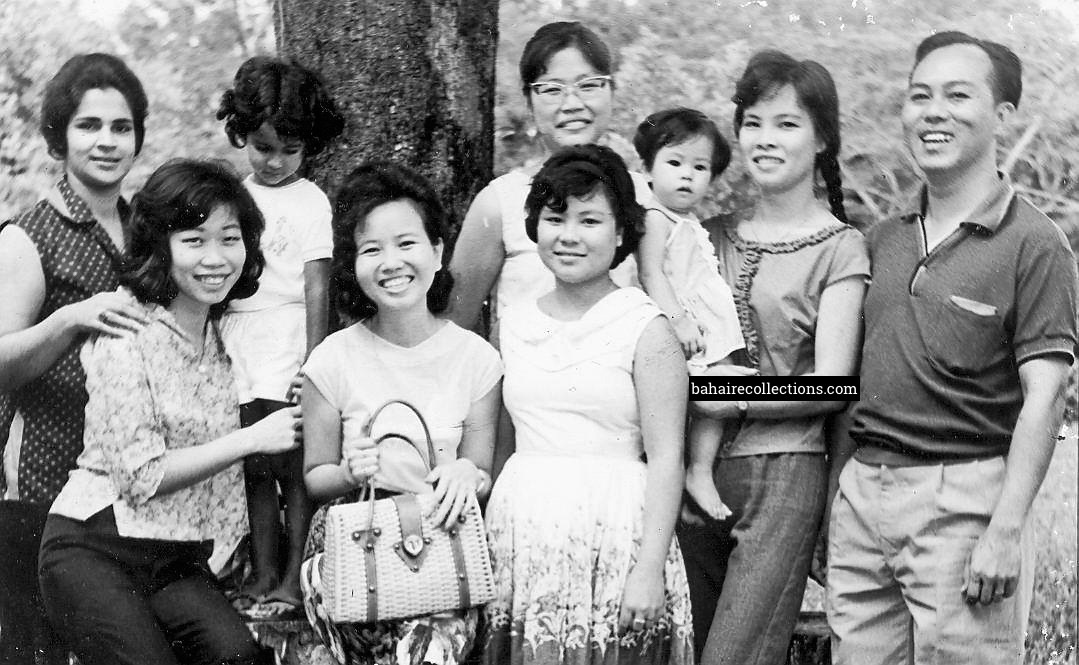 A 1964 visit by Betty Fernandez, extreme left with daughter Zeena and Khoo Siew Thay to the home of the Phungs. Phung is at extreme right, with his wife next to him carrying Judy Phung Li Lian. Beside Mrs. Phung is Ms. Phung Siew Ngeat, sister of Phung, and in front of her is Ms. Phung Siew Choo, another sister of Phung.
The role of Mrs. Phung in joining her husband in upbringing of the children was equally important. She was a strong supporter and pillar for Phung and the family. She  was the one who would plan with the children as to how the family would celebrate Naw-Rúz. She ensured all family members had new dresses for Naw-Rúz. Whenever Bahá'í functions were held at home, she ensured all the physical arrangements were well planned and meticulously organized. Although a homemaker, she had the talent and ideas to handle everything independently, giving her husband more freer time to concentrate on his other Bahá'í works. Their home was always open to visitors.

A 1971 photo of the family. Front row L-R: Phung Li Chen, Phung Li Tan and Phung Li Lian. Mrs. Phung is carrying Shehab.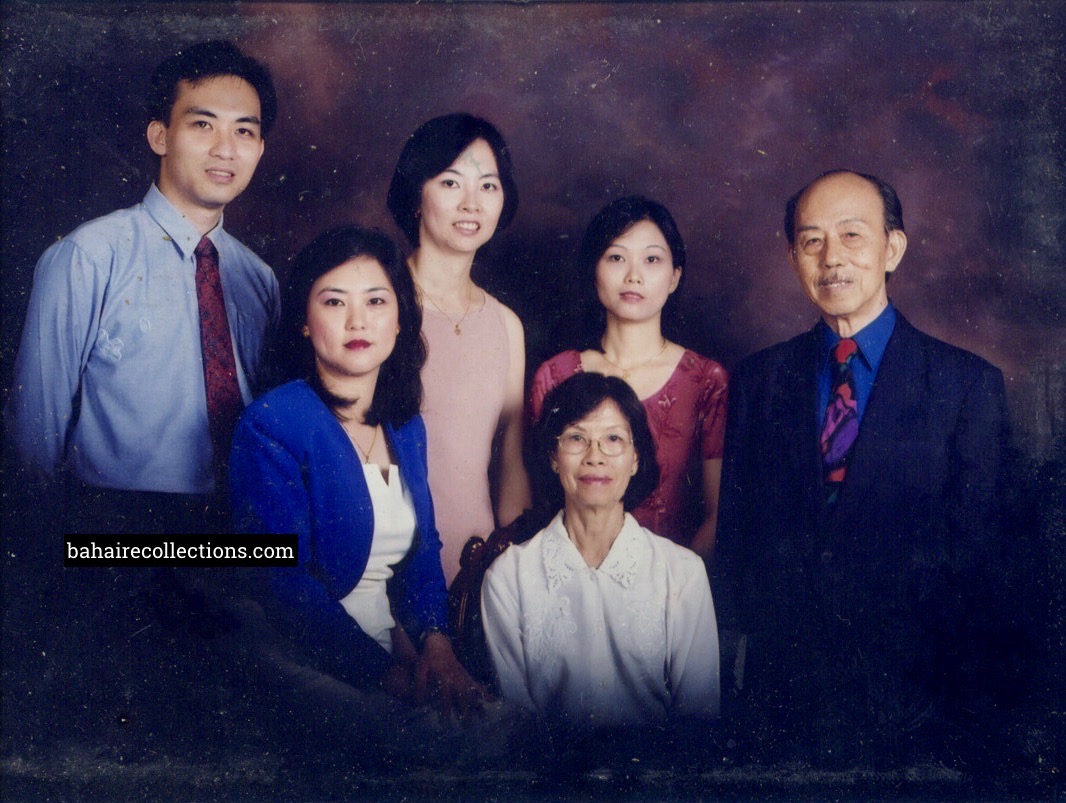 A family photo of later year. L-R: Dr. Shehab, Judy Phung Li Lian,  Phung Li Tan, Phung Li Chen and Mr. Phung, with Mrs. Phung seated in the center.
Phung was a natural lover of people of different races, especially the Malay people whom he and his family had lived among for many years in Kuala Nerang where he started teaching since 1955. During his career as teacher and subsequently as headmaster, Phung served in three schools, where he won the admiration of his co-teachers, as well as his students who were mainly of the Malay race, in no small part due to his beliefs as a Bahá'í. He was one of the few believers who interacted very closely with the people of the Malay race. His fluency of the Malay language and his natural love for the Malay race was instrumental in him winning their hearts.
He always ensured that at the Hutan Kampong school in which he served as Headmaster later, the observance of the birthday of Prophet Muhammad (Maulud Nabi) was observed befittingly, and there was once when he brought along his family members to join in the celebrations, much to the great pleasure of the Malay – Muslim people. When he first bought the black and white television, a luxury that was not available to the general populace in the villages, Phung would open his house for the villagers to watch the Malay movies, especially those of the screen icon P. Ramlee. Phung's family would sit among them and watch the movies for some three hours, while the villagers would enjoy the hospitality of the Phung family. Phung won their hearts in yet another way when he organized the screening of movies in the open field behind his teachers' quarters for the entertainment of the village folks who could not afford going to towns to watch movies in the cinema halls. The Malay villagers would sit on both sides of the screen and enjoy the movies.
He was also able to integrate closely with the Malay community on account of some hobbies that he had developed. His favorite hobby was joining the local band and playing the "keroncong" instrument and rendering instrumental presentation of the "dondang sayang" through his violin. He was also very good in Malay pantuns (poems). It was through such sincere deeds born out of love for the Malay villagers that they came to respect him and the Bahá'í Faith.
One of Phung's closest friends since 1962 was one Haji Mohd Noor Bin Haji Ahmad, who was the Assistant District Officer of Padang Terap District of Kedah State.  This Haji Mohd Noor played a crucial role in choosing a bride for Phung. And when the wedding reception was held at a Chinese restaurant at the New Spring Tide Hotel  in Tanjung Bungah  in Penang,  he was given the honour of addressing at the event.  Haji Mohd Noor later became a Federal Court Judge and their friendship lasted till the end of Phung's earthly life. The two families retained their bond as more that family members.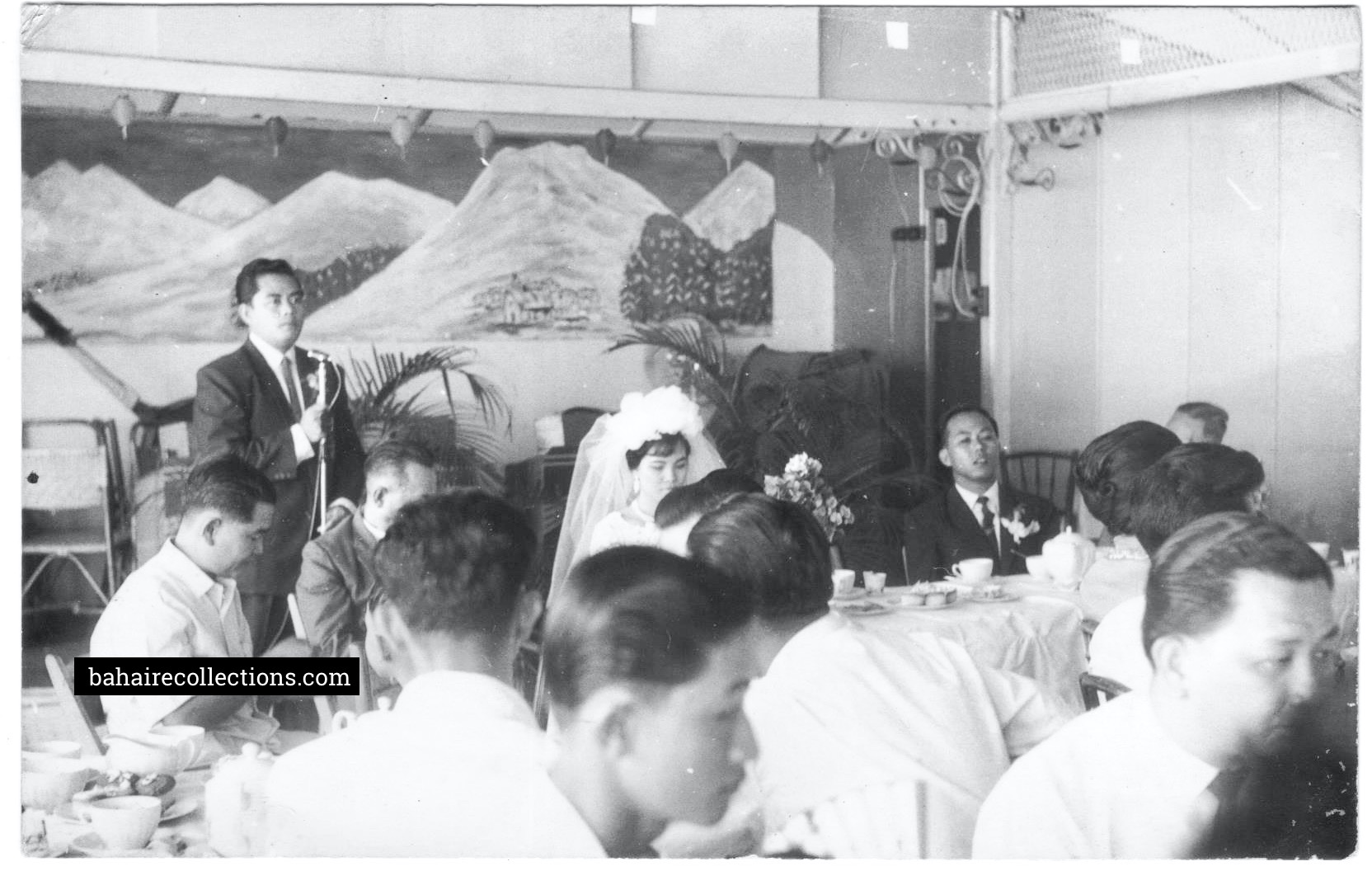 Haji Mohd Noor addressing at the wedding reception.
Phung holds the distinction as being one of the translators at the first National Bahá'í Convention of Malaysia held in 1964 in Kuala Lumpur. He translated  the talks of some of the speakers, including Hand of the Cause of God Amatu'l-Bahá Rúhíyyih Khánum, from English into the Malay language. Recalling that experience Phung would later relate, "I was just like and innocent child then. I wonder how I could have translated the speeches of the speakers. At that time, there were very few non-Malays who knew the Malay language. I was in fact 'forced' to do the translation for the benefit of the natives of Sarawak called the Ibans and aboriginal friends in the Malayan jungles called the Asli people who came for the Convention in large numbers. Right or wrong I had to do the job. I do not think I ever could do the same now. It is said that we should have the courage to do anything that is required, whether perfectly or not. It is for the future generation to rectify our mistakes or further improve on what we have done." He went on to say that he was at first ignorant of the significance of translating for Amatu'l-Bahá Rúhíyyih Khánum, until someone mentioned years later of the significance of the historical act and the rare privilege accorded him.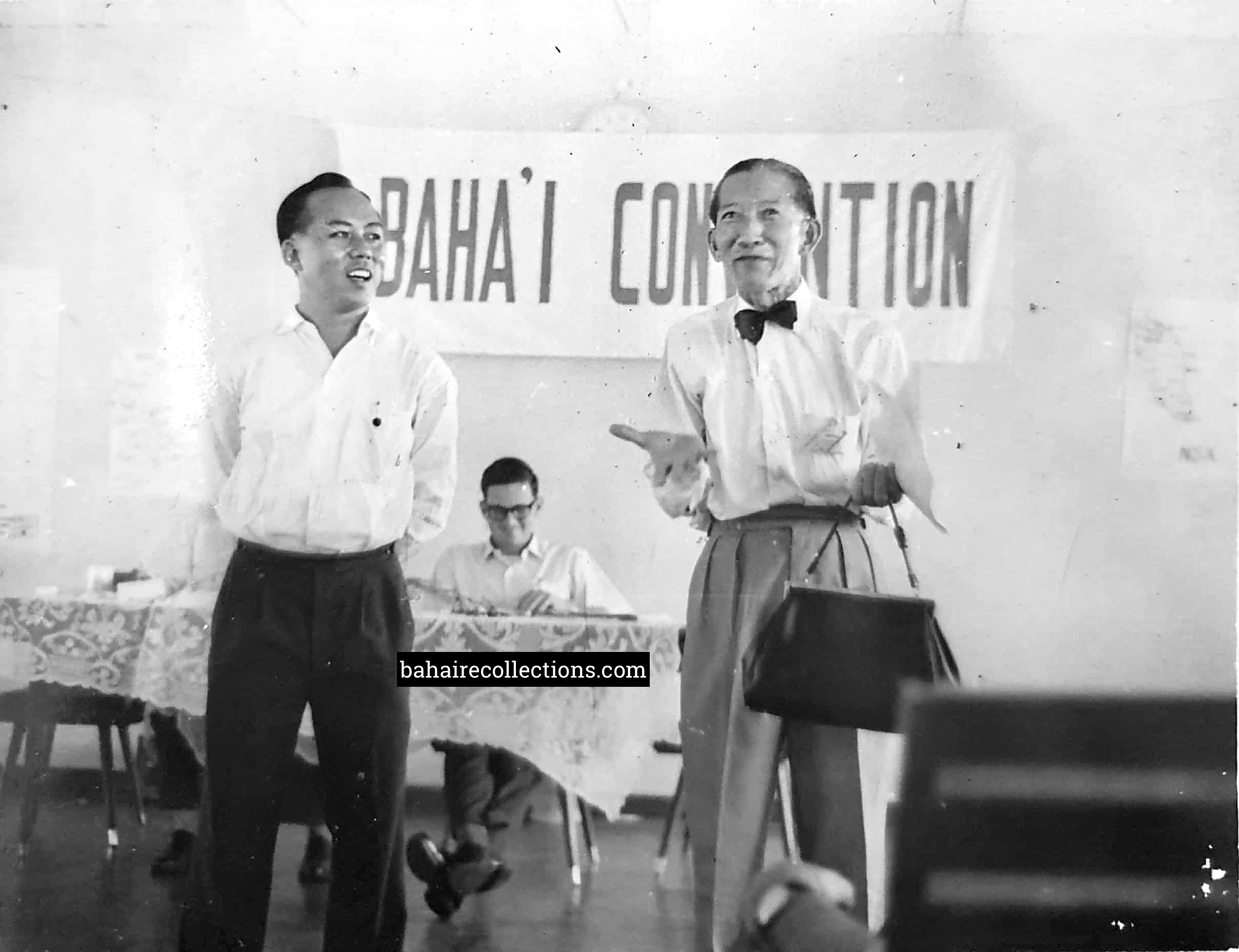 Phung translating for Yankee Leong, first believer of Peninsula Malaysia at the first National Convention, 1964. Seated in the center is Harlan Lang.
Although residing in Kuala Nerang, he was actively involved in the Bahá'í activities that took place in Alor Star town. Whenever there were visitors to the Alor star community, Phung was always there to attend their talks, such as visit by Hand of the Cause of God Dr. Raḥmatu'lláh Muhájir in 1964, Mr. Hushmand Fatheazam, member of the Universal House of Justice in 1965 and Hand of the Cause of God Ṭaráẓu'lláh Samandarí in 1966, to name a few. The talks of these visitors assisted in strengthening the faith of the already devoted Phung. Phung was so impressed by the knowledge and personality of Master Shehab, son of Mr. Hushmand Fatheazam who came along with his parents in the 1965 trip that he named his son Shehab after him.
When Hand of the Cause of God Dr. Muhájir suggested the formation of the Thailand- Malaysia Border Committee to organize teaching activities around the border area separating the two countries of Thailand and Peninsula Malaysia, Nagaratnam and Phung became the initial pillars of this work. They traveled often to South Thailand to teach the Faith. In 1967 many more were appointed into this committee that was renamed South Thailand Border Teaching Committee. Phung later moved into Alor Star town where his children studied in the schools in Alor Star. Phung was a member of the Alor Star community for many years- both when he was in Kuala Nerang and when he later moved into Alor Star.

South Thailand and Malaysia Teaching Committee, 1967. L to R : Phung, Houshang Shayegh, Auxiliary Board member Leong Tat Chee, Nagaratnam (Secretary) and  Samneran (Chairman)
Among the few memorable incidents in his life was the official opening of the own Bahá'í center of the Alor Star believers at number 7, Jalan Serai. When Hand of the Cause of God Abu'l-Qásim Faizi came to Malaysia for the First South East Asian Bahá'í Youth Conference in December 1968, he was invited to Alor Star to officially open the new Bahá'í Center which he did on 27 December 1968. Phung who was the Chairman of the Local Spiritual Assembly of Alor Star gave a speech on the circumstances leading to the purchase of the Bahá'í Center. When Mr. Faizi  delievered his talk, Phung along with several others who had gathered were deeply moved.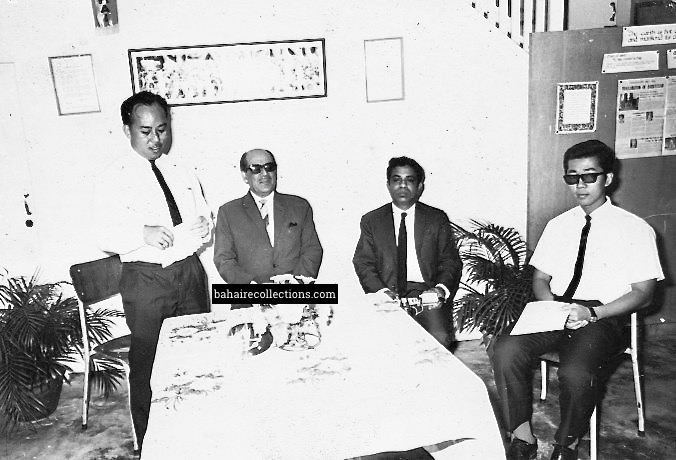 Phung addresses at the official opening of the Alor Star Bahá'í Center. Seated at extreme right is Tan Keat Fong, Master of Ceremonies. Seated in the center are Mr. Faizi (L) and Counselor Dr. Chellie J. Sundram (R)
The one more area where Phung was a shining asset was his excellent command of the Malay and the Indonesian languages, with which he served the Cause effectively. Phung was one of the very few who was able to read and write in the Jawi script (an Arabic script the Malay people used as alphabet after the arrival of Islam in Malay Archipelago). His read the Utusan Melayu daily which was printed in Jawi script. In those days Phung would read and translate news on the Faith that appeared in the Utusan Melayu and in the Indonesian papers. These translations were useful to the National Bahá'í institution which monitored news and statements on the Faith and took measures that were needed.
In 1968 when he was the headmaster of the Kuala Nerang English School he had registered for a degree course and in April 1971, at the age of 39 passed the written examination of the Indonesian language organized by the West Malaysian Malay Teachers Association. In an interview published in the Berita Minggu daily dated Sunday August 15, 1971 Phung mentioned that his desire was to master the Indonesian and the Malay languages. In the same interview he stated that armed with fluency in these languages he felt he could promote racial unity in this country. He also enrolled for a degree course through correspondence with the National University of Indonesia and on 30 December 1973, gained a Bachelor of Arts degree in the Indonesian Language, and Classical Literature and Modern Malay Literature. With this act, he had beefed up his capability to handle translation works. And rightly when in 1976 the National Spiritual Assembly of the Bahá'ís of Malaysia set up the Malay Translation Unit, Phung was a natural selection to be among others who served on this Unit. This Unit translated the Bahá'í terminologies into the Malay language and sent them to Indonesia for approval.
Phung had translated the New Garden into Malay which was published in 1981. He had reviewed the Malay translation of the book "Daily Readings" that was translated by Dr. S. Nathesan of Muar community. He had assisted several other translators who ventured into translation of Bahá'í literature from English to Malay and had reviewed them as well. In August 1997 he completed the translation into Malay of the Hidden Words of Bahá'u'lláh which was published. He also completed the story of Ahmad who was the recipient of the Tablet of Ahmad with questions related to it, which somehow did not hit the shelves. He involved his children in typing out his translation work. He would get them to look for most suitable words from the many dictionaries he had in his collection. When Judy Phung Li Lian was transferred to Alor Star, he employed a teacher to teach her Jawi so that she too could be of service to the Faith.
A word on the Chinese translation works in which Phung was involved. Chinese translation works were developed in Alor Star, with the initiative of Phung, Yin Hong Shuen and Mei Siew Hong who were the early teachers of the Chinese race in the state of Kedah. Phung translated some Writings into Chinese to the best of his ability, though not without inviting some criticism. His humble reply was simple, "There has to be somewhere to start off, and perfection would come in the future."
Phung had also played an important role in bringing the Faith to the Chinese speaking believers. In 1969 the National Spiritual Assembly of the Bahá'ís of Malaysia appointed a Chinese Affairs Department. The country was divided into four regions with each region assigned to an individual believer who was well conversant in the Chinese language. Phung was made responsible for the northern states of Kedah, Perlis and Penang. Phung also participated as an active speaker in several other conferences held for the Chinese speaking believers in different parts of the country.
A word has to be said about the great love he had for his parents. His father Mr. Phung Tee Sam died a Buddhist in September 1971. Though a Buddhist he was always supportive of the Faith. Phung made arrangements for him to be buried according to Bahá'í rites in a Chinese cemetery in Sungei Petani. Theresa Chee from Ipoh and Betty Fernandez from Petaling Jaya, as well as several believers from Alor Star were also present at the burial ceremony. Phung wrote both their names, dates and times of their passing on the page containing prayer for the departed in his Bahá'í Prayer Book and made it a point to pray for them every day.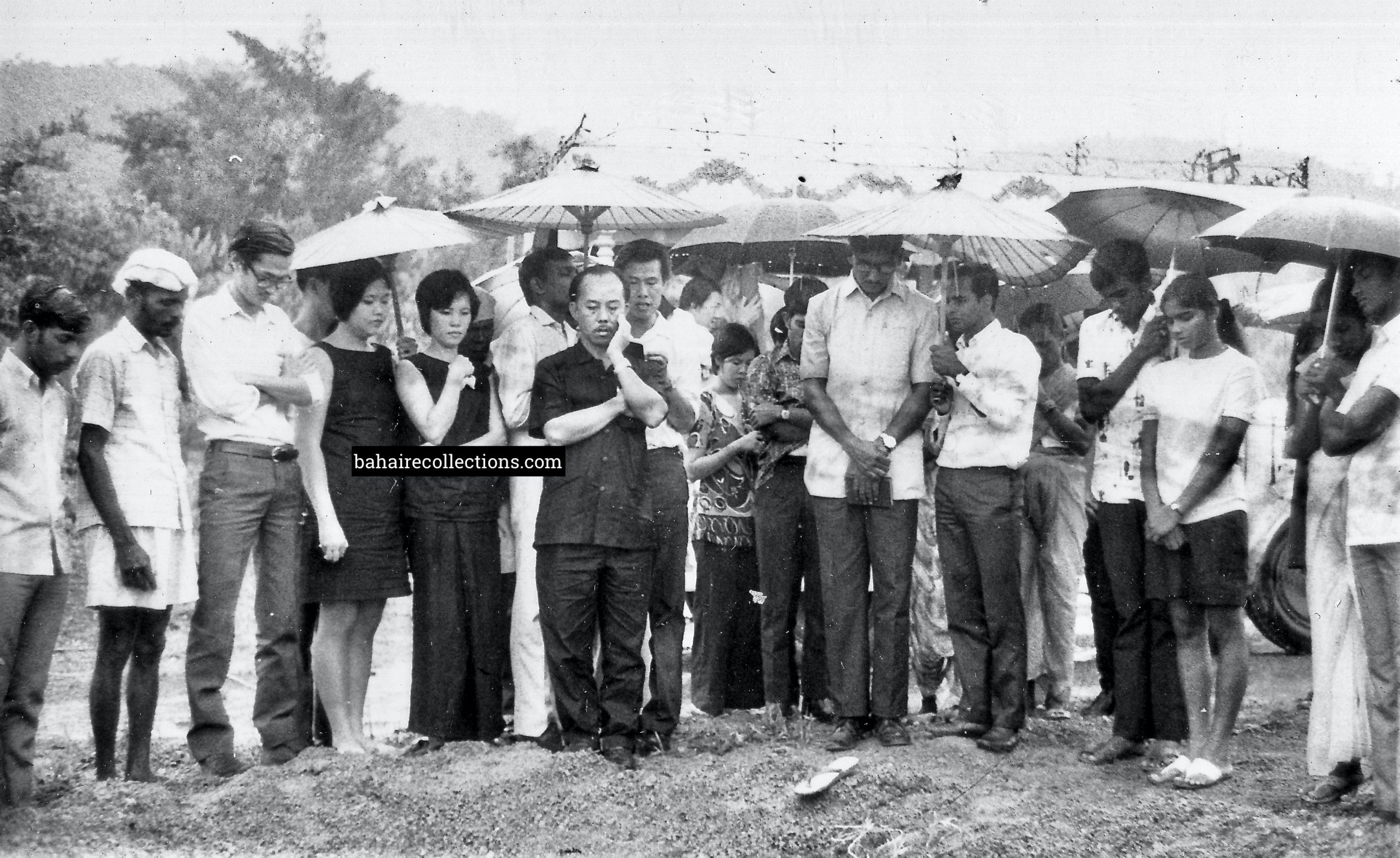 Bahá'í burial of Mr. Phung Tee Sam, father of Phung at a Chinese cemetery in Sungei Petani. At extreme left is Jayabalan and third from left is Teh Teik Hoe. Mei Siew Hong reads prayers, behind Phung dressed in black. Center right is Nagaratnam with Ganasa Murthi holding umbrella for him. Third from right is Vasugi Theenathayalu. 
Phung had great love for the elders in the Faith. One of them was Yankee Leong, the first believer of Peninsula Malaya. Yankee Leong used to send out a constant stream of letters to friends around the country, encouraging them to serve the Cause. Yankee Leong wrote letters to Phung from time to time, encouraging him to serve the Cause. Part of a letter dated 17 July 1983, that Yankee Leong then aged 84, wrote to Phung from his daughter Theresa Chee's home in Ipoh reads,
Wish to write to you a few words because I would like to know how you are getting on. My thoughts and prayers are with you. I feel happy as I pen this letter to you because I know I am writing to a believer who is an Assembly member and hence you have the opportunity to be in a favorable position to encourage and arouse the friends in your community- who will through your guidance and wisdom help them to become like magnet attracting people to  Bahá'u'lláh …. I am getting old and though I long to travel and meet each one of you, I am not able to do so. You are young and vibrant- full of enthusiasm- you know the value of these days we are living in and we know the high station of Assembly members and teachers of the Faith. The privilege and rewards are too great. We must take this golden opportunity to deliver the message to high and low alike. …. whenever we have any difficulty, Bahá'u'lláh is ever ready to lend a helping hand, so pray and seek His aid at all times- He will guide, protect and shower oceans of bounty on you and on your loved ones."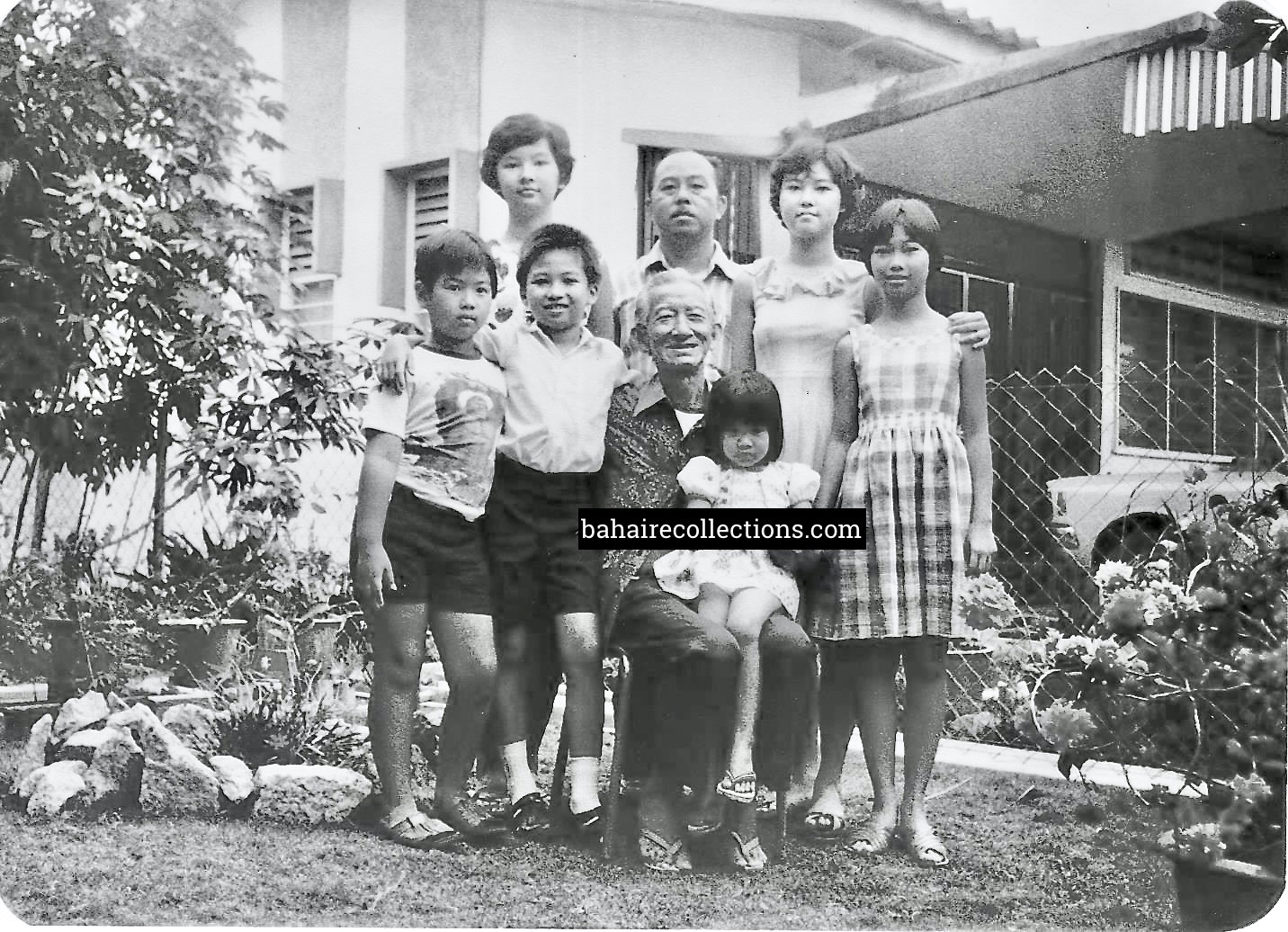 A 1979 photo with Yankee Leong. Front row L-R: Zohrab Chong, Shehab Phung, Yankee Leong carrying Shermaine Chong. Back row L-R: Phung Li Tan, Phung Woon Khing, Judy Phung Li Lian, and Phung Li Chen. Zohran Chong and Shemaine Chong are the children of Chong Boo Haw of Alor Star.
Phung served as Headmaster in Sekolah Rendah Kuala Nerang, Sekolah Rendah Teluk Chengai and finally in the Bohar National Primary School in Hutan Kampung, quite near to Alor Star town. After teaching in three schools for 34 years he retired on 6 April 1987 at the age of 55. On the last day of his retirement from service, the teachers and students gave him a befitting farewell. Phung was awarded an Excellent Service Award in recognition of his outstanding services in the teaching profession, when he was a headmaster. He was representing the Kota Star Bahá'í community as Assistant Registrar of Marriages. Besides being active in the Faith he found time to be actively involved in social activities as well. He was very active in the Parent-Teacher Association at the St. Nicholas Convent School where his three daughters studied at different years.  Phung was also a member of the Marriage and Divorce Reconciliation Board under the Ministry of Home Affairs, Malaysia. The duty of this board was to reconcile differences among couple filing for divorce with the hope of saving their marriage.
Upon his retirement Phung  actively participated in the Bahá'í activities, locally and abroad. His first overseas teaching service after retirement was undertaken to Ranong in South Thailand in May 1987 in the company of Mr. Kesavanathan, another early believer from Alor Star.  The Local Spiritual Assembly of Ranong was wedded to the Local Spiritual Assembly of Alor Star through a twinning program. They stayed in a modest hotel for three nights in Ranong, located some believers and deepened them, while carrying out teaching activities. He also undertook active travel teaching trips to the state of Kelantan with some believers from the town of Butterworth.In the early 1990s he stayed in Kelantan for a few months helping strengthen  the communities there.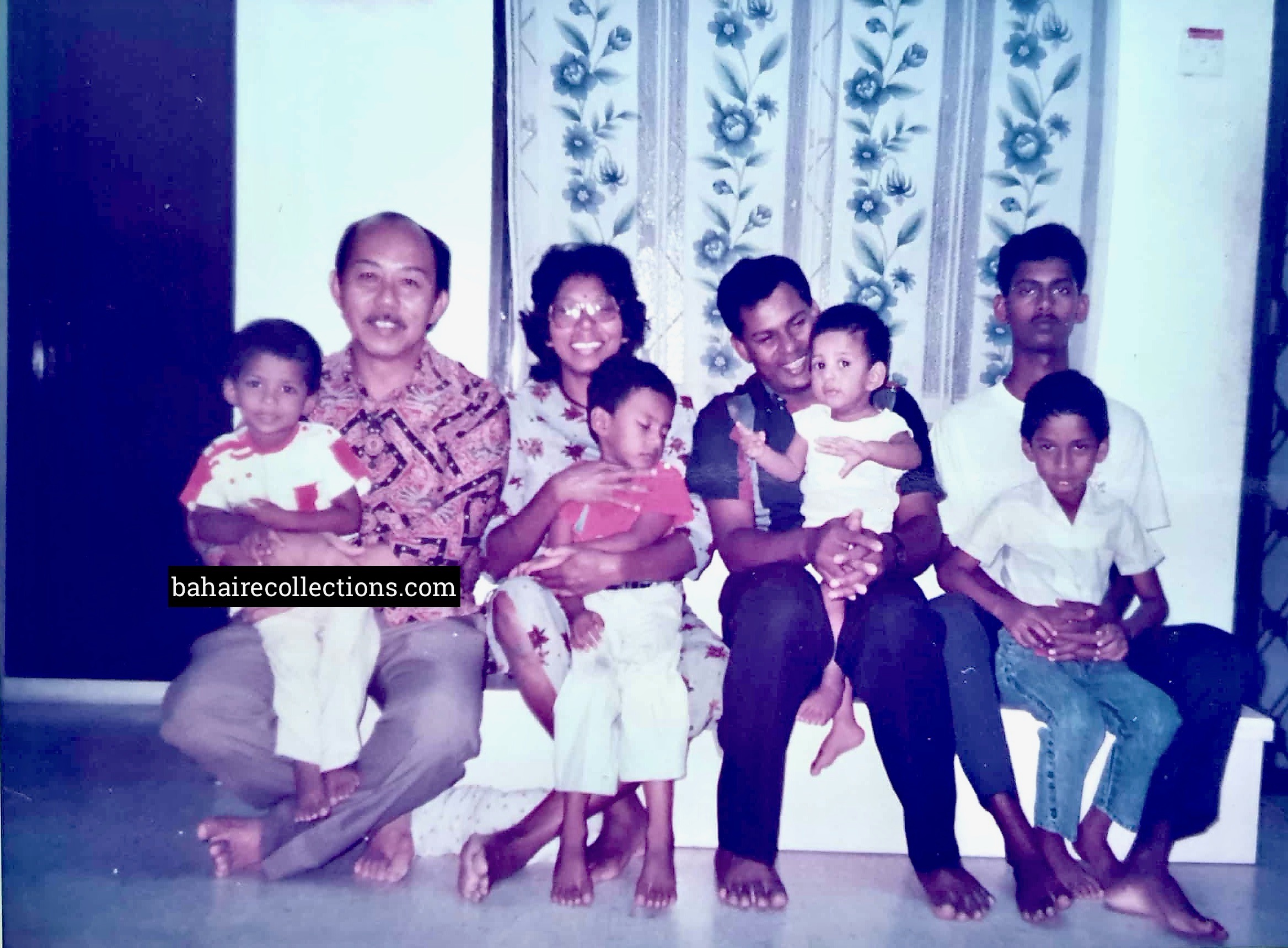 Phung with the family of Ringo and Rukumani in Kota Baru, Kelantan. At extreme left is Elanchelvan Tharmalingam from Kedah who came to teach the Cause in Kelantan.
In 1988 the National Spiritual Assembly of the Bahá'í s of Malaysia requested Phung to undertake travel teaching trip to India for three months specifically to teach people of Chinese ethnicity. That was an impactful phase in the life of Phung.  Arriving in India on 17 September, Phung first visited the Bahá'í House of Worship in New Delhi to offer prayers. He reached Calcutta on 23 September. There he found a sizeable number of Chinese people practicing the Buddhist religion and taught them and the local Indians and Nepalese. The National Chinese Teaching Committee of India based in Mumbai also requested Phung to carry out teaching in Mumbai city as well for a period of one week.
Leaving Calcutta by train on 27 October, he arrived in Mumbai on 30 October and rented a room at the Salvation Army Hotel, with three meals were included. The presence of Phung in Mumbai created much inroads for the Faith. Upon arrival in Mumbai the National Teaching Committee requested Phung to teach in Mumbai for at least two weeks and with that Phung was in Bombay from 30 October till 16 November.  The National Teaching Committee of India arranged his daily teaching programs. He also met with the Local Spiritual Assembly of Mumbai to get blessings and guidance. Each day a member of the National Teaching Committee or the Local Spiritual Assembly would take him along for teaching by bus, car, taxi or fast train, with each trip lasting from morning to evening. Phung was well taken care of by the loving believers of Mumbai.  With many local believers joining him in the teaching trips, there was an upsurge of teaching activities. Some dormant believers became active once again. There were not many Chinese in Mumbai.  There was only one Chinese Bahá'í, that too because she married an Iranian Bahá'í by name of Rashid. As the Chinese were quite reserved and kept to themselves, the Bahá'ís found it difficult to approach them. But Phung was able to break the ice. He was taken to almost every Chinese restaurant, beauty parlors, shoe shops, Chinese associations and roadway stalls where there were Chinese. Many were happy to meet Phung and gave a listening ear because he was a Chinese from another part of the world, who had the gift of speaking in several dialects – Hakka, Cantonese, Mandarin even Teochew. He established excellent contacts with them for the local believers to follow up after his return to Malaysia.
While in Mumbai, Phung was interviewed by The Afternoon Despatch and Courier, a Mumbai based daily. The interview published on 8 November 1988 gave much publicity for the Cause. He also gave interview for the Indian Express daily lasting for more than half an hour, which was published. Likewise, some vernacular newspapers in the Gujerati language also flashed his interviews on the Faith. The publicity in the papers had created good publicity and created more inroads for Phung to teach the Faith. At the Salvation Army Hostel where he stayed, one Japanese approached Phung during dinner time and said that he had seen Phung's photo in the papers. Seizing the opportunity Phung talked to him about the Faith and two other Japanese.  Likewise, when Phung went to a restaurant to give the message to the cooks, the second senior chef identified Phung and said that he had read about him and the Faith in the newspapers and  was glad to be able to meet me in person. Phung was also taken an International hostel where students from other countries stayed. He spoke to a group of African students who were  Christians and Muslims who were very receptive. He also went to the Bombay University and presented the Faith to heads of some Departments.
Phung was requested to go out of Mumbai to two other places- Pune and Panchgani.  Arriving in Pune he observed there were not many Chinese, but  still managed to give the message to a few whom he met. The next morning, he traveled to Panchgani for three hours through hills and mountains and met Dr. S. Vasudevan, Principal of the New Era High School and stayed in his quarters. That was the first time Phung met Vasudevan who went to India as Malaysia's first pioneer in 1967.  Vasudevan took Phung around the school.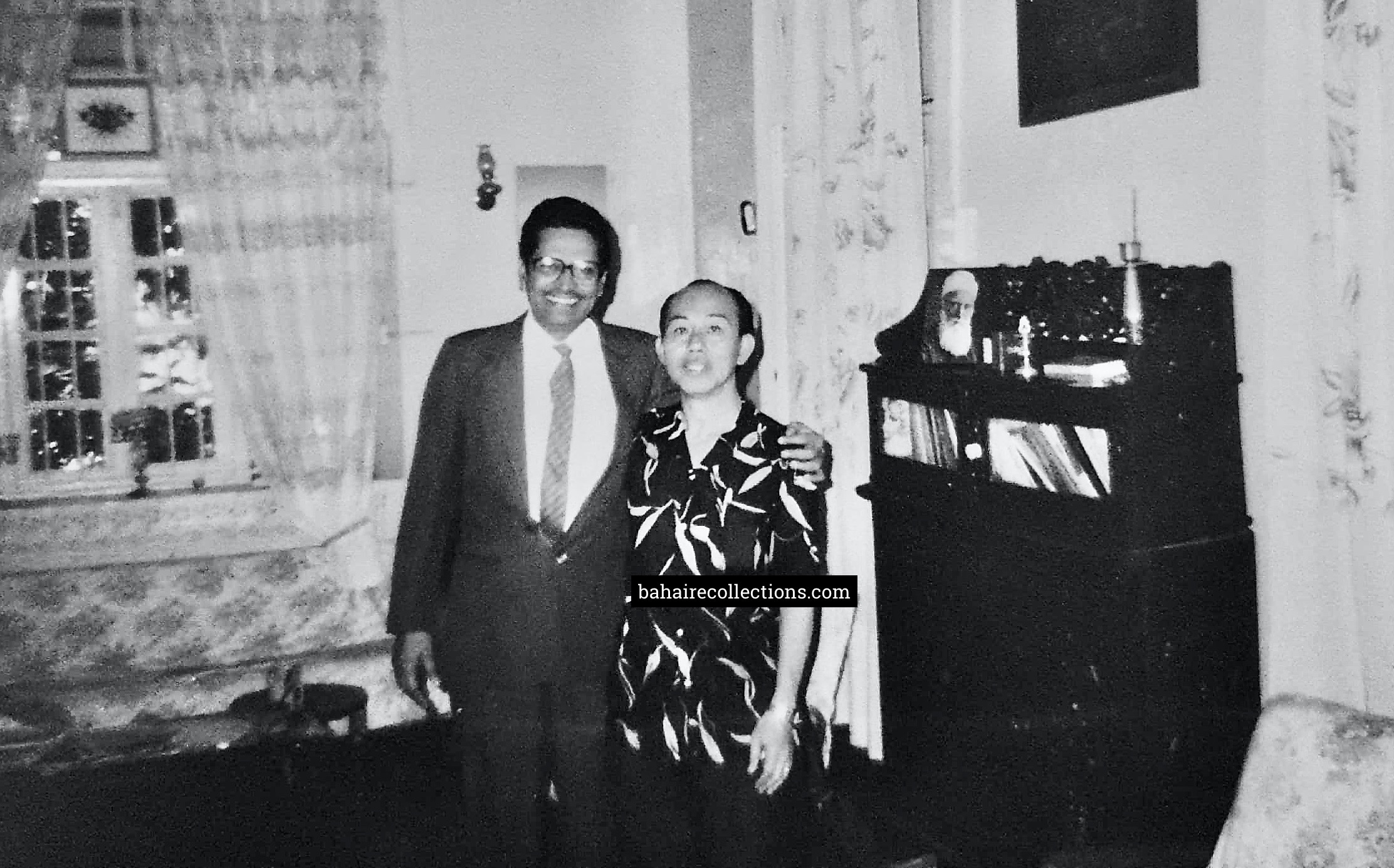 Dr. S. Vasudevan and Phung at the New Era High School, Panchgani, Pune, India
Phung then returned Mumbai and from there to Calcutta on 17 November to continue teaching. He was informed that teaching activities were not going on for some time. Phung resorted to prayers and initiated some aggressive teaching. His prayers were answered with three accepting the Faith- a Chinese, a Nepalese and a South Indian. Phung who did not expect the immediate answer to his prayers thanked Bahá'u'lláh. The Chinese was Mr. H.Y. Huang, owner of one Kin Hoon Restaurant.  These three excited friends in turn took Phung to meet their contacts and teaching activities spiraled, which brought so much joy to his heart.
This was the time when Counselor Mrs. Shirin Boman, whom he had met when she visited Alor Star on 16 May 1982, took a train from New Delhi and arrived in Calcutta. Meeting Phung in Calcutta and learning of his success in teaching the Cause, she requested him to stay longer and deepen the new believers. By this time the biting winter cold weather in Calcutta had affected Phung's health, and he had to return home early to recover. Yet, while still in Calcutta Phung was involved in both active teaching and deepening of the friends. Mr. H.Y. Huang,  the Chinese proprietor of the restaurant invited Phung to meet his parents and family members at his home, which he did. The family gave Phung a  sumptuous lunch and Phung shared the message with them. Mr. H.Y. Huang  then took him to meet a shoemaker to whom Phung gave the Faith.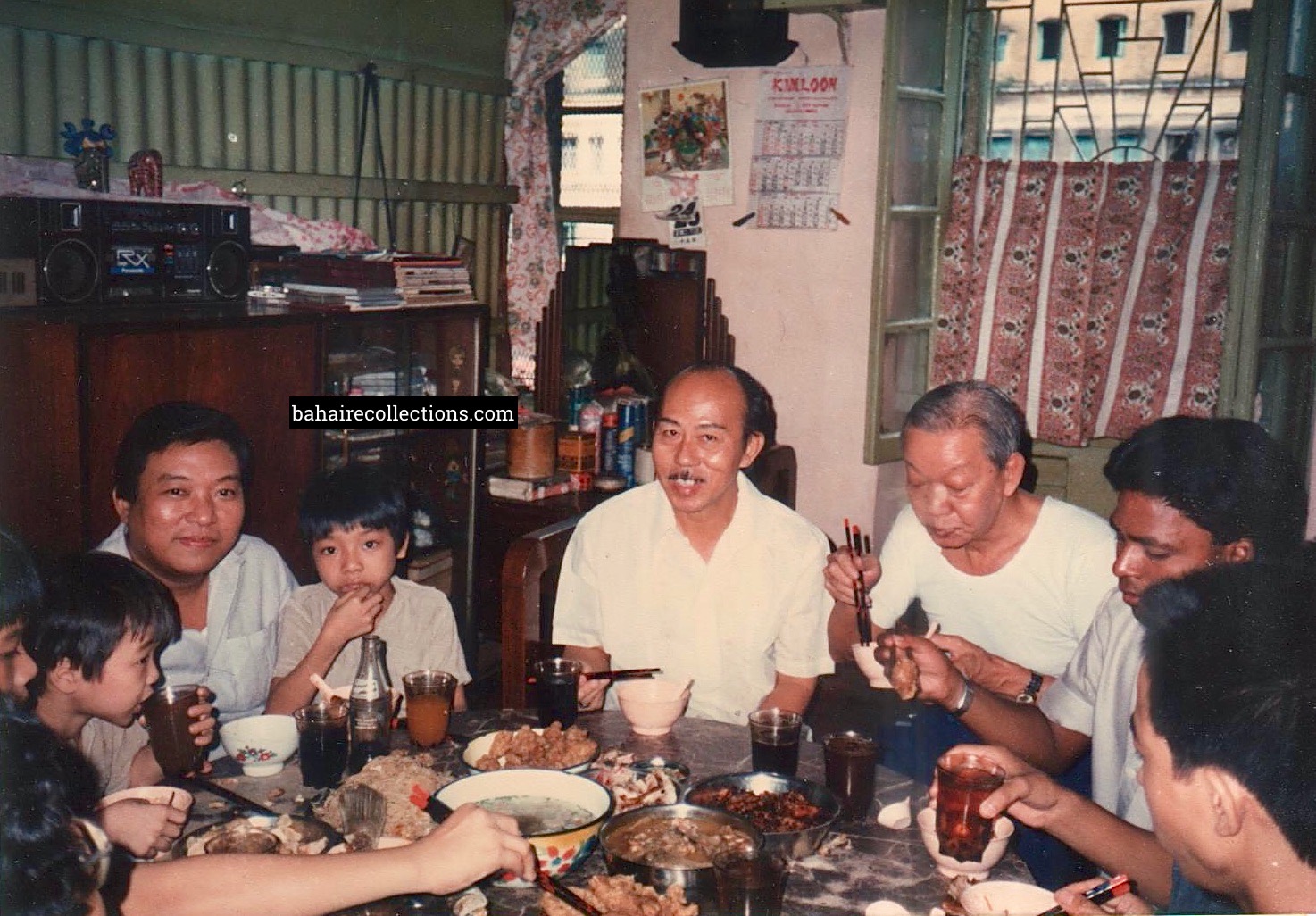 Phung at a dinner cum teaching session in Calcutta, India.
He left Calcutta for New Delhi by train on 7 December and reached New Delhi after 7 hours of travel. Upon arrival in New Delhi Phung went to book his return flight but was told that seats were not available until the following month of January as December was a busy month. The Malaysian government had approved his leave to be overseas till the end of December and Phung had to meet the deadline. Compounded with that the biting winter cold in Delhi, the like of which he had never been exposed to before took toll on his already deteriorating health.  Phung had to make every move to beat the deadline. Phung tried contacting several other airlines and spoke to a few influential airline officers who were introduced to him. He was given then same answer to face the reality that the waiting period was too long, and with a lot of uncertainties. The somewhat ailing Phung went over to the Bahá'í House of Worship in New Delhi and prayed very hard for the path to open. After a wild round of roller coaster kind of immense difficulties, he was told to present himself at the airport the following day- 10 December 1988. Reaching the airport early he found his name was not on the list. The exhausted, stressed and ailing Phung resorted to the strongest weapon he had with him- invoking the power of divine assistance while at the airport. Checking in counters were closing and the flight would take off any moment, stranding Phung in India for an indefinite period. Then a miracle happened. The officer at the check in counter called his name to check in. Another surprise awaited him while checking in. Phung was upgraded to  Executive Class. Of this experience he would later tell friends, "You may be put into immense tests, but there is always someone watching above you Who will surely come to your aid, for which you must have unshakable faith." Phung sent his teaching report to the National Spiritual Assemblies of India and Malaysia for the period 17 September to 10 October 1988 and copied various committees and institutions. The National Spiritual Assembly of Malaysia commended Phung for his praiseworthy services rendered in India. But Phung kept writing to some friends, especially Mr. H.Y. Huang and deepened him in the Faith.
In that first visit to  India and he did witness some culture shocks and faced serious health issues, which he was able to overcome with complete reliance on the helping hands of Bahá'u'lláh. What impressed him most was to see the believers in India well deepened and highly knowledgeable in the Faith from whom he had learnt a lot. That trip, as he would later relate gave him not only much experience, but also the inspiration to serve overseas each and every moment of his life, should situation and means permit.
Phung  was appointed Auxiliary Board member for the period between 1989 and 1992. During his tenure as Board member Phung visited every community in Kedah and Perlis inspiring the friends to arise and serve the Faith.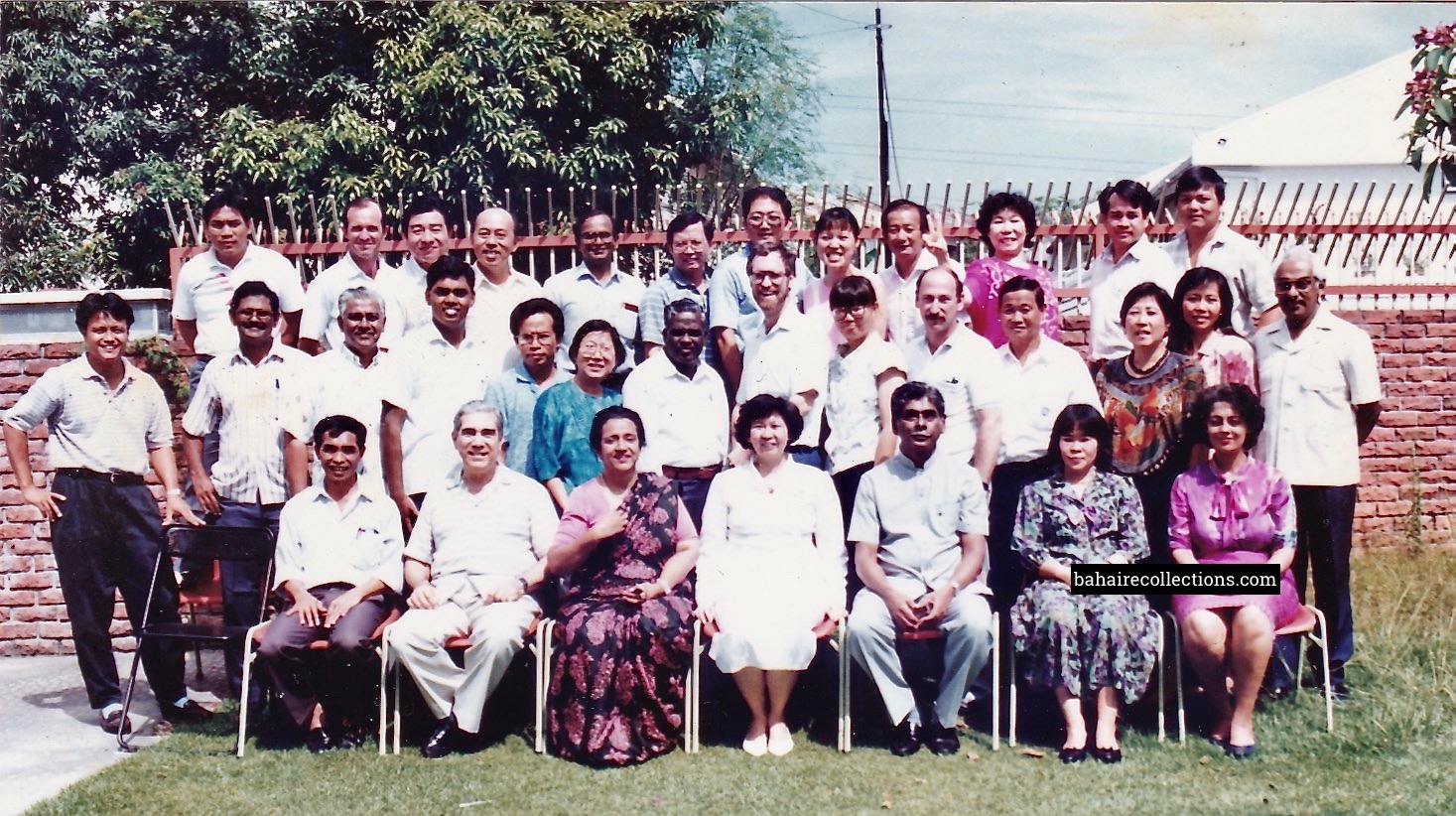 Conference of Counselors and Board Members, 1991. Board member Phung stands fourth from left, back row.
In 1992, the National Spiritual Assembly of Malaysia requested Phung to undertake travel teaching trips to Trinidad and Tobago in South America. He went to these countries with another believer by name of Mr. Wong Sim Thai from Kota Kinabalu, Sabah. Phung was in those countries for three months. While in Tobago he stayed in the Paharrie Center and carried out some teaching activities. The friends there had not had their Feasts for some time, and Phung got them together for a Feast and conducted deepening as well. He left Tobago for Malaysia on 13 November 1992.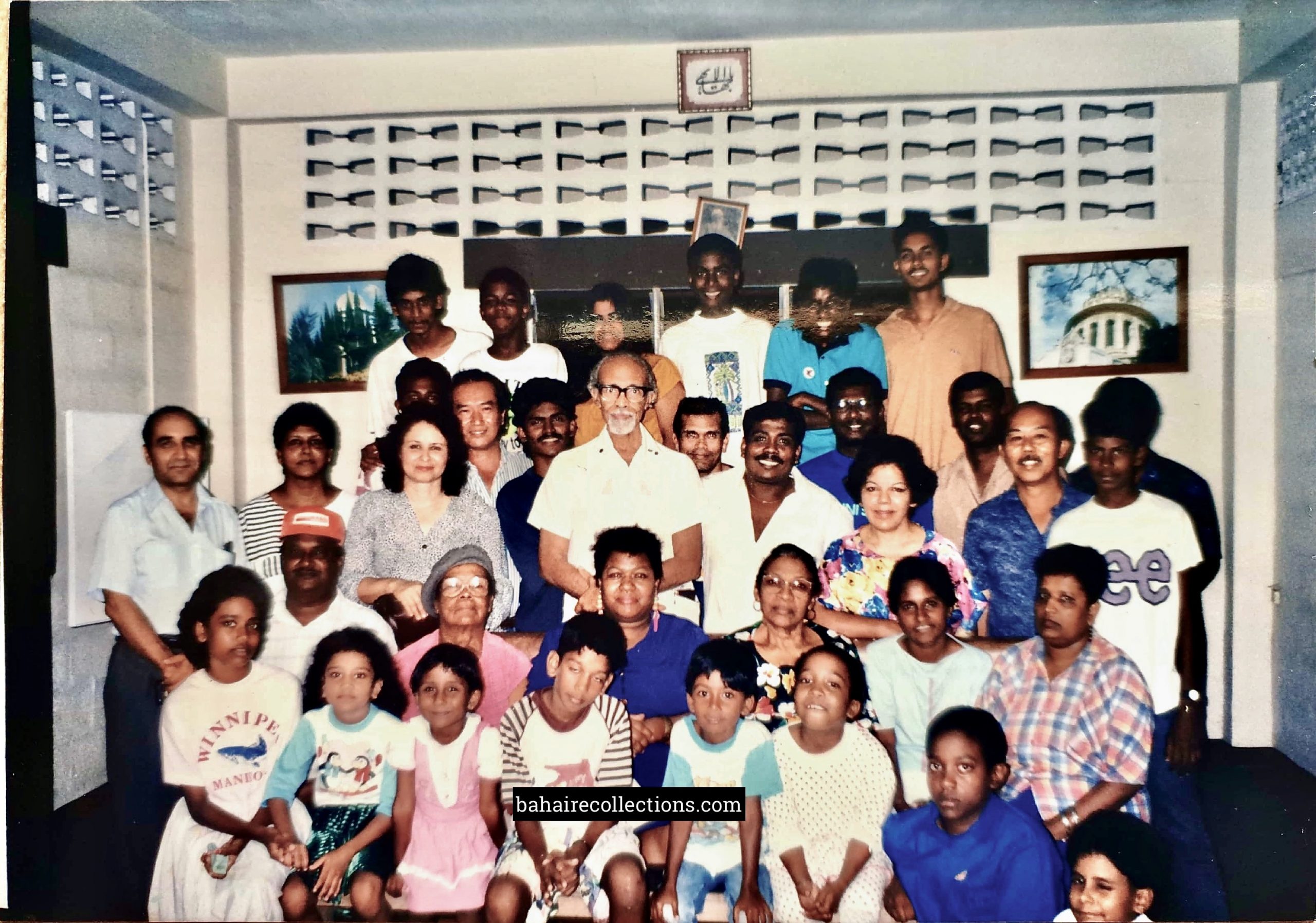 Phung is standing second from right and  Wong Sim Thai is standing fourth from left at a gathering in Tobago
When Phung met Counselor Afshin in India in 1988, he had requested Phung to consider undertaking travel teaching to Hong Kong and Macau which were becoming receptive areas. When the path opened in 1993 Phung went travel teaching to Macau, Hong Kong and Foo Chow in China for teaching the Bahá'í Faith among the Chinese.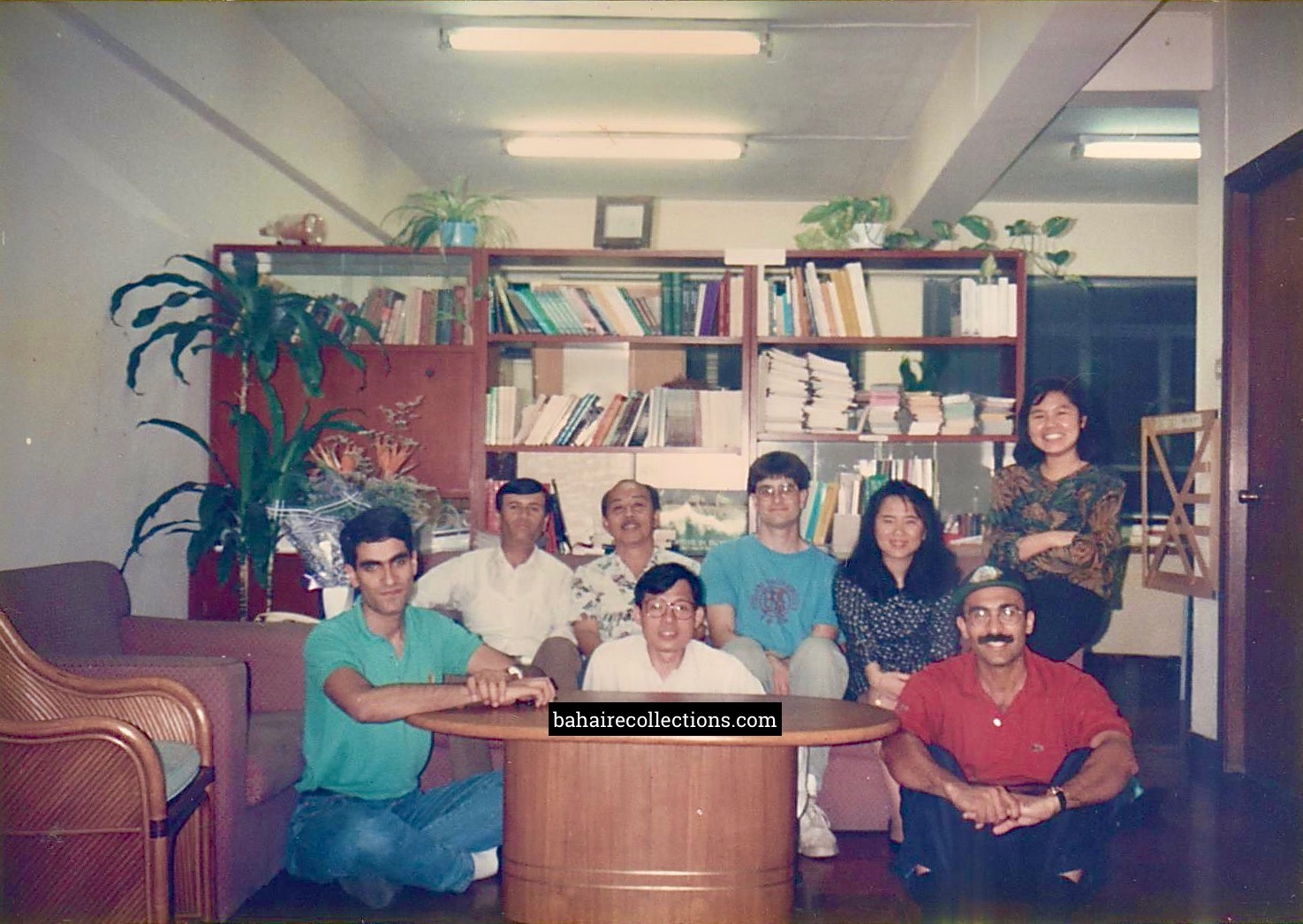 Phung seated in the center at a gathering in Hong Kong.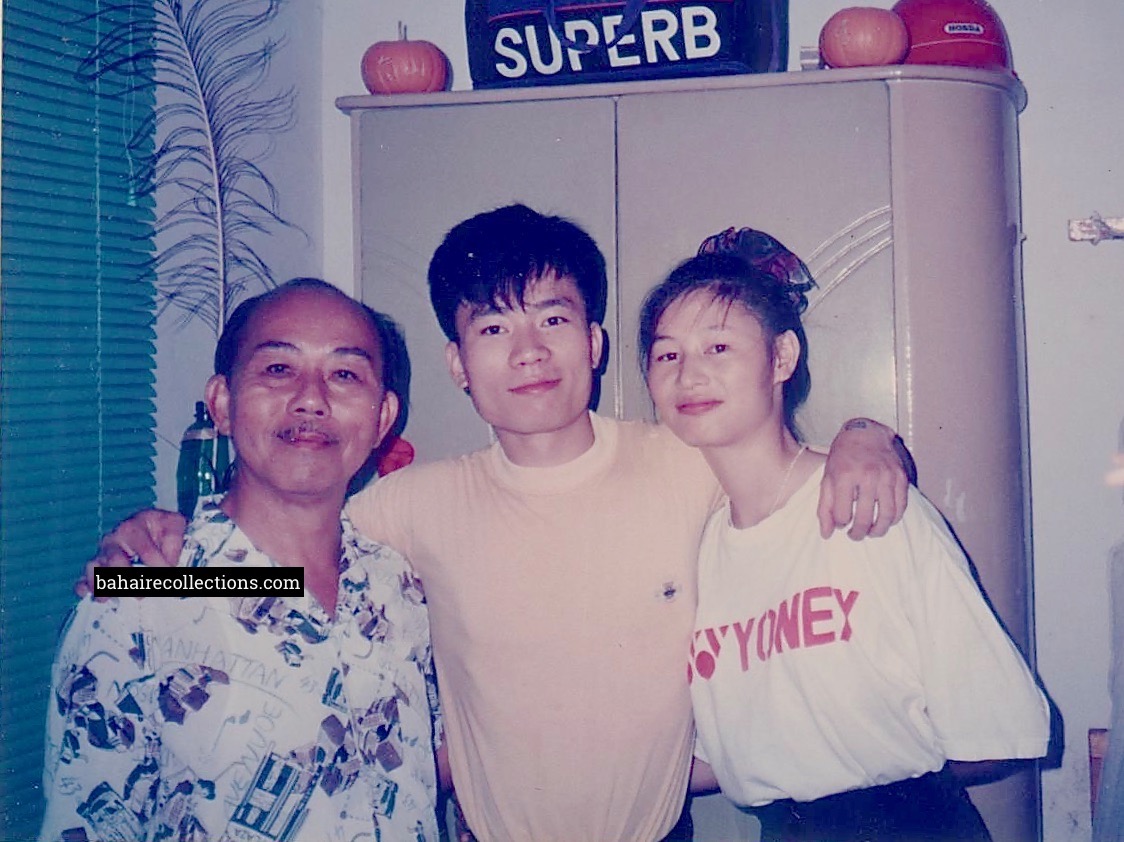 Phung in Fuzhou, China
In November 1993, Phung undertook a teaching trip to Chiangmai in Thailand in the company of Mr. Kesavanathan. On this trip they visited the hill tribe Bahá'ís in the Omkoi Highland area. While in Chiangmai, Phung gave talks on the Faith to the monks and professors at the Buddhist University, and to some students of the University.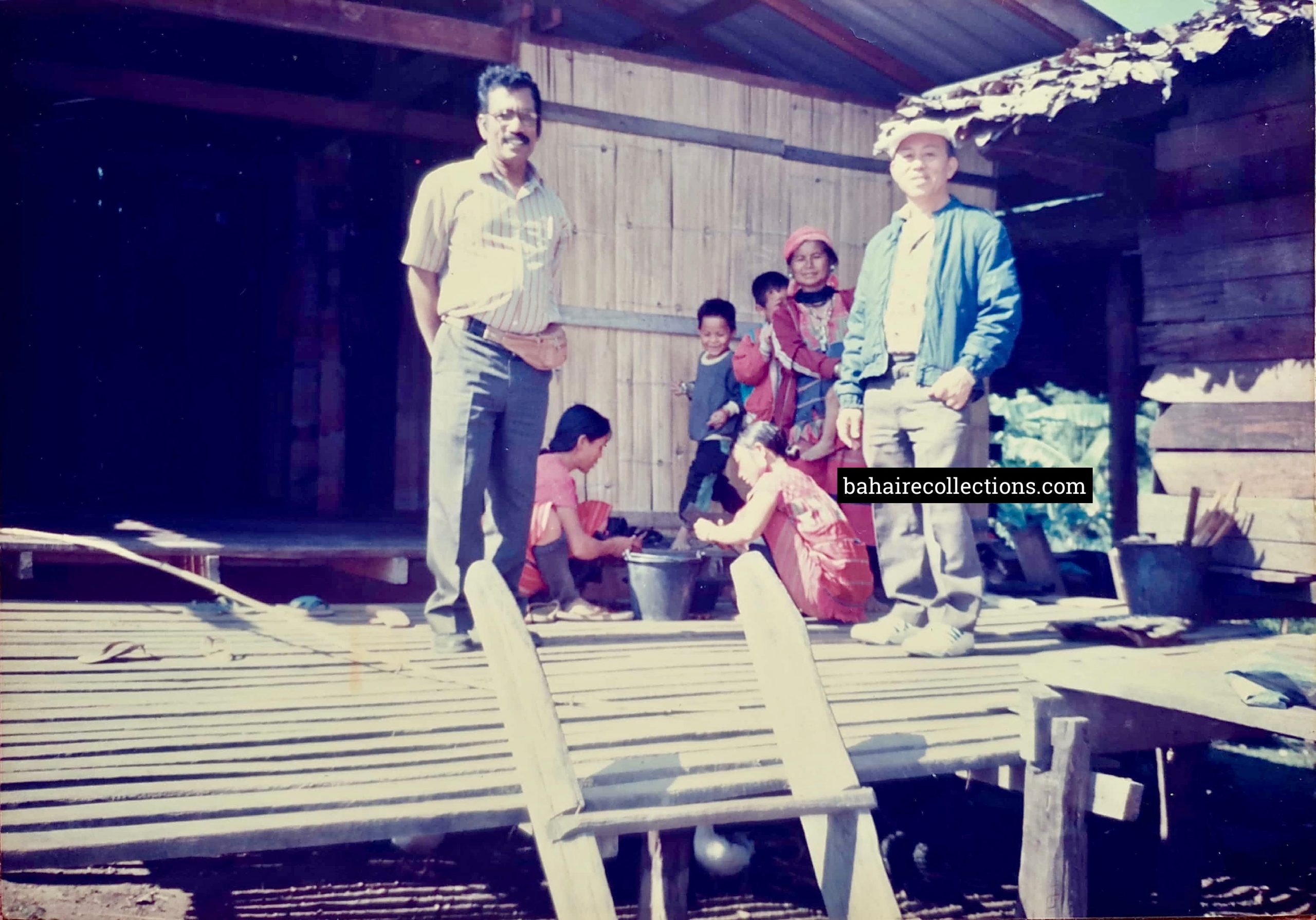 Kesavanathan at left and Phung at right, visiting some hill-tribe Bahá'ís in Om Koi highland area, Thailand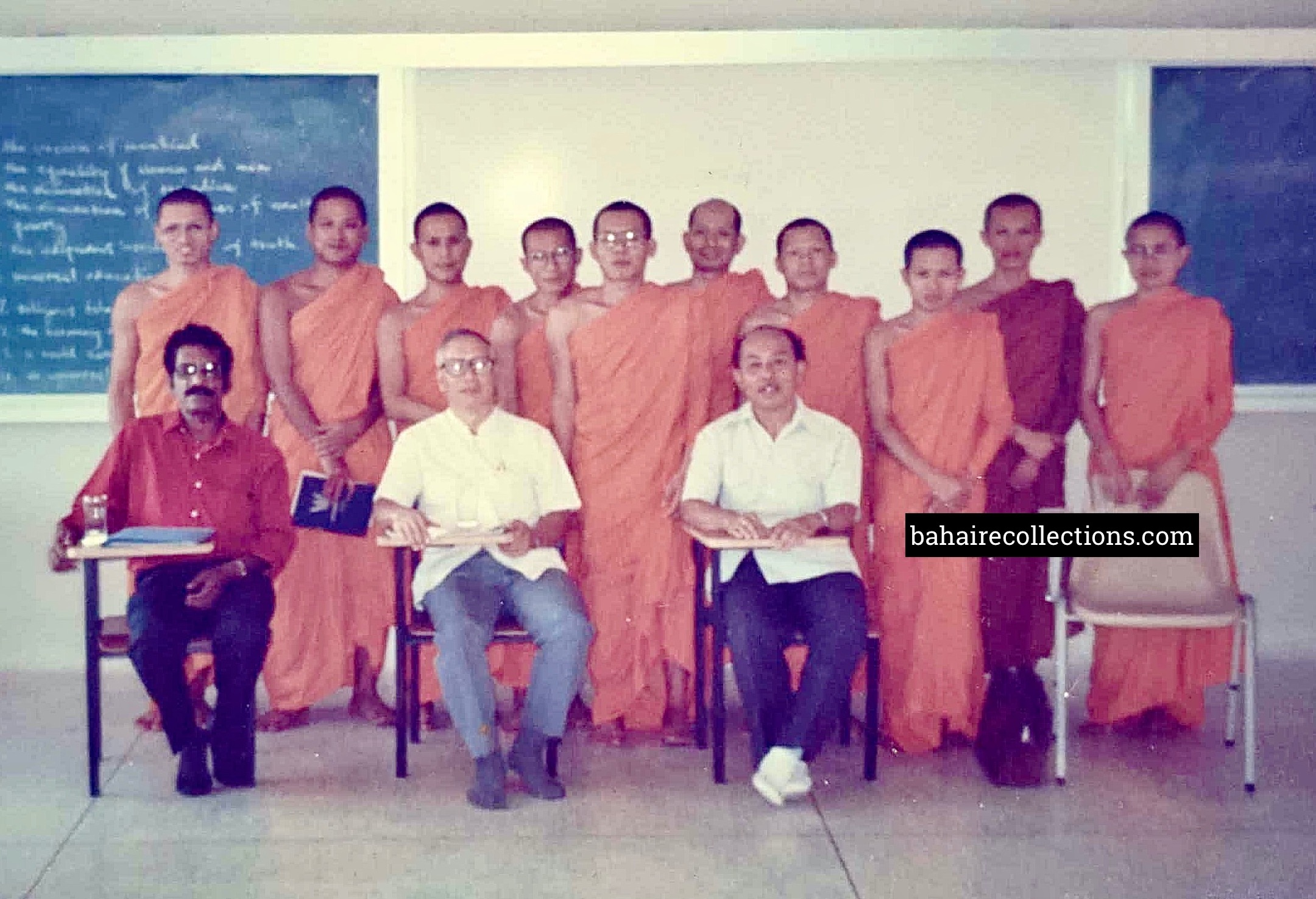 Kesavanathan seated left and Phung seated right, with a professor in the middle, and monks standing at back.  The Faith was presented to them.
As and when possible, Phung availed himself to deepening the Chinese speaking friends in the Faith. One of them was a deepening session held at the Genting View Resort, Genting Highlands, graced by Counselor Bijan Farid and Ms. Nori Noguchi from Macau. Many of those who participated have emerged to be at the forefront of activities.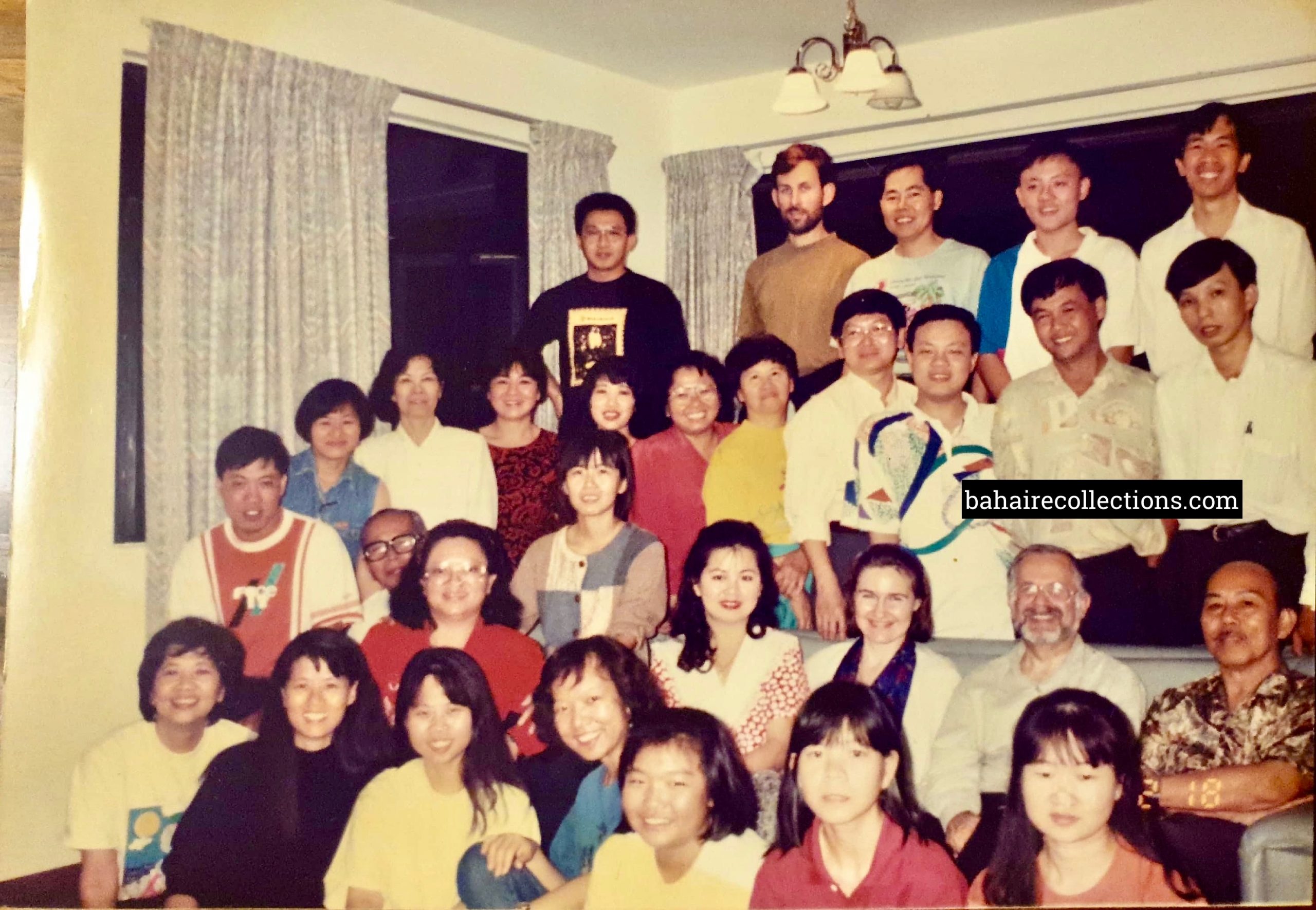 Deepening session held at the Genting View Resort. Seated R-L: Phung, Counselor Bijan Farid and Ms. Nori Noguchi

From 1996 to 2006 Phung and his wife moved to stay with her daughter Li Chen in Subang Jaya and later in Puchong. There he was actively involved in the Institute process and served the community in different capacities.
Phung went to India for the second time in April 1997-this time for the graduation ceremony of his son Shehab who had passed his medical degree at the Jawaharlal Nehru Medical College, Belgaum, Karnataka State. Seizing the opportunity of his one month stay in India, Phung joined the local community for short teaching trips to villages outside Belgaum. Wherever Phung went, he was warmly welcomed as he could simply suit himself to the local culture and environment. He radiated so much love at gatherings that he was admired and loved by all. In one of those teaching trips to an interior village undertaken with Dr. Shehab and a few other local believers, they were not able to get a public bus to return to Belgaum. Phung, already seasoned in India in his previous trip in 1988, resorted to hitch hike and a passing truck gave them a lift. All the ten of them were crammed into a small cabin of the truck.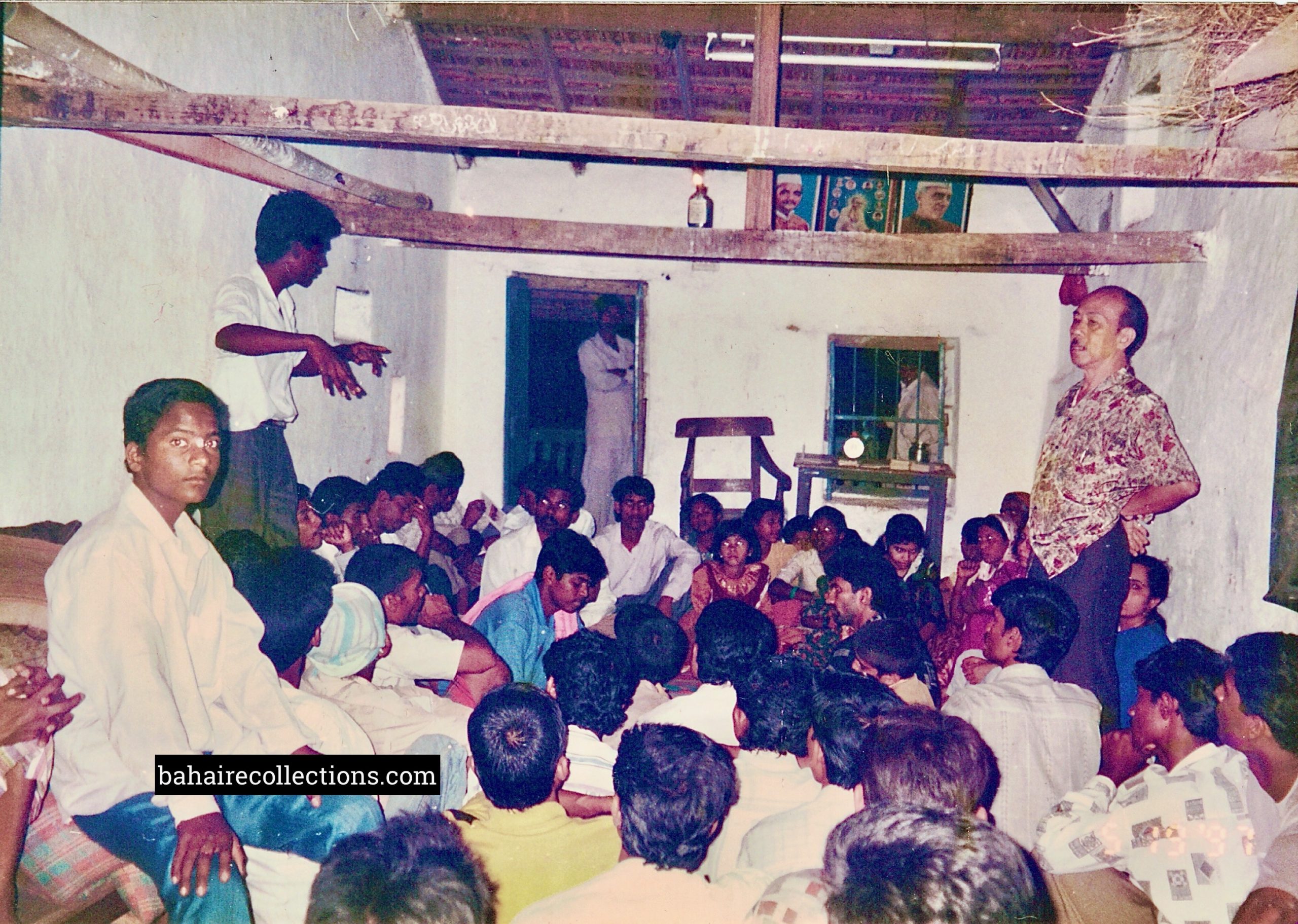 A local believer translates a talk by Phung in an interior village in the state of Karnataka, India.
When his son Shehab, a medical doctor was posted to Miri town in the state of Sarawak in 1999 Phung stayed with him for a couple of months and undertook teaching trips to the long houses in Assam Paya along the Sungai Baram and Marudi, and to the neighboring country of Brunei. Later when Dr. Shehab moved to Kuching town, Phung and his wife moved in to stay with him from 2007 until the middle of 2012. While in Kuching, Phung translated excerpts of Writings related to Ḥuqúqu'lláh on the request of Dr. John Fozdar, and tutored Ruhi books.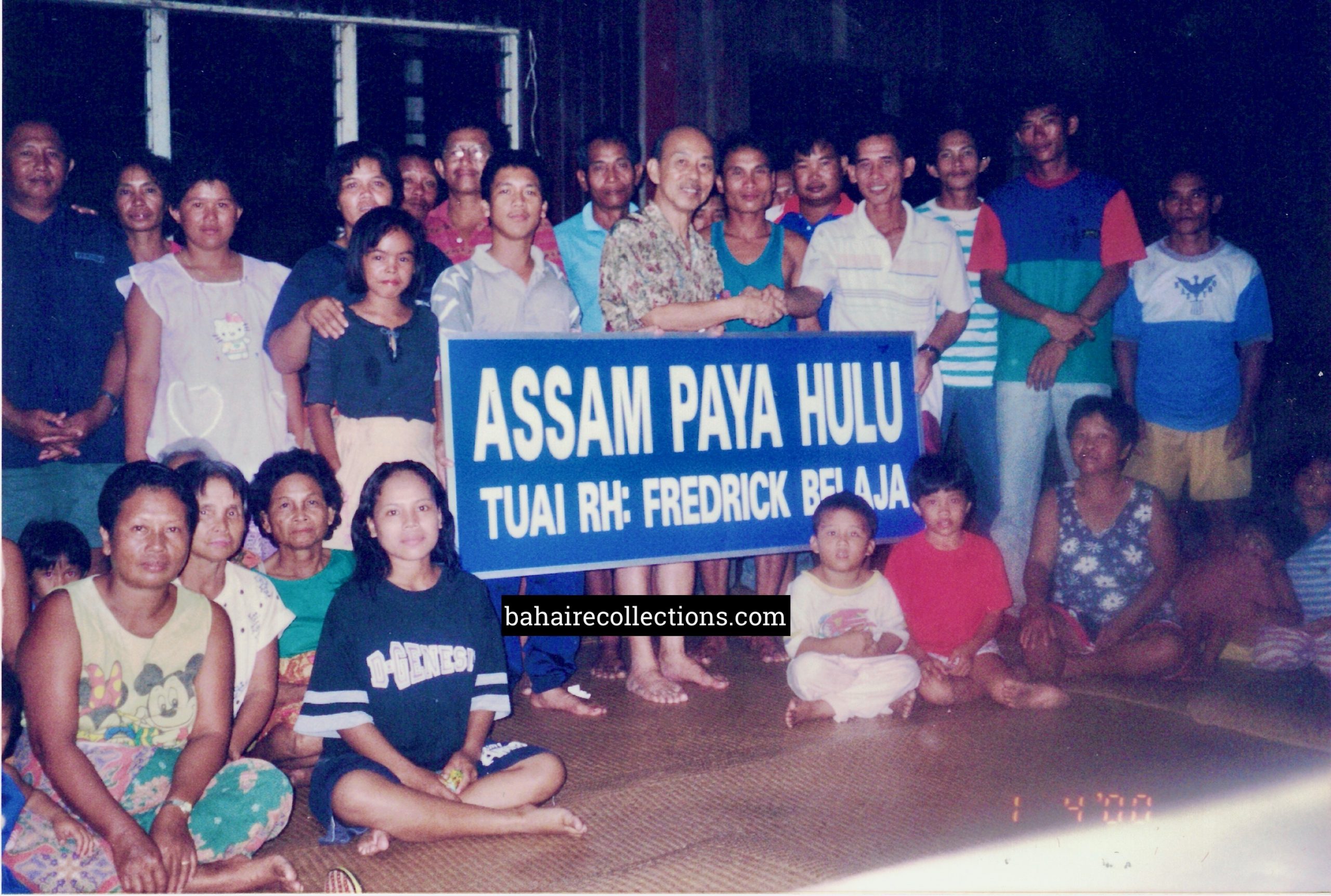 Phung with the believers of Assam Jawa Hulu, Sarawak.
In 2012 Phung returned to stay with his daughter Judy Phung Li Lian in Alam Jaya in Cheras but started to slow down due to natural complications that came with age. Despite this, he continued to participate in many community activities. Phung celebrated his 80th birthday on 6 April 2012 in the home of June Loh in Petaling Jaya, when none of his children was around. Judy Phung Li Lian was away in Shanghai; Phung Li Chen in Qatar and Dr. Shehab in Sarawak. Yet Phung and his wife were happy to be enveloped by the boundless love showered by the friends who gathered to wish him well.

Phung celebrates his 80th birthday in the presence of his wife at the residence of June Loh in Petaling Jaya.
From 2015, his health gradually deteriorated and spent his last days with the fondest memories of all his wonderful teaching services flooding his mind. By mid-July he was admitted to hospital for cold and flu and was discharged after 4 days. He never recovered fully and ascended to the Abha Kingdom in his sleep in the early morning of 30 July 2015. Following a befitting burial ceremony, he was laid to rest at the Bahá'í Memorial Park in Seremban.
His has been a life that had been well lived with high morals and values by any standards. Phung shall always be known as a soft spoken, warm hearted and radiant believer, who captured the hearts of everyone he met with. Throughout his life Phung distinguished himself by avoiding backbiting, and he saw only the good sides in people. He avoided misunderstandings among friends. He was a very caring person and took pains to alleviate the problems of other people to the best of his ability. There has been no report from any quarters of Phung having lost his temper or using strong words on anyone. Phung faced much tests in his own way; and yet in the throes of those sufferings he withstood them with an unflinching strength. Never for a moment did he wax or waver in his devotion.
In a very brief memoir Phung wrote during the evening of his life, he concludes, "My present health condition no longer enables me to travel independently as before. I am now an old man. May God bless and keep those who arise to serve the Faith."  That was indeed a clarion call for those who are still young and energetic to serve while they still could. Phung had served the Cause very quietly and extensively for more than half a century and has left traces of passionate service that shall never be erased from the pages of Bahá'í history.

Resting place of Phung Woon Khing at the Bahá'í Memorial Park in Seremban.
A. Manisegaran
30 June 2020
Copyright@bahairecollections.com