REMEMBERING MRS. GEORGE LEE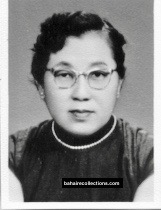 Mrs. George Lee
1904 – 24 August 1999
Here is a brief story of a wealthy Singapore-born woman who embraced the Faith of Bahá'u'lláh and went on to play an important role in the early days of the Faith both in Singapore and Malaysia. She was always seen as one who was exceptionally generous in contributing to the financial needs of the Faith without any publicity.
Madam Tan Cheng Hiong was better known as Mrs. George Lee after her marriage in 1931 to Mr. George Lee, who was an industrialist and owner of a newspaper. Mr. George Lee was the brother of business tycoon and philanthropist Mr. Lee Kong Chian. Mrs. Lee was born in Singapore and received her education in both English and Chinese languages. Even at a young age, she loathed undesirable customs and practices that were seen as an integral part of some Chinese circles. For example, was her disdain for the ancient Chinese custom of binding of women's feet from the time they were very young to modify the shape and size of their feet. Bound feet were called lotus feet and the practice was considered a symbol of status and beauty in upper classes. This painful tradition produced lifelong difficulties by limiting the proper movement of women and did not go down well with Mrs. Lee, especially when she saw her own grandmother and mother practicing this. Mrs. Lee had the audacity to remove the binding of her own mother's feet even in her early years in life. Another example of her concern for others was when she found out that some of the Chinese women working at her husband's Lee Rubber Factory in Singapore had financial problems or their husbands had deserted them. Many of them had children to look after as well. She was also saddened to see the women with bound feet struggling to carry heavy loads of rubber sheets in her husband's rubber factory which was close to her home. Driven by genuine care for these women, Mrs. Lee compelled her husband to install pulleys to alleviate the suffering of these women.
She was a contented housewife and homemaker. She had nine children through her 15 years of marriage to Mr. George Lee. It did not take long before her life changed forever when she discovered that her husband was unfaithful to her. That was a defining moment in her life. At first, she was devastated. But she realized that was being sorrowful was no solution to the core issue.  She knew only too well that there were multitudes of women who were worse off than her own self. It was at this crucial moment in her life that she took a bold step and turned her husband out from her palatial mansion at 82, Pasir Panjang Road in Singapore. These early incidents in her life drove her to become a social activist and a fighter for women's rights in Singapore.
This was about the moment that coincided with the arrival of Mrs. Shirin Fozdar from Bombay, India to Singapore as a Bahá'í pioneer in 1950 to join her pioneer husband Dr. K. M. Fozdar. It was Mrs. Amstutz who was the wife of Bishop H. B. Amstutz of the Methodist Church who introduced Mrs. Lee to Mrs.  Fozdar. Mrs. Lee became a close friend of Mrs. Fozdar and both shared common goals in working for the emancipation of women in Singapore. From the ensuing developments of their friendship, it could be clearly seen that these two coming together was not accidental, but certainly providential.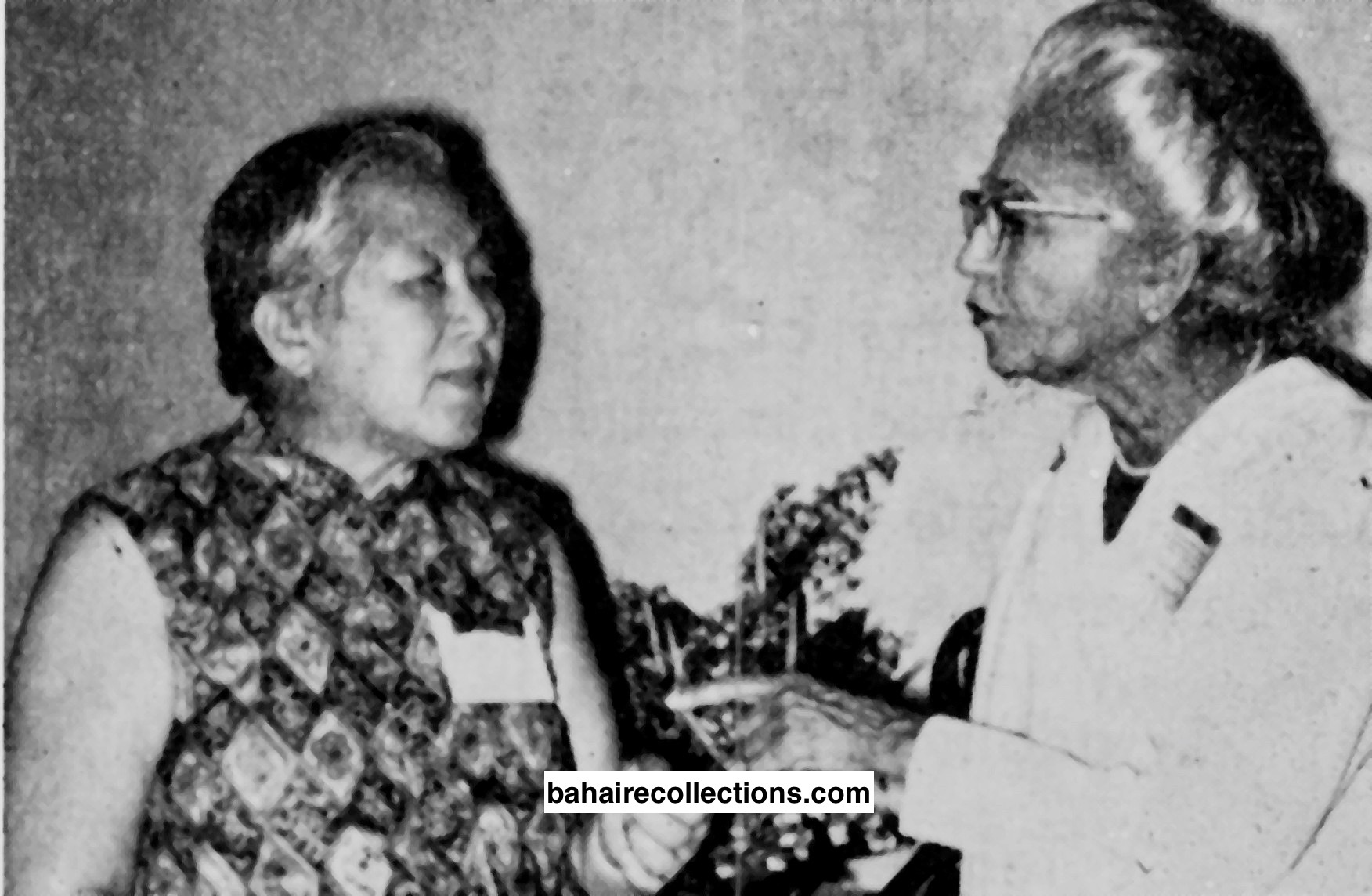 The inseparable friends Mrs. Lee and Mrs. Fozdar
In November 1951, Mrs. Fozdar called upon the leading and prominent women of Singapore to discuss the possibility of forming an umbrella organization for women's organizations that were in existence in Singapore. The idea was well-received which then led to the formation and registration of the Singapore Council of Women in April 1952. Mrs. Lee was elected as its first President while Mrs. Fozdar as the secretary. Mrs. Lee was the President of the Singapore Council of Women from its inception in 1952 until 1959 and then its Vice President until 1971 when this body was deregistered. The Singapore Council of Women, under the stewardship of Mrs. Fozdar and Mrs. Lee, carried out several clear-cut programs and activities which all created well-deserving impacts in Singapore, with heavy publicity and support coming from the print media. Mrs. Lee and Mrs. Shirin formed a perfect team and worked with "one heart, one theme, and one purpose". While the soft-spoken Mrs. Lee was a quiet worker in the background, Mrs. Shirin was a dynamic and audacious speaker, writing letters to leaders, giving talks over the radio and at associations, and not forgetting lobbying the lawmakers in Singapore to legislate rights for women. The biggest achievement was the banning of polygamy, and monogamy becoming law in Singapore in 1961.
Even in the early years of her friendship with Mrs. Fozdar, Mrs. Lee found that one of the cardinal teachings of the Bahá'í Faith, which advocated equal rights for men and women was something that was close to her heart and which she herself was fighting for. Mrs. Lee took a liking to the Bahá'í Faith and gave all her support for their activities, and participated in some of the events, and formally accepted the Faith in March 1958.
One of the areas where Mrs. Lee gave her fullest support for the Bahá'í Faith as early as 1953, even before accepting the Faith was when Hand of the  Cause of God Mr. Dhikru'llah Khadem visited Johor Baru town in early December 1953.  In that visit, Mrs.  Lee and Mrs. Fozdar accompanied Mr. Khadem who wished to pay a courtesy call upon Dato' Onn Jaffar, the founder of the Malayan Union. Miss. Ardun Thur, an American believer who attended the Intercontinental Conference in New Delhi in October 1953  was on her way to Hong Kong. She stopped over in Singapore. She, along with Dr. John Fozdar, waited in the car of Mrs.  Lee while Mr. Khadem, Mrs. Lee and Mrs. Fozdar were having that meeting in the office of Jaffar Onn.
In accepting the Faith in 1958,  Mrs. Lee made her palatial home at 82 Pasir Panjang Road in Singapore available for the use of the Faith whenever needs arose. She allowed her house to be used for regular firesides.  A major role she played after accepting the Faith was in 1958 when the Intercontinental Conference scheduled to be held in September in Jakarta, Indonesia as from 22 to 25 September 1958 was canceled at the last moment. A crisis ensued in Jakarta and an alternative venue was searched. The conference was shifted from Jakarta to Singapore to be held from September 27 to 29. The Victoria Memorial Hall in Singapore was booked for the conference. Mrs. Lee made her palatial mansion in Singapore as one of the meeting places for the participants. Those believers from abroad who had congregated in Jakarta started to fly into Singapore. Her home was the first place where the Bahá'ís met was on the evening of September 26 to celebrate the Feast of Mashíyyat, which comfortably accommodated the gathered friends. The nine Hands of the Cause of God, and most of the 150 delegates from abroad and some from Malaya, Brunei, Sarawak, and Singapore were present at the Feast. Again, when the conference ended on September 29 at the Victoria Memorial Hall, the Regional Spiritual Assembly of South East Asia organized a farewell dinner in the mansion of Mrs. Lee. The Bahá'ís did not fail to realize the important role this handmaiden of God played. This Conference by itself was an event that helped confirm many early believers, with Mrs. Lee inclusive.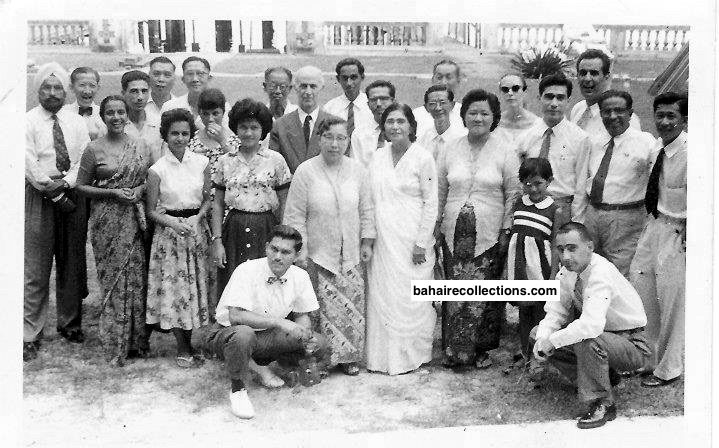 Gathering of friends at the palatial home of Mrs. Lee during the Convention of the Regional Spiritual Assembly of South East Asia in Ridván 1958. 
Immediately after the Intercontinental Conference, she attended the first Bahá'í wedding of Malaya in Malacca, which was that of Eustace Anthony Fernandez (Tony)  and Beatrice Philomena Monterio (Betty)  on the morning of 5 October 1958. Hands of the Cause of God, Miss. Agnes Alexander and Mr. Abu'l-Qásim Faizi and a host of other believers who too attended the Conference in Singapore came for the wedding and graced the occasion.
It could be said that her active involvement in the Faith was in fact after the Intercontinental Conference of 1958. Having gained the needed knowledge, inspiration and enthusiasm that was generated at that Conference, Mrs. Lee actively participated in almost all major events that took place both in Singapore and Malaya focusing her energy and attention on the promotion of the Faith in whichever way possible. She was an active member of the Local Spiritual Assembly of the Bahá'ís of Singapore in the fifties and sixties. She allowed her home which was hitherto used mainly for the activities of Singapore Council of Women, for Bahá'í activities as well. As an example, on 9 July 1960, Mrs. Lee opened her home at the Pasir Panjang Road to observe the Martyrdom of the Báb and that event was advertised in the Singapore Free Press dated 1 July 1960.  The event was also announced to the public by the Singapore Council of Women.
She took every effort to be present in the gatherings that were held with the Hands of the Cause of God. One of the early events that she participated in Malaya was the Third Pan-Malayan Teaching Conference that was held in February 1961 and graced by the presence of the Hands of the Cause of God Taráz'u'lláh Samandarí and Dr. Raḥmatu'lláh Muhájir. Mrs. Lee was also an active participant in the early several summer schools where she was tasked to preside over some sessions. She served as an effective Principal of the summer school held in Port Dickson in 1971.

Summer School of 1961. L-R: Mr. Kamran Samimi from Indonesia, Mrs. Lee, Mrs. Shirin Fozdar,  Dr. John Fozdar, Mr. Jamshed Fozdar, and Mr. Leong Tat Chee.
In 1961, the life of wealth and comfort God had bestowed upon this sincere servant of Bahá'u'lláh was once again made available for the Faith when Amatu'l-Bahá Rúhíyyih Khánum made her first visit to Malaya through Singapore. Mrs. Lee gladly offered her prestigious American car-Chevrolet for the travels of such an eminent figure in Singapore and Malaya. That was a car only affordable by the exclusively wealthy at that time. On Thursday, 31 August 1961, Amatu'l-Bahá landed in the Paya Lebar International Airport in Singapore at 1930 hours by CX729, Cathay Pacific Airways. Accompanying her was Miss Jessie Revell, Treasurer of the International Bahá'í Council. Mrs. Lee and Mrs. Fozdar were among those at the airport to welcome them in person. From the airport, they were taken to the Goodwood Park Hotel to spend their night. Just after dinner Mrs. Lee gave her car to Mr. Sathiawan Singh of Malacca to be driven to the old Sungei Besi airport in Kuala Lumpur that night itself and await receive her. Sathiawan Singh drove for seven hours in the company of Mr. Jamshed Fozdar, Auxiliary Board member and Chairman of the Regional Assembly of South-East Asia to be on time to receive them at the Sungei Besi airport.  On Friday, 1 September Amatu'l-Bahá flew from Singapore together with Miss Jesse Revel and Mrs. Fozdar and arrived at the old Sungei Besi Airport in Kuala Lumpur at 08:30 in the morning. From the Sungei Besi Airport, Sathiawan Singh drove them to Mantin town for a meeting there, and from there to the Sunshine Camp in Port Dickson where she met the Malayan believers.
In early 1961 Mrs. Fozdar left for Thailand to continue her pioneering services in that land. Mrs. Lee threw a farewell dinner for her friend and invited several members of the Singapore Council of Women for the farewell dinner. Even though Mrs. Fozdar had moved away, these two friends still remained in constant touch. Mrs. Lee continued to organize her regular firesides at her residence, albeit with difficulties in the absence of her bosom friend Mrs. Fozdar.
As a highly resourceful person, Mrs. Lee shouldered heavy responsibilities, sitting on various important committees from the early days and continued to serve in an effective way in Malaya. At the National Teaching Committee meeting held on 25 November 1962, Mrs. Lee was appointed as State representative for Singapore and Johor Bahru with the task of developing these areas. In 1963 when membership of the National Teaching Committee was further increased, she was appointed to this national body. In 1964, she was the only delegate for the election of the National Spiritual Assembly of Malaysia. At the national convention, she was elected to the first National Spiritual Assembly of the Bahá'ís of Malaysia and was Vice-Chairman. She was the only believer who continued to serve on the National Spiritual Assembly from the time the institution as first elected in 1964 right up to the year 1971.  In the year 1972, she was elected to the first National Spiritual Assembly of Singapore.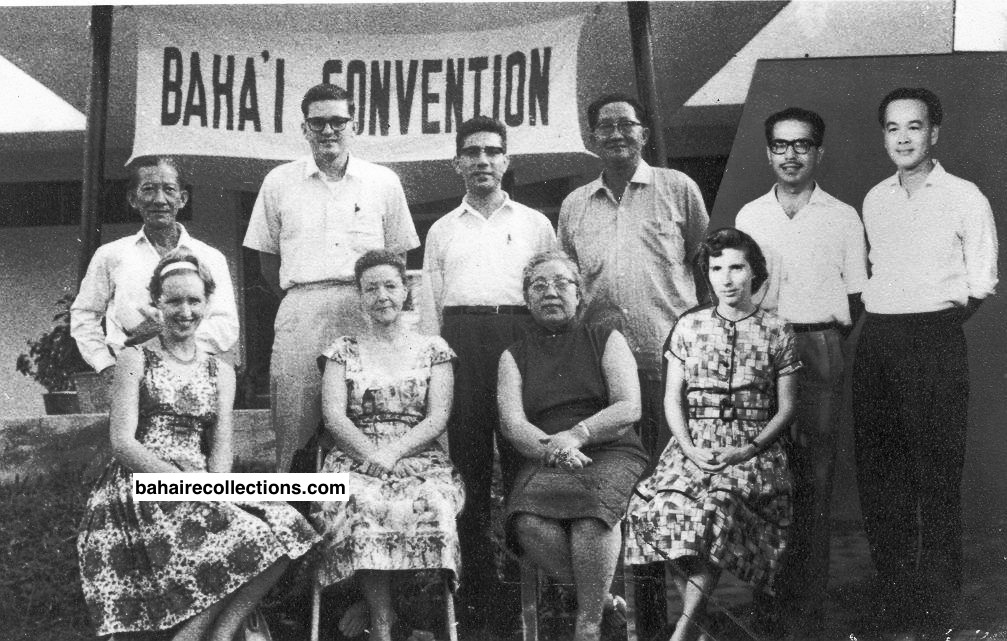 First National Spiritual Assembly of Malaysia, 1964. Seated L-R: Mrs. Grete Fozdar, Amatu'l-Bahá, Mrs. George Lee, Mrs. Marjorie Fozdar. Standing L-R: Yankee Leong, Harlan Lang, Dr. John Fozdar, Mr. Leong Tat Chee, Mr. Minoo Fozdar and Mr. Chin Yun Sang.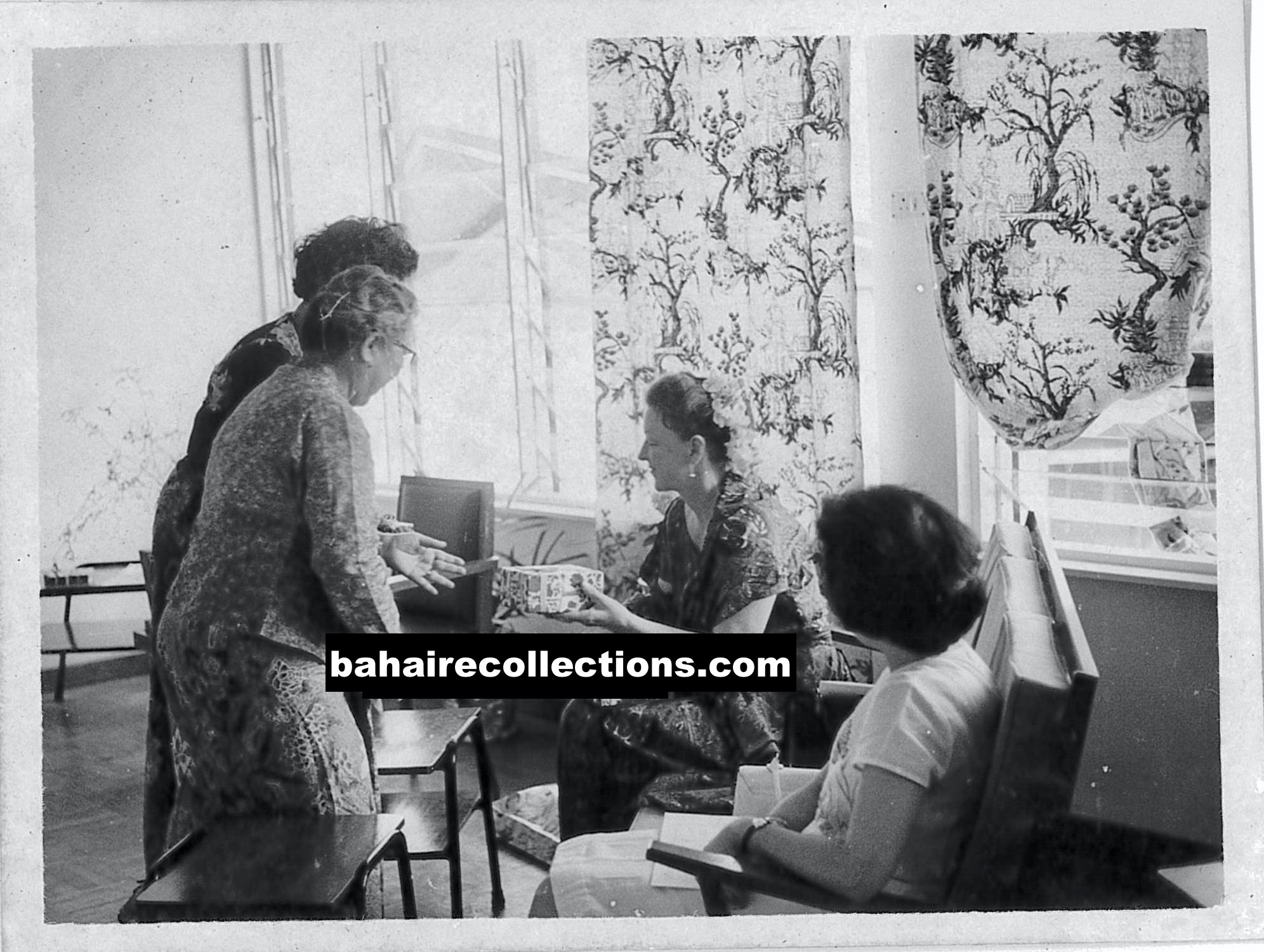 Mrs. Lee and Mrs. Lily Chinniah (hidden) presenting a gift to Amatu'l-Bahá at the first National Convention held in the Third Residential College, University Malaya, Kuala Lumpur. Seated at left is Mrs. Lily Ng.
In 1965, the National Spiritual Assembly appointed her on to the Malaysian Bahá'í News editorial board, along with several regional correspondents for this magazine. In 1965 when the National Spiritual Assembly formed the National Haziratu'l-Quds Maintenance Committee Mrs. Lee was appointed as one of the members. In 1966, the National Spiritual Assembly appointed the Temple Site Committee with Mrs. Lee as a member. In 1966, she was appointed to the Proclamation Committee. As a member of the National Assembly and several other national committees she was kept very busy, not an easy feat for a lady getting on in years.
The unparalleled generosity of Mrs. Lee would occupy a special mention in the annals of the Faith in Singapore and Malaya. As early as 1958 Mrs. Lee had a piece of land on the Orchard Road in Singapore, that was earmarked for a Bahá'í Centre in that island country. When the National Spiritual Assembly of Malaysia was formed in 1964, Mrs. Lee sold that land and used the proceeds to purchase initial Bahá'í offices in Singapore, Kuala Lumpur, Hong Kong, Taiwan, and Macau. Thoughtful of the travel teachers coming to Singapore quite often, she wanted to allot one room in the building for travel teachers to be accommodated. With the assistance of a real estate agent, she secured a building at Jalan Kechil in the Katong area in Singapore. In 1969, she got the assistance of Jeffrey Koh, a believer from Malacca working in Singapore then, and Mrs. Rose Ong to acquire a new center for Singapore at 26 Hartley Grove, Frankel Estate.
For Kuala Lumpur, it was the bungalow at 32, Jalan Angsana, Setapak,  which she purchased and donated to be used as the National Bahá'í Centre.  As soon as the building was acquired it was occupied by a relative of Mrs. Lee for a year.  This Bahá'í Centre came to be occupied by the National Spiritual Assembly of Malaysia from April 1965 and was also later shared by the Local Spiritual Assembly of Kuala Lumpur. The national institution of Malaysia showed its appreciation as follows in its news organ the Malaysian Bahá'í News, "The Bahá'ís of Malaysia owe Mrs. George Lee a deep debt of gratitude, for having borne the major burden of the cost of the building. Bahá'u'lláh will surely shower His blessings on this devoted soul whose generosity in the Cause has contributed much to the progress of the Faith in this country."  The Bahá'ís of Malaysia always recalled with immense gratitude the generosity of Mrs. Lee. That was the building that witnessed several events of history in the making. Each time the old believers stepped into that Bahá'í Centre, they called to remembrance the very timely and invaluable contribution by Mrs. Lee. This building shall always be associated with the history of the Faith in the early days of the Faith and has numerous historic stories in store.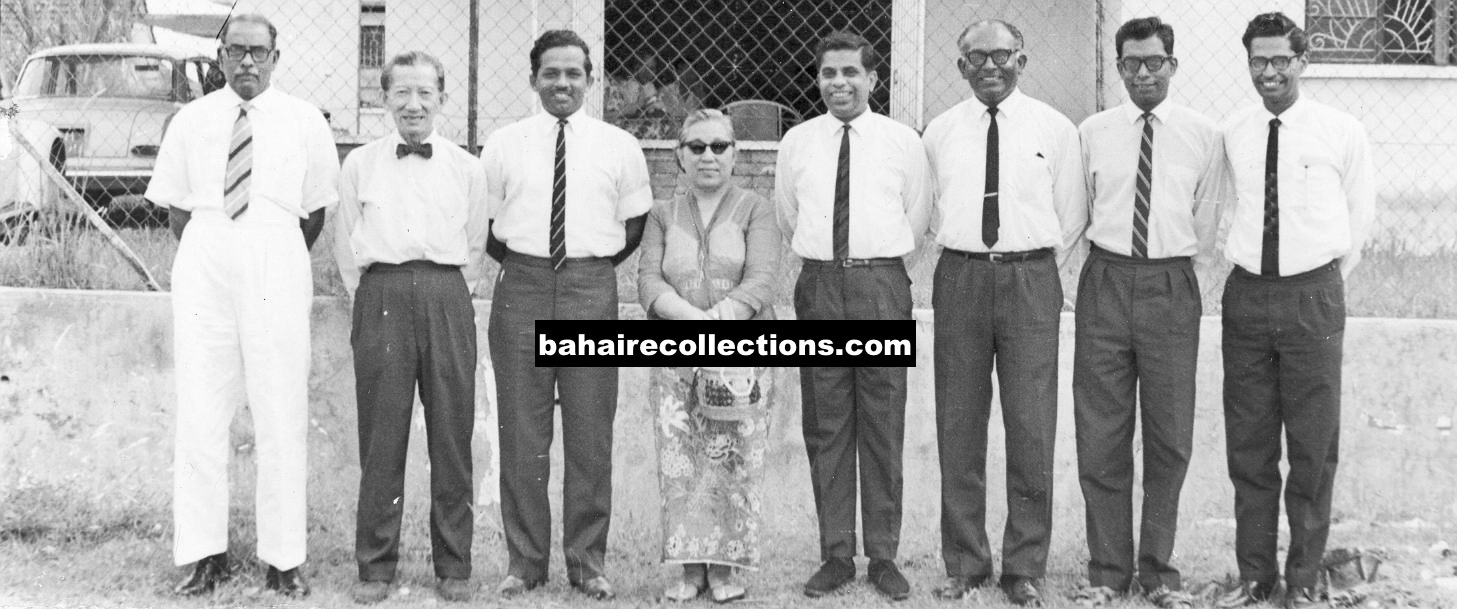 Members of the National Spiritual Assembly of Malaysia, 1965 after their first meeting in front of the National Bahá'í Center. L-R: K. Rajah, Yankee Leong, Anthony Fernandez, Mrs. Lee, Dr. Chellie J. Sundram, Appu Raman, Inbum Chinniah and S. Vasudevan. Missing in the photo is Dr. John Fozdar).
When S. Vasudevan was the Secretary of the National Spiritual Assembly,  Kanniah Adaikkalam of Alor Star came to Kuala Lumpur looking for a job and used to help Vasudevan in the national  office, apart from mingling with the youths there. Inspired by the new Bahá'í Center, he  made a sketch of  the building. Dr. C.J. Sundram who was Chairman of the National Spiritual Assembly came down from Penang for a meeting of the national institution. When he saw Kanniah's sketch he was impressed and suggested to Kanniah to send the sketch to  Mrs. Shantha Sundram, editor of the Malaysian Bahá'í News magazine. When Kanniah sent it over to her, she too loved the sketch and used it as the cover of December 1965 issue of the Malaysian Baha'i News.  That the sketch appeared on the cover page was a mark of expression of immense pride by the community.
The National Spiritual Assembly of the Bahá'ís of Malaysia found it necessary to dispose of this property some 45 years after it was donated.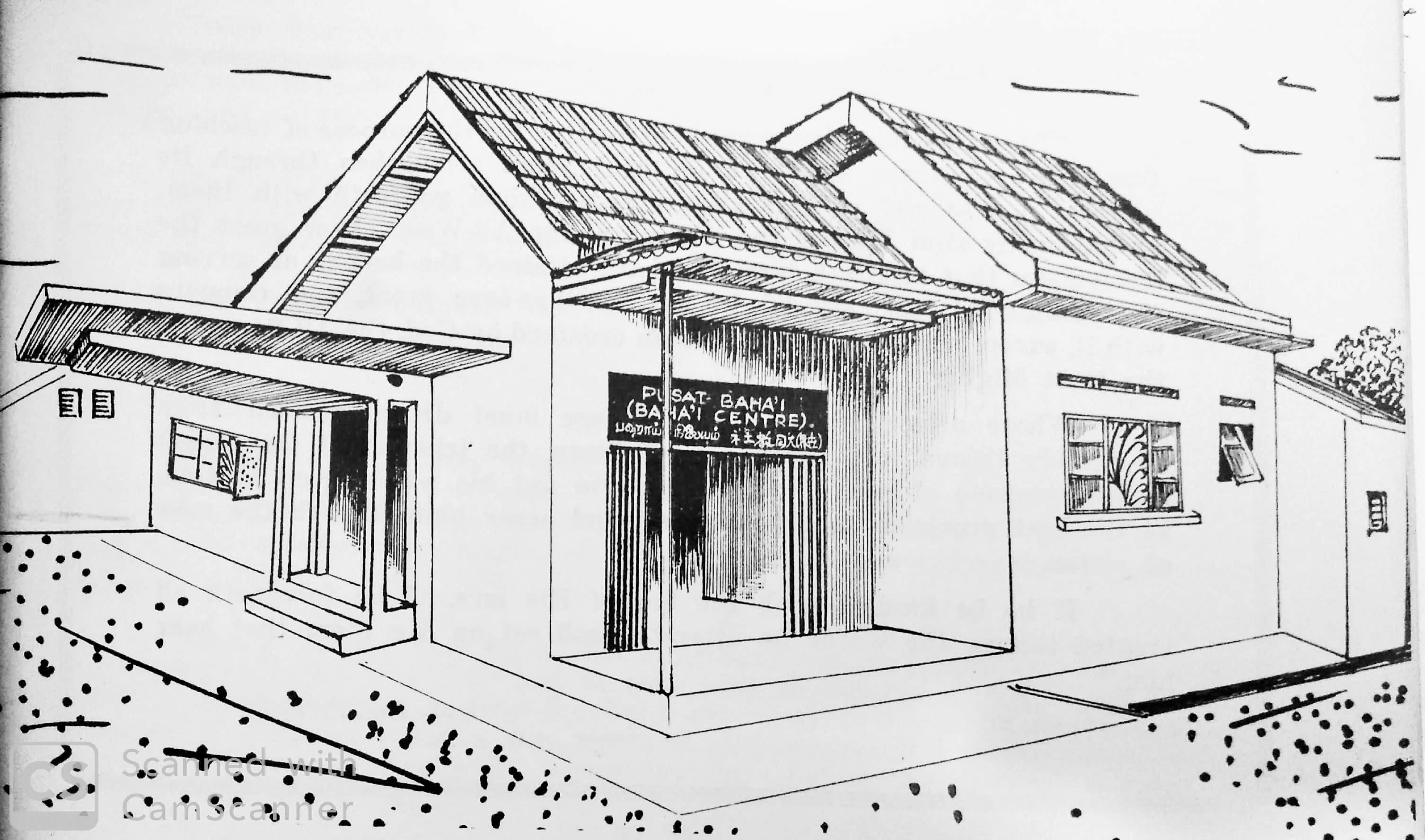 Drawing of the Bahá'í Centre by Kanniah Adaikkalam.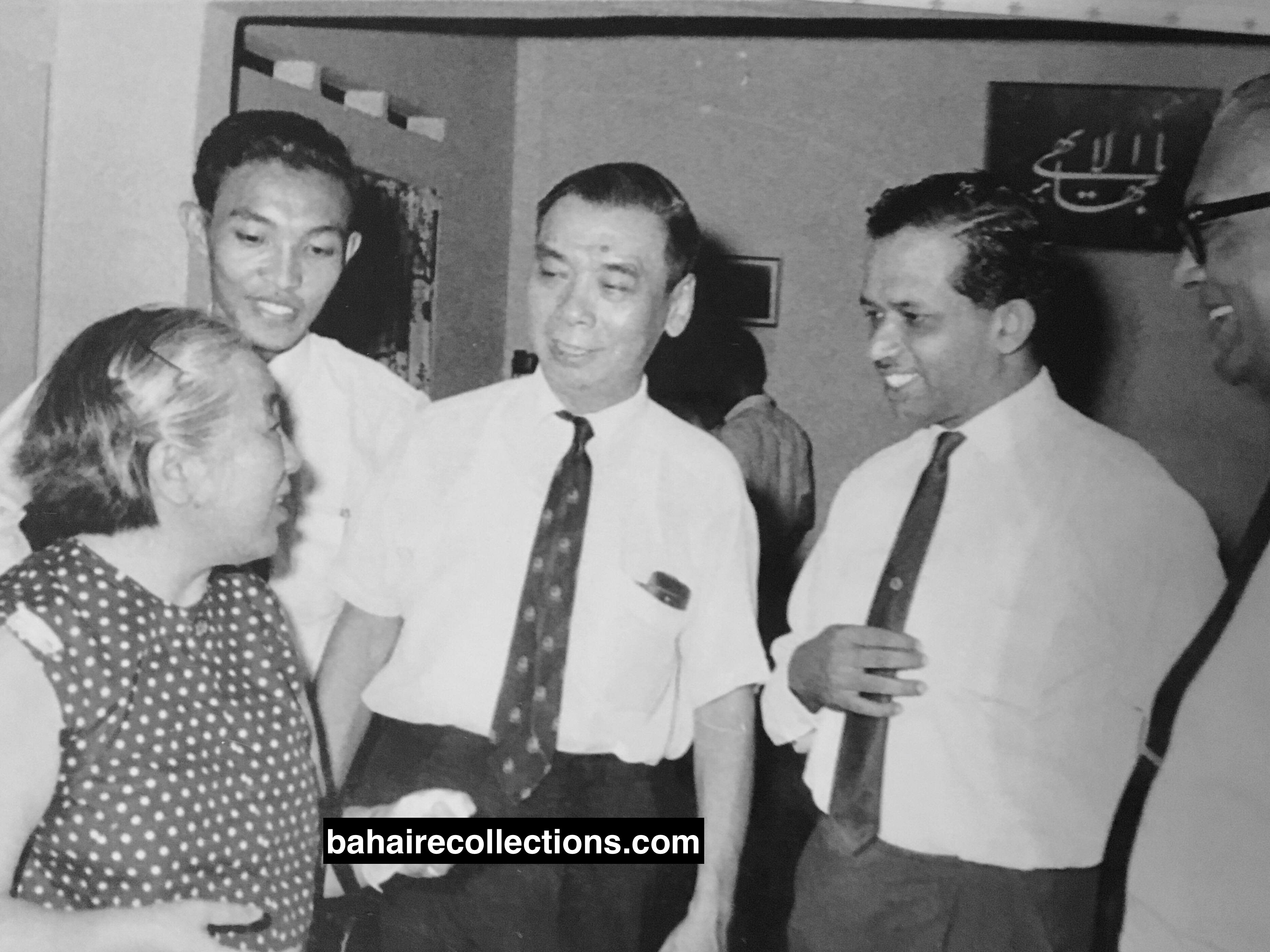 At the National Bahá'í Center, 1967. L-R: Mrs. Lee, Choo Yeok Boon, Wong Kok Mee, Anthony Fernandez, and Appu Raman
Mrs. Lee once again arose to contribute her share to the Faith when the first Teaching Institute for Malaysia was being built in Malacca. In 1958, William Walter Smits (Bill Smits) a pioneer from the USA bought a piece of land at 5891-C, Jalan Dato Palembang, Bukit Baru during his visit to Malaya immediately after the Intercontinental Conference held in Singapore. He then left for Korea, and in his second visit in 1964 he sold that property to the National Spiritual Assembly of the Bahá'ís of Malaysia, at cost. The Hand of the Cause of God Dr. Muhájir called for the erection of a teaching institute on that land. Mr. Leong Tat Chee, an Auxiliary Board Member living in Malacca announced the start of a fund with the initial sum of some M$52. Some months later when Mrs. Lee visited Malacca on her way to Kuala Lumpur, Leong Tat Chee briefed her about the need for the funds for developing the prestigious Bahá'í property and took her for a tour of the site, where some prayers were said.  Mrs. Lee saw the importance of the project and added a large sum to the fund. Armed with this contribution, constructions work started off. On a later date, she laid the foundation stone after a prayer ceremony, and she deposited some stones that Yankee Leong, the first believer of Malaya had brought from the resting place of the Guardian in London when he went to attend the First Bahá'í World Congress in 1963. Mrs. Lee herself was the only participant from Singapore to that World Congress.  By July 1965 the institute building was completed and became the prestigious National Bahá'í Institute, the first of its kind in South East Asia. It was officially opened on 2 January 1966 by Mr. Leong Tat Chee on behalf of Mrs. Lee, who was unable to be present owing to health reasons. The erection of this edifice became a "national pride" with numerous activities taking place there.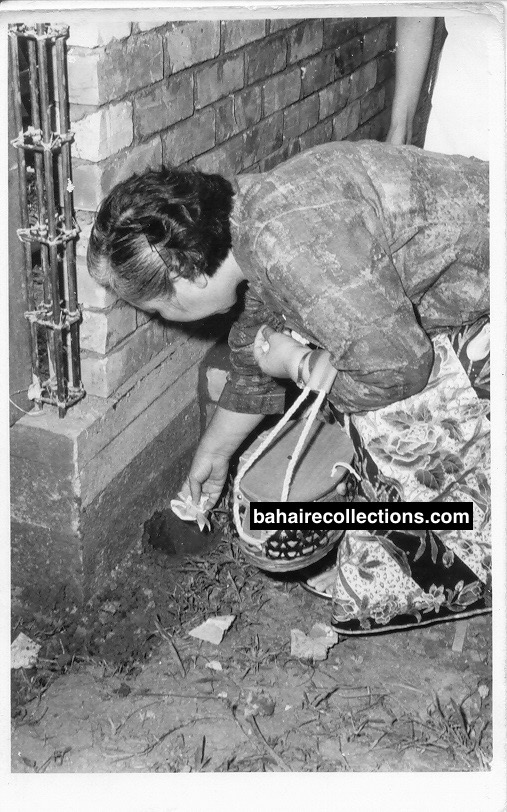 Mrs. Lee burying stones from the Guardian's resting place, after prayers offered at the National Training Institute. 
It has to be noted that she, along with Mrs. Shirin Fozdar played an important role when there was a crucial moment in the history of the Faith in Malaysia when the Faith met a fateful challenge, needing both clarifications with the authorities as well as its protection. In March 1965, an amendment to the section on Muslim administration was tabled in the Selangor State Assembly, which was seen as seriously affecting the independence of the Bahá'í Faith, along with other Islamic sects. The National Spiritual Assembly of the Bahá'ís of Malaysia appointed a delegation that included Mrs. Shirin Fozdar who was in Thailand at this time, and Mrs. George Lee, as well as a lawyer to present their case. The delegation met privately with Tunku Abdul Rahman Putra, the first Prime Minister of Malaysia and Dato' Harun Idris, the Menteri Besar (Chief Minister) of Selangor State and explained the independent status of the Bahá'í Faith. With wise and relentless efforts, the word "Bahá'í" was finally dropped from the proposed legislation.  The personal contacts and diplomatic moves of Dr. Chellie Sundram who was at that time a member of the National Spiritual Assembly of Malaysia had also been useful in resolving the matter amicably.
This star-servant of the Faith was a very shy person who preferred to serve from behind the scenes. The financial contributions that she provided for the needs of the Faith were numerous.  For her generosity, the Hand of the Cause of God Dr. Muhájir had a special admiration for her. She too loved Dr. Muhájir. There were several meetings where, in the course of devising teaching plans, Dr. Muhájir would mention the rough estimate of funds needed, and should Mrs. Lee be present, she would be the first to offer her contribution, unasked.  It may be remembered that at the National Bahá'í Convention of Malaysia in 1971 where Dr. Muhájir was present, the convention discussed the teaching people in the Chinese speaking countries. Mrs. Lee, on her own accord, offered to provide funding of all  Bahá'í pamphlets in the Chinese language required for teaching work in Hong Kong.

Dr. Muhájir in a serious discussion with Mrs. Lee. At left are Mr. Wong Kok Mee and Mr. K. Rajah.
In 1972 Singapore had its first National Convention to elect its own National Spiritual Assembly. Mrs. Lee was elected to this august institution. While shouldering a host of responsibilities as a Bahá'í, Mrs. Lee balanced her life very well. While discharging her Bahá'í duties and traveling between Singapore and Kuala Lumpur, she also divided her time well to be with her family in Singapore and visiting her children abroad. She spent her last days, living alone and in good health with her nurse companion in Singapore and still participating in Bahá'í activities. She had twenty grandchildren and ten great-grandchildren married to people of different racial backgrounds and spread out all over the world. Until her last days, she continued to be a strong advocate of women's rights.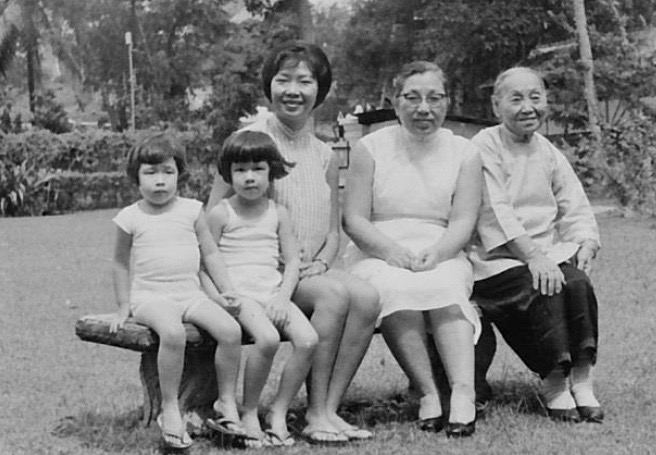 Mrs. Lee with her family. Photo credit: Family of Mrs. Lee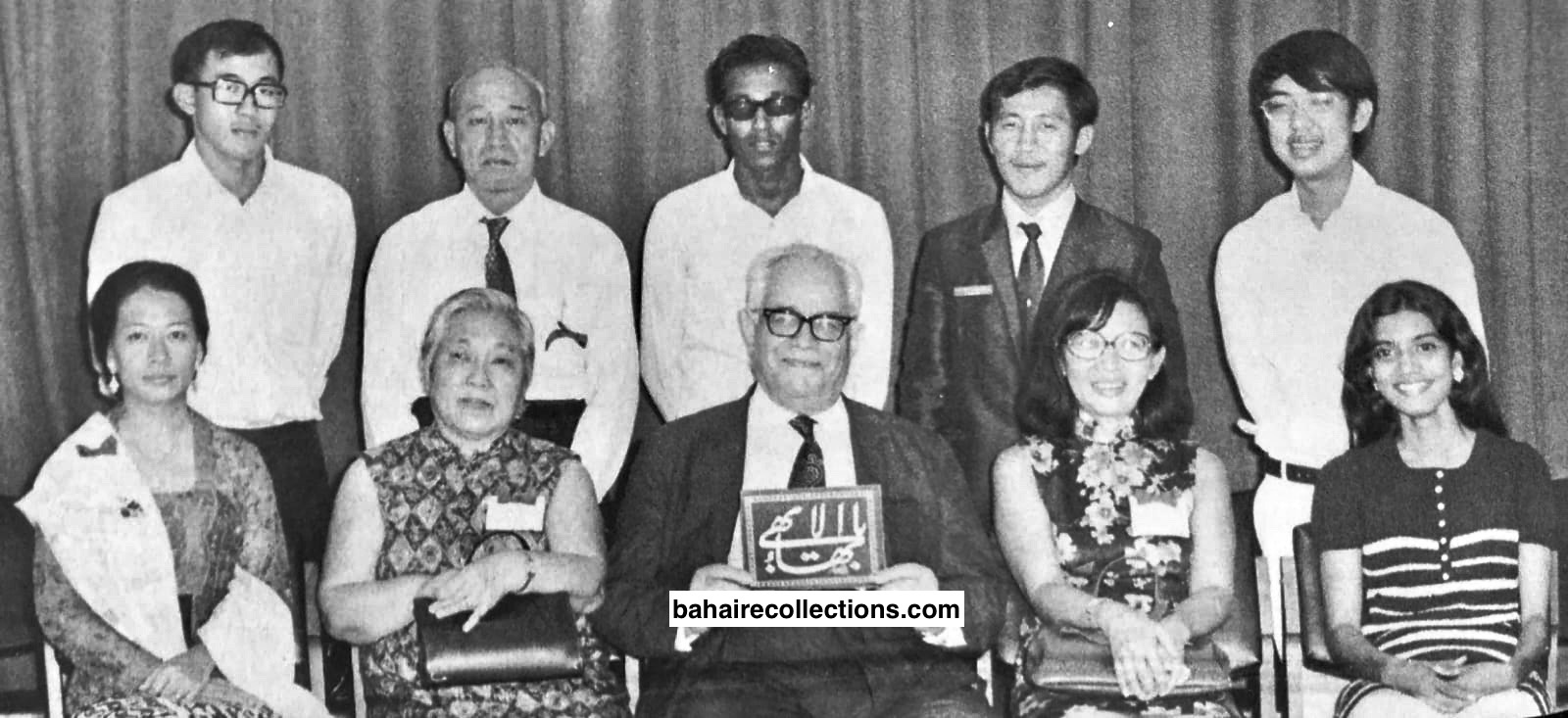 First National Spiritual Assembly of Singapore, 1972. Seated L-R: Mrs. Lena Tan, Mrs. Lee, Hand of the Cause of God Jalal Khazeh, Mrs. Rose Ong, Nita Sundram. Back row L-R: Mr. Kenneth Mak, Mr. Teo Geok Leng, Mr. Machamboo, Mr. Edward Teo and Mr. Henry Ong.
The  Bahá'ís of Singapore used to visit her on auspicious days, and the family members, though not believers welcomed them as a mark of respect they had for the belief or Mrs. Lee. Though she was of advanced age, the believers found her understanding of the Faith and her love for Bahá'u'lláh deep and profound. She never wavered in her devotion to the Cause. And, throughout her life, there was always a charm and a magnetic attraction in Mrs. Lee, with her ever radiant and smiling face.
Being generous in prosperity had always been part of the nature of this great servant of the Cause. She not only saw the need of the Faith or the institutions but also was observant of the needs of individuals who were out to serve. Dr. Vasudevan, who was only a young man at the time, had resigned his job as a teacher and was leaving for pioneering. Dr. Vasudevan says this of her, "I left for Sri Lanka as a pioneer in May 1967, after meeting with the National Spiritual Assembly, where Mrs. Lee was present. As I walked out of the meeting, Mrs. Lee too excused herself and followed me. With nobody else noticing, the emotional Mrs. Lee, whose sparkling eyes welled with tears, placed some money in my pocket for my expenses and bade farewell. That was a huge amount by the standard of those days. It lifts my heart each time I think of this kind gesture on her part." Numerous Bahá'ís had been able to serve the Faith through her quiet, unnoticed and unannounced financial support.
Mrs. Lee passed away in Singapore on Tuesday, 24 August 1999 at the age of ninety-five, and was buried according to Bahá'í rites at the Singapore Bahá'í cemetery.  The Spiritual Assembly of the Bahá'ís of Malaysia, in recognition of her selfless contribution for the Cause in the early days, decided to place her portrait in the bungalow at 32, Jalan Angsana that she donated in 1964 to be used as the Bahá'í Centre. Retired Colonel Dr. Gopinath Gopala, member of the National Spiritual Assembly of the Bahá'ís of Malaysia unveiled her portrait, while Mrs. June Loh-Ng Po Wat, Secretary of the National Spiritual Assembly spoke in glowing terms of some of the services Mrs. Lee rendered the Cause.
Bahá'u'lláh chooses different people from different backgrounds and different capacities to foster the growth and development of His Faith. Here was Mrs. Lee, a magnate with a magnanimous heart, and who freely and generously contributed to the funds with no fear of poverty, and without any coerce involved however subtle it may seem. This benevolent servant of the Cause was certainly an invaluable asset for the Faith. No Bahá'í can truthfully ignore any thinking on her unique role in the early days of the Faith in Singapore and Malaysia. And truly, time would never dim her great contribution to the Faith.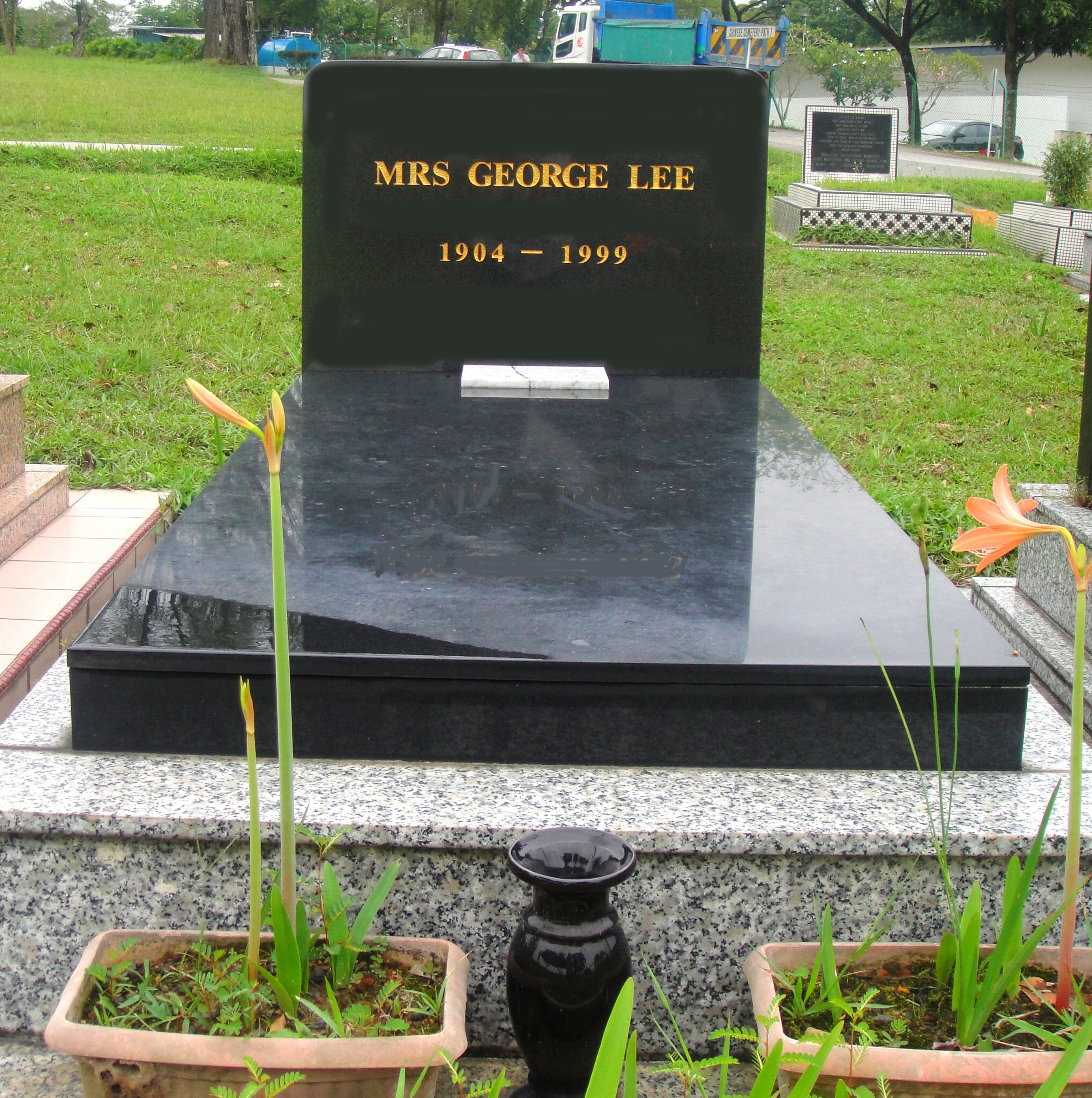 Resting place of Mrs. George Lee
O YE THAT PRIDE YOURSELVES ON MORTAL RICHES! Know ye in truth that wealth is a mighty barrier between the seeker and his desire, the lover and his beloved. The rich, but for a few, shall in no wise attain the court of His presence nor enter the city of content and resignation. Well is it then with him, who, being rich, is not hindered by his riches from the eternal kingdom, nor deprived by them of imperishable dominion. By the Most Great Name! The splendor of such a wealthy man shall illuminate the dwellers of heaven even as the sun enlightens the people of the earth! – Bahá'u'lláh
A. Manisegaran
North Carolina
USA
31 October 2019
Adapted from a book by the author – Jewel Among Nations, Splendour Publications, 2003.
Copyright©bahairecollections.com