REMEMBERING MRS. THURAISINGAM
Mrs. Mary Celine Thuraisingam
15 April 1921 – 5 January 1994
Perhaps history would remember her best, among others, for her firmness in the Faith, boundless love for the Blessed Beauty, lofty ideals in life and intrepid courage in teaching the Cause with an unbridled passion.
Mary Celine Nagaretnam, born in mid-April 1921, was a staunch Roman Catholic by birth and grew up a church-going devotee. She lived with her family on a rubber estate that her father owned in Raub, a small town in the state of Pahang, West Malaysia. At the age of 19, she went to work in Kuala Lipis, a small town close by, as a nurse. It was in this town that she met Robert Thuraisingam who was a Hospital Assistant in the same hospital where she worked. They were married on 25 January 1941, during the days of the Second World War when the Japanese occupied the then Malaya. Mrs. Thuraisingam resigned from her nursing job that same year when her eldest daughter Elizabeth was born. Her years following were filled with caring for the children as a home-maker.

Hospital Assistant Mr. Robert Thuraisingam married a Nurse Mary Celine Thuraisingam.
In 1952, Robert Thuraisingam was transferred to work at the Dispensary in Fraser's Hill, a hill resort in the same state of Pahang. He remained there till December 1953. As there was no English medium school at that time and so he had to send his three school-going children, Elizabeth, Alice and Francis to live with his sister in Sentul, Kuala Lumpur. In January 1954, he was transferred to the Dispensary in the town of Temerloh in Pahang. The doctor would come to Temorloh only once a week and it was Mr. Thuraisingam, though a Hospital Assistant acted in the capacity of a doctor, dispensing medication and providing treatment. By this time, Mr. and Mrs. Thuraisingam and their fifteen children – Elizabeth, Alice, Francis, Mary, Catherine, Anne, Anthony, Margaret, Philomena, Joseph, Jasinta, Theresa, Agnes, Florence, and Peter lived in spacious government quarters that came with Robert Thuraisingam's position.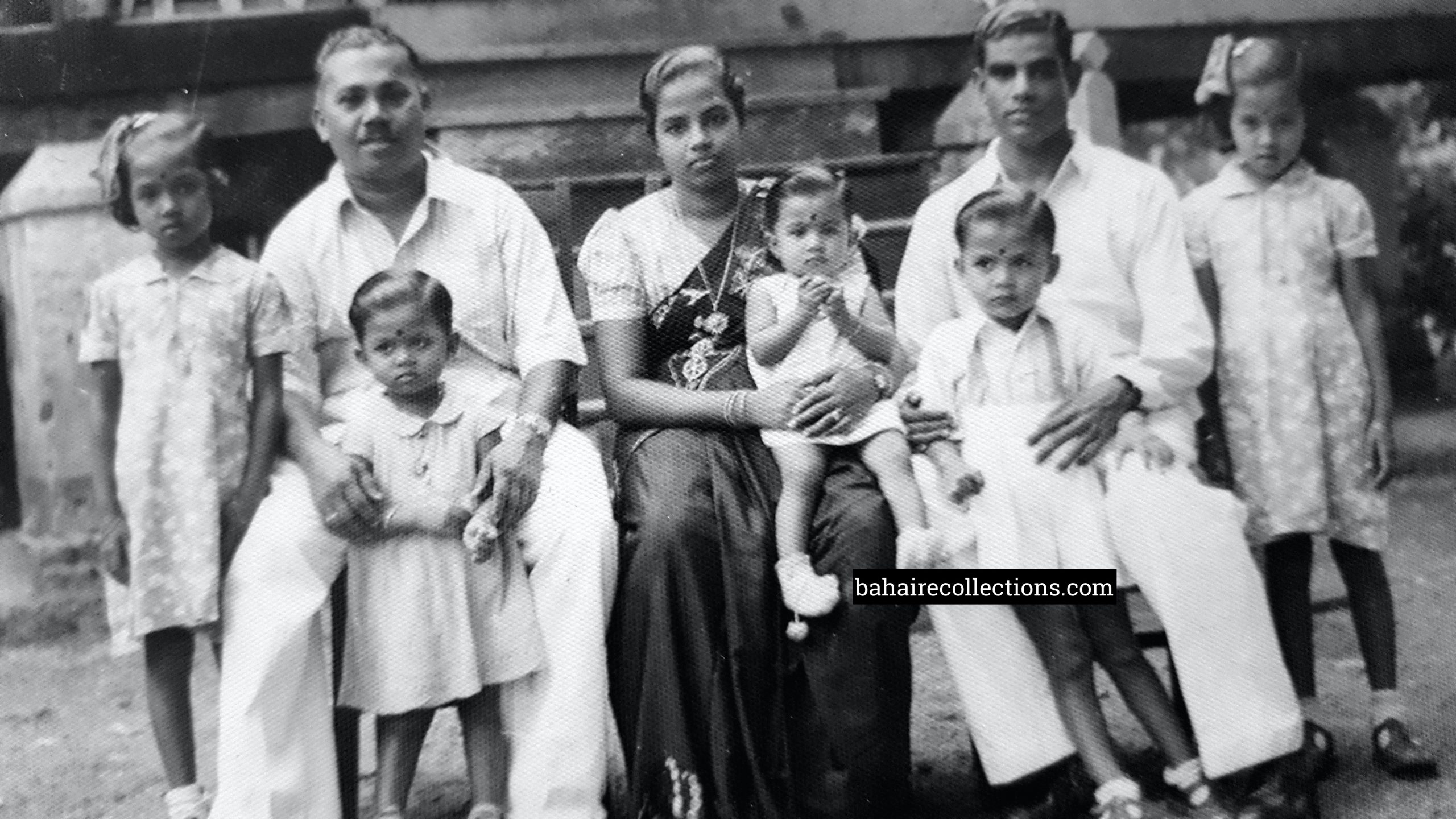 With her husband, five children and brother Dr. Poobalasingam, 1949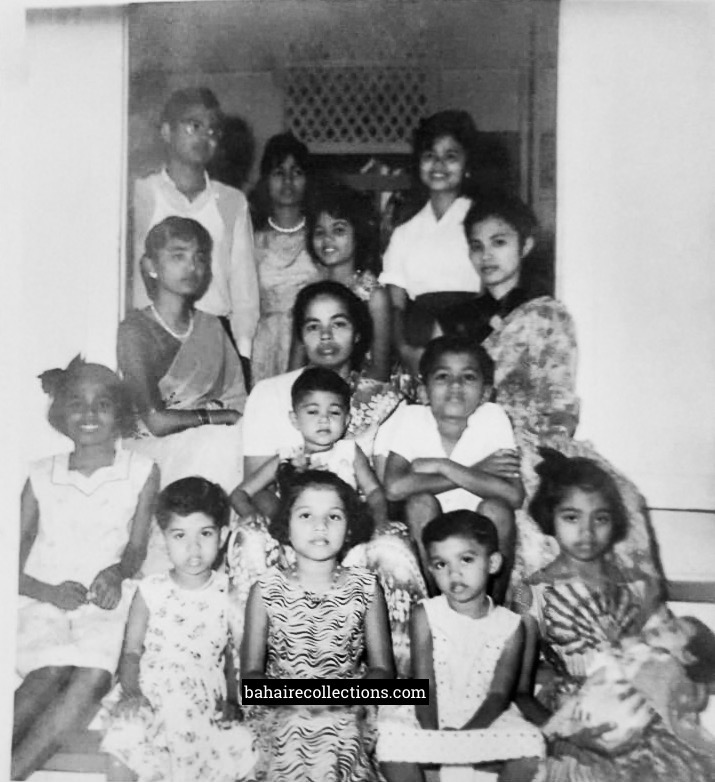 With her 14 children during Christmas 1963. Missing is Anthony and the photographer Mr. Robert Thuraisingam.

Mrs. Thuraisingam, as a devout Roman Catholic would go to church on Sundays without fail. She had always been a religious person. They all lived a fairly comfortable life when on Monday, 13 January 1964, the fate of the family was reversed when Robert Thuraisingam suddenly and most unexpectedly passed away. Mrs. Thuraisingam was totally devastated. Her only comfort and consolation was her wholehearted faith and complete reliance in Christ, and with that, Mrs. Thuraisingam managed to continue on with life. Until her children grew up to start working she was the actual muscle in the family in the throes of sufferings and ably shepherded her children for many years. Among the daily difficulties was washing with her bare hands four buckets of clothes of her 15 children.
With her husband's passing, her family had no more privileges and was forced to move out of their spacious government quarters and rented house number 4 in Lucky Garden in Temerloh town for a year. While living there the rubber estate opposite was cleared for housing development and she bought house number A1 in the year 1966 with the gratuity and her savings.  Later the house number 8 was for sale and the contractor requested Mrs. Thuraisingam to buy it. When she replied that she did not have that much money with her, the housing developer, knowing of her dire situation requested a mere RM 2,000 as deposit and the rest to be settled through monthly installments of RM100, with no interest charged. The deposit was paid by Dr. Poobalasingam, the younger brother of Mrs. Thuraisingam. Her life now had become a mammoth struggle. Fortunately, two of her brothers Dr. Poobalasingam and Thillaiampalam helped her financially and they were her only lifelines. Sadly there was another brother who was intellectually challenged since birth and he was brought in under her. But with her magnanimous heart, she provided him all the care that he needed.
Circumstances forced Mrs. Thuraisingam to be very frugal, but never stingy. All her children were accustomed to hardship from their childhood days and it turned out to have polished their lives so well. Mrs. Thurasingam made sure these virtues of thriftiness to manage under the difficult circumstance was instilled in all her children. She taught them cooking even at young age and they all grew to be good at the kitchen as they grew up. She planted her own vegetables in the backyard, reared goats and chickens, and sold eggs and meat to raise money for daily expenses and for the education of her children.
Mrs. Thuraisingam learned much ahead of time all about what the current generation calls "recycling". Water that was used for washing vegetables and meat was channeled to water the plants in her garden. Empty Horlicks and Nescafe bottles were used for the storage of kitchen items. It was a moving moment, when after her passing – despite such better circumstances, small amounts of ringgit were found tucked into a recycled coffee bottle in the kitchen in her home in Petaling Jaya. With great initiative and grueling work, she also catered meals for some school teachers in the neighborhood for additional income.
To cut every possible corner, her children were instructed to consume only home-cooked food. To them, pocket money for school was an unheard-of luxury. Her children took bread from home to consume during recess in school. The older children took on many of the daily chores and housework. Baby-sitting became second nature to them. All their clothes were stitched by their mother. She was a powerhouse of hard work and discipline. Despite all the toilsome daily routine, she always made time to pray with the family. As Roman Catholics, the family would kneel before the altar in their home and pray every night after dinner. She taught her children to read the Holy Bible before they started attending school.
While her strong faith in the ever helping hand of God was her great consolation, she was led to see the Light of the Age. It was Divine Providence that she had to become a Bahá'í. She came to learn about the Bahá'í Faith through her eldest son Francis Satkunasingam, popularly known as Francis Singam, or "Fred" among his closest friends. Francis was the President of the Catholic Society at the Technical College of Kuala Lumpur in 1966. He was introduced to the Faith by the late Captain Choo Yeok Boon, a firm Bahá'í from Alor Star, who was already a student there and who set up the Kuala Lumpur Technical College  Bahá'í Society. Being a staunch Christian and occupying the position of President of the Catholic Society in the School, Francis was a difficult person to convince. But the Faith certainly provoked his interest and he became a sincere searcher of truth. After questioning Yeok Boon endlessly and then reading the book Kitáb-i-Íqán, Francis accepted the Faith. Then unfolded a turn of dramatic events. Upon accepting the Faith, Francis immediately resigned as the President of the Catholic Society, to the consternation of many of his fellow Christians. What was happening? As the President of the Catholic Society, Francis was on the main reception committee when His Right Reverend Bishop Vendargon paid their College a visit sometime earlier. Upon learning that Francis had embraced the Bahá'í Faith, His Right Reverend Bishop Vendargon called upon Francis to seek an explanation and get him to revert to Christianity. But by this time Francis was already a convinced believer who truly and firmly believed of the Return of Christ with the coming of Bahá'u'lláh. Francis had an answer to all the Bishop's questions and the Bishop found it hopeless to pursue the matter any further.

Eldest son Francis Singam, himself firm as a rock in the Cause.
The excited Francis first introduced the Faith to his mother's younger brother  Francis P. Thilliampalam, who also accepted the Faith. The next was the most tricky and difficult task for Francis. He had to give the Faith to his mother which was as walking on a razor's edge. Francis summoned all his energies and courage and introduced the Faith to his mother. He brought to her the tape-recorded talks that the Hand of the Cause of God Abu'l-Qásim Faizi had delivered at the First South-East Asia Bahá'í Regional Youth Conference held in Kuala Lumpur from 21-24 December 1968. On hearing of the name "Bahá'í", she immediately commented that this was an anti-Christ religion from a false prophet, and nothing but the wolf in the sheep's clothing. On hearing a few names of the key figures of the Bahá'í Faith, starting with Bahá'u'lláh and 'Abdul-Bahá she also saw the Bahá'í Faith as a sect of Islam. Her immediate instructions to Francis were clear-she told her son sternly to stop bringing the Muslim religion into her home. Francis employed a very wise approach in his attempt to help his mother understand. He told the mother, "I have a delicious cake, ma, and all I want is you to partake of a piece as well." So, she patiently listened fully to the talk of Mr. Faizi. Francis then turned to quote from the Holy Bible – verses, dear and familiar to his mother's faithful heart – about the return of Christ. He urged his mother to read the book "The Thief in the Night" by Hand of the Cause of God William Sears. Francis resorted to prayers beseeching God to open his mother's eyes to the truth of the mission of Bahá'u'lláh. Finally, Mrs. Thuraisingam consented to read the book, but with a rosary in one hand for unquestioning guidance and protection. As she progressed through the book, she discovered for herself explanations to the return of Christ which were so different and yet such completely plausible. It did not take long before quotations from the Holy Bible resonated with her heart and the prophecies fulfilled with the coming of Bahá'u'lláh reached the depths of her soul. What a coincidence! It was at this time also that Mrs. Thuraisingam was attending Bible study classes that focused on the subject of the return of Christ. The talks of Mr. Faizi and the book "The Thief in the Night" came as an answer to her prayers. She became convinced of the truth of the mission of Bahá'u'lláh and accepted the Bahá'í Faith. Bahá'u'lláh's mighty Hand had touched this human gem in an unremarkable little town, as He Himself promises, "By the righteousness of the one true God! If one speck of a jewel be lost and buried beneath a mountain of stones and lie hidden beyond the seven seas, the Hand of Omnipotence will assuredly reveal it in this day, pure and cleansed from dross."
Until the time of her acceptance of the Faith, she went to church on Sundays. When Mrs. Thuraisingam accepted the message of Bahá'u'lláh, she was so convinced and firm in her belief that she paid a visit to the priest of her church, told him of her decision that she would henceforth cease attending church. What courage must she have had to do this! The priest said that she had been converted by some devil, a response only to be expected. Mrs. Thuraisingam, a widow and a single mother of a large brood of children, with very little material means to her name, stood her ground. The priest then took up the matter with Bishop Vendargon based in Kuala Lumpur, who made a special trip all the way to Temerloh. When he came, Mrs. Thuraisingam gave him a Bahá'í book and said, "Father, if you find anything wrong with this religion I will renounce the Faith." The Bishop then left, and much later admitted to her that he could not find anything wrong with the Bahá'í Faith. That was a victory for her. On the other hand, sadly, and unsurprisingly as so often is the case, she faced resistance and condemnation from other quarters – her relatives and friends. Some of them mocked her decision, but since she was clear of the path that she had chosen she refused to be elbowed out. Undeterred by the growing tumult and unrestrained by all these earthly advice and admonitions, she continued to soldier on with her newfound path, practicing the teachings of the Bahá'í Faith every single day of her life.
From the day she accepted the Bahá'í Faith, she was hungry for knowledge. Every night she would read any Bahá'í books, magazines, and newsletters she could get her hands on. It did not take long before the spiritual institutions and several individuals came to learn of the coming into the Faith by this dynamic family, especially the firmness showed when faced with much opposition. Support also poured in from all directions. Several Bahá'ís including Mr. and Mrs. Lily Chinniah and Mr. S. Ravichandran from Kuala Lumpur,  Mr. V. Theenathayalu and Mr. T. Thanabalan from Petaling Jaya, and Mr. Isaac D'Cruz from Seremban were among those who came over to visit her family in Temerloh in their teaching trips to the East Coast. Each week there was someone coming all the way from Kuala Lumpur to the state of Pahang for teaching activities and visiting her home in Temerloh was part of the schedule. Coupled with the books she had been reading, such visits increased her knowledge of the Faith through the discussions she had with them. She was also able to see a sincere and unprejudiced fellowship among them, hitherto unfamiliar. After becoming a Bahá'í, she read the Holy Quran for the first time,  and she attempted to get a deeper knowledge of other religions as well.
Soon after accepting the Faith she was immersed into reciting prayers meant for various occasions. When she came across the statement by Bahá'u'lláh on the Long Obligatory Prayers which read:  "In truth, it hath been revealed in such wise that if it be recited to a rock, that rock would stir and speak forth; and if it be recited to a mountain, that mountain would move and flow. Well is it with the one who reciteth it and fulfilleth God's precepts,"  she made every effort to recite this prayer, that involved a series of body positions and movements. But  in later years,  her knees were beginning to act up, and she was having some challenges with performing prostrations for this prayer. And her advice to the youngsters was to say this prayer even when they are young, strong and healthy, as a time would come when their knees would not cooperate. She is even reported to have said, what is the purpose having  knees which refuse to bend down in humility before our creator. That was one regret as she advanced in age.
The one believer who took special interest far ahead of any others was Mr. Sivasathiyaseelan Nadarajah (N. S .S. Silan) who was a family friend while he was residing in Temerloh. Silan was also a schoolmate of Francis Singam and some of his siblings at the Abu Bakar School in Temerloh. Silan who was working in the Inland Revenue Department in Kuala Lumpur  made several trips to  Temerloh for his official work. In those trips he never failed to visit this family.  He had also  undertaken visits on behalf of the National Teaching Committee. In August 1970, when on the National Teaching Committee he took along his colleague  Jeffrey Choon Dr. Sydney I. Deanand his wife Isabelle Dean,  visiting Bahá'ís from abroad and dropped into the home of Mrs. Thuraisingam on their way further to the East Coast of Malaysia. In this visit, Mrs. Thuraisingam arranged a fireside for 25 people. In this visit her son Anthony and daughter Philomena accepted the Faith. Over the next few years, of her 15 children 6 became Bahá'ís in stages – Francis, Anthony, and Philomena first, followed by Jasinta, Theresa and Florence.
Mrs. Thuraisingam was always highly focused and dedicated herself completely to the Faith. She consulted with her children and with their support, opened her home to travel teachers coming to Temerloh. With that several travel teachers came to Temerloh, stayed with them and carried out teaching work in the area. Mrs. Thuraisingam gave every freedom to her children in the choice of their beliefs, and never coerced them into the Faith. The other children who did not accept the Faith were very supportive of the Faith. She used to repeat everything she read on the Faith to all her children and always kept telling her children that the Bahá'í Faith was the answer. Her daughters who did not accept the Faith did not hesitate to say the "Remover of Difficulties" and "Tablet of Ahmad" prayers in times of difficulties. Mrs. Thuraisingam would set a high standard in her children which her children passed on to their own children – grandchildren of Mrs. Thuraisingam.
Mrs. Thuraisingam strove to create a full Bahá'í environment in her family. Each month she would set aside some money for the funds to be contributed at the Feast. It was with the balance in hand that she would budget for the month. For her, contribution to the funds was the priority. She was generous in contributing to the Bahá'í funds until the last days. When six of her children had accepted the Faith, she encouraged them to memorize as many prayers as possible, always instilling in all the children love and fear of God. Whoever was able to memorize a prayer, was given a reward of $0.10 for each prayer, which was a big sum in the 1970s. She gave more for memorizing the Tablet of Ahmad!
In 1975, Mrs. Thuraisingam moved her family to Petaling Jaya for better educational opportunities for her children and stayed in a rented house. When Mr. Thuraisingam was alive, he took an insurance policy under the name of his son Joseph. When Joseph turned 21 the insurance matured, and Mrs. Thuraisinam used the returns of that insurance policy together with proceeds from the sale of a piece of land she had inherited to buy her own house in Petaling Jaya.
While in Petaling Jaya this family became actively involved in the local Bahá'í activities. When they first moved into Petaling Jaya, they did not have their own car, and it was among others, the late Mr. S. Ravichandran, Thanabalan and T. K. Lee, who give transport for this family in the early days. The community saw in her a boundless love and passion she had for teaching the Cause. She made it a point to talk about the Faith to everyone she met – postman, meter readers, and even salesmen, by often inviting them for a cup of tea. She was also very actively involved in the activities that were planned by the Local Spiritual Assembly. When the Dawn Prayers were initiated as a community activity, her house was one of the venues for this activity. She used to get up early in the morning to prepare a sumptuous breakfast for the Bahá'ís and made sure they ate well and was especially appreciated for her most delicious thosai (Indian rice flour pancakes). Her house was likewise open for the breaking of fasts in the fasting month. Mrs. Thuraisingam faithfully obeyed the Law of Fasting, and even past age 70 continued to fast. Her house became a center of gatherings for those believers residing nearby. It was usually dinner, followed by discussions on the Faith.

Frying curry puffs for the 21st birthday of her youngest daughter Florence. The hand that fed many believers in the community.

Knowing the deep knowledge of Mrs. Thuraisingam had of the teachings, the Local Spiritual Assembly of Petaling Jaya requested her to give a talk on the subject of the Covenant on the occasion of the Day of Covenant. Having done wide reading on the subject, she spoke with an erudition that belied her age, to the awe of the listeners.
The international Bahá'í Teaching conference held in Hong Kong in November 1976, was the first international conference she attended, in the company of her son Francis. There she was able to mingle with over 600 believers from 39 countries and could see further shreds of evidence of the mission of Bahá'u'lláh in uniting mankind. The talks by the three Hands of the Cause of God present – `Alí-Akbar Furútan, Dr. Raḥmatu'lláh Muhájir, and Mr. Collis Featherston created a deep impact on her. Back in Malaysia she never missed talks by Hands of the Cause who visited the country.
Some Malaysian believers at the International Teaching Conference, Hong Kong, 1976.  Squatting   L-R: Giam Chin Chye, Jimmy Seow, Bernard Ong, Krishnamurthy, Sathia Narayan aka Arun Balaji. Bending in middle row L-R: M. Shanmugam, A. Ayahkannu, Vaithilingam, Chua Teik Wee. Back row  L-R- Susie Wong, Thilaga Naidu, Mrs. Thuraisingam,  S. Nagaratnam, Kumara Das, Inbum Chinniah, Manmohan Singh, Soon Poh Lee.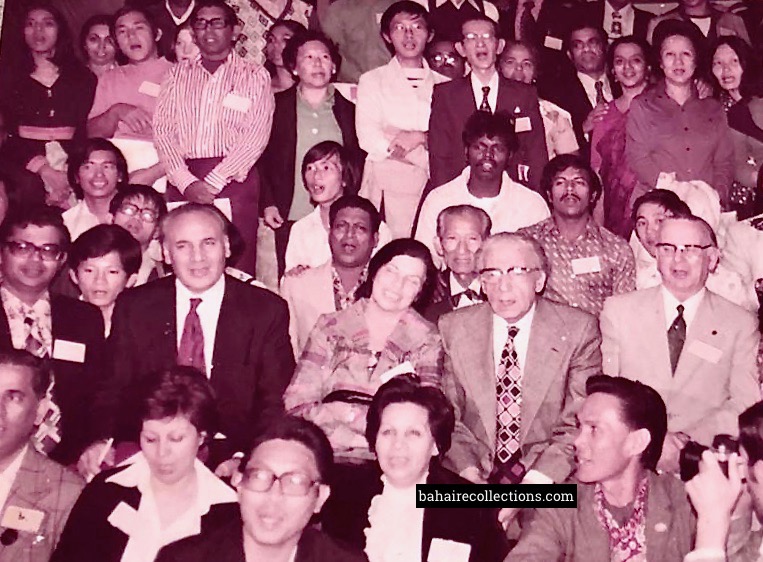 International Teaching Conference, Hong Kong, 1976 graced by the presence of three Hands of the Cause of God – Dr. Muhájir, Mr.`Alí-Akbar Furútan, and Mr. Collis Featherstone – seated in the centre. Francis Singam is seated at the extreme left. Mrs. Thuriasingam stands fifth from the right and partly hidden.
Observing that Mrs. Thuraisingam had become a good fieldworker, in 1977, Mr. S. Nagaratnam, at that time a member of the  Spiritual Assembly of the Bahá'ís of Malaysia requested her to teach in the estates in the northern state of Kedah. That was a time when she was a busy mother and a grandmother. Heeding to the call she requested her older daughters to take care of the younger ones and went off to teach the Faith in the estates for a period of one month. Each day she went from house to house teaching the Faith to the families in the estates. Mr. Muniappan who organised her trip to one Patani Para Estate mentions she met the Bahá'ís and inspired especially the ladies to serve with greater vigor. Mrs. Indrani Arputhaseelan who organised her visit to the Kilang Lama Estate recalls how easily she adapted to a very simple accommodation and basic hospitality in her estate quarters. Mrs. Indrani further mentions that her neatly dressed appearance was an attraction among the estate women to whom she gave the Faith in fluent Tamil language. In the Harvard Process Estate, where she stayed in the house of one Mr. P.S.Vijayan she had visited each house and delivered the message and gave convincing answers to all their questions. It was while she was in the teaching field in Kedah that her daughter Alice gave birth to her third child in Kuantan. It was the custom of the time for elders in the family to take care of the newborn infants and when the family called her to come back, she came back to Kuantan for a week to attend to the newborn and went back to Kedah again to continue the teaching service that she had committed for one month. Mr. Nagaratnam was very pleased with her fieldwork. Likewise, Mrs. Thuraisingam adored him for his complete dedication to the Faith. Although he was younger to her, she still addressed him as "Uncle Naga" as done by the youngsters. Mr. Nagaratnam requested her to address him as "Naga" but she would not. Having made that request to her, Mr. Nagaratnam himself addressed the younger Mrs. Thuraisingam as "Aunty."
Mrs. Thuraisingam had harbored a strong desire to take the Faith to foreign countries as well. The opportunity to teach the Cause in Sri Lanka came at the end of 1977. She first attended the Asian Bahá'í Women's Conference held in New Delhi, India from 13 to 16 October 1977, in the company of seven Malaysian Bahá'í ladies. A total of 3,000 participants were there. At the end of the Conference, Hand of the Cause of God Amatu'l-Bahá Rúhíyyih Khánum laid the foundation stone of the Mother Temple of the Indian Sub-continent. All the participants were provided with bus transport to witness this historical event. Following the conference, Mrs. Kumari Lechumanan and her friends travelled by train to Chennai in Tamil Nadu to participate in the South India Teaching Project. Mrs. Thuraisingam too travelled with them to Chennai. Kumari and her friends invited her to join them in the South India Teaching Project. But she replied, "I am going to Sri Lanka to meet all my relatives and I want to give them the message of Bahá'u'lláh and wake them up." The ladies were surprised that Mrs. Thuraisingam decided to go alone, at that age to Sri Lanka to deliver the message of Bahá'u'lláh.
From Chennai city in Tamil Nadu, Mrs. Thuraisingam went as a travel teacher to Sri Lanka in 1977, funding the entire trip with her own savings. And that was her first trip to Sri Lanka and undertaken with full confidence in the helping hands of Bahá'u'lláh.  When she arrived in Sri Lanka, the secretary of the National Spiritual Assembly had written to a few friends to arrange her activities. She did not have the comfort that she had in Malaysia, but having been accustomed to rural teaching in Malaysia, she just fitted in so well to the simple environment. Part of her teaching schedule included staying in a small town called Peradeniya with Mr. Ian Richard Bayly, an Australian student pioneer to Sri Lanka who had just married a local believer by name of Mona in November 1977. Ian was also an Auxiliary Board Member for Protection. The couple  were serving as home front pioneers in Peradeniya. They had a tiny upstairs apartment with just a few pieces of furniture, a water tank with a water pipe bringing water only about one hour per day. They had no refrigerator and Mona would cook on a single burner kerosene stove. But Mrs. Thuraisingam just fitted in so well and stayed with them for one week like a visiting aunty. Ian was at that time pursuing a geography degree at Peradeniya University just on the outskirts of Kandy and he often took Mrs. Thuraisingam for visiting the friends in different places to hold firesides and conduct deepening classes. On a few occasions Ian took Mrs. Thuraisingam  on his little 100 cc Honda motorcycle, something she had not been used to before. The local believers in Peradeniya were inspired by her knowledge of the Faith and her fluency in the Tamil language. Ian and Mona also took her to visit the town of Nawalapitiya and there met a Malay Bahá'í family. The head of that family was a railway station master. Ian, his wife Mona and his father in law M. Anwer Cadir  and  Mr. Roberts,  local believer took  her by bus to visit the Greenwood Estate near Nawalapitiya in the Hill Country. Mona used to conduct Bahá'í children classes there, and Mrs. Thuraisingam was taken to the estate to talk to the parents of the children about the Faith.  Alighting from the bus they  had to walk quite far downhill through the tea bushes to the line houses where the friends lived.  Although the local believers were worried if Mrs. Thuraisingam would be able to manage the distance downhill and climb up again in the very rough pathways she was so happy that she was oblivious to the difficulties faced.  What an indomitable spirit she demonstrated.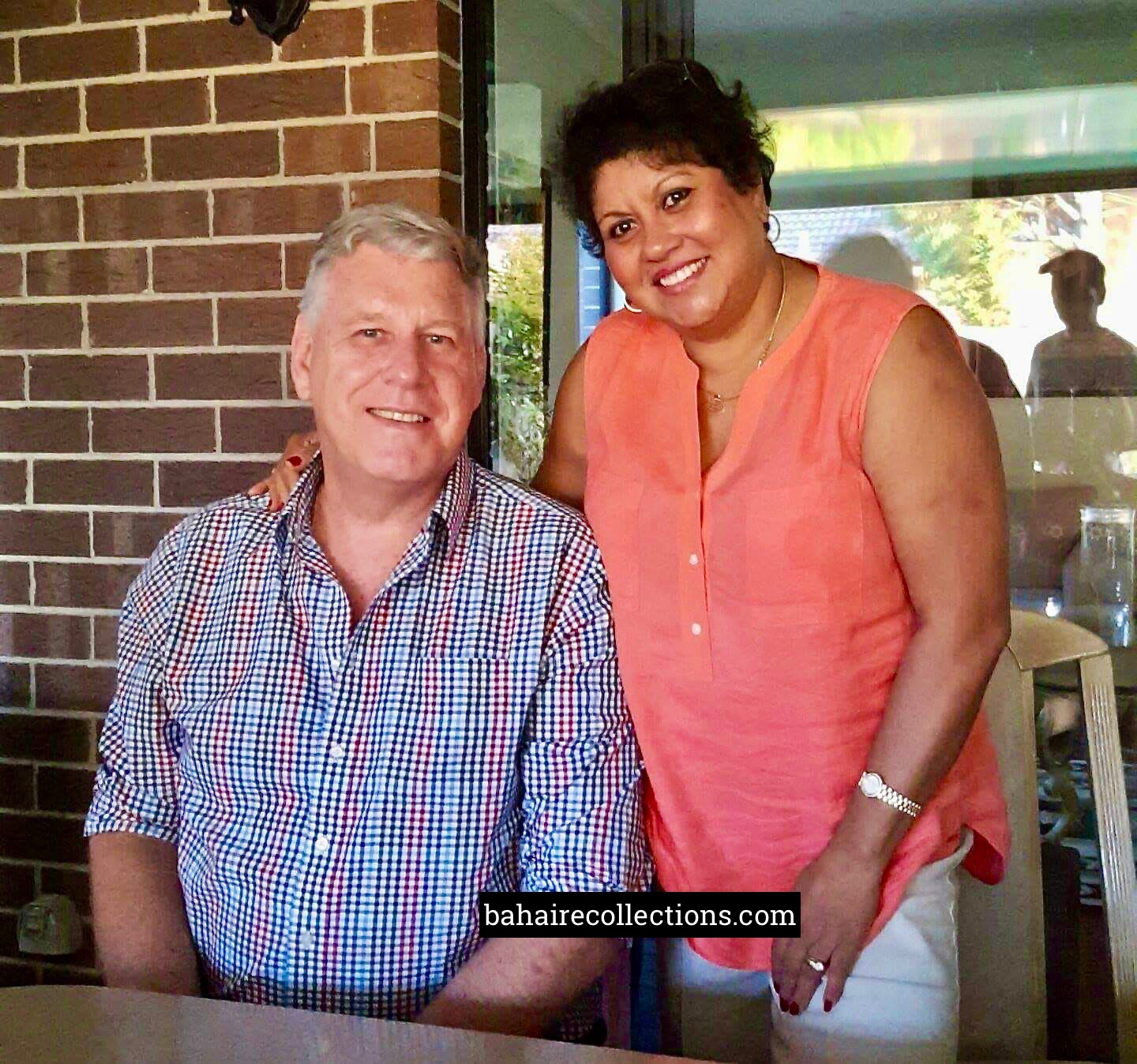 Ian Richard Bayly and his wife Mona with whom Mrs. Thuraisingam stayed for one week.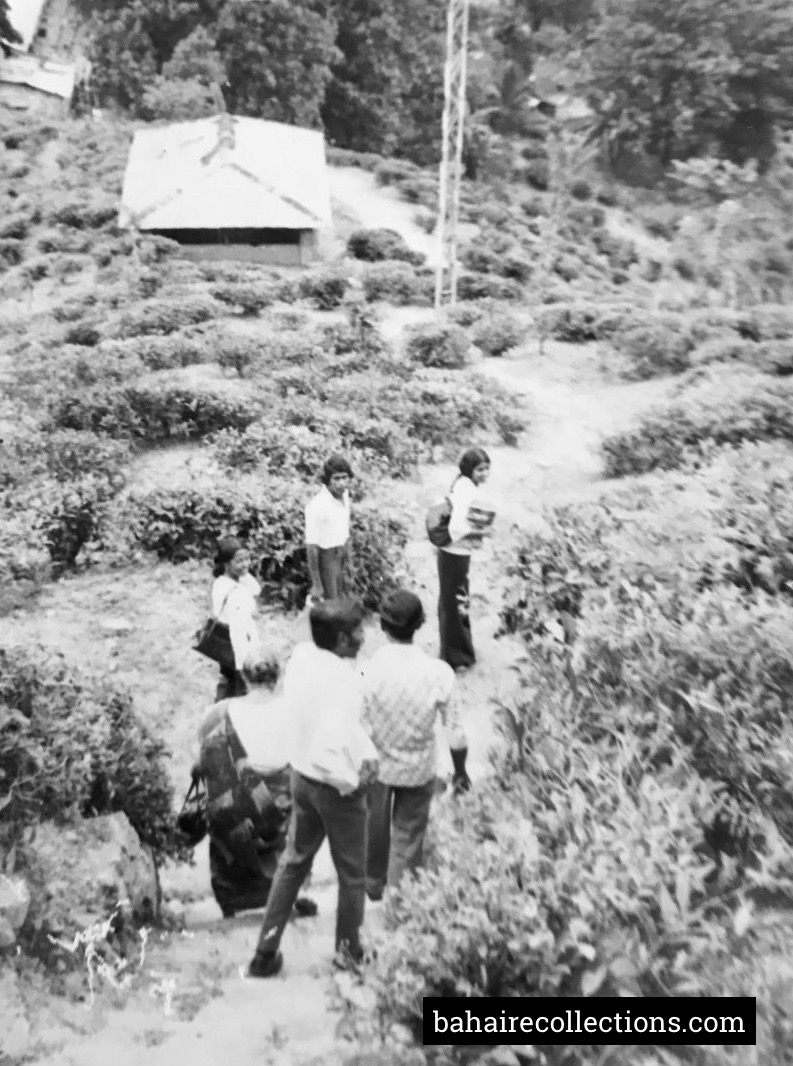 Walking  downhill to the line houses. Mrs. Thuraisingam is the lady in saree. Mona is  the lady furthest down the trail with a pack on her back. (Photo Courtesy: Bayly Family Archives) 
Mrs. Thuraisingam also met the Bahá'ís in Kandy and took the Faith to her relatives and friends. When she was in Sri Lanka, she was exposed to a completely new and unknown lifestyle and she coped very with the very basic public buses, walking long distances along simple paths in the estates and managing with the very primitive situations of the estate line houses where Bahá'í families were living. She rode on the rough auto-rickshaws and was exposed to unhygienic sanitation. Life was not easy for Mrs. Thuraisingam who had had a fairly comfortable lifestyle while in Malaysia. In the six months, she lost some 25 kilograms, while all her 6 pairs of slippers were totally worn out from continuous walking. In Malaysia, she began her life as a nurse by profession and always gave importance to cleanliness. It was simply amazing to see how she managed to cope up with the hard life in Sri Lanka. Yet upon her return, she told her children that she was most happy as she could experience minutiae of the hardship that Bahá'u'lláh Himself had gone through. Her relatives, especially her sisters were upset that she had left her children and gone for a considerably long period. Yet they did express that they could not figure out how she was able to undergo all those sacrifices. Her children, on the other hand, were very proud that their mother had loved and served Bahá'u'lláh so well in a very difficult environment.
Back in Malaysia, she was on fire with the love for Bahá'u'lláh. She missed no opportunity to be involved in Bahá'í activities. At the Kuantan Summer School held in July 1978, where Hand of the Cause of God Dr. Muhajir was present, she gave a short talk on her experiences in teaching in the estates. It was reported that Dr. Muhajir was deeply impressed with her services undertaken in a rural area by one who did not come from a culture where middle-aged women did things like this.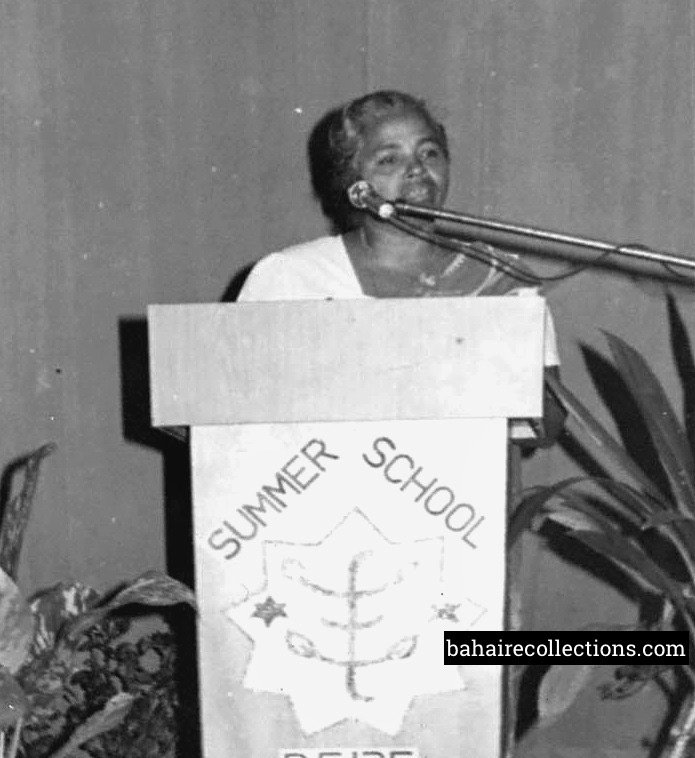 Summer School in Kuantan, 1978. Sharing her experiences in field teaching in Sri Lanka and the estates in Malaysia.
In October 1979, her son Francis married Usha Cheryan according to  Bahá'í rites at the  Jaya Puri Hotel in Petaling Jaya. That was the first Bahá'í wedding in the family. It is interesting to learn of the spiritual role she played as a grandmother in the family of Francis. When Benjamin, Francis' older son was born on 14 September 1981 in the town of Kuantan, Mrs. Thuraisingam remarked that while she already had several other grandchildren, Benjamin was quite special since he was born to Bahá'í parents and became the first Bahá'í grandchild. Benjamin memorized the Bahá'í children's book 'The Story of Badi' at a very young age. Mrs. Thuraisingam liked nothing better than to hear him 'recite' the story to her!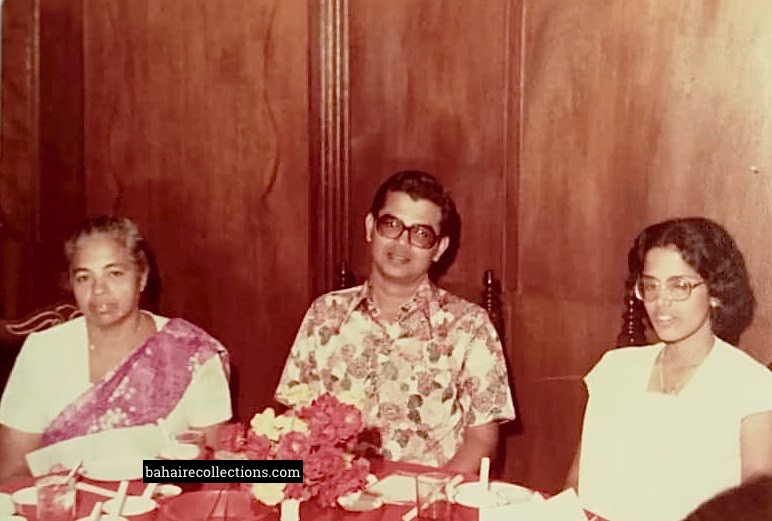 With her eldest son Francis Singam and eldest daughter-in-law Usha Singam.
While Mrs. Thuraisingam was carrying out her duties as a grandmother, mother, and mother-in-law,  she was always yearning for opportunities to teach the Faith. She went to the town of Raub when Francis' second son, Jonathan was born on 29 August 1983. Mrs. Thuraisingam also had in her luggage, several books and pamphlets on the Bahá'í Faith. While the mother and child were resting in the afternoon Mrs. Thuraisingam invited the neighbors over for tea and talked about the Faith in her simple, beautiful and perfect Tamil. It was amazing how she could organize her time so well and have all the energy during those days when she had so much to do, preparing special meals for the young mother and helping with the newborn. She also fully encouraged family prayers. Every night, Mrs. Thuraisingam, Francis and Usha said prayers in the company of the two infant boys during those brief days she stayed with them. When leaving Raub, she told Francis and Usha to continue the family prayers, which they carried out. During a holiday, when her grandchildren of varying ages gathered in the home of Mrs. Thuraisingam in Petaling Jaya, she requested Usha to round up all the children, and teach them some Bahá'í prayers and share stories from the Faith. This was to be followed by questions on what had been taught and the answers were usually spot on. The happy Mrs. Thuraisingam's incentive for her grandchildren was a reward with coins from her purse!
She always felt that people were wasting their time with trivial and ephemeral matters. One night in her home in Petaling Jaya, Francis turned on the television to watch a live telecast of a very exciting soccer match between two strong soccer-playing nations. Mrs. Thuraisingam, casting her eyes on the screen filled with enthusiastic screaming  fans  remarked, "So many thousands will go to watch men running around a ball, but could they not be persuaded to attend a Fireside?"
With her good command of the Tamil language, Mrs. Thuraisingam had a soft spot for Bahá'í gatherings held in the Tamil language. She did not miss any gathering for the Tamil speaking friends. At a Summer School held in Malacca in 1985, the Tamil speaking group had a discussion on the newly introduced subject of socio-economic projects. She came forward and spoke to the friends gathered there, on how to rear chickens and make home-baked bread. All her previous skills were being polished, perfected and passed on into services for the Faith.
One of her moving moments was going through the spiritualization institute by Jack Davis in 1989.  When the Spiritual Assembly of the Bahá'ís of Malaysia invited representatives from various communities to come down to the National Bahá'í Center in Kuala Lumpur on 28 May 1992 for a prayer vigil throughout the night to observe the centenary of the passing of Bahá'u'lláh, Mrs. Thuraisingam represented the Petaling Jaya community.
When Mrs. Thuraisingam accepted the Faith she was orchestrated from the orthodox Ceylonese community she came from. That was the time inter-marriages  were vehemently opposed and condemned by her community. But having understood the spirit of the teachings of Bahá'u'lláh, she gave her children the fullest freedom to chose spouses of their choice. And it turned out that the following of her children married outside the Ceylonese community:  married outside the Ceylonese community were Francis Satkunasingam, Anthony, Mary, Alice, Agnes and Florence. Towards the end of her life, the very community that had opposed her belief in Bahá'u'lláh, in stages came to understand and respect her. Within the Bahá'í community she earned a special name and respect for the firmness she demonstrated in the Cause and the relentless force with which she served the Cause.


Last wedding in the family – that of Agnes in 1989. Mrs. Thuraisingam (seated fourth from right) was a proud mother, mother-in-law, and grandmother in her family – and a mother like figure for many in the Malaysian Bahá'í community.
Despite undergoing untold sufferings since her husband passed away in 1964, Mrs. Thuraisingam weathered the storm. Yet trials and tribulations kept visiting her in different shapes and shades. Four of her family members whom she loved very much passed away most unexpectedly ahead of her, and left her totally devastated. Her intellectually handicapped brother whom she had taken under her care passsed away first. Francis Satkunasingam her eldest son in whom she derived so much strength passed away on 23 July 1985 following an open-heart operation. Then came another blow when her second son, Anthony Singam who passed away on 25  May 1991 of aneurysm, just three days after his first and the only daughter was born. Yet one more blow came when her younger brother Francis P. Thillaiampalam who had been her strength from the time of the passing of her husband, suddenly died on 3 June 1993.  Although circumstances were bitter, Mrs. Thuraisingam carried on with life, completely resigned to the will of God and aligning her life with this, her favorite verse, "Armed with the power of Thy Name nothing can ever hurt me, and with Thy love in my heart, all the worlds afflictions can in no wise alarm me."
In 1993 the study circles based on the Ruhi books were gaining momentum in Malaysia and Mrs. Thuraisingam was one of the earliest participants.  She went through Ruhi Book One which provided passages on life after death. Upon completing that book, she told her children she was ready for death. She further remarked that she was happy to have accepted the Faith served to the best of her ability. At the same time, she also expressed her regret which was that she wished she heard about the Faith earlier.
Mrs. Thuraisingam passed away one evening on Wednesday, 5 January 1994 of a massive heart attack while in the midst of preparing the meal for the night. She was living in her own house and  looking after Sheida Durairaj, the 5 month old daughter of Florence, the youngest daughter of Mrs. Thuraisingam. Sheida  was on the bouncing net while Mrs. Thuraisingam was making dough for cooking chapati for dinner, when she suddenly passed away of massive heart attack. The neighbors heard Sheida crying for almost an hour. Agnes,  another daughter of Mrs. Thuraisingam came after work and found her mother had passed away. Paul, husband of  Florence came  after work to pick up Sheida, and found Mrs. Thuraisingam had passed away. She was rushed to the University Hospital in an ambulance, to follow procedures. By the time her remains were returned to her house, a large crowd had gathered with sorrowful hearts and wet eyes. She was laid to rest at the Bahá'í Memorial Park in Seremban the following day following a befitting funeral service.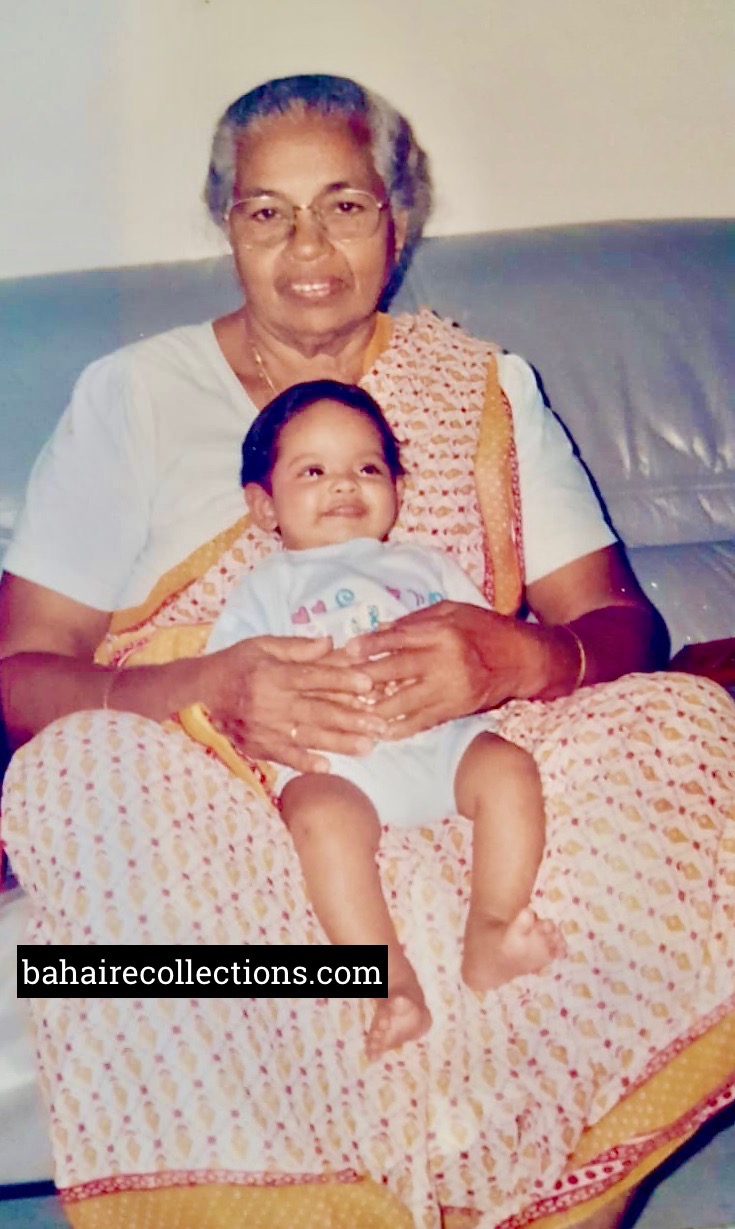 Mrs. Thurasingam with baby Sheida Durairaj. Photo taken one month before her passing.

Thus came to an end an exemplary life of a maidservant who, from the moment she accepted the Faith. She was an amazingly strong soul, who had unshakable faith in Bahá'u'lláh – that enabled her to perform extraordinary services for the Faith she loved. Her life was an example of how an elderly lady with so many family responsibilities and commitments – was able to find the time and serve the Cause tirelessly. Perhaps history would remember her best, among others, for her firmness in the Faith, boundless love for the Blessed Beauty, lofty ideals in life and intrepid courage in teaching the Cause with an unbridled passion.  And certainly, no believer who had associated with her can truthfully ignore any thinking on her indelible services for the Cause.
A. Manisegaran
USA
30 April 2020
Copyright@bahairecollections.com