PRESCRIPTION FOR MY LIVING
PRESCRIPTION FOR MY LIVING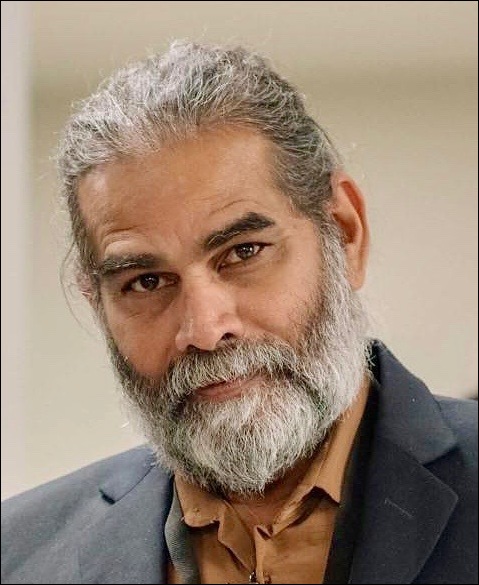 RAMU SANYASI – NEW ZEALAND
This is a story of how my encounter and close association with Amatu'l-Bahá Rúhíyyih Khánum in the pioneering field brought about a great transformation within me. I remember reading in the Will and Testament of 'Abdu'l-Bahá, "The obligations of the Hands of the Cause of God, are to diffuse the Divine Fragrances, to edify the souls of men, to promote learning, to improve the character of all men and to be, at all times and under all conditions, sanctified and detached from earthly things. They must manifest the fear of God by their conduct, their manners, their deeds and their words." Not until I met and moved with Amatu'l-Bahá in person did I comprehend the full significance and impact of what the Master had intended to convey.   I was to also learn later that each Hand of the Cause of God was unique and exalted in his or her own ways. I had attained the presence of a few other Hands of the Cause of God and heard their talks, but was not privileged to move with them intimately.

I accepted the Bahá'í Faith at the age of 15 in a small rubber plantation called Ladang Geddes near Bahau town, in the state of Negeri Sembilan in West Malaysia. I was brought up as a Hindu and was very active at the temple and ceremonial activities. It was my cousin who led me into the Faith. There was a strong Local Spiritual Assembly in Ladang Geddes. As a youth, I was appointed to the Youth Committee and got involved in local teaching activities. While still a new believer I started attending Bahá'í conferences that gave me so much inspiration. Of great importance was the South East Asian Regional Conference held in the coastal town of Port Dickson in December 1976, graced by the Hands of the Cause of God Mr. Abu'l-Qásim Faizi, Mr. Harold Collis Featherstone and Dr. Raḥmatu'lláh Muhájir. That was the first time I attained the presence of the Hands of the Cause of God and heard their most motivating talks. The focus of the conference was teaching the Cause and there was a call for pioneering. Many arose, and I too was in a way enthused to rise to the call. But I hesitated as I felt I was too new, young and still raw in the Faith of Bahá'u'lláh. Yet a seed seems to be planted within me to go pioneering someday in the future. Meanwhile, I went travel teaching in Ladang Selborne, near Padang Tuanku in Kuala Lipis town in the state of Pahang.
While still studying in Johor Bahru town located in the southern part of Peninsula Malaysia, I was still learning about the Faith, struggling with my shortcomings and failing in some challenges. Yet my solace was involvement in Bahá'í activities, especially teaching. Often, the Regional Teaching Committee members would ask me to go to many places in and around Johor state. One such place was Batu Pahat town. Mr. Muthusamy or Muthu as I had known him then was my friend, philosopher, and guide who took me beneath his care and nurtured me into maturity in many ways. Among others, Muthu taught me the importance of contributing to the Bahá'í funds and pioneering.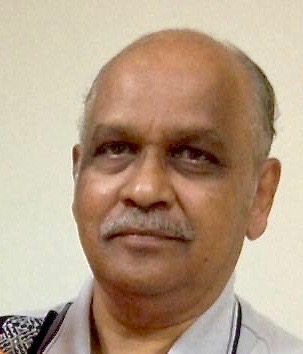 Muthu – my friend, philosopher and guide

Would I Be A Pioneer?
I was hoping someday I would go pioneering to South America or even Africa. I was fond of these specific places for a reason. I was inspired after viewing the film "The Green Light Expedition" which documented the travels of the Hands of the Cause of God Amatu'l-Bahá Rúhíyyih Khánum into the interiors of the Amazon Forest in Brazil. That film had a lasting impression upon me, and a thought flashed in my mind- had I pioneered to Brazil at the time of her going there,  I would have had the privilege of meeting her.  Even earlier to that I had read books written by her –Manual for Pioneers, Prescription for Living and The Priceless Pearl. All these instances had deepened my desire to meet her one day in person and shake hands with her.
The Call Came
One day, I joined some Bahá'í friends for a movie, which we frequently did in Batu Pahat town.  The movie was about cannibalism in Papua New Guinea and other parts of the world. I felt deeply terrified. Coming out of the cinema hall, one believer suggested in jest I be sent to Papua New Guinea for pioneering.  I immediately retorted, "Even if you give me a million dollars, I will not go to Papua New Guinea." We all laughed.  A few days later, I received a letter from the National Spiritual Assembly of the Bahá'ís of Malaysia, encouraging me to go pioneering to Papua New Guinea to fulfill a goal of Malaysia. My instant reaction was, a clear "NO" recalling the movie I had seen. It is true I had been harboring the thought of pioneering to South America and or Africa, but never to Papua New Guinea.  I even did not know where Papua New Guinea was on the world map. And I was still like any other bachelors trying to establish in life with a sound education and a decent career. But since a letter had come from the national institution I had to give some serious thoughts. The national institution seems to have placed its confidence in me to fulfill its pioneering goal. I turned to Muthu for guidance. I told him I was not ready for pioneering, as I was not well-grounded in the teachings of the Faith. I felt totally inadequate and was not sure if I can serve the Faith well. Muthu helped me to understand that when one sacrifices something big and with pain, one will get something even bigger and spiritually rewarding. He tactfully drilled into my soul the paramount importance of obedience to institutions, and his parting words were to pray about the call for pioneering and seek heavenly guidance from the Blessed Beauty. 
The Path Opened
I decided to obey the National Spiritual Assembly. While waiting for my visa to enter Papua New Guinea, I was sent to the Sarawak state in East Malaysia for my mental preparation. I was told its climate, forests, and villages were somewhat similar to Papua New Guinea. And what a coincidence! I arrived in Sarawak on the first day of the fasting month in 1982.  I was in East Malaysia for nearly 6 months while waiting for my visa.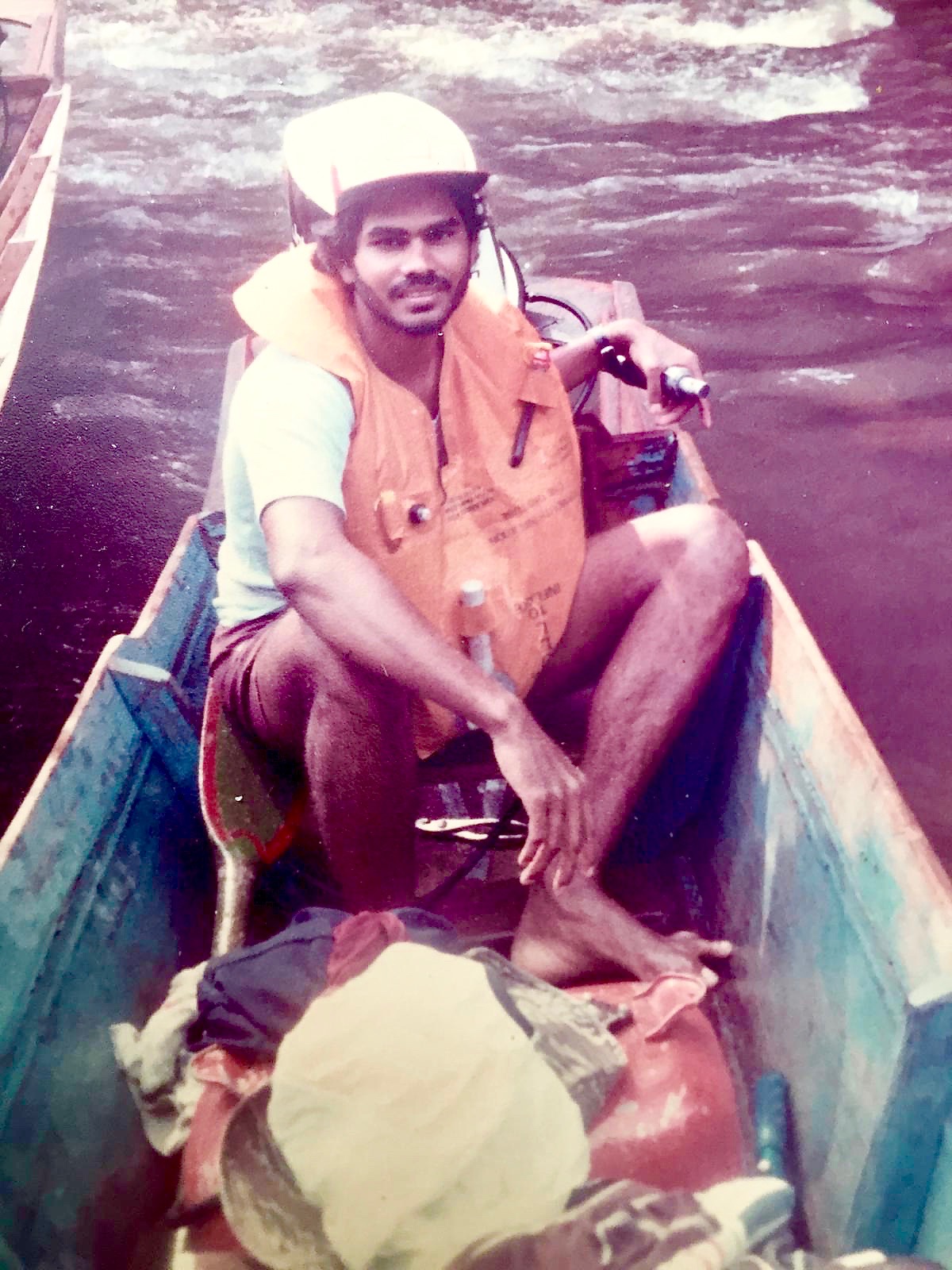 In a river in Sarawak 
At the end of August, I received a cable from the National Spiritual Assembly to return to Kuala Lumpur immediately.  I was worried as there were no other details on that cable.  A cable demanding an immediate return could mean many things! But I just obeyed and returned to Kuala Lumpur. The Secretary of the National Spiritual Assembly gave me the glad tidings that I was to attend an Inter-Continental Conference scheduled in Canberra, Australia and to remain there until the arrival of a visa. Australia was the gateway to Papua New Guinea. That was a merry-go-round.
I arrived in Canberra for the Inter-Continental Conference.  As the visa still did not arrive, I was stranded in Australia for almost 3 months during which time I was travel teaching in and around New South Wales and sometimes serving as a guide at the Bahá'í House of Worship in Sydney.  Finally, the visa came and I arrived in Port Morsesby, Papua New Guinea on Saturday, 20 November 1982, still as a youth and was met on arrival by a member of the National Spiritual Assembly.
Not A Bed of Roses
I was acutely aware that pioneering may pose great difficulties as well. I started to adjust myself to some culture shock and unfamiliar environment. But all these alien feelings vanished in thin air as I was enveloped by the Papua Bahá'ís and their love. My first trip was to Mount Brown for two weeks in Rigo Rural Central Province.  I nearly died of malaria there. I soldiered on and continued to travel around. But I was hit with malaria twice within three months.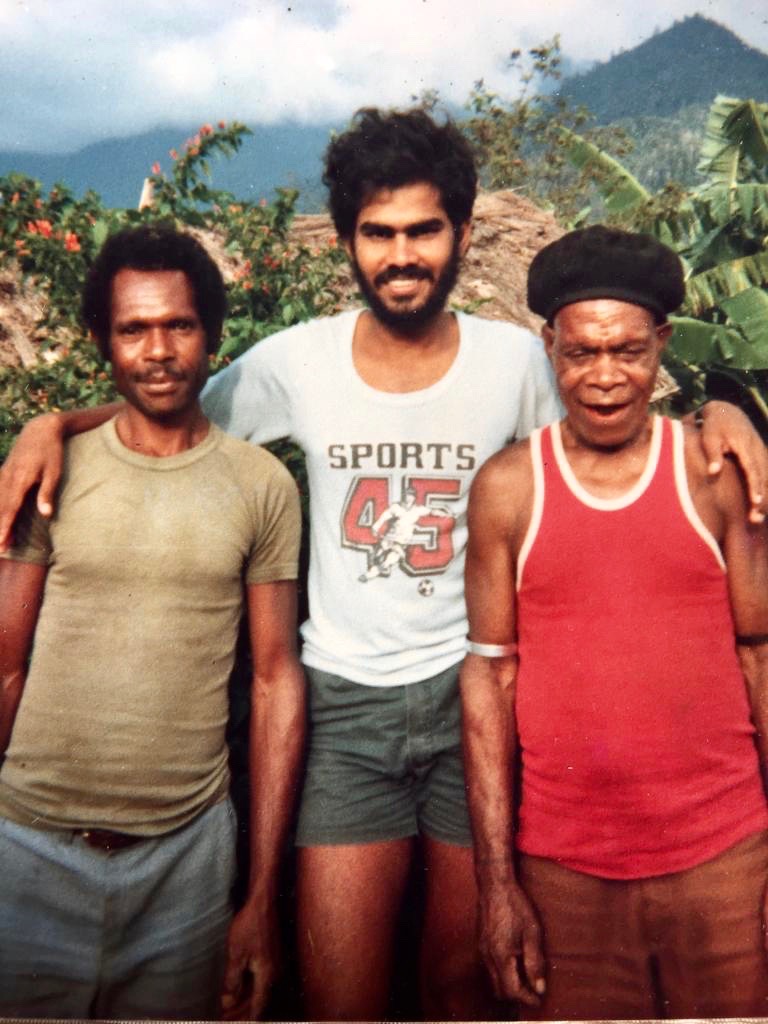 At Mount Brown. On the left is Board member John Gapo. On the right is a Chief in Mount Brown
I was back in Port Moresby in March 1983 for recuperation from malaria.  That was when Counsellor Tinai Hancock, from Fiji living in New Zealand was visiting Papua New Guinea to meet the National Spiritual Assembly. Before the meeting with the national institution, she visited me to find out how I was doing. Having learnt that it was my 21st birthday, Counselor Tinai and a pioneer family in Port Moresby named, Fuad and Faeze Forghani and their baby Roya got together to throw a small party for me. Faeze baked a cake for me. The care and concern they showed me touched me most.
Once I had recovered well, I was briefed by the National Spiritual Assembly of my place of service for the Cause. I was assigned to consolidate and strengthen the believers in the Papuan Region for one full year.  They were the National Capital District (Port Moresby), Central, Oro, Gulf, as well as Western and Milne Bay provinces which were not open to the Faith.  They were the most isolated communities and some of them had emerged from entry by troops process. Time quickly flew and by November 1983, I was well settled into my pioneering services in the region. While serving actively and oblivious to time flying, I realized my term was coming to an end.  I was sponsored by the international funds through the Universal House of Justice.  The National Spiritual Assembly of Papua New Guinea that felt I should stay longer in view of what they considered a satisfactory service, sent a letter to the Supreme Body requesting for an extension of my services for at least another year to further strengthen those rural communities. I too earnestly prayed to stay on to complete what was going on so fine. Then came the good news that the Supreme Body approved my extension of stay in Papua New Guinea. This paved the way for me to involve in more consolidation work alongside teaching activities. This time the expansion activities covered the Safia Area of Oro Inland, Balimo Area of Western Province and Daga Area of Milne Bay province.
Daga in Milne Bay was opened to the Faith by a local believer, Francis Iwarap. The first believer from Daga was taught the Faith in Alotau by an earlier Malaysian travel teacher Mr. Yin Ting Shigh. Around May 1983, during one of my trips to Daga, I had severely injured in my left toenail, which became infected severely.  Sadly there was a lack of medical facilities in Daga. And this was the time entry by troops was going on in Daga. This success must have upset the Anglican Church which started pulling out all schools, closing the airstrips and health posts that were all under their control. It was a severe test for every believer in Daga as the entire community had to go through the loss of such vital services.  I too became a victim. The pain from the infection in my toe was becoming unbearable. Armed with the power of prayers I somehow struggled and found my way back to Port Moresby. It was upon arrival at the hospital that I was informed that had I delayed anymore I would have ended up with amputation of my toe. I was further informed that the toe was closely turning into Septicaemia – potentially a life-threatening infection caused by large amounts of bacteria entering my bloodstream. My toe was saved but I needed a few weeks to recover in Port Moresby. I rested and recuperated.
It was while recuperating that news came that the National Spiritual Assembly wanted to meet me on a confidential matter.  That worried me, as I was clueless about what that confidential matter was. The very word confidential became a taboo for me. Would I be sent back as I was incapacitated and my movements curtailed completely? Wild thoughts caused waves in my mind.
Glad Tidings
The National Spiritual Assembly, after its scheduled meeting in Lae, received news from Counsellor Alai in Samoa of the visit to Papua New Guinea  by Amatu'l-Bahá Rúhíyyih Khánum. While in Haifa, Amatu'l-Bahá had met with the early pioneers of Papua New Guinea who were serving in the Bahai World Centre. They were Sue and David Podger ( living in Bunbury, Australia at the time of writing this story). When in Papua New Guinea, Sue Podger had traveled to Mount Brown and also to the Baimuru Area in the Gulf. Amatu'l-Bahá had specifically requested that she visit these areas. To assist with the preparations in Baimuru, Sue Podger had traveled from Haifa and provided valuable input and assistance.
I was welcomed to the meeting with members of  the National Spiritual Assembly  residing in Port Moresby. They expressed their satisfaction of my services as a traveling teacher in that region. I was relieved and truly humbled. Then the members of the institution mentioned that a great and revered visitor was coming from the Bahá'í World Centre. Papua New Guinea was the first part of her visit and from there she will travel to Mt.Hagen, Lae, the Islands and leave the country from Arawa, Bouganville to Honiara.In Papua New Guinea, one of these places selected as per the request of Amathul Baha was the Baimuru District of Gulf Province.
Upon getting an assurance of confidentiality, I was informed that it was Amatu'l-Bahá Rúhíyyih Khánum and her travel companion Mrs. Violet Nakhjavani stopping over in Papua New Guinea on their way to the dedication of the House of Worship in Samoa.  I could not contain my emotions, happiness, excitement, and elation – all rolled up into one!.  My dream and desire of meeting Amatu'l-Bahá in person was becoming a reality.  That was indeed a bounty and privilege of a lifetime.  I said "Ya Bahá'u'l-Abhá" in my heart and sought more time to carefully plan out her trips in the best possible form.
The Preparations
The preparations began. In consultation with local communities, Mrs Sue Podger and the local believers selected villages that would recognize and receive such distinguished guests. The centrally located mother Local Spiritual Assemblies were approached to host her each night – for four nights.  The only means of traveling in Baimuru is by pedaling a canoe and or an outboard motor. It was a very expensive means to travel by an outboard motor due to the cost of petrol (gas) which was scarce in those days.  I remember struggling with cost and inconvenience during my first trip to Baimuru in February 1983.  In my subsequent trip, I bought a Yamaha 6 hp outboard motor and commissioned a believer to carve a canoe suitable for 2 or 3 persons to travel in the most cost-effective means. The lighter the canoe, the faster and more economical it would be. I would call it "MV Ramu Sugar."  The canoe and the outboard motor served me well throughout my travel-teaching period in the Gulf.  Alas! That canoe or motor was in no way suitable for such an eminent and distinguished visitor from the Bahá'í World Centre.
The most pressing issue was a canoe befitting the guests.  Everyone in Baimuru has at least a simple canoe but none was sufficiently big with comfort and safety.  I requested permission to go to Baimuru immediately to get the canoe organized.  To buy one would cost thousands.  In consultation with the Secretary of the National Spiritual Assembly he replied, "You do your best to come out with a cost-effective transportation, but comfort, safety, and speed are of vital importance." It was a great challenge for me who was only 23 years old then.  Still, on antibiotics and a thick bandage around my left toe, I resorted to ardent prayers.
The Baimuru Situation
Baimuru was in the interiors a Delta of waterways, estuaries, swamps, little creeks and channels. Travel was possible only during high tides that would last anything from one to four hours.  Tides again depend on the waxing or weaning moon. High tides on some creeks only last one hour during the full moon. If the traveling time exceeded by just one hour the canoe will be stuck in the mud for a full 10 hours. And there was no way of getting out of the canoe for any emergency situation – however serious it may be. And there was no toilet on board the canoe.  God forbid! This should never happen during Amatu'l-Bahá 's visit. After doing some tedious checking and going through the calendar, I suggested the feasible dates for Amatu'l-Bahá that coincided with her arrival dates.  The Secretary of the National Spiritual Assembly agreed to the dates. I have to mention here that Mr. N.S. S. Silan who was Secretary of the National Spiritual Assembly of Papua New Guinea did a marvelous job in planning, contacting  the various coordinators and executing the travels of Amatu'l-Bahá and Violette Nakhjavani not only in the Delta area, but the entire country during their six week travels. All the time he, as coordinator of Amatu'l-Bahás visit  was constantly in touch with me to ensure the best was done for such a revered Hand of the Cause and her companion.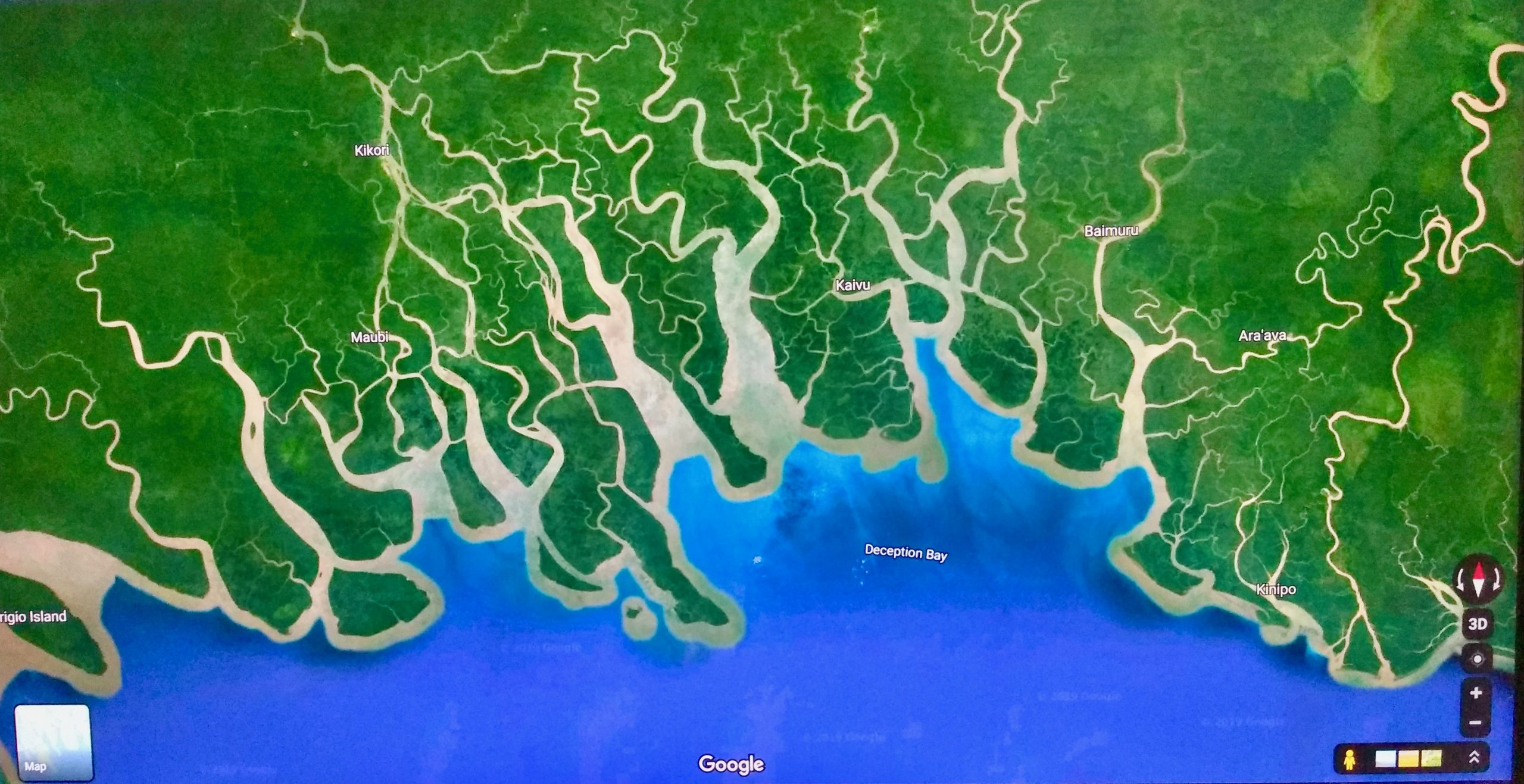 Google Map: The dangerous delta in the Deception Bay that we canoed through.

I reached Baimuru, 4 weeks ahead of Amatu'l-Bahá's arrival in Baimuru. I had to go to all the villages and inform them in advance of the privilege of receiving a lifetime visitor, organize food, ensure home visits for every inactive Bahá'í and friends of the Faith, and get all preparations done. Every village was informed, and there was excitement everywhere.  Some did not know where Israel is but only heard of it. Others knew about it from reading the Bible, never any direct connection beyond that.  Some did not even know, who exactly was coming, but there was such a buzz. As a customary requirement, the District Governor and Council had to be notified of this visit.  But the most challenging task among all was finding that one canoe befitting the distinguished guests.
The Search for the Tree
A few dedicated Bahá'ís joined me in a whirlwind tour of the Gulf in the first 4 days, going through the route on which Amatu'l-Bahá was planned to travel, testing out the tides, times and distance. The canoe has to be bigger and stronger.  I still could not find the right canoe. I got worried. One great Bahá'í and a chief from Araawa village Sargent Omae who said, "Son, never fear.  For such a great visitor that's going to bless Baimuru, there is a tree born somewhere just to serve her.  You will find it."   These words brought some hope.  That was the tree I was looking for.
But the tree was not to be seen anywhere. Some were suggesting dinghies should I not find the tree, but none of the dinghies was large enough or suitable.  I stayed with John Ipumi from Oro Province in Baimuru. He is the son-in-law of Sargent Omae,  a policeman working for the District Government, and a friend of the Faith.  Every fortnight when they received their pay, it was customary for the staff to get together for drinking.  At times I had joined them  with a crate of Coke Cola, and  for every bottle of beer  they drank, I would drink a bottle of coke.  No wonder, I was diabetic by the time I was 28 years  of age. John Ipumi and Deputy District Manager blurted out that the District Manager wanted hour by hour report of what Amatu'l-Bahá coming from Israel would be doing in  Baimuru. I agreed and expressed that I was desperately looking for a suitable canoe for transporting a distinguished visitor.  John joked "Such a tree if available should have been cut at least 2 months ago; otherwise, it cannot be made into a Canoe on time for her arrival."  Two months! Amatu'l-Bahá would be arriving soon! I almost cried when another man in the party suddenly said, "If you are looking for a tree, you have to go inland of Purari River, the only place where big trees exist." That came as a part consolation.
There was no time to be spared. Very early the next morning, we set out for Mapaio. We were delighted and relieved to have found the right tree ready to be carved with the help of the Local Chief. Negotiations started. We asked for a canoe to be carved in time for a meager rental. It had to be smooth to handle, carrying a 200 liter (44 gallons) drum of petrol (gas); space big enough for two people to comfortably walk alongside each other and for placing comfortable chairs for 4 to 6 persons to sit. A deal was struck for a reasonable amount. Through divine confirmation and against all odds, the canoe was assured to be ready just one day before Amatu'l-Bahá arrived in Baimuru.
Having secured the carving out of the canoe, I returned to Baimuru to source an outboard motor and a driver.  We hired one man who had a 75 hp outboard motor. It was costly, and we had no choice but to hire him. Alas! After the deal was concluded, we found that he would not allow anyone else to operate the outward motor; he was not very experienced in handling the outboard motor on a canoe or knew the channels in the Gulf region. Time was running out and we were just not ready to look for an alternative arrangement. But we were still confident that the divine assistance would envelop us.
Amatu'l-Bahá Arrived
Amatu'l-Bahá and Mrs. Vilotette Nakhjavani arrived in Baimuru around 9 in the morning on a Cessna flight. Also in the group was Dr. Naraqi who was specially invited by the National Spiritual Assembly to be the medical doctor in attendance, as the area was remote and lacked medical facilities. Many Bahá'ís waited anxiously to see the distinguished guests disembark the flight. No sooner did the flight landed, I was the first person to greet them. Before I could introduce myself, Amatu'l-Bahá said she heard many nice things about me from the friends in Port Moresby. She asked if I was well and everything was ready for the trip. I answered in the affirmation and said since the weather was good we should embark on the sea journey soon immediately.
As she walked toward the wharf, the traditional Kundu drums were sounding accompanied by traditional dancing. Amatu'l-Bahá was welcomed with dignity and reverence that befitted any dignified personality. We walked her to the waiting canoe only 100 meters away, all loaded with fuel, ration, beddings, odd bits and ready for a voyage. An expedition started off — but of course never comparable to the Green Light Expedition in South America.  But as for me, it was a voyage of a lifetime never to be repeated ever.  Amatu'l-Bahá, Mrs. Violet Nakhjavani,  Dr. Sirus Naraqi, Mrs. Sue Podger, the boat operator and I were on this journey. The back-up canoe with few young men was traveling ahead of us to prepare the villagers.
Village Visits
The first stop was Ikinu and Akoma, the two strongest Local Spiritual Assemblies by the sea in Baimuru District.  All was good, as we departed on time and reached the village by two in the afternoon for the guests to rest and adjust for the evening.  After some restful interval, we proceeded our journey to the next village.
I was gifted a watch, Alba Quartz, by Muthu when I was leaving for pioneering. During my first visit to the Gulf, there was an accident while in the canoe. I fell into the river and nearly drowned as I do not know how to swim. Since then I never had a watch for some time, and I used to guess the time quite accurately by looking at the sun in the sky. As we were traveling, Amatu'l-Bahá asked me what time would we reach the destination. I mentioned it would take three to four hours.  But it happened that the size of the canoe, weight, fuel, and rations, passengers — all these added up made the journey slow. But Amatu'l-Bahá was very understanding and was very patient.
We finally arrived at 5 in the evening. The believers welcomed the distinguished guest with songs, Kundu drums, traditional dances, and garlands. They were given kulau (young coconut drink) and local fruits. Everyone was so joyful.  The guests were taken to a special house prepared for them to rest. The Bahá'ís and Christians of different denominations from neighboring villages such as Akoma all worked together preparing food that I never knew existed in Baimuru.  The village friends placed the Guardian's photo and Amatu'l-Bahá's photo side by side with some writings to welcome her.  The placing of the photos side by side brought tears to Amatu'l-Bahá.
I asked Mrs. Violette Nakhjavani if Amatu'l-Bahá will eat pork, as that will be on the main menu as "Mumu Pork"– a special traditional underground cooking of village.  After checking with Amatu'l-Bahá, Mrs. Nakhjavani told me whatever the villagers provided, she will happily enjoy, and there was no need to make anything special for her.  Amatu'l-Bahá's favorite that night was Sago, mixed with grated coconut, young mashed moulting tender crab, with prawns all wrapped on sago leaves baked on fire.  She took some for the next day in case she was hungry.  The ladies, young girls, and the elderly women, the children all enjoyed her company.  Likewise, Amatu'l-Bahá too enjoyed that night thoroughly and one could sense it from her laughter and happiness.
The talk by Amatu'l-Bahá was on Unity, Spiritual Life, and 'Abdu'l-Bahá, Bahá'u'lláh and few stories about'Abdu'l-Bahá. When the villagers asked how to pray to God when we cannot visualise God or see God, she asked them to visualise the Master's photo and pray through him.  She spoke about how well-behaved the children were. She stressed on how they should be nurtured with love, prayers and be accustomed to hardship. Amatu'l-Bahá spoke in English and I translated in Motu and some Koriki language that I had learned.
Amatu'l-Bahá went to rest after bidding good night.  She was accommodated in the only two-story house, the best in the village. But there were a few pigs and piglets underneath for shelter at night, making noise.  Some of them were worried, coming from urban Haifa how would she adjust to these unfamiliar situations. But she rested so well as though in her own home. That touched the villagers so much. She would any time pass as the most seasoned pioneer able to adjust and accommodate to any situation. The party continued to late night, with songs, Kundu drums and groups of people sharing what a great night it was. They felt a spiritual joy, like never before.
Day Two
We set early in the morning to ensure we reached our destination on time. We needed to use waterways and channels in the high tide, or else we will be stuck in the mud for 10 hours.   We went past Maipenairu village making a shortstop, then through Mapaio to meet "The Wise Man" and eventually to Araawa village.  In Maipenairu, refreshments were served by the small but faithful band of Bahá'ís under the guidance of the Local Spiritual Assembly of Maipenairu.  On the way to Mapaio, we went through many little creeks and rural base-camps where people make sago and grow bananas and sweet potatoes. In Mapaio, lunch was served with traditional welcome and celebrations.  There we met the carver of the canoe whom we thanked and appreciated. 
Everyone bid farewell and our crew left for Araawa village right on time. The outboard operator had no knowledge of the channels and was very slow in navigating the canoe.  On one such spot, right at the midway point of the channel, we were almost grounded in the mud.  Our back up crew, Dr. Naraqi and I had to jump off to push the canoe in the knee-deep mud, to make it to the other side.  Just then, Amatu'l-Bahá noticed, how the operator was not following my instructions. She then said sternly, "Please obey Ramu's instructions!"  He instantly obeyed.
The Accident
We were reaching Araawa village an hour late in low tide.  Berthing a canoe could be very complex and dangerous as well when tides are not in our favour.  Sargent Omae and his village full of Bahá'ís were standing by the river bank. Normally one has to go past the village, do a U-Turn, move against the current to slow the speed of the canoe by water resistance. Only after that would the canoe berth along the river near a coconut tree trunk or any other log for everyone to disembark.  Being inexperienced, the operator took a straight cut toward the log and we were in danger. I was worried for the guests.  In the desperate moment, I was yelling at him not to do that while the village people were screaming too. Amatu'l-Bahá was already standing and waving at the villagers unaware of impending danger. But she was confused at the reaction of the people on the riverbank. Dr. Naraqi realized there was an imminent danger. I quickly asked Amatu'l-Bahá to be seated. I could see the panic in the operator's face, as the motor stalled as he tried to reverse the outboard motor. He was trying to pick up the paddle to slow the impact of the canoe but it was too heavy. The canoe was heading straight to a log. Seated at the front of the canoe, I desperately put my feet to stop the impact of the canoe hitting the log.  It worked, but my two feet got caught between the log and the canoe. Then I heard a noise like something cracked. The canoe stopped. There was a concern on the faces of those on the bank.  I told them I was fine and what was important was to take care of Amatu'l-Bahá.
All disembarked, but I stayed on. The Kundu drums started, the welcome procession began and everyone headed to the house prepared for Amatu'l-Bahá.  Dr. Naraqi was concerned and returned to the canoe to check me out. The crack sound that came when berthing was not from the log, but my legs. Dr. Naraqi quickly wrapped both my feet with wool and bandage, to prevent internal bleeding. I was carried to the house.  The operator who was profoundly apologetic came to me and pleaded, "Can I stay with you please. I am afraid to go out, people might beat me for what had happened to you."  I replied that he was in a Bahá'í village and such things will never happen to him. I was sedated with so much pain killers. That night I had visits from Amatu'l-Bahá and Dr. Naraqi. Dr. Naraqi examined and assured that my feet were all fine and there were no broken bones, except a small amount of internal bleeding. He assured me that I will be back to normal within a week at the most.
Day Three
On the third day, we left as planned, towards Nahoro village, at 9 in the morning, hoping to cover the journey in 4 to 5 hours if all went well. Due to my injury, I was now seated in a chair, and a back-up person added in the canoe. Considering our stock was depleting and most fuels had been consumed, the canoe was lighter.  We exchanged stories and discussions about the realities of these remote villages but more of listening to Amatu'l-Bahá. There was so much wisdom in her conversations. Her ability to understand what one was trying to say, without expressing it outwardly, was amazing.  Her ability to read minds, even on the simplest matters without being asked, astonished me.  It was a unique experience, no words can adequately describe.  In this journey, Amatu'l-Bahá asked me how I became a Bahá'í and what made me come to Papua New Guinea. She was happy with my reply.
Amatu'l-Bahá was talking about many tests and difficulties.  It came up as we were reflecting on the many great challenges facing the individuals and the indigenous believers serving in Papua New Guinea.  Amatu'l-Bahá raised two points that governed the rest of my life.  She said, "When I die, I am not afraid of the wrongs I did.  I learn from all scriptures and Bahá'í Holy Writings, God is compassionate, kind, loving, forgiving and merciful.  I believe He will overlook shortcomings and forgive my sins.  What I'm afraid of is, my lack of commitment and carrying out the things I could easily do and yet I didn't like praying, fasting, meditation, more importantly arising to teach the Faith, holding firesides, travel-teaching and even pioneering.  That I am afraid to see 'Abdu'l-Bahá and Bahá'u' lláh out of shame. I would have no excuse, why I did not do the things I could have done so easily."  She also said tests and difficulties are of two kinds. She said, "One is to help us overcome our weaknesses and the other is to make us strong in the Covenant.  The first kind is test against alcohol, chastity, being judgemental about people and material possessions.  These, if we fail, we can seek forgiveness, learn to slowly overcome them over time.  The second kind you will be tested is the very strength of yours.  For example, if you are strong in obedience to institutions, your test will constitute decisions of institutions that will be disagreeable to you. Hence your very obedience will be questionable. We have to ensure we are firm in the Covenant at all times, obedient to institutions and serve the Cause unconditionally."
This advice from Amatu'l-Bahá came so handily in my life. I had made mistakes owing to a lack of proper judgments. That was a kind of wake-up call for me. During those days it was my immovable faith and commitment to the Covenant that kept me cool, calm and yet strong.
That day I felt how grateful I am to God, that I have had this privilege and honour to serve a Hand of the Cause of God, even more, Amatu'l-Bahá herself. There were times on this trip, I had to pinch myself to make sure I'm not dreaming but realised it's a dream come true.
It was high noon, traveling in open delta under the scorching sun.  With the heat, thirst, and dehydration, I had thought to myself, how nice it will be to have icy cold Coke.  Just then I could see Amatu'l-Bahá whispering something to Dr. Naraqi, and he approached and asked if there was any place where we could get icy cold Coke.  I quickly said I would arrange it. He said insistently that Amatu'l-Bahá will pay for it. Even though I had my own money and that of the National Spiritual Assembly, he insisted on using Amatu'l-Bahá's money. He called our back-up team and gave them the money. They set off to get six bottles of Coke, one each for the companions in the canoe.
We reached Nahoro village. There the village friends were very hospitable like everywhere else in Baimuru.  Almost all Bahá'ís from nearby villages gathered here loved the distinguished guests, loved their company and stories.  They too had a great line-up of songs with Kundu drums and showcased their traditional foods from, crabs to prawns of different varieties including their sago grubs.  Stories that night covered more about 'Abdu'l-Bahá and His servitude to humanity.  She covered her stories surrounding the theme, "Service to humanity is my perpetual religion." She urged each one of us not to look at our own shortcomings but turn to the Kingdom of Heaven and serve humanity as God's family.
Day Four
A sad day, as our expedition is coming to an end.  My sadness was that my days with the guest of honor Amatu'l-Bahá will be over in a few hours as she would be boarding her Cessna flight from Baimuru to Port Moresby. I will have to stay back to carry on with consolidation work.  However, Amatu'l-Bahá was concerned about my feet that required medical assistance.  Dr. Naraqi convinced her that my feet were fine and that I should be back to normal.
On the way to Baimuru, Amatu'l-Bahá observed how loving, kind and obedient the children were in the meetings.  She said, "It is very important for children to participate in all  Bahá'í activities and raised in the teachings of the Faith.  Prayers should be an integral part of children's lives and they should be raised to stand hardships and learn to be content with basic things and necessities of life".  She also said, in the future, there will be a "Year of Service" program for Bahá'í Youth and as parents, we must encourage them to be active participants with their own volition, unlike any forced National Service.
As we were traveling back to Baimuru to catch the flight, there was a window of opportunity to go through a channel covered by nikau palms and wines covering the palms — about a kilometer long. What happened there was beyond my knowledge or what I intended.  "Heavenly" is the word to describe, though I don't know how to describe or know heaven.  It was a full bloom of purple flowers like I had never seen before, topped with hundreds of purple winged butterflies. I could not believe my eyes. The calm, serene, chirping of birds like an orchestra, was heavenly. Amatu'l-Bahá commented on how the Guardian would love such beautiful sceneries and that she felt His presence. We stopped to say some prayers quietly before proceeding.
Final Goodbyes 
We reached Baimuru aerodrome. There were goodbyes and farewells everywhere. The government employees, school teachers, and even the outboard motor operator were in tears. Joy and sorrow embraced each other.
The airplane had arrived. The guests checked-in their baggage. I was surprised when Amatu'l-Bahá wanted me to travel with her to Port Moresby. But there was no ticket, and the flight was full. I was still limping and in great pain. All passengers passed the checking point and boarded the plane, the pilot himself checked all the tickets and the baggage got loaded. On the plane, there was some intense discussion going on between Amatu'l-Bahá and the pilot.
To check out the problem, I reached the plane and asked if there was any problem. In a small town like Baimuru, everyone knew every other person. The pilot knew me well since I frequently travelled to and from Baimuru.  Amatu'l-Bahá was trying to get me onboard the flight.  After checking again the pilot realized there was no extra seat, and he looked at my feet. The pilot then spoke to a confirmed passenger to fly the following day as there was a passenger with a medical emergency. Here we go. All was set and I was on the flight. I did not pay a single dollar. It was Amatu'l-Bahá who paid for me. In the flight of 2 hours, my eyes were welling with tears. How blessed I was, and how generous Bahá'u'lláh has been to me. I asked myself if I was worthy of this generosity, kindness, and attention.
At Port Moresby
We returned on a Saturday to Port Moresby and were met on arrival by members of the National Spiritual Assembly and Auxilary Board members. There was a Port Moresby community gathering organized by the Local Spiritual Assembly of Port Moresby, on Sunday which was attended by several hundred people.  On Monday, I had an appointment at the hospital. An x-ray revealed there were two fractures in my right ankle, needing a cast for full 8 weeks. But Amatu'l-Bahá knew my medical condition. I marveled at her intuition and wisdom. Is it possible she must have known in the village itself that my ankle was fractured and I needed treatment?
Implicit Obedience to Institutions
Amatu'l-Bahá was in Port Moresby as it was the first part of her tour of the country which will cover many regions of Papua New Guinea. The day before her departing Port Moresby, I was granted time to meet her to bid farewell. I was waiting in the chamber outside her room. Suddenly I saw a pioneer lady bring special food for Amatu'l-Bahá. I knew it was late for dinner. Mrs. Nakhjavani answered the door, told her to wait, went in, consulted with Amatu'l-Bahá and returned a moment later. She kindly told the lady who brought the food that Amatu'l-Bahá had taken her dinner and that she accepted the hospitality. But Amatu'l-Bahá would desire the food to be given to some needy families. Despite all the pleading on the part of the pioneer, Amatu'l-Bahá  very politely and lovingly  declined her offer.  I felt truly sad. As I went to visit Amatu'l-Bahá in her room, a local Papua New Guinean Bahá'í, brought some specially prepared traditional food called "Mumu". To my surprise, she accepted it and was very courteous with him and then sent him away. Now, I was truly puzzled about the two different positions that Amatu'l-Bahá took. One was declined and the other was accepted -both taking place within a span of five minutes. I learned a year later the wisdom of Amatu'l-Bahá when I was elected to the National Spiritual Assembly. When going through some letters sent to all pioneers before the coming of Amatu'l-Bahá. there was one circular that the National Siritual Assembly had sent to the pioneer community mentioning that no pressure be put on Amatu'l-Bahá in the form of food, accommodation, and offering of gifts, as all such arrangements will be made by the coordinator of the visit, the Secretary of the National Spiritual Assembly. And this was what Amatu'l-Bahá did. She seemed to have known of the circular sent to all pioneers and therefore did not accept the meal from the pioneer who would have read the circular. But she did not want to offend an indigenous believer who was unaware of such a letter. This was Amatu'l-Bahá, a Hand of the Cause of God, wife of the beloved Guardian of the Bahá'í Faith, having a unique, high and exalted station. She obeyed the National Spiritual Assembly's instructions. She taught me a lesson — just simply obey the higher institutions!
Amatu'l-Bahá took a sincere interest in me doing well in life. While meeting her in the hotel she privately told me that when my term as travel teacher comes to an end, along with serving the Faith, I should also take up studies in a University in Papua New Guinea, preferably in the field of Agriculture, whatever the odds. She also told me that when I get married and have children I should involve them in the Faith.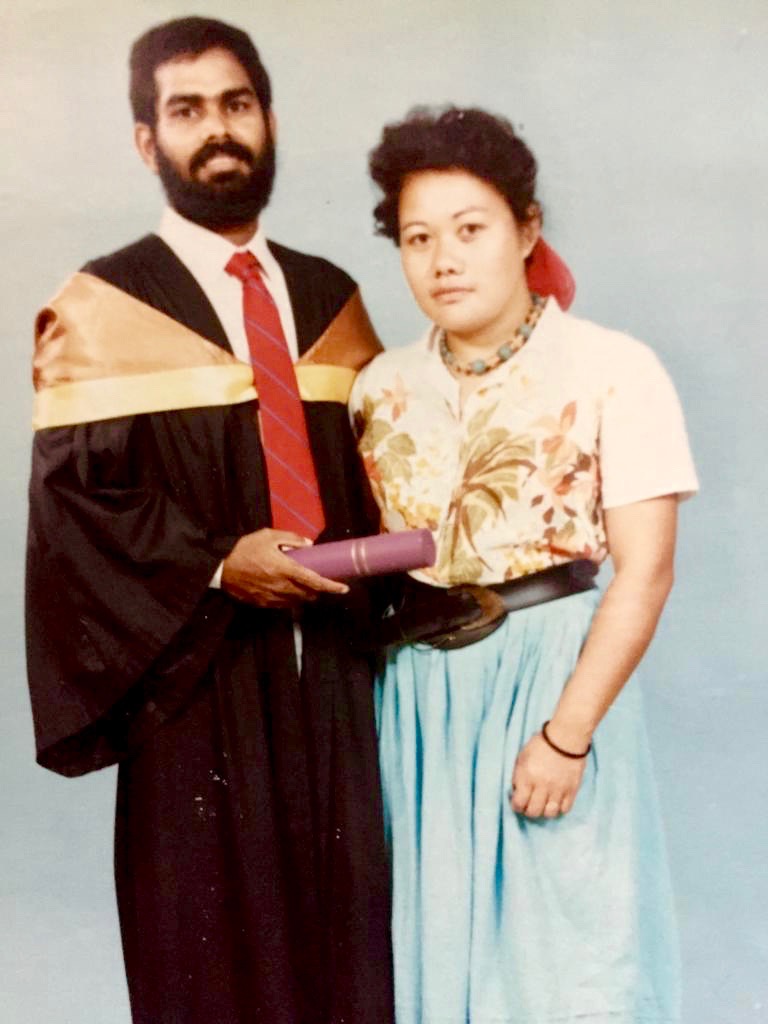 As a graduate with my wife
But I registered in my heart those words spoken to me and prayed about it. Baha'u'llah showed me the way and  I was sponsored by some pioneers to continue my studies. I entered the University of Technology in Lae in 1985 and graduated in 1988 with a Bachelor of Science degree in Agriculture, and a year later completed a post-graduate Diploma.
Last Few Words
On the day of her departure, several friends had gathered at the Jackson's International Airport in Port Moresby to bid her farewell. Among those who came to send her off were members of the National Spiritual Assembly, Mr. Aminio Bale (Vice Chairman), Mr. Silan Nadarajah (Secretary of the  National Spiritual Assembly), Mrs. Tahirih Nadarajah,  Ms. Shahnaz Aminpour, Auxiliary Board member Ms. Sarah, Mr. Leong Ho San  and Mariette Leong,  Professor Dr. Sirus Naraqi and Mrs. Mitra Naraqi.
While waiting in the hall, I entered into conversation with Amatu'l-Bahá. In her conversation, I gathered that her impression about the Malaysian Bahá'ís was that their services were outstanding where ever they went as pioneers. If my memory serves me well she said to the effect that Iran is the cradle of the Faith; America and the West are administrative cradles, and Malaysia was the cradle of teaching and pioneering. It made me very proud to be a Bahá'í from Malaysia! Then Amatu'l-Bahá presented me with a Bahá'í ring made of silver. It was a high honor. But basking under her love and gaining so much guidance and wisdom was the best lesson that remains etched within my soul!
Then Amatu'l-Bahá and Mrs. Nakhjavani boarded the plane and flew off to Mt. Hagen on their onward trip in Papua New Guinea  to Lae,Kimbe, Rabaul, New Ireland, Arawa before they  went to Samoa for the dedication of the Bahá'í House of Worship. Her Papua New Guinea travels were well organized and she fell in love with the country, the culture and people. We saw the plane taking off and disappearing into the sky. Some of us kept looking into the sky until our naked eyes could see it no more. That one week of association with Amatu'l-Bahá had a lasting impact on me. Would I see her again? I did meet her briefly at the International Convention of 1988 in Haifa, over a lunch she arranged for a few guests.  I was happy she recognized me.  I was shaken to the core of my heart when news reached that she had passed away in the Holy Land on January 19, 2000.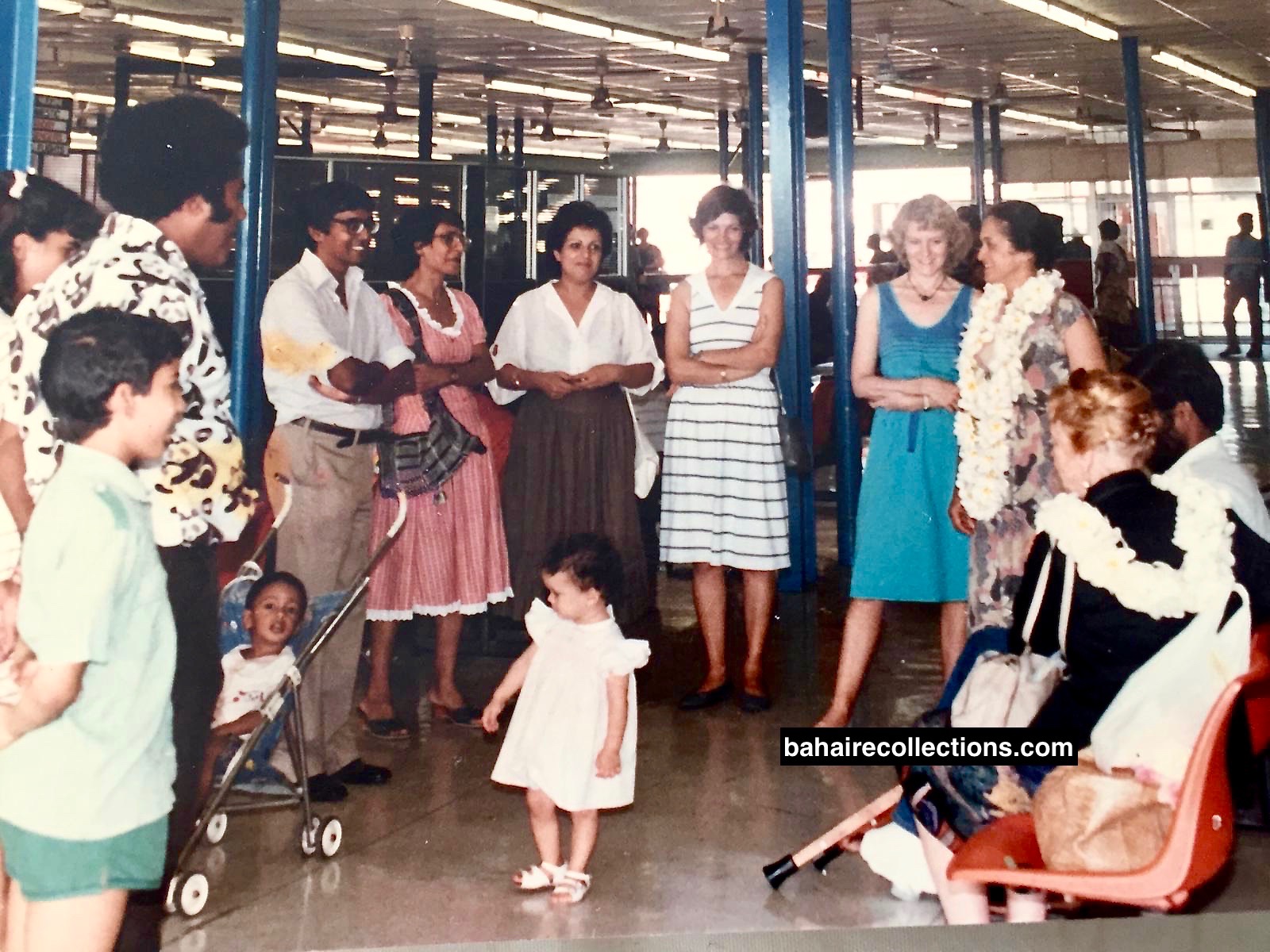 Sending off at the airport. L-R: Mr. Aminio Bale, Mr. Silan Nadarajah, Mrs. Tahirih Nadaraja, Mrs. Mitra Naraqi, Ms. Shahnaz Aminpour, Auxiliary Board member Ms. Sarah, Mrs. Nakhjavani and Amatu'l-Bahá. I am to her right, partly hidden, with my leg in a cast.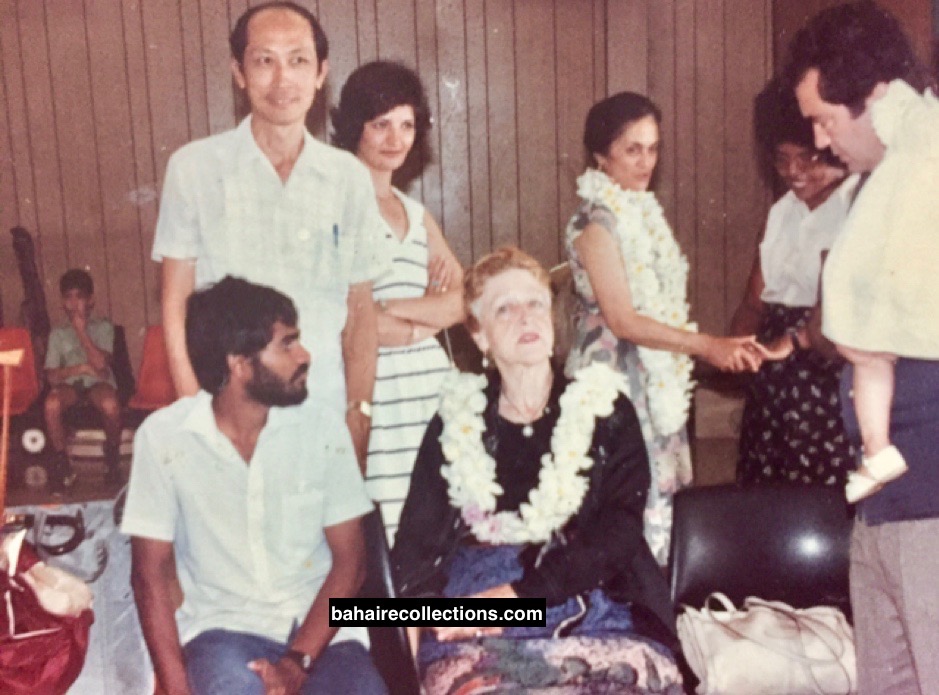 At the waiting lounge in the airport. Standing L-R: Mr. Leong Ho San, Ms. Shahnaz Aminpour, Mrs. Violet Nakhjavani, Auxiliary Board member Professor Dr. Sirus Naraqi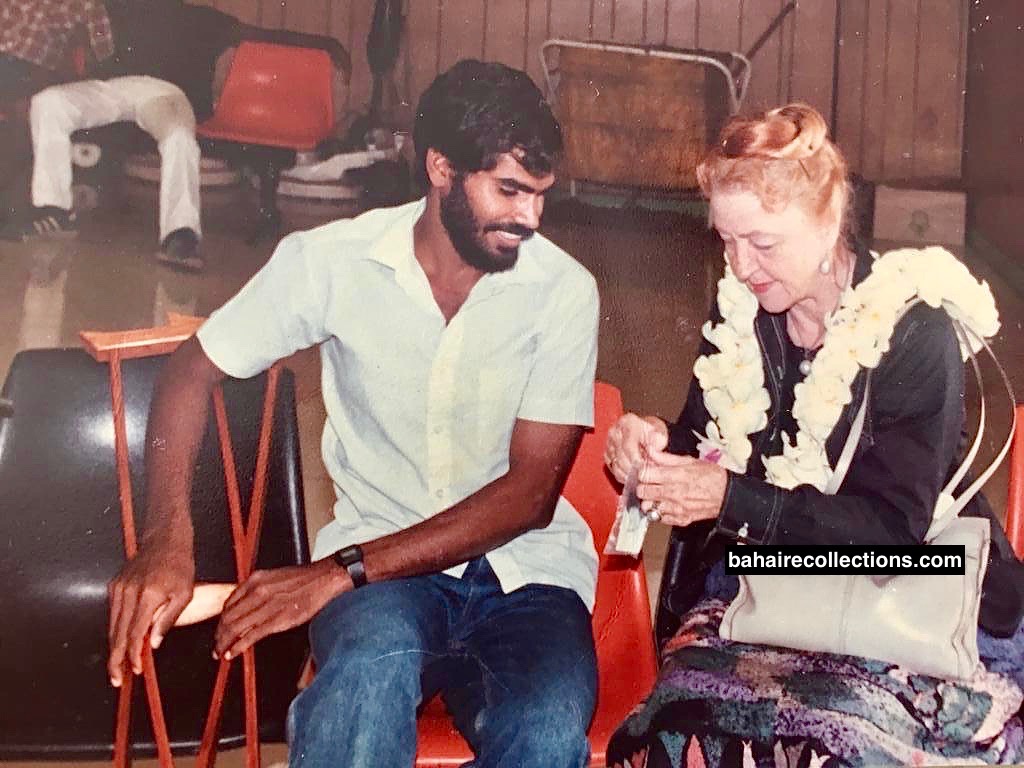 A Bahá'í ring for me
While still a student I married Sula, in Auckland on 23 January 1988. She is a Samoan born in Samoa but lived from childhood in Auckland. I met her in 1982 at the Inter-Continental Conference in Canberra. This marriage produced three children – Zainab Pele (daughter), Enoch Rao (son) and Elti Letchumy Vaa (daughter). Zainab is in Melbourne now but served in the Holy Land as a volunteer for a year. Enoch served his Year of Service in Palmerston North and is married to Parehinetai with 2 children in Porirua, Wellington, New Zealand. Elti did her Year of Service in Wellington, and just finished Post Graduate Diploma in Public Health Science and serving in Community Building Process in Dunedin. All my three children were involved in a Year of Service, thanks to the advice of Amatu'l-Bahá. I also have two grandchildren — Tukapua Hooper Sannyasi (boy) 3 years old and Te Auahituroa Sivaletchumi (girl) 5 months old. I have told their parents to follow the advice that Amatu'l-Bahá gave me to get the children involved in the Faith.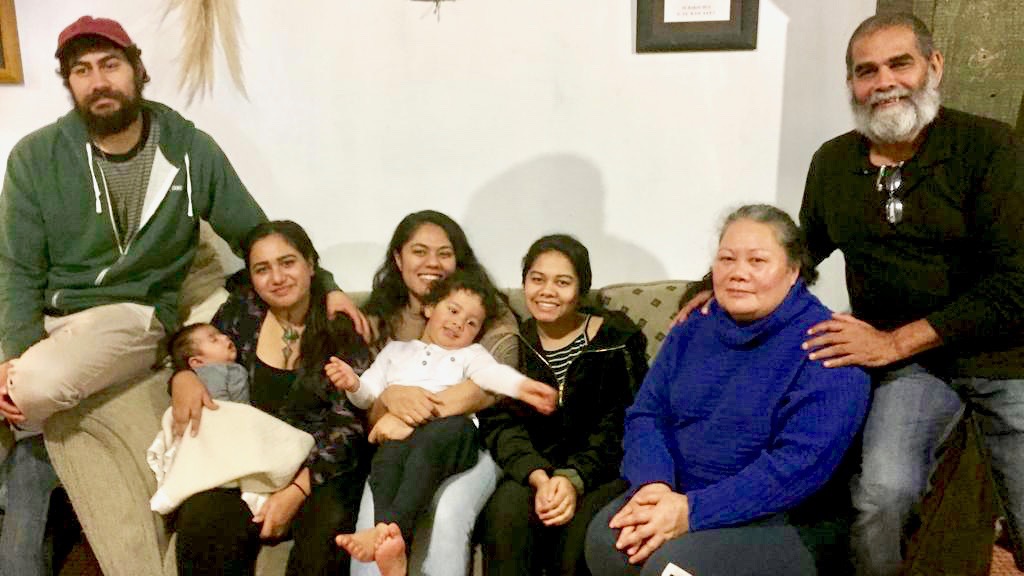 A family photo. L-R: My son Enoch, baby Ahi, daughter-in-law Pare, daughter Zainab, grandson Tukapua, youngest daughter Elti, my wife Sula and me.
I left Papua New Guinea for New Zealand in April 1995. Today, Sula and I are home front pioneering in a remote town called Reefton on the West Coast in South Island of New Zealand. My Bahá'í life is shaped by the prayers, Holy Writings, teachings and directives of the institutions.  In addition, I feel very privileged to have had the advice, guidance, and words of wisdom from Amatu'l-Bahá. All these bundled up make the prescription for the Bahá'í life that I am living.
And interestingly after the canoe was used for taking Amatu'l-Bahá around, it was hauled back to Mapaio, raised to the land and never used again. The tree that was "born" for Amatu'l-Bahá, had served its purpose!
Ramu Sanyasi
Auckland
New Zealand
30 November 2019
@bahairecollections.com