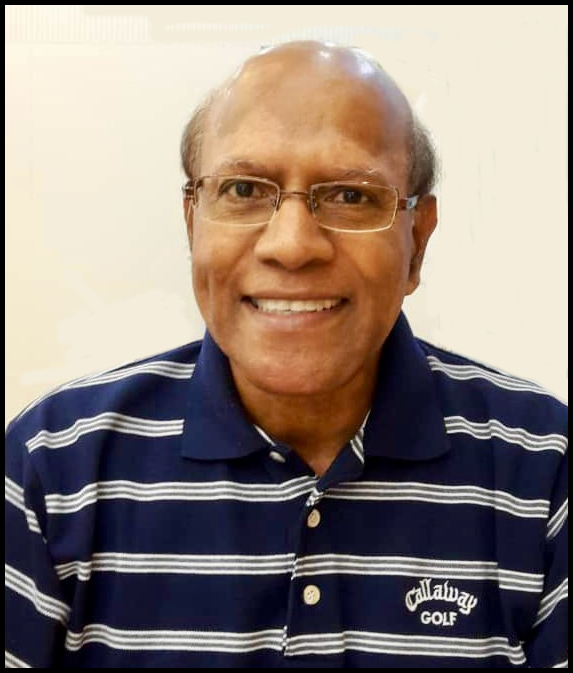 19 November 1946  to  26 September 2021
Mr. Thanabalan Thambipillai, affectionately known as Balan hailed from Kuala Kubu Baru town in the state of Selangor, where he started his primary education and excelled in his studies. At school, as years went by he was a badminton player and Secretary of the Prefects Board and earned appreciations from the teachers as a well-disciplined student. When Balan moved from Kuala Kubu Baru to Kuala Lumpur in 1966, he was studying his upper secondary education and working at the same time in the Inland Revenue Department, Government of Malaysia. It was in this Inland Revenue Department that he worked until his retirement in the year 2002. In Kuala Lumpur, Balan was living in his aunt's house in Setapak area, a walking distance from the National Bahá'í Centre. One day by chance, he met Mr. S. Vasudevan, Secretary of the National Spiritual Assembly of Malaysia who was residing in the National Bahá'í Centre. Their casual conversation snowballed into many discussions on the Faith. Balan and some of his friends frequented the Bahá'í Centre to continue conversing with Vasudevan. One of them was one Mr. Anandan who was Balan's relative. Balan took liking and love for the Cause and accepted the Faith in 1966 at the age of 19. Balan was known within  the family circle and in his community in Kuala Kubu Baru town as one with  polished virtues and good mannerism. Through  the acceptance of the Faith, Balan started reading the Bahá'í writings by which  he was transformed as a new person much in accordance with the teachings of the  Bahá'í Faith.
Each weekend Balan visited his family in Kuala Kubu Baru. In that town there was one sole believer, the late "Big Eye Maniam". But Balan's meetings with Maniam were held in some remote corners of the town, for Balan feared that his Orthodox Ceylonese family from strong Hindu background would find it really hard to see him accepting a new Faith. Balan already kept praying, and it did not take long before the family came learned that he had embraced the Bahá'í Faith.
Perhaps one turning point could have been the passing of Balan's  father Mr. Thambilillai on 4 February 1972,  in Kuala Kubu Baru. The respected father's funeral procession went through the small town. It was when his father passed away, a carload of believers from Petaling Jaya, including Balan came for the funeral. From then on Balan often came home with some believers, through which the family members were gradually exposed to the Faith. Among others, N. S. S. Silan and S. Ravichandran – both from the Ceylonese community, and Theenathayalu made regular trips with Balan to Kuala Kubu Baru. The family was convinced of the kind of friends Balan mixed with, and in stages he won them over. The house then became open to believers and the believers delightedly met Balan in his house. Balan brought his younger brother Selvakumar into the Faith.
With the passing of Mr Thambipillai, Balan assumed high responsibilities. Balan's father was running a very successful sundry shop, and the children were in great comfort, with servants to look after them. Balan being the eldest in the family had one nanny to look after him when he a small baby. Sadly, the father had entrusted the business into the hand of a friend who ultimately ruined the business and the family had to face hardship. The family burden naturally fell on the shoulders of Balan, the eldest and one who was most respected among the siblings for his upright character, and of course good upbringing. Balan, though residing in Petaling Jaya came home a few times a month as a dutiful son to look into the family needs.
From the day Balan became a Bahá'í he was actively involved in the activities of the Faith. While in Kuala Lumpur he served the Faith very energetically and assisted in laying a strong foundation for the Cause. He was well-groomed in the Faith by Mr. S. Vasudevan, followed by Mr. Inbum Chinniah who took over as the Secretary of the National Spiritual Assembly of Malaysia when Vasudevan left as pioneer to India in May 1967. Balan gained a deeper understanding of the Cause at Bahá'í gatherings and by listening to the talks by some Hands of the Cause of God visiting Malaysia and by moving with the early believers who were well deepened in the Cause. He was also a wide reader of Bahá'í books.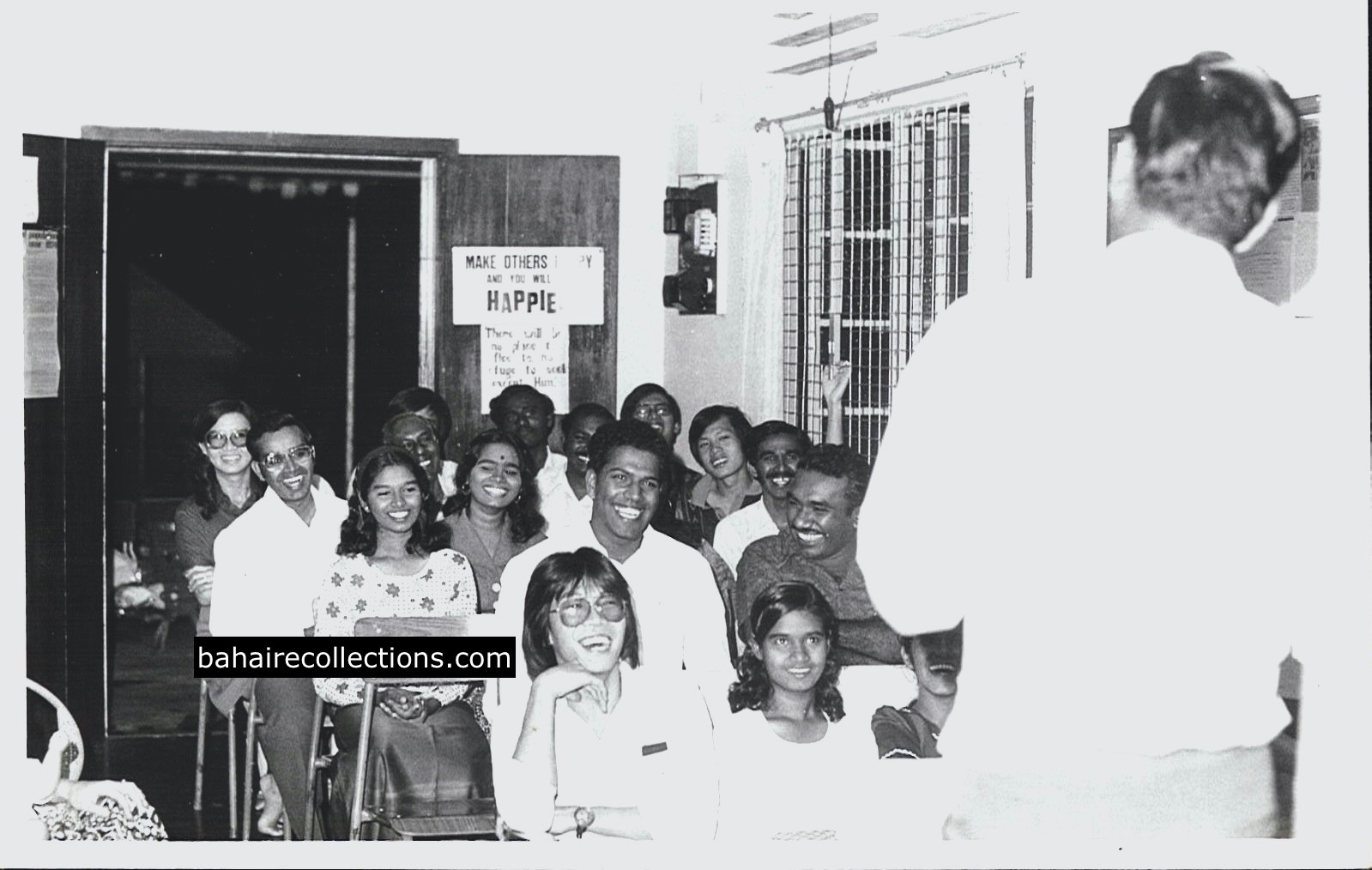 Auxiliary Board member Mr. Inbum Chinniah brings laughter to the believers in the  Bahá'í Centre, of Petaling Jaya at Lorong Assunta. Seated in the centre are Thanabalan (L) and Raymond Peter (R).  At their back are L-R Theenathayalu (L) and Vasugy Theenathayalu (R). At the extreme right corner at the back row is Lum Weng Chew.
Having moved into Petaling Jaya in 1970, Balan served the Cause through local activities as one of the front liners. Balan stayed with the family of Mr. Leong Ho Chiew, where he was once again well-groomed and deepened in the Faith through the love and warm hospitality of the couple. Among his roommates at different times were Mr. Yin Hong Shuen, Mr. Lum Weng Chiew and Mr. T. K. Lee.
For a short stint Balan also served on the Local Spiritual Assembly of Sungei Way-Subang. This Assembly was then dissolved and Balan was back to his Petaling Jaya community where he became the longest serving Chairman of the Local Spiritual Assembly of Petaling Jaya for close to a quarter century. Balan was a good Chairman, and he ensured every member was well heard. Meetings would invariably drag to past midnight as Balan, being Chairman wanted to be very thorough, detailed, and meticulous.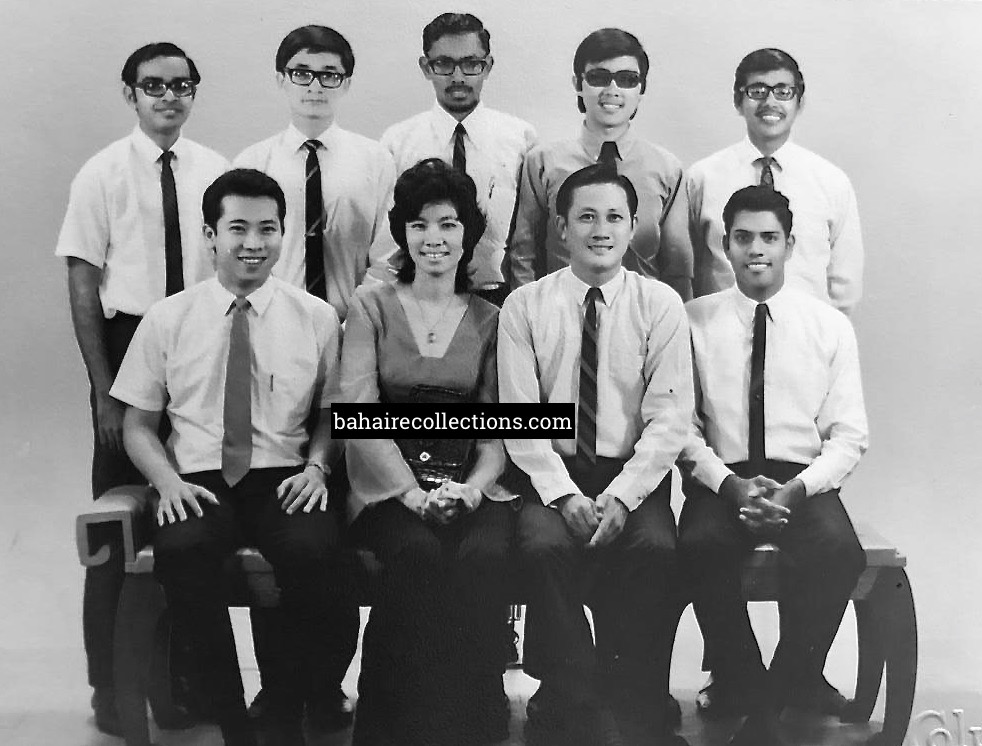 Local Spiritual Assembly of Petaling Jaya, 1971. Seated L-R: James Liew, Gina, Leong Ho Chiew, and Thanabalan. Standing L-R: V. Theenathayalu, Ying Hong Shuen, M. Singaraveloo, T.K. Lee, and N. S. S. Silan. The Leongs were the only married members of this Assembly.
Balan served actively and effectively on various national committees too. In 1967 and 1968, the National Spiritual Assembly appointed Balan to the National Bahá'í Youth Council that activated the thousands of youths in the country. In 1969, the National Spiritual Assembly appointed Balan into the Coordination Committee for Teaching which later came to be called the National Coordinating Unit. While on this Unit, Balan joined other members in closely monitoring the reports received from the Area Teaching Committees in West Malaysia and helped the National Spiritual Assembly in planning and coordinating all teaching activities and activated the dormant Local Spiritual Assemblies and communities and further encouraged them in teaching work. Each week Balan joined other members of this committee like N. S. S. Silan, S. Ravichandran and Mrs. Elizabeth Gibson in going to several parts of the country to activate teaching activities in the communities. There was a time when no single weekend was spared to carry out this task. In 1972, Balan was appointed on the National Teaching Committee on which he remained till the 1980s.
Balan's Bahá'í life was further strengthened through his marriage to Miss Chua Loon Hua @ Maureen Chua, which he always recalled as divinely propelled, given the circumstance in which Maureen came into his life. It was while working at the Inland Revenue Department at the Sulaiman Building in Kuala Lumpur, situated next to the Railway Station that Balan befriended his colleague, Maureen. Maureen comes from the Peranakan community of Malacca state. The Peranakans are people of mixed Chinese and Malay or Indonesian heritage whose origins go back to the 15th century Malacca, where their ancestors were thought to be Chinese traders who married local women. In later years, Peranakans have retained many of their particular cultural practices, while a majority have assimilated into the larger Chinese community. The males were called Babas while the females are known Nyonyas. Balan being on the Local Spiritual Assembly of Petaling Jaya sought the assistance of Maureen in typing out some letters and communications for the Assembly, during lunch breaks. Maureen, a strong Christian, had a liking for the Faith through Balan and his other friends like Silan and Ravichandran. Yet she was hesitant in accepting the Faith. Miss Jeanne Frankel, a believer from the United States came on a visit to Malaysia in mid-1968 for some proclamation work. She gave a talk at the Furlong House opposite the National Bahá'í Centre in Setapak. Maureen attended her talk, and after the talk Jeanne had a private talk with Maureen which changed her heart. After further reading and investigation of the Faith Maureen accepted the Faith on 13 May 1969.
Things started to take a more serious note when, in 1971 Balan and Maureen started courting. The news reached Maureen's parents, and they were opposing her daughter courting Balan from another race. Inter-racial marriage was quite rare in those days, mainly owing to widely prevalent racial prejudice. Maureen was firm that she wanted to marry none other than Balan. Seeing the firmness of Maureen, her parents requested her to invite Balan to meet up with them. On a Saturday evening, as the Bahá'ís in Petaling Jaya were praying at the home of Leong Ho Chiew, where Balan was renting, he took a public bus and arrived in the house of Maureen. Throughout the journey he was reciting the "Remover of Difficulties" prayer. Maureen's father was at the entrance. What a dramatic change! As soon as the four eyes met, Maureen's father seemed to have immediately softened. After the exchange of pleasantries, they sat down and started to discuss matters. In their conversation, Balan mentioned about the Bahá'í teachings on the law of parental consent on both sides for the marriage, and further explained on the Bahá'í writings on marriage. The teachings on parental consent impressed Maureen's parents and invited Balan for dinner. After the dinner, her parents requested Balan to come each week for dinner. Balan reported this unexpected miracle to the group of anxious friends who were praying and waiting at the home of Mr. Leong Ho Chiew, and they all jumped with joy! Each week Maureen's father and Balan would play drafts after dinner till the late hours of the night, and they became very good friends. That was one incident where Balan witnessed the power of prayers at play right in front of his eyes. That drove him to rely on prayers whenever he had an uphill task in life. It was still half the battle that was won. Maureen's parents had given the green light. Balan had now to take up the matter with his family, which he knew would not be that easy as his mother too comes from strong Orthodox Ceylonese family where inter-marriages were totally alien and a kind of taboo as well.
But before breaking the news to his parents, another turning point came about – an event that shall ever be engraved in the history of the Faith. In 1972, while serving on the National Teaching Committee, Balan had to leave for Africa on no-pay leave for six months, with Mr. Inbum Chinniah, Mr. N. S. S. Silan and Mr. Bhaskaran from the National Spiritual Assembly and Mr. Ravichandran from the National Teaching Committee and Miss Kamachee, an Assistant to the National Teaching Committee. This trip to Africa was to assist some sister communities there to speed up the completion of the remaining goals of the Nine-Year Plan. That was to answer the call from the Supreme Body, channelled through the Hand of the Cause of God Dr. Raḥmatu'lláh Muhájir. Maureen's father, respecting the spiritual obligation of Balan took him to a known tailor and had Balan's coat and suite stitched for him, as his part of the support. On the day of departure, Maureen's father himself drove Balan to the Subang International Airport to send him off.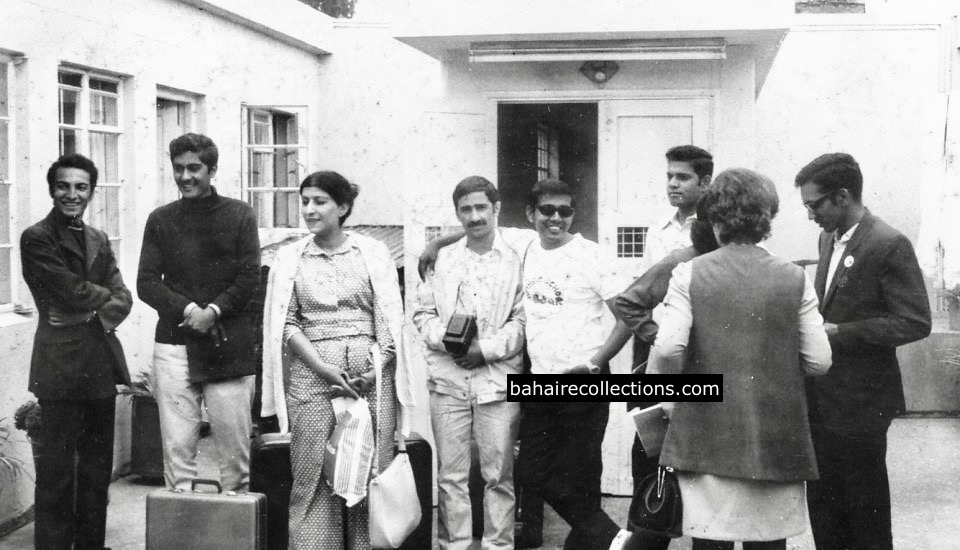 Travel teachers to Africa were  accommodated at the Hilltop Hotel, Nairobi as they arrived. The three Malaysians from the right : S. Ravichandran, Thanabalan and  N.S. S. Silan.
Balan was sent to the English-speaking West Cameroon, where he was posted to a town called Mamfe, situated about 50 kilometres east of the Nigerian border. It was great sacrifice and adjustment to the culture shock that awaited Balan in totally an alien territory hitherto unknown and unaccustomed to him. He went to the villages around Mamfe town and spent weeks in places like Tinto, Tali, Bakebe and Fotabe. He also sojourned in Bamenda suburbs. Most of the time he was involved in visiting the tribal villages where he presented the Faith to the simple and humble people, teaching both the adults and children. Balan became very popular among them and immediately won their hearts. Balan was moving as one among them. He was well loved by people of all ages, and members of the institutions of the Faith.

Cameroon. L-R:  Bhaskaran, Kamachee, Fred Ramirez from the Philippines, Parvin Behi from Iran and  Thanabalan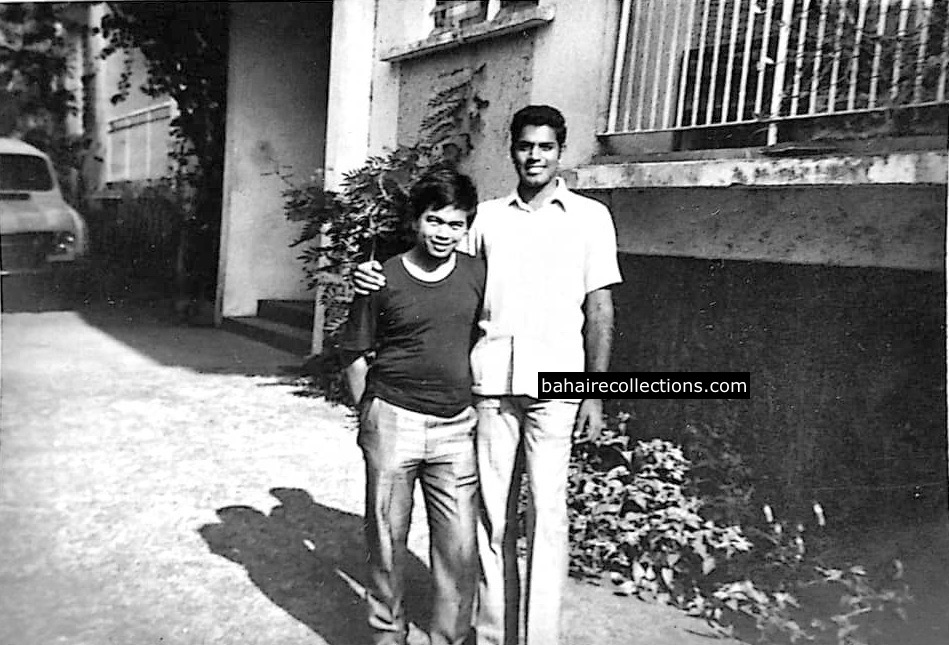 Fred Ramirez and Thanablan in Cameroon
Before starting off from Malaysia. Balan had copied down some Bahá'í songs sung in Malaysia into his notebook. In Africa, he taught these songs to children who always flocked to him each time he was coming. Balan was not musically inclined, but he taught the children three of his own favourite and simple songs; namely "Will you give your heart to Bahá'u'lláh", "Love is something that you give it away" and "Shine the Light on me, Bahá'u'lláh". And the songs went very well among children and the adults. The local people sang and danced to these songs. With the adults, Balan would discuss on the Faith and at the same time bring much laughter and joy. He would also offer to help the Bahá'í women when they were cooking in the kitchens. Having not met with such a lovable and loving believer like Balan, within the first few months, they appealed to him to settle in Africa for good. But Balan explained that he, being the eldest in the family had commitments at home, and that he was only on a six month leave. Some sad believers quietly went to meet Counsellor Dr. Mihdi Samandarí to persuade Balan to remain in Cameroon forever, or at least extend his stay longer. Counsellor Mihdi replied that he would try to persuade Balan, and he did speak to him. But the Counsellor realized that Balan had to return home for reasons that he could not avoid and beyond his control. When the Counsellor conveyed this to the locals they were sad but had to resign to reality. Balan was moved to see the tremendous love the locals had for him. He also saw the tremendous amount of work that he could do for the Cause in Cameroon. In one of his letters to Maureen, Balan quietly asked if there was any possibility of she flying down to Cameroon where they could get married and settle down. But that was not possible on Maureen's part as her parents would want her to get married in Malaysia. But the fact remained that the noble thought crossed his mind!
Back in Africa, at one-point Balan brought some 300 villagers into the Faith, he spent one whole day filling-up the declaration cards of a long line of locals. That was seen as a resounding success of the first kind for the Cameroons. On account of that one rare achievement, Balan was given a special appreciation and honor when he returned to Victoria City – a master bedroom to sleep that night. When Balan hesitated, he was pushed into the room and the door locked from outside. After months of staying in simple dwellings, it was only on that night that Balan had a good sound sleep.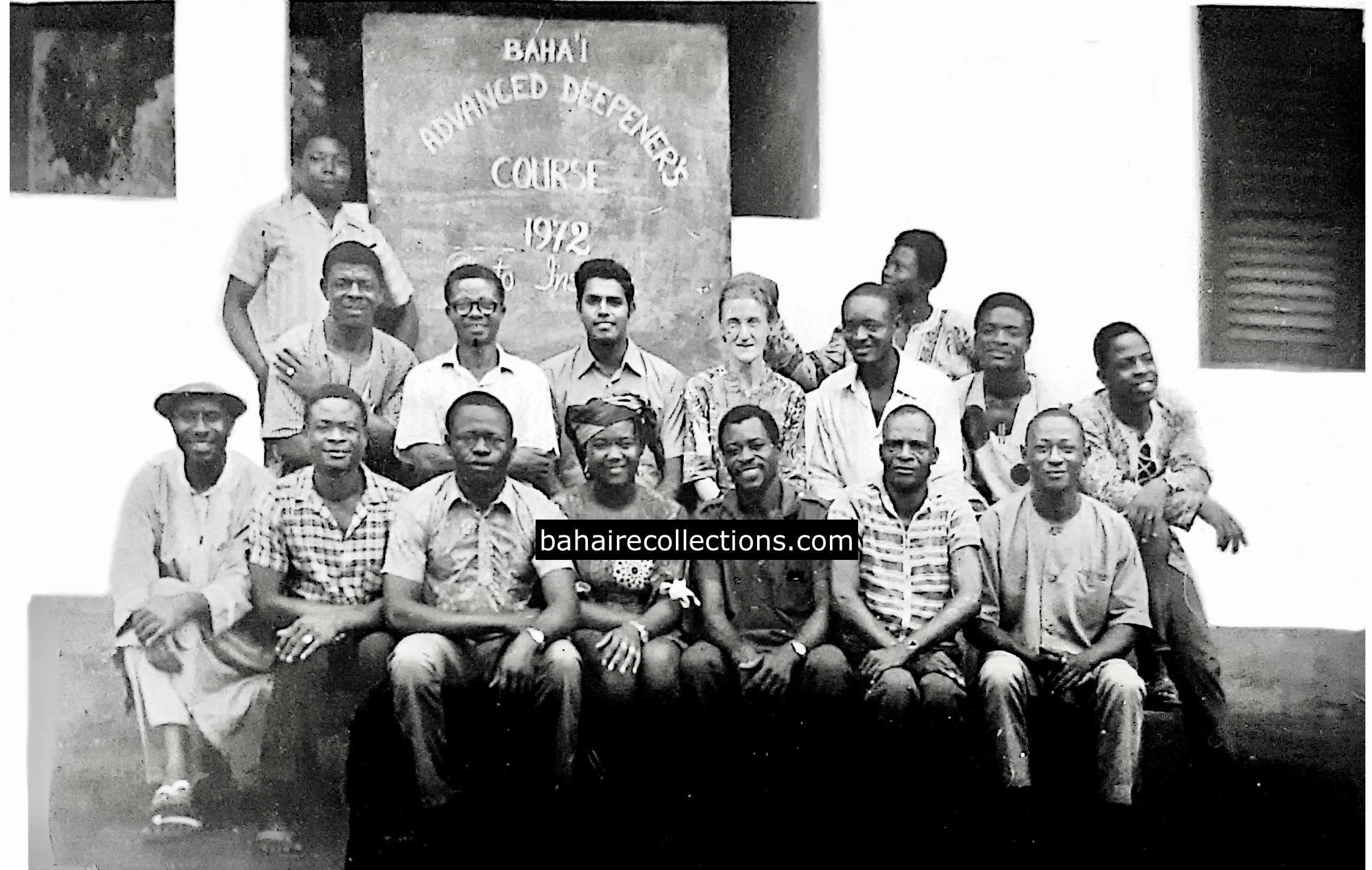 Thanabalan with Mrs. Ursula Samandari, member of the National Spiritual Assembly at his left at Bahá'í Advance Deepener's Training Course at the Tinto Institute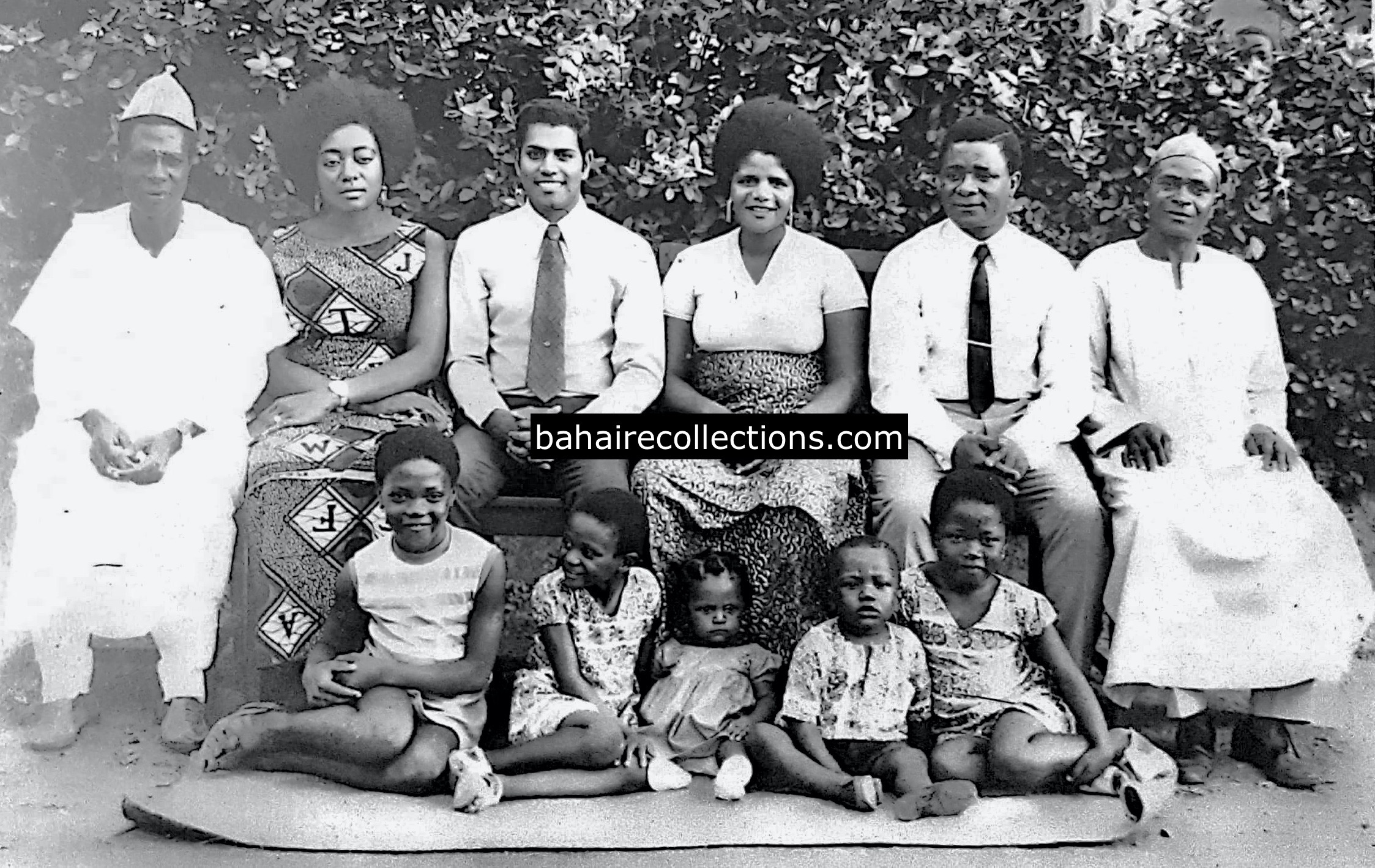 With families in Mamfe town where Thanabalan was stationed.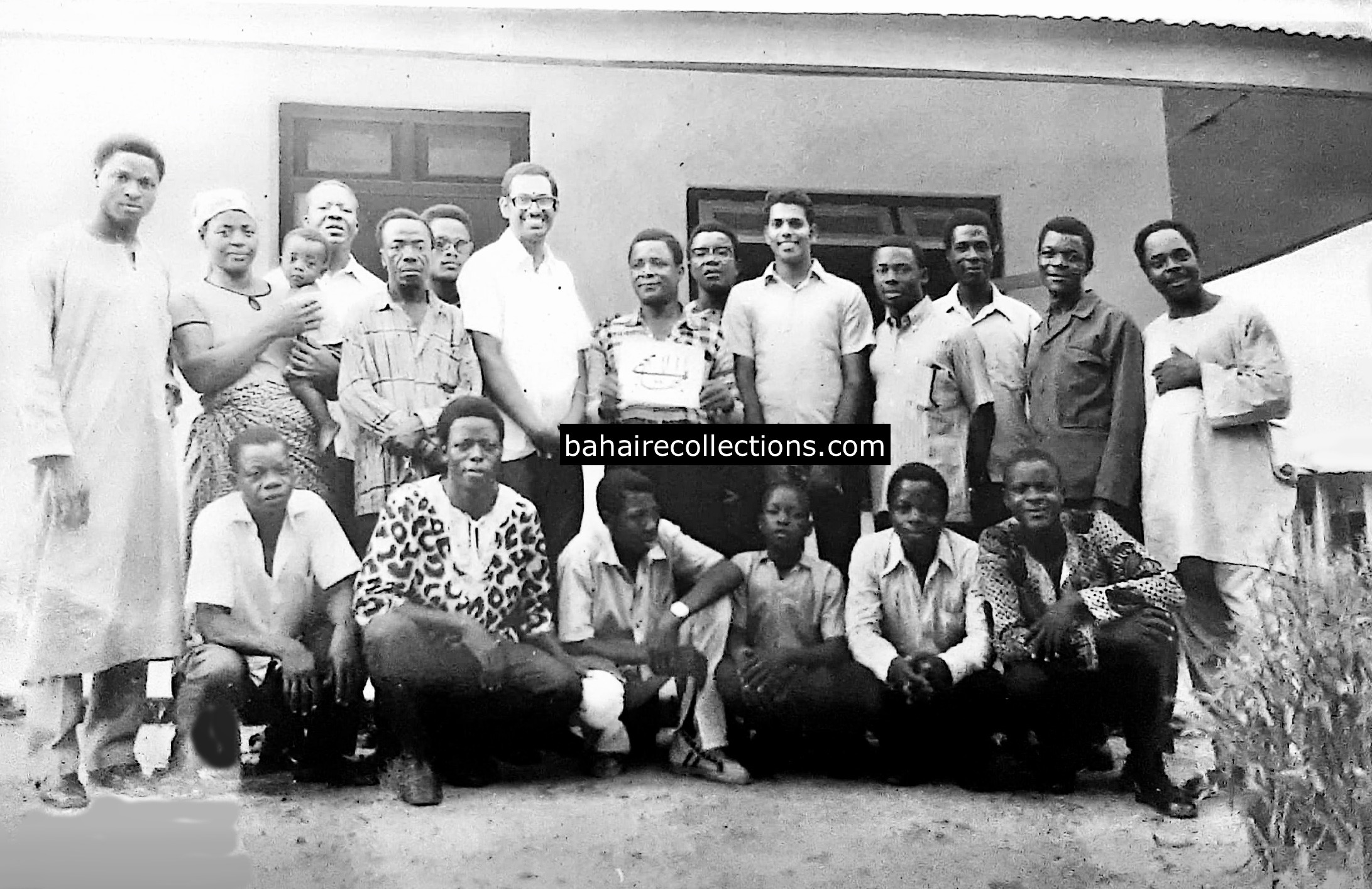 S. Bhaskaran, sixth from left and Thanabalan ninth from left at a gathering with local believers.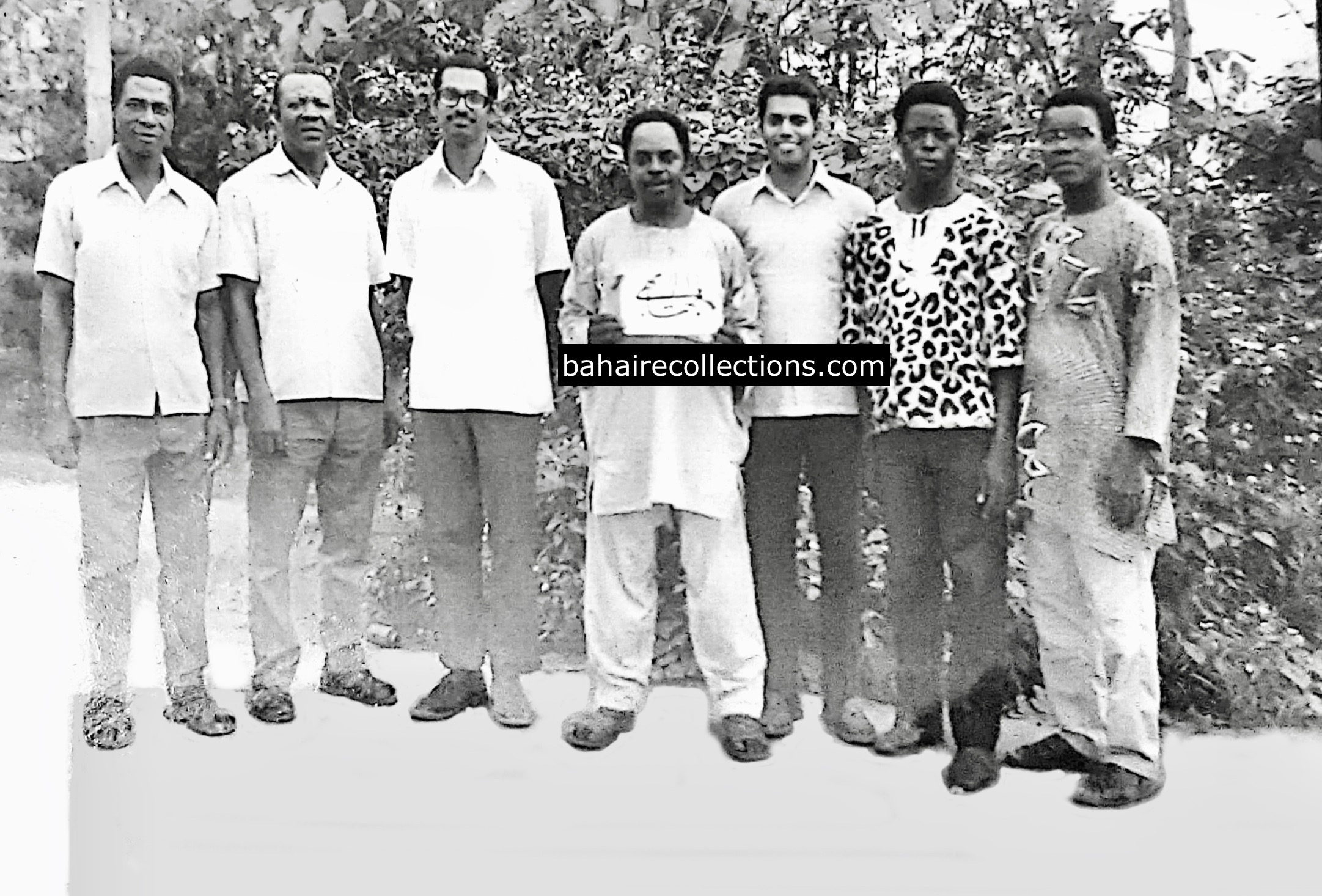 S. Bhaskaran thrid from left and Thanabalan fifth from left with believers.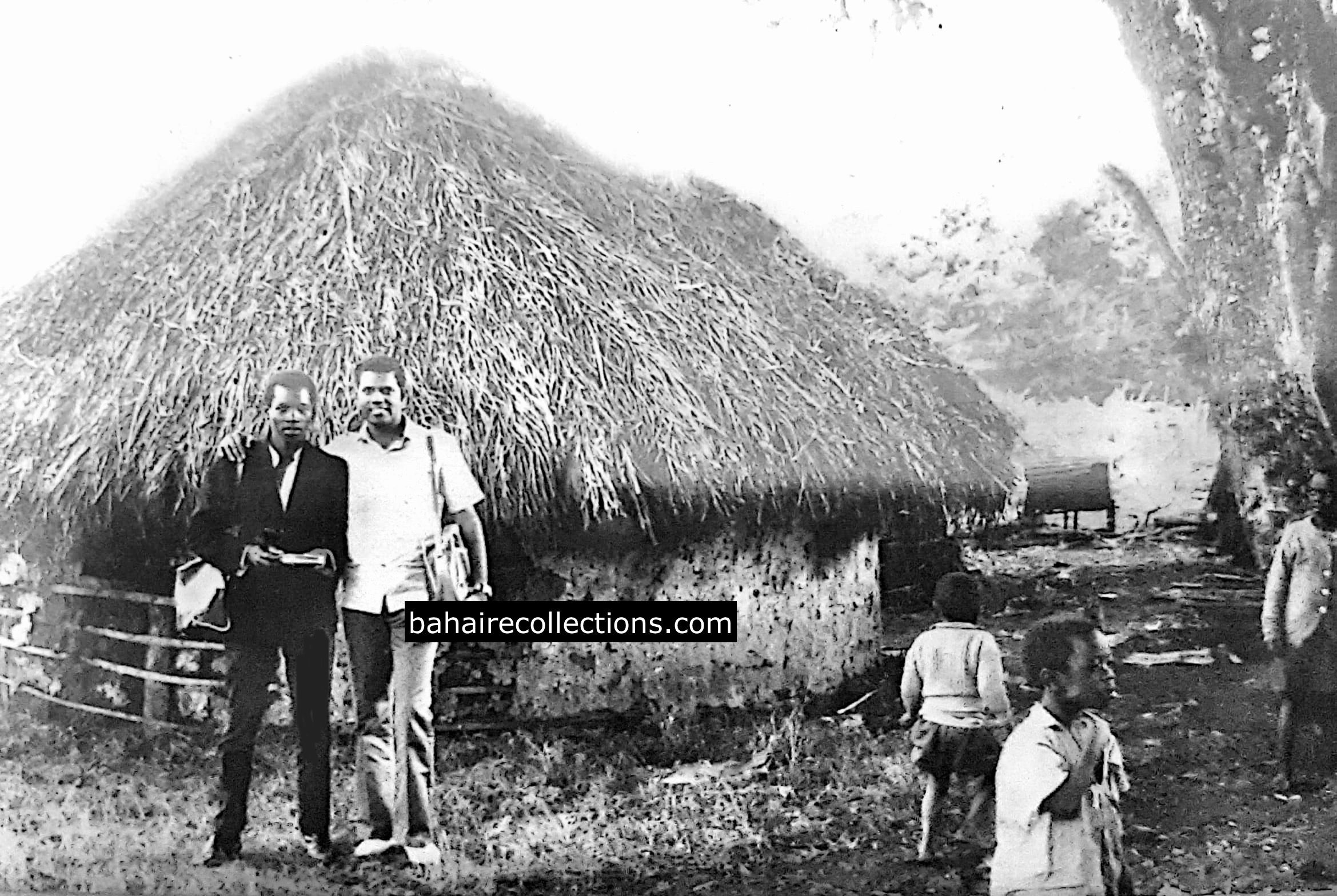 Thanabalan in a very remote village.
Life in Africa was extremely alien and challenging as Balan. When asked how he, having been brought up in urban dwellings could live in such remote places with little comfort he used to say, "You have to love them as your own family members, and that is the secret of pioneering. When asked what was the propelling force in the field he remarked:
"The spirit in the teaching fields was so strong that we felt we could do anything and everything. The credit goes to Dr Muhájir and Counsellor Aziz Yazdi for igniting this flame in us with their noble words of encouragement always ringing in our years throughout our stay in that continent." Balan had always prayed to pioneer somewhere. In his own words, it was not possible at all for him to pioneer given his family circumstances. Yet he took great consolation that he was able to do his part, very great it was, in Africa.
In early 1973, upon completion of the goals assigned, Balan returned with S. Bhaskaran, another co-pioneer, through India, as requested by Dr. Muhájir. In India they carried out some work in the cities of Bangalore and Mysore, especially among the college students.
Even when Balan was still in Africa, Dr. Muhájir had met with Counsellor Dr. Mihdi Samandarí, Auxiliary Board member Samuel Akaleh and the National Teaching Committees of East and West Cameroon in four different cities – Victoria, Yaoundé, Mamfe and Douala. In all those meetings Dr. Muhájir had praised Balan and the five other Malaysian travel teachers and Nargis Astani from Indonesia serving in Africa. Dr. Muhájir had mentioned that Bahá'ís must learn from the Malaysian believers on how to be committed and fully dedicated and become all-rounders in the field. Dr. Muhájir then told them some of the success stories of the Malaysian  Bahá'í community. Balan's travel teaching to Africa won the love and admiration of the Supreme Body, Hand of the Cause Dr. Muhajir, the National Spiritual Assembly of Malaysia and the National Spiritual Assembly of Cameroon, not forgetting the Universal House of Justice. Balan was one of the many others whom Dr. Muhajir greeted with warm smiles in his subsequent visits. And Balan was among those many who could not accept the untimely passing of Dr. Muhajir.
Meanwhile, when Balan was away in Africa, some developments were taking place within his own family in Kuala Kubu Baru. Before going to Africa, Balan had made some arrangements to send monthly remittance to his mother as promised before he started off for Africa. And each month it was Maureen who posted the cheques to the mother, without introducing herself formally. The mother guessed something was out of usual and decided to send Balan's younger sister Shanti to meet Maureen. These two contacted each other over the phone, and on a Saturday afternoon met in a bus stop in Kuala Lumpur for lunch. After the lunch, Shanti invited herself to pass that night at the home of Maureen. The following day Shanti went back to her mother and gave a very positive report on the kind of cultured and fine family Maureen came from. One of Shanti's keen observations she reported was that Maureen's family using their hands to eat meals, and not chopsticks, fork and spoons as used by other Chinese people. It was a simple, but important observation in those days. Maureen too did not divulge her kind of relationship with Balan to Shanthi, but Shanti was old enough to guess. Upon reporting her observations Balan's mother was convinced that Maureen would make the right daughter-in-law, but decided to wait for Balan return and open the subject.
When Balan returned to Malaysia, he stayed at the home of Mr. and Mrs. Thevar in Happy Gardens, Kuala Lumpur. Finally, Balan and Maureen married on 30 June 1974 at the Girl-Guides Hall in Brickfields, Kuala Lumpur. The marriage was conducted by Dr. M. M. Sreenivasan. At the time of marriage, they did not have any vehicle of their own, and resorted to public transportation, and yet were full of happiness. It was later that they purchased their first vehicle, a Volkswagen with registration plate BU5889. While building their own family they made sure they visited the parents on both sides and involved in the family obligations. Balan and Maureen were a great balancing figure in both families.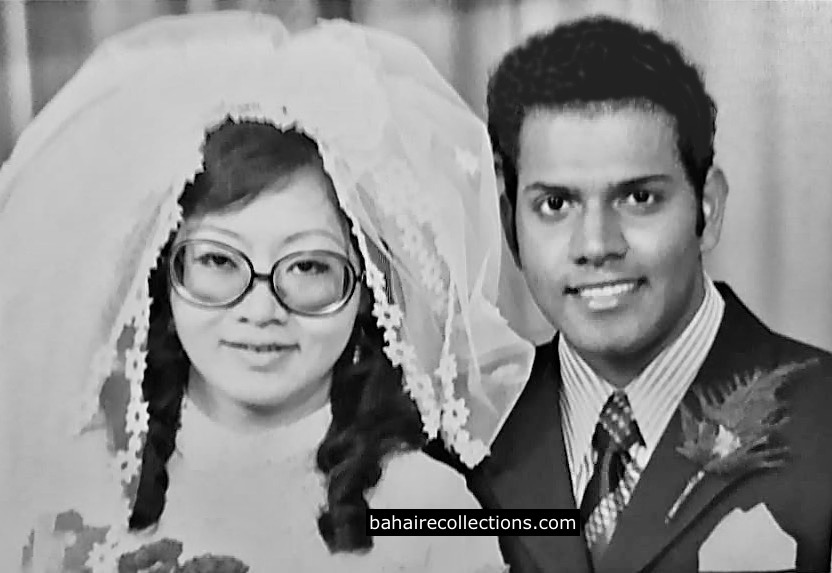 They started their lives together as one soul in two bodies

When contemplating purchasing a house, Maureen's father encouraged him not to delay as with each delay by one year, the monthly installment would escalate if he took a housing loan. His advice was, "Go for any roof upon your head for the start. You could decide for a better house if need be in later years." With that Balan and Maureen acquired their own house in which they spent the rest of their lives. Balan was gifted to have had a wonderful father-in-law, who was his good guide and advisor.
Balan and Maureen continued to serve the Cause actively and effectively in Petaling Jaya community. In 1977, when the National Pioneers and Travel Teachers Committee was founded, Balan was appointed on this committee on which he served with distinction.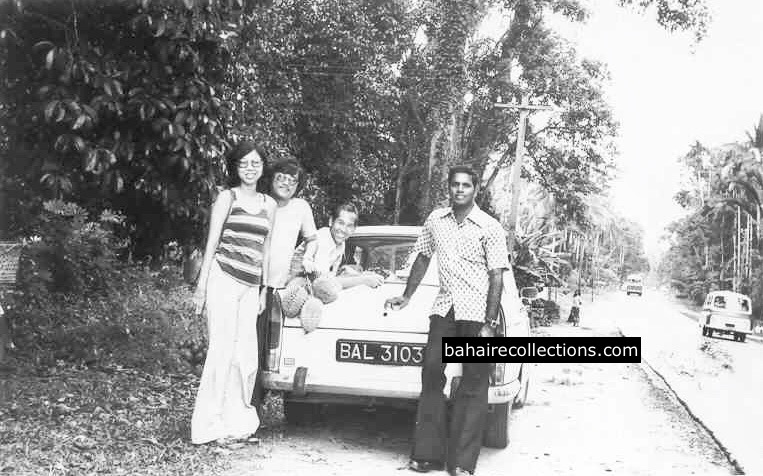 Teaching trip to Bilut Valley in the state of Pahang. Thanabalan on right and Shirley Wong and Lum Weng Hoe on left

Meeting with S. Vasudevan, face partly hidden, at the Petaling Jaya  Bahá'í Centerat Lorong Assuntha. Thanbalan in the centre with Vasugy and her husband Theenathayalu to his left.
ARTISTIC TALENTS
Right from his childhood days Balan was endowed with some artistic talents which he later put to full use in the Faith. He took the lead in preparing banner for the World Religion Day that was held for the first time in Petaling Jaya in September 1970. Likewise, the banner for the Oceanic Conference of the South China Seas held in Singapore in early 1971. When serving on the Local Spiritual Assembly of Petaling Jaya, Balan created a very beautiful newsletter for the community called the SATELLITE with his every beautiful, artistic and neat handwriting.

Satellite Newsletter  with artistic touch of Thanabalan. Courtesy of Lum Weng Chew, Canada.
When the Petaling Jaya community bought its own building at 15, Jalan 7/20 to be used as the Bahá'í Centre, Balan was given the task of painting the new property with the help of the youths. And he did a marvellous job in 1978 with only three colours – white for the walls and brown for the pillars and beige for the panels. The Centre's beautiful appearance was always attributed to Balan. He had even at the early part of his days renovated his own house in his hometown of Kuala Kubu Baru, with his talents latent in him. As a meticulous, and well-organized person from childhood days, Balan paid details and was always focused in whatever he did.
After his retirement from government service, Balan became an independent tax consultant and assisted friends in solving their income tax matters. Even while in service with the government, Balan had been assisting ignorant and even innocent members of the public in assessing their tax returns and would always point out ways of paying a lesser amount within the provisions provided for. As a long-time worker with the Inland Revenue Department, Balan was very thorough with the rules, procedures and circulars.
He was fully involved in Bahá'í activities to the best of his ability. There was always a constant flow of visitors to his house to partake of the fun, jokes and laughter that was part of Balan. Deepening classes were held from time to time, with invited speakers from other communities. His favourite which he never wanted to give up till the end of his days was weekly devotional sessions at his home.
ADMIRABLE QUALITIES
Balan had some unique qualities that are to be admired. Balan was well-read in the Writings, especially on principles of Bahá'í Administration. He was soft in speech but never compromised on adhering to the principles of the Faith. As a long-term delegate to the National Conventions, Balan was very eloquent and mature during the consultation sessions. Balan was seen as one of the best, mature, and well-seasoned believers in the art of open and frank consultation. There were times when he consulted Counsellors before taking up at national conventions serious matters of national significance. Delegates used to wonder in awe and admiration when he spoke on the most sensitive matters at the local, regional, and National conventions, with the right tone and with utter sincerity, with the right choice of words. He had truly set an example in that way.
He was known for his integrity both in the community and in the wider world. His trademark was his warm smile and jovial nature. He was always met with a warm smile and a radiant disposition. He was all his Bahá'í life an active participant in many Bahá'í  activities, supporter of the institutions and defender of the Covenant.
Balan always urged believers to put their complete reliance and trust in Bahá'u'lláh and never to doubt His unfailing assistance. His constant advice to those shaken believers would be, "Bahá'u'lláh is surely a prayer-hearing and prayer-answering God. Are you saying all your prayers have gone to the drain? Wait and see, for everything there is a time and a reason. Have both patience and faith. They come in a package." Such advice could only be born out of experience.  Balan was a firm believer that every word written by the Blessed Beauty and every promise given shall surely come to pass. Numerous have been incidents of members of the public, especially those illiterate and ignorant in getting assistance from Balan in having their income taxes reduced to the minimum, based on the tax rules and provisions.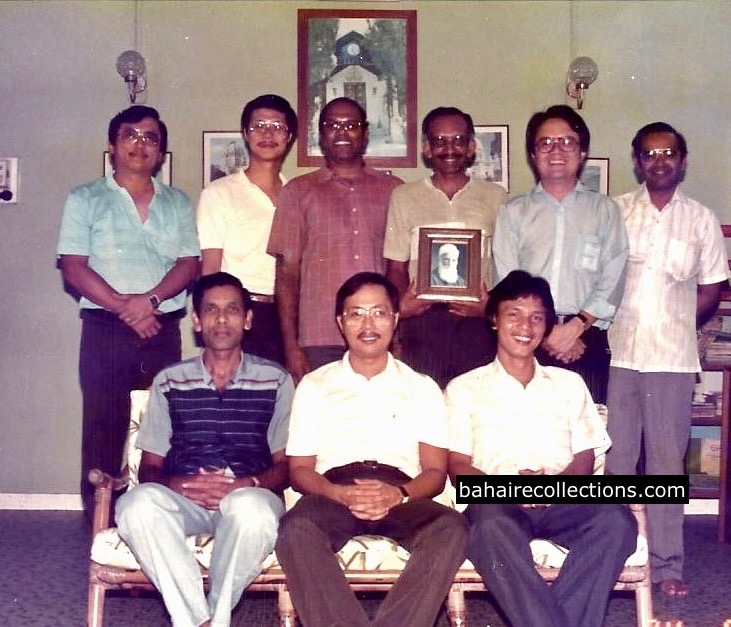 Local Spiritual Assembly of Petaling Jaya, 1988. Seated L-R: N. Munusamy, T. K. Lee, Clement Tan. Standing L-R: Lum Weng Hoe, Cheong Khoon Tien, Thanabalan, S. Ravichandran, Anthony Wong and Theenathayalu.
When he gave advice, one could feel the penetrating influence and power, and the sincerity in his tone. That was one reason that drew many downtrodden to him for counsel and they always returned happy and confident. Balan was always considerate to the views of others and never failed to give listening ears. Under all situations, Balan never lost his cool. He was always smiling even when pushed to the wall. There is no reported incident of Balan using harsh words on anyone – under any situation. It is not God alone who loves laughter, but Balan too. Balan enjoyed a high sense of humour, though he would not crack jokes. Whenever he was down he would phone up friends to get some jokes out of them to cheer his own spirit.
Whenever felt hurt, Balan would resort to prayers and leave things in the hands of the Creator. And the ever-forgiving Balan would forget the incident and consort and converse on other matters. Somehow he had developed the uncanny talent of handling even the most difficult of persons and managing the most stressful and difficult situations.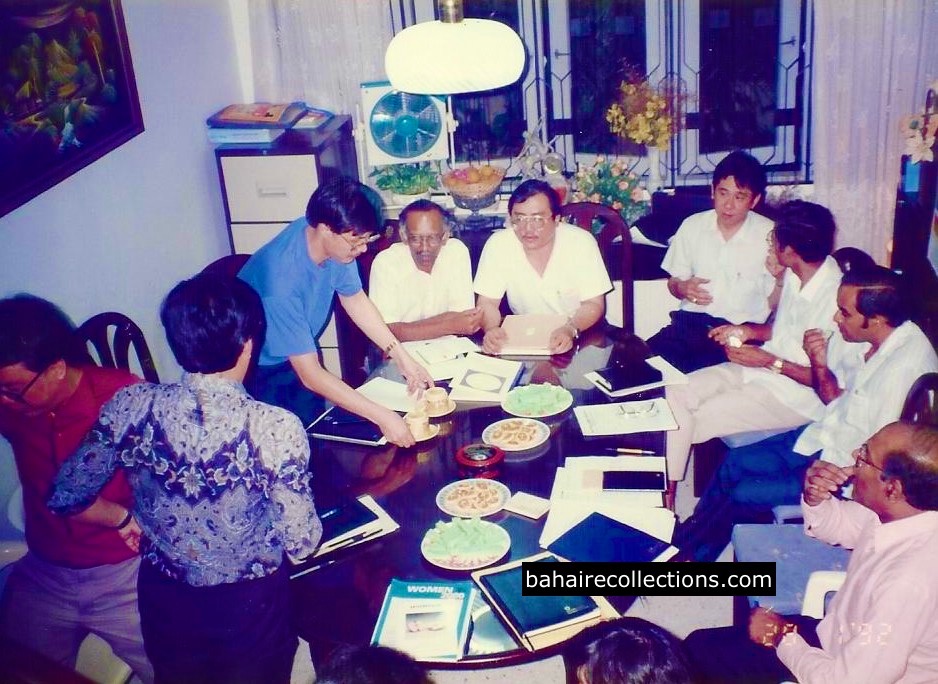 Thanabalan extreme right, discussing the UNIFEM project with other members of the Local Spiritual Assembly of Petaling Jaya, 1992
Lum Weng Chew who had migrated to Canada with eight other members of the Local Spiritual Assembly of Petaling Jaya, 1998. Squatting L-R: S. Ravichandran, Lum Weng Chew,William Chin and Lum Weng Hoe. Standing L-R: Chow Lai Kuen, Mayalagan, Thanabalan, June Loh and Shirley Wong
He was soft but stood up for justice. Balan was one who made sure justice was always meted out under all situations. Whenever he saw that unfounded accusations were levelled against anyone, Balan invariably came to the defence and ask the believer to pray to Bahá'u'lláh to show justice in my case. Balan clearly was on the same page with Bahá'u'lláh in meting out justice. And he applied the same principle at his workplace. His superior was pushing him around for some time. His patience was wearing thin and one day Balan entered the office of the supervisor and spoke off his mind, short of giving a stern warning to the supervisor who was stunned at the audacity of Balan. Surprising to Balan, in the next round of promotions, Balan's was promoted to the position of Assistant Assessment Officer with which he retired from service in the year 2002. Of this Balan used to say, "The answer is in the advice of the Master – "Work is Worship; Service is Prayer," and add that when one is disciplined and does the best, no boss on earth could find room for any fault.  Perhaps these are among the rare and laudable virtues in Balan that won him a very wide circle of friends. He was a friend to many and foe to none. At office he loved all his colleagues of all races and all loved him.

Former colleagues coming together. L-R: Thanabalan, Maureen, Ms Diana, Madam Meriam and her husband.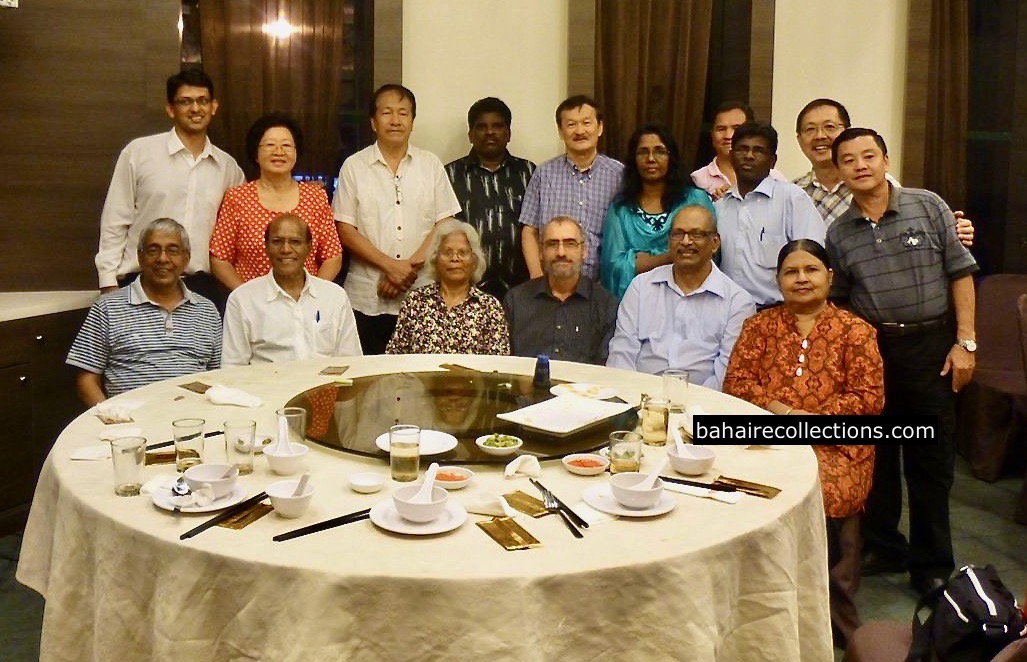 A dinner meet that Suresh Bhaskaran organized in 2015 in Klang to honour the visit by Kamachee and her husband to Malaysia.  Seated are the veterans who were in Africa from 1972 . Seated L-R.  N.S. S. Silan,  Thanabalan, Kamachee Martel,  Pierre Martel, Bhaskaran and Saro Bhaskaran. Standing L-R: Suresh Bhaskaran, Maureen Balan, Liu Man San, Maniam, Teh Teik Hoe, Mrs. Komala Veeran, Yeap Hong Ean (partly hidden) Veeran, T. K. Lee  and Goh Kean Kooi.

Of his own marriage that came in well in place, Balan would often say, "Just take care of the Cause of God, and He knows when, how and what to do for your wellbeing." Balan would say that he had the best married life anyone could ask for, with well brought up children. Balan's father-in-law would later say that while his two sons were abroad, his other son Balan was in Malaysia, and that Balan was the best son-in-law he could have been blessed with. Balan's mother had commented later that Maureen was an angelic daughter-in-law. This was one incident Balan would often tell his close friends- to place everything in His hands. Many youths and adults, nay married couple too saw the kind of Bahá'í family that the couple nurtured. It is no exaggeration to say that the couple lived as one soul in different bodies, sharing both joy and pain, and living for each other. Balan and Maureen led a thrifty and yet very happy life.  There was no one important decision that the couple made individually. Fully believing in the gift of consultation bestowed in the teachings, the couple practised that art to the fullest. As their children grew up they too were included in family consultations.

The last birthday celebration for Balan. Standing behind Maureen and Balan are L-R: their granddaughter Keona Navin, daughter in law Sonia, grandson Micah carried by Navin, Rohan and his wife Nur'i.
Sadly, since end of October 2020 Balan's health was failing and was diagnosed with fourth stage cancer of the liver. This was the time when Balan was also suffering from early stage of dementia. He was at times sharp with memory and at other times totally forgetful of the past. The doctors gave him some six months to live, but he miraculously lived on for some ten months. In these ten months, his wife, children and friends prayed very earnestly for his recovery. Maureen took a very good care of him. As time went by Balan lost weight and could barely walk. But he never gave up what he loved most – communicating with his friends. He kept speaking to his close friends over the phone to cheer himself. As time went by, his strength to speak declined and he spoke very little. Yet he spoke to four of his closest friends with great difficulties till the last month and finally could not proceed anymore. He then passed away in the hospital on 26 September 2021. His passing is an irreplaceable loss to many of the former generations and those belonging to the current generation.
Although Balan had served with distinction in various capacities, history would remember his indelible and impressive services in Africa, where he had conquered the hearts of the multitudes. The best tribute comes from Mr. Samuel Alakafe who was an Auxiliary Board member in Cameroon in those days of Balan  travel teaching in that country. Mr. Alakafe , residing in California, USA at the time of writing, sent this note  to the author, "In the roaring mid months of 1972 like a constellation of flaming stars dropping from the heavens above a group of youthful adults moved massively to Victoria, Cameroon .They had arrived from many various nations around the world. The Malaysian group was made up of Miss Kamachee, Mr. Bhaskaran and Mr. Balan. Mr Thanabalan a humorously thrilling and excitable man opted immediately to go to villages in the hinterland. Mr. Thanabalan after a few boisterous months travelled back to Malaysia. The generation that knew and loved him in Cameroon will sorrowfully think and mourn with prayers and profound sessions of meditations. The Baha'i Community of Cameroon will surely pay homage to a passionately inspiring teacher and mightily hilarious lifetime friend of and to mankind. Oh my dear, dearest Thanabalan. Thou didst descend unto Cameroon from the heightened beauty and best of the human spirit, tightly vested in you, extending the exciting message of unity, love and unity in 1972. The memories of your expressive passion for and of humanity in harmony resonated with and deeply in us throughout ages and time. Your exciting presence and flamboyant liveliness dispelled elements of depression in us, uplifting us experience waves of sweet sensations, rushing us in fast flowing waters of a river, cascading to the sea of the calmness of our hearts and lives."
Balan with Maureen
Balan remains in the innermost corner of many believers for the shining example he had set. He lived by what he had learnt from the Writings. His last advice to his wife was to commit to memory this passage from the beloved Guardian, which he had memorized and tried his very best to put into practice throughout his life:
One thing and only one thing will unfailingly and alone secure the undoubted triumph of this sacred Cause, namely, the extent to which our own inner life and private character mirror forth in their manifold aspects the splendour of those eternal principles proclaimed by Bahá'u'lláh.
Balan was clearly a believer of spotless character who made the Faith the centre of his life and served relentlessly in many capacities and believing in presenting the best for the Cause he loved and served.
Comments on this story may be sent to: info@bahairecollections.com
A. Manisegaran
31 December 2021
Copyright@bahairecollections.com