18 January 1954 to 7 August 2020
Here is the story of Chua Tek Wee, a believer who made Bahá'u'lláh the center of his life since accepting the Faith and adopted serving the Cause as his sole purpose in life. Never was he willing to compromise the principles of the Faith under any situation. The unwavering faith he had in Bahá'u'lláh was simply astonishing.
Chua Tek Wee was a student in the Port Dickson English Secondary School when he first heard of the Faith in 1969. As a student, he did well academically and in co-curricular activities. He was a Senior Library Prefect and joined the Police Cadet Corps, School Swimming Team, and the Rugby Team. His passion for bodybuilding enabled him to acquire a beautiful physique. He used to frequent the lottery shop of his aunt, Madam Sally who had become a Bahá'í and he helped out sometimes. The late Mr. S. Satanam, a home front pioneer from Seremban to Port Dickson used to visit this coffee shop often to give the Faith to her. He left some Bahá'í pamphlets. During one of his visits to this coffee shop, Chua came across the pamphlet left by Satanam. When he read the pamphlet, he was moved to accept the Faith as he loved the idea of all religions coming together. Soon Satanam came along with a Hawaiian Bahá'í, Teddy who was on his way to the Holy Land. They met Chua and explained the Faith further and he immediately signed up. From the day he signed up, he was on fire with the love of God and served both the Faith and the lovers of the Faith.
Chua's father was a very strict person and did not allow his children to discuss other religions at home. When Chua became a believer, he did not mention it to anyone in the family. His younger brother Chua Teck Mean also became a Bahá'í through the teaching efforts of Satanam. Both Chua Tek Wee and Chua Teck Mean did not inform each other that they had become Bahá'ís, until one day they arrived at different times at the Nineteen Day Feast meeting held at the home of Satanam. The brothers grew in the Faith through the deepening and guidance given by Satanam and the warm hospitality of Mrs. Satanam, especially cooking food for them. It did not take long before many of the relatives of Chua accepted the Faith.
Chua balanced his studies well with his Bahá'í activities. He attended Bahá'í conferences taking place at the National Union of Banking Employees Building in Port Dickson and the Stella Maris bungalow in the same seaside resort and was much impressed with the spirit generated in those gatherings. His deep understanding of the Faith came from the guidance, training, and deepening sessions imparted by Satanam.
Chua came to study in the Agricultural College in Serdang in 1972, which soon was named the Agricultural University of Malaysia (today the University Putra Malaysia). In 1972 Chua was the only believer at this university. He soon brought in a few others into the Faith. One of the earliest was Giam Chin Chye, his university mate. Giam noticed that once in a while Chua used to dress up well and go to Kuala Lumpur. One day Giam asked why Chua was dressing up now and then, to which Chua replied that he was going for Bahá'í activities. Giam asked if he too could join him. Chua agreed and took him for a Bahá'í activity in the Kuala Lumpur Bahá'í Centre. There Giam met some Bahá'í youth from Penang who spoke to him about the Faith. Giam then accepted the Faith.
From time to time the small number of Bahá'is' in this university invited Inbum Chinniah and his wife Lily of Kuala Lumpur to address the students of the university. Inbum Chinniah was then the Secretary of the National Spiritual Assembly of Malaysia. In 1973, T. K. Lee, a believer of the Petaling Jaya community had asked Chua and a few other Bahá'ís in the university to bring along their classmates for the Naw Ruz party in Petaling Jaya. Chua was excited and invited his friends, along with his fiancée Miss Chong Swi Kim. Beyond all expectations, Chua brought a huge busload of friends. A small crisis ensued and the Bahá'ís of Petaling Jaya had to quickly order more food!
It was soon realized that a Bahá'í Society needed to be formed in the Agriculture University. A Buddhist friend helped write the constitution for the society and the Agricultural University Bahá'í Society was formed in July 1974 with six youths. This society organized several inter-religious forums and Bahá'í talks. They also printed Bahá'í Society T-Shirts, which gave publicity for the Cause in the campus. When there was a politically motivated student demonstration, the members of the Bahá'í society refused to participate, citing the Bahá'í principle of non-involvement in politics. This was much appreciated by the non-Bahá'í student population. The dynamic Bahá'í youth were Chua Tek Wee, Giam Chin Chye, Lee Heng Soon, Teh Choon Siang, and N. Sivalingam. Following the graduation of this batch of students, the Bahá'í student population was drastically reduced and the Agricultural University Bahá'í Society could not continue to function.
Mention has to be made that it was Inbum Chinniah's life that also had much influence in the life of Chua. He relates an incident that speaks volumes about the gracious nature of Inbum. In July 1974, Chua and his other Bahá'í friends were organizing Bahá'í activities. They planned for a grand fireside and invited Inbum as the speaker. However, on the actual day, things did not work out as expected and they did not have Inbum's telephone number to inform him of the cancellation. As the evening rolled by, tensions ran high and their desperation grew as they searched for words of excuse to inform Inbum of the cancellation. They felt terrible for wasting the time of a busy Inbum who in 1974 was an Auxiliary Board member. Finally, Inbum arrived and the students gathered around his car. Chua, in a faltering voice apologized for the cancellation. Inbum, who was seated in the car, opened the door very calmly and said, "Don't worry. You have all done your part. I have done my part. God has also done his part. The results are not in our hands. Come on. Jump in! It is time for dinner. Let us go out for dinner". The Bahá'ís could not believe their ears and were truly moved not only by Inbum's graciousness but also by his offer to take them out for dinner! They were more than convinced that Inbum was a rare kind of person with the finest human qualities. Chua never missed deepening sessions and talks that Inbum gave in Kuala Lumpur.
Following his graduation Chua was working as a temporary teacher in Rembau town in Negeri Sembilan state. Then he got a job as an Assistant Manager in Welch Estate, owned by Harrison and Crossfields, at Jementah, a small town in Johor state between Segamat and Muar. He was here for three years from 1975 to 1978.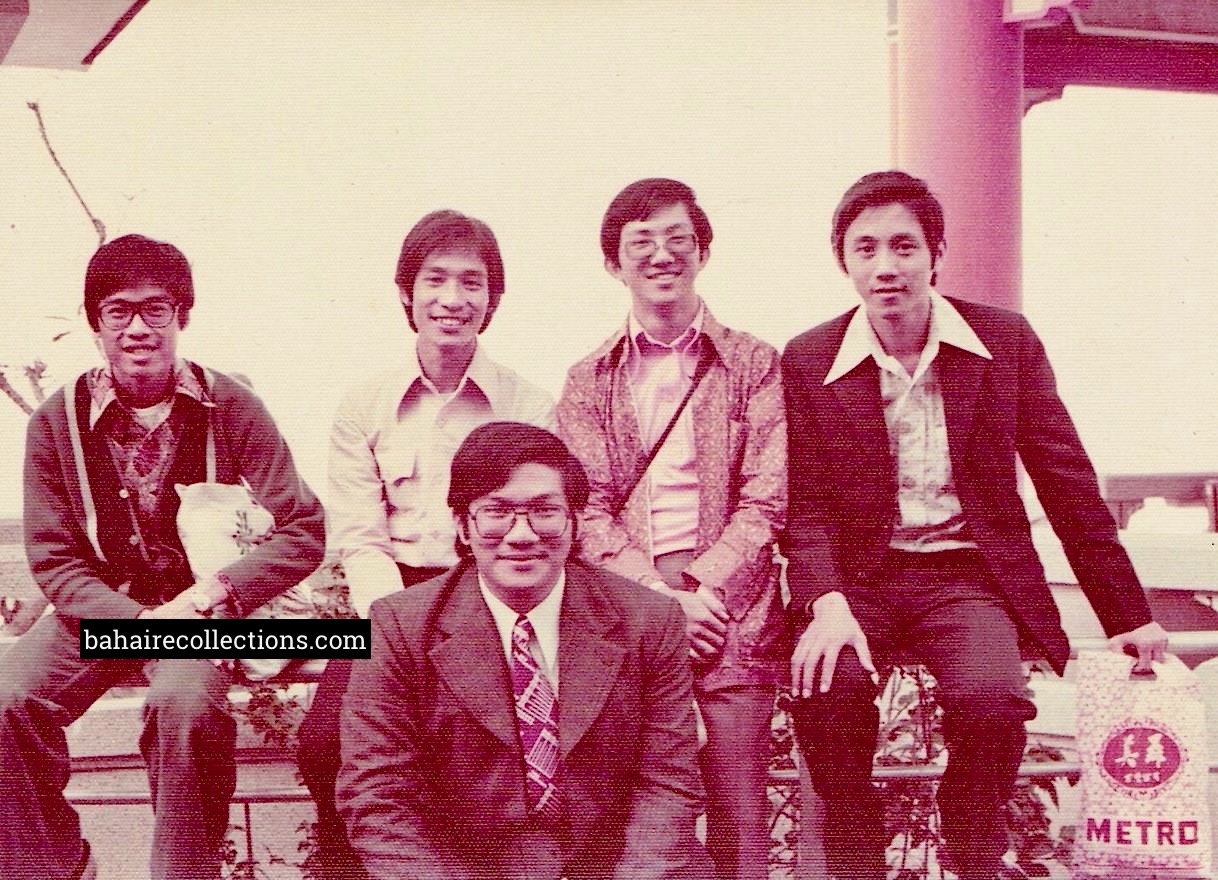 Squatting is Chua at the International Teaching Conference in Hong Kong, November, 1976. Seated L-R: Peter Wang, Raymond Song, Frankie Ang, Tay Yang Hwang . (Photo Courtesy: Wong Meng Fook)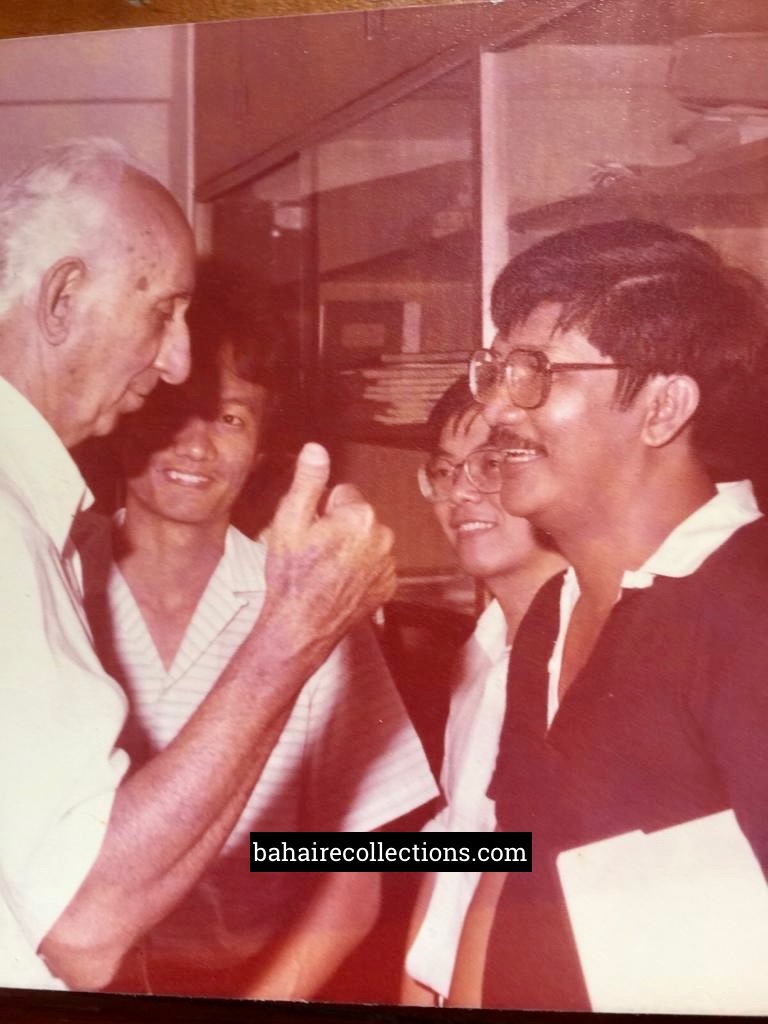 Chua conversing with Counselor Aziz Yazdi at the International Teaching Conference in Hong Kong. Beside Chua is Kuek Yi Hsing

In December 1976, Chua and his brother Chua Teck Mean attended the South East Asia Regional Conference held in Port Dickson, graced by the presence of three Hands of the Cause of God – Dr. Raḥmatu'lláh Muhájir, Collis Featherstone, and Abu'l-Qásim Faizi. At the conference, there was a call for fulfilling Malaysia's pioneering goal in the Philippines. Chua Teck Mean who had just completed his GCE "A" levels was moved to pioneer and approached his brother Chua Tek Wee for support. Chua, without any hesitation, encouraged him to proceed to work for Bahá'u'lláh, promising financial support. And so, Chua Teck Mean pioneered to the Philippines and served the Cause effectively. He is at the time of writing settled in Singapore.
When Chua started to take his fiancée Kim for Bahá'í activities in Kuala Lumpur, Lily Chinniah used to give her all the encouragement to accept the Faith. In 1974, Kim accepted the Faith. When Chua decided to marry her, he told her that between the Faith and she, it was the Faith which came first. By this time, Kim had come to understand the deeper implications of the Faith and Chua's firmness as a Bahá'í. They married on a very auspicious day for the Bahá'ís – 12 November 1977. They went to Songkhla town in South Thailand for their honeymoon, which turned out to be a teaching trip. Once in Songkhla, news reached the couple that Yankee Leong was carrying out teaching activities there. Chua and his wife immediately joined Yankee Leong in teaching activities, a gesture that Yankee Leong appreciated much.  In later years Chua would relate in jest that his honeymoon turned out to be a spiritual honeymoon.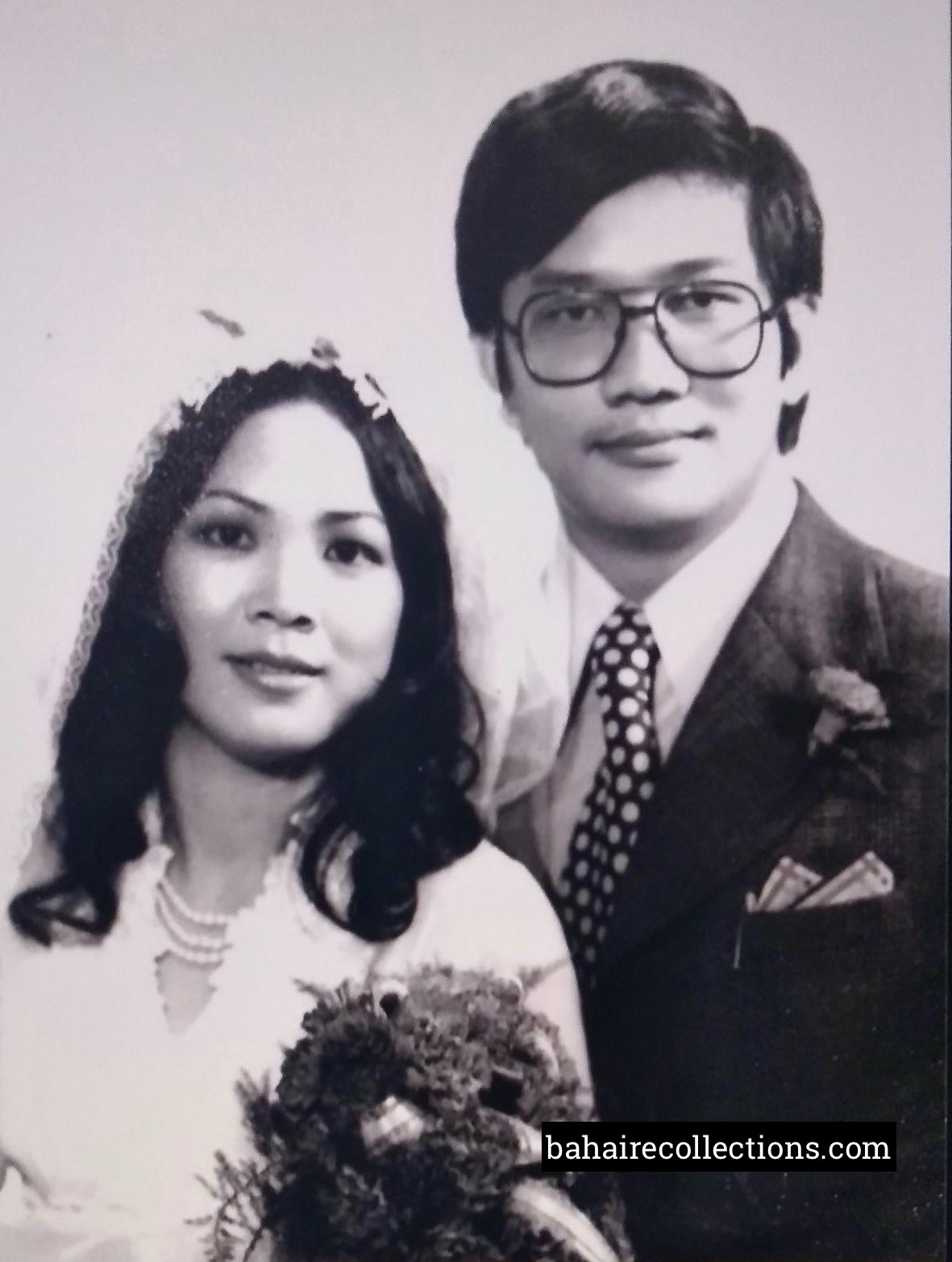 Truly meant for each other
Each Friday, a non-working day in the state of Johor, Chua used to visit Tangkak town where the Bahá'í community needed much assistance. There he befriended a hospital assistant by the name of Mr. Fong who became a Bahá'í through his teaching efforts. Chua used to organize firesides in his spacious bungalow provided by the management. One day Inbum Chinniah, who was already a Counsellor visited Chua and requested him to speak to the Bahá'ís in that area to rise up to the call of the Supreme Body that had urged the Malaysian Bahá'í community to raise RM$1 Million for the Faith. Chua immediately met the late Karuppiah in Muar town and informed him of this call. Karuppiah took him to see Mr. and Mrs. Veerasenan in the same town. Chua informed them of this crucial call and waited in the living room. The couple went into their private room and came out with a box containing jewelry. The wife took off her gold nose stud and earrings and added to the jewelry already in the box. They went to the pawnshop to pawn the jewelry to bring cash to contribute. Each month when they got their salary, they used to go to the pawnshop and redeem the jewelry in stages. Chua was very moved by this gesture of these two Tamil School teachers, whose income was not so much in those days. When Chua recounted this story to Inbum, the latter burst into tears.
In 1978, Chua was posted to the Sungkai Estate in the state of Perak as Assistant Manager. He had a huge bungalow on top of a hill, immediately by the side of the main federal trunk road. During this time, the North-South Toll Highway was not fully completed, and the vast majority of the motor road users had to drive on this stretch of an old road. Chua's bungalow was used as a stopover for Bahá'ís from both North and South whenever they used to travel for Bahá'í functions as well as on private trips. Chua provided the best hospitality to these Bahá'ís. Here Chua faced some difficulties. Some laborers had accepted the Faith through the teaching efforts of Chua. But the estate management had a rule that forbade those on the management to visit the homes of these laborers or intermingle with them. This made community life difficult for Chua. When Inbum came visiting, Chua related to his problem. After some thought, Inbum advised Chua to follow rules but advised him to join the nearest community. Chua then started to go to the neighboring town of Bidor where he teamed up with the late Mr. Rama Naidu and with the late Leong Ho Chiew in assisting to develop the Asli communities and got involved in other Bahá'í activities.
In 1979, Chua and his wife made a trip to Ipoh town to visit Yankee Leong who was in the home of his eldest daughter Theresa Chee.  While there Chua admired a painting of Yankee Leong that was on the wall. Yankee Leong must have caught what was going on in the mind of Chua that he requested Theresa Chee to take the painting off the wall and hand it over to Chua. Chua treasured the painting more than anything else and took to all the countries he went to in later years. Yankee Leong was one of the elders in the Faith that Chua respected and admired for the sacrificial services they rendered the Cause.
In 1980, Chua was posted to Carey Island off Klang in Selangor, and his wife and eldest daughter Amelia were with him in this virgin area for the Faith. There was no Local Spiritual Assembly here. Chua invited the Bahá'ís of Selangor, especially those from Kuala Lumpur and Petaling Jaya to come over to provide manpower to develop the Faith here. The Bahá'ís were most happy to go over to Chua's bungalow not only for teaching but also for a sumptuous meals that Chua always provided.

Carey Islands. L-R: Y. Mari of Ipoh, a carver and Chua
It was while Chua was serving here that a call came for home-front pioneering to the state of Sabah in East Malaysia. Never thinking of his financial future and having the desire to serve the Cause upmost in his soul, Chua immediately resigned from his job to take up this goal but had to pay back three months' salary. He went to Sandakan empty-handed, resigning himself completely to the helping hand of Bahá'u'lláh. It did not take long in his job hunting when he was soon employed by Permodalan Plantations, a semi-government agency, in Sungei Bendera coconut plantation by the Kinabatangan River close to Sandakan town. Chua introduced, for the first time, planting of cocoa under jungle shed, probably the first-ever effort in Sabah state, according to Chua. He organized the planting of cocoa between the coconut trees.
In Sandakan Chua teamed up with other local Bahá'ís and served the Faith very effectively. However, he found that he could not tolerate some activities of the management that contradicted the teachings of Bahá'u'lláh. He was told to sign on blank cheques! Chua was inflexibly opposed to the cut and thrust of corruption. On a matter of principle, he resigned from this estate and went off to Sandakan town. He was more than convinced that having placed his fate in the hands of his Creator, there was nothing that could imperil his future and the drama that unfolded next was quite unbelievable.
He flew to Kota Kinabalu town to collect his passports from the management. The management tried to tighten the noose and ordered Chua to stay on in his job or face dire consequences. Without any cowardly retreat, Chua refused to cave in and insisted on his resignation. The management refused to accept his resignation and threatened not to release the passports of both Chua and his wife. Chua knew that threat was not meant to be the end of the world. He simply and calmly walked off the office. As he was coming out, an office boy who was close to Chua was just returning from the immigration office in Kota Kinabalu and was unaware of the conflict that was going on between the management and Chua. He had the passports with him and spontaneously surrendered them to Chua. Chua took this as a miracle and a reward from Bahá'u'lláh for living up to His teachings.
That was not the end. Another miracle happened. Within three days after the resignation, he got a new job, this time as a Manager of Lions Group. He teamed up well with Lim Boon Huat, a bank manager, and served the Faith in Lahad Datu. These few Bahá'ís then formed the first Local Spiritual Assembly of Lahad Datu.

Fireside at Lahad Datu. Chua stands second from left. Kim is seated at the extreme left
But in Lahad Datu too Chua saw that there were some corrupt practices diagonally against the Faith and he did not wish to go along with the practices and later on get him and the Faith embroiled in any scandal. A person not willing to compromise on the teachings or cave into pressure, Chua prayed hard for relief. The answer did come. At a conference held in Singapore, there was a call for pioneering to Papua New Guinea. He immediately resigned from his post and went to Papua New Guinea as a pioneer in 1983, with nothing in his hand, again confident that Bahá'u'lláh was always there for him. But his area of the assignment was Volupai Plantation, Talasea, West New Britain, which was most remotely situated in the country, with no basic amenities. The plantation grew coconut trees and reared cattle. There was only one store to purchase groceries and medical facilities were not available. Having been accustomed to urban-dwelling all his life it could not have been easy for Chua and his wife to live there. Yet the factor that kept them going was service for the Cause through his job as a planter. Only the tough could keep going in such a remote and interior environment where the difficulties were arduous. Chua and his wife were tough enough to undergo any rigorous life that the unfamiliar and hitherto unknown environment presented. Chua was then elected onto the National Spiritual Assembly of Papua New Guinea. And that was another challenge for him. He had to ride for about two hours to take off from Hoskin Airport in Kimbe and arrive at Lae Airport for the meetings of the National Spiritual Assembly. Lae, being an urban area, Chua would return home with better provisions.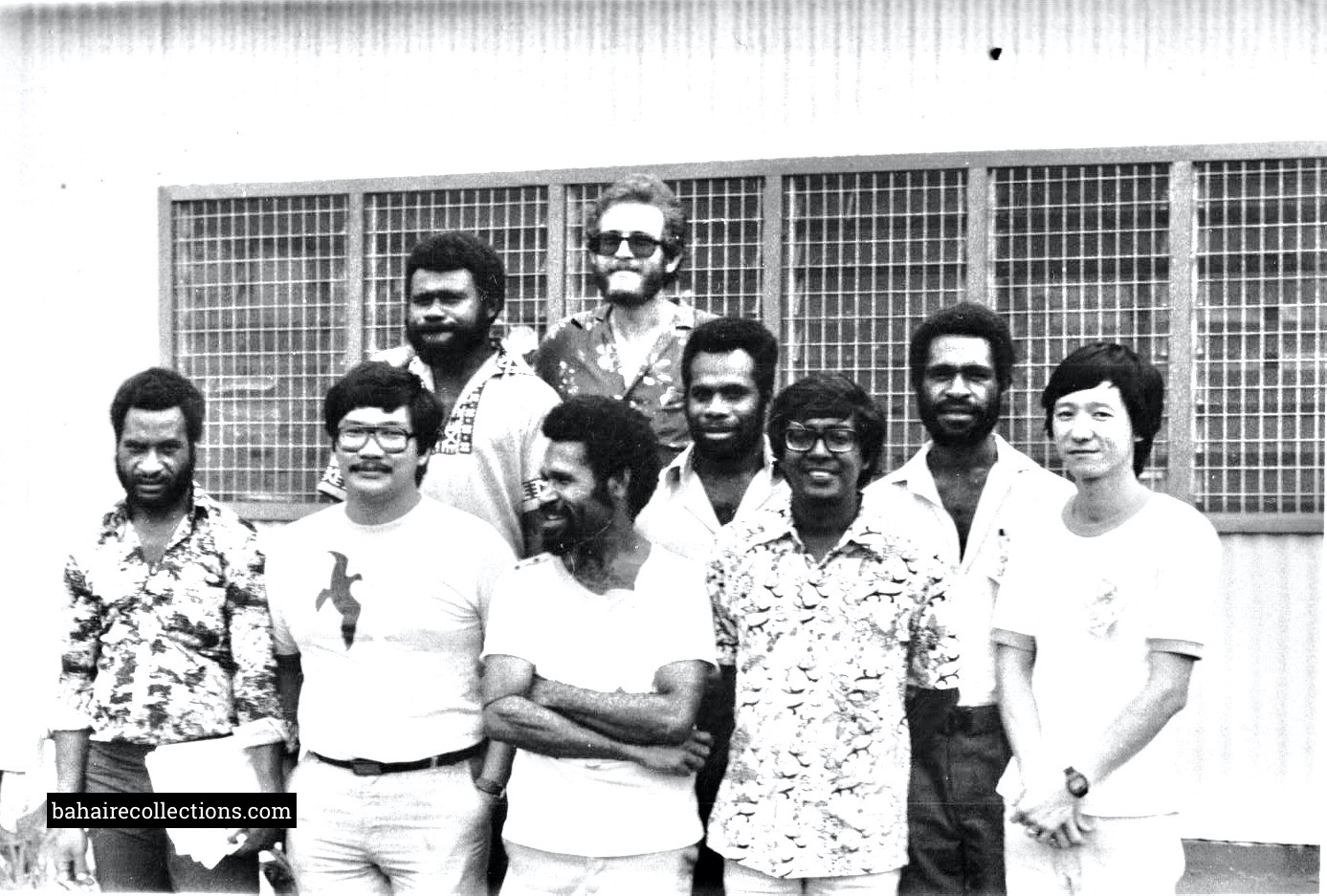 Three Malaysians on the National Spiritual Assembly of Papua New Guinea were Chua second from left, N. S. S. Silan  fourth from left and Wong Chow Wing at the extreme right

Chua was well respected at the meetings of the National Spiritual Assembly, as he was very focused and spoke with wisdom. At that time, the National Spiritual Assembly of Papua New Guinea arranged a Bahá'í school teacher named Mary from Milne Bay Province who was staying with them in Volupai Plantation, Talasea, West New Britain to teach the children. Chua paid the teacher from his own pocket to keep the children's class going.
In early 1984, Amatu'l-Bahá Rúhíyyih Khánum and Violette Nakhjavani who were on their way to the Samoa Bahá'í Temple dedication passed through Papua New Guinea. N. S. S. Silan another Malaysian pioneer was the secretary of the National Spiritual Assembly of Papua New Guinea at that time and was coordinating the activities of Amatu'l-Bahá in the country, based on a plan approved by the National Spiritual Assembly of Papua New Guinea. Amatu'l-Bahá had desired to visit and stay with the bush people and so she was sent to the Volupai Plantation where Chua resided. The residence of Chua in Volupai plantation was used as her base to visit the bush people. And so, one late afternoon, Amatu'l-Bahá and Violet Nakhjavani arrived at the residence of Chua. Mrs. Chua prepared some sandwiches for them. After the light meal, they went to the school building to see the children and witnessed some performances by the children, followed by a feast with them. They returned and slept at the home of Chua. The next morning, while having breakfast Amatu'l-Bahá asked whose rooster was making so much noise early in the morning. Then the boat arrived to take Amatu'l-Bahá, Violet, Aminio-Bale, and Chua to Kombe Island where the local community was made up of believers. It so happened in the past that whenever Chua and Amnio went to the village by canoe, the sea used to be rough both ways and they would invariably get wet to the skin. To their surprise on this journey with Amatu'l-Bahá, the journey was very calm. But just after reaching Kombe heavy rains poured. Amatu'l-Bahá was welcomed by the Chief of the village and then she met the believers in the community. They all stayed the night there and the next morning started their return journey, where once again the sea was calm. This was an unusual sight for Chua. After reaching Chua's residence in Volupai, Amatu'l-Bahá and Violette left for Kimbe.
Those were three days in Chua's life when he hardly dared utter any word, for fear of not using the right word in the presence of Amatu'l-Bahá. Manifestly, Chua was wise in his own way.
And he later commented about the query of Amatu'l-Bahá on the noise the rooster had made. In his words, "We normally do not hear the rooster making much noise but this time it must have recognized the station of Amatu'l-Bahá because that morning, it was making such a racket!" It was indeed a bounty for Chua to have hosted Amatu'l-Bahá.
The visit to Papua New Guinea had a deep impression and created much joy for Amatu'l-Bahá. When N. S. S. Silan met Amatu'l-Bahá at the dedication of the House of Worship in New Delhi in late 1986, Amatu'l-Bahá commented that she had wished to go back to Papua New Guinea, this time as a pioneer. It was to that extent that she was touched by that memorable visit.
Chua and his wife went for a pilgrimage to the Holy Land in 1985. They took along three other local believers from the New Ireland Province of Papua New Guinea. The Papua New Guinea believers were not used to food habits in the Holy Land and were craving for rice items which was their main staple back home. The generous-hearted Chua who knew their desire took the entire group to a Chinese restaurant in Haifa and treated them to sumptuous rice-based dishes. Chua was such a caring person.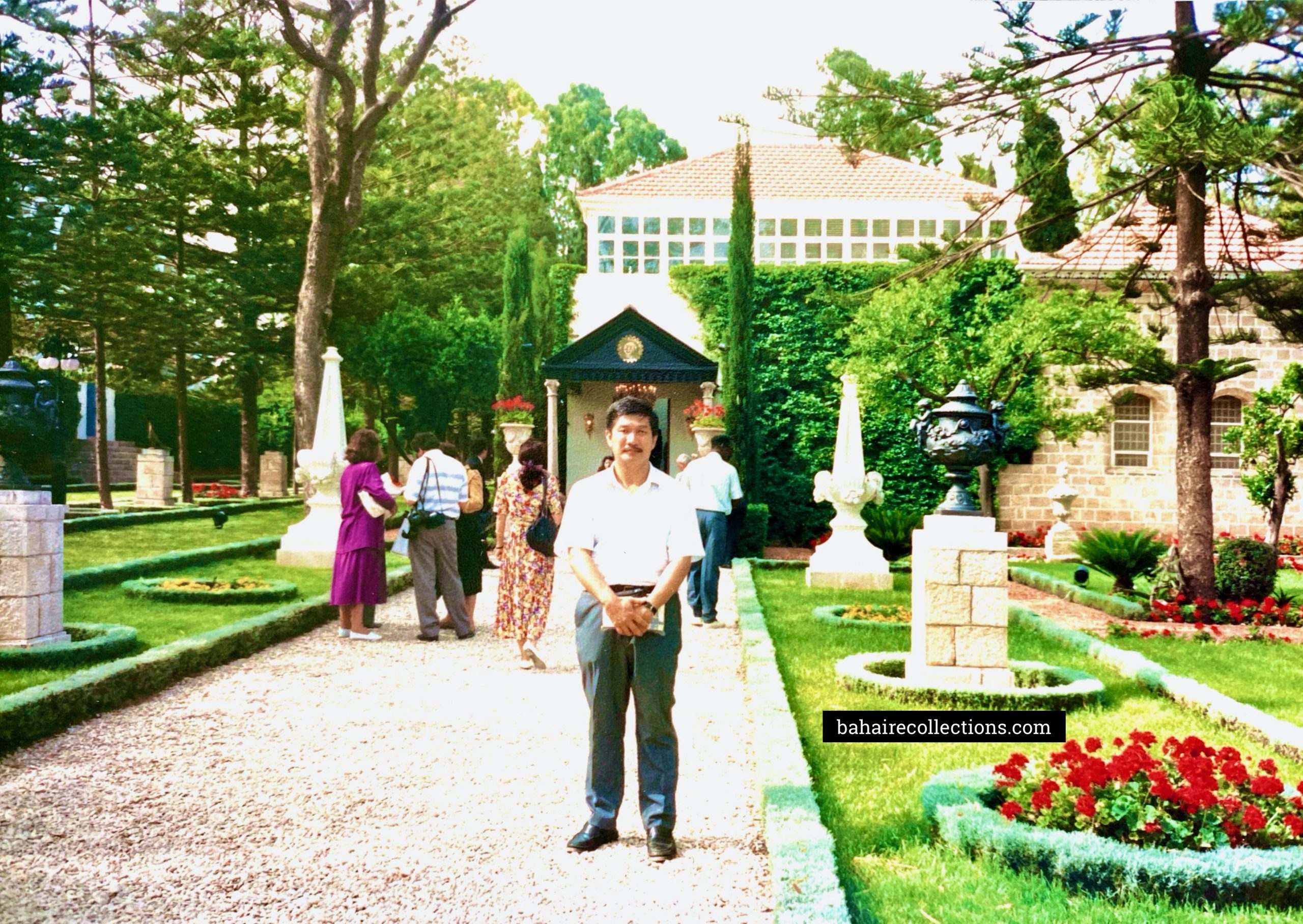 In Bahji
Chua was surprised to be honored with one more unexpected blessing beyond measure. During the same pilgrimage, an invitation came from Amatu'l-Bahá Rúhíyyih Khánum, to have lunch with her at the Master's house. The group of friends felt so blissful for that rare honor.
Although Chua was well employed in Papua New Guinea and serving the Cause, his heart was bent upon serving the Cause in a country where he felt he could and should do more. For some time, his heart was moved to serve in China, referred to as the country of the future for the Cause. Chua wrote to the International Pioneers Travel Teachers Committee based in Malaysia expressing his desire to serve in China. Once again and without a second thought Chua summoned all his faith in the unfailing assistance of the Blessed Beauty and resigned his prestigious planters' job in Papua New Guinea. He returned to his hometown of Port Dickson in Malaysia at the end of 1986 with the hope of pioneering to Hainan province in China. But China was not opening for him as he could not get a visa to enter the country. He knew that in some immediate future some doors would swing open to pioneering possibilities. He stayed on and bought a house in Taman Perling, in Johor state in 1988.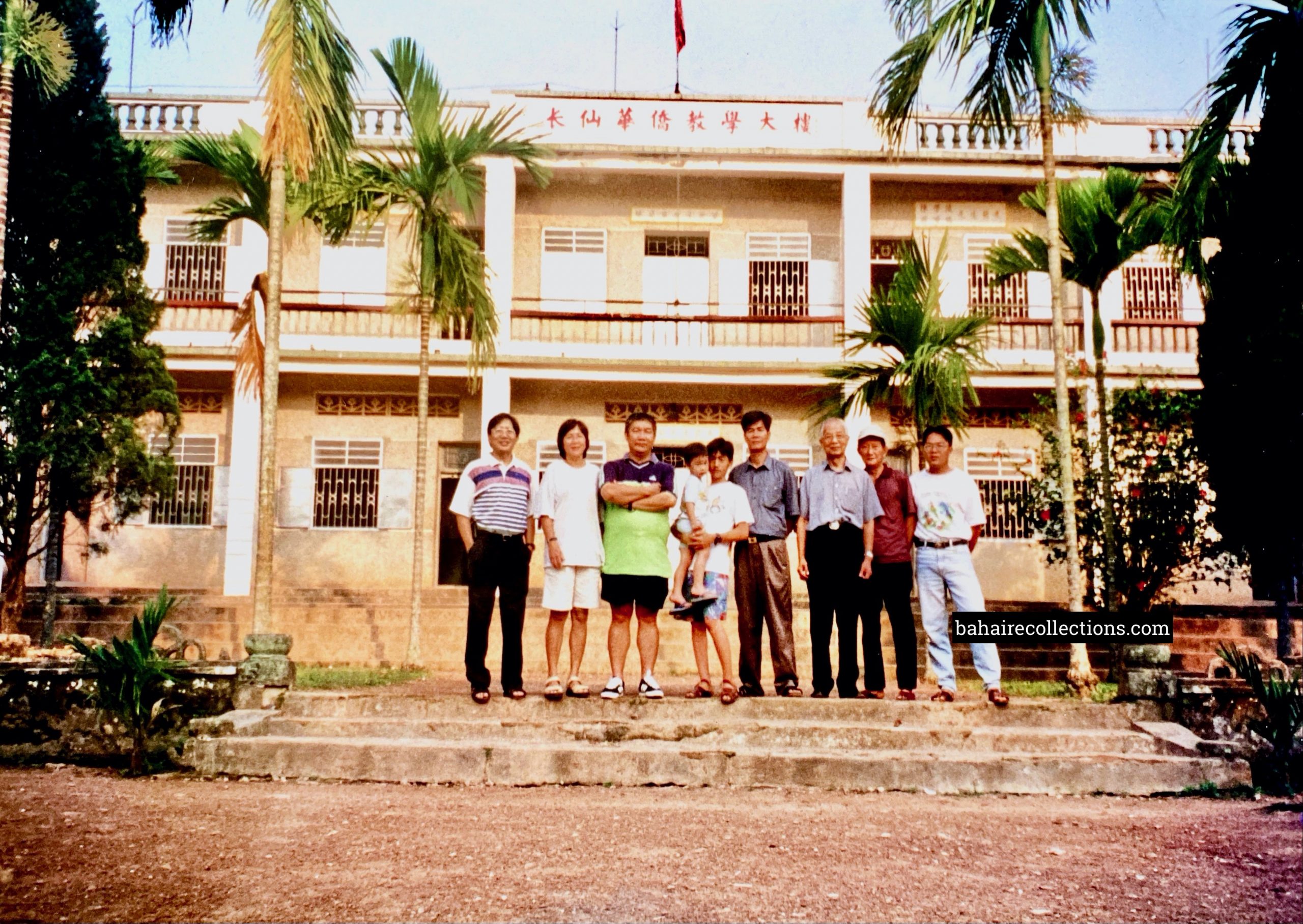 Kim is second from left and Chua third from left, in front of a school in their village in Hainan island in China, of which the Chua family -contributed to its establishment. This is where Chua wanted to pioneer

Although China was not opening for Chua, his heart was still pining for pioneering service. At the end of 1988, he booked a round trip ticket covering Papua New Guinea and the Solomon Islands, and flew off, leaving his family in Malaysia. He met with his old friends in Papua New Guinea and then arrived in the Solomon Islands with the hope of getting some opportunities to serve the Faith there. Chua came into the country daringly with very little money in his hands, knowing fully well that he would be salvaged by His Creator. He had already witnessed miracles before. True enough, his little cash that he carried dried up and he was praying hard to be relieved. Through mysterious ways, a friend who had known of his situation sent him some money, which Chua settled later. Soon path opened with the unfailing hands of Bahaullah. In the Solomon Islands, he set up an "Agricultural Management Services." Once his job was well established, he arranged visas for his family and at the end of March 1989, he brought his wife and daughters Anisa, Anna and Alisa to join him in the Solomon Islands. It was his whole family that was in the pioneering field.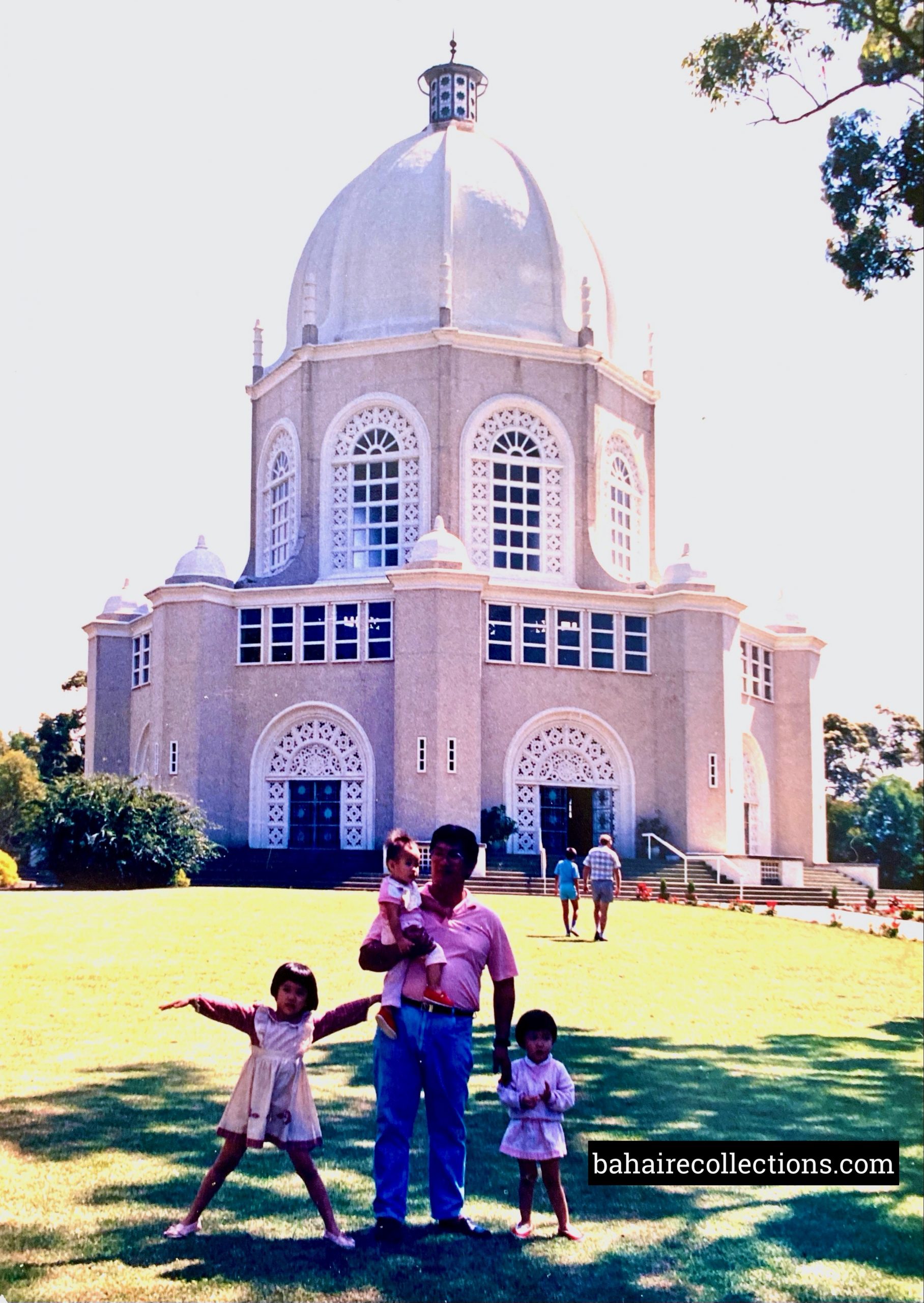 Stopover at the Bahá'í House of worship in Australia on the way to pioneer in the Solomon Islands 1989. L-R:  Anisa Chua, Alisa Chua (carried by Chua), Anna Chua
Chua served effectively in the Solomon Islands. As an individual, Chua proved to be a fine human being to his fellow believers. He became a very sociable, friendly, kind, and loving person ever ready to help others whenever and wherever he could. His mature mind, dedicated services, love for the Cause, and talents were well recognized by the community. He was then elected to the National Spiritual Assembly of the Bahá'ís of the Solomon Islands and stayed on in the national institution until his stay in the country came to an end.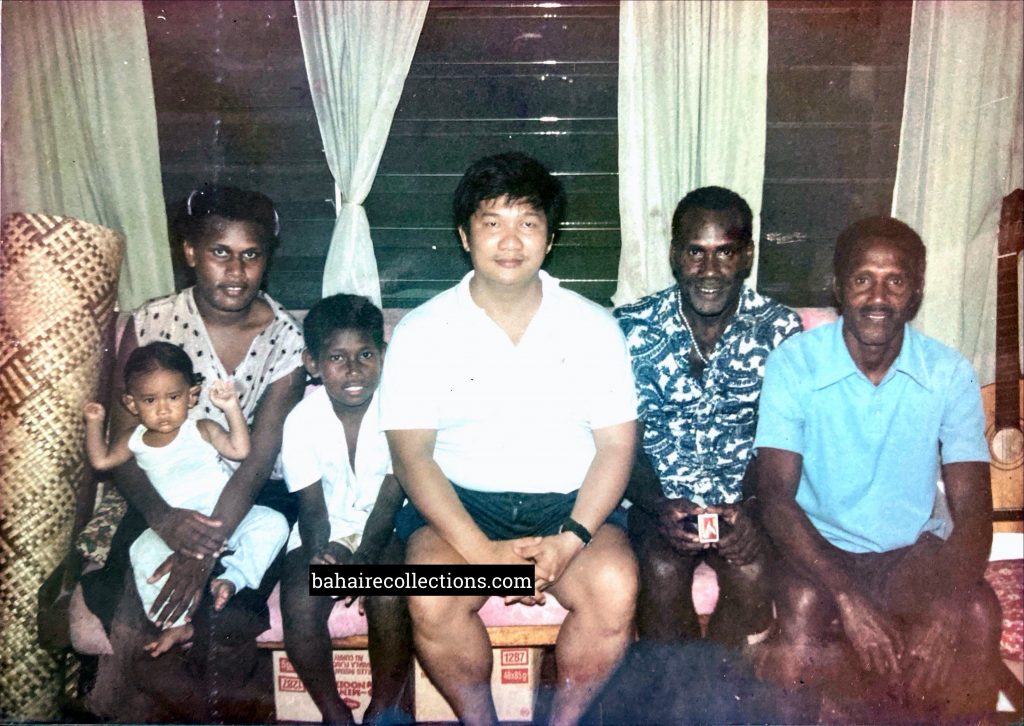 Visiting family of Soo Kim-Boh, Malaysia's pioneer to Solomon Island. The wife of Soo Kim Boh is  at the extreme left with a child
In 1992, Chua assisted and had the generous heart to pay for some local Bahá'ís of the Solomon Islands to attend the Centennial Commemoration of the ascension of Bahá'u'lláh held in the Holy Land. Chua too followed them.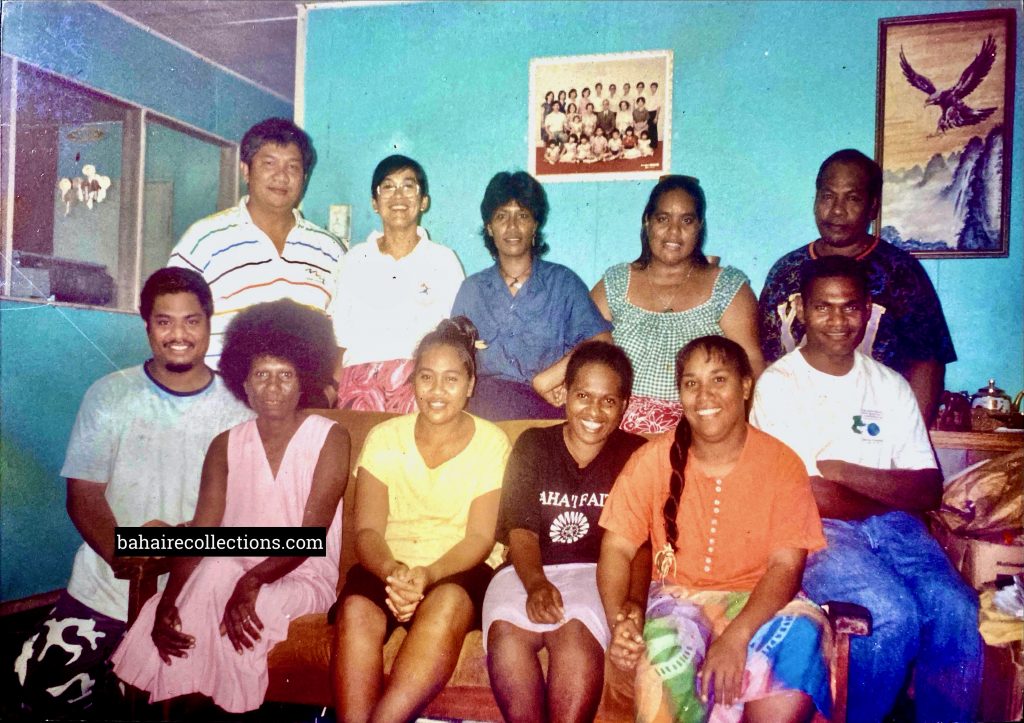 Chua standing at the extreme left, with Bahá'ís in Noro, Western Province in the Solomon-Islands. Yankee Leong's painting of an eagle is hung prominently on the wall
Chua's talents and abilities were recognized by the outside world as well. The Western Provincial Government had a wholesale and retail store serving a newly created township of Noro as well as a plantation on another island. Both the wholesale and retail store had management problems and Chua was selected to manage them, which he did very well. Chua and his wife managed the wholesale and retail store and were able to clear the huge debts and later started to contribute to the coffer of the Provincial government. Chua's talents and activities naturally drew the attraction of the Provincial politicians. The Solomon Islands was on the road to economic improvement and Chua related to them the success stories in Malaysia, especially how the country was making huge strides in its economy and infrastructure. That gave an idea for the Honorable Premier of the Western Province and his Executive to visit Malaysia and Singapore to learn the success of their developments. Chua himself arranged for the visit of the Provincial Executive to these countries. Chua was praised by the politicians for opening their eyes.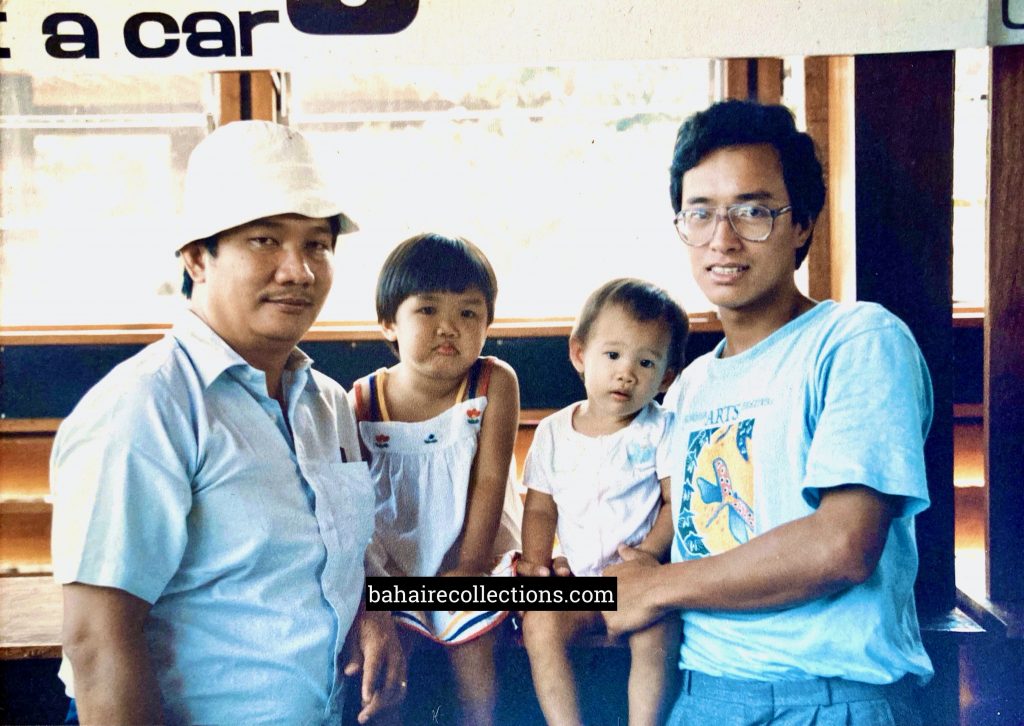 Chua with daughters Anna, Alisa and a volunteer of the United Nations at Honiara Airport
Chua had also given ideas for the upliftment of individual business owners who were not doing well. One such was a chief of Vella Lavella Island. Chua helped him in setting up his community's business which slowly evolved into a highly profitable business serving his community well.
Chua and his family assimilated so well with the local believers in the Solomon Islands that they took them to be their own family members. In 1992, Chua and his wife sent their daughters Anna Chua and Alisa Chua to stay with the family of Mr. Tebano Bobai in the urban town of Honiara for schooling purposes. From time to time Chua and his wife often came to visit them and stayed with them as a family. Mr. Bobai's family had been in constant touch with Chua.
Chua came back to Malaysia in 1996 and settled in his house in Taman Perling, and later moved to Bukit Indah in 1999. He served on the first Local Spiritual Assembly of Gelang Patah which was elected in his home in 2002. Chua served as an able Chairman, ensuring all members did their share. This was the time when Chua's financial means were drying up, and there was no source of income. As hard as it may be, life had to go on and Chua resolved to be his own businessman. He started to create enlarged colored photographs of 'Abdu'l-Bahá and printed Bahá'í T-shirts, with the knowledge and blessings of the National Spiritual Assembly of Malaysia. Some he sold at Winter and Summer Schools through the Bahá'í Bookshop, and others he sold directly to individuals. He made very nominal profits, with which he was able to sustain his family for some time. Two of these photographs saw their way into the Bahá'í Centres in Juba, Sudan, and Yangon in Myanmar. Thanks to N. S. S. Silan who took them there.
In 2005, Chua went to Indonesia, to work in Jambi, Pontianak, and Jakarta where he worked as a Consultant for a company. There he served on the Local Spiritual Assembly of South Jakarta. Taking advantage of his presence in Jakarta he drove overnight all the way to Jogjakarta to visit Miss Shirin, who was pursuing a medical course at the Gaja Mada University there.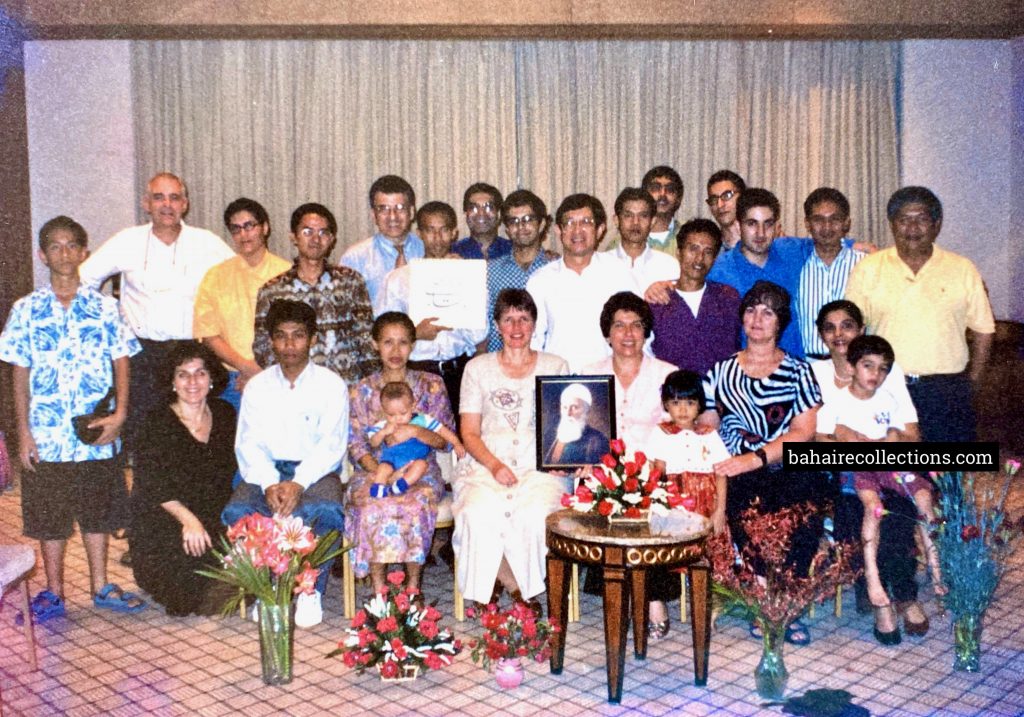 With Bahá'ís of South Jakarta, Indonesia. Chua stands at the extreme right
He came back for good and settled in Gelang Patah in Johor. In March 2015, Chua went to Sunway town in the state of Selangor to be with his son Alpha who had gone for his studies there. Chua moved back to Gelang Patah in November 2016.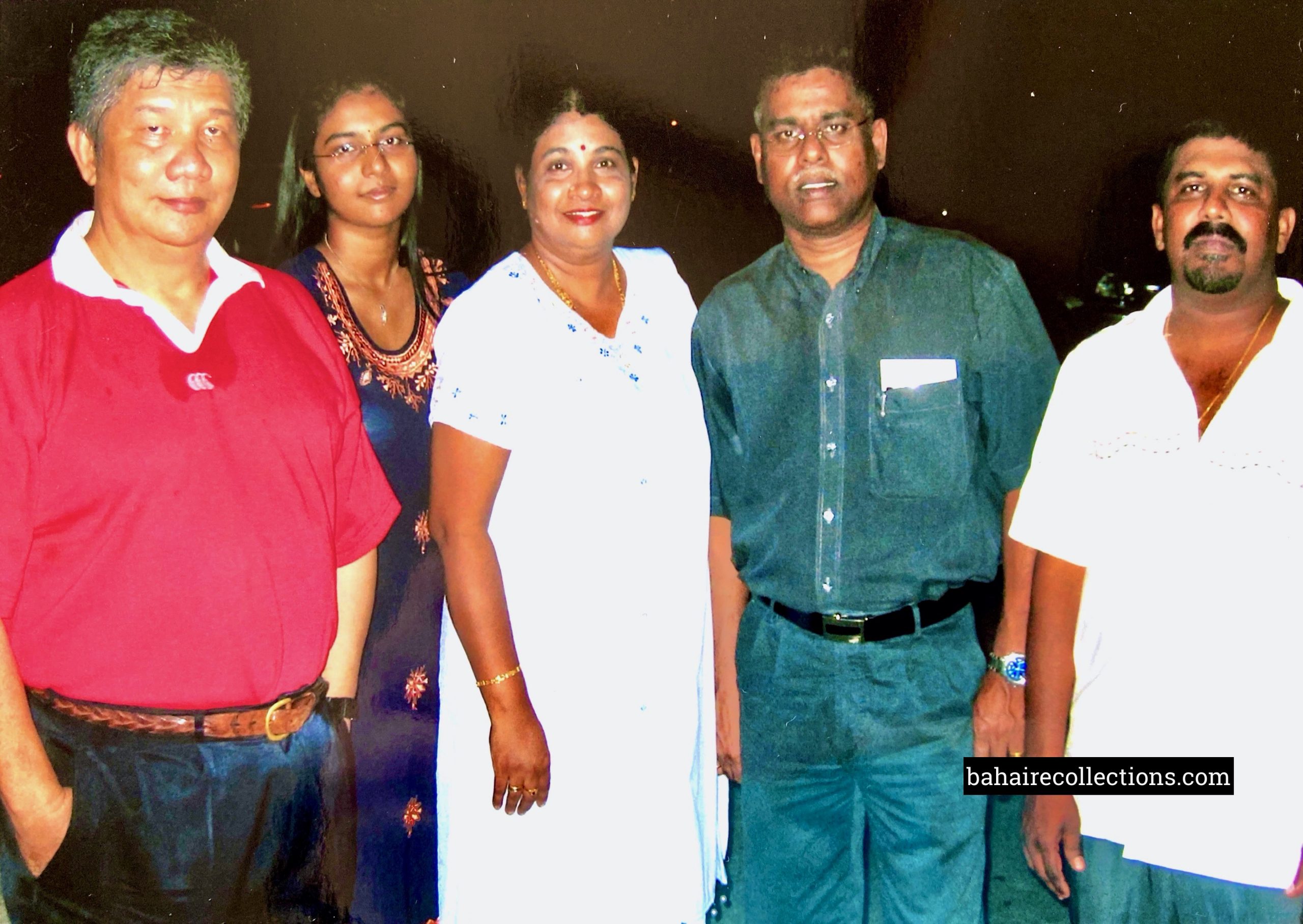 Naw-Ruz Celebrations in Gelang Patah. L-R: Chua, Yamla Sathiaselan, Mrs. Sathiaselan, Sathiaselan, Arumugam
Meanwhile, in May 2014, he sustained a stroke, followed immediately by kidney failure. He started his expensive dialysis treatment in December 2015 in a private hospital. He had to go for dialysis three times a week which meant the payment of a huge amount in each of the treatments. And so, during the five years of this treatment, his savings were exhausted, and that was causing a chilling effect in Chua's heart. But his Savior was there for Chua. It was so timely that just as his savings dried up almost completely his children had started working and they stepped in to support their father. Bahá'u'lláh was with Chua every moment and in all circumstances. And again, constant care and advice were provided by Dato Dr. M. Singaraveloo, another great believer who became his personal doctor. In the throes of sufferings all these years, Chua withstood all pains with an unflinching strength and soldiered on. And that was because Chua had deposited so much knowledge of the Faith through his avid reading habits. Chua loved to read a lot. Anytime he went to the Bahá'í bookshops in Kuala Lumpur or overseas, he bought any new books that had hit the shelves. His favorite author was Adib Taherzadeh whose four volumes of The Revelation Of Bahá'u'lláh, The Covenant Of Bahá'u'lláh, and The Child of the Covenant became his favorite which he read a few times. He liked to give talks on these subjects during his active days and continued discussions on them when confined to a wheelchair in later years. He missed attending Summer and Winter Schools. Although he could not go to the Winter School held in Ipoh in 2018, he sent his son Alpha and grandson Ryan by public bus to participate. He, together with his wife had given the needed Bahá'í exposure and environment for his children, and he was most happy to see his two daughters Anna and Alisa joining his wife in conducting children's class in their home.
Chua was always resigned to the will of God. Knowing his days on this earthy life were ending, some friends started visiting him. In December 2019, Chua's university mate N. Sivalingam with his brother N. S. S. Silan with whom Chua had served on the National Spiritual Assembly of Papua New Guinea came all the way from Australia to visit him. They stayed overnight and entered into conversation on their joyful stories in the service to the Faith during the years gone by.
In July while Chua tried to get up from his bed, he stumbled over his bed and his head hit the wall and sustained injuries. Chua was immediately admitted to the Sultanah Aminah Hospital. Dato Dr. Singaraveloo and Dr. Shirin Nagendran who was working in the Pathology Department of the Sultanah Aminah Hospital visited him. On being told by the doctors in charge that Chua's condition was of grave concern, his wife sent messages to friends to pray for him and they all responded with words of comfort and concern. Owing to the Covid-19 Pandemic, many who would want to come could not make it. Yet Chua's close friends R. Ganasa Murthi and James Liew rushed down for a day visit. Others who could not visit him spoke to him on the phone to whom Chua spoke with struggles and requested for prayers for him to go off peacefully, and for the family to have the strength to accept the reality that was coming. Chua passed away on Friday, 7 August 2020 at home in Johor Baru following a week of struggle with life, with his vital organs shutting down one by one. Although physically drained out, he was mentally alert till the last moment. The Spiritual Assembly of the Bahá'ís of Malaysia immediately sent out a message dated 7 August on the passing of Chua to the communities in Malaysia and requested friends to offer prayers for his soul.
It was most unfortunate that the Covid-19 Pandemic did not enable Chua's children – the four daughters in Singapore and one daughter and a son in Australia, to attend the funeral. They watched the funeral and burial ceremony over the Zoom online platform. Chua's wife had to handle everything almost all alone. But she received all the needed assistance from the Local Spiritual Assembly of Iskandar Puteri and her Christian neighbors.
The friends in the countries where Chua had served were devastated to hear of the passing of Chua. In each country or community Chua had served he had made his distinctive marks for the Faith.
The Bobai family from the Solomon Islands especially was deeply saddened when news reached them of the ailments of Chua and kept praying for Chua to be healed. Earlier in April 2018, Kina, one of the daughters of Bobai, met Chua in Singapore when Chua's wife drove Chua  Singapore to meet her.
The National Spiritual Assembly of Solomon Islands sent a special message to Kim dated 10 August 2020. It read,
"The National Spiritual Assembly of the Baha'is of the Solomon Islands has been saddened to have learnt of the passing of your dear husband; dedicated servant of Baha'u'llah, Mr. Chua Tek Wee, as he ascended to the worlds beyond. We mourn with you the loss of a figure who had served the Cause, as an international pioneer and years of serving on the National Spiritual Assembly of Solomon Islands. His love, dedication and tireless spirit of service to the Baha'i communities and the wider community has a tremendous influence on people of all walks of life. Such a noble and remarkably humble commitment to a life of service he set; during his many years in the Solomons, has been and will ever be a beacon of light to those who crossed his path. May his unswerving faith and dedication to service inspire generations to come. …. The Baha'i communities throughout the country are called upon to offer memorial meetings in his honour."
The National Spiritual Assembly of the Solomon Islands communicated the sad news to communities around the country and requested prayers for Chua. The Honiara community held special prayers on Sunday 9 August. Several other friends held prayers in their homes.
The couple believed in the exhortation of the Master in exposing children to hardship during their tender age so that they would learn to adjust to life when misfortunes happen. They have five daughters and one son. The five daughters are Amelia Chua, Aminda Chua, Anisa Chua, Anna Chua, and Alisa Chua. The only son is Alpha Chua. All the daughters were taken along to the difficult places where Chua worked and served, except the son who was born in 1997 in Johor Baru. When Chua went to his last overseas job in Indonesia, he went alone as his children were studying in Singapore. Amelia, Aminda, Anisa, and Alisa are teaching in primary schools in Singapore. Anna is a research scientist in Adelaide. Dr. Alpha Chua is doing his internship in Adelaide.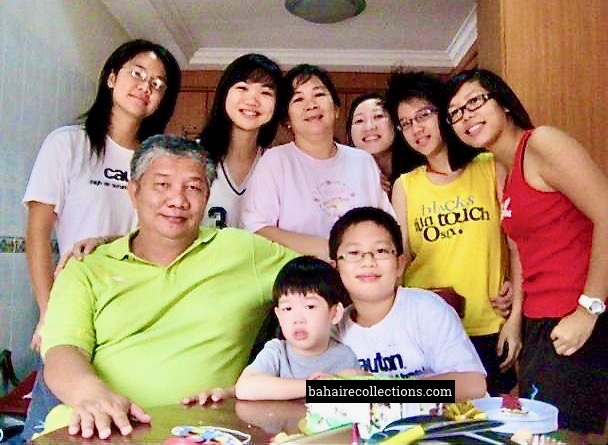 Chua's family. Sitting L-R: Chua, Ryan (grandson) Alpha. Standing L-R: Anisa, Anna, Swi Kim, Amelia, Alisa, and Aminda

Days of prosperity  spent in generosity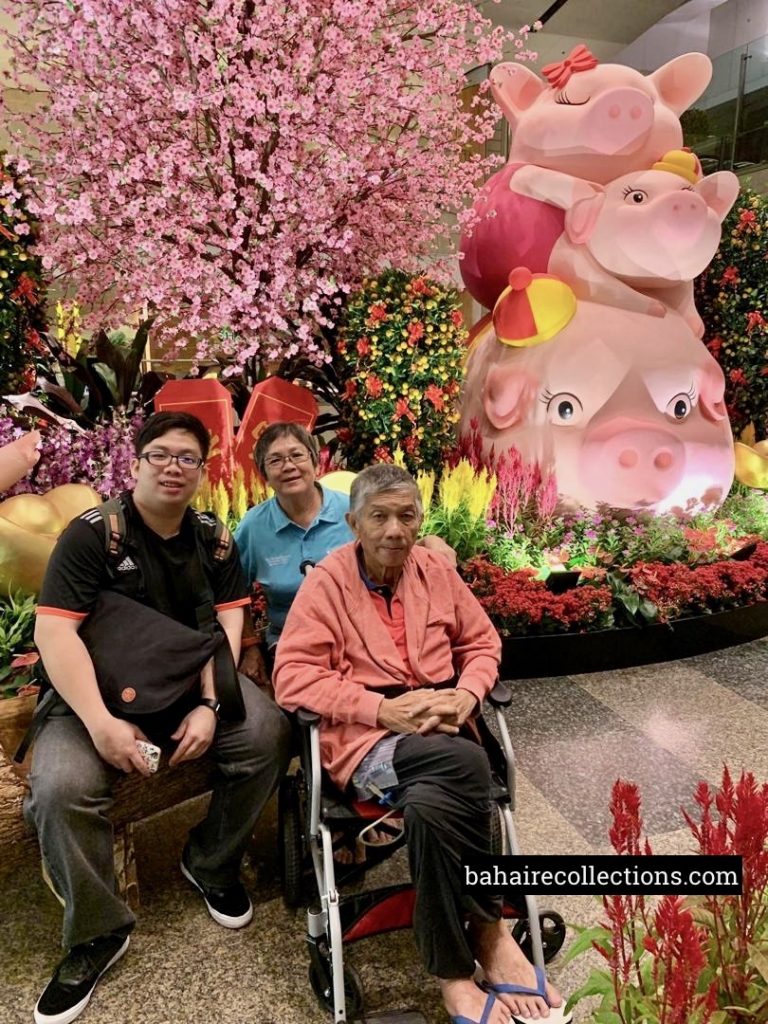 Days of adversity spent in thankfulness. At left is Alpha, with Kim at the back

Chua's outstanding quality was his unwavering firmness in the Faith for which he would not barter anything in the world, something he demonstrated throughout his life. And in the course of that position he took, Chua was at times outspoken, with all good intentions, whenever he detected some untoward incidents. Chua knew he had the overwhelming and unshakable faith in Bahá'u'lláh that would protect him. He loved and served the institutions, and always stood in defense of them. Outwardly he appeared very strict, but deep inside he was always the most tender-hearted. He loved laughter and cracked jokes at every gathering to bring joy and happiness. The one activity he loved much was visiting his old friends, which he did so long as he was capable of traveling. The one teaching that Chua manifested all his Bahá'í life was being "generous in prosperity and thankful in adversity". To cite a case in point, during days of his prosperity, Chua generously offered his house in Gelang Patah to a Bahá'í couple to stay free during the time he was away in Sunway town in Selangor, all because he could not see the couple suffer from financial difficulties. He assisted many financially with no expectations. And during his rainy days at the tail end of his earthly life, he urged his wife to give to the Bahá'í funds within their means. Sadly, the family could not contribute to the huge amount that they did during their heydays. More than his physical pain, it was the impossibility to continue contributing huge amounts to the funds that gave him greater pain, according to his wife.
The outcome of the pains and efforts Chua took to live a Bahá'í life certainly produced the desired results which have been most gratifying. His was a life on which future generations will joyfully remember, reflect, and rejoice.
Mention of Chua can never be made without referring to Madam Chong Swi Kim, his wife. It must be said that the strongest support Chua always received was from his wife. She was his companion and fighter under all difficult situations – as a wife, mother to his children, and a fellow companion in serving the Cause in the very remote areas in Papua New Guinea and the Solomon Islands. During the last few months when Chua was sick and incapacitated, it was Kim who single-handedly nursed him, took loving care of him, and gave him the much-needed comfort at a time when all their children were overseas and unable to return for their father's funeral. Truly, Chua and his wife had demonstrated how a couple should give and draw support from each other in the family and in the blessed teaching field.
  Readers may post give their comments in the blog through this email:  info@bahairecollections.com          
A. Manisegaran
31 October 2020

Copyright@bahairecollections.com
ANNOUNCEMENT: 
The book "DAWNINGS: An Account of the Early Days of the Bahá'í Faith in the State of Malacca" is now available online:
https://amzn.to/3k92rOM