REMEMBERING UGRASENA MOHAPATRA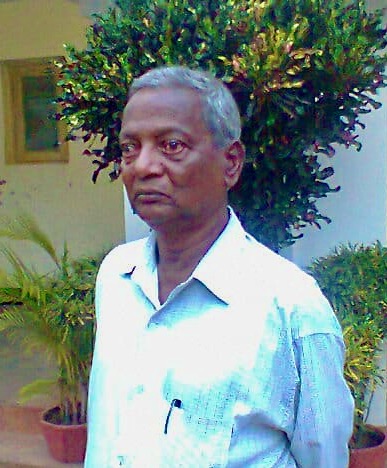 2 January 1940 to  18 February 2016

This story is of an unsung hero from an unknown village in an unremarkable place. Today, there is no burial site or tombstone to remember him by. Someone like him would easily slip away from the general consciousness of us mere mortals, but he is surely remembered in the heavens, as while on earth he had spent the days of his life making mention of his Creator with fervour and zeal.
The beloved Master has said in a prayer, "Thy confirmations, which alone can change a gnat into an eagle, a drop of water into rivers and seas, and an atom into lights and suns". These are not a mere play of words to be admired. I saw this statement by the Master coming to reality when I was in the teaching field in the state of Odisha, formerly called  Orisha in the eastern part of India.
While in Malaysia, I undertook a teaching trip to India from 1977 to 1979. Later my brother Biskumar joined me as a travel teacher there. My family in Malaysia had its ancestry in Odisha. It was during the British rule in Malaysia that my ancestors were brought to Malaya to work and develop the rubber plantations. We have a sizeable number of Odisha people in Malaysia maintaining the Odissa culture, tradition, and language. Therefore undertaking a teaching trip to Odisha was quite comfortable given my own background. Sometime after my arrival in Odisha, Mr. T. Subbaya and Gunasekaran from Malaysia and Jeannine, an American Peace Corp lady whom Gunasekaran married later joined me in the teaching activities and later were sent to other places. In addition to that, Dr. Mogbelpour our former Auxiliary Board member was always in constant touch and sometimes joined us during the teaching projects.
Upon arriving in Odisha, I was given a briefing of the beginnings of the Faith in Odisha. The State of Odisha is always known as the "Baby State" of Amatu'l-Bahá Rúhíyyih Khánum. She had visited Odisha in June 1964 together with Mrs. Violette Nakhjavani and travelled to many provinces, including the tribal areas within a period of two weeks. She commented on the extraordinary receptivity of the people there and stressed that Odisha was still an untouched field. There were no pioneers who had gone to Odisha.
On another occasion in Cuttack, they had asked Amatu'l-Bahá questions on Hinduism. She said she would send someone well-versed on the subject to answer their questions. She flew to New Delhi and proceeded to the Bahá'í House, where the National Spiritual Assembly was in session. She appealed to Dr. H. M. Munje to go to Odisha at the earliest, saying enquirers needed answers for questions on Hinduism. Dr. Munje, respecting the wishes of Amatu'l-Bahá immediately packed up and landed in Odisha. From New Delhi, Amatu'l-Bahá went to Bombay where she told the friends gathered there that Odisha was her baby, and someone had to go there and take care of her baby. Then pioneers and travel teachers like Mr. Neekoi and Mr. Jawanmardi started visiting Odisha.
Having said the above, this is not a story of my travel teaching in Odisha. This is about a true and genuine human gem, who has touched my heart. His memory still remains un-erased in the innermost corner of my heart. It is with great pleasure that I present here a story of one of the unsung heroes in one of the remotest villages in a very isolated part of India.
He is Mr. Ugrasena Mohapatra, an outstanding and humble lover of the Blessed Beauty who spent most of his life teaching the Cause and serving the institutions of the Faith in Odisha. Mohapatra was born in a lower-middle-class family in a small Lambilo village in Odisha. Mohapatra is a name acquired by people who acquire some kind of recognition in the society. He gave private tuition to students from neighbouring schools in the area after their school hours were over. He himself was not highly educated, passing only matriculation examinations. Some twenty to thirty children attended his tuition classes, with each paying round Indian Rupees 10, making a monthly income of roughly Rs 200, which was very meager making it hard for him to make ends meet.  The parents of the students provided him food on a rotation basis. Later in life, he was married and had three sons and one daughter. He still managed as he was in a joint family that is a few families of the same siblings or in-laws living under the same roof. As a matter of fact, that was the way of life in many villages.
It was in 1976 that the Faith wafted over Mohapatra. He came in contact with the Bahá'í Faith when Dr. Munje, an outstanding scholar from Kanpur, and a member of the National Spiritual Assembly of the Bahá'ís of India visited Odisha on a lecture program on the subject of Eternal Religion of God. During his visit, Dr. Munje had conducted a week-long deepening program at a place somewhat close to the village of Mohapatra. He along with few other friends participated in the deepening program. His participation in the deepening course had completely transformed his soul. He asked several questions on the relationship between Hinduism which he practiced and the Bahá'í Faith, which was presented at the deepening program. Dr. Munje gave clear, sound, and irrefutable responses to the many questions raised not only by Mohapatra, but also other new friends in the gathering. Convinced that Bahá'u'lláh is the Supreme Manifestation for this Day and One Who has been promised in all the past religions, Mohapatra immediately declared his belief in Bahá'u'lláh. It must be mentioned that there were a few early believers from Lambilo village such as Lingaraj Nayak, Chandrasekhar Pradhan, and Surendra Nayak. Lambilo was the last village where he gave tuition in Odisha who followed up in instilling the love of Bahá'u'lláh in the heart of Mohapatra. The moment Mohapatra accepted the Faith, he was on fire with the love of Bahá'u'lláh, and that acceptance of Bahá'u'lláh was the single act in his life that sparked off an immediate change that moved him to serve the Cause with distinction and most relentlessly. No opposition from any quarters could silence this soul from noising the Healing Message of Bahá'u'lláh to any gathering of any magnitude.

Dr. H.M. Munje, one of the greatest scholars and a Master of many subjects

In 1977, the year after Mohapatra had embraced the Faith, he came to the State Bahá'í Centre in Bhubaneswar, the capital city of Odisha state to attend a program organized on the eve of the visit of Counsellor Mr. B. Afshin. That was the first time he came to the Bahá'í Centre. He was very inspired by the soul-stirring talks by Mr. Afshin during the two-day conference covering the subjects of "Bahá'í Administration", "Bahá'í History", "Majesty and Greatness of the Local Spiritual Assembly", and "Obligations of Bahá'ís."  Mohapatra who always had a thirst for knowledge had inquired a few more questions still lingering in his heart to clarify his doubts. This quality of eagerness to know more and more about the Faith remained in him until the very end of his life. That meeting with Mr. Afshin was another turning point that fired up his devotion to the Cause.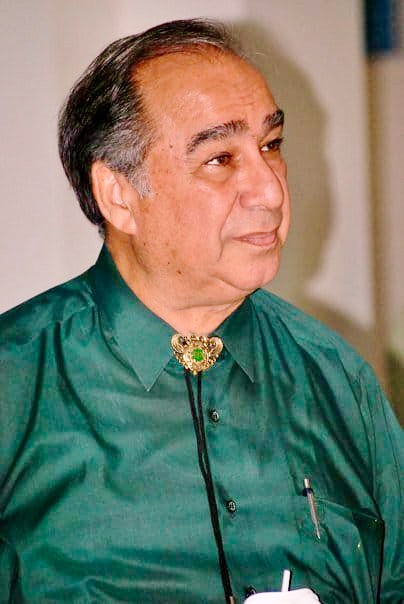 Mr. B. Afshin
In the same year, a teaching project was launched to teach the Faith to the tribal people in the Kalahandi district of Odisha. Mohapatra eagerly volunteered to work on this project along with some other friends. This was his first teaching experience in any teaching project. During that period, Mohapatra had a very unusual, rare, and privileged experience that we in the current generation and centuries to come shall be deprived of forever. That was the visit by Hand of the Cause of God Dr. Raḥmatu'lláh Muhájir. 'Abdu'l-Bahá has said this of the Hands of the Cause in His Will and Testament:
"The obligations of the Hands of the Cause of God are to diffuse the Divine Fragrances, to edify the souls of men, to promote learning, to improve the character of all men and to be, at all times and under all conditions, sanctified and detached from earthly things."
We also know that the Hands of the Cause of God ceased to be appointed after the passing of the beloved Guardian Shoghi Effendi. And for that reason, with the passing of the Hands of the Cause, we do not see any new appointments. And it is for this same reason that attaining the presence of the Hands of the Cause of God was a privilege of the past. And a few of us had had that blessing. Mohapatra was conferred this blessing by the grace of Bahá'u'lláh.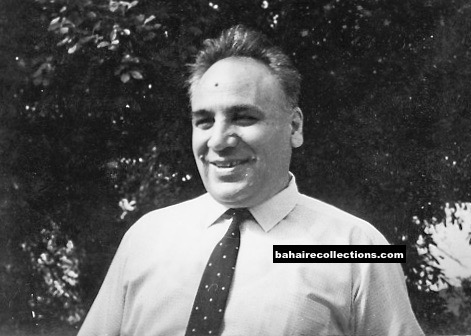 Hand of the Cause of God Dr. Raḥmatu'lláh Muhájir
Dr. Muhájir was informed by the Counsellors and the National Assembly of India that Odisha had started tribal teaching. Dr. Muhájir became interested in tribal teaching and so came specially to see for himself the tribal teaching activities and inspire the friends. He came into the company of Dr. S. Vasudevan who was the first pioneer to India from Malaysia, in 1967. Dr. Muhájir met the field teachers and the community in the Bhubaneswar Bahá'í Centre. Dr. Vasudevan spent his time meeting dignitaries and giving a Public Talk at the Bhawanipatna College in Kalahandi District. Several other friends from Odisha from other parts of India and abroad participated in the project, including my own self. We joined Mohapatra and went to several villages and taught the Faith. Mohapatra was very much inspired by the discipline and the way of teaching by other experienced Bahá'ís. It did not take long before he himself became an active and seasonal field worker for the Cause. The project continued there for two years during which time Mohapatra travelled across the district and taught the Faith vigorously and relentlessly to a large cross-section of the people. Many souls embraced the Faith during this project and many Local Spiritual Assemblies were also established. The expertise of Mohapatra as an effective teacher of the Cause was detected by the State Teaching Council of Odissa, which decided to make use of him as a full-time teacher as and when needed.
In 1979, Mohapatra and a few of us went to Phulbani district, a tribal area to participate in yet another teaching project. This time we travelled to many villages, held meetings with the local populace and taught the Faith. Most of the time, Mohapatra stayed in Phulbani alone and continued the work for the Faith with great zeal and vigour. During this time, Mohapatra was exposed to intensive and acute opposition. Mohapatra had a conversation with one of the leaders of a Hindu organization. That leader arrived in Phulbani to be a speaker at a local conference for the people of the Hindu Faith. He asked Mohapatra some questions about the Faith. Mohapatra not known for mincing words or coining statements gave open and frank answers which sadly had annoyed the Hindu leaders. Later, while addressing the audience in the Hindu conference, he openly attacked the Bahá'í Faith and its activities in the Phulbani district. It was a divine providence that some local believers there who had contacts with the Hindu leaders there were able to pacify the Hindu speaker. What emerged clearly from this untoward incident was the unshakable courage of Mohapatra. Mohapatra was not the least afraid of anybody, whatever position the person held while teaching the Faith.
In a normal situation, one facing opposition would move to another place. But Mohapatra continued to reside in that district and worked hard to strengthen the communities in the small villages. I had the privilege of accompanying Mohapatra to several villages and we were able to reach out to many tribes in the district. Some of the villages were very interior and sometimes in the middle of thick jungles. This District of Phulbani where we involved in tribal teaching was in the middle of the jungles in the Kalinga Ghat, a part of Eastern Ghat. Out of the 645 Scheduled Tribes enlisted in the Government of India gazette, Odisha hosted the largest number of indigenous tribal communities, numbering 62. Thus, through our painstaking efforts, we were able to share the message of Blessed Beauty to many tribes living there. Some of them declared their belief in Bahá'u'lláh.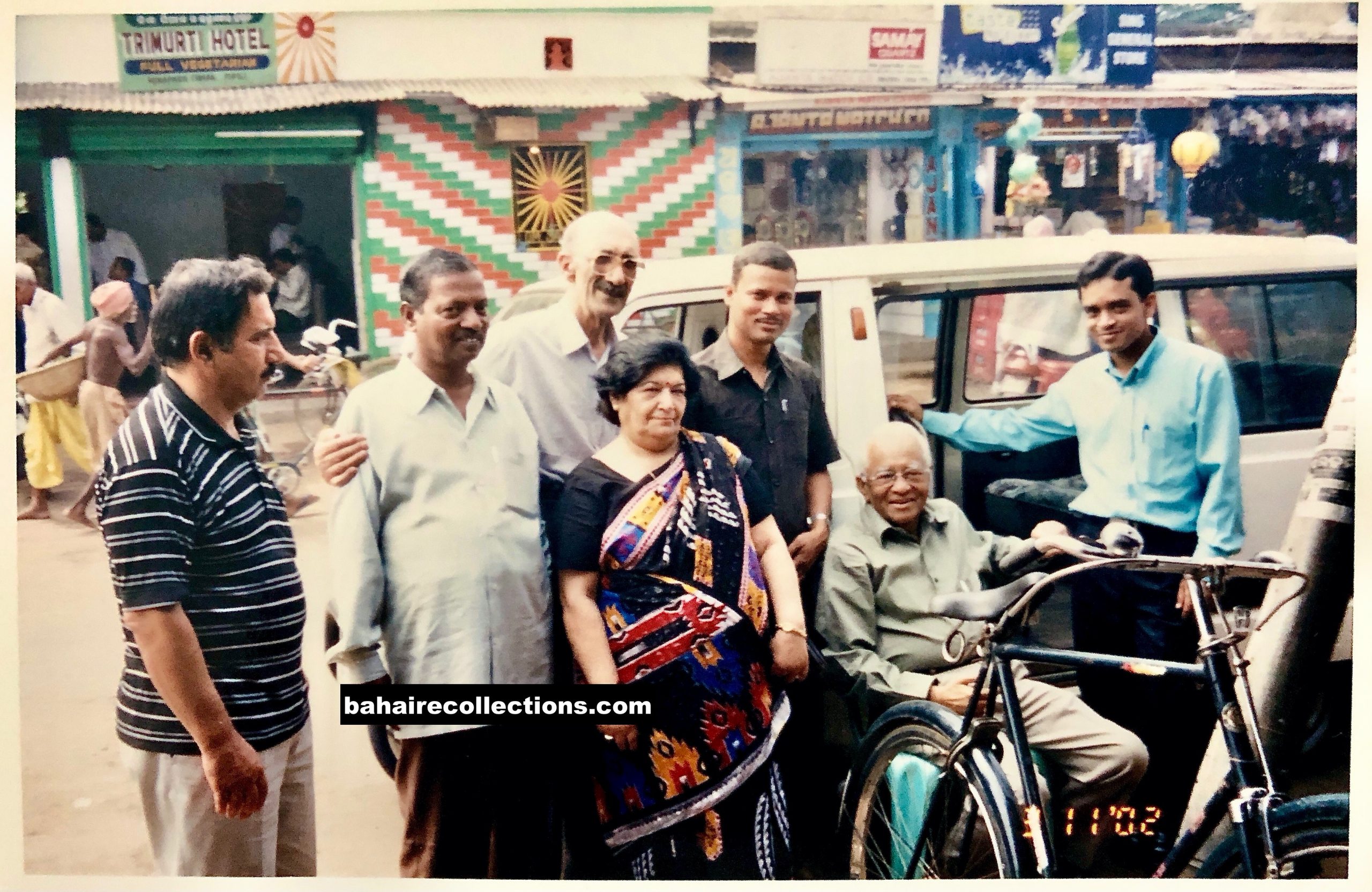 Some friends visit Odisha. From the left are Riaz Mottalebi,  Mahapatra, Mr. Ziaollah Motallebi Nasrabadi (in glasses), Mrs. Badr Hedayat Mottalebi,  Mr. Pravat Mohanty.  Mr. R. N. Shah seated on the rickshaw and Mr. Pradipta Dash
I returned to Malaysia in 1979. When I went back to India in 1980 I observed that Mohapatra was still active in the teaching field. This time another teaching project was launched in Kalahandi district in 1983, in memory of Dr. Abdu'l Hossein Azadi, one of the martyrs of Shiraz in Iran. Later the remains of his illustrious wife Mrs. Kima Azadi was also laid to rest in the soil of Odisha.  Their children are pioneers in India. Mohapatra again participated in this project like a front-line soldier. During this project, there was an instance when Mohapatra and few other friends were travelling to a village called Ichappur where only the higher caste ´Brahmins´ resided. Some of those villagers got the wrong information that the Bahá'ís were on the way to their village to convert the Brahmins into a new religion. The Brahmins are people who would not easily convert to another religion except in rare cases. Consequently, a group of people from the village walked up to the believer and stopped us from entering the village. They protested that we had brought a foreign religion to convert them. However, Mohapatra and a few of us explained to them very politely and diplomatically and in all wisdom that we believed that the Religion of God is eternal and meant for the whole of humanity and that conversion was not our primary purpose. We made it clear that we came to share the new Message from God. After having conversed for some time, they were pacified and finally allowed us to enter their village.
We had public meetings in the evenings. Since Mohapatra was from a respected family ancestry, he somewhat commanded the respect of people wherever he went. With his ancestral background, he was always made the first speaker who introduced the Faith to the people. Mohapatra had a good knowledge of the Hindu prophecies on the advent of Bahá'u'lláh. After seven days of intensive teaching in that village, about 15 youths and a few adults declared their faith in Bahá'u'lláh. A Local Spiritual Assembly was formed in Ichappur village. We were extremely happy with the result and the contribution of Mohapatra. That success was reported as a very remarkable achievement.
Another teaching project was launched in Bolangir district in the memory of the eminent believer Mr. Varqa Tebyanian, another martyr from Tehran in Iran. Mohapatra worked on this project as well and travelled extensively across the district, despite the scorching and fuming heat of the hot weather. Summer in India could be fatal as many would die annually of heatstroke. People kept all traveling at night. Day or night was no issue to Mohapatra given the urgency of spreading the message. On top of the hot weather, Mohapatra also faced a lack of proper transportation since bus service was provided only once a day! Mohapatra did not want to tarry. Where bus service was not available Mohapatra walked long distances, arriving at his destination at dusk often exhausted to the maximum.
In 1988, the State Bahá'í Council launched another teaching project in the name of Amatu'l-Bahá Rúhíyyih Khánum in Koraput, another remote and tribal district. Mohapatra enlisted himself in this project as well and worked vigorously despite facing several difficulties there. Mohapatra, and a former Board member Nirmal Sahoo and the other project volunteers had to face severe opposition from another Hindu group known as Vishva Hindu Parishad. This organization which had fundamentalist thinking members was quite popular and active there. One wrong move or sensitive statement from the believers could have brought severe consequences. Rather than dusting off their feet, they decided to stay on and teach the Faith with extreme tact and wisdom. By the unfailing grace of Blessed Beauty, the teaching efforts yielded good results. The efforts were crowned with triumphant victory with more than ten thousand people enrolling into the Faith. We were able to establish some thirty Local Spiritual Assemblies in that district. Mohapatra himself was renowned for being rock steady in his steadfastness as a soldier in the army of Bahá'u'lláh. He taught the Faith courageously, and sometimes vigorously and mostly unrestrained as the wind despite facing numerous challenges in the field.
In 1989, another teaching project was launched in the district of Dhenkanal in the memory of Mr. Jawanmardi, an outstanding Bahá'í who had just passed away. Once again, Mohapatra was at the forefront of teaching leading the project with undiminished zeal and vigour. He regularly visited the villages and taught the Faith to many waiting souls. Within 3 months some 10,000 people accepted the Faith, and more than 30 Local Spiritual Assemblies were formed
Mohapatra participated continuously in the teaching projects and activities in numerous districts of Odisha such as Sambalpur, Keonjhar, Mayubhanj, Ganjam, and many others. He travelled to all the districts of the state for short and extensive periods to build communities and sustain activities. From the early 1980s, Mohapatra served full-time as a travel teacher of the Faith. He travelled across the state extensively as per the needs of the institutions. Precisely from 1978 until 2014, he served the Cause in Odisha as a valiant teacher of the Faith. He was also elected as a member of State Bahá'í Council for a few years and served with devotion and utter sincerity.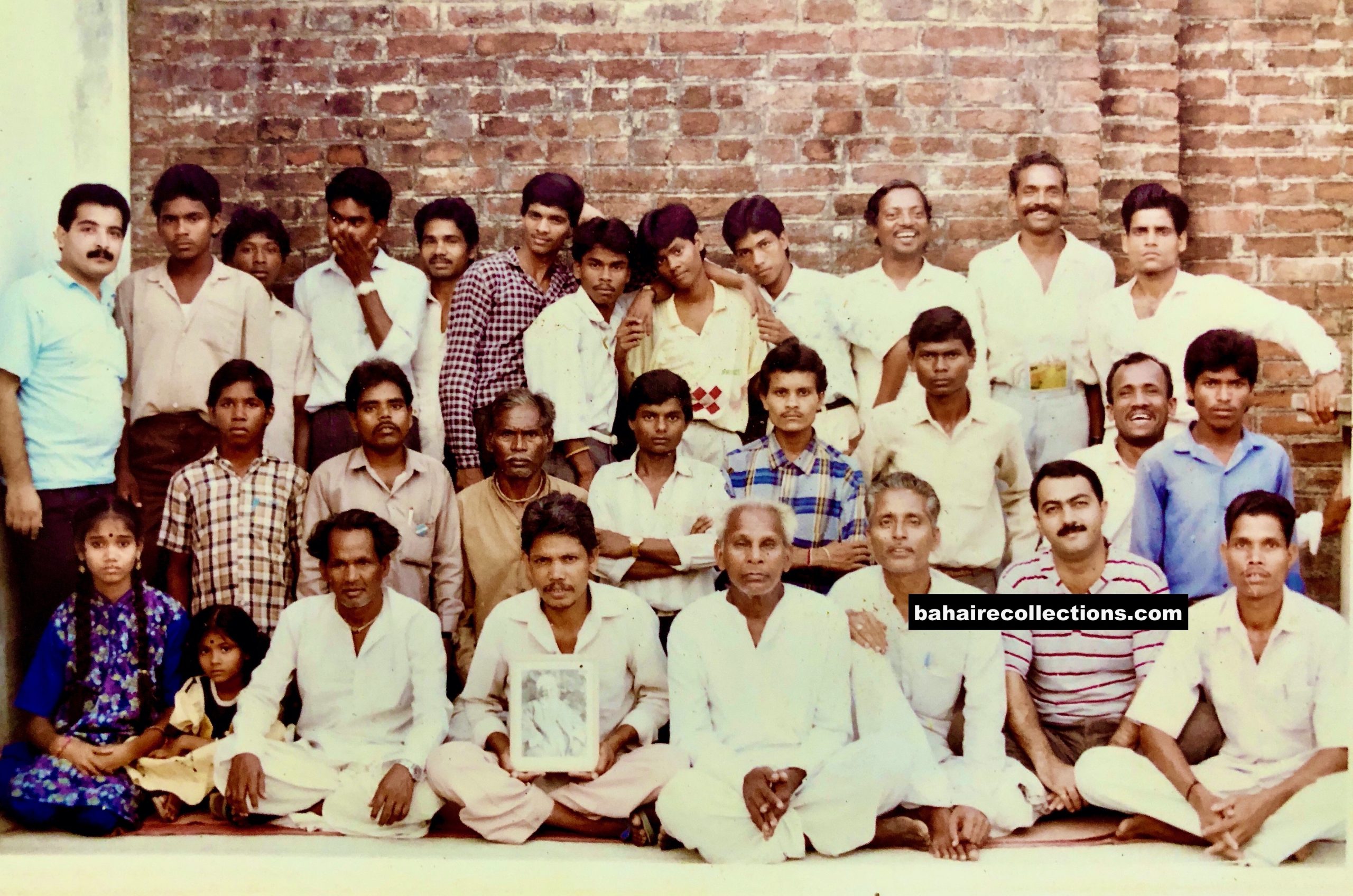 Unit Convention of the election of delegates, Sambalpur. Mohapatra is standing in the back row third from right
Mohapatra was known throughout Odisha as an outstanding travel teacher and was proficient in teaching the Cause in the traditional methods. Yet, when the growth process started in 1996, he was once again at the forefront of activities in his new path of service. He participated in the Ruhi training programs, quickly adapting himself to the new ways of running the activities of the Faith. He was at the forefront of activities in many communities and inspired innumerable youths to undertake the core activities of the Faith and build vibrant neighbourhoods.

Ruhi Institute Campaign 1996. Mohapatra is seated second from the right. Seated L-R:  Taraz Mottalebi, Board members Surendra Nayak and Sima Mottalebi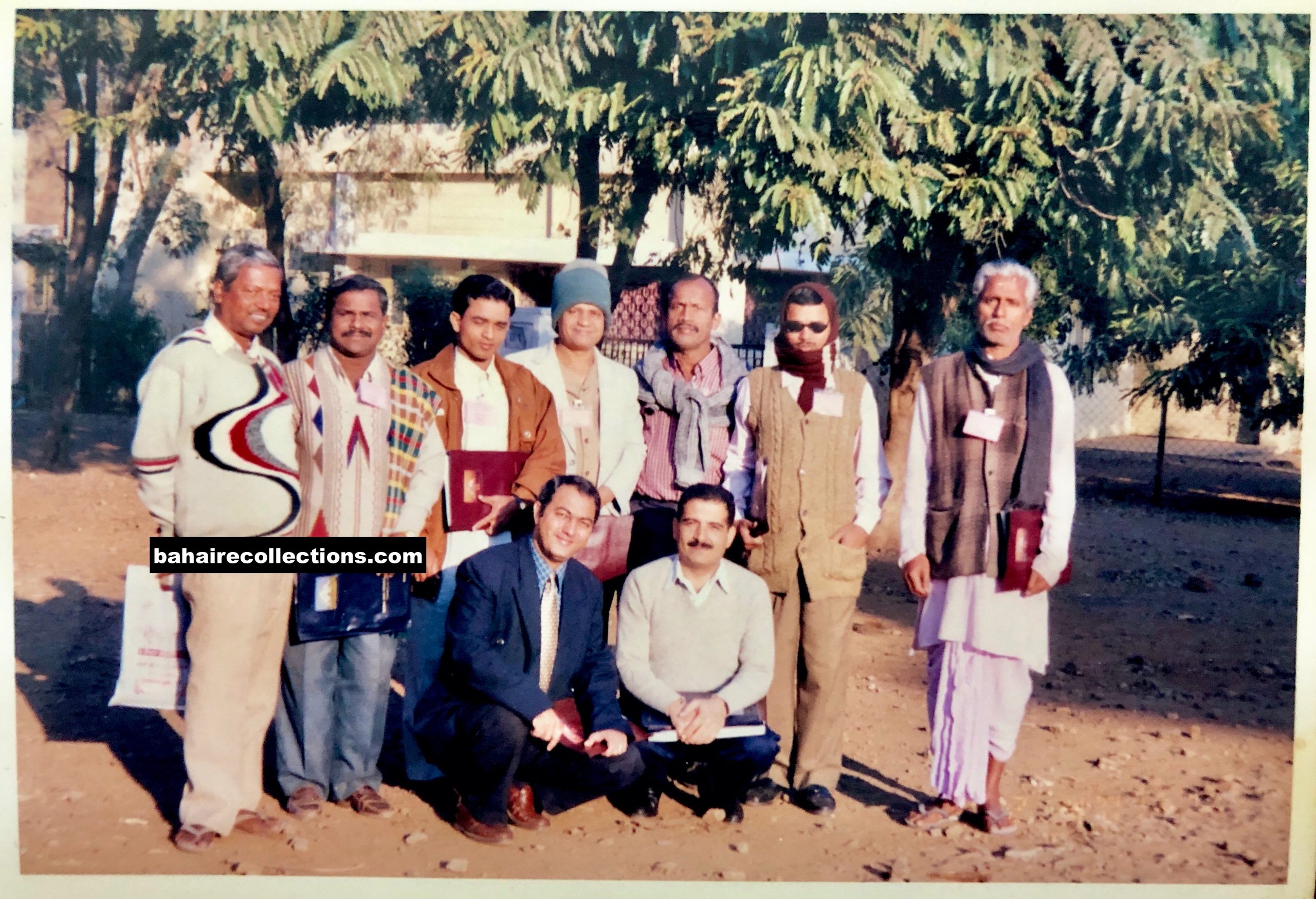 National Consultative Conference with Board members and Council Members, Gwalior 2000. Mohapatra stands at the extreme  left
As age caught up, nature forced him to slow down, with a weakening body and failing health. He was a vegetarian eating simple food. But in the zeal to teach the Faith there were days and months when he did not take proper food, and even could not afford good medical attention on account of meagre financial means. Towards the evening of his earthly life, he could not travel anymore. Gradually, his health conditions deteriorated further, and he   ascended to the Abhá Kingdom on 18 February  2016 in his village. News spread and the believers rushed to pay their last respects and give him a befitting burial. The family knew all along that Mohapatra was a very staunch believer in the Bahá'í Faith. Sadly, the family did not allow the friends for a Bahá'í burial. They insisted on cremation in accordance with Hindu rites. The Bahá'ís had to yield in that painful situation. They sought permission to say Bahá'í prayers, which was granted. After a round of prayers, the believers disappointingly returned, not wanting to see his remains cremated.
Dr. Jiten Mishra, the former Secretary of the State Bahá'í Council recalled his teaching and working experiences with Mohapatra in these words:
"Mr. Mohapatra was extremely popular among the friends. As a soft-spoken person, he was very successful in cementing his bonds with the people. Very swiftly he won the trust and confidence of the people. Mr. Mohapatra was very simple; he did not need much material means to live and was always happy and content. I did not hear him complain anytime of any issues be that related to the projects or about his life. What I loved about him is that he never said 'NO' to institutions for any work of the Faith. His regular travel and presence in the villages often made people think that probably he was the only Bahá'í in Odisha. Mr. Mohapatra had a tremendous amount of resilience. He adapted well to all situations and challenges. He never got discouraged with the setbacks. He continued the work of the Faith, whatever he could, in the face of all odds and crises. I just loved him for his simplicity and humility".

Dr. Jiten Mishra
Dr. Mishra continues,
"Mr. Mohapatra knew well how to build and sustain relationships with people. Even, he was able to easily pacify those opposing the Faith due to his soft speaking ability and amiability. He had a good sense of humour as well. Many times, during the teaching trips, he uttered kept everyone in stitches with his witty and humorous jokes. His mere company elevated one's spirit. He enjoyed singing songs and conducting children's classes in the villages. There are many instances when he often used to fall asleep in the Council meetings due to his exhaustion. I have had the privilege of travelling, as Council's secretary, numerous times to several districts of Odisha with Mr. Mohapatra and I could literally observe his outstanding capacity in organizing meetings, explaining the teachings of the Faith, and above all accomplishing the goals of the projects tasked by the institutions".
Mr. Taraz Motalebi, a pioneer settled in Sambalpur district recalls his teaching experiences with Mohapatra says;
"On one occasion in 1996, I had accompanied Mr. Mahapatra to Deogarh area and particularly to Kalamati village. Once we reached the village, the people there were overjoyed to see Mohapatra. They screamed that the religion of Bahá'u'lláh had come back to their village. To them, the Bahá'í Faith was synonymous with the name of Mohapatra. It was to that extent that he was immersed in the Faith. I was simply astonished that in just half an hour's time, Mr. Mohapatra was able to gather the people of the village. Mr. Mohapatra was very simple, and that simplicity was loved by the people. Whenever I travelled with other friends for village teachings, the friends in the villages would often ask about Mr. Mohapatra and his well-being."
Mohapatra is no more with us, His remains have been cremated, leaving no traces of his mortal remains. But his undying spirit shall forever remain alive within the hearts and souls of the Bahá'ís of Odisha state. His incessant teaching activities, his sacrifices, and contributions to the promotion of the Faith in Odisha will never be forgotten and always be remembered by the followers of the Blessed Beauty in that State and India. I used to wonder how this simple soul who was like a moth could transform into a gnat-like teacher in the Cause. Methinks it is his utter detachment from this ephemeral world, and complete surrender to  the will of the Blessed Beauty, if my understanding is correct. I hope to be one like him, emulating his way that is matchless and unparalleled. I cannot help, but quote what the beloved Guardian has mentioned about simple souls rising to great heights of service:
"If only the friends could realize it, the glory of our Faith is not that people with unique abilities do the work of the Cause, but that it is done by the sacrifice of loving and devoted souls who arise selflessly to undertake work they feel themselves incompetent, sometimes, to achieve. God works through them and endows them with gifts they did not dream they could ever possess."
— From a letter dated December 12, 1943, written by Shoghi Effendi to an individual believer.
O SON OF BEING!
Make mention of Me on My earth, that in My heaven I may remember thee, thus shall Mine eyes and thine be solaced.
– Bahá'u'lláh, The Hidden Words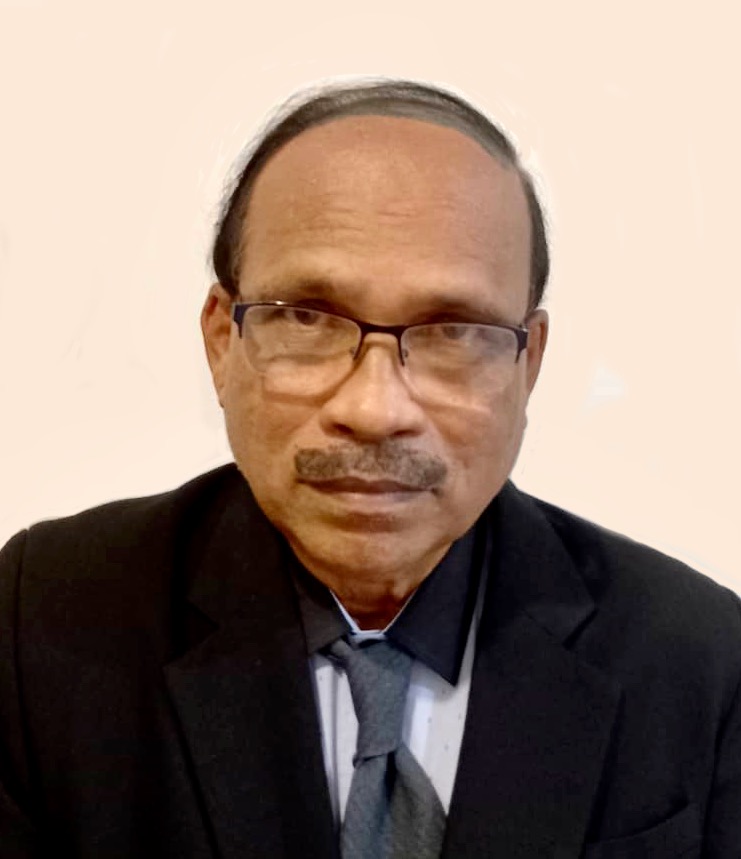 Pitamboro K. N.
Selangor
Malaysia
30 April 2021