8 October 1940 to 27 November 2004
Rama Naidu was one of those whose services for the Faith shall be well remembered for ages to come. He was constantly on the move with some kind of unparalleled energy, zeal, and commitment from the time he accepted the Faith in 1965 to his last breath. His one and the only desire was to please the heart of the Blessed Beauty through untiring services, and for his soul to wing its flight to the Unseen Realms while still serving, which did come to pass!
Rama Naidu hailing from a humble family was one of the fortunate ones to have gained sound education. His childhood days had prepared him to serve the Cause in great number of ways. He was born Bagan Dato in the state of Perak. That area had the highest number of Telugu speaking community in the country and Rama Naidu himself belongs to that community. His elementary education was in the Bagan Dato Estate Primary School where he completed his standard six in the Telugu language in December 1952. That school had both Telugu and Tamil as the medium of instruction. He got transferred to Ladang Geddes Tamil School on 19 January 1953 where he passed his standard six in the Tamil language in December that year and passed his Telugu language in August 1954. Rama Naidu thus had a good foundation in both the Tamil and Telugu languages. On 1 September 1954, Rama Naidu was appointed as teacher in the Ladang Geddes Estate Telugu Primary School in Bahau, at the tender age of fourteen. As a teacher, he came to be admired and respected by the Indian community for the commitment he showed towards the education of the students.

Fourteen year old teacher Rama Naidu at back row, right, with fellow Telugu teachers.
Thus, his secondary school education was in English medium, with Malay as a compulsory language. When he completed his education, he was well conversant and could read, write, and speak with fluency in the Telugu, Tamil, English and Malay languages. Knowledge of these four languages enabled him to penetrate several communities to teach the Cause in the later days.
In those days whenever someone fell seriously ill, the estate management referred the sick person to a hospital in Malacca town. It so happens that Rama Naidu had a two-year-old sister who had skeletal tuberculosis that affected her legs and was sent to the hospital in Malacca. As it would take some time for the treatment, Rama Naidu had to resign his teacher job in Ladang Geddes and get transferred to Malacca to continue his study there. In Malacca he studied at the Methodist English Secondary School.  It was in the same school that three other believers were also studying- Mr. Jami Subramanaim, Mr. M. Maniam and Mr. S.K. Somu. Among them  it was through Jami Subramaniam that he first heard of the Bahá'í Faith but paid more attention to his studies. Rama Naidu passed his Lower Certificate of Education in 1959 with good marks. In 1961, he passed his GCE 'O' Level Examinations of what was called the Senior Cambridge Examinations with good results. It has to be noted that Rama Naidu believed in excellence in education and kept trying to improve his academic performance.
In 1964, Rama Naidu underwent training at the Day Training Centre in the town of Seremban. From childhood days Rama Naidu was musically inclined and at the Day Training Centre he took up music and acquired a certificate in Theory of Music in 1965.  Throughout his life Rama Naidu was surrounded by music lovers who sang old Telugu and Tamil cinema songs. It was the teacher training course in Seremban that brought Rama Naidu closer to the Bahá'í Faith. In 1964, Rama Naidu came for a fireside at the Seremban Bahá'í Centre, where Mr. Yankee Leong, the first believer of Malaya was the speaker. Moved by the teachings of the Bahá'í Faith, he took a keen interest in the Faith and started investigating deeper into the new religion. The real turning point during his course of investigation was the First Bahá'í Youth Camp held at the Sunshine Camp in Port Dickson at the end of December 1965. At the Youth Camp he witnessed a new spirit and harmonious relationship and sincere fellowship permeating among the participants, something he had not witnessed elsewhere. Convinced with the teachings of Bahá'u'lláh, Rama Naidu accepted the Faith on 31 December 1965 at the Bahá'í Youth Camp itself. On the following day he reported for his teaching post at the Tunku Abdul Rahman Primary School in Gemas town in the state of Negeri Sembilan. He started his career on the first day as a Bahá'í.
He had developed such talents that could have taken him higher in the outside world. When he moved for the first time from Bagan Dato into Glendale Estate he became a good sportsman, excelling in the football game. He was reputed to have a thunderous kick in the football game. He represented the Negeri Sembilan State Youth Team for the Burnley Cup, the Indian Association in the Baradhan Cup and eventually the State Football Team. Later he was appointed by the Malaysian Amateur Athletic Union to be the official of three South East Asian Games. Had he stayed as a sportsman he would have gone much higher. But he decided to use all his time and energy for the promotion of the Cause of Bahá'u'lláh.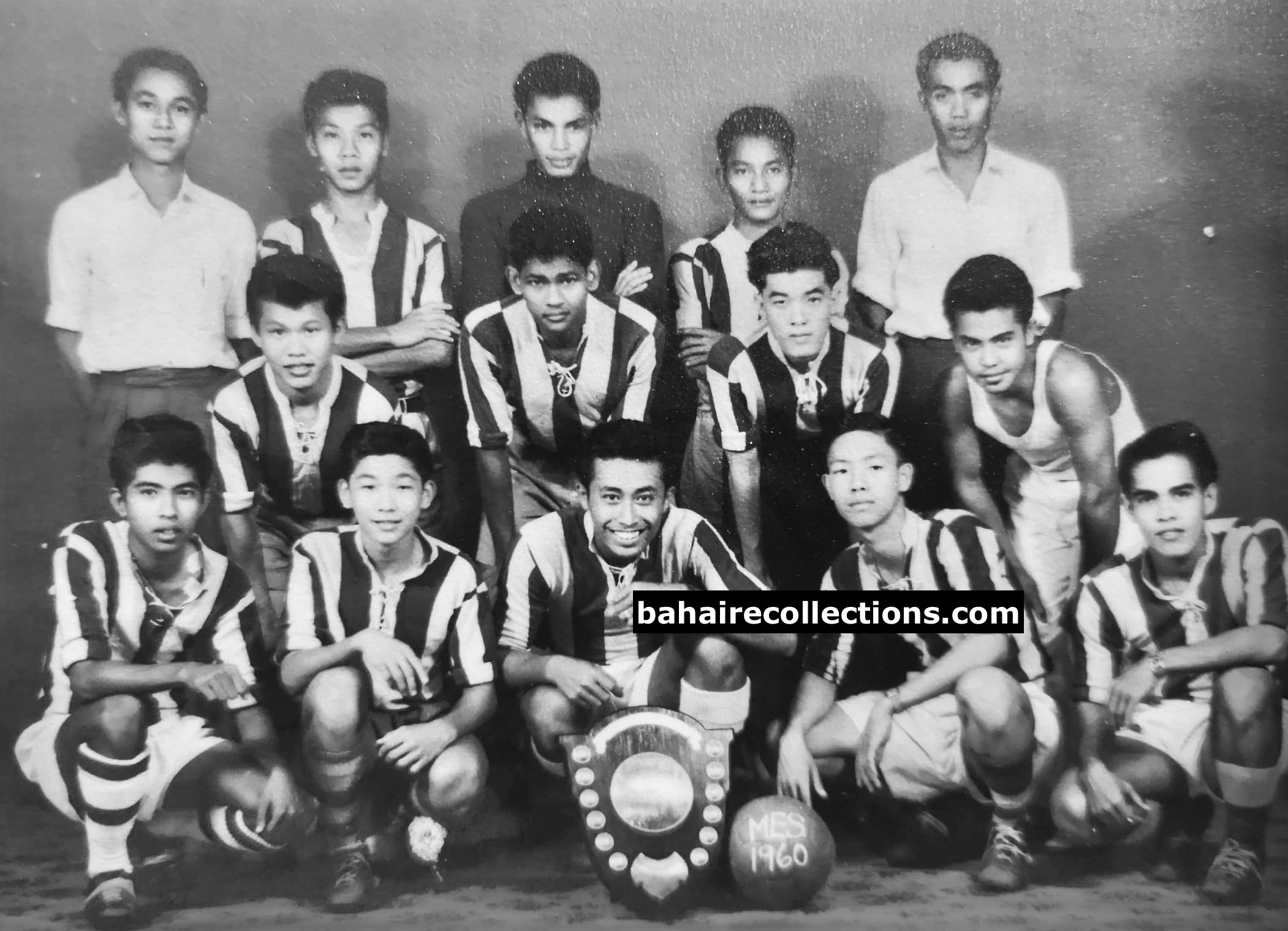 1960 Soccer champions. Rama Naidu is second from left, middle row.
But from the day he accepted the Faith, Rama Naidu had to set aside all those personal interests for something higher. The acceptance of the Faith by Rama Naidu changed the course of his life forever and set aside all his favourite sport of soccer for something nobler. He had well understood the Faith and was clear-eyed on his services for the Cause. He had a singular mind and heart – to please the heart of Bahá'u'lláh through his services for the Cause, which he carried out laboriously and with a relentless determination, and commitment seldom to be seen in many and quite unparalleled as well. Every weekend was devoted for the Faith, and during his school holidays at the end of the year he was always away for travel teaching, either at the domestic front or abroad. Rama Naidu was always on the lookout for services for the Cause and aligned his activities along the plans given by the national institution.
On 26 August 1967, he married his Hindu girl Miss Ramalu, first according to Hindu rights in a Hindu temple in Kuala Pilah town, followed by a Bahá'í wedding at the teachers' quarters of G. Appala Naidu at the St. Aiden's Primary School in Bahau town. Auxiliary Board member Leong Tat Chee conducted the wedding and was attended by several believers from the central region of West Malaysia. That was a time when Bahá'í weddings were little known, and this wedding became an occasion for proclamation of the Faith. He had already made Bahá'u'lláh and the Bahá'í Faith centre of his life, and after his marriage he took every effort to create a Bahá'í family, which he successfully accomplished with three lovely sons and one daughter who are serving the Cause well.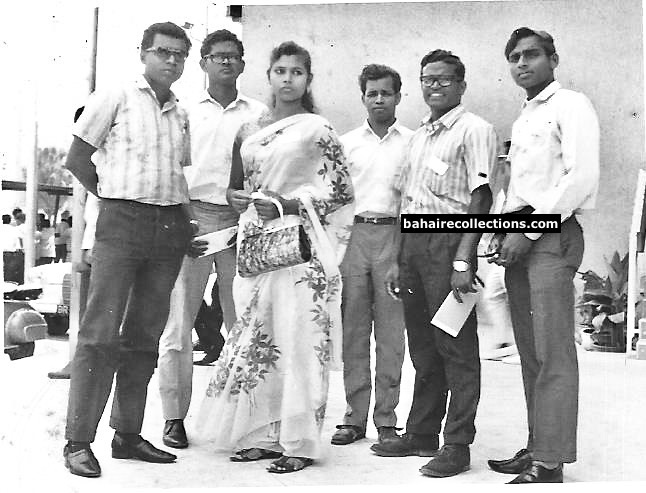 South East Asia Bahá'í Youth Conference  of 1968 in Kuala Lumpur. L-R: G. A. Naidu, Rama Naidu, Mrs. Thilaga G. A. Naidu,  Gopal Chandro,  Jami Subramaniam and G. Ramu Naidu.
From Gemas town Rama Naidu had to travel to Bahau town in the same state of Negeri Sembilan. Bahau was the center of activities in that part of the state. G. Appala Naidu and Jami Subramaniam convinced him to get a transfer to Bahau town. Appala Naidu took great efforts by speaking to those in authority in the Ministry of Education and on 1 January 1969 Rama Naidu got transferred to St. Aiden's Primary School in Bahau town. With this transfer Rama Naidu was able to move around almost daily for teaching in the company of the two other field workers – G. Appala Naidu and Jami Subramaniam. Every evening after work, almost like clockwork they went out for teaching. These three 'musketeers' along with several other friends, were highly instrumental in opening up and consolidating many urban areas in the state of Negeri Sembilan such as the towns of Rompin, Gemas, Bahau, Kuala Pilah and Kuala Klawang. Teaching activities grew manifolds. It did not take long before twenty-two estates were opened to the Faith. There was not a single day without the extension teaching taking place or planned deepening held in one of the homes. Bahau area appeared like a mass teaching area. Auxiliary Board members Leong Tat Chee and Yankee Leong were among the many regular visitors offering a helping hand in their teaching activities. The three also focused on giving the Bahá'í Faith to many in the Telugu speaking community, which saw large scale enrolments. G. Appala Naidu and Rama Naidu as teachers brought several of their students into the Faith. The Bahau area surrounded by rubber plantation settlements soon had the highest concentration of Telugu speaking believers who later moved to other parts of the country, with some leaving abroad as travel teachers. Rama Naidu had great passion for teaching the Cause. From the early days he had developed teaching kit to be used during his teaching activities.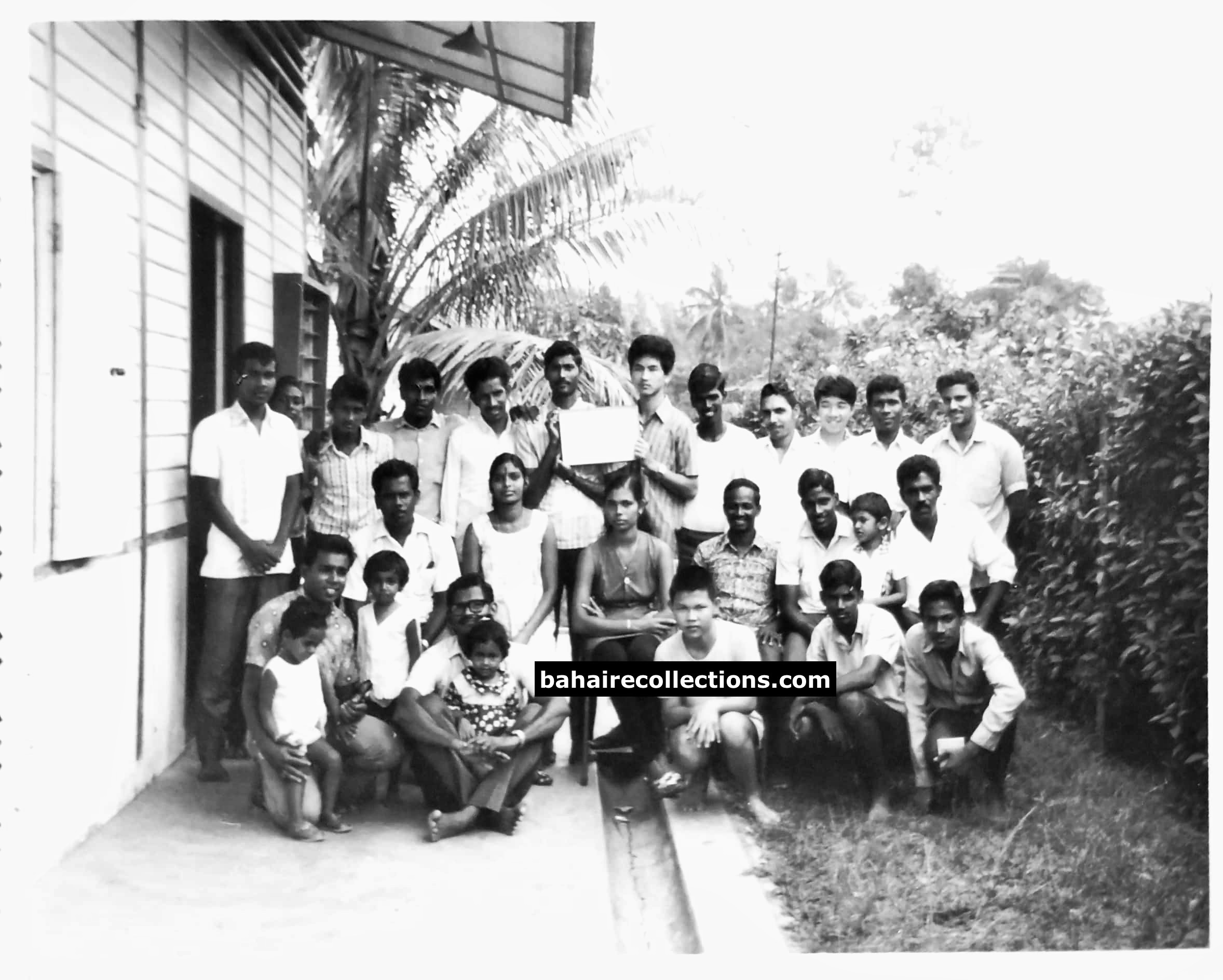 The vibrant community of Bahau town, 1972.  On the floor L-R:  G. Appala Naidu and Rama Naidu with children.
Riḍván of 1969 became an important day for Rama Naidu. His wife was well exposed to the teachings through the literature availed to her by Rama Naidu. She had participated in most Bahá'í meetings held in her house or elsewhere, but Rama Naidu did not coerce her into accepting the Faith. He, while giving her the Faith had mentioned that she could accept on her own when the opportune moment came. Deep inside she was already a believer. On Riḍván day of 1969, the Bahá'í community made up of eight adults gathered at the home of Rama Naidu and discussed very sadly that they did not have nine members for forming a Local Spiritual Assembly. Mrs. Rama Naidu who observed a gloomy atmosphere this time around, called her husband to a corner and asked for the reason. As he explained what bothered them, she spontaneously consented to accept the Faith on that day. So, the Assembly was formed by joint declaration and the Assembly was elected again. That was the day when Rama Naidu received added strength for his service in the Cause. The wife had been supportive of his services even earlier but now it has become a case of strength upon strength. True enough, she became his strongest supporter in his services and in building a Bahá'í family, especially in joining him in bringing up their children the Bahá'í way.
ABORIGINAL TEACHING
However, he took greatest liking and commitment for teaching the aboriginal believers called the Asli people. Although he had been undertaking teaching trips to the Asli areas from the late 1960s, his services took a new dimension when he was appointed into the National Asli Teaching Committee in 1971. From then onwards he was passionately attached to this area of service till the last breath of his life. Rama Naidu had undertaken several teaching trips into the Asli villages. Among the friends with whom he had undertaken such trips were Mr. G. Appala Naidu, Mr. S. Satanam, Mr. Isaac DCruz, Mr. Nagendran and Mr. Mari Yariah. Mari had accepted the Faith through Rama Naidu in 1971 and committed himself to teaching the Asli believers to date. Rama Naidu came to be well loved and remembered by the Asli believers in all the places that he had visited, chiefly the Tasek Bera Asli settlement at the border of Pahang and Negeri Sembilan states; and the rest of the Asli villages in the south Perak such as Kampong Jentong near Trolak town; Kampong Gepai, Kampong Kuala Senta, Kampong Chang, and Kampong Soi near Bidor town; Kampong Menderang, Pos Jernang consisting of Kampong Tidong, Kampong Gamus, Kampong Ras, Kampong Sat and Kampong Kejau near Sungkai town; and Kampong Bersih near Slim River town.
The National Asli Committee was based in Seremban town, while the concentration of the Asli believers was in the southern part of the state of Perak. He had to make several visits from his hometown in Bahau to the Asli areas in Perak. In order to be closer with the Asli believers, he on his own accord requested for a transfer to Sungkai town in South Perak in 1974 and in 1975 he was posted as teacher at the Sungkai Secondary School. With that he also became a home-front pioneer. Rama Naidu resided at 45, Bidor Park in the town of Bidor, close to Sungkai town, and later moved into a double story house in Taman Kandiah in the same Bidor town. While in Bidor for 14 years, he was one of the prime movers in establishing the Faith in lower Perak stretching from Teluk Intan, Bidor, Tapah, Kampar and Tanjong Malim.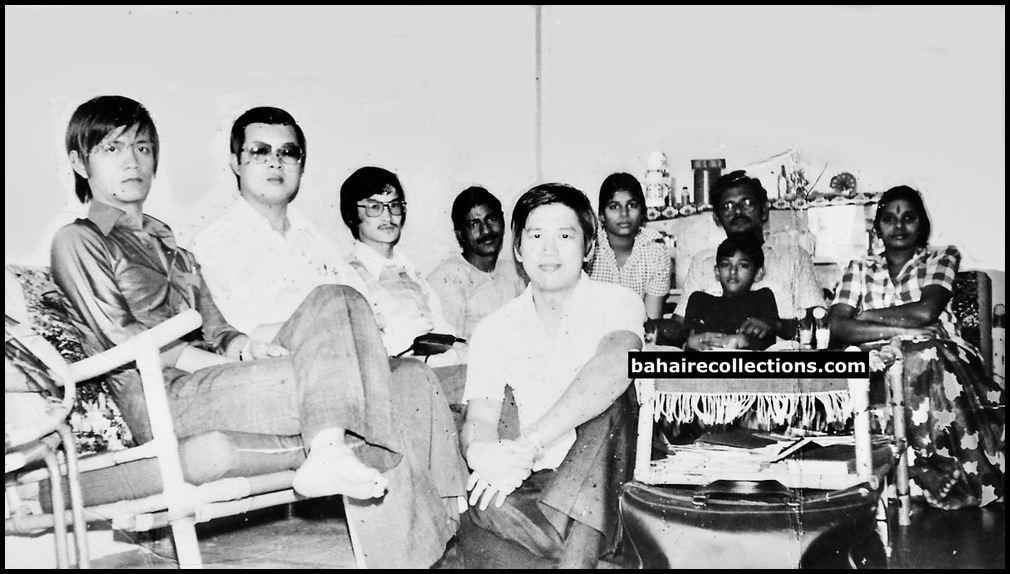 Visit to Rama Naidu's house in Bidor Park, 1976. L-R: Wong Boon Thock, Richard Ng, Teh Teik Hoe, Mari Yariah, Rajeswary, a niece of Mrs. Rama Naidu, Rama Naidu holding his eldest son Suresh and Mrs. Rama Naidu. Seated on the floor is Chong Boo Haw of Alor Star.
The coming of Rama Naidu to Bidor was a great milestone in the development of the Asli communities in South Perak. All along manpower for the development of the Asli communities in this part had come from Seremban and Kuala Lumpur. But With Rama Naidu coming to settle in Bidor, the much needed manpower was at the very doorstep. Just before the coming of Rama Naidu to Bidor, the official residence of Leong Ho Chiew, Assistant Superintendent of Police, in Tapah town was used as a meeting place for the Asli believers. Leong Ho Chiew, gave much assistance, encouragement, and protection to the Asli believers. Rama Naidu on the other hand focused more on conducting deepening and training sessions for them.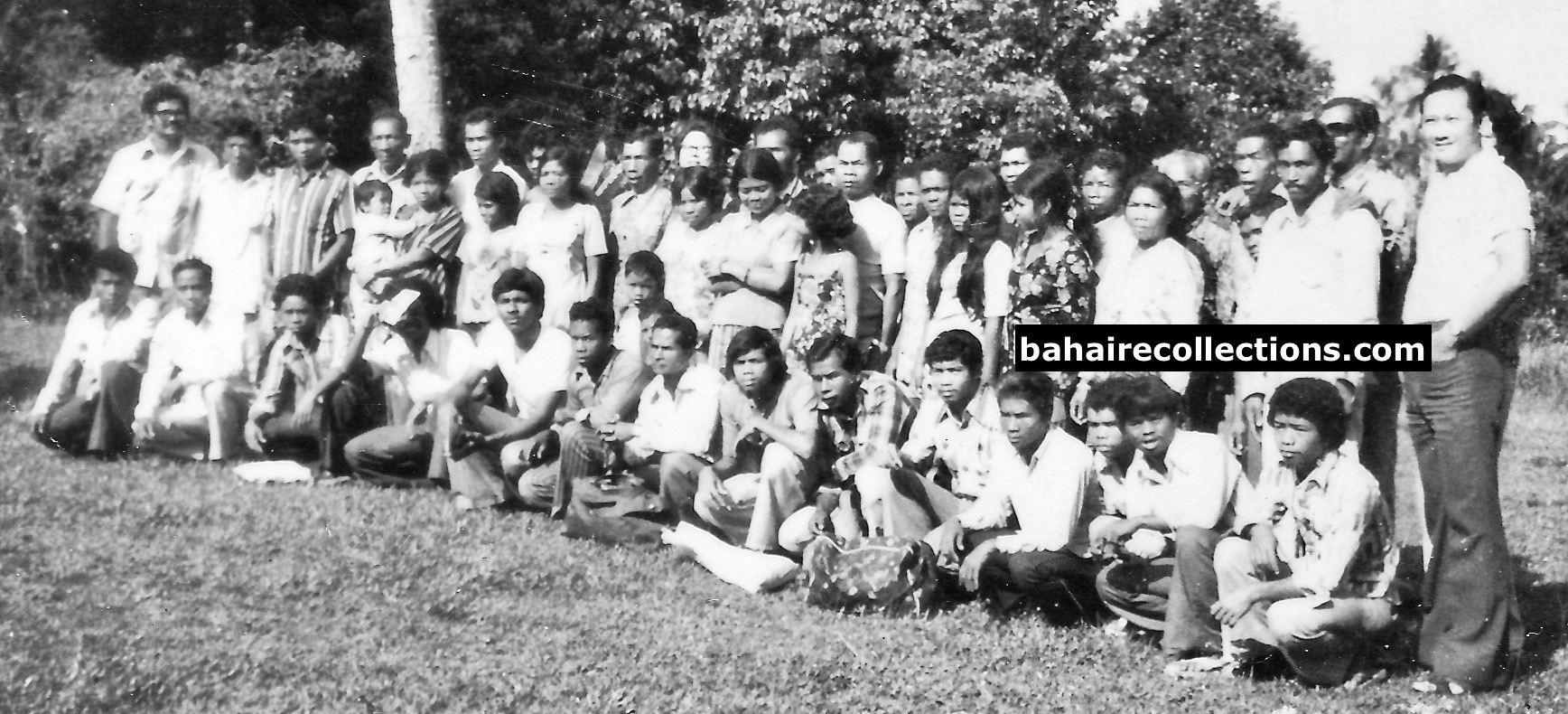 Gathering of Asli believers in Tapah, 1975. Rama Naidu stands at extreme left. Leong Ho Chiew stands at extreme right, with Auxiliary Board member Inbum Chinniah next to him with his face partly hidden. Several Penghulus (Village Heads) and Asli travel teachers from Ulu Kelantan and Cameron Highlands also attended this gathering.

Sungkai and Bidor towns led to jungle tracks into many Asli villages in the interiors. With that transfer to teach in Sungkai, his house in Bidor Park, from where he travelled daily to teach in Sungkai became a perfect home for the Asli believers. Whenever the Asli believers came out from their villages to Sungkai or Bidor town for some reasons, trips to Rama Naidu's house was never missed. Rama Naidu was there to welcome them round the clock, with his wife Mrs. Ramalu providing the best hospitality for them. In this family the Asli believer saw the true love found in the teachings. The Asli believers too took a natural liking for their hospitability. Rama Naidu, the sole breadwinner in the family had to buy his monthly groceries not only for his family, but also for the Asli friends who came quite often to visit him. Whenever believers drove in the highway from the north to the south or vice versa, they too dropped in his house. There was always a string of visitors at his house in Bidor Park. Rama Naidu's presence and services were a great factor in strengthening the Asli friends in the Cause. Rama Naidu organized many gatherings and training courses for the Asli believers in his house. There were several occasions when the Asli believers would make it a must to drop into the home of Rama Naidu, when they came out of their jungles to Bidor town to purchase groceries or for medical treatments. The Asli believers would just greet Rama Naidu "Alláh-u-Abhá" converse for a while and return into the jungles.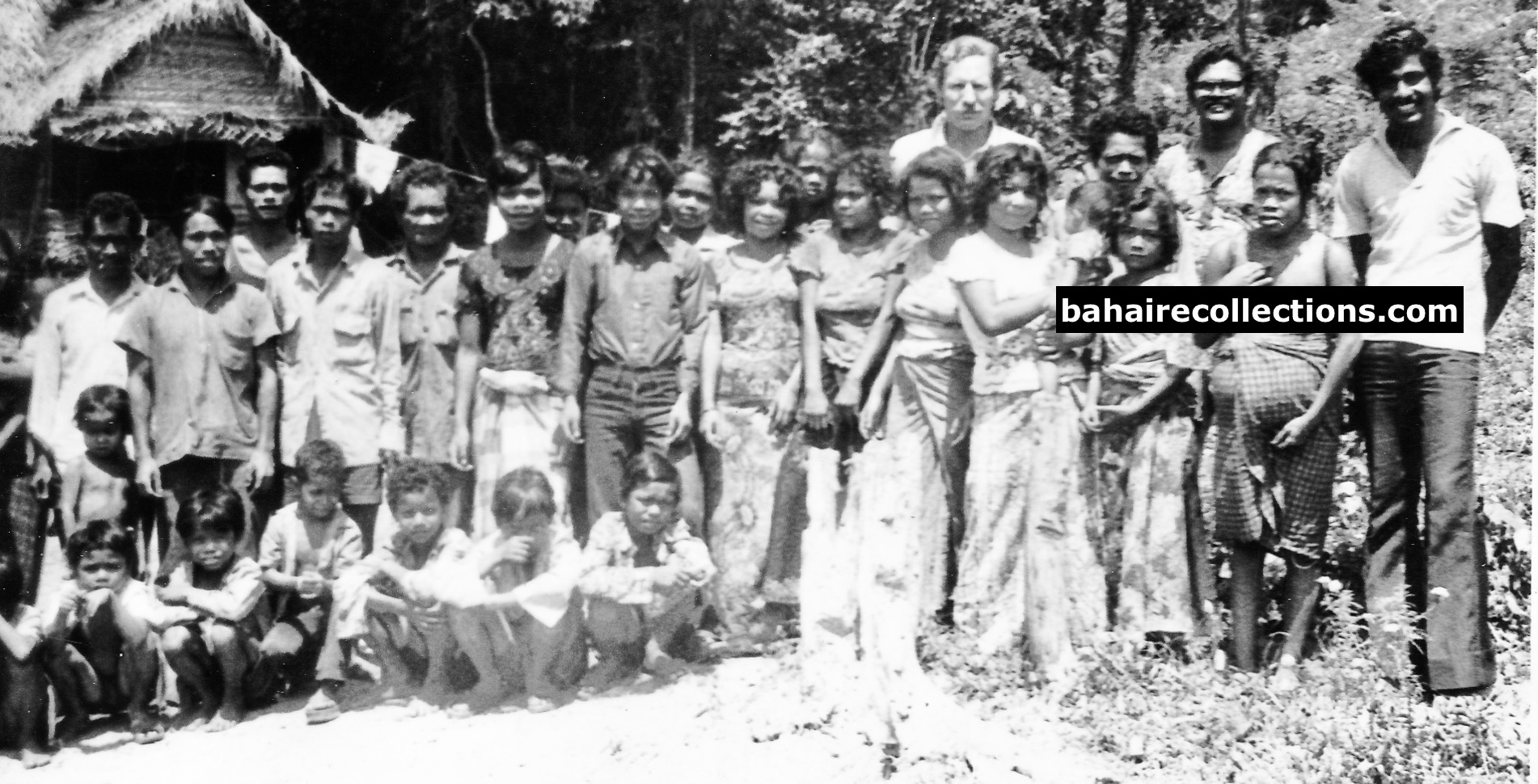 Visiting Alsi believers in Kampong Keypayan in the interior, 1976. Standing at back row R-L:  Mari Yariah, Rama Naidu and a visitor.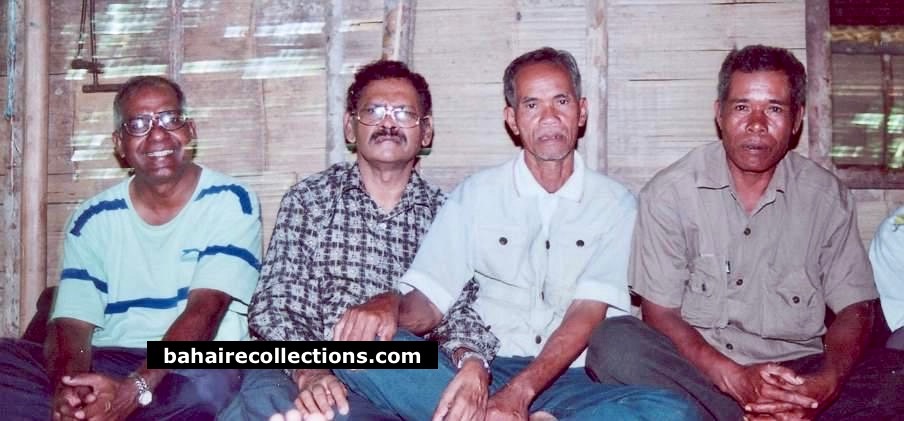 With some Asli friends. L-R: Mari Yariah, Rama Naidu, Penghulu Jambu from Kampong Sigar of Ulu Kelantan and Kedik from Kg Chang who was the  first Asli Auxiliary Board member.
There was an occasion when a group of Asli friends, about 30 of them, who were walking through the jungles for four days from Gerik in north Perak passed through Bidor. They arrived at Rama Naidu's residence in Bidor Park at 4:00 am. As it was quite early, not wanting to wake them up, they just waited outside the gate. However, as the dogs were barking loud, it woke the neighbour who decided to wake up Rama Naidu. Naturally the surprised and yet happy Rama Naidu invited all of the Asli friends into the house and his wife quickly made some drinks and served some biscuits at that dawn hours. After a while Rama Naidu enquired the purpose of the early morning visit, concerned that there may be some serious matters to be brought to his attention. Instead, the Asli friends just said, "Rindu nak jumpa Cikgu Rama" meaning, "We just loved to visit teacher Rama". And that was the sole purpose of their visit. When they left, Rama Naidu was silent for some time, with his eyes welling in tears.  He was so moved by the genuine love the Asli friends had for him.
There was another incident that was permanently etched in the heart of Rama Naidu. One Mr. Alang Sembok, an aborigine of the Semai tribe from the state of Pahang came see Rama Naidu in Tapah in 1975 to enquire about the Faith. He not only accepted the Faith but went back and brought hundreds of others into the Faith. That witnessed in 1976 influx of Temiar people from Ulu Kelantan in North Perak as well as other tribes from Grik in North Perak and Kulim in Kedah state. Thousands accepted the Faith in one week in December 1976.  Alang Sembok later married a woman of Temiar tribe from Kelantan. On many occasions Rama Naidu worked with the Asli Committee in organising training sessions for the Asli friends at the Wong Villa and Tony Villa in Brinchang town in Cameron Highlands, and they were well attended by the Asli friends from the interiors.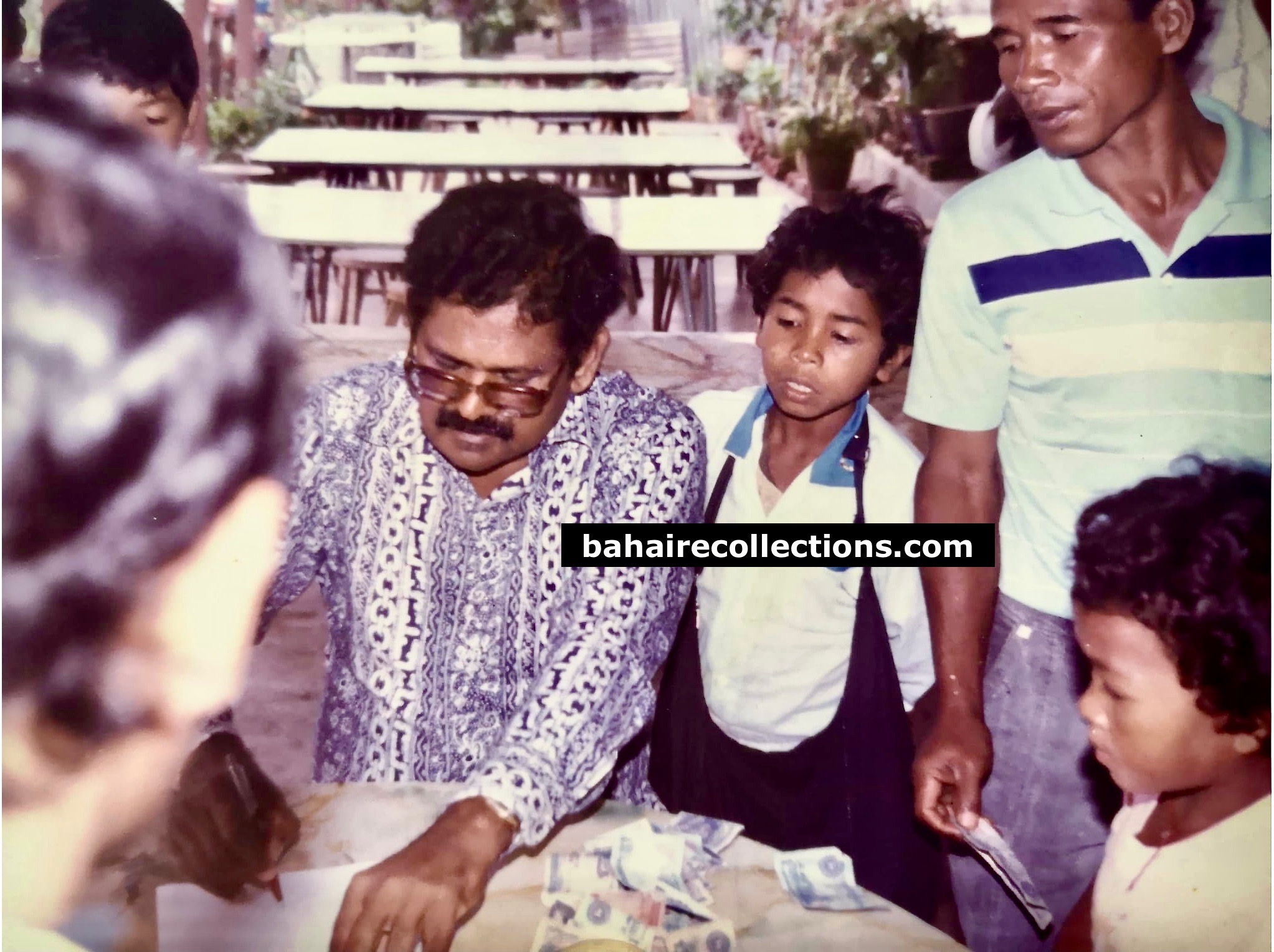 Rama Naidu receiving contributions to the funds from the Asli believers at the Wong Villa, 1989.
AUXILIARY BOARD MEMBER
In 1975, Rama Naidu was appointed as an Assistant to Auxiliary Board member and in 1976 he was appointed as an Auxiliary Board member by the Continental Board of Counsellors for Asia. Effective 1977 he was working very closely with the primary Counsellor for Malaysia, Mr. Inparaju Chinniah. Mr. Chinniah, who shall ever be remembered as a 'Jewel Among Men', often mentioned the selfless service and consecration of Rama Naidu to the Asli teaching work. The appointment of Rama Naidu as an Auxiliary Board member started a new chapter in his Bahá'í life. He stepped up his services for the Cause as required by his new responsibilities. He gave all the support and encouragement to all the plans and projects by the institutions. Quietly and surely, he was on the lookout for talents among the believers, which he tapped for the Cause. He also identified the dormant believers and gave them all the encouragement, in his usual soft-spoken approach to be actively involved in the Faith. The one reason why he is said to be an effective Board member was his utter humility in every way – from dressing to mannerism that he displayed at all times. There was no air about him when serving as a Board member. He considered himself a servant for the Cause and master for none. Counsellor Dr. Chellie Sundram had always admired and appreciated reports from Rama Naidu, written meticulously with such details and good analysis.
Rama Naidu took along Hand of the Cause of God Mr. Collis Featherstone who was on visit to Malaysia to visit the Asli settlement in Kampong Bersih near Ulu Slim in the state of Perak. A large house was specially constructed for that visit. On the day of the event, about 150 believers, some in their traditional appearance came from the jungles across the interiors of the state of Pahang and South Perak. Mr. Featherstone went around greeting and shaking hands with each one of them. The Asli friends were very touched when the Hand of the Cause ate their home-made cakes and tapioca. Mr. Featherstone then spoke in very simple English on various subjects which were well-understood by the Asli friends. The Aslis were moved to their very core when Mr. Featherstone hugged them and uttered words of comfort and affection. Mr. Featherstone himself was touched by those simple people. The Asli friends felt grateful to Rama Naidu for facilitating this visit by the Hand of the Cause of God.
When the National Spiritual Assembly of Malaysia organised a talk in early April 1977 at the Stella Maris Bungalow in Port Dickson for Hand of the Cause of God Dr. Muhajir to address the Asli believers on growing opposition, Rama Naidu took every effort, together with other friends like Y. Mari to organise buses to bring the Asli friends to the event. Rama Naidu himself participated and listened attentively to the talk by Dr. Muhajir.
Having moved intimately with the Asli believers for such a long time,Rama Naidu came out with a manuscript containing his recollections with the Asli believers, with the hope of getting it published.  But he passed away before getting this done.
SERVED IN OTHER CAPACITIES

Rama Naidu also served the Cause in other capacities, and he was too heavy for his boots, shouldering divers responsibilities.  When the Malaysia Bahá'í Bulletin was initiated in 1975, Rama Naidu was appointed on the editorial board. He had also served on the Malay Translation Unit. Having the teaching profession as his background, Rama Naidu took a natural inclination towards the education of Bahá'í children.
The first Regional Children's Institute and Regional Conference was held at Stella Maris bungalow at Port Dickson from 2-5 August 1978. While urging the children to turn up in full force, adults aspiring to be children class teachers were also urged to attend as "on the spot training" was also planned for them. Rama Naidu was one of the coordinators alongside with R. Ganasa Murthi, De` Cruz, Lily Chinniah, Sobhana Kumaran and Daisy Dass. Then followed the "Teen" Institute at Port Dickson from 19-22 July 1979. Auxiliary Board members Rama Naidu and Theresa Chee conducted the institutes catering to different age groups. Many Bahá'í children who were in the early teens were brought together at this institute.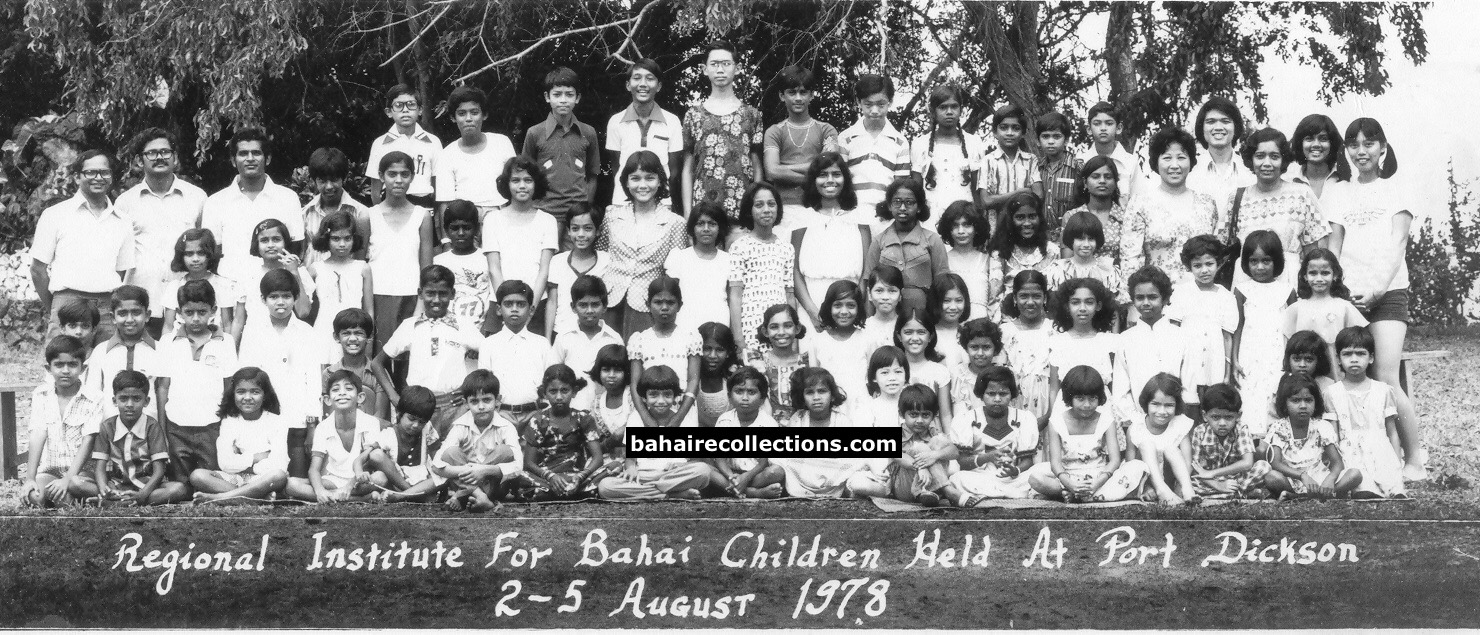 Standing L-R: Ganasa Murthi Ramasamy, Rama Naidu and Isaac DCruz.  Standing second from right is Sobhana Kumaran. Many of these children are now serving the Cause with distinction within Malaysia and abroad.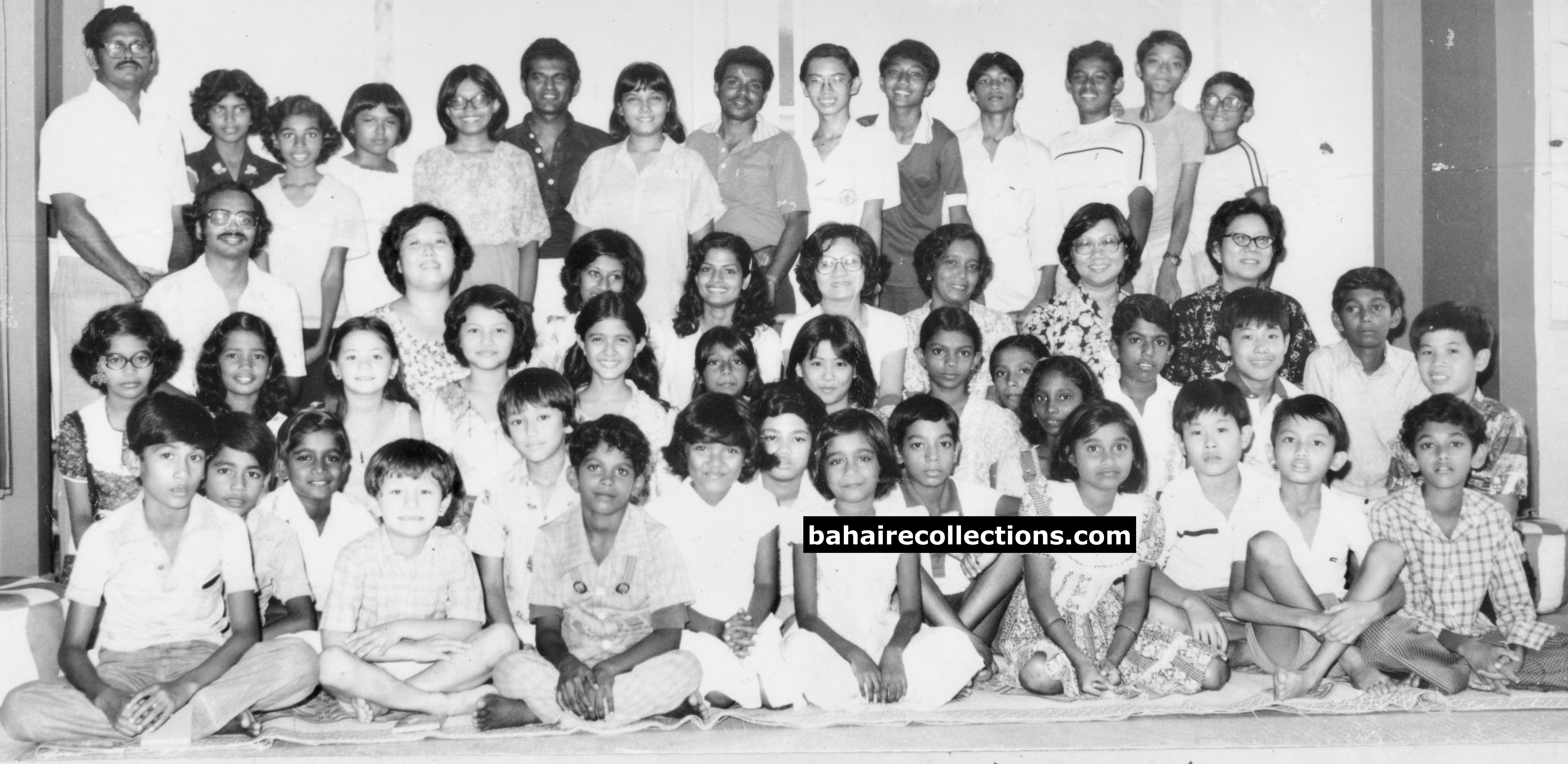 Teen Institute at Port Dickson from 19-22 July 1979. L-R: Rama Naidu at the extreme left, Isaac DCruz  fifth from left and G. A. Naidu seventh from left. Seated L-R:  R. Kanthakumar, Pauline DCruz, Sue Nagaratnam, Sawathri Nair, Catherine Balasingam, Daisy Dass, Doreen Chee and  Theresa Chee.
When he purposed to build the character of children in the community, he ensured his own children were given the right training at home. Daily prayer sessions as a family and Rama Naidu's story telling from the books and from his own teaching trips locally and abroad and sharing of the development of the Faith across the globe were part of the domestic syllabus. He always urged his children to look at only the good sides of everyone if they truly wanted to love humanity. He gave them all the encouragement to participate in Bahá'í gatherings at local and national levels. At one particular family gathering he asked his children a very startling question, "Whom do you love more, me or Bahá'u'lláh?" His children went silent for a while, for no child would be able to answer a question of this nature that was shot most unexpectedly. Then Rama Naidu told his children, "Remember this throughout your lives. Your first love should always be for Bahá'u'lláh, then only me and your mother. We ourselves are created by Bahá'u'lláh." The children were much moved and influenced by this advice.
BAGAN SERAI
He left for Bagan Serai town in Perak in 1988 on promotion to serve as Headmaster of a Tamil school from where he retired in 1993. His transfer to Bagan Serai town itself was a blessing, as that community had been dormant for many years. The family started to round up known believers and initiate several activities. Again, he was supported by several visiting Bahá'ís. When he was in Bagan Serai that he had much financial strains since his children had grown up and studying at higher levels. From the time Rama Naidu accepted the Faith, his income as sole breadwinner was divided between the family and the Faith's needs. He could not sacrifice one for the other. One midnight unable to bear the stress anymore Rama Naidu went into solitude and prayed for a long time. When he returned to his bedroom the wife asked him why he was praying for such a long time at such an odd hour, to which he did not say much. That night he dreamt of the Master saying that he had given him what was needed. The following morning, he related the dream to his wife and said his prayers were already answered. That week, by a miraculous incident, he came into contact with his close Bahá'í friend Mr. P. U. Suppan from Sungei Petani town in the north, who encouraged him to take up part time insurance job as well. That was a new beginning for Rama Naidu. Business picked up well and soon he was on sound financial footing and able to do many things he could not do before. At long last, he was able to enjoy better life close to his retirement.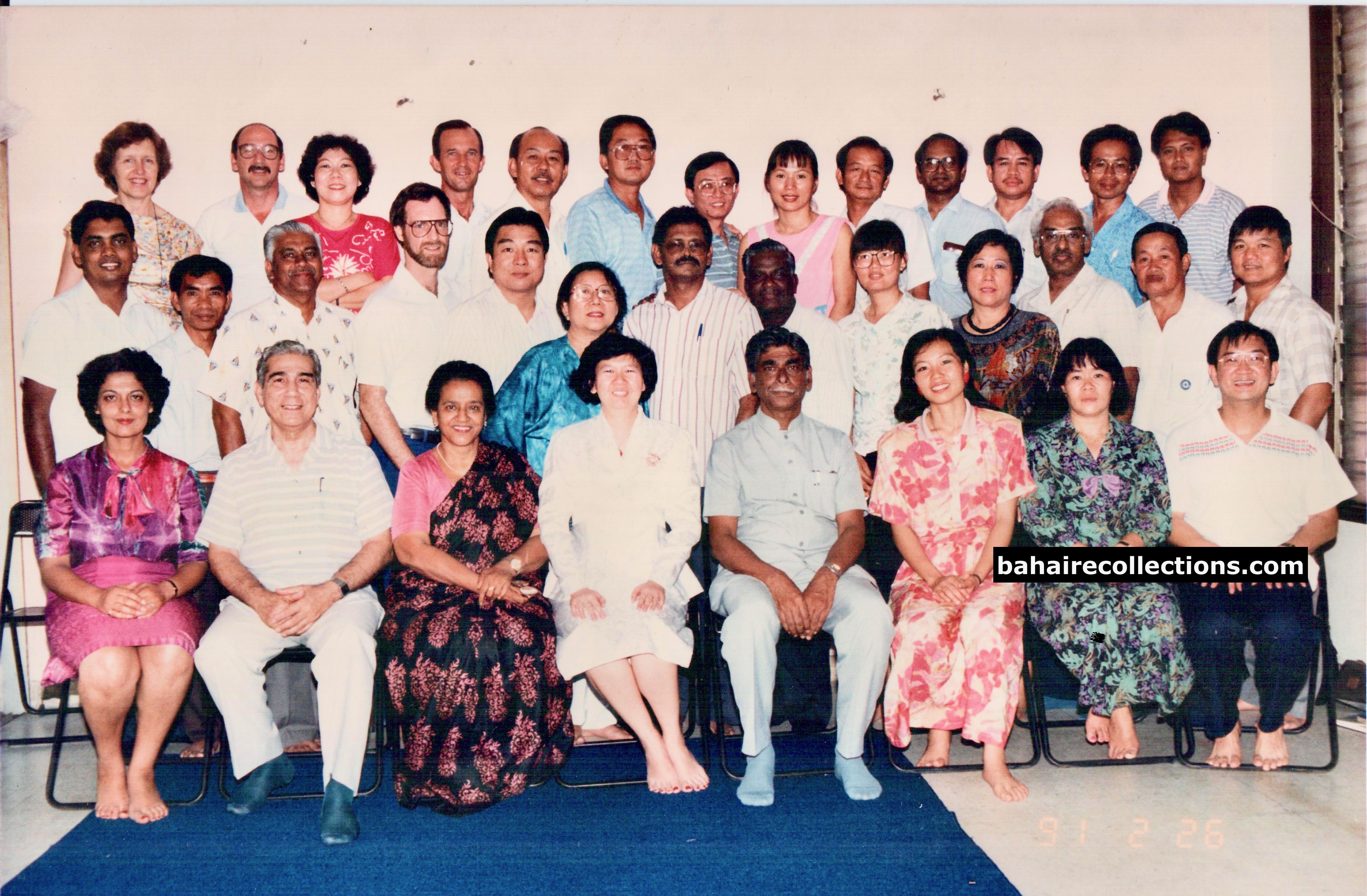 Meeting of Counsellors with Auxiliary Board Members, February 1991. Rama Naidu is in the second row, centre.
Upon retirement in 1993, Rama Naidu's family settled in Ipoh town and rented a spacious house where large scale gatherings could be held. He was a big asset to the community in Ipoh as he moved around visiting families to deepen them. He conducted Ruhi courses for the community. Rama Naidu was able to move with both the English and Tamil speaking believers.
TRIPS ABROAD
Rama Naidu had also undertaken trips abroad. Rama Naidu himself a passionate teacher had undertaken teaching trips to the East Malaysian states of Sabah and Sarawak. As a schoolteacher who had the privilege of long annual holidays at the end of the year, utilized the holidays for undertaking travel teaching trips to foreign countries such as Tamil Nadu, China, Andhra Pradesh, Vietnam, China, Bangladesh, Thailand and Myanmar.
Of these the memorable trip was to South India in 1972. When the National Spiritual Assembly of India requested for urgent call for four  travel teachers from Malaysia to be placed in  South India till the end of the Nine Year Plan, Rama Naidu, Krishnan Kandasamy of Seremban, Macchambo of Malacca and T. Maniam of Sungei Way  arose. Together with his two months annual leave that fell in the months of November and December 1972,  Rama Naidu took another additional four months of no-pay leave from January to April 1973 and made a teaching trip to Tamil Nadu, Kerala, Karnataka, and Andhra Pradesh for six months. He witnessed miracles in the teaching field. While in India he was most happy to have attended the Spiritualisation institute conducted by Jenabe Caldwell in Panchgani. As he was requested to organise such institutes in Andhra Pradesh, he went to Visakhapatnam but when he landed there, he had to pass the night in the station itself as there was a curfew caused by strikes and demonstrations. When the curfew was lifted briefly the following day he managed to get into the house of an Iranian friend from where they prayed continually. When the curfew was lifted they went out to teach. But to his surprise he found it easier to teach when the curfew was on as people seldom left their homes and that made it possible for them to teach them at their homes. They took advantage of the situation and developed many contacts. When they spoke to a group of police inspectors at the police station, three of them declared. One of them brought another social worker who also accepted the Faith. In in turn organised a meeting of the Jaycees and some medical representatives. From that group another four accepted the Faith. They deepened these new believers and a Local Spiritual Assembly was formed immediately, which became the first Assembly in the whole of Coastal Andhra.  On the receptivity of the people in India, Rama Naidu said, "Teaching in India is fantastic. You  can turn to the right and to the left and give the message to anyone, anywhere! Doctors, lawyers, engineers- all are receptive."

Spiritualisation Course by Jenabe Caldwell in Panchgani, India, 1972. Seated on floor L-R: E. Mayisvren, Ludher, (unknown) and Rama Naidu. Standing at the extreme left Sree Ganesh with A. Sabapathy next to him, and at the extreme right is Krishnan Kandasamy.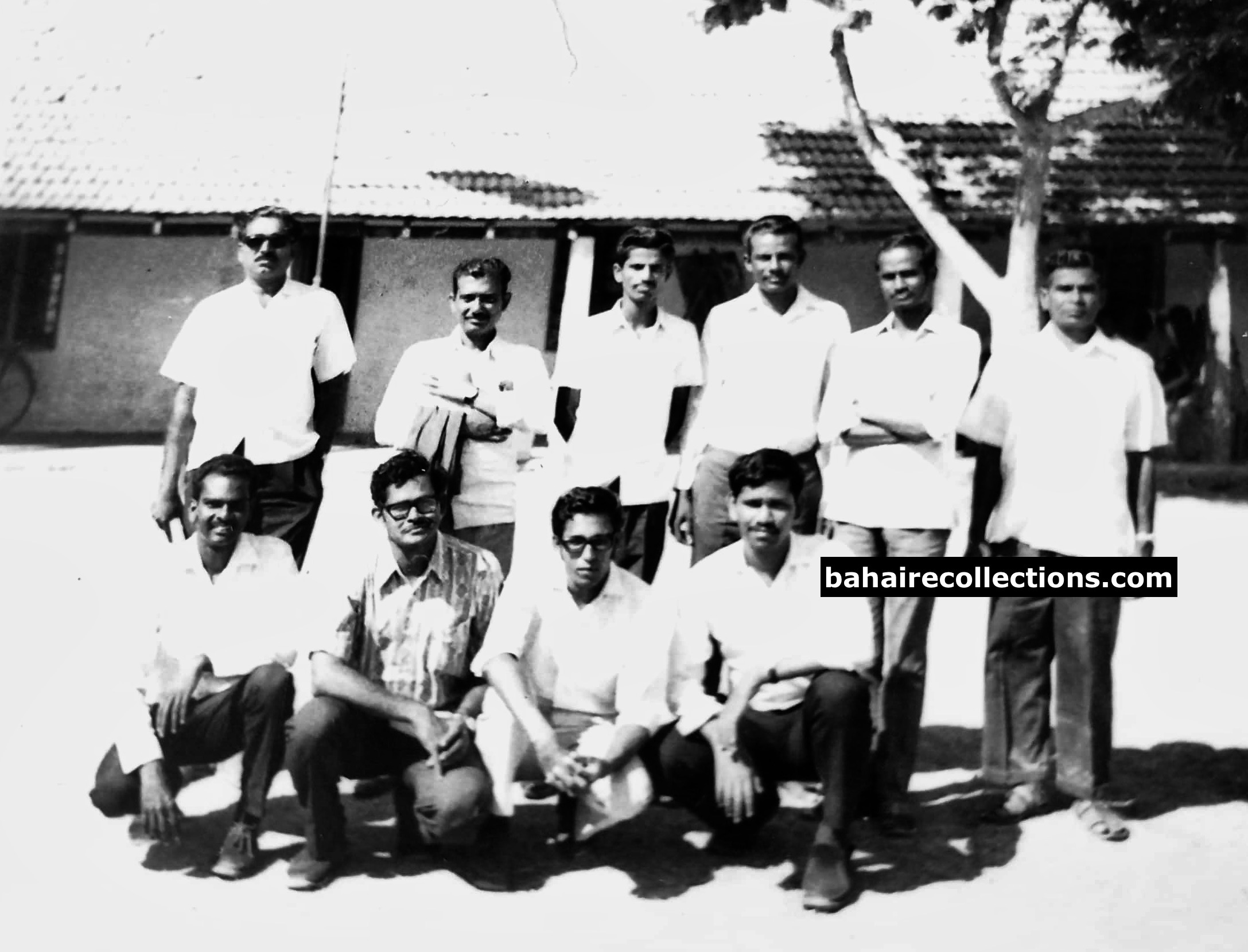 With believers in Madurai City in Tamil Nadu, India, April 1973. Squatting are Malaysian believers who were teaching in Tamil Nadu. L-R: Krishnan Kandasamy, Rama Naidu, Machambu and T. Maniam. Maniam and Krishnan  were on the Local Spiritual Assembly of Madurai City.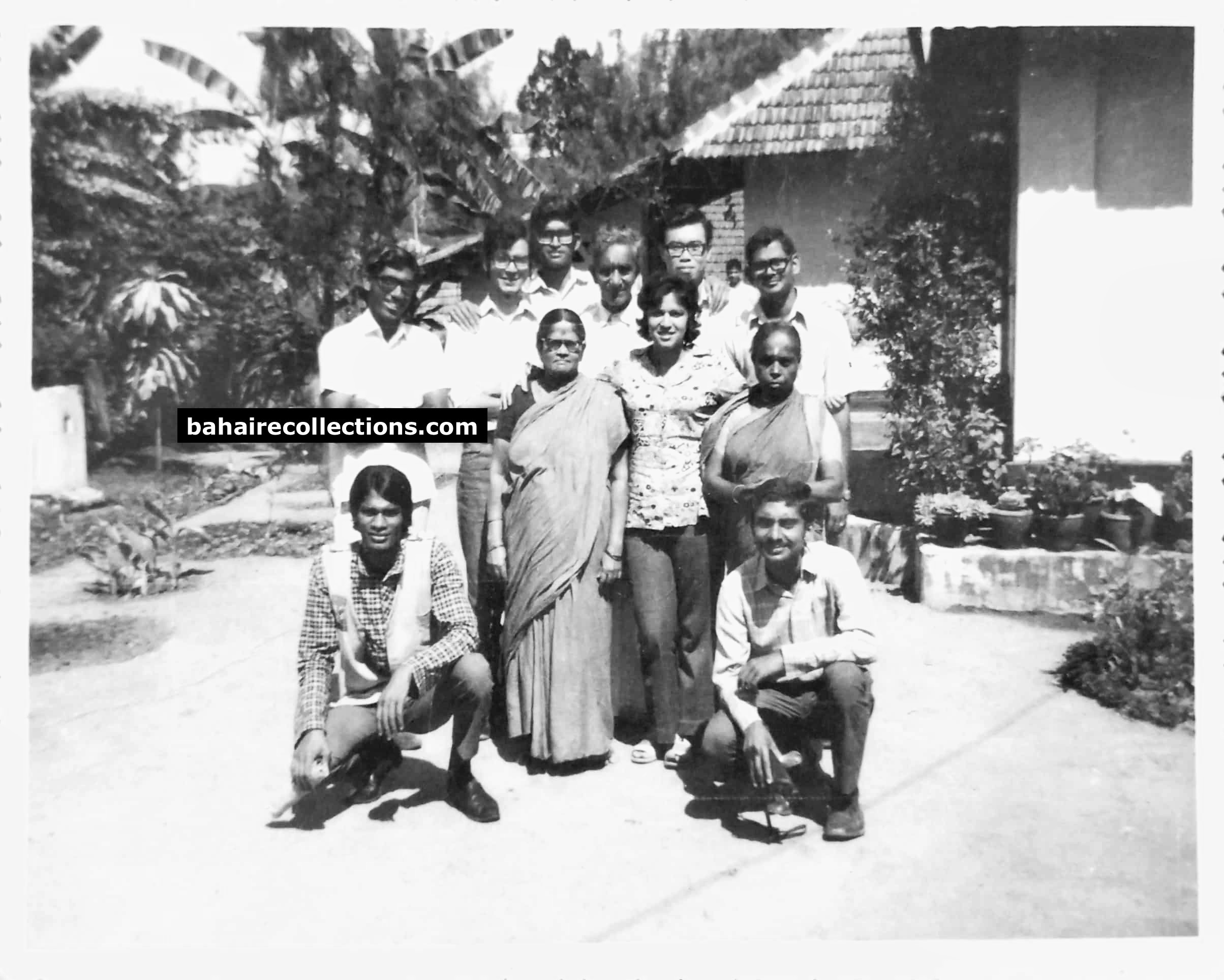 Mysore city, Karnataka State, India, 1973. Standing at the extreme left with arms folded is Sreedharan and at the extreme right is Rama Naidu, with Lee Wai Kok next to him. Sreedharan and Lee Wai Kok were medical students at the Kasturba Medical College in Karnataka.
When the institutions requested Rama Naidu to undertake a trip to Vietnam in 1994 to strengthen the community there through deepening sessions, he undertook a teaching trip to Hanoi in the company of Mr. Jayanthan of Kuantan town. In the two weeks they were in Hanoi they stayed in a budget hotel.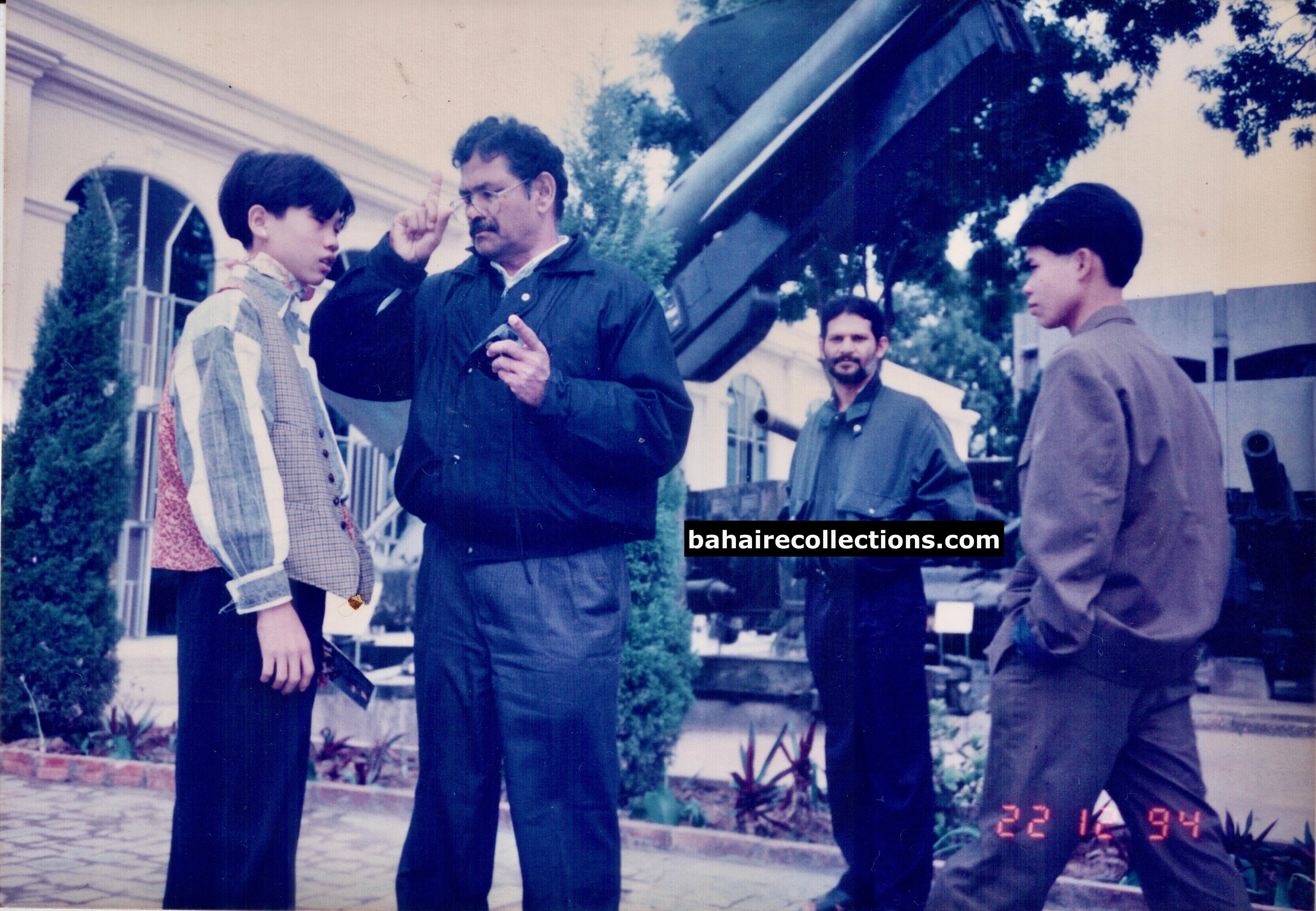 Street Teaching in Hanoi, Vietnam in 1994 with Jayanthan, second from right.
They met with a high ranking official in the Ministry of Education, who was a contact given by the local believers. In the next few days, they met two Bahá'í youths who took them to meet with their other friends numbering ten to fifteen. They also gave deepening sessions to the believers. Each day they went to the huge Lake Garden and had conversation with strangers and gave them pamphlets. They also gave the Faith to those in the hotel where they stayed.
In 1996 he went to Beijing, China with Vijayasegaran to visit Gunasegar Ramasamy, brother-in-law of Vijasegaran residing in Tianjin, China. Gunasegar was holding a high position with Motorola, a multinational company. Anxious to reach out to the Chinese they went to a few places to teach, including university called the Normal University. It was cold and surprisingly they got invited to a professor's flat. He was originally in Ipoh town in the 1950s or 1960s but returned to China and married and settled down in Tianjin. He was warm-hearted and receptive. They invited him to Ipoh. He did come to Ipoh sometime later and met up with them. Gunasegar and his wife Belinda were also instrumental in inviting their Bahá'í friends and also Gunasegar's colleagues to their comfortable flat in small numbers with whom they shared experiences. In mid-winter which was new year holidays they also travelled to Harbin for a private visit. Rama Naidu could not take the cold and spent the time in the hotel as he succumbed to bronchitis and was unwell with fever and cough as well. The cold was just too much for him to bear.
They had only instant noodles in their long train journey lasting about 19 to 20 hours each way. When they returned to Gunasegar's house the first thing Rama Naidu did was to go straight to the kitchen and see what was for dinner. It was noodles again. Already a close friend to Gunasegar and Belinda even while in Malaysia, Rama Naidu told Gunasegar in the Tamil language, "No noodles! I want Indian dhal curry!" Belinda went to the supermarket below, bought chicken and cooked a lovely chicken curry which they all enjoyed – especially Rama Naidu. He took a while to recover. What was supposed to be a kind of holiday trip to China ended up, for all practical purposes as a teaching trip.  
It needs to be mentioned that the side effects of Rama Naidu's active and aggressive involvement in the football game in his early days started to surface their ugly face even from the late 1960s. He developed pain in his legs, which became acute as time went by. Yet this servant of God kept service to the Faith uppermost in his mind and persevered in teaching the Cause.
After he was released as Auxiliary Board member in 1990, he was actively involved in the development of the institute process. From October 19 to November 9, 1996 Rama Naidu participated in the Conference and Training on the Institute held in the Philippines, organised by the Bahá'í Institute of the Philippines. The purpose of training institutes was to refocus their efforts, emphasizing a sequence of courses that would create capacity and commitment on the part of the friends to carry out acts of service.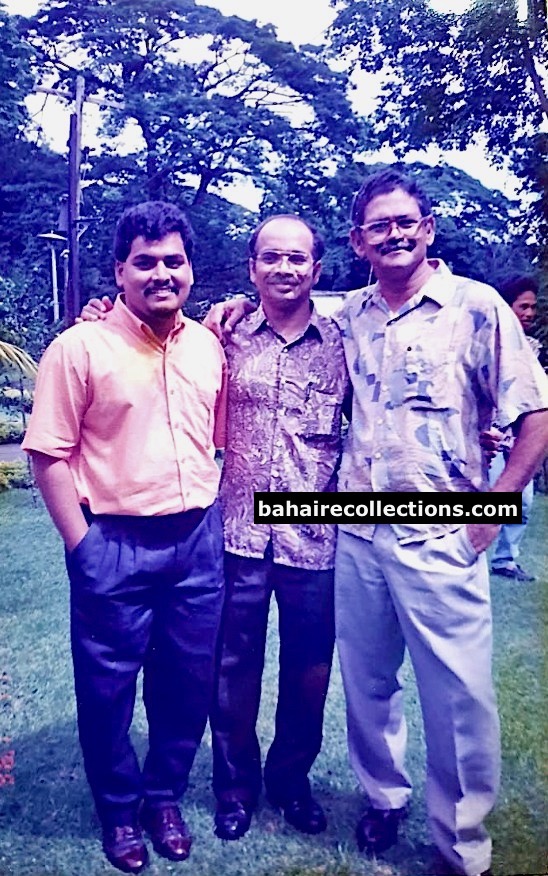 At the Training Institute in the Philippines. L-R: Velayutham Gopal, R. Kanthakumar and Rama Naidu.
In 1997, the National Spiritual Assembly of Sarawak invited him to start off Ruhi classes in the interiors of Sarawak. Despite his health issues he boldly enter the arena of service and undertook a few trips to Sarawak in the months of May, followed by July, August and September 1997. In the trip of July, he took along a youth Saniasi, from Batu Pahat town, known as Arrasu in the community to get him to activate the youth groups. Landing in Kuching they went to places like Serian, Bau, Simunjang and finally Miri town. Sometimes Rama Naidu and Arrasu had to travel for a few hours on boat in the company of the local natives. The Iban people took a great liking for Rama Naidu who moved as one of them. He picked the Iban language fast and was able to win their hearts. Yet at night he suffered from acute pains in the legs, which he treated with herbal medication that he had brought along with him. When the pain in his legs became severe, Arrasu massaged his legs.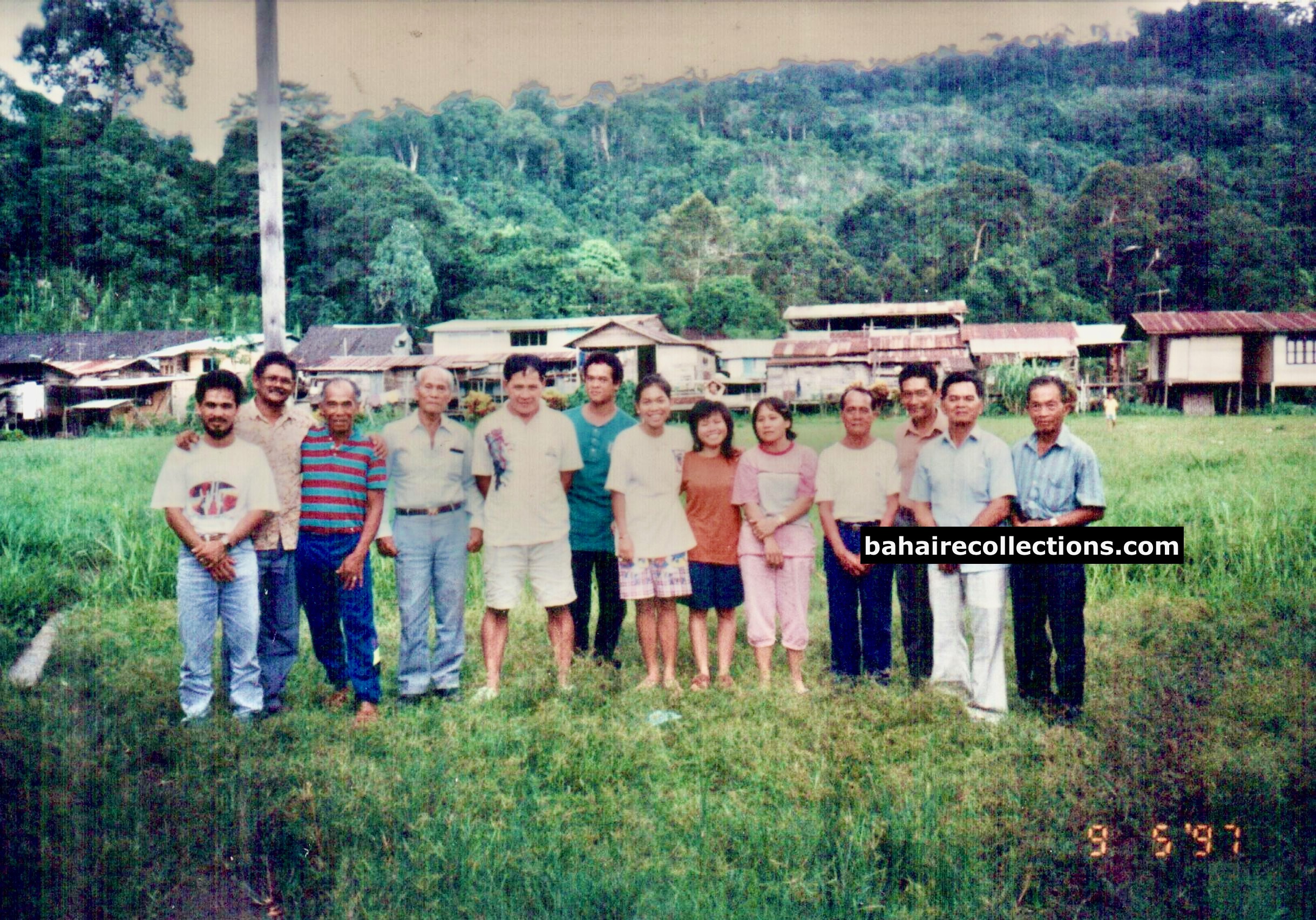 At Kampong  Temiang, Simunjan in 1997. Rama Naidu is second from left. Ms. Winnie Lambong is seventh from left and to her left is Miss Mantan Abet.


With a Dayak believer, in the 1998 visit to Sarawak.
Their last place of service was in and around Miri town where another Malaysian believer Mr. Dorai Vedanayagam had married an Iban girl and settled down. He took them into the interiors. While in Miri for two weeks they went to conduct Ruhi Book 1 classes in places like Limbang town bordering Brunei, Niah National Park and Batu Niah. Rama Naidu has made a few more trips to Miri on his own, and in Miri his visits to the interiors were facilitated by Dorai. In Miri area Rama Naidu and Dorai went to Long Tissam where there was a big Bahá'í community, Long Tuyut and Bakong community. Rama Naidu also went to Serian, and then to Mukah to meet up with the late Chandrasekaran and his family. One night Rama Naidu and Dorai went to Mukah to initiate the Ruhi Book and told them to gather the following day. They replied that they would not be able to participate in the session as they wanted to go to their farms. The saddened Rama Naidu and Dorai said prayers that night for their mission to be accomplished. The following morning there was heavy downpour, and the friends could not go to their farms. Well, Rama Naidu and Dorai conducted the Ruhi classes for the friends as planned.
Rama Naidu had made a few trips to India, but one that was memorable was the trip undertaken in 2001 with his wife and their close family friend Mr. Mari Yariah, who was more than a family member. On 15 January 2001 they arrived in Chennai, Tamil Nadu and met some believers. From there they went to Visakhapatnam city in Andhra Pradesh state. The three went to visit their ancestral villages in the interiors. The ancestral villages of Rama Naidu and Mari are close by, and they covered them before returning to Visakhapatnam. After spending two days in Visakhapatnam, they then went to another city called Rajahmundry (today known as Rajamahendravaram) and visited villages for a week. From there they went to serve the twin cities of Hyderabad and Secunderabad for a week to meet some believers and involve in teaching work. While in Hyderabad they stayed at the home of Soorosh Fanaian and Janet – Persian pioneers to India. After that they proceeded to New Delhi to serve in the Bahá'í House of Worship. On 9 February, they took a train from New Delhi to Chennai city in Tamil Nadu where they spent a week. Rama Naidu gave a half day talk at the Chennai Bahá'í Centre. On 16 February they returned to Malaysia, after spending some twenty-eight full days in India.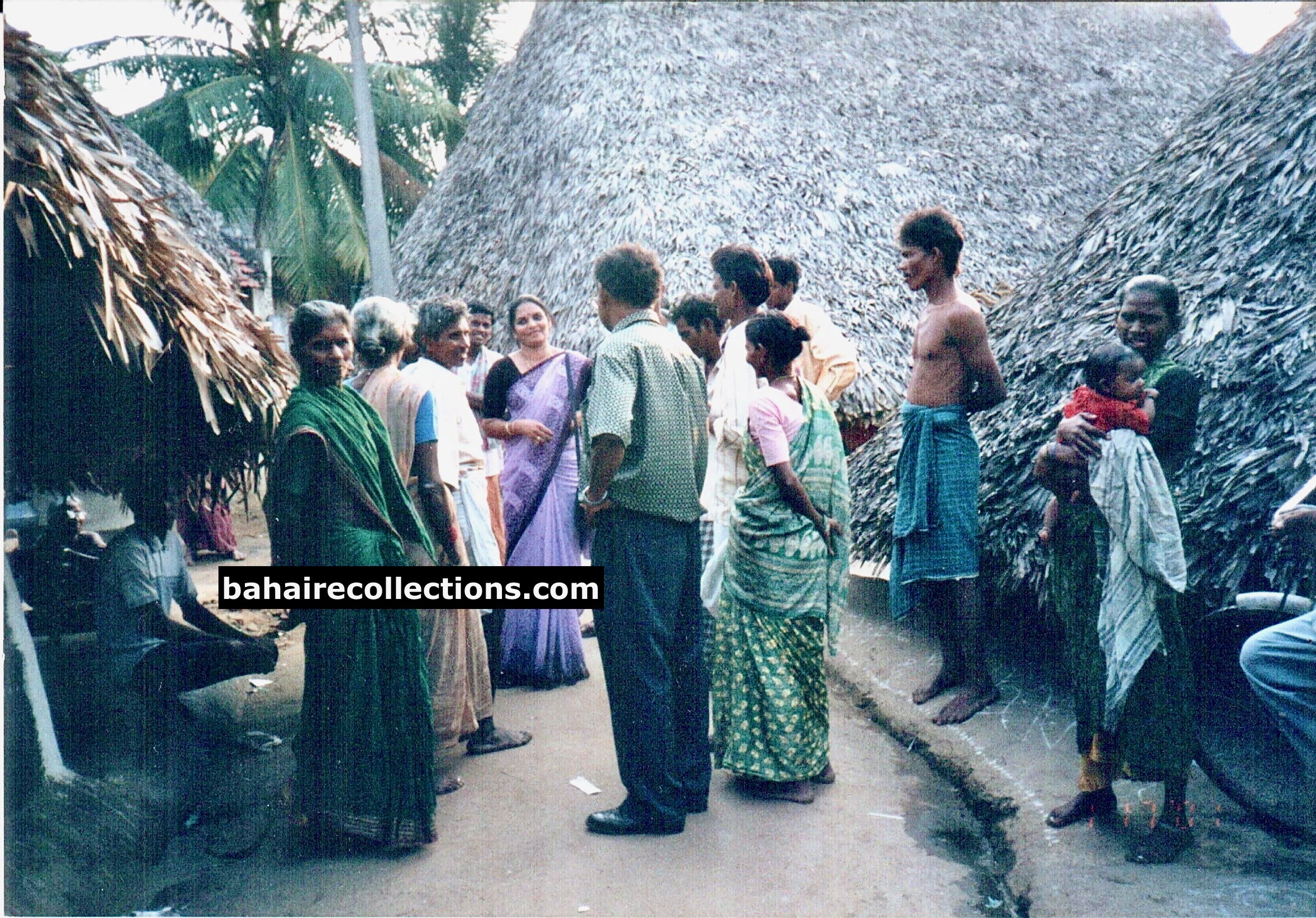 At the village of Ramajogipalem in Andhra Pradesh state of India which was native to Mrs. Rama Naidu. Sharing the Healing Message of Bahá'u'lláh with the villagers.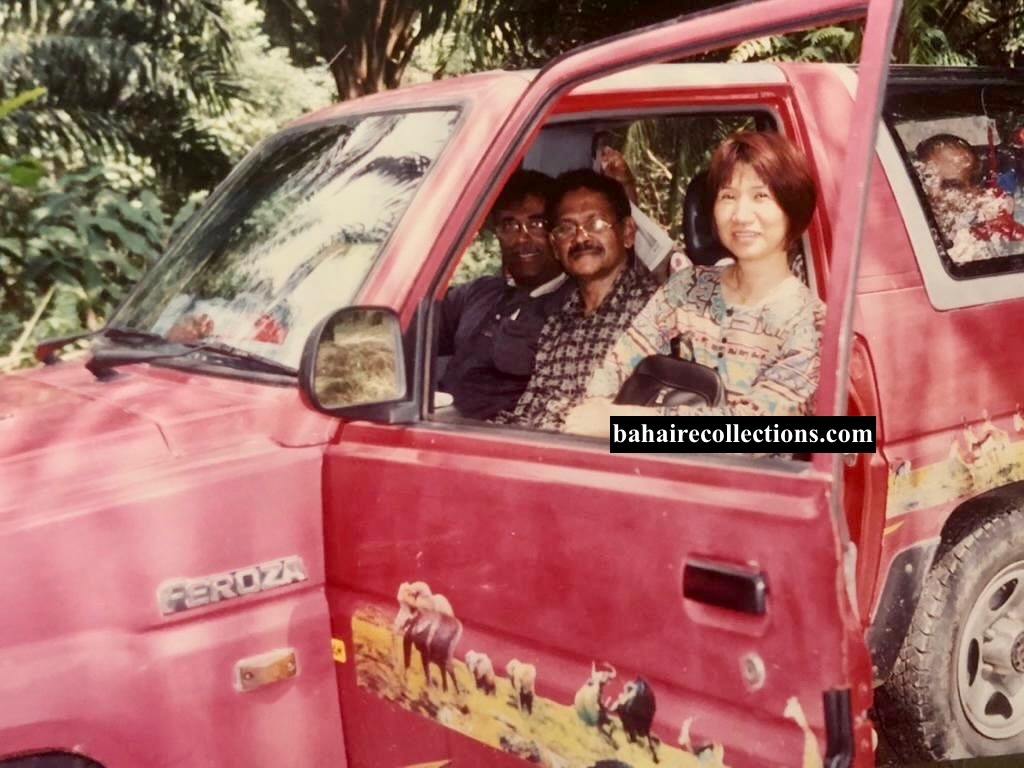 To a conference in Kampong Sungei Merah ơn 27 October 2002. L-R: Dr. Sreedharan, Rama Naidu and  Board member Miss Ong Eng Eng.
In early 2004 his wife followed Rama Naidu to India to get Ayurveda treatment for his legs, which were giving pains owing to nerve related problems. After a month of treatment, he returned to Malaysia. Having been a continuous mover for the Faith over the last 40 years, he was very saddened by his impossibility to move around during his last days.
In early 2004, he and his wife made one last trip to Sabah to be with their son Leroy who served as Secretary of the National Spiritual Assembly there. But they made it an occasion to meet up friends and to involve in teaching activities as well. They landed in Miri to meet up with R. Kanthakumar who arranged for some meetings in the urban areas. From there the couple went to teach in Bintulu for a few days and returned to Miri. Dorai who happened to come to Miri met them and took them for visiting the interiors. After that the couple proceeded to meet their son in Sabah. In that short trip many friends from Kota Kinabalu came to meet up with him. Upon return to Ipoh, he spent his time praying and going through the Writings.
With excruciating pain in his legs, Rama Naidu was admitted for a week into the Pantai Medical Hospital in Kuala Lumpur and was diagnosed of neurological problems in his legs and the medical experts concluded that there would be no cure for life. And through the recommendation of the hospital Rama Naidu started to use walking stick first, followed by walking hes until his last days. That made his movement very restricted. He was always on constant move from the day he accepted the Faith in 1965 and there is practically no major community in Malaysia that he had not visited, and his name became a household name in the field of teaching. And there was practically no long school holidays that had not been spent for the furtherance of the Cause either within the country or abroad. Now that everything came to a halt, he had to limit his movement within his town of residence. His greatest lamentation during the last few days was his immobility. Mari Yariah who was an Auxiliary Board member at that time felt the pain of Rama Naidu and drove him around. In one of his last days, Rama Naidu had a strong desire to visit the grave of Mr. Yankee Leong, the first enlightened soul to have accepted the Faith in this country, as described by the Supreme Body. There he spent a long time praying and meditating. One day he commented to a close friend that from time to time he dreamt of some light coming towards him.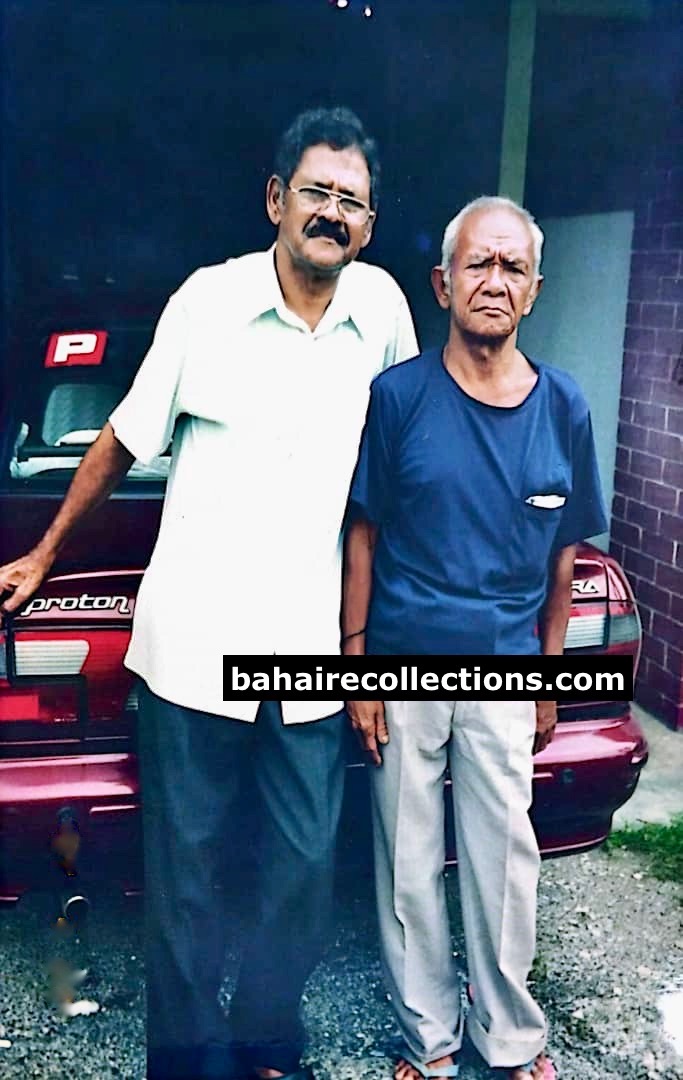 A 2003 photo taken with  Bah Roti from Kampong Badok in Kelantan, when he came to visit Rama Naidu at his home in Ipoh.

With his wife, his greatest strength.

Despite his ill health he never failed to attend local Bahá'í functions.  And friends, especially the Asli believers who had heard of his failing health came to visit him at his home in Ipoh. One of them was Bah Roti from Kampong Badok in Kelantan. He contacted Mari Yariah and requested him to take him to the home of Rama Naidu. Towards the last days, hew spent time reading the Writings. In one of the last meetings he with his family, he had told them that both their inner and outer lives have to reflect the Faith. And the last activity that he had initiated was the study of Ruhi Book 7 at the Bahá'í Centre in Bercham area of Ipoh town. But since he had difficulties in  climbing stairs at that Bahá'í Centre, the friends decided to come over to his residence for the class on the evening of 27 November that lasted from 2:00 pm to 6:00 pm. Late that night, when the friends had gathered in his house for the observance of the Ascension of `Abdu'l-Bahá, he related some moving stories about the Master. It was then that he developed some difficulties in breathing and passed away peacefully at 9:00 pm, giving his last and loving glance at his wife. Thus, his desire to breath his last while serving the Cause did come to pass, and on an auspicious night!  Even in death, he looked so serene and composed, and those who around his mortal remains felt that it was a clear indication that he was under the tender arms of Bahá'u'lláh.
More than 400 grief-stricken friends from all parts of Malaysia came to pay their last respects. The author gave an eulogy on this star-servant of the Cause, at the request of the family. He was laid to rest following a dignified burial befitting him, at the  Bahá'í Memorial Park in Lahat, near Ipoh town on the evening of 28 November 2004.
One week before passing away he dreamt of the Master in which the Master told Rama Naidu that his sufferings would be only for a few more days, and after that he would be free, happy and jumping around with joy. Rama Naidu related this dream to his wife and their understanding was he would be cured and would be back to active service in the teaching field. But only upon his passing the wife understood the right interpretation of that dream.
The Malaysian Bahá'í community has been robbed of one of the greatest followers who had consecrated his entire effort and energy wholly to the cause of God until his last breath. Throughout his life Rama Naidu had the same advice for those within and without the family – to keep serving the Faith under all circumstances until they dropped dead. And this happened to the preacher himself. Rama Naidu passed away while in service, and what could be more meaningful and memorable to have passed away on the same night on which the entire Bahá'í world would be observing the Ascension of `Abdu'l-Bahá.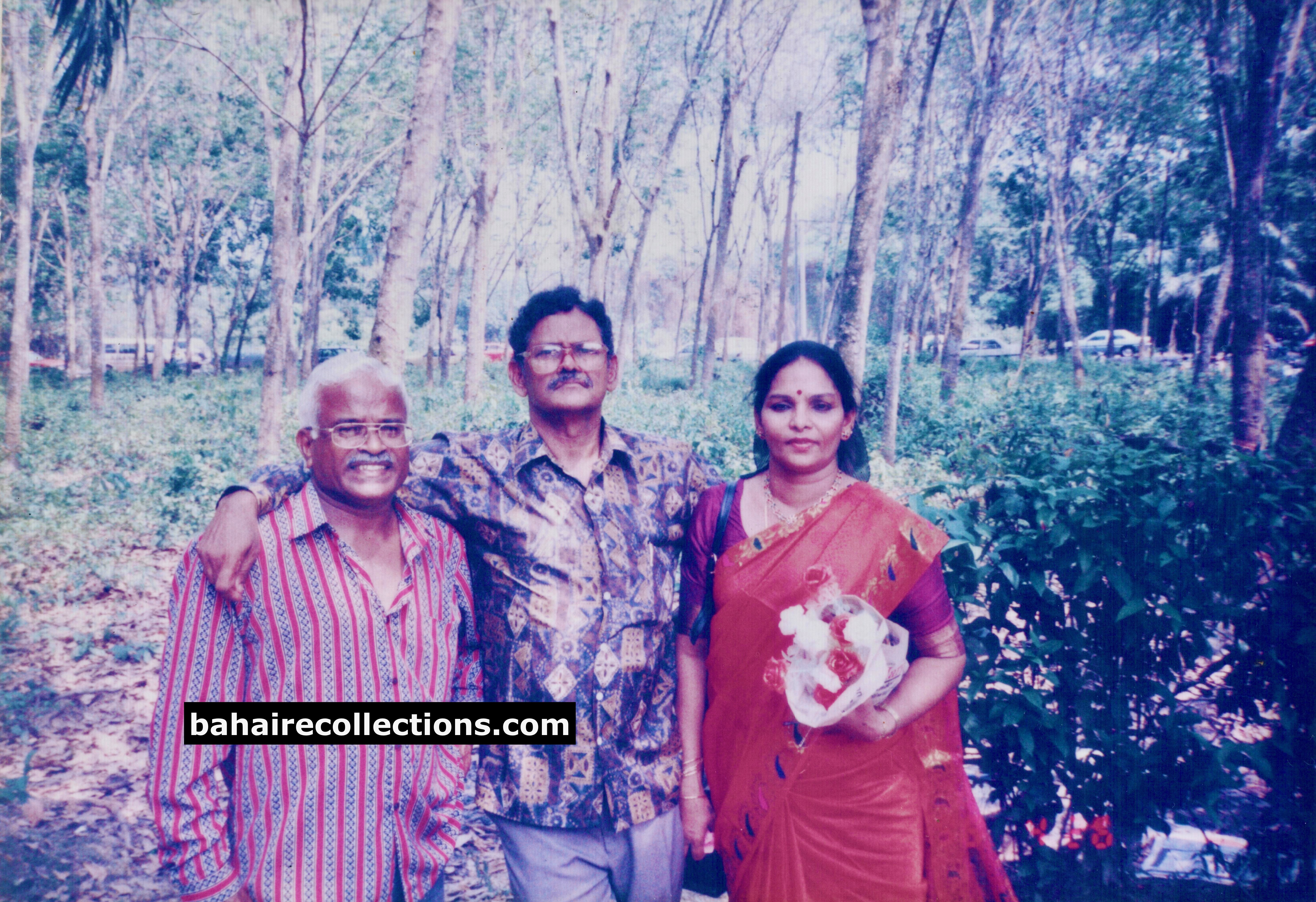 The couple with  Jami Subramaniam (L) who gave Rama Naidu the Faith in 1959.
The Malaysian Bahá'í community had always seen Rama Naidu having a passionate and immense love for the Faith which he dearly and sincerely served. He never missed any local gatherings. He was a good organizer of summer and winter schools. He even named his second son after the late Hand of the Cause of God Mr. Leroy Ioas. History would always portray Rama Naidu as one of those who stood firm in the Covenant. He was full of love for the Bahá'ís and the Bahá'í Faith. He was well respected both within and without the Faith for his straight and upright character and the sincere love that he radiated. With a strong sense of humor, his friends took a liking of his company that always elevated high spirit. Even when he had his own sorrows on occasions, he conversed with gaiety and cheerfulness, and that enhanced the spirit of the friends. Rama Naidu had a very soft and firm way of giving counsel to people, without raising his voice. In his early days Rama Naidu was quite hot tempered, but over the years, he became a tender-hearted person, seldom losing his temper – with the Writings exerting so much impact upon his soul. Rama Naidu developed a special talent of teaching the tenets of the Faith or deepening the friends through storytelling – stories taken from the history of the Faith.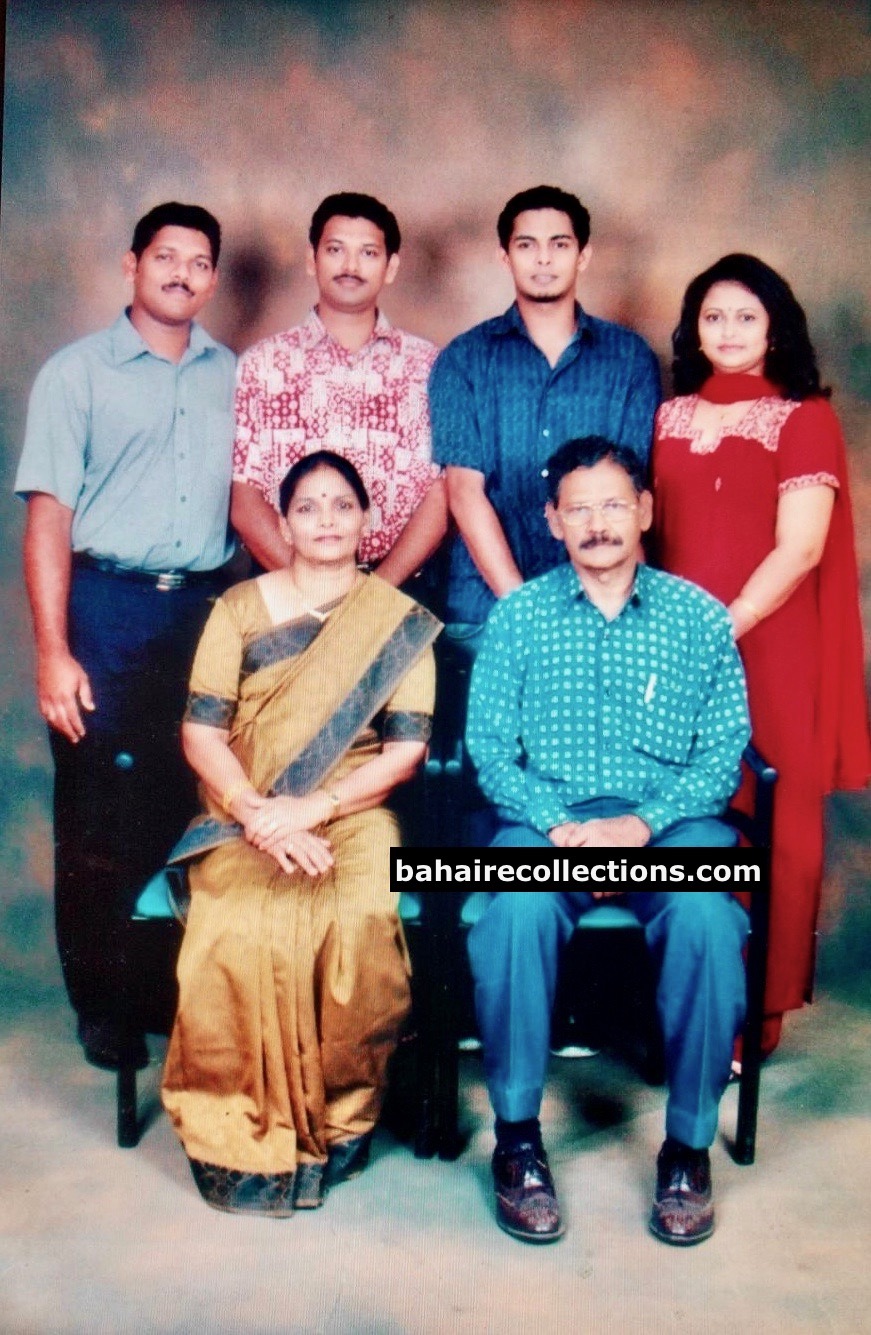 The couple with their children. Standing L-R: Leroy, Suresh, Sanjay and Sujatha.
His passing is seen as an irreparable loss to the Malaysian Bahá'í community. His has been a life that had been well lived with high morals and values. Rama Naidu had set a high standard of exemplary way of services for future generations to emulate in many ways. Rama Naidu is sure to receive divine blessings in the other unseen world, which he deserves in every way. He would always be remembered as an eloquent exponent of the teachings of Bahá'u'lláh, and an indefatigable supporter of the Bahá'í institutions. In him the community has come to lose one of the oldest and most distinguished co-workers of the Cause of Bahá'u'lláh.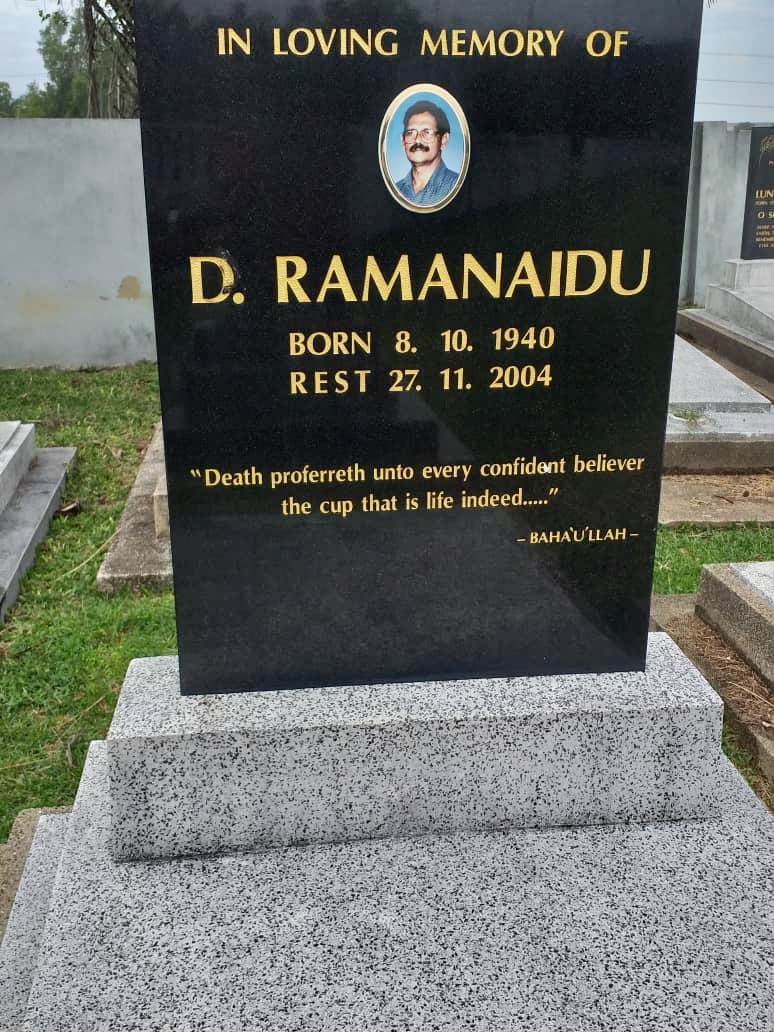 Bahá'í Memorial Park, Lahat, Ipoh
A. Manisegaran
31 August, 2022
Copyright@bahairecollections.com
You may leave your comments at: info@bahairecollections.com