REMEMBERING FRANCIS SATKUNASINGAM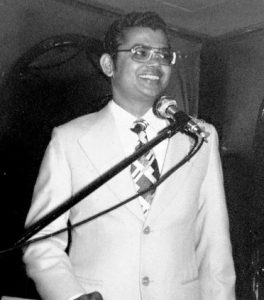 29 March 1945 to 23 July 1985
This is a brief story of Francis Satkunasingam, a dedicated Bahá'í who placed the Faith above everything else and served quietly and effectively for the boundless love he had for Bahá'u'lláh. Although his life on this earthly plane was relatively short, he left an exemplary life for future generations to admire, appreciate, and emulate.   
Francis Satkunasingam, known as Francis in the Malaysian Bahá'í community and affectionately called 'Fred' by his close friends, was from a staunch Catholic family in Temerloh, Pahang. Francis was the eldest son of a family of 15 children.
His father Mr. Robert Thuraisingam, a Hospital Assistant in Kuala Lipis, and his mother Mary Thuraisingam,  a nurse in the same town married on 25 January 1941. In 1952, Robert Thuraisingam was transferred to work at the Dispensary in Fraser's Hill, a hill resort in the same state of Pahang where he remained till December 1953. As there was no English medium school in the Fraser's Hill at that time, Mr. Robert Thuraisingam had to send his three school-going children, Elizabeth, Alice, and Francis to live with his sister in Sentul, Kuala Lumpur. Francis was a bright student from the days of his elementary education. In January 1954,  Mr. Robert Thuraisingam was transferred from Fraser's Hill to the Dispensary in the town of Temerloh in Pahang.  Francis joined them and continued his studies at the Abu Bakar School in that town. After completing his form 5 examinations (GCE 'O' Levels)  Francis worked for a short while in the Public Works Department while waiting for his results.  When he scored excellent results in the examination, Francis was offered the Pahang State Government's scholarship to pursue a course in Engineering in the Kuala Lumpur Technical College effective 1966. His admission into the Kuala Lumpur Technical College changed his spiritual fate forever, as that was where he was guided into the Faith.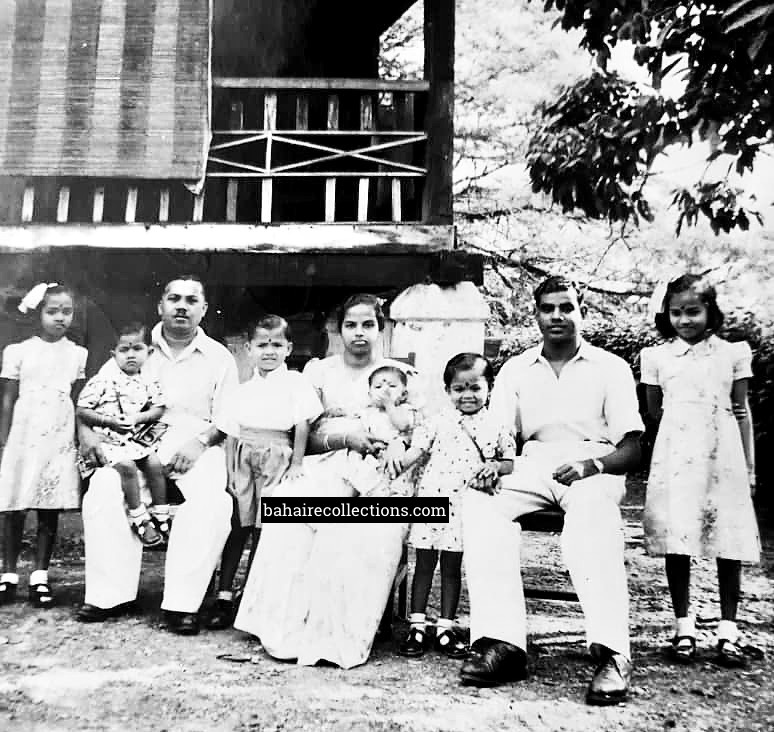 Kuala Lipis, early days. Siblings of Francis with L-R: father Robert Thuraisingam, mother Mary Thuraisingam, and maternal uncle Mr. Poobalasingam. Francis stands between his parents
Francis was the President of the Catholic Society at the Technical College of Kuala Lumpur in 1966. He was introduced to the Faith by the late Captain Choo Yeok Boon, a most dedicated Bahá'í from Alor Star, who was already a student there from 1965 and who set up the Kuala Lumpur Technical College Bahá'í Society. Being a staunch Christian and as President of the Catholic Society in the College, Francis was a difficult person to convince. He organized talks by the Catholic priests and some Bahá'ís attended these talks. Likewise, Francis too attended some firesides that the Bahá'ís organized.
At first, Francis rebelled against all that he heard and argued with Choo Yeok Boon and other Bahá'í students there, though he did admire the fellowship among the Bahá'ís in the college. But the Faith did pique his interest and he became a sincere searcher after truth. At a talk by a Catholic priest that Francis organized, the priest remarked that it was only through Christ that one would go to heaven. In response, Choo Yeok Boon asked the priest if those millions born into Muslim families would be denied entrance into the Kingdom and denied salvation. There was pin-drop silence and uneasiness in the air and the priest was at a loss for words and struggled to respond. That sharp question by Yeok Boon must have been food for reflection for any fair-minded and discerning listener in the crowd. It seems like Francis himself was intrigued by this question from Yeok Boon and he later sought out Choo Yeok Boon privately for discussions on the Faith. In the early days when an enquirer attended firesides and talks, the Bahá'í teachers in the college would directly ask the enquirer whether he or she would like to join their "Bahá'í family". But Francis had maintained that he was not yet ready whenever he was asked such a question.
Francis subsequently attended a Bahá'í Exhibition and a get-together that was organized by the Bahá'í Society on 10 August 1968 to welcome the freshmen for the academic year 1968/69. Tony Fernandez and Appu Raman of the National Spiritual Assembly spoke on the principles of the Faith. After the talk, Tony Fernandez, who was the Chairman of the National Spiritual Assembly and had heard of Francis, asked him gently and yet with some pressure as to why he was not yet a Bahá'í. Francis maintained his position that he did not feel ready yet and that he was still investigating the Faith.
Sivasathiasilan (N.S.S. Silan) who was a senior to Francis by two years at the Abu Bakar School in Temerloh had accepted the Faith in Penang in 1965 and was transferred to Kuala Lumpur in 1966 to work in the Income Tax Department.  Silan too turned up at the Tea Party organized by the Bahá'í Society in the College in conjunction with the Book Exhibition. Francis met Silan by surprise and both entered into the conversation for a while. Francis candidly asked Silan, "So, you are also into this Bahá'í thing I suppose. Please do not say much as I find it so convincing." Here Francis noted that his schoolmate and family friend Silan as well as many of the outstanding students in the College had accepted the Faith.
Curious and insightful by nature, Francis borrowed the Kitáb-i-Íqán and read it fully. Clear and irrefutable proofs and most compelling evidence appeared on the subject of the return of Christ, the Biblical prophecies, and their fulfilments. This book provided Francis the answers to many questions that had been harboring in his heart and he accepted the Faith in September 1968. Upon acceptance of the Faith, Francis bought a Bahá'í prayer book and on the first page immediately signed his name and date. Francis came to be deeply moved by the prayers from of the pens of the Báb, Bahá'u'lláh, and those of 'Abdu'l‑Bahá. Even at this early stage of his Bahá'í journey, he was a very convinced and committed believer.
Francis was fortunate to have got a deeper understanding of the Faith when he attended the South East Asia Bahá'í Regional Youth Conference held in Kuala Lumpur in December 1968. At this conference, he listened to the soul-stirring talks given by the Hand of the Cause of God Mr. A. Q. Faizi. He joined other members of the Technical College Bahá'í Society in taking a group photograph with Mr. Faizi.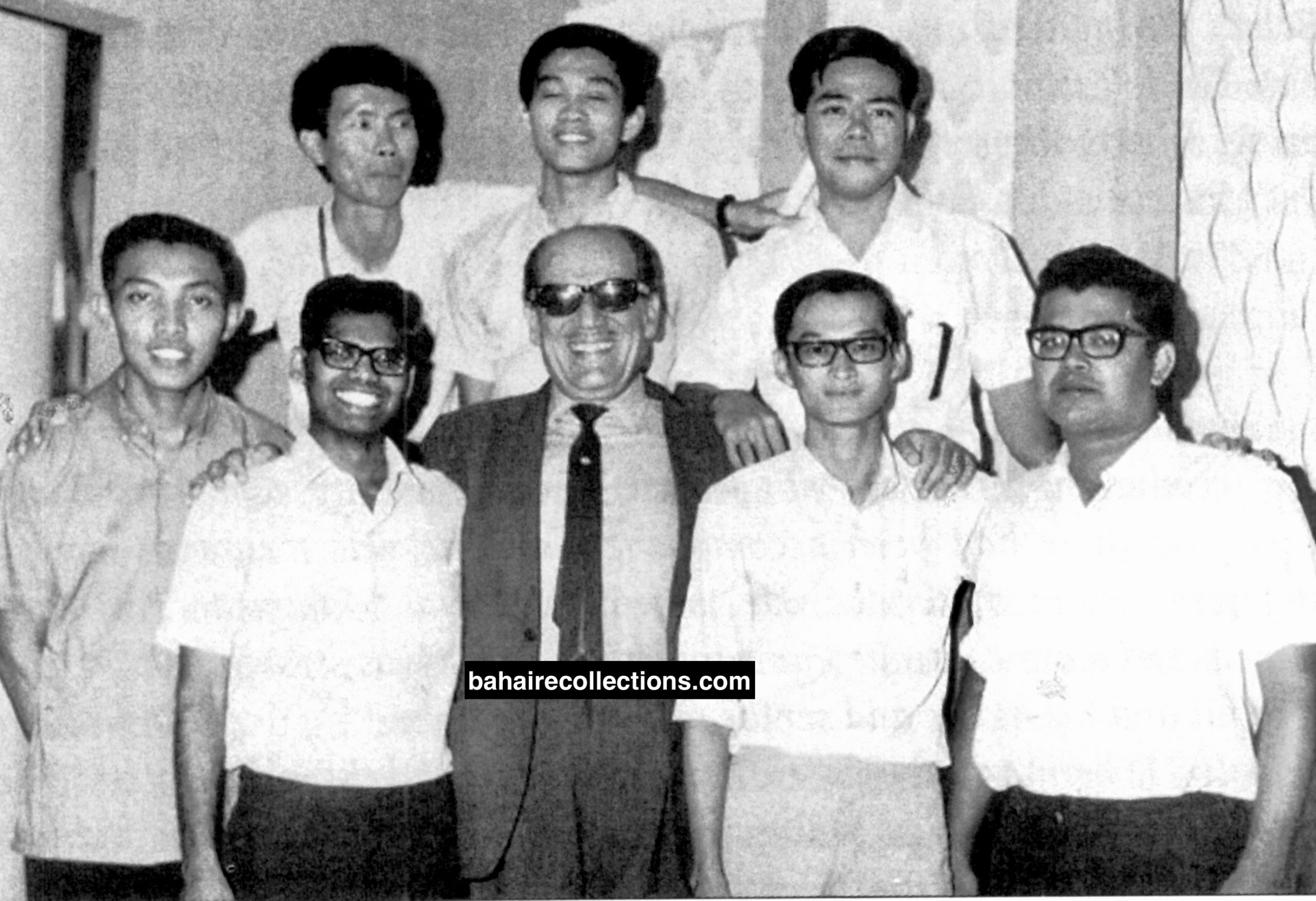 With Hand of the Cause of God Mr. A.Q Faizi. Front row L-R- Choo Yeok Boon,  A.P. Arumugam, Mr. Faizi, Teh Teik Hoe, and Francis. Back row-L-R-Mah Kim Tok, Lim Kee San, and  Lye Chye Thiam
Meanwhile,  the campus provided the best environment for Francis to be consolidated in the Faith. Apart from him as President of the Catholic Society the Presidents of the Buddhist Society, the Hindu Society had embraced the Cause of Bahá'u'lláh.   Mr. A.P. Arumugam who was the President of the Hindu Society later became the President of the Technical College Bahá'í Society.  Mr.  Jasbir Singh, the Vice President of the Hindu Society also accepted the Faith. Others who accepted the Faith in the college were Ravichandran, Lye Chye Thiam, Fong Ah Meng @ Fong Aik Meng, Lim Kee San, Chia Ah Siew, Mahendran, A.P. Perumal, Mah King Tok, Saw Kean Thai, and Kelvin Koay Hean Lye. The group of believers in the Technical College were hyperactive in organizing firesides, deepening classes, and book exhibitions. They all observed the fasting during the fasting month, with other students from other religious backgrounds observing them with keen interest. They established a vibrant community life within the campus. They visited the nearby  National Bahá'í Center in Setapak, Kuala Lumpur for Feasts, and other community gatherings.
The acceptance of the Faith by Francis created quite a stir at the College. The first shock wave he sent was resigning as President of the Catholic Society of the Technical College. That single act sparked off a series of events, to the consternation of many of his fellow Christians. His other Bahá'í colleagues in the same college witnessed the dramas that unfolded with the resignation of Francis as President. As the President of the Catholic Society, Francis was on the main reception committee when His Right Reverend Bishop Vendargon had paid their College a visit sometime earlier. Upon learning that Francis had embraced the Bahá'í Faith, Bishop Vendargon rushed to meet with Francis in person to seek an explanation and get him to revert to Christianity. By this time Francis was already a convinced believer who truly and firmly believed in the return of Christ with the coming of Bahá'u'lláh. Francis had an answer to all the Bishop's questions and the Bishop found it pointless to pursue the matter any further. It was certainly not a good look to have the President of the Catholic Society resigning to become a member of the Bahá'í Faith. And even the personal visit and persuasion by the Bishop could not shake the faith of Francis. After a futile attempt to dissuade Francis, the Bishop left Francis'  room. Before stepping out of the room, the Bishop told Francis, "I will pray for you," to which Francis immediately replied that he too would pray for the Bishop. That quick and sharp answer shocked the priest, as in Catholicism it is always the priest who was supposed to have a direct connection to Christ. It was the priesthood who would pray on behalf of its followers, and not the other way around. Here was Francis who said he would pray directly to God, and that too for the priest himself! Such a firm stand on the part of Francis, and he not caving into pressures could only have stemmed from his firm and unshakable belief in the truth of the mission of Bahá'u'lláh.
Francis had overcome the battle with the Society. Not content to stand still with the new-found Faith, his next move was to bring his entire family, who all were Catholics, into the Cause. The excited Francis first introduced the Faith to his mother's younger brother Francis P. Thillaiampalam, who also accepted the Faith. The next was the most tricky and difficult task for Francis. He had to give the Faith to his beloved mother which was akin to walking on a razor's edge. Francis summoned all his courage and introduced the Faith to his mother. He brought for her the tape-recorded talks that  Hand of the Cause of God Mr. Abu'l-Qásim Faizi had delivered at the First South-East Asia Bahá'í Regional Youth Conference held in Kuala Lumpur from 21 to 24 December 1968. On hearing of the name Bahá'í, Bahá'u'lláh, and 'Abdul-Bahá, she immediately commented that this was an anti-Christ religion from a false prophet. She told her son not to bring the Muslim religion into her home. Employing a very wise approach, Francis told his mother, "I have a delicious cake, ma, and all I want is you to partake of a piece as well." So, she patiently listened to the talk of Mr. Faizi. Francis then turned to quote verses from the Holy Bible about the return of Christ. He handed her the book 'The Thief in the Night' by Hand of the Cause of God William Sears and urged her to read the book. Meanwhile, he prayed ardently for his mother. Mrs. Thuraisingam read the book, but with a rosary in one hand for guidance and protection. It was also a coincidence that the Bible study classes that she was attending then also focused on the subject of the return of Christ. The talks of Mr. Faizi and the book 'The Thief in the Night' convinced her of the return of Christ through Bahá'u'lláh and accepted the Bahá'í Faith. The acceptance of the Faith by his mother was a great joy for Francis. This time both Francis and his mother had wanted to introduce the Faith to others in the family. Over the next few years, of her 15 children, 6 became Bahá'ís in stages – Francis, Anthony, and Philomena first, followed by Jasinta, Theresa, and Florence.  Among them, Francis and his mother had teamed up to undertake teaching trips on weekends whenever they had opportunities to meet up.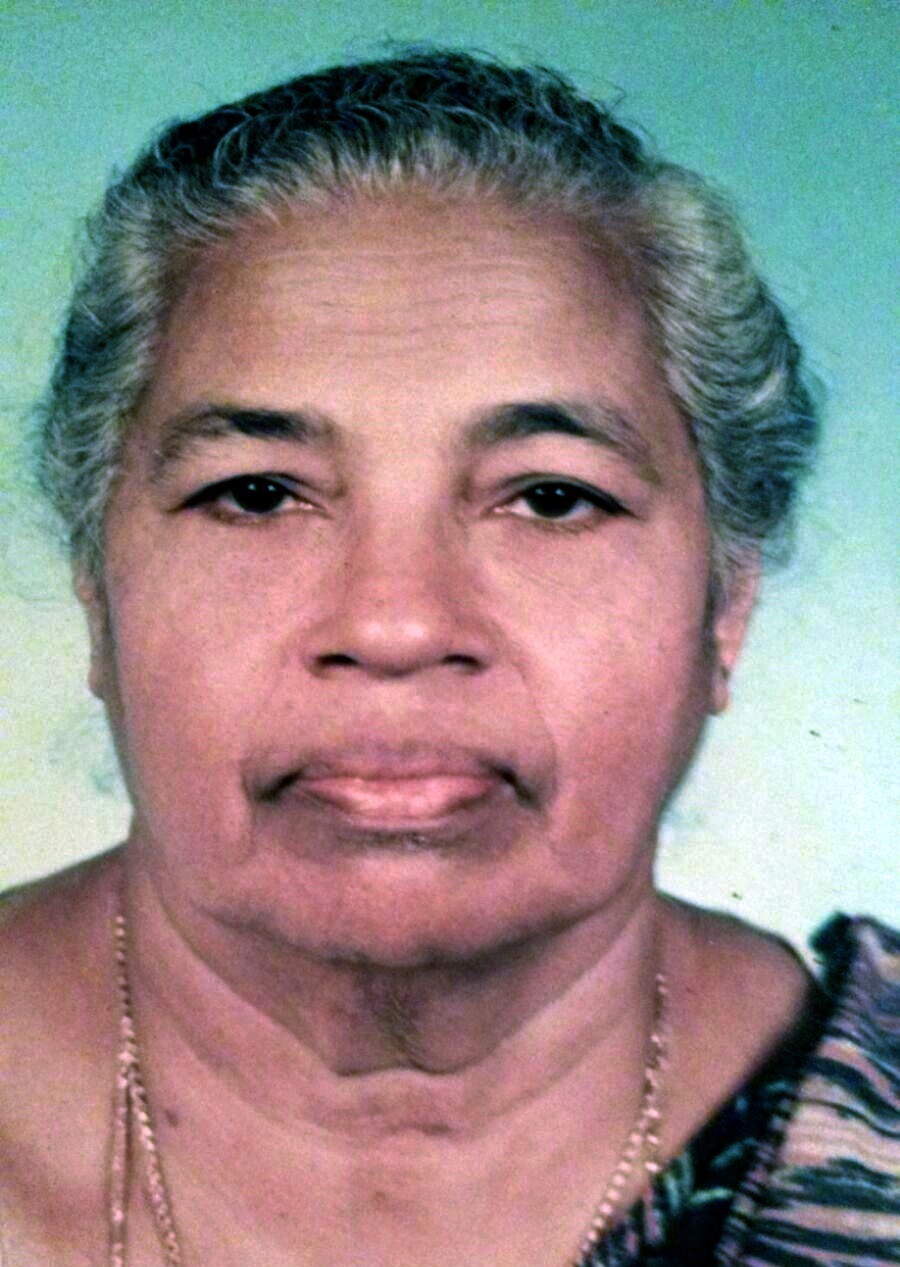 Mrs. Thuraisingam, one of the greatest heroines of our time

It must be noted that Francis' resourcefulness was already identified by the national institution the same year he became a believer. During the very early days of his Bahá'í life, the National Spiritual Assembly appointed the resourceful Francis on some important committees. When the Bahá'í Publishing Trust Committee was established in 1968, Francis was appointed onto it and in 1970 he was appointed its Director. This committee was given the task of publishing suitable Bahá'í literature locally. With the launching of the Five-Year Period for Proclamation in Malaysia (1967-1973) there was a need to set up some form of a Bahá'í Information Service. The National Spiritual Assembly set up the National Bahá'í Information Service in order to spearhead the proclamation activities in the country and Francis was duly also appointed to this body. In order to enable the Bahá'í community of Malaysia to organize many international events, especially those associated with the United Nations Organisation in an attempt to proclaim the Faith on a wider scale, the National Spiritual Assembly formed the International Events Day Committee in 1968. Francis was appointed onto this Committee as well. He served to the best of his ability in these committees.
Francis was a wide reader of Bahá'í literature and constantly immersed himself in the ocean of Holy Writings. No new arrivals in the shelves of the Bahá'í bookshop were spared, as on each visit to Kuala Lumpur, the book shop was a permanent place of call for him. He had the latest collections of Bahá'í books. In 1978 when it was announced that the UK publisher George Ronald would be publishing a complete set of Star of the West, Francis was so excited and immediately sent off a Money Order to the UK to pre-book a set. When the books finally arrived, he brought them out to be seen and enjoyed by his fellow Bahá'ís.
Apart from gleaning the essence of the message of Bahá'u'lláh from Bahá'í literature, Francis was also well guided and nurtured in the Faith by some much-loved friends, notably the late Counsellor Inbum Chinniah who became his dearly loved mentor, friend, guide, and philosopher. It was while serving in the national committees with Inbum from the very year of his acceptance of the Faith that Francis developed a deep spiritual bond with Inbum.
State of Pahang
The state of Pahang was very much virgin to the Faith and remained a very difficult area to penetrate owing to its remoteness and the long distances from the stronger communities in the country. Believers had to travel from the states of Selangor and Negeri Sembilan to teach, open up and consolidate the several places in the vast state of Pahang. While this was a grave concern to the National Spiritual Assembly, the posting of Francis to the state of Pahang was seen to be providential as here was a local resident who would step in to serve the needs of the Cause. His posting to Pahang was a new beginning for the Cause in that state. Coming from Jerantut in Pahang, Francis was very familiar with the areas there.  After his graduation from the Technical College of Kuala Lumpur, Francis was posted to the state of Pahang to work in the Drainage and Irrigation Department. Throughout his career, and till his passing, Francis was moved to the towns of Kuantan, Raub, and Jerantut in Pahang.  With such movements, Francis was able to join other believers in the development and consolidation of several believers and communities. Francis served the Faith tenaciously and tirelessly in all the places he lived.
RAUB DAYS
His first place of work upon completion of his studies in Kuala Lumpur was as a Technical Assistant in the Drainage and Irrigation Department of Raub in 1969.  He remained here as the key believer until he was transferred to Kuantan in 1975. The initial Raub days were spent reading the Writings and in serving on national committees. Raub was then a really small isolated town in Pahang, and consolidation work meant much driving and traveling. His thirst for knowledge was indeed very strong. When he started work in Raub in 1969, he bought a motorcycle for traveling. Whenever there was any important Bahá'í meeting in Kuala Lumpur, he would rush to make that journey on his trusted bike, after work, though winding and dangerous roads and return past midnight, a journey that was over 2 hours long each way. When the meetings were held over a few days he used to travel back and forth from Raub to Kuala Lumpur on all those days.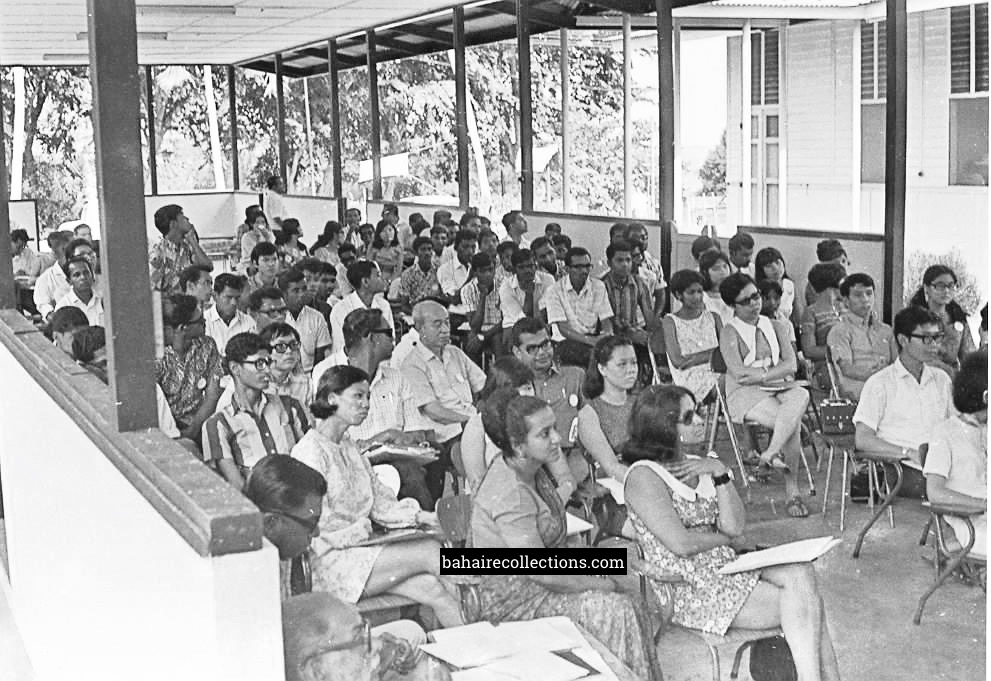 Summer School at Sunshine Camp, Port Dickson 1970. First Summer School for Francis, seated in the center. In the front are L-R: Inbum Chinniah, Shantha Sundram, and Betty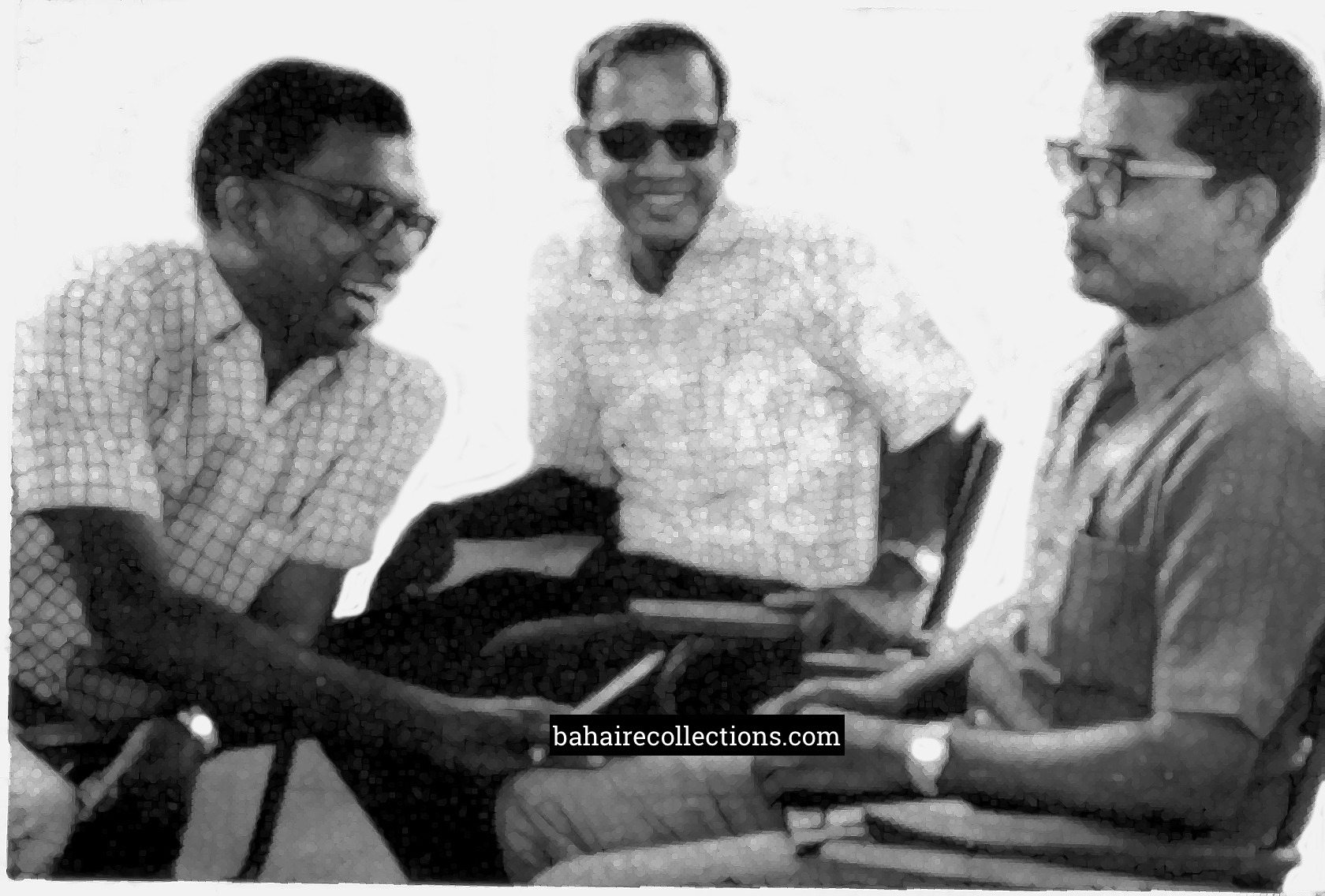 Summer School of 1970. L-R: Inbum Chinniah, Anthony C. Louis of Malacca and Francis Singam
From Pahang, almost every weekend he would travel to Kuala Lumpur to be with the family of Inbum and Lily Chinniah, as well as Auxiliary Board member Betty Fernandez. All these trips were made when he had a motorcycle and later when he had a new car, he would drive to meet the Bahá'í friends and also to Penang quite regularly to visit Mr. and Mrs. Chellie and Shantha Sundram. These were the elders who nurtured him deeper into the Faith in his early days, and his sweet spiritual relationship with them continued to his last days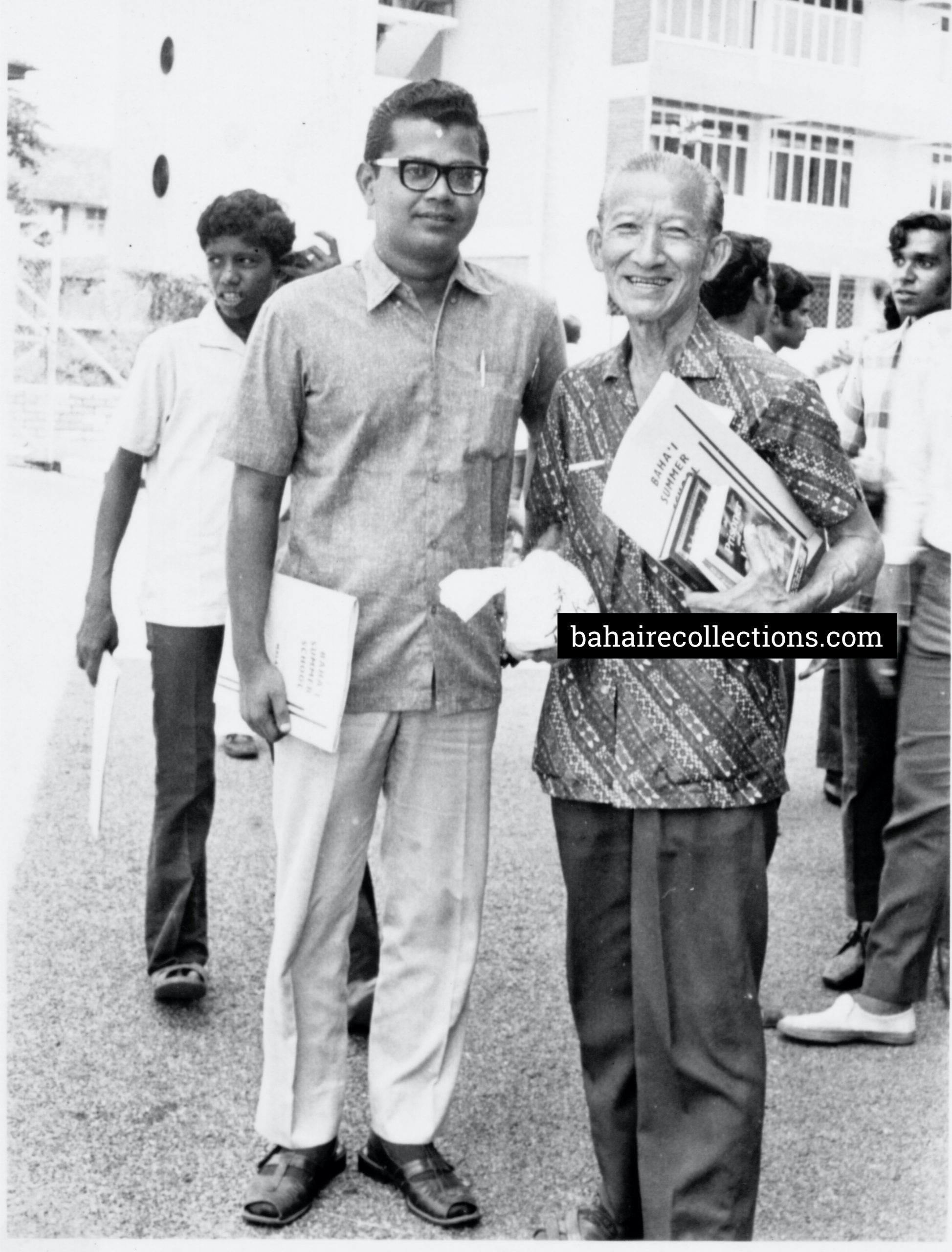 With Yankee Leong at the Summer School in Malacca, 1972
Francis was a true friend. There are instances, far too many to be mentioned, on how he went out of his way to assist believers. Francis was a very sincere and loving friend of Inbum and family. When Inbum took 6 months no-pay leave to pioneer in Africa in 1972, Inbum did not have money for the travel. Francis came forward to give him the needed financial assistance. While Inbum was away, they both exchanged letters and Francis traveled weekly to Kuala Lumpur to take Inbum's children out and spend time with them, as he wanted to be there for them in Inbum's absence. There were always some Chinese takeaway, or movies, or some other treats.
Francis was not attached to this material life. He had however always loved motor vehicles (his first motorbike was a Norton, aptly named Fast and Furious). Now he set his eyes on the Toyota Corona Mark II car that had just hit roads in Malaysia and was creating a great sensation among Malaysian road users. He purchased a yellow-colored car of that model. As it turned out, he used that car for the Faith – giving friends rides to meetings, Nineteen Day Feasts, and Conferences. When transport was needed for someone even from Kuala Lumpur to attend Bahá'í events in other parts of the country, he would drive alone from where he lived and pick the friends from Kuala Lumpur to these events. Such was his generous nature that his close friends used to say that Francis was created to help others. During the South East Asia Regional Conference held at Port Dickson in December 1976, Francis was hardly in the main conference hall. Francis was doing what he loved best, helping others by chauffeuring them in his new car, the Bahá'ís, guests, overseas visitors back and forth whether from the Subang International Airport in Kuala Lumpur to the Conference venue in Port Dickson or to their respective accommodations.
Francis never liked to be in the forefront of any Bahá'í event. He was basically a shy man and always worked behind the scenes. His idea of loving the Faith was simply to teach and serve to his maximum capacity.
KUANTAN DAYS

In 1975, Francis was promoted to the position of Senior Technical Assistant and was relocated to Kuantan town and stayed there until 1979. His magnanimity as a warm-hearted person came to the fore during his days in Kuantan. Francis had a gift for encouraging others. He was instrumental in getting the friends to attend major Bahá'í events, convinced that everyone would gain a deeper understanding of the talks and sessions. Unknown to most, Francis would quietly give financial assistance to those who had no means of attending these out of town meetings and conferences. For the Alor Star Summer School in 1976, Francis urged the local youth to go. There were two students who had all the desire to attend this event but hesitated owing to a lack of means. Francis sensed this and drove them free for the Summer School, with two others working Bahá'ís who paid their share of the transport cost. Few things gave him more happiness than helping friends in this way.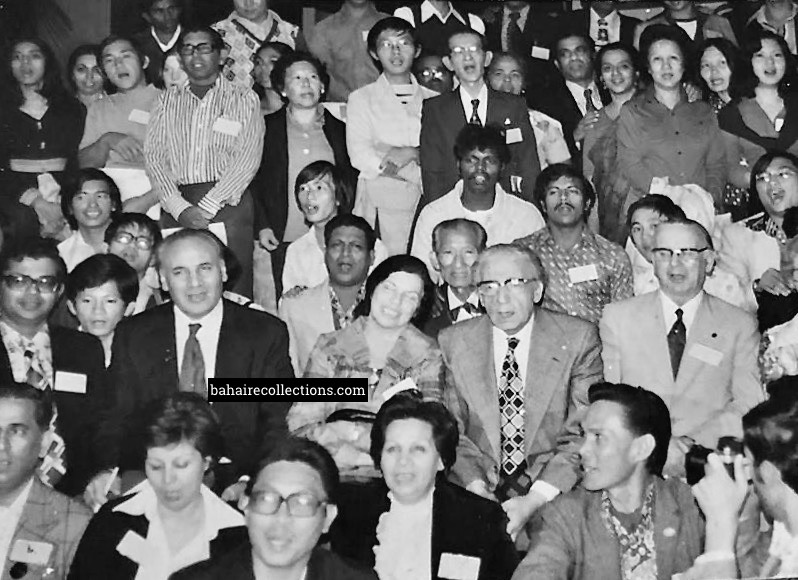 Regional Conference in Hong Kong, 1976. Francis is at extreme left, along with Hands of the Cause Dr. Muhajir, Mr. A. A. Furutan, and Mr. Collis Featherstone. Mrs. Thuraisingam stands back row sixth from the right and partly hidden

He desired all Bahá'í events especially Feasts and Holy Days to be organized with decorum and dignity as he respected these days as ordained by Bahá'u'lláh Himself. Along with other believers, some of whom were from the Kuantan Air Force Base, children's classes were organized every Sunday in Jeram Kuantan Estate. Even to these, Francis would also appear to ensure they were running smoothly. The estate children would feel at ease with the ever-loving Francis. Francis developed some of his closest and deepest friendships among the friends in Kuantan, and always remembered that period of his life as special.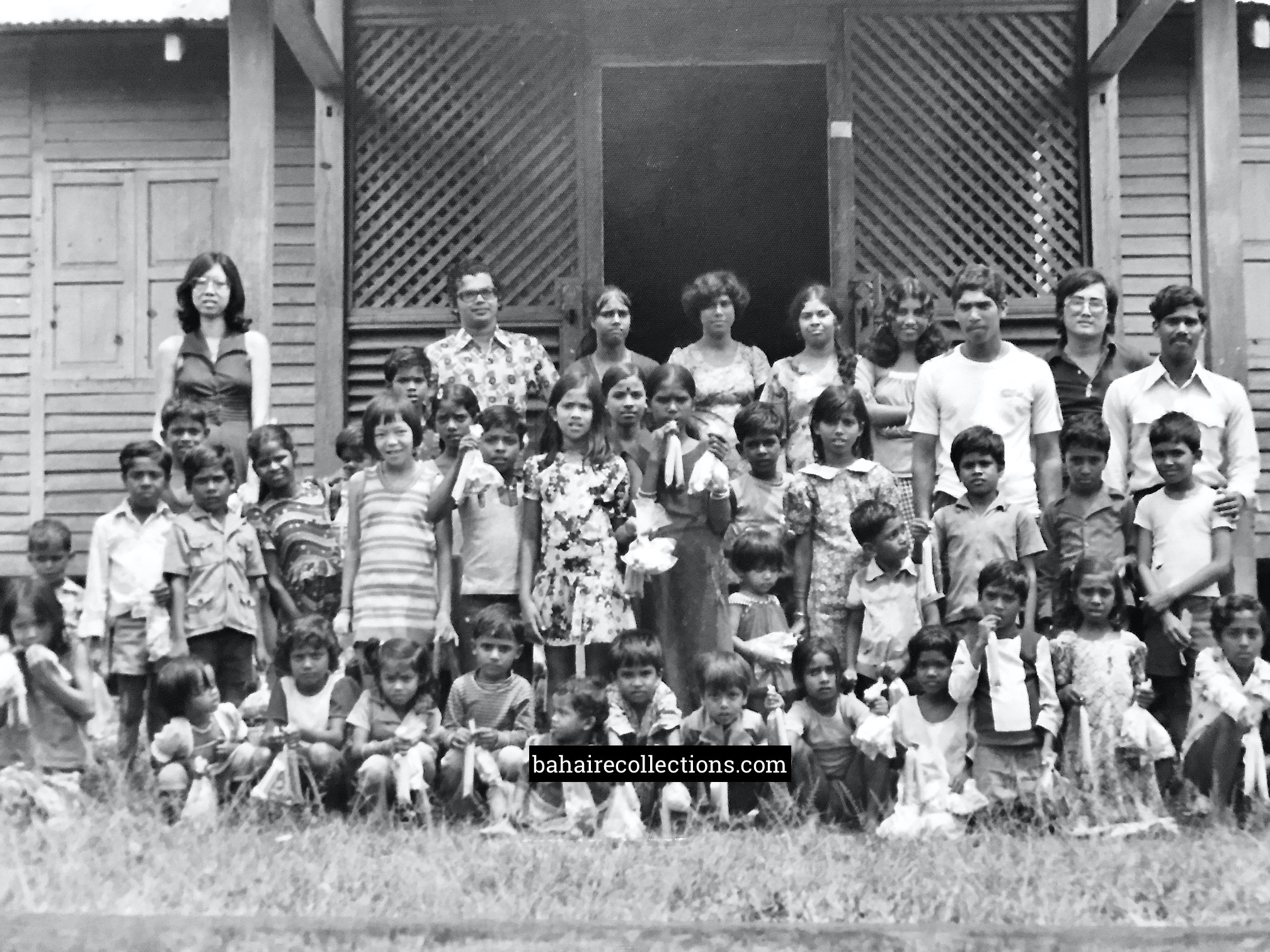 At a Sunday Children Class in Jeram Kuantan Estate February 1977 during Inter-calary Days for some 70 children. He would assist in the transportation of the children and teachers to the class every Sunday
Many opportunities arose in administrative duties for the Faith there and Francis enjoyed and served in organizing several activities. Francis served as an effective member of the Assembly, as Chairman and Vice-Chairman during his Kuantan days.

Lum Weng Hoe and Francis at Unit Convention, 1977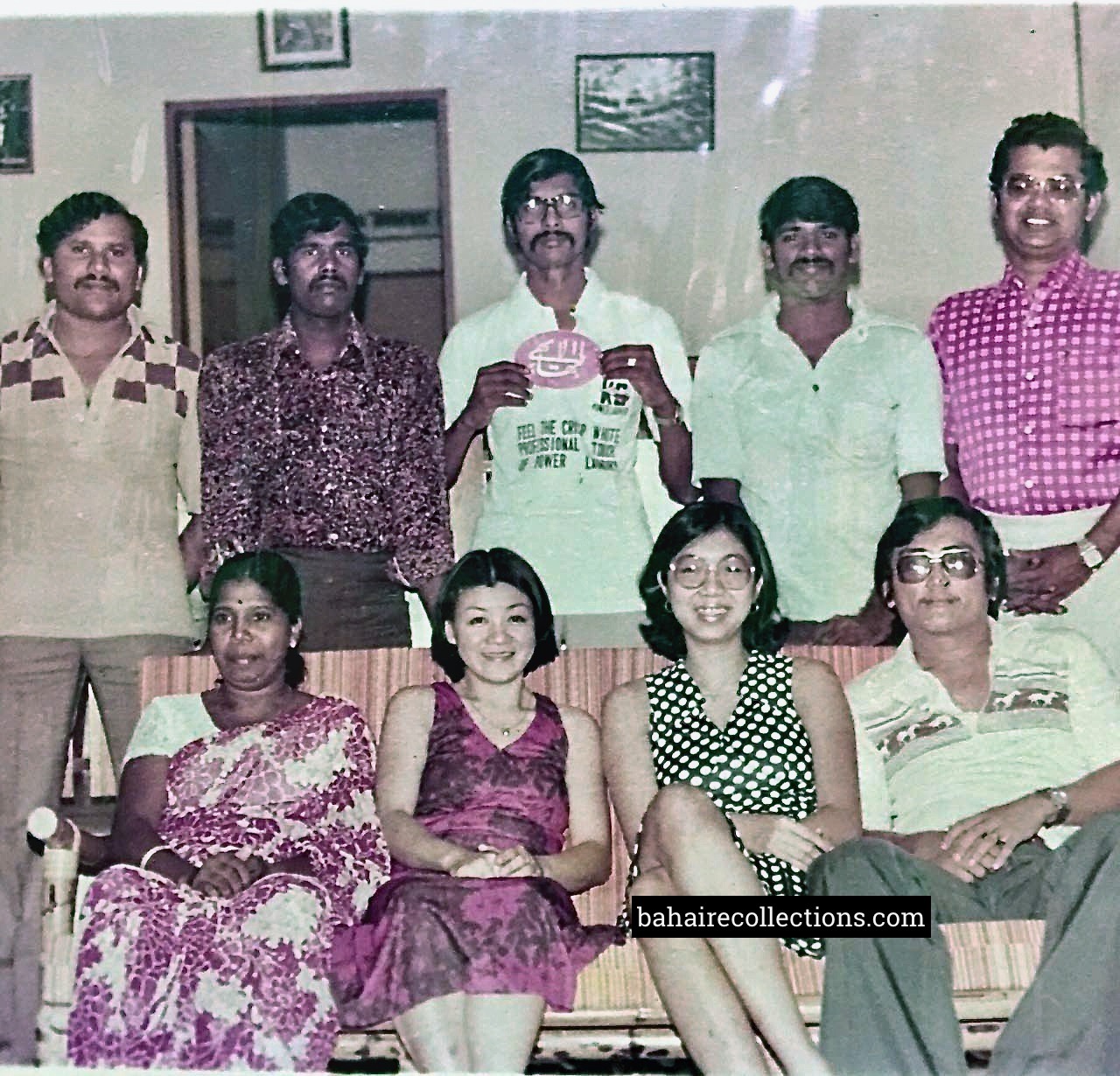 Local Spiritual Assembly of Kuantan, 1978. Back row L-R: Mohan, Ponnusamy, Jeyabalan, Kariippanon, and Francis. Seated L-R: Madam Maria, Bee Lee Goh, Shirley Wong, and Lum Weng Hoe
Francis was also very generous in contributing to the funds. Whenever there was a call for a greater contribution of the funds, Francis, already a regular contributor would go out of his way to economize spending. He taught Bahá'ís how to be frugal, encouraging both thrift and sacrifice, often quoting stories of  'Abdu'l‑Bahá. He said Bahá'ís could save money mainly on eating! His argument was that if one wanted to eat well, he or she could do so at home. There were moments he himself used to eat only roti canai with tea. He was practical in every way. He became a huge contributor to the Bahá'í funds. Francis had also quietly assisted in subsidizing Malaysian pioneers overseas whenever there was a call.

Speaking as the chairman of the Local Spiritual Assembly of  Kuantan during Naw- Ruz 1978
In 1978 the first-ever National Summer School in Kuantan was entrusted to the Local Spiritual Assembly of Kuantan. The overjoyed Francis took pains almost single-handedly to meticulously look into most of the physical arrangements. Kariippanon, a much-loved friend of Francis who was serving with him at that time, witnessed his eagerness to make sure no stone remained unturned to ensure the smooth running of this Summer School. And it was indeed a great victory for that small band of loving and dedicated Bahá'ís when it all turned out a big success!
A stickler for punctuality, Francis did not take kindly to excuses for being late. He insisted that meetings and Bahá'í gatherings should start on time and he would set the example. For those who had no transportation, he provided lifts. He was also equally particular about cleanliness. He ensured all utensils were wiped cleanly and stored after every meeting. He was always well dressed for any occasion.
It was while in Kuantan that his heart set upon a lady whom he desired to make his life partner. She was Usha Cheryan, a devout Christian, who at that time was suffering from some ailments. At the South East Asia Regional Conference held in Port Dickson in December 1976, Francis saw an opportunity for prayers to be said for Usha at the Holy Shrines. Hand of the Cause of God Mr. Faizi whom he had earlier met in 1968 in Kuala Lumpur, came for the Conference in Port Dickson. Francis wrote the name of Usha on a piece of paper, and while shaking hands with Mr. Faizi, he pressed this paper into Mr. Faizi's palm and humbly requested that this name be mentioned at the Holy Shrines. The ever-loving Mr. Faizi accepted the request.
Meanwhile, Francis kept teaching Usha about the Bahá'í Faith and tried to convince her that Christ had returned. She was very opposed to the Faith and was full of questions. There used to be heated, but healthy discussions. The first Summer School held in Kuantan in 1978 changed her spiritual fate. Usha took time off from her workplace and attended parts of the summer school program. Circumstances leading to her acceptance of the Faith are dramatic. As Usha made her way into the main hall, she heard a strange chant in an unknown language coming from a side room. She walked into the hall quietly thinking of the Biblical promises of the return of Christ, as she loved Christ more than anything else.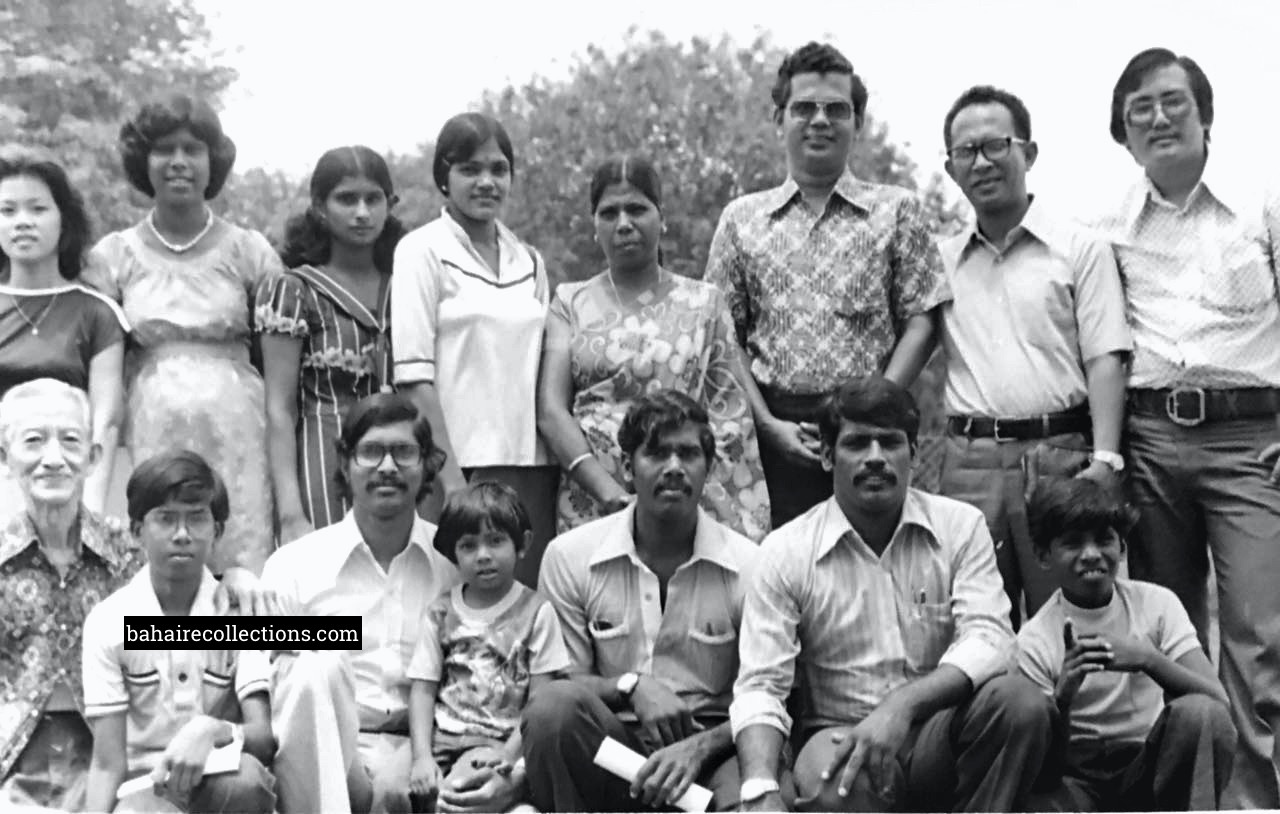 Some members of the Kuantan community at the Summer School. Seated at extreme left is Yankee Leong. The three adults in the center are L-R: Jeyabalan, Ponnusamy, and Kariippanon. Standing L-R;  (unknown) Bawani, Palimah, Ratha Jeyabalan, Madam Maria, Francis Singam, Counselor Vicente Samaniego from the Philippines and Lum Weng Hoe
During the break, Francis asked Usha to meet someone very special, and she hesitatingly agreed. That special person looked at Usha, smiled into her eyes, and as soon as they were introduced to each other, this person took both of Usha's hands into his own and said, "But my dear, Jesus Christ has returned…" That most unexpected statement shook Usha to her very core. She was puzzled about how this person knew the pressing question that was burdening her heart. She felt she was drowning as she gazed into the eyes of this person. That special person turned out to be the Hand of the Cause of God Dr. Muhajír, and he forever left an indelible memory in her mind.

Hand of the Cause of God Dr. Muhajir addressing at the Summer School
She later found out that the chanting that came from a side room was from the voice of Dr. Muhajir. A few days after the Summer School, on 10 August 1978, Usha knelt in her room in Kuantan and read the Tablet of Ahmad and the following verse penetrated her very being, "He who turns away from this Beauty hath also turned away from the Messengers of the past and showeth pride towards God from all eternity to all eternity."  She asked God for forgiveness for her years of prejudice and felt a load off her heart. That line put an end to her 4 years of search for the truth and on that day,  she accepted the Faith. It was the prayer of Francis that was answered, for a sincerely seeking soul.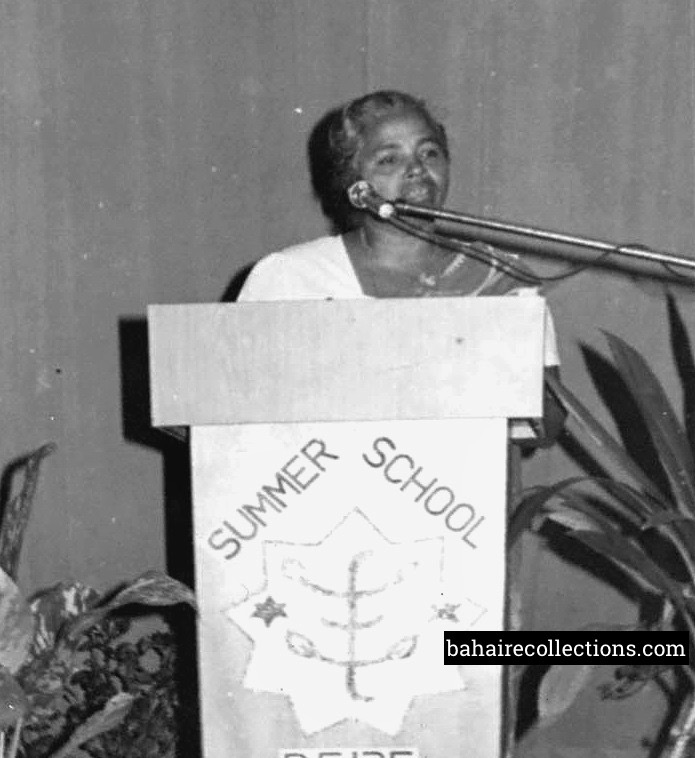 Mrs. Thuriasingam sharing her teaching experiences in Sri Lanka in 1977 and in the Malaysian estates
With his mother and some siblings accepting the Faith earlier, followed by his fiancée now, Francis had every reason to be the happiest man, as he was able to foresee a stable Bahá'í family that he could build. Francis married Usha Cheryan on 27 October 1979 at the then Jaya Puri Hotel in Petaling Jaya, with his Bahá'í mentor Counsellor Inbum Chinniah as the Master of Ceremony. The simple person that he was, Francis drove himself to his wedding, in his much-loved Toyota Corolla Mark II car.
JERANTUT DAYS
Almost coinciding with this big event of his marriage, Francis was relocated to the tiny township of Jerantut in Pahang in 1979 and remained there till 1982. They decided that Usha would remain in Kuantan and he would travel weekly, something that, looking back, appears to have taken a toll on his health. He took the opportunity to work with the small band of believers in Jerantut and in the surrounding areas, friends like G.K. Balan, wife Kunja who were in Kuala Lipis from 1980 to 1985, the late Ingersoll Suppiah and wife Saroja from Bentong. On weekends Francis travelled to Kuantan, where he and Usha shared a house with another Bahá'í couple and dear friends, Lum Weng Hoe and Shirley. The Lums had a 2-year-old toddler then, Ken Leong, who both Francis and Usha doted on. 'Uncle Fred' would often take Ken Leong for a car ride, something the young toddler always looked forward to.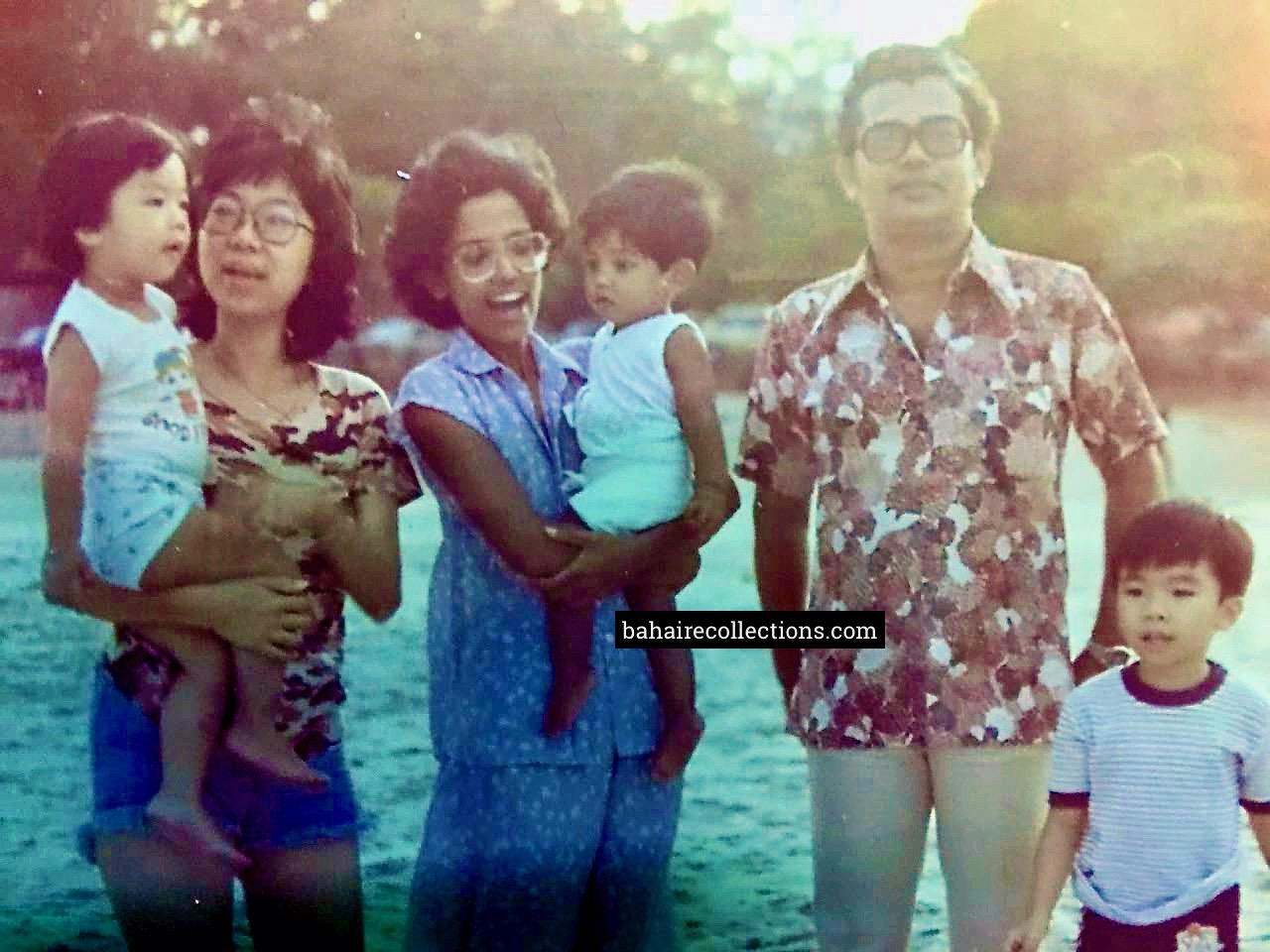 Teluk Chempedak Beach in Kuantan, 1982. At the extreme left is Shirley Lum carrying her second son Lum Ken Wye. Usha with baby Benjamin. Toddler Lum Ken Leong is next to his 'Uncle Fred.'
Francis was a happily married believer. When his wife conceived their first child, Francis was happiest and was saving money for the delivery, just in case complications set in. When his first child Benjamin was born normal and healthy on 14 September 1981 in the town of Kuantan, that night itself, Francis felt so thrilled that he was finding ways to thank Bahá'u'lláh in a special way. He knocked at the room door of the treasurer of the Local Spiritual Assembly of Kuantan. When the treasurer opened the door, Francis handed over an envelope to be contributed to the National Fund. When the treasurer opened the envelope, he counted a huge sum. It was Francis' way of thanking Bahá'u'lláh for bringing him such happiness in his life.
While Francis was working in Jerantut, he became very close to G. K. Balan and his wife Kunja who were in the neighboring town of Kuala Lipis. This couple had a problem with their washing machine and a second-hand water heater. He took a day off and helped them fix the piping for the washing machine and also managed to fix the water heater in their bathroom. Francis was a self-taught handyman and enjoyed any challenge of fixing things.
He also used to help feed and mind the Balan children. He ate no meat but enjoyed seafood. While in Raub, Francis learned to bake wholemeal bread and supplied it to his friends in Raub – it was a novelty and gained demand. The friends in Raub who had moved closely with Francis have this to say of him, "Once you get to know Francis, he will go to any extent in times of need. It is indeed very difficult to get one human gem like him in the community, nay even in the wider world."
RAUB Again 1982-1985
In his second posting to Raub, Francis returned this time with his wife and a toddler. Jonathan their second son was born on 29 August 1983 in Raub. Francis teamed up again with friends like G. K. Balan of Kuala Lipis and the late Ingersol Suppiah to extend teaching activities in the whole of East Coast, including Pahang. Within Pahang, he concentrated on places like Kuala Lipis, Raub, Bentong, and Jerantut, the very places the National Teaching Committee was much concerned with, and this team started to build up these communities quite well. Francis was basically a field worker and a good administrator as well. Though he moved places for his job from the time he started his career in 1969, Francis was always keenly conscious of opening up new areas, establishing assemblies, and consolidating believers. As for Raub, there was one Bahá'í in 1963. In 1985, which was his final year there, a Local Spiritual Assembly had been established.
A Magnanimous heart
Francis' obedience and love for the institutions was remarkable. When he started work in Kuantan, it was the time when old typewriters were giving way to the first desktop computers. He knew the National Bahá'í center needed a computer. The computers in the early days were expensive as they were a novelty and not quite affordable. Francis bought an expensive Apple Macintosh and presented it to the National Bahá'í Centre in Kuala Lumpur, making it their first-ever personal computer. It was a luxury at the time, and the staff of the national office had to undergo some training to start operating it. The staff reported later that the computer had added to the efficiency at the national office.
Although perceived to be a reserved person, friends who associated closely with Francis discovered that the real person was one whose knowledge of the Faith was wide and deep and his love for the Faith rock steady. He was very witty – a wit that sometimes went over the head of many due to the intellect and the serious manner in which he delivered it. Those who loved his company loved him for what he was – a no-nonsense person for whom the Faith was all. Francis was willing to go the extra mile to serve the Faith. Francis became a person who loved, sympathized, or cared for the needy, all because deep inside him he had a pure heart. Whenever there was a need he had demonstrated his ever readiness to sacrifice for the Faith.
He was a master Scrabble player, with a good command of the English language. He was a caring and meticulous housekeeper and after his marriage, especially after Usha became a mother, Francis would get his wife to rest while he looked after household matters.
His close friend was once appointed Auxiliary Board member in the late 1970s. Francis organized a fireside in Kuantan and invited him to speak at the fireside. After the fireside, Francis took him to his wardrobe in his house and told him to choose "all the best shirts" he had just bought. He told him, "You can appear simple, but I want you to also dress up with some style – as you not only protect the Faith as a Board member but also project the Faith to the outside world."   Francis himself was well dressed for all occasions.
A life cut short
Five years into their very happy married life, and with the second addition of baby Jonathan, Francis was diagnosed with a serious heart condition, and there was little choice but open-heart surgery. Many friends from far and near prayed for him and visited. Lum Weng Hoe recounts his visit. Francis was weak and motioned Lum to come near. When Lum bent over to listen to what he had to say, Francis placed his hand into Lum's pocket and took out a cigarette packet which he threw down on the floor. He told Lum, "I am here because of this habit I had wrongly picked up even before I had accepted the Faith. You too better stop smoking before it is too late." He then turned to Usha and asked her to provide Lum with some sweets. He even spoke of wanting to be buried next to Inbum.
Complications set in while in hospital, his heart failed him again, and emotionally and physically Francis faded. The Divine Will intervened. Francis Singam passed away on 23 July 1985. Following a befitting funeral, he was laid to rest in the Bahá'í burial ground in Seremban, next to the grave of Inbum Chinniah, forever to remain alongside his respected friend and mentor. Thus, ended the exemplary life of Francis to whom the Faith was all, and for which he labored sincerely and with utter devotion from the day he accepted the Faith.
Following the passing of Francis, in 1986 Usha Singam and her two children Benjamin and Jonathan moved into the Petaling Jaya  Bahá'í community. Usha became an active children class teacher and her two children attended the classes and grew up in the Bahá'í way of life, as per the desire of Francis.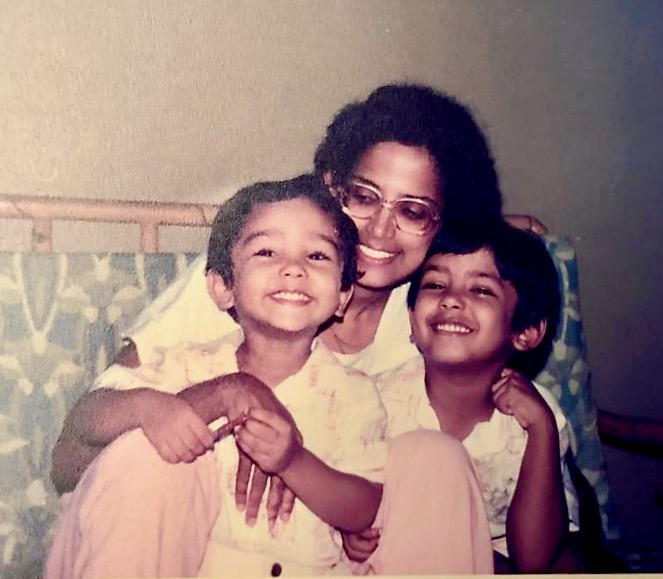 Usha with Benjamin and Jonathan, a year after the passing of Francis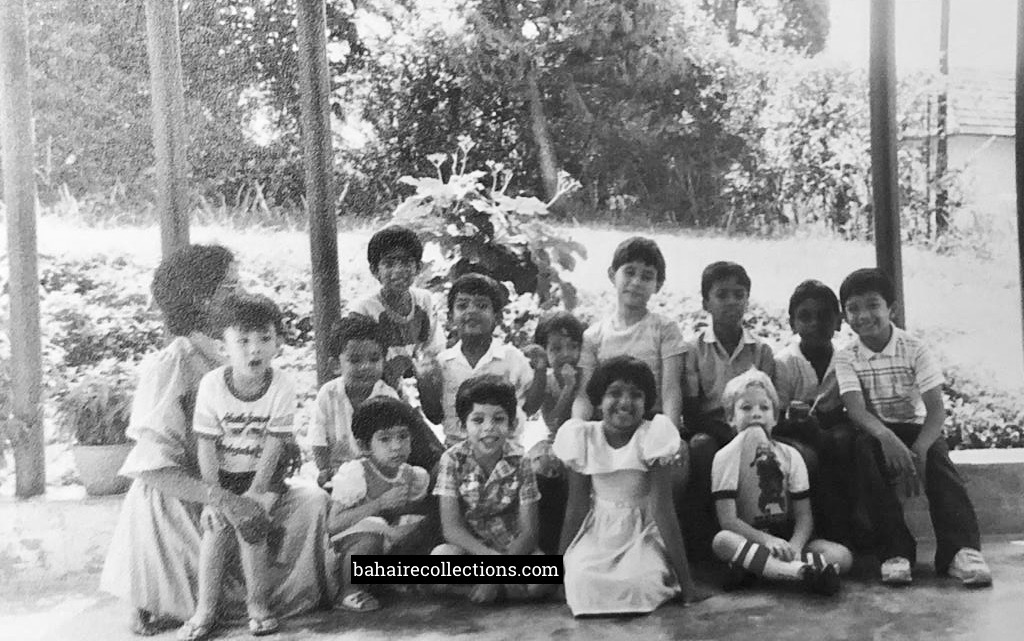 Usha at teh extreme left conducting classes for children at the Petaling Jaya Bahá'í Centre. Jonathan is the second child from the left with Benjamin. At the time of writing, they are settled in Australia.
One of the closest friends of Francis was Ponnusamy Arokiam, who loved both Francis and Counsellor Inparaju Chinniah. When Ponnusamy's wife Mariammah (Mala) gave birth to their first son, they name him 'Francis Inbaraj' – combining the names of Francis Singam and Inparaju Chinniah.  
Throughout his life Francis lived by the advice given by Counselor Inparaju Chinniah: 'Be firm in principles and flexible in details'.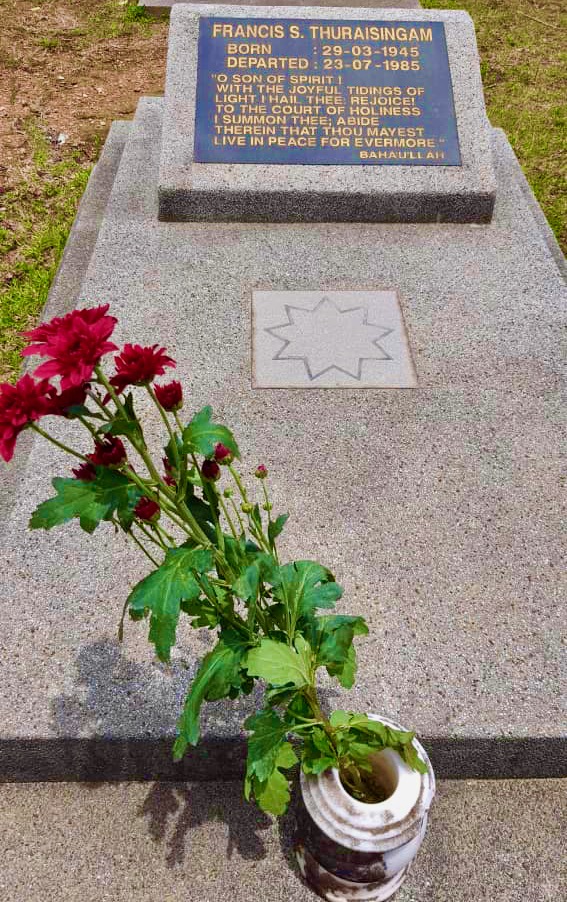 To the court of holiness I summon thee; abide therein that thou mayest live in peace for evermore.
– Bahá'u'lláh
A. Manisegaran
30 September 2020
Copyright@bahairecollections.com
USEFUL LINK- Story of Mrs. Thuraisingam, mother of Francis: