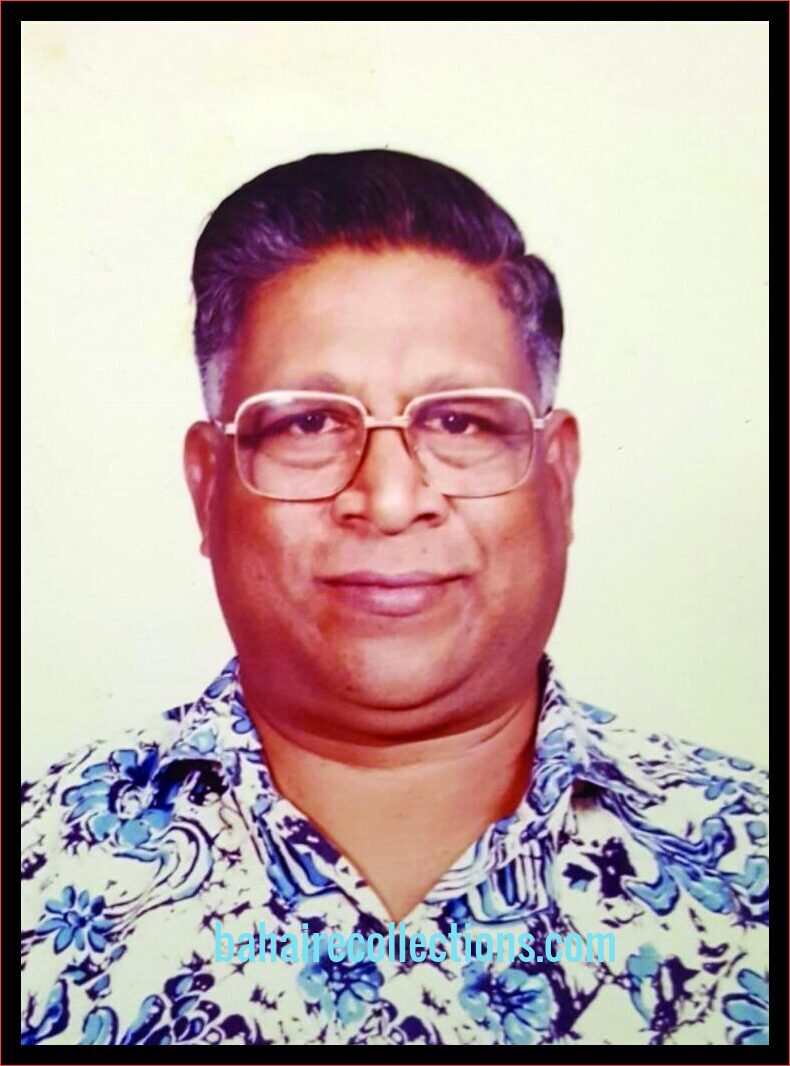 13 September 1933 to 6 December 2018
This is the moving story of Kumara Das, truly one of the staunchest believers of the Ten-Year Crusade period bequeathed by the Blessed Beauty to the community of the Greatest Name in Malaysia. He came into the Faith in 1955 and served the Cause with unremitting zeal, registering an unbroken record of service in the manifold areas of the Faith and decorating the pages of history through his impactful services that time can never dim.
The healing message of Bahá'u'lláh wafted over Kumara Das, at that time a teacher in Malacca High School, through Mr. Leong Tat Chee, Senior Sanitary Inspector Officer at the Malacca Municipal Council. Kumara Das, initially was not too keen on the Faith, but Leong Tat Chee's persistent efforts in teaching the Faith woke him from the stupor of heedlessness, and in 1955 he accepted the Faith. It did not take long before the effect of the Teachings transformed the pure heart of Kumara Das and he became a completely new person. That was a dawn of a new day for him and the Malacca community, as Kumara Das was a highly resourceful person, with loads of personality, resourcefulness, and many talents, which he brought into his services to the Faith. He no longer spent his time with the activities of the friends of the Alumni of the St. Francis' Institution of Malacca, the school where he first studied. He gave up many of his past habits and lent his full attention, energy, and time for the greater needs of the Faith, and consecrated all days of his life to serve Bahá'u'lláh. His friends sorely missed the old Kumara Das. However, they did not fail to appreciate the new man they saw in him.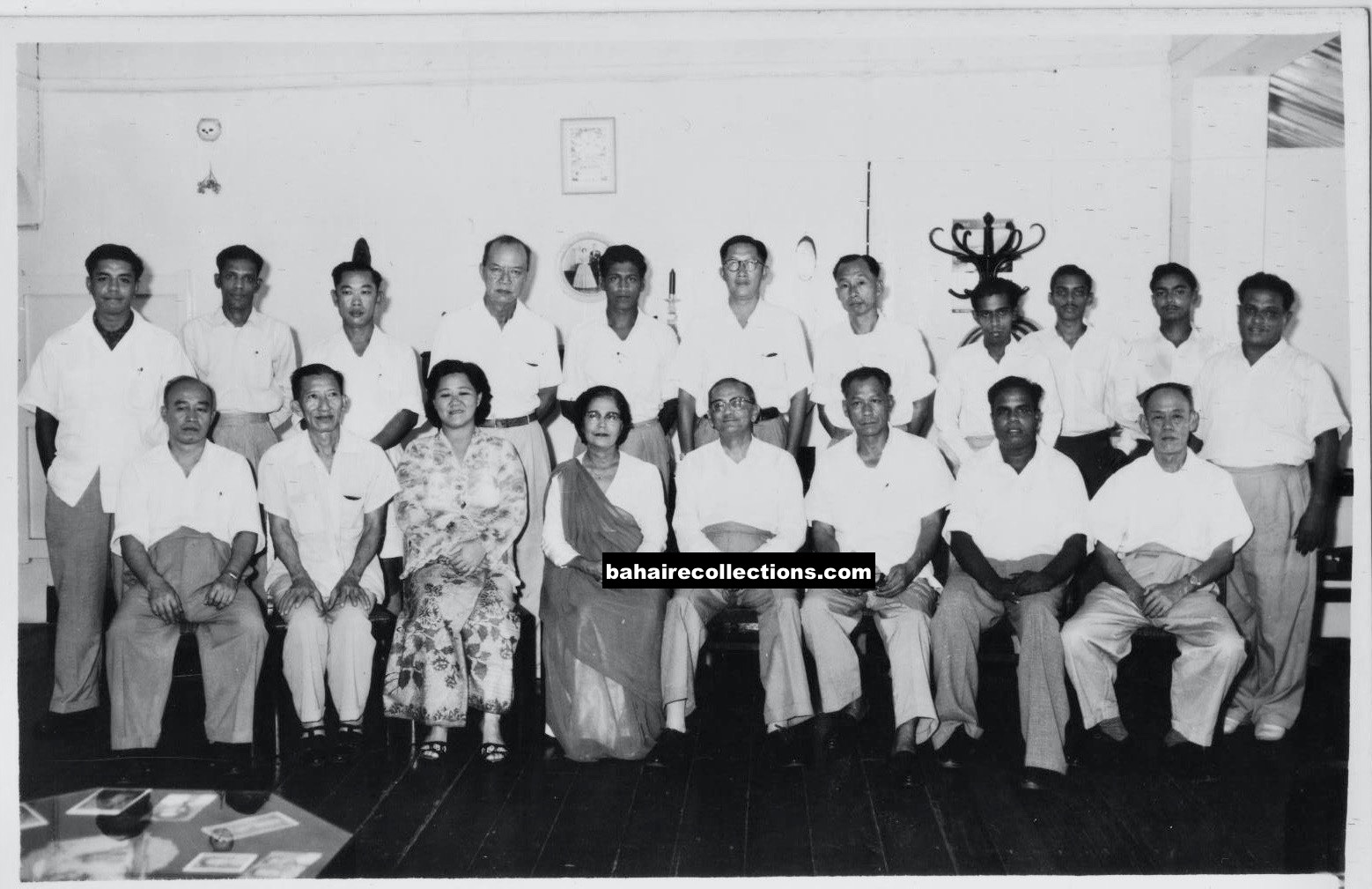 Teaching Conference of July 1957, Malacca. Seated second from the left is Yankee Leong, third from the left is Lena Saurajen, fourth from left is Shirin Fozdar, fifth from left is Dr. K.M. Fozdar. Standing at the extreme right is Saurajen, and to his right are Tushar Kanti-Paul, Pijush Kanti Paul, and Mirinal Kanti Paul. Kumara Das stands fifth from the left, with Leong Tat Chee to his left

The excited Kumara Das started to share the Message with his friends such as Mr. Inparaju Chinniah affectionately called "Inbum Chinniah", who was his childhood friend and headmaster at the Masjid Tanah Primary School, and Mr. T. K. Kannan, who was undergoing a teacher training course at the Day Training College in Malacca, and a few others. Kumara Das became an avid reader, picking up knowledge of the Faith, and was tasked to be one of the speakers at the first Summer School of Malaya held in December 1957 in Malacca. Here, he met Hand of the Cause of God Dr. Raḥmatu'lláh Muhájir for the first time and developed a great love and respect for the Hand. Kumara Das was also set aflame by the visits of the Hands of the Cause of God to Malacca from 1957 onwards whose majestic and radiant personages left a lasting impact on him. Among those who came to Malacca in the early days were Dr. Raḥmatu'lláh Muhájir,  Mr. S̲h̲u'á'u'lláh `Alá'í, Mr. Abu'l-Qásim Faizi, Miss Agnes Alexander and Mr. Taráz'u'lláh Samandarí. Kumara Das also met other Hands who visited communities outside Malacca. The energetic talks these Hands delivered, the highly charged spirit they imparted and the first-hand information on their meetings with the Guardian and in some cases 'Abdu'l-Bahá, the news they shared on the latest development of the Faith taking place all over the world, the in-depth knowledge of the Faith they shared along with various clarifications they gave to the many questions within his heart had a penetrating influence upon his soul. He was chosen driver to drive Hand of the Cause Mr. Samandarí around Malacca during the latter's visit in July 1966, and always fondly recalled that he was in a state of spiritual ecstasy throughout the period he accompanied the Hand of the Cause of God and had learned much from him.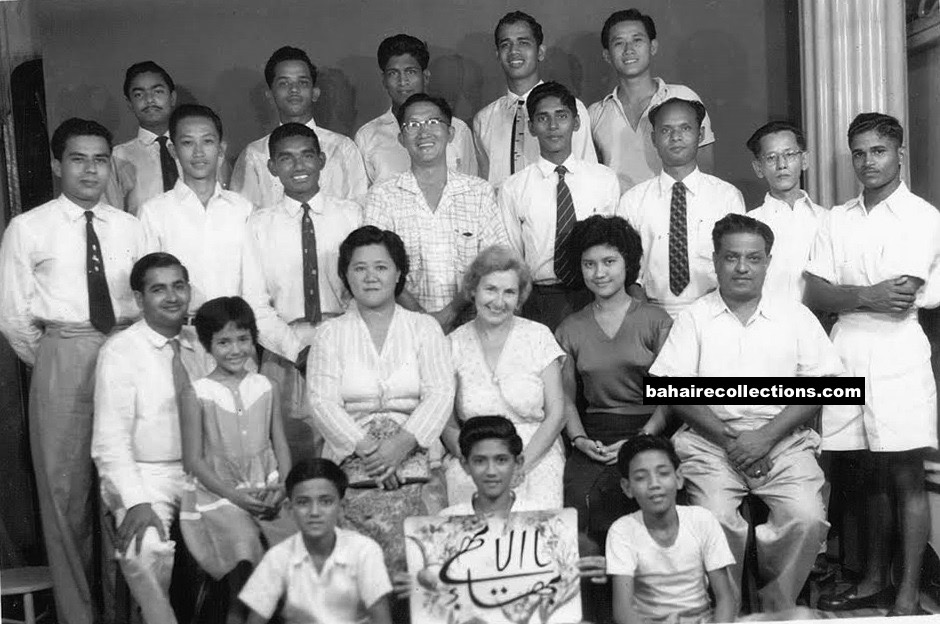 The cream of believers from Malacca state gathered at a studio in Jasin to celebrate the election of the first Local Spiritual Assembly of Jasin, 1958. Seated (L-R) Surinder Singh, Lena Saurajen, Margaret Kelly Bates, Elaine Saurajen, G. Saurajen. Standing in the middle row (L-R) Chakrabarthy, Leong Ho San, Raymond Peter, Leong Tat Chee, Arthur Knight, Arumugam Ramanan, Goh Tiow Lim, Jami Subramaniam. Back row (L-R) Tushar Kanti-Paul, E. A. Fernandez, Kumara Das, Anthony Louis, Leong Ho Chiew
Kumara Das shouldered many heavy responsibilities for the promotion of the Cause at a time when manpower was limited. He was one of those, who along with G. Saurajen and Anthony Louis, conducted Sunday Bahá'í Classes for the students and Bahá'í youth in Malacca High School in 1958 when the first batch of youth had accepted the Faith. The Sunday Classes deepened some of the best known and most abled believers such as Jami Subramaniam, Leong Ho San, Errol Seow Hoon Hin, Purushothman Nair, and M. Maniam who would in the years ahead go on to serve the Cause most devotedly. Kumara Das served on the Local Spiritual Assembly of Malacca for many years, starting as Secretary of the Assembly in 1959. He was on the Fireside-Deepening Committee in the early 1960s.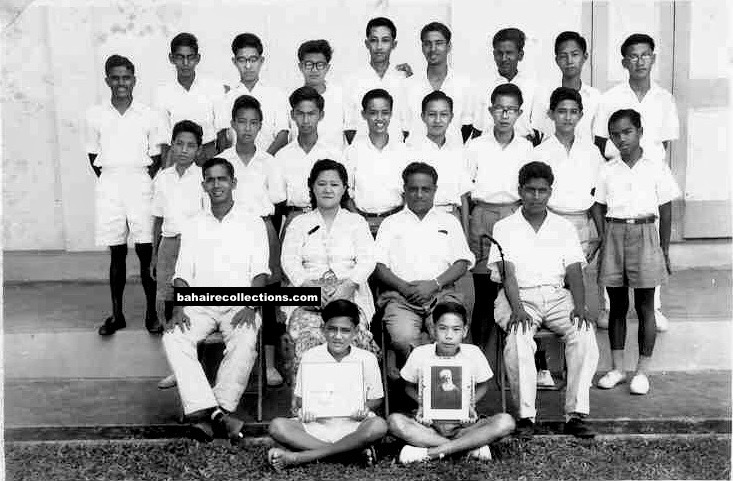 Sunday Class at Malacca High School, 1958. Teachers are seated (L-R) Anthony Louis, Lena Saurajen, G. Saurajen, and Kumara Das.  Back row – standing at the extreme left is Jami Subramaniam, fourth from left is Errol Seow Hoon Hin, fifth from left is Leong Ho San, sixth from left is Purushothman Nair
As a man of many talents, he used those talents for the Cause he became a great asset to the community. He was a teacher in the prestigious Malacca High School, the first Discipline Master there, a Scout Commissioner, a hunter, a singer, had an infectious sense of humour, a public speaker, a cook, a gardener, a social welfare worker in a private capacity, an animal lover, and a man with good organisational abilities, to name a few. He was always a lively and of good humour and a source of encouragement to his fellow believers and generated wonderful fellowship in the Bahá'í community. He often provided the spirit at Bahá'í gatherings in Malacca town, and was the live wire at community functions, with his Scout jokes and games. Kumara Das was endowed with the rare talent of being able to refresh drooping souls through his words of comfort. His company simply elevated ones' spirit.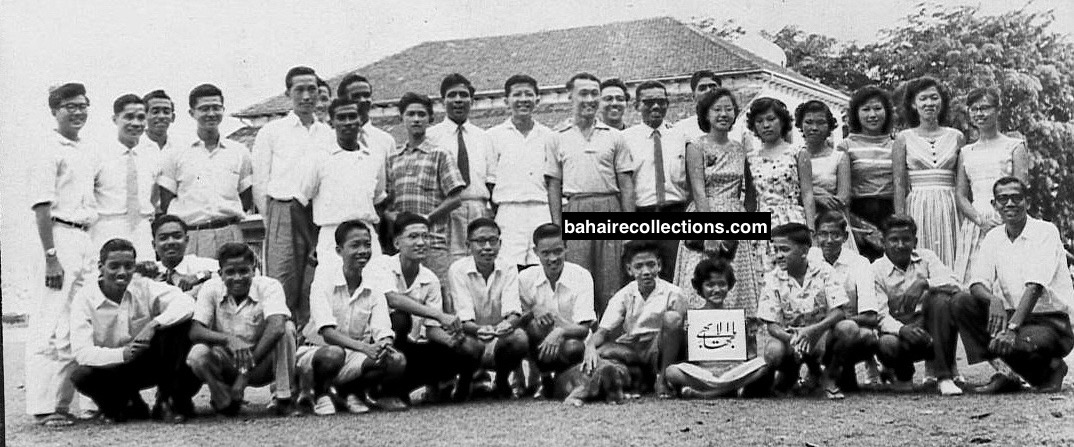 A gathering of adults and youth at the Boy Scout Headquarters, circa 1958. Kumara Das is in the middle with black necktie. Anthony Louis is squatting at the extreme right. Koh Ai Leen is standing at the extreme right. Lily is standing third from right, Raymond Peter stands eighth from the right with sunglasses. Leong Ho San is standing fifth from left, with M. Maniam standing in front of him. The three squatting from left are Pijush Kanti Paul, Tushar Kanti-Paul and Jami Subramaniam.
MARRIAGE
Kumara Das married Daisy Chinniah, the sister of Inbum Chinniah in 1961 with the wedding ceremony presided by Leong Tat Chee. Daisy was a teacher trained at the Brinsford Lodge Teachers' Training College in England. Daisy accepted the Faith in 1963, and that came as an added strength to the already strong Kumara Das. Kumara Das was much delighted and happy to see his wife devoting her life to the promotion of the Cause from the very year she accepted the Faith. Right from the early days, the couple was involved in activities that the National Spiritual Assembly would task the community of Malacca town.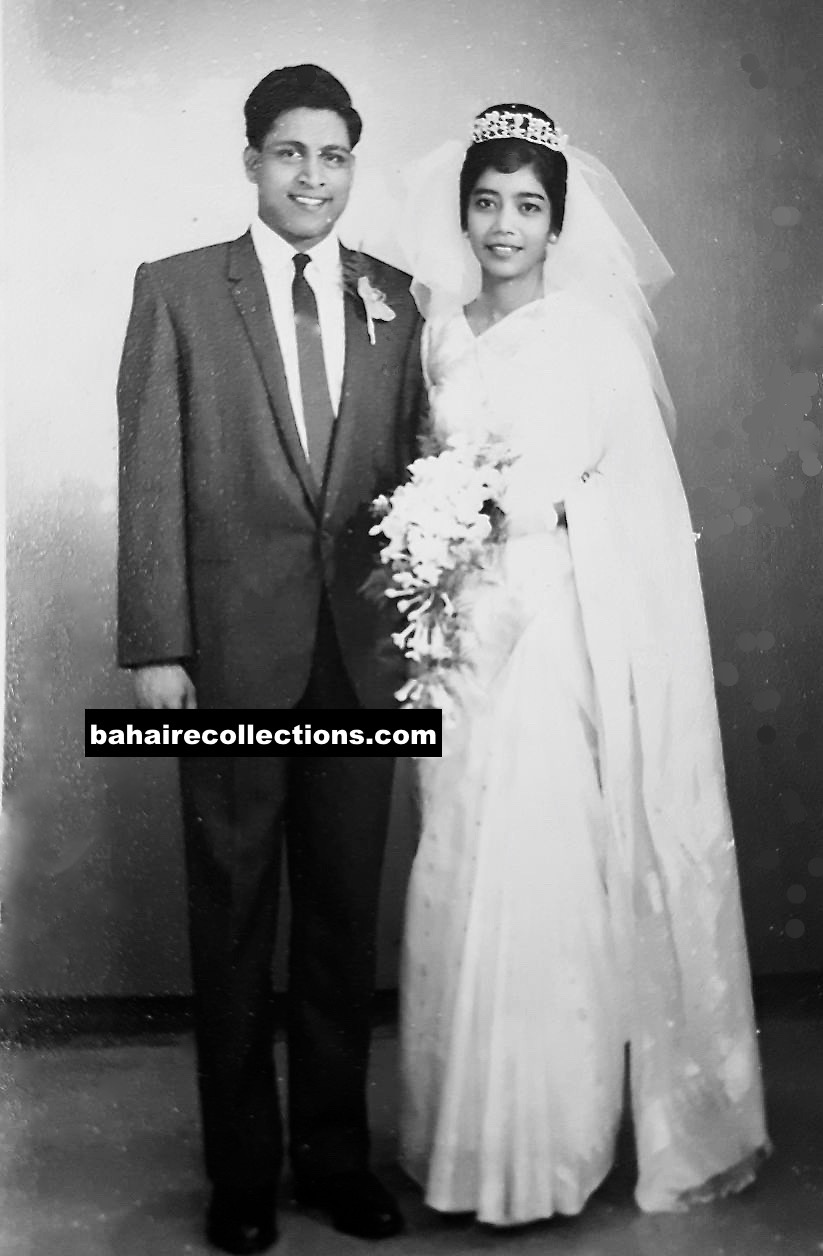 Marriage
In 1963, the National Teaching Committee of the Federation Malaya and Singapore formed a Women Affairs Sub-Committee on which sat Mrs. Elinor Wolff, a believer from Hawaii who had followed her husband Dr. Robert J. Wolff to Malaya for a period of two years since 1962 and resided in Petaling Jaya. Mrs. Wolff herself conducted Children's Classes in Petaling Jaya and kept up a constant flow of letters to Daisy, Lily Chinniah, Betty Fernandez and roped in the new believer Daisy, encouraging them to think and act on the education of Bahá'í children through children's classes, and shared some Bahá'í materials for the young ones, whom she called the children, 'pre-scholars' and 'junior youth' as early as 1963. Daisy proposed that Elinor include music as well in the syllabus, which was added accordingly. Conducting children's classes was Daisy's first area of Bahá'í involvement which she passionately carried out throughout her years of service to the Faith. Daisy was a natural fit as a children's class teacher due to her gentle nature and the great love she had for children, as well as being a music teacher in the government schools she taught at. Theirs was a case of how husband and wife could serve as one soul in two bodies. Anyone coming across the couple was sure to be affected by their sincere love and affection.

Local Spiritual Assembly of  Malacca town, 1963. Seated (L-R) Daisy Das, Betty Fernandez, Chiang Kim Lin. At the extreme left is Leong Tat Chee, and at the extreme right is E. A. Fernandez. Standing (L-R) S. Vasudevan, Tushar Kanti-Paul, Raymond Peter, S. Bhaskaran
AN ABLE FIELD WORKER

Kumara Das was always an active fieldworker in Malacca and had carried out teaching activities in several parts of the Malacca on his own initiative or  by joining the teams of Leong Tat Chee, S. Sathasivam, Inbum Chinniah, Raymond Peter and Vasudevan, to name a few. There was no community in the state of Malacca he did not visit. Although not well-conversant in the Tamil language as he was an ethnic Malayalee, he would visit rubber estates and spoke in the little Tamil he knew, assisted by other Tamil-speaking friends. Soon he was able to converse with the Tamil-speaking friends and reach their hearts Daisy too followed Kumara Das for estate teaching, though her knowledge of the Tamil language was also limited. In later years, Kumara Das joined other early believers in opening to the Faith the Machap Umboo Chinese Village and made frequent visits there. Machap Umboo became one of the leading Chinese-speaking communities in Malaysia in the early 1970s. Kumara Das continued to visit this new community until the late 1990s when the village was restructured when giving way to development.
WIDE RANGE OF POSITIONS

Due to his gregarious nature, Kumara Das had many influential friends in Malacca and he did not hesitate to use his contacts for the Faith. There were three places where major Bahá'í meetings were held from the early 1960s – Happyland Hotel, the Boy Scouts Headquarters, and the Malacca Youth Hostel. The Happyland Hotel was where the First All-Malaya Teaching Conferences were held in 1961, the Boy Scouts Headquarters in Mata Kuching Road was the place where regional teaching conferences were held, and the Malacca Youth Hostel was here Summer Schools were held. With his connections with the management of these places, he was able to get discounts for Bahá'í activities held there.
As Kumara Das became more involved in social organizations, due to his talents he soon began holding higher positions in them as well and he was known as a believer of the Greatest Name. Soon he came to be eminently placed in society on account of the responsibilities and positions he held in these places. During his tenure in the Malacca High School, Kumara Das had served as Discipline Master, Prefect Master, Chairman of Teacher's Club, Scout Master for the State of Malacca, First District Scout Commissioner, State Scout Commissioner, Supervisor of Night Classes for Adult Education, Supervisor of Evening Classes at State Level for Further Education, and Member in the State Sports Council. These positions created natural inroads into the hearts and minds of the wider community. From the time Kumara Das joined the teaching career in 1954 right up to his retirement, he had produced several students who are today eminently placed in society, locally and abroad, who still remember him fondly, and look upon the Faith he practiced with admiration.

Scout Master
ADDED RESPONSIBILITIES

When the 'Berita Bahá'í', the first newsletter of the newly elected National Spiritual Assembly of the Bahá'ís of Malaysia was produced in 1964 by the Malacca believers, Kumara Das was one of those appointed to the Bahá'í Publishing Committee of Malaysia with S. Bhaskaran as the editor. This committee decided to produce a four-page newsletter in English, Chinese, Tamil, and simple Malay to be distributed in Sabah, Sarawak, Brunei, and West Malaysia. This first official newsletter was produced by the use of a cyclostyle machine.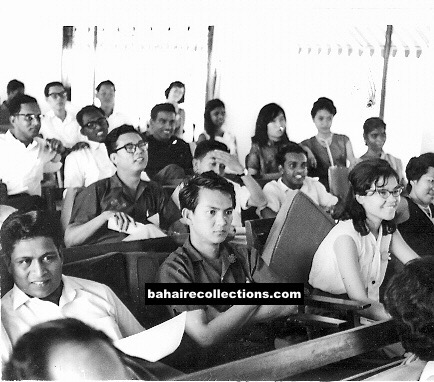 First National Convention, 1964. L-R: Kumara Das, Wee Koon San and Chiang Kim Lin with C. S. Maniam of Seremban at her back.   K. Krishnan of Ipoh and Mariappan of Seremban are at the back row, towards the left
When the National Teaching Institute in Bukit Baru was being built, Kumara Das was appointed to the Teaching Institute Committee and elected Secretary of the Building Committee. Kumara Das and Tushar Kanti-Paul looked into the legal aspects, while Anthony Casimir Louis, supervised the construction work. Kumara Das did such a great job that when Leong Tat Chee wrote to Bill Smits of Hawaii, who had sold the land for the Institute to the National Spiritual Assembly, he copied Hand of the Cause Dr. Muhájir as well. There was a handwritten note to Kumara Das that read, "Dear Kumara, you have done glorious work for our beloved Cause." When the Institute was completed in 1966, Kumara Das took great pains in running it and the 1967 issue of the Malaysian Bahá'í Magazine reported that the Teaching Institute was under the guidance of Kumara Das. That Teaching Institute was the first of its kind in Southeast Asia and numerous training courses were held there, producing some of the ablest believers in the country.
RECOGNIZED ABILITY

The resourcefulness of Kumara Das was well noted by Hand of the Cause of God Dr. Muhájir who had been visiting Malacca since October 1957. On Naw-Rúz day in 1967, Dr. Muhájir visited Kuala Lumpur and spoke great things about Kumara Das to S. Vasudevan who was at that time Secretary of the National Spiritual Assembly of Malaysia. Referring to that conversation, Vasudevan wrote to Kumara Das a letter dated 21 March 1967 in which he mentioned,  "Dr. Muhajir left this morning for Ceylon. The last two days he was constantly expressing hopes for you and the Baha'is of Malacca.  He said that you had many talents, and all these will eventually help the Faith. And I was so glad to hear him say these things about you." S. Vasudevan adds under postscript in his own handwriting, "The work in Malacca is now inspiring the friends everywhere. All of us know how inspiring your work in Tebong has been…"
HOMEFRONT PIONEERING

Terengganu state on the east coast needed home-front pioneers as the Faith germinated at a much slower rate in that distant and isolated state. Taking cognizance of the situation, in 1969, Kumara Das and Daisy asked for a transfer to Terengganu, at a time when the domestic front in Malacca was well served by a number of able believers. Activities soon picked up in Terengganu with the couple actively involved in spreading the Faith in this part of the country. As soon as the couple arrived in Terengganu, they took a survey of the place and wrote to Leong Tat Chee, who was serving as an Auxiliary Board member at that time, that it was possible to form a Local Spiritual Assembly in Riḍván that year itself. The happiness that was evoked in Leong Tat Chee saw no bounds, and he immediately wrote a reply dated 14 January 1969 to Kumara Das, part of which read:
 "I am so glad to learn that there will be an L.S.A. by Ridvan. This is truly historical and future historians will have a lot to say. We have been concentrating heard on East Coast, but no concrete results and we were thinking of transfusion of blood from West Coast to East Coast. How now the thing has become possible by your going there. Our Faith is still in the seed stage and thus all those Baha'is, who work for Him are also the Dawn-Breakers of this Formative Age, and those who teach in a virgin territory are pioneers. And in your case, you are the first Baha'i family in Kuala Terengganu. What a station! You will know of this station (the greatness of it) when our job in this earth would have completed. … You have all the necessary ingredients in you, and if only you wished to open your heart, soul, and spirit to be used by Him as His channel to quicken the souls of mankind, it would be the beginning of conquering the whole of East Coast… We will all pray for you. May Baha'u'llah guide and protect all of us."
With such encouragement from Leong Tat Chee, whom the Universal House of Justice termed 'A Sincere Promoter of the Cause', Kumara Das and Daisy created their teaching plans and kept a constant flow of communications with the believers back in Malacca and encouraging them to give a helping hand in the expansion of the Faith in Terengganu. Friends from other parts of the country also undertook short and long-term teaching activities there. With the activities of Kumara and Daisy Das, the Faith began to lay down roots in that state. The National Coordinating Unit, which was the predecessor to the National Teaching Committee was most pleased with the couple and their activities in Terengganu. In August 1970, N. S. S. Seelan, Jeffrey Choon and visiting couple Dr. S. I. Dean and Mrs Belle Dean  went on a teaching trip to Terengganu and 30 enquirers attended a fireside that Kumara Das arranged. An exciting slide show  by Dr. Dean, followed by lively discussions were held right into the early hours of the morning. The National Coordinating Unit that saw an upsurge of activities for the first time in that part of the country made further trips 0 to give their support.
NEW TOWERING FIGURE

In October 1972, Leong Tat Chee, the strongest support for Kumara Das passed away, and Kumara Das was inconsolable at his funeral. A vacuum left by that father figure and tower of strength was visibly felt in Malacca. At the time Leong Tat Chee passed away, many of the staunchest believers of Malacca town had transferred to other parts of Malaysia, migrated, or had gone pioneering. According to S. K. Somu, the spirit was very low in the Malacca community after the passing of such a colossal figure. With this sad state of affairs, Kumara and Daisy Das felt compelled to return to Malacca in 1973. This time it was Kumara Das who became a tower of strength for the community. The return of the couple saw a new surge of activities in Malacca town and the entire state as well. Kumara Das once again became a wide traveller devoting his entire energy to the promotion of the Faith through his diverse range of Bahá'í activities. His organisational skills blossomed to the fullest in those days. He organised teaching and consolidation trips to many parts of Malacca and beyond. Kumara Das took along new believers on his trips and travels to train them in fieldwork. He often travelled with his regular companions such as Anthony Louis, Somu, Jerry Cheong, and Joe Ganapathy. When passing through other districts, they would add more passengers into the already packed car. Sathasivam of Masjid Tanah and Chandrasekaran of Jasin were such who would be included if they passed through where they lived.
The friends would always be looking forward to those teaching trips made even more enjoyable with Kumara Das' jokes and humorous stories. And they never felt tired covering and consolidating the 28 Local Spiritual Assemblies in the state. S. K. Somu says that Kumara Das would go into a trance-like state during Riḍván season when the Local Spiritual Assemblies had to be re-elected during the 12 day period. As a member of the Area Teaching Committee, he would organise teams to visit the Local Spiritual Assembly areas and prepare them for the Riḍván elections and ensured that no Assembly lapsed. In most of the visits that Kumara Das made, he never returned home before midnight. Kumara Das also made trips with his teaching team to Terengganu state to ensure the Local Spiritual Assemblies were re-elected. Thus, the Riḍván period was a stressful one as it meant covering the entire state of Malacca and some communities in Terengganu.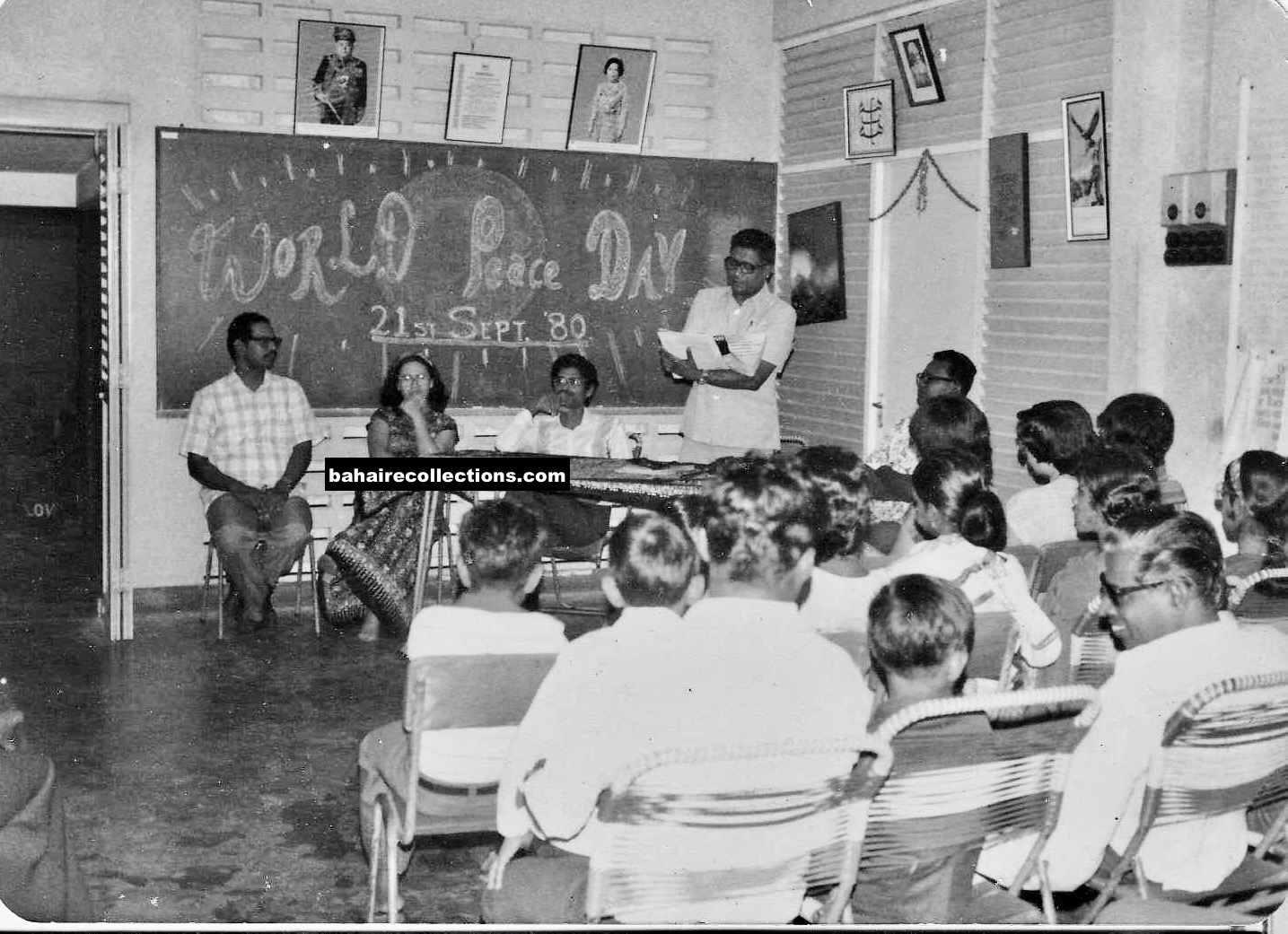 Kumara Das speaks at the World Peace Day event at the Leong Tat Chee Institute, 1980. At the extreme left is S. Bhaskaran, and  T. K. Kannan at the extreme right. Seated to the right of Kumara Das is S. Prabhakaran
COMMUNITY-LIVING UNDER ONE ROOF

Kumara Das and Daisy teamed up perfectly well and served the Cause with one mind, often consulting with each other. The couple had four wonderful children – sons Shahin and Shehab, and daughters Shahnaz and Zena. There were times when both parents had to be away for Bahá'í activities almost every day. But as parents, their duties to their children were never neglected. The children were sent for piano lessons, Mandarin, and tuition classes, not forgetting ballet lessons for the girls. Kumara Das' great hospitality resulted in a steady stream of visitors to their home and from a young age, the children were trained to make coffee and tea for the visitors. The couple ensured a Bahá'í environment was nurtured in their home and that their children were always involved in Bahá'í activities and grew in the Faith with other members of the community.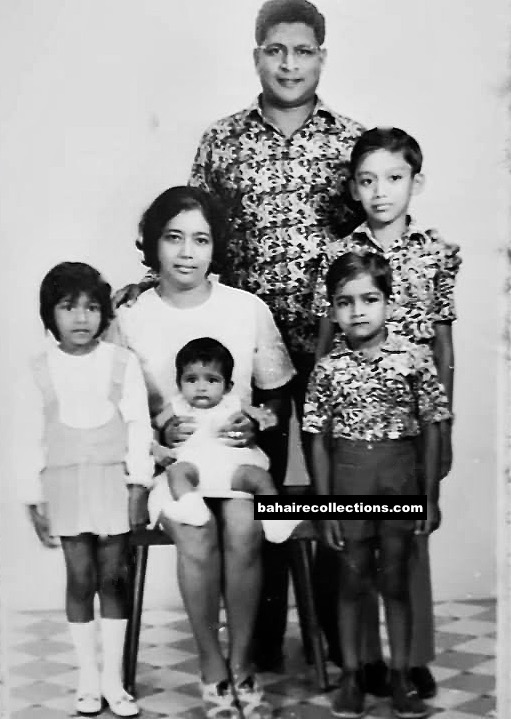 The couple with L-R:  Shahnaz, Zena on the lap of Daisy, Shehab, and Shahin
The couple showed the way on how a Bahá'í home could become a sanctuary and shelter for the community, and the needy or the unemployed youth. While the house of Leong Tat Chee continued to be the official Bahá'í Centre, the home of Kumara Das turned out to be a second Bahá'í Centre for all intents and purposes with a hive of activities constantly going on. Sunday devotional gatherings with a good breakfast were an ongoing activity for years. Their home was filled with so much fun, laughter, ample food, and more than that, much love, that the wider society lacked. In the course of such gatherings, the believers were deepened, and their hearts were cemented as never before. The family also accommodated many students who came from outstation to study in Malacca. Some of the parents of those students did not know Kumara Das and his wife but had learnt of them through word of mouth from others and trusted their children to their care. The couple accommodated many, both Bahá'ís and non-Bahá'ís, and their house was always full. At one time they had seven boarders living with them, and it was mind-boggling how the couple managed them. Mr. Jayabalan Krishnan of Alor Gajah town, Kai Leong, Michael, Ruby, and her sister stayed with them for some three years while Ruhiyah Ramdu from Bahau town stayed with them for six years. Giresh Kumar, who was their neighbour, spent most of his time at their place, and an orphan who grew up in an orphanage too spent most of his time in this sanctuary where he found warm and sincere love. The couple got them all involved in teaching and other Bahá'í activities and created a good environment for their children to grow with their peer group under the same roof, as one family. The fasting period generated so much spirit.  Kumara Das himself, being a good cook, would cook a wide range of foods for them. Kumara Das had this unique ability to interact with people of all ages, leaving no generation gaps between them. To the youth, he was a mentor and guide and to his peers a true friend in need.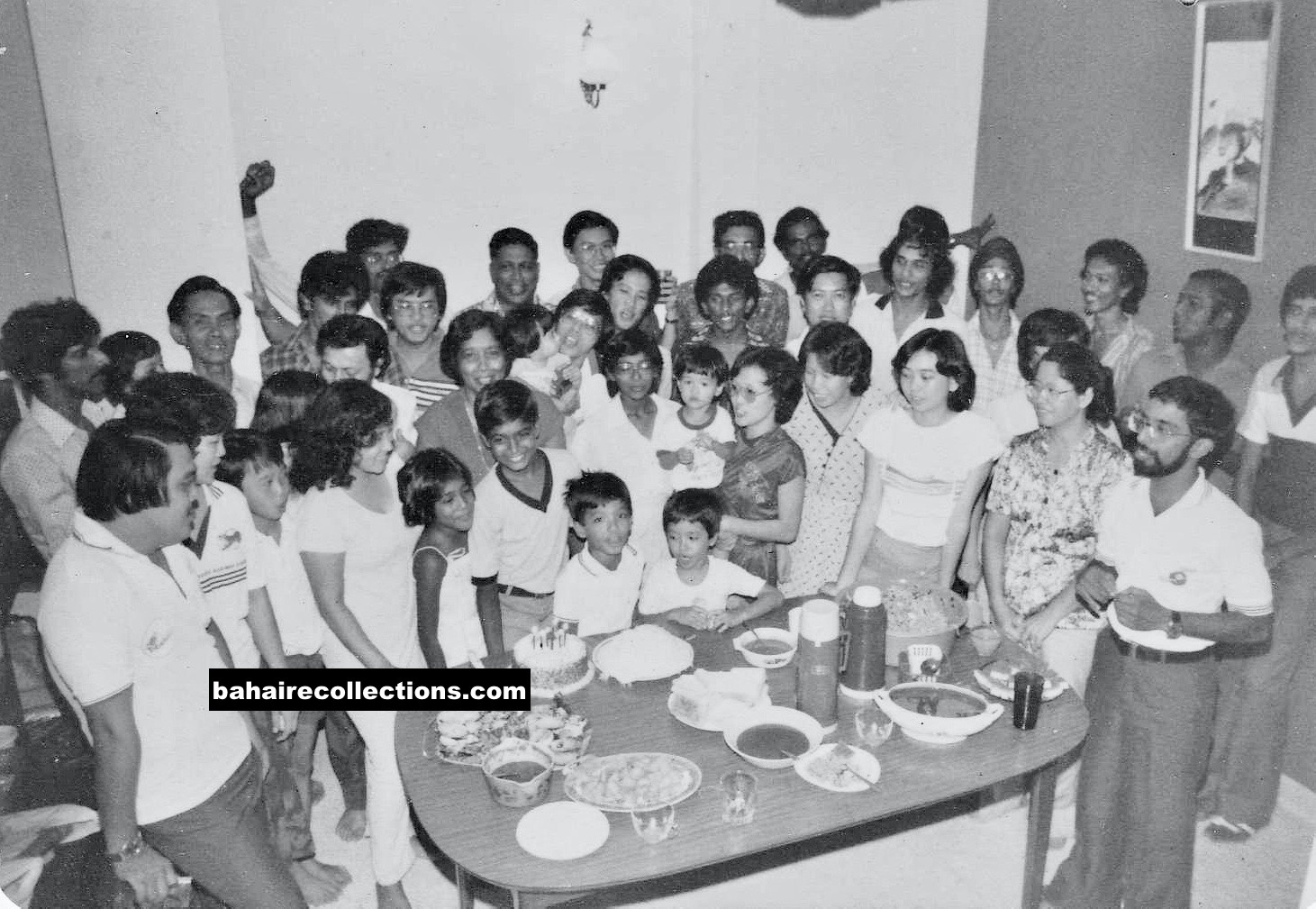 Breaking of the first day of fast at home of Kumara Das in Malacca, 2 March 1981, coinciding with the birthday of Shehab -standing in the middle attired in a T-shirt with white borders.

Although stationed in Malacca town, the heart of Kumara Das was always on the lookout for the needs of the Faith. He knew where the Faith was developing rapidly and where it was germinating slowly. Alor Gajah town was one district where the Faith did not take off for a long time, despite all the efforts poured in. Taking cognizance of this situation, Kumara Das initiated children's classes and English classes in Alor Gajah town where as many as twenty-five children attended the classes.
THAILAND DAYS

Kumara Das served on the National Spiritual Assembly of Malaysia from 1983 to 1988, but his heart was always bent on serving in a foreign country. From the time Kumara Das accepted the Faith, he saw his fellow Bahá'ís leaving Malacca state on transfers or overseas for pioneering. But he had two reasons to remain behind, first the education of his children; and second the need for him to hold the fort with the departure of the earlier pillars.
The path opened unexpectedly when Shahnaz, their second daughter, travelled to Bangkok in 1986 to study at Assumption University, having been encouraged to study thereby Jeyabalan Krishnan, an early Malacca Bahá'í who had pioneered to Thailand. Soon, her other siblings following her one by one. Shahnaz completed her degree and started working in Thailand. In 1995, she married Vit Kotrapu and in September of that year, moved to settle in Minnesota in the United States. In 1987 Shahin, the eldest son went to Bangkok and while working there completed a hotel management course at the Assumption University and later moved into Papua New Guinea in 1989 and married Glennys Ote in 1999. Shehab moved to Bangkok in 1987, completed his master's degree in business administration, and left for Papua New Guinea in 1997. He married Miss Alisa Faridian of Thailand in 2002.
Meanwhile, back in Malacca, Kumara Das retired in 1988. Just before retiring Kumara Das undertook teaching trips to Yasothon, Chieng Mai, and Songkhla in Thailand in the company of Somu and Jerry Cheong. As his retirement days were inching closer, Kumara Das was contemplating moving to Terengganu as he had already developed a pent-up desire to serve there. It was then that he received a call from Mrs. Shirin Fozdar who was then in Singapore to call upon her. On that trip, Mrs. Shirin Fozdar spoke to Kumara Das much about the Santitham Bahá'í School in Yasothon, east Thailand, proposing to Kumara Das that he take up the position as Principal of the school, knowing he was the right person who would measure up to her full expectations. She briefed him on the situation of the school and the staff there. Thus, it came about that Kumara Das left for Santitham Bahá'í School in 1989 and served as its Principal and liaising closely with Mrs. Shirin Fozdar and the National Spiritual Assembly of Thailand. Among those who stayed with Kumara Das and observed the marvelous job he was rendering was Soheil Chinniah in 1990, followed by his sister Saffura Chinniah who served as an Administrative Assistant for nine months in 1991. Each day Kumara Das was the first to arrive in the School and the last to leave. Despite his age, Kumara Das endeavored to pick up the Thai language to be effective in communicating with the local people and the teachers better. He also taught English classes to the kindergarteners all the way up to secondary classes. One of the first things he did upon arriving in the school was to have the inventory and the accounts audited, and ensured the management ran the school with transparency. He was tenacious in ensuring the funds were managed honestly. One of his duties was to raise funds for the school, which he did execute very well.
In the absence of a large Bahá'í community in Yasothon, his wonderful sense of humour, his majestic personality, and warm hospitality gradually endeared the wider community to him. In his night walks in the town after dinner, Kumara Das would buy something from the street vendors, greet all the shopkeepers and cooks and servers, and in a few words in Thai tell them he is a Bahá'í with the Santitham school. Soon he won the friendship of the local bank manager, the Governor, and shop owners, to name but a few. At every given opportunity he was always teaching the Faith. He encouraged many visitors to Bangkok and believers from Malaysia to stay in his house in Yasothon to render teaching work for the Cause. With such efforts and his trademark sense of humour, community life bloomed.
In 1990, Daisy too came to Bangkok after her retirement and was teaching English at Stamford College in that city. They rented a house at Ramkhamhaeng Soi 24 in Bangkok and her children living in Bangkok moved into the house and they lived like a family once again. The home soon became a place for friends, neighbours, and seekers, and above all a center of attraction for each and all. Many students came to their house for various activities and to hear about the Faith. They held regular firesides including sector-based Nineteen Day Feasts. Daisy always prepared food and fruits for the guests at their home almost every day of the week. The Bahá'í environment the family had developed in Malaysia was very much kept alive while in Thailand. Daisy also served as the Secretary of the Local Spiritual Assembly in Bangkok in 1991 and 1992.
Kumara Das, who was such a gregarious person by nature, found staying alone in Yasothon and managing multiple tasks highly taxing for him. He sorely missed his family in Bangkok. Money was tight so he had to limit how long he could talk to them each night after dinner on the street. He would find a payphone and slip in all those numbers of coins just to hear their voices. On occasions, he would take a nine-hour bus journey to and from Bangkok to be with them. The family too would occasionally visit him in Yasothon.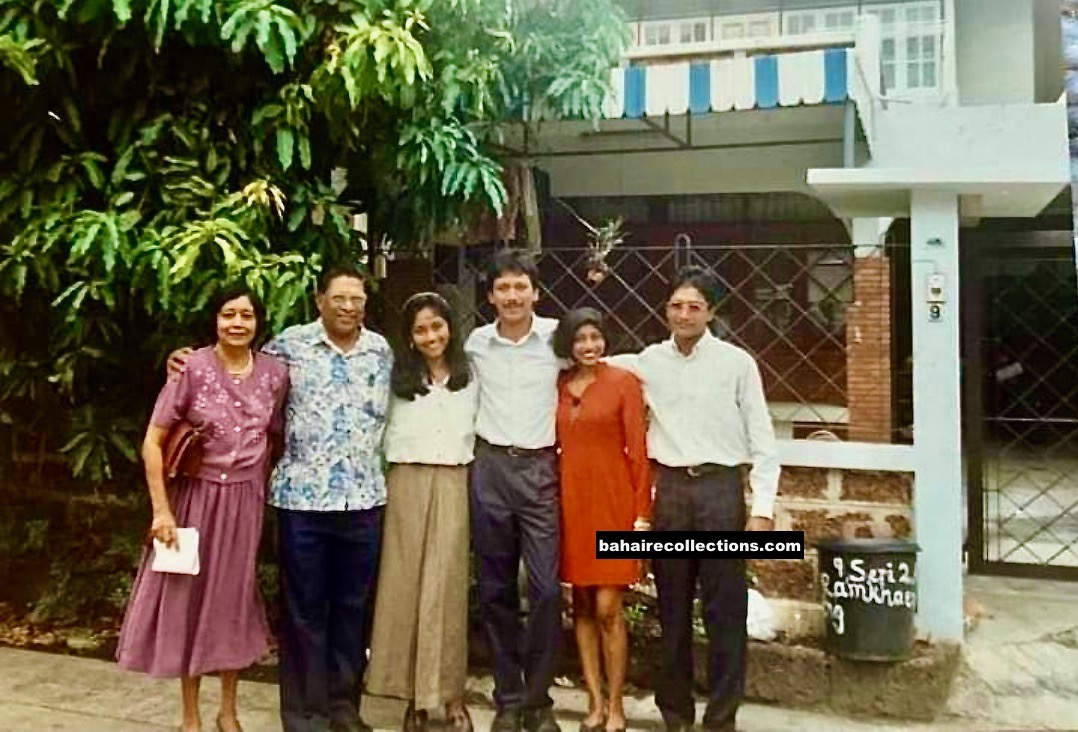 Family reunion, Bangkok
Following a long period of domestic political changes in Vietnam, there was a need to re-establish the community in Hanoi. Counsellor Dr. Loh Lee Lee urged Auxiliary Board member Mr. S. Satanam, who was serving in Cambodia, to undertake a visit to Vietnam in 1993 to explore revisiting some of the old Vietnamese Bahá'ís to re-establish ties. Kumara Das too joined Satanam in that trip to Vietnam. They met the local believers and assisted in the formation of a Local Spiritual Assembly in Hanoi.

S. Satanam and Kumara Das in Hanoi, 1993
Kumara Das ended his service with Santitham School in 1992 and returned to Bangkok, and the couple returned to Malacca in 1994. Zena was in Thailand from 1990 to 1995, studying and giving tuition in the evenings. She came back to her hometown in Malacca in 1995.

World Religion Day in Singapore, 1995. L-R: S. Ravichandran, Jamshed Fozdar and Kumara Das

BACK TO TERENGGANU 
In 1998, Daisy took up a job at the Ekhlass International School in Kijal, Kemanan, Terengganu. Kumara Das and Zena moved to Kemaman in 1999 to be with Daisy. By this time there was already a small but active Bahá'í community of some five families with a functioning Local Spiritual Assembly in Kemaman. Kumara Das, Daisy, and Zena, that is father mother, and daughter served on the Local Spiritual Assembly when in Kemaman. The family had children's classes at their home for the children mostly from the International Schools, families of the expatriates, and local families. Their house became a base for the community activities, hosting Naw-Rúz celebrations and observance of Holy Days. Their stay in Kemaman was the time when the Ruhi classes were intensified. The family also made weekly trips to Wakaf Tapai which is 2.5 hours from Kemaman to conduct children's class for a year.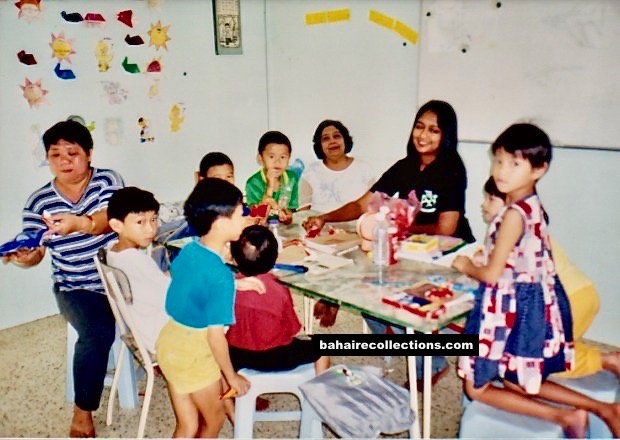 Daisy and Zena at Wakaf Tapai, conducting children class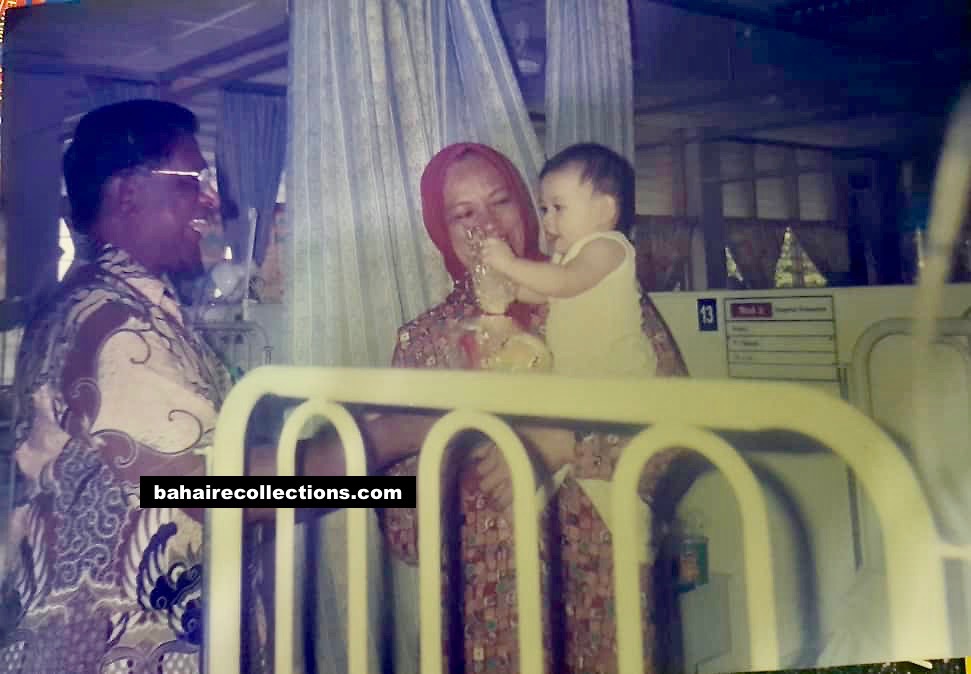 Kumara Das distributing Ayyám-i-Ha goodies at the children's ward, Kemaman Government Hospital, 2001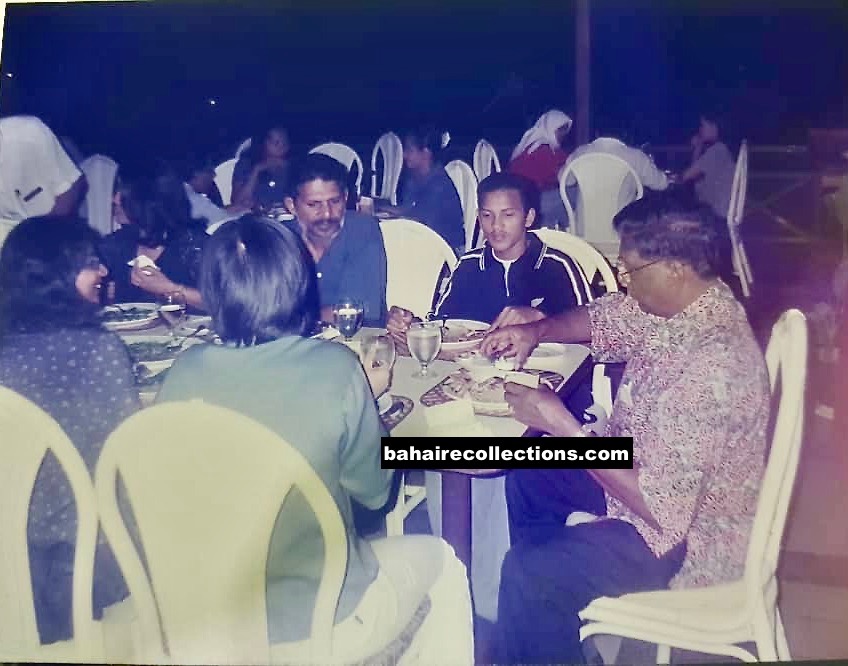 Naw-Rúz Dinner at the residence of Kumara Das, 2001. At the extreme left is Rema Narayanan, and opposite her is her bother Jayanthan Narayanan, with Kumara Das at the extreme right.
Kumara Das himself made several teaching trips all over Terengganu state for teaching, visiting some old contacts and deepening them. Jerry Cheong, Somu, Joe Ganapathy, Lee Kam Weng, and S. Sathasivam had undertaken several trips to stay with their family and carry out teaching activities in Kemaman town. The couple stayed in Kemaman until 2004, while Zena returned to Malacca a few months later in 2005. 
CHINA TRIP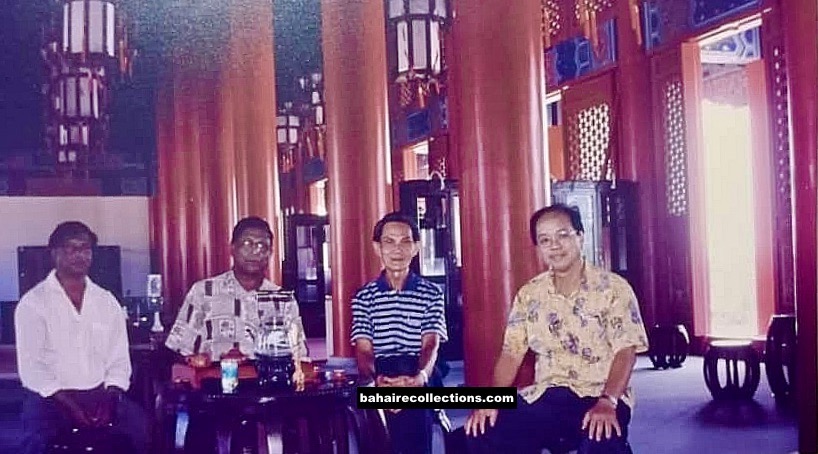 At a Shrine in Xiamen. L-R: S. K. Somu, Kumara Das, Soon Poh Lee, and Jerry Cheong
The National Spiritual Assembly of Malaysia had given the goal of opening up Xiamen in the Fujian province of China to the Local Spiritual Assembly of Malacca. Kumara Das being one who never shirked responsibility rose to the call. In September 1999, Kumara Das, Somu, Soon Poh Lee, and Jerry Cheong sprang up to undertake a teaching trip to Xiamen. They arrived in Xiamen in time for the celebration of the National Day of China of 1 October 1999 and stayed on the ground floor of an apartment that belonged to Mr. Soon. Miss Foong Lai Kwan, a Malaysian believer already residing in China, seized the opportunity of their arrival and invited the residents in her apartment block to a rooftop barbecue party on the occasion of National Day. The presence of the Malaysian travel teachers promoted closer community fellowship, with Kumara Das relating stories that brought much laughter to the locals. The travel teachers set a precedent because from then on, a National Day barbecue party became a regular affair in Foong Lai Kwan's apartment block until her own transfer to Quanzhou, Fujian Province, in 2001.
Another activity at that time was the English Corner which was a weekly gathering at the University of Xiamen for students to get together to practice speaking in English. Although these travel teachers attended only one English Corner, they were warmly welcomed, and several students asked to stay in contact. In Xiamen, Kumara Das' heart condition, an illness he had been suffering from for decades having suffered a heart attack when aged in his 40s, became serious and he was left in the care of relatives of Mr. Soon. The three other Malaysian travel teachers journeyed by train to Nanjing and to Beijing, teaching the Faith to whoever they could speak to on the train. A few who were atheists on account of their upbringing were impressed and were convinced of the existence of God. The three returned to Xiamen from where all four came back to Malacca.

Visit to Papua New Guinea, 1999
NEVER MISSED OPPORTUNITY TO TEACH

Somehow Kumara Das was so passionate about teaching the Cause that would not miss an opportunity to teach the Faith to someone at any given opportunity, as evidenced by the trip he made with his wife to the USA in 2000 for 5 weeks. Their daughter Shahnaz took them to San Francisco, where Kumara Das ended up in the San Mateo Hospital for about a week owing to heart-related complications. Rather than resting as per the advice of the doctors, the always energetic Kumara Das started talking about the Faith to everyone that walked into the room. And it was the act of teaching the Faith that he would later recall, made him feel better, rather than the medical prescriptions. It did not take long before he earned the love of one and all that treated him. The doctors were amazed at his fighting spirit and his magnetic personality. He in his usual Malaysian warmth and style began to invite them all to his daughter's home in Minnesota and assured them of a place to stay.
STRANGERS TOO WERE HIS FRIENDS

Inviting unknown people in distress to his home was an inbuilt virtue in this lover of the human race. The family recalls several instances of Kumara Das inviting strangers to come and stay. Even when the family travelled by train from Kuala Lumpur to Bangkok, Kumara Das gave people his house address and landline number and invited them to come over. Once the family was shopping at the TESCO supermarket in Malacca, and when they were ready to leave, Kumara Das brought along a traveller from India with this backpack, and said he was staying with them for a few nights!
MODEST AND CONTENTED LIFE

The family lived a modest, but very happy and contented life. Most of the years they stayed in rented homes, until the last years when they had one of their own. For transport, Kumara Das started with a second-hand Volkswagen and later had two cars to be used by the couple to travel to school. One of the two or both would be out for Bahá'í service at any given moment. There was one instance when a local believer passed away and the hearse that was on its way to the house of the deceased broke down on its way. Kumara Das brought down the seats of his station wagon car and transported the body to the Bahá'í burial ground. Using a family car to transport the dead was a taboo in the Indian community from which he had hailed and an incredibly audacious act on his part. The last car he owned was a Toyota which was originally white, and as the colour faded with age, Kumara Das got it painted blue. That car, as was the case with his all other cars, served the family and the Faith faithfully for many years, covering thousands of miles traversing the whole of Malaysia on teaching trips, family holidays, visits to friends and relatives, visiting the sick, the disabled, the mentally handicapped, and delivering fresh fish, vegetables, fruits to the poor and needy.
It has to be mentioned that at all times, the full energy and the earnings of the couple went into the Faith. Kumara Das was always in touch with the believers, if not in person, then on telephone calls, with his monthly telephone bill coming to no less than RM500 per month. One of the distinguishing virtues of Kumara Das is his boundless generosity. He cared for his family and the community. Whenever he heard of anyone in distress or suffering from ailments, he went out of his way to visit them and do whatever he could to help.
Where the Faith was concerned, the couple were never calculative. In all his visits to the homes of friends, Kumara Das made it a point to buy some gifts for them. Likewise, nobody had left their home without partaking of a meal. His was a house where any visitor could always arrive without notice and the visitor was always welcomed and accommodated for any number of days. When Mrs. Elizabeth Thurairatnam, the mother of Daisy became old, she was welcomed to stay with them, and it was in their house that she passed away.

Gathering of veterans for Fathers' Day celebration in  2016. L-R: S. K. Somu,  S. Bhaskaran, Soon Poh Lee, Ho Kim San, Kumara Das and Koo Yong Kiang 
Malaysia was very famous for the open air eateries or stalls that were open twenty four hours in many parts of the country. After the hospitality shown at home, Kumara Das would take the visitors to one of those open air stalls to treat them with the famous hot "Teh Tarik, Mamak Mee Goreng or Roti Canai Banjir." And that was where the bonding became stronger. In other parts of the country too  the believers used to gather at such stalls to unwind after their heavy  Bahá'í sessions were over.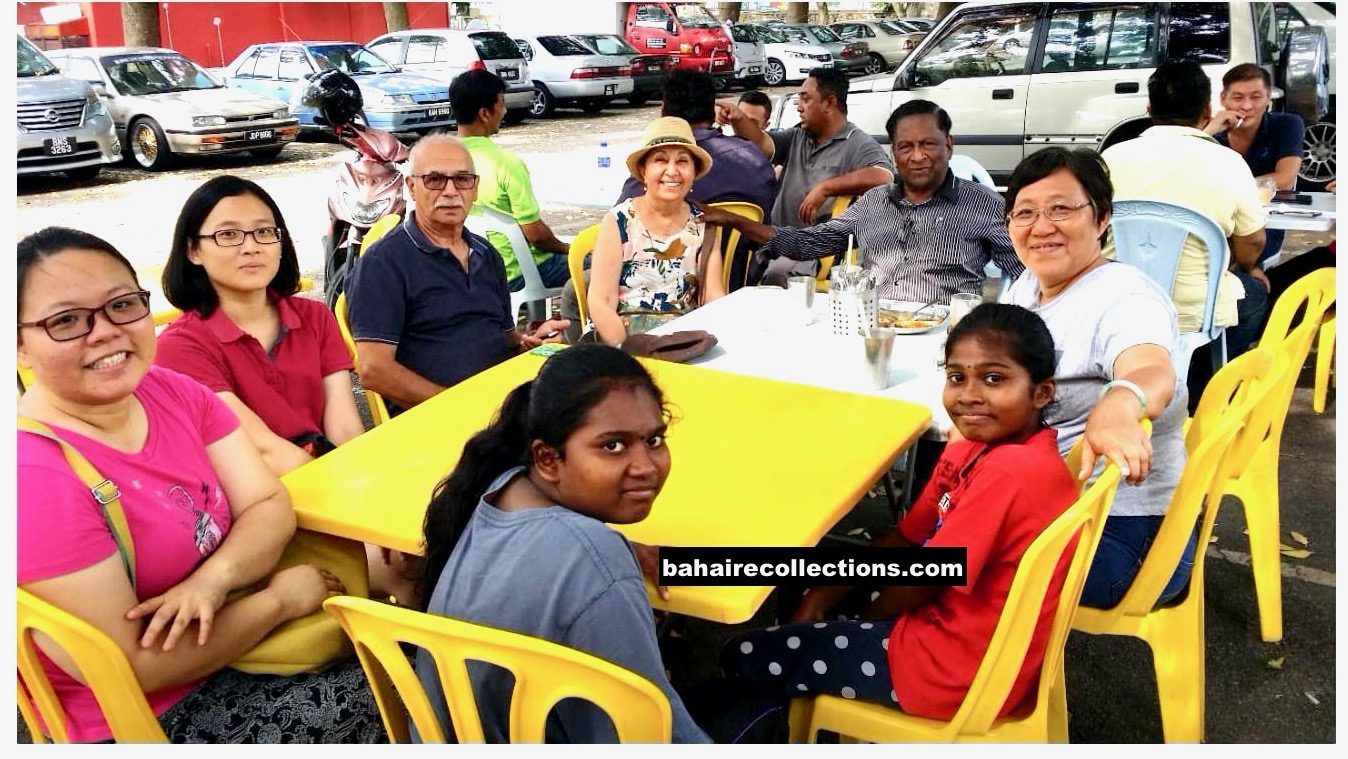 Mr. Cyrus and his wife Izzat Rameshni are visitors from Brisbane seated to the right of Kumara Das at a famous stall in Malacca in October 2017.  Low Ling Wah at extreme right is seen with the attendees of  her Children's Class. The visitors are the in-laws of the photogpraher Mr. Wong Meng Fook of Singapore.
BY THE MASTER'S EXHORTATION

The lovely children of Kumara Das are well known to the current and former generation of believers as much as their parents. While providing the best they could for their children, the couple were conscious of the exhortation of 'Abdu'l-Bahá, the Master, in exposing children to hardships. When Shahin was working in Bangkok, Kumara Das took him along to visit the House of Worship in New Delhi, the New Era Bahá'í School in Panchgani, near Pune, and then to Bangladesh for a few days visiting Bahá'ís. On that trip Kumara Das also wanted Shahin to see for himself the poverty in the two countries and the sufferings of the people. Shahin remains grateful to his father for that exposure that shaped his life for the better after that trip. The children too have developed a soft spot for the poor and needy, like their parents.
THE STRENGTH THAT LEFT HIM

Kumara Das, owing to his responsibility as a Discipline Teacher in school, would have appeared hard-hitting in his conversations on some occasions. He was always frank, but never intentionally hurting anyone. But the real Kumara Das was very soft within, sensitive, and full of love for everyone. There were moments when he had shed tears on the sufferings of the downtrodden. S. K. Somu recalls one instance where having heard of the sufferings of the poor in the estates, Kumara Das had loaded his car with provisions and had them distributed to them. The following day, he did not have money left for his own daily needs. He wept openly at the passing of Leong Tat Chee in October 1972 and at the passing of his brother-in-law Inbum Chinniah in February 1980.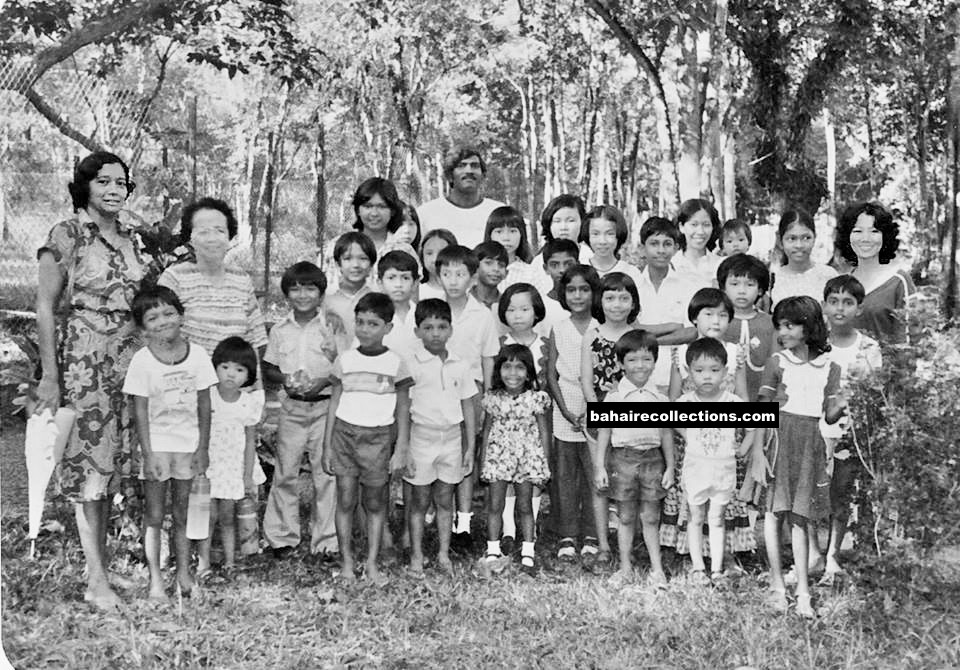 Training of children was Daisy's lifelong commitment, wherever she went. The above is a children class event in Malacca
The one more loss he could not bear was the passing of his wife who was the strength behind him. Kumara Das was very attached to his wife who was a balancing factor in his life, his advisor, and his guide. In 2014, Daisy's health was deteriorating and the very sad Kumara Das already retired, was still pushing himself to serve the Cause. Even in his last months, he was driving around visiting people and having devotional in his house. While involving in Bahá'í activities he still spent much time with Daisy. After some months, in January 2015 Daisy slipped into a vegetative state. Having lived with her for more than 60 years, Kumara Das could not come to terms with her health condition and spent most of his time by her bedside, offering prayers. And at times he used to talk to her as though she could understand him. Daisy passed away on 29 October 2018. She was laid to rest in the Bahá'í Memorial Garden in Jelutong, Malacca. The family and the community felt the irreparable loss of a soft-spoken, tender-hearted, and mother-figure who had served the Cause in Malacca unabatedly from 1963- a service marked with immense love and sacrifice on her part. Kumara Das was shaken to the core and had to be helped to walk to the burial ground, having lost the strength that was part of him for some six decades.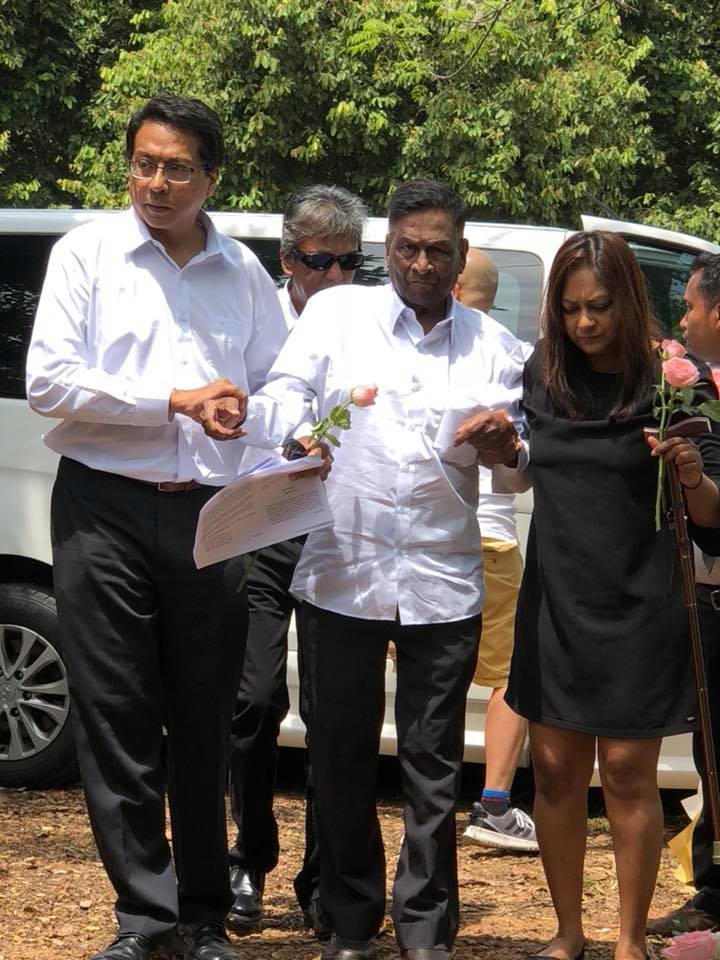 Kumara Das being helped to walk to the burial site of Daisy, with Soheil Chinniah on the left and Zena on the right. Shahin with dark glasses is at the back
A GREAT STRENGTH  THAT LEFT THE COMMUNITY

Kumara Das was immersed in deep sorrow after the passing of his wife, from which he was not to recover at all. His own condition deteriorated rapidly owing to his health complications. He was admitted into the Pantai Hospital for a week, slipped into a coma, and passed away on 5 December 2018, barely two months after the passing of his dearest life partner. He was laid to rest in the Bahá'í Memorial Garden in Jelutong, Malacca, immediately next to where Daisy herself was buried. Among the four children,  Zena stayed with the parents until the very end of their lives serving them well as a dutiful daughter.
UNPARALLELED EXAMPLE
Thus, came to an end the life of this illustrious servant of Bahá'u'lláh who had made the Malaysian Bahá'í community proud, and decorated the pages of Bahá'í history through an unparalleled and unique record of service.
It would appear that Kumara Das and his wife were created for some specific reasons.  God had given them long lives for reasons that have become very clear, which is to serve His Cause at a time when the community was just growing and needed manpower in abundance to serve the Cause in the many arenas of service. The community grew with them as much as they too evolved together with the community for more than six decades.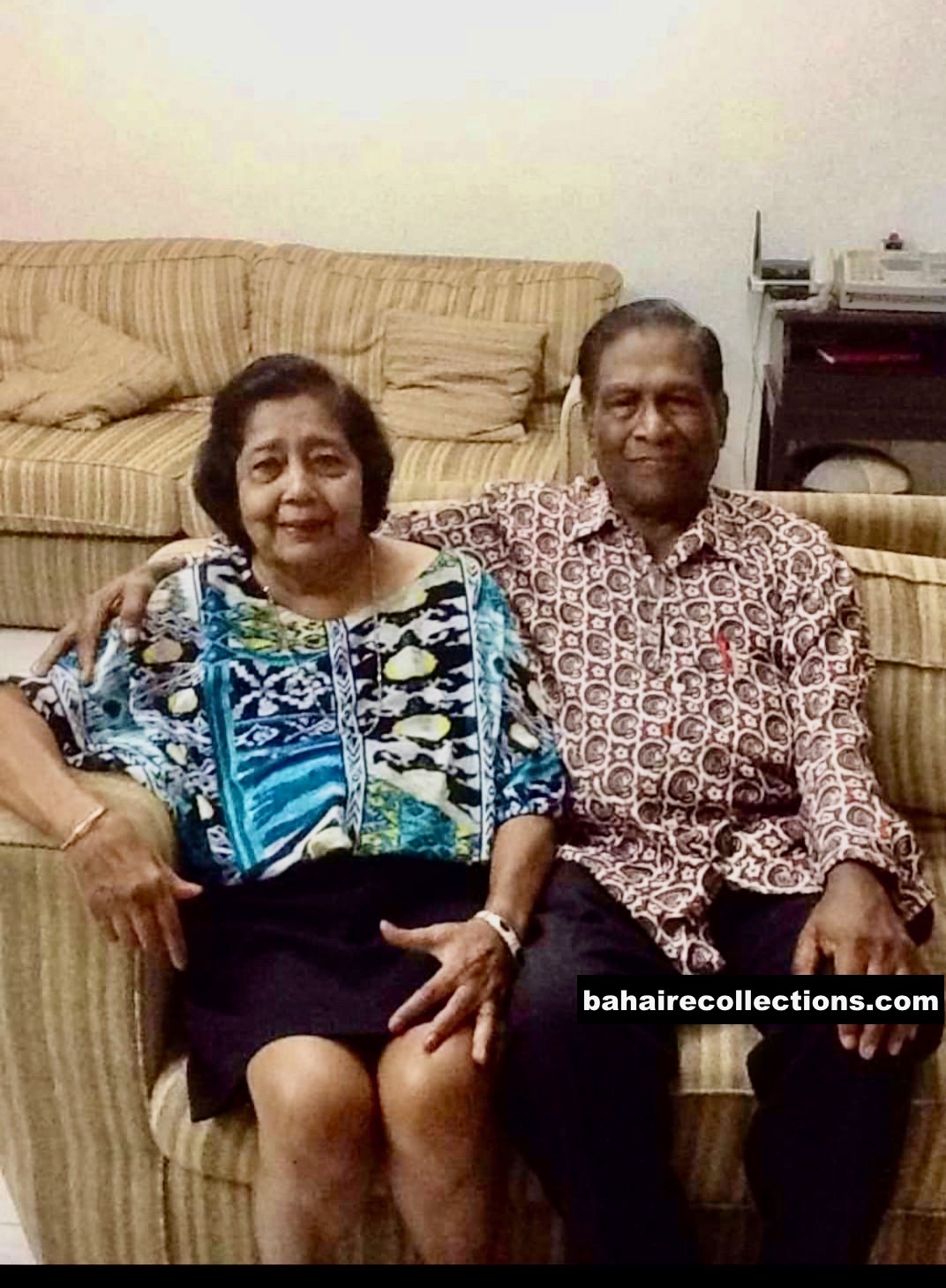 They loved and served the Faith together for more than six decades
Some thirty years ago, while Kumara Das was sipping coffee in a coffee shop, his old student who worked as a medical specialist in Singapore met him there by chance. The moment his eyes fell upon Kumara Das, he exclaimed candidly "Mr. Das, you are supposed to have died some twenty years ago. It's a miracle to see you still alive and energetic as ever!" That specialist had many years earlier diagnosed Kumara Das of having six blocks in his heart and concluded that performing an operation on him would be highly risky. Little did that specialist know that the final call comes from the Unseen Realms only when the earthly work of Kumara Das was fully accomplished. The close friends who had known of his heart condition always considered a man living for so many years with six blocks an unbelievable miracle. Although experiencing a physical burnout from decades of stressful exertion for the Cause, nothing could diminish his spirit when there was a work to be executed. He once drove his car on a teaching trip from Malacca town all the way to Kampong Bukit Sirih in Kelantan state while having bad chest pains, arriving past midnight. He drove all by himself not allowing others to drive as he felt they were slow drivers.
Kumara Das associated equally with believers and non-believers from the Chinese, Indian, Malay, and aboriginal backgrounds and his conversations were always full of warmth and with radiant smiles. In Malacca, the Faith revolved around Kumara Das, especially from 1973 as he was in the centre of every plan and activity. Whenever Bahá'í visitors came to Malacca, Kumara Das would take them around for home visits. It is not an exaggeration to say that his name was synonymous with the Bahá'í community of Malacca. If the National Spiritual Assembly wanted anything to be done in Malacca, it was Kumara Das that the august institution contacted. Kumara Das was the staunchest supporter of the institutions and strength in the Covenant that he demonstrated throughout his life. Serving the Cause with unyielding tenacity from 1955 right to 2018, he witnessed the emergence and growth of several generations of new believers. And Daisy, his strength, was with him in all his efforts and endeavours for the Cause! Kumara and Daisy Das were certainly a precious gift bequeathed to the Malaysian Bahá'í community by the divinely propelled Cause of Bahá'u'lláh, as evidenced by the lasting legacy they have left behind for generations to wonder and emulate.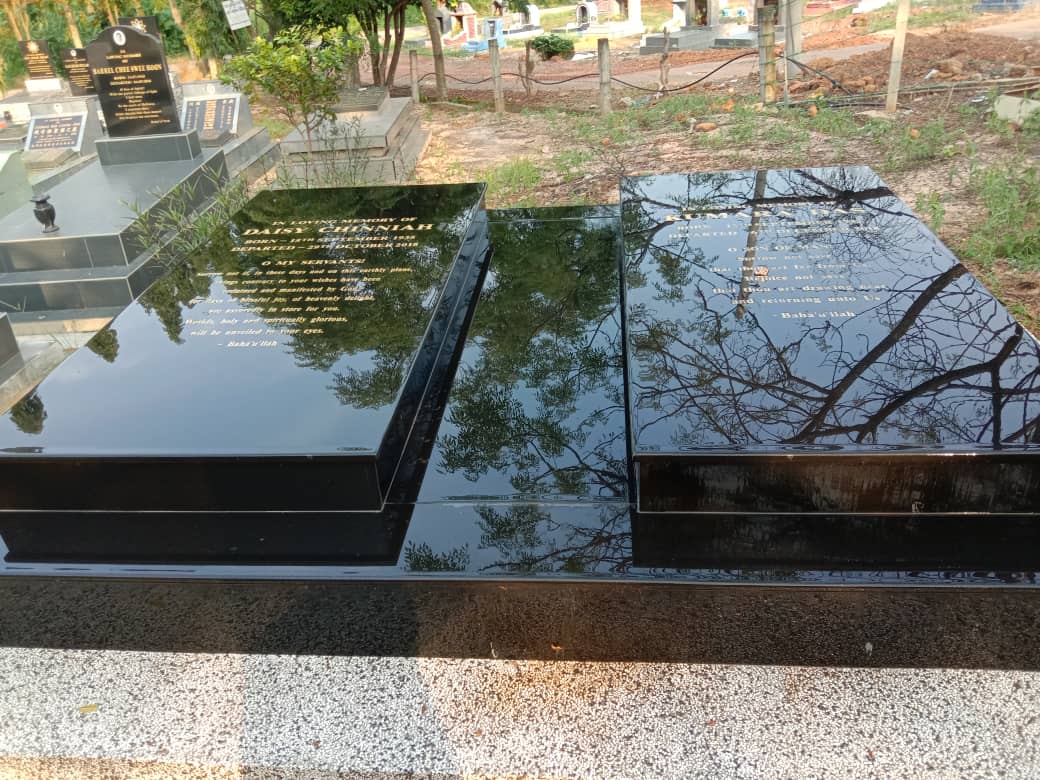 RESTING PLACE OF DAISY (LEFT) AND KUMARA DAS (RIGHT)
A. Manisegaran
30 June 2021
Copyright @ bahairecollections.com
Comments can be posted  through: info@bahairecollections.com