The Historical South India Teaching Project
Selvam Ellumalai – Malaysia
The South India Teaching Project which was launched on 20 October 1977, was one of the biggest teaching enterprises undertaken to bring large scale expansion of the Faith in South India. It was a joint project undertaken by the National Spiritual Assemblies of Malaysia and India, with the blessings of the Supreme Body and Hands of the Cause of God Dr. Muhajir and Amatu'l-Bahá Rúhíyyih Khánum. It spanned over a few years and involving over a hundred teachers. They were Malaysians, Persian believers residing in India, local believers of South India and also believers from other countries. They brought in thousands of new believers and formed hundreds of Local Spiritual Assemblies.
I first heard through the friends in Taiping that a teaching project was about to launch in South India and that it needed a group of travel teachers. I volunteered without any second thought. I was with the South India Teaching Project from October 1977 to August 1979.
The first batch of teachers had their first gathering at the Sungei Petani Bahá'í Centre. Uncle Nagaratnam gave us a talk on the merits of being a Bahá'í teacher. Present at the gathering was a group of believers from Patani Para Estate and the late Selvarajoo from Sungei Petani (who had earlier pioneered to Sri Lanka. Mr. Muniappan, a burly figure with large eyes, looked like the leader of the pack. He has childlike laughter and a tender heart. Lingan, a youth with a serious look was a skilled teacher. The late Muniandy and his wife Parvathy, a lovely couple, gentle and soft-spoken and finally myself. Seemingly odd, yet galvanized by the love of Bahá'u'lláh, we stood ready to undertake "the most meritorious of all deeds".
Soon after the launching of the South India Teaching Project, five more Malaysian believers joined us in Tamil Nadu. The late Miss Govindammal from Jabi Estate in Kedah who passed away at her pioneering post, the late Kandiah Raju, Miss Malliga Jothi, Mr. Indrabalan, Mr. Gunaseelan, and Zak Muniandy.  Zak Muniandy who later married Rose, a local Bahá'í remained at his pioneering post at Andhra Pradesh for a long time.
One day before leaving to India, we were warmly invited to the home of Auxiliary Board Member Dr. Sreenivasan in Petaling Jaya. We all went to Subang International Airport with full excitement. Dr. Sreenivasan and Manisegaran came to the airport to send us off. We all checked in. After that Dr. Sreenviasan took us to a corner and gave us some words of encouragement. In clear and strong language he said, "Always remember, you are all not representing Malaysia alone, but are also carrying out the plan of the Universal House of Justice as this is their project. You are all going to India as Ambassadors of Bahá'u'lláh. I will pray for you every day. Put your full trust in Bahá'u'lláh and you will surely bring victories for the Faith." With those emotional words, he came to the departure gate and kept looking at us until we were all out of sight.
As soon as the plane started to move towards the runway, we all spontaneously said prayers in our hearts. So much expectation was placed on us by the Supreme Body and the Hands of the Cause of God as well as the national institutions of two countries. Never before has such an enterprise undertaken and here we were the torchbearers. Were we worthy of this blessing of bringing the Faith to the country of our ancestors? Several thoughts were rolling into our heads. But we were still confident that with the "Infinite Mercy" of the Blessed Beauty on our side and with our total reliance on His helping hands, victory would certainly be in store for this teaching effort were undertaking.
As the plane touched down at the Meenambakkam Airport in Chennai, a feeling of awe overcame us. At last, we found ourselves in the land of our ancestors and bringing the message of Bahá'u'lláh to them. We were welcomed at the airport by Dr. Sree Ganesh, the coordinator of the South India Teaching Project and Jacob Alex, a member of the State Teaching Committee of Tamil Nadu. We reached the famous Bahá'í Centre at  9, Sarangapani Street, in T-Nagar by taxi. After washing up we had a sumptuous dinner. Dr. Sree Ganesh briefed us that we would be leaving early next morning by train to the project base in Sulur, Coimbatore.
By 8:00 am, we were on the train with huge boxes of pamphlets and pocket-sized prayer books. We had an additional teacher following with us, Auxiliary Board member Miss Mahnaz Kohinoori. As we found out later, she is no ordinary teacher. She was a very simple person with a single-minded devotion to serving the Cause of Bahá'u'lláh. By 4:00 pm we were at the project base at the KPG Thottam, in Sulur. The KPG Thottam was a fenced area owned by a cotton miller. It was in a few acres with a few houses. One of them was rented to the Bahá'ís. The houses were surrounded by greeneries, coconut trees, and cotton shrubs. It was indeed a quiet and pleasant environment. Dr. Sree Ganesh told us, "Today is the ideal day to start the teaching as it is a Holy Day, the Birthday of the Báb."  What a day to start off the work for the Cause of Bahá'u'lláh! We said our prayers.
This was the time when the Asian Bahá'í Women's Conference held at New Delhi just concluded. Some of the Malaysian Bahá'í women who went to the Conference joined the South India Teaching Project to offer their service in teaching before returning to Malaysia. There were also other women from other countries who joined us. I was fully thrilled to see the great talent these Bahá'í women in the teaching field, and their devotion and dedication to the Faith.
We entered the first phase of the project, lasting from 20 October to 28 November 1977 – a total of 39 days. In this period, we saw the establishment of Local Assemblies in the 23 localities of Sulur Panchayath Union District. A total number of new believers reached 1,066.  It culminated in a special conference on 13 November 1979.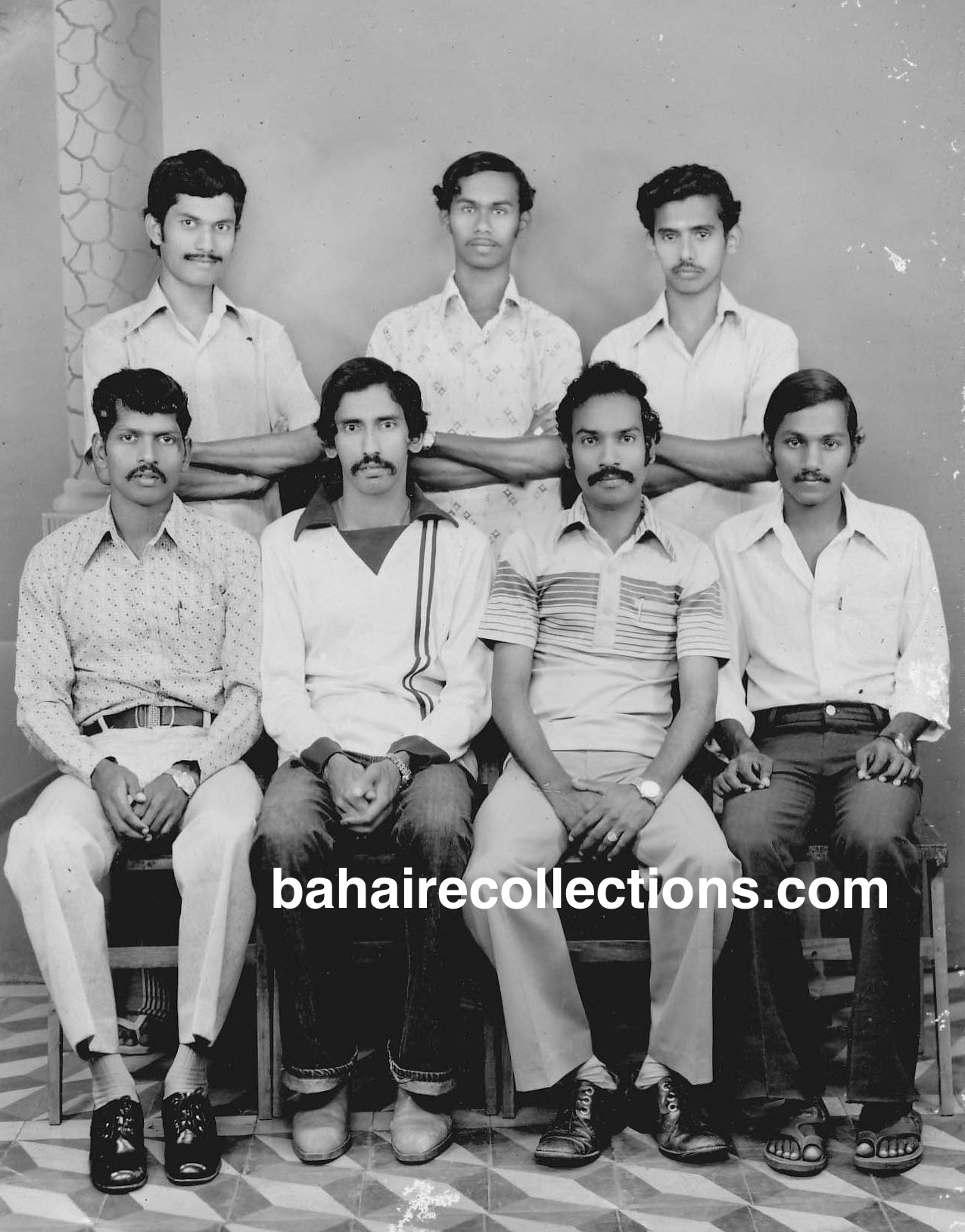 The first batch of participants in the South India Teaching Project are seated.
L-R: Indrabalan, Gunasekaran, Muniandy, and Selvam Elumalai. Standing at the back are local believers from Nagercoil city, Tamil Nadu.
Then we entered into the next phase, which was the real challenge. One day before entering the next phase we were all given a day off. On that off day, Dr.  Sree Ganesh mentioned the new goal that was set — 100,000 new believers and 100 new Local Spiritual Assemblies by Ridván 1978. We were excited, concerned and worried at the same time. But we knew this would be achieved, as we had Bahá'u'lláh with us and the Universal House of Justice offering prayers for us. We said ardent prayers and went to a nearby village and started to teach. The immediate response was very good. We returned to the base with great excitement and said prayers thanking Bahá'u'lláh.
This time we were divided into several teams. Our teams were assigned to open new villages, establish Local Spiritual Assemblies and to consolidate the new believers. With all of us breaking into small teams we were sad for the separation. But once into the field, we had no time to worry at all as we had only one thought – teaching and bringing home victories.
Our routine work was along the following lines: Get up every morning as early as 7:00 in the morning, have group prayers followed by individual prayers, and then set out for our respective goal areas. Despite some difficulties, we always returned to the base with some good results.  We were able to witness the power of divine assistance in the field. The doors would simply open and our prayers were always answered. People from all walks of life would come into the Faith – teachers, farmers, laborers, menial workers, women, and above all from several castes.
Somehow with the helping hands of Bahá'u'lláh our goals were achieved. On the last day of this second phase, a special conference was planned. Each of the friends recited the Tablet of Ahmad nine times. The conference was convened with resounding success. An unexpected and overwhelming number of 125 believers participated in the conference. The talks centered on the "History of the Faith", "The Station of Bahá'u'lláh", "Bahá'í Administration", "The Obligations of Bahá'í Teaching", "Contributing to the Fund", and ended with a question and answer session. We were deeply moved when the new believers attending the conference themselves pledged to bring in about 1,000 additional believers by the end of the month.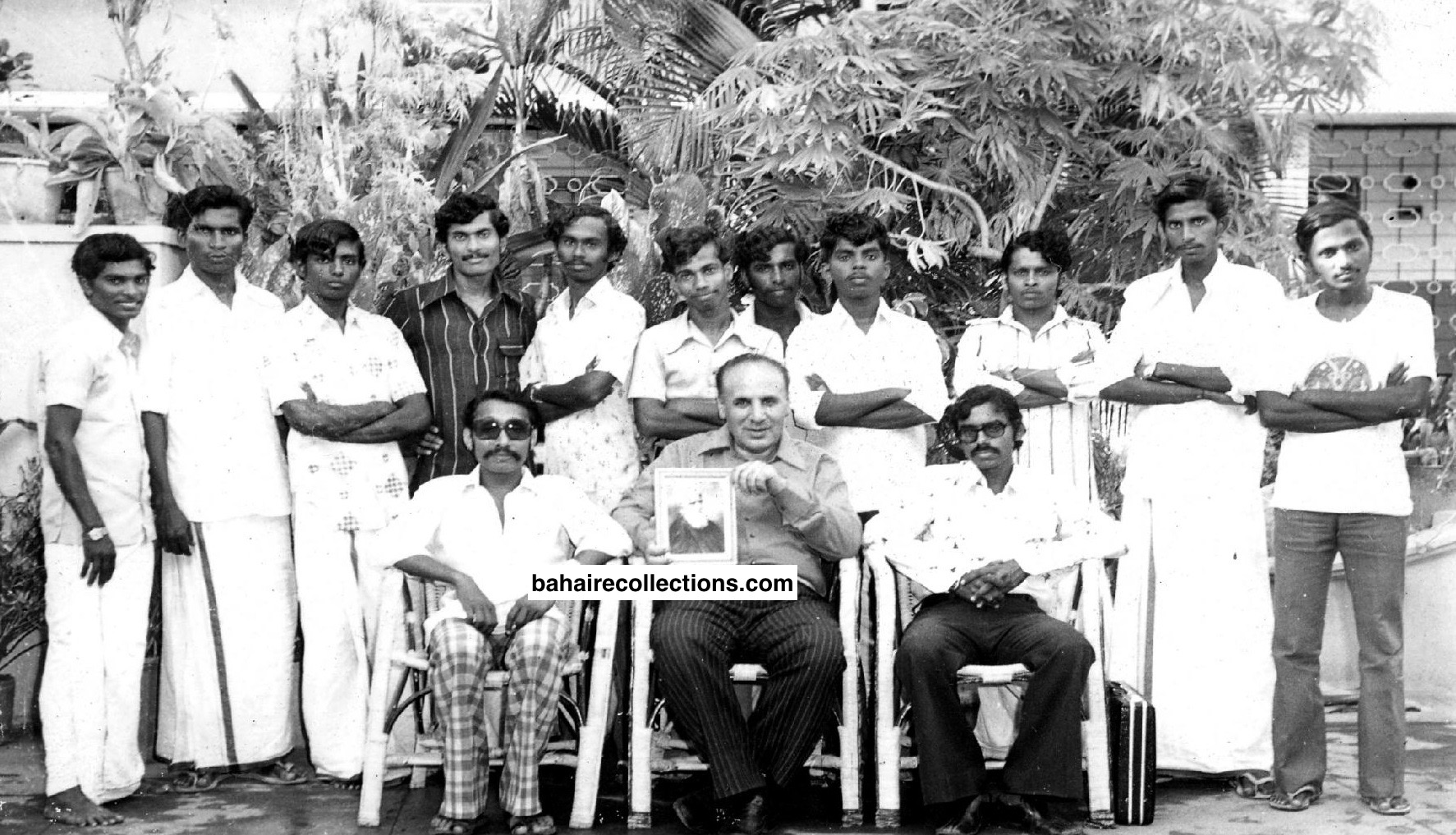 Hand of the Cause of God Dr. Muhajir visiting the teachers in Kanyakumari, South Tamil Nadu, 1979. On his left is Dr. Sree Ganesh, the Project Manager.
I have to say a few words on the heroes and heroines in the field. There was the late Mrs. Radha Achutan, mother of Dr. Sree Ganesh, fondly called "Mummy" by all. She was an elderly lady who would walk miles and miles under the scorching heat of the Indian sun and on dusty roads. Yet she was always cheerful and happy, offering the healing message of Bahá'u'lláh to everyone she met. There was one Jeanee Yamartino, an American Bahá'í youth, who was warmly welcomed wherever she went. People, especially the children would gather around her. Her captivating smile, her love for mankind made her special among the Bahá'í teachers. Shantha Chellapoo, a Bahá'í from the United Kingdom and of Indian origin, spoke only English and with a British accent. People mistook her as a local Indian lady with her looks and dress until she started to speak. In spite of her difficulties in communicating, she was a good and loving teacher. Miss Rani Datwani from Hong Kong, was yet another teacher of Indian origin. She was capable, talented and had fine leadership qualities. Whenever Dr. Sree Ganesh was away on important matters, she would coordinate the teaching activities. A good teacher of the Faith, she would give her best efforts to whatever tasks assigned to her. She served in the project for a few years and is today married to Dr. Sreedharan, a Malaysian Bahá'í.  Then comes Miss Kamala Kannan from Johor state, S. Kumari from Pahang, and Mageswary from Kuala Lumpur. These are among other great ladies who had served in the teaching field and left their marks behind.
The late C.S. Maniam from Sungai Siput was yet one more elderly Bahá'í and a former headmaster of a Tamil school who joined us during the school holidays at the end of 1977. He was a person of great enthusiasm in the field. He easily got along with the youths, talking with them, sharing with them and encouraging them. He never seemed to get tired, and always teaching. S. Krishnan, another teacher from Sungai Petani too joined us during this period and was another added strength to all of us.
The late Mr. S.L. Thevar and his family came into Tamil Nadu as pioneers in 1978 and often joined us in the field. I need to also mention about two more devoted Malaysian believers. Dr. Sree Ganesh, who was at the Project Manager of the South India Teaching Project, proved to be a person of great simplicity and publicity-shy but was deeply dedicated to the advancement of the Faith. He chose a simple corner of the hall in the rented house at the KGB Thottam. His only possession was a trunk box, a mat, and his trademark orange jacket. He would often sleep at the small veranda of the house and rush inside whenever there was rain. He left his young pregnant wife Rita in Malaysia when he was called to lead the teaching project. He was not around when his son Rusby was born. Only after one and half years had passed did the mother and son finally join Dr. Sree Ganesh. A small house was rented for them.
Long before the days of organized group teaching such as the South India Teaching Project, individual pioneers played a pivotal role in planting the seeds of the Faith in many places in Tamil Nadu where there were virtually no Bahá'ís. Often, they worked alone and on their own initiative with little resources. One such person to leave a permanent mark in the annals of the Faith in South India was the late Dr. E. Maheswaran. He came into Tamil Nadu as a student pioneer in 1971. I was serving in Kanyakumari District in the southernmost district of Tamil Nadu for almost a year and witnessed his hard work and that of the local and Persian friends bearing fruits. The late Mr. Doraisamy served for many years in Thiruchirappalli since 1972, rendering outstanding services to the Faith there before returning to Malaysia. It was while in Tamil Nadu that I first heard of some other earlier pioneers from Malaysia who had come to this blessed country much earlier in the 1960s. The names of Dr. S. Vasudevan, Kanniah Adaikkalam and Sabapathy were mentioned in glowing terms.
This had happened close to 40 years ago, but the fondest memory is still raw and vivid in my mind. The experience we gained, the one family spirit with which we served and the love and fellowship that was generated among the teachers could never be erased from our minds and hearts. It is sad that a sizeable number of the participants in the South India Teaching Project have ascended to the Abhá Kingdom, and are no more with us. I was there when Miss Govindammal passed away. When I had returned to Malaysia, several others who served in the South India Teaching Project passed away in stages. Kandiah Raju, Muniandy of Patani Para Estate, Lingan, Mrs. Achuthan, C. S. Maniam of Sungai Siput and Indrabalan are among those who passed away upon their return to Malaysia.  But they shall always be fondly remembered for making mention of their Creator on earth, in the blessed teaching field in Tamil Nadu.
Selvam Ellumalai
Malaysia
©bahairecollections.com