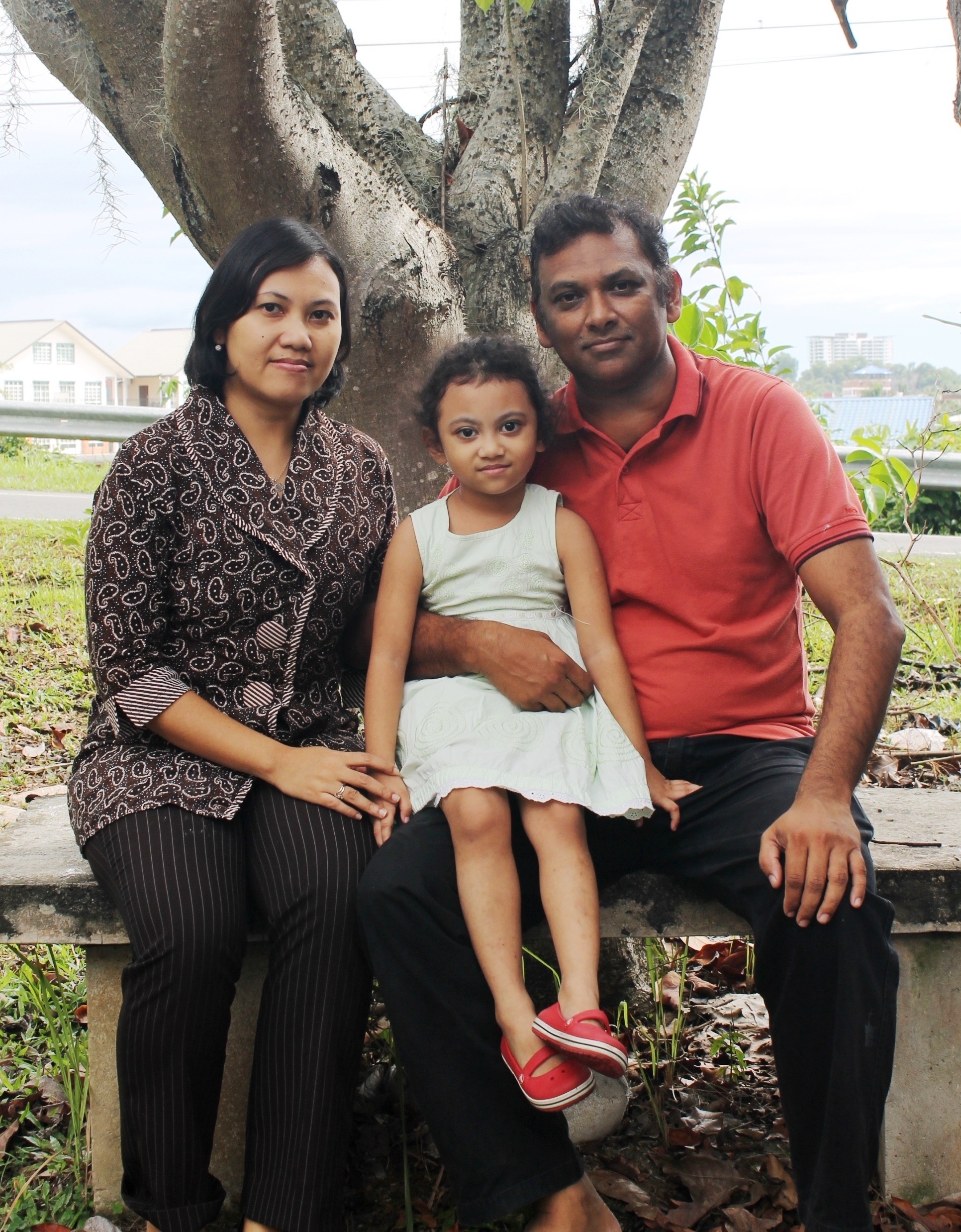 Suresh Ramanaidu- SABAH, MALAYSIA

What more could one ask for when blessed with good Bahá'i parents and committed teachers of children classes? This lays a solid spiritual foundation and sets the example for children to grow up in the path of God. My parents had gave me all kinds of toys and gifts to play with. Today at age 49, I reflect and realize that the best gift they gave me was the Bahá'i teachings. In addition I was given all kinds of training at school, but the best training that I will take to my next life came from the children classes I attended.
Born into a family  where my parents were already Bahá'ís, did not give me much option to jump from one religion to another. My parents made it simple for me since birth. I just grew up surrounded by Bahá'ís in my community and we held many Baha'i activities in my home.  It is simply gratifying to see how I was nurtured and developed in the Faith by two main arms- my parents and children class teachers.
I was born in the town of Seremban in the year 1968 when my dad was teaching in Gemas town in the state of Negeri Sembilan, Malaysia.  Something very great  happened in Bahau that I cannot remember, but my parents were full of pride when they recalled how Hand of the Cause of God Mr. A.Q Faizi had picked me up and kissed my cheeks during his visit to the area in 1968. This generation of believers I belong rarely may remember meeting any Hand of the Cause of God and understand their significance in the Dispensation of Bahaullah. These days we have books on them and their unparalleled sacrifice, contribution and their importance. I spend time reading them. My father was fortunate to have met some of them. He was so touched by their exemplary lives that he named my second brother after the Hand of the Cause of God Leroy Iaos. My father often mentioned the elders in the Malaysian  Bahá'i community who had done so much for the Cause. He had even introduced some of them even when I was a child, especially at conferences.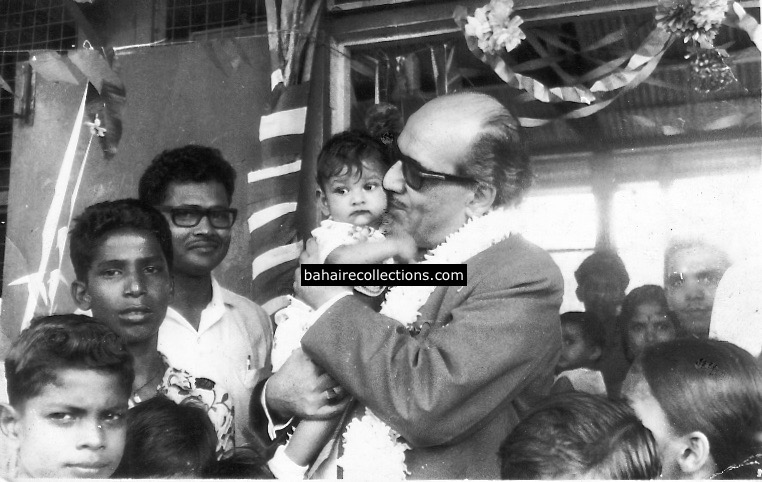 Mr. Faizi kissing me in Jerampandang Estate, Kepis Division in 1968 when I was barely one year old, with my father giving  a proud smile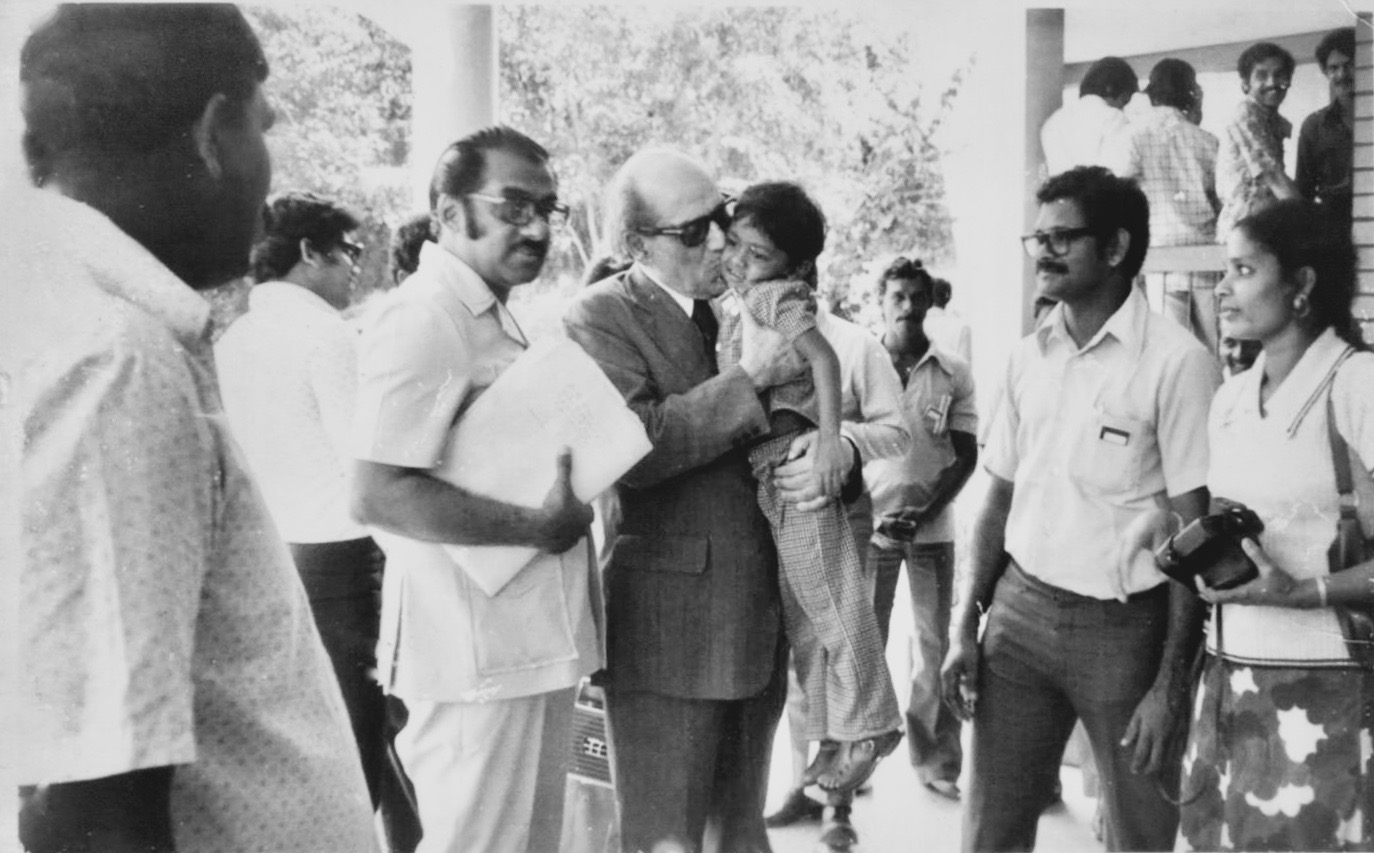 My younger brother Leroy kissed by Hand of the Cause of God A.Q. Faizi at the  South East Asia Regional Conference held in Port Dickson in December 1976.  Dr. Sreenivasan is to the left and my parents to the right.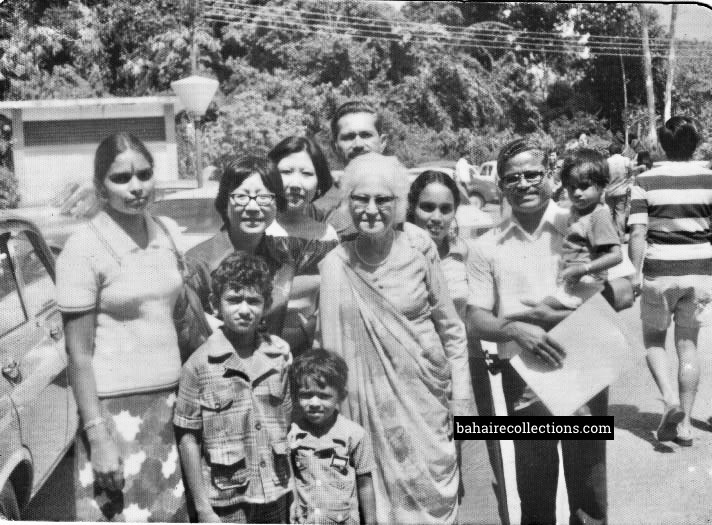 With Mummy Fozdar at the South East Asian Regional Conference, December 1976. At extreme right is Jami Maniam
My first teachers
In 1969 we moved to Bahau town.  The most profound factor in shaping my childhood days were certainly my dad and mom. As I started to speak my parents taught me to recite simple prayers and later, to memorize simple verses.They were serious when it came to matters of the Faith, as we say "Jangan main main" in Malaysia and Singapore, which means "do not play".  My parents basically groomed my siblings and me from an early age. They taught us prayers and holy words. I did not get the meaning of them but they were certainly soothing to me.  My parents told me some simple Bahá'í stories, with strong ethics. We had a lovely photograph of the Master in the living room and my parents always drew our attention to Him. This was my own first exposure which I vividly recall. Within my own house there were daily devotional sessions in the morning and at 8 in the evening. What was happening here? All this time I did nothing but to listen and observe. I did just that for many years. The process deepened my understanding of the Faith like a low dosage of medicine taking an effect over a long period of time. I was unconsciously and gradually absorbing the teachings of the Faith like a sponge. I believe this is how most of the Bahá'í children the world over were brought up. Dad would take us on teaching trips, deepening classes, conferences, institutes, children's classes, and visiting other Bahá'í friends. At times he used to take us for visits to Kampung Chang to meet the Aslis  or aborigine believers. At times he used to take us along against our will, the wisdom of which I could not see then. Today we are glad and understand the true value of those visits. My dad not only taught us Bahá'í ethics, but also taught us in action.
Tribute to my teachers
My next stage was attending Bahá'í children classes when I started going to school. I always feel good whenever I recall my first Children's Class setting in Bahau town. My first teacher was Mr. G. Appala Naidu, a close family friend. My classmates were his daughters Shirin, Nazrin, Sabrina and my own sister Sujata. I do not remember anything more. I was only 6 then.  I used to attend Bahá'í children's classes without fail. They used to be on each Sunday, the day that I attempted to sleep longer. But my parents were not compromising on that stubbornness. I was sometimes dragged to the children classes where we memorized prayers and passages from Bahá'í Writings, especially the Hidden Words. We were even trained to be speakers at Holy Day celebrations. We had  to speak about some aspects of history during Holy Day celebrations in the presence of small crowds of Bahá'ís. There were also competitions held in memorizing Bahá'i prayers and Hidden Words. The winners would be given prizes, usually in the form of prayer books, or photographs of Holy places.
The Malaysian Bahá'í community paid much attention for fostering Bahá'í values and virtues among children through children classes. There were committed teachers spread across the country, with good syllabus and teaching guides. From 1975 to 1981, I enjoyed attending special children classes held along with some major Bahá'í conferences  for adults, usually in Port Dickson.  Some of the teachers who gave the classes were Ms. Lily Chinniah, Ms. Anjalai Devi, the youngest sister of Mr. Theenathayalu, who is the Trustee of Huququllah in West Malaysia. Ms. Anjalai Devi is now married and settled in Sandakan, Sabah. Other teachers were  Asha Sreenivasan who is now settled in the USA, and Mr. Kanthakumar in Jitra, Kedah.  At one time Dr. Inderjit Singh Ludher also conducted the classes.
Most meritorious of all deeds
When I was around 10, I asked my dad, "How do you exactly teach the Faith?" He immediately pulled out his teaching kit from his bag. I used to flip through that teaching kit more than two score times previously, like a story book glancing at the pictures. We went through the first page about Progressive Revelation. He continued to explain how to use the kit. In the end he said, "Don't speak for more than 20 minutes.  Encourage them to ask questions."  That was my first lesson on how to teach the Faith. Dad told me to teach the Faith daily to others, however moderate it may be. I got a firing once when my dad discovered I was not teaching enough. "No matter what you do, you need to tell someone about the Faith. Period." he said. He was not appealing! He was very loving, but where discipline on the Faith was concerned there was no compromise!
Special Training
I am lucky to have grown up in Malaysia as the institutions showed great  concern for the development of Bahá'í character and conduct in the children. The Faith encourages Bahá'í children to attend children classes, but at the age of maturity at 15, the children were given full  freedom to choose their Faith. In the early 1970s Pre-Dek Institutes were held for those children who were just below the age of 15 to study various aspects of the Faith,  create a sense of Bahá'í identity and provide opportunity of living together in a Bahá'í community environment. I was fortunate to have attended some of them. The Regional Children Institute held in Port Dickson in August 1978 and the "Teen" Institute at Port Dickson in July 1979 had a great impact on me. My father, Mrs Theresa Chee of Ipoh, Isaac de'Cruz, Lily Chinniah, Daisy Das and R. Kanthakumar were the trainers in these institutes  that brought different age groups together. I can picture how passionate and committed they were in training us in those nascent ages. This was one single most event that created the deepest impression upon my Bahá'i life. Today, many of the children who participated in these events are spread out in many parts of the world, providing needs of human resources in various capacities, and making the Malaysian  Bahá'í community proud!

Teen Institute of 1979 that has produced several heroes and heroines of the Faith now serving in many parts of the world. Our gratitude to the teachers : Standing extreme left Rama Naidu; Isaac de Cruz, sixth from left; G.A Naidu, my first children class teacher is eighth from left. Sitting L-R: Kanthakumar; Pauline de Cruz; Sue Nagaratnam; Sawathiri Raman Nair; Catherine Wan; Daisy Das; Doreen Tan; Theresa Chee. I am seated extreme right in the front row.
Decisive Moment
When I turned exactly 15, my dad called me up and had a meaningful conversation with me. He asked me to make my own decision on what religion to choose. He said "I have shown you the Light as a dutiful father. However, I leave it to you son, and I respect your decision".  Had he ordered me to sign up I would have done so without any hesitation. It was so kind of him not to have forced me. I told him I needed time, but remained quiet for a week. There was a summer school at Cameron Highlands in 1983. I remember mom cooked fish curry and we had a sumptuous dinner. Then a declaration card was given to me, and I immediately signed it and went to the night session of the Summer School.  Raja Sreeni who was the Master of Ceremonies  called me to the stage and introduced me as son of Auxiliary Board Member Rama Naidu. I received a big round of applause from the audience. While I had accepted Bahá'u'lláh as the Manifestation of God for today, deep in my heart I paid tribute to my parents and the children class teachers for guiding me into the Faith. What more could one ask when blessed with responsible parents and good teachers giving the needed guidance in early days in life!
Some Bahá'ís who inspired me
While my parents and children class teachers had trained me when I was young, there are several other  Bahá'í  speakers at conferences whose talks had good impact on me. When some of them spoke, many a heart would move.  They were the Hands of the Cause of God, Continental Board of Counselors, Auxiliary Board Members, some members of the National Spiritual Assembly,  and other speakers from Malaysia and abroad. Mrs. Shirin Fozdar who served the Faith in the South East Asian region, Uncle Yankee Leong who is the first believer of Malaya, Dr. Chellie Sundram, who was a Counselor, Dr. John Fozdar, Mr. R. Ganasa Murthy and Mr. S. Nagaratnam who were on the National Spiritual Assembly,  Dr. M.M. Sreenivasan and Mr. S.Satanam who were Auxiliary Board Members, and Mr. Afshin from India who visited Malaysia several times were among the many good speakers who profoundly shaped my thinking and guided me. There was one more person who was an auditor always monitoring my Bahá'í behavior and giving me straight forward corrective measures whenever needed. He was the one who guided my father into the Faith- the late Jami Maniam.
Now I am on my own
So much input had been given. Then came the period of my output. I had to practice what I learnt from all those years of absorbing the Faith. Later in my youth I joined the Army of Light teaching campaign. It was really great to be with the "Army". Around 30 to  40 Bahá'í youth from all over the country would attend a spiritualization institute for  a week or two, followed by group teaching for another few weeks. My first spiritualization Institute was in 1983 at Bentong town in the state of Pahang conducted by the late Mrs. Shantha Sundram. It was at the house of the late Mr. R.K.Kannan. We went to Taiping town for teaching after that. In 1984 the spiritualization institute was at Negeri Sembilan, at the home of Mr. Kaliappan. After the training, we went to the town of Batu Pahat in the state of Johor. We would speak to anyone we met- on the road, at shops, and night markets. They were invited to firesides at night. We had no fear for anyone. However the scariest part was when at times we were chased by crazy stray dogs. As time passed by I realized that what was difficult for us in presenting the Faith was becoming easier with more and more experience. We were getting better at teaching the Faith. It was not hard, as we were conveying the message of Bahá'u'lláh in groups. Group teaching gave us confidence.
Across the Sea
I had always wanted to teach the Faith abroad. My father was a seasonal travel teacher. As a teacher by profession dad used to get long annual holidays and would spend the holidays teaching the Faith overseas. He would return and tell us teaching stories that would move our hearts. I too was moved to follow his footsteps. Upon completion of my secondary school education in 1985  dad bought an air ticket for me to go to the eastern Malaysian state of Sarawak. While here I was missing Indian food, which was my main staple at home. I had frequent dreams of eating Indian food. That was the sacrifice one had to make- if one wants to call that a sacrifice.  I spent 3 months over there with another youth, mainly doing deepening work. The National Teaching Committee requested us to visit longhouses along the Rejang River. We gathered at nights at long houses to share  Bahá'í stories. Those night gatherings witnessed full attendance and were highly effective,  there were no television sets in those days. So they really sat and listened until late at night. Speaking with the Iban people  who are natives of Sarawak was not hard, as they were very simple and loving people.  The Iban people were always warm, friendly and most hospitable. This was my first encounter with people who did not count the time by the clock, but by rays from the rising and setting of the sun. Sarawak gave me sufficient training to be away from my home and hometown.
Now overseas
My next move was going overseas in pursuit of my higher education. That  took me first to Bangladesh at in 1986 to study homoeopathy.  I took hold of the opportunity to be a student pioneer. I spent two years at a city known as Rajshahi. I not only taught the Faith, but learnt many things that only experience could provide. There language was my barrier, and I had to learn Bengali. It was also my first encounter with the Persian Bahá'ís. I quickly learnt that the way the Persian friends moved and carried the Faith with them was of a different nature. They really spoke from the heart and demonstrated in action what the Faith stood for. They were such a loving friends who really touched my heart. I used to join them in the local teaching activities. As a youth there I was under the care and loving guidance of Dr. Jabbar Edelkhani and his lovely family. Dr. Edelkhani is at this moment a member of the Continental Board of Counsellors for Asia.
On one occasion, we visited a Bahá'í tutorial school at a village. We traveled by train, and upon arrival we noticed the roof of the only classroom was lying about 50 meters away from the main structure of the classroom. Apparently, it was blown off by a strong wind only a week before. But the local believers did nothing to restore the roof. This trip gave me a lesson that I would take to the tomb. The conversation was along this line:
Dr. Edelkhani: When did this happen?
Villagers: One week ago.
Dr. Edelkhani: Why didn't you all put back the roof?
Villagers: Well, it was you who built the school, and so we thought it has to be you to put it back.
This conversation that followed sank into me and remains carved in my heart.  Dr. Edelkhani said something to them in Bengali of which I understood little.  Pretty soon the villagers put the roof back. He said to the effect that until and unless the believers do not take full ownership and responsibility of any projects of the Faith, or in realizing they are for the well-being of their own community, the growth of the Faith would be retarded. He said  Bahá'ís should consider the  Bahá'í Faith as something that comes from Bahaullah but belongs to them.
It was getting late and as we tried heading back, we realized we had missed the train. We walked on rail tracks for 2 whole hours to get to the main station, and finally reached home at midnight.
I enjoyed my stay in Bangladesh. The political situation in the country was always in turmoil, where students would take part in political activities. That meant going on strikes, and schools and colleges would be closed very often. My course was dragged on and on. Finally in consultation with my dad, I decided to move to India.
India
I resumed my education at Rajahmundry, in Andhra Pradesh, India in 1987. In the four years I completed my course on homoeopathy. While I was at Rajahmundry many of my classmates became Bahá'ís. During short breaks I would travel to Secunderabad city where I had the opportunity to meet up travel teachers from abroad, whose visits would inspire me. In December 1987 I had the opportunity of meeting Mr. Manisegaran and his wife, Ms. Nirmala Devi who came for a weekend to give the Faith to some dignitaries and present the Faith in All India Radio, Hyderabad.  Sharing the teachings of Bahá'u'lláh with my classmates and people I met on trains became more and more enjoyable. Teaching in Andhra Pradesh was a little tougher. Questions from enquirers were sometimes thought-provoking, or even aggressive in nature. They enjoyed asking drilling and intellectual questions, which tend to put me off the balance. Such questions prompted me to read more from the Writings on the Faith, in preparing myself to answer questions in the teaching field. The experience in India prepared me for all kinds of potential questions enquirers may ask when teaching.
Lotus Temple for six months
The place I enjoyed the most was at the Bahá'í House of Worship at New Delhi where I served as a volunteer in the year 1992.  I used to tell my friends, "At this place, people come to you to inquire about the Faith, and not we seeking people to teach." The temple attracted people in hundreds of thousands and that kept us busy. That marble stone edifice was not a silent teacher, but a noisy teacher with so many of us having to teach uncountable number of enquirers.
I observed this Bahá'í Temple trains people on how to teach the Faith. One day a young girl arrived from a remote part of Nepal as a volunteer at the Temple. She has had no experience in teaching the Faith. One day she just listened to an older and more experienced Bahá'í friend answering to enquirers the questions about the Faith and the Temple. By the second or third day she realized the same questions kept cropping up and the older Bahá'ís kept providing the same answers. The next time I saw her, she was already teaching on her own with all confidence. I had seen this over and over during my 6 months as a volunteer at Delhi. Today the Lotus temple is visited reverently by people professing all religions.
Advice in Chennai
The city of Chennai in Tamilnadu used to be my transit point to Malaysia. I was fortunate to have met several times, Mr. S. Nagaratnam who was serving as Counselor then, covering Andhra Pradesh as well. I always stayed in the Baha'i center as I wanted to stay close with the Baha'is. At that period much had to be done in Tamilnadu. Mr. Nagaratnmam gave me this advice, "You should be a self motivating dynamo and you should create and leave behind another Suresh before leaving your pioneering post". These words kept ringing in my ears, if at all I am worthy of what Mr. Nagaratnam thought of me. If at all I am that worthy, the credit should go to my parents and children class teachers. I left India in Dec 1992 after completing the course in homeopathy.
Cambodia days
After participating in the first Ruhi Institute held at the Yankee Leong Bahá'i  Institute at Balakong in  October 1993,  there was a call for pioneers to Cambodia and I volunteered. I stayed in Cambodia from 1993 to 1997. Camboadia gave me an experience of different kind. It was a war-torn country that left people paralyzed with fear and frequent flashback. Old memories simply did not  fade away. In December 1992, the UN mission had just ended, and many Cambodians returned to their country. The Bahá'í Consultative Council of Cambodia (CCC) that existed before the first Spiritual Assembly of Cambodia that was formed in 1994 had tasked the then pioneers to go to various parts of the country with a two-fold mission – to round up all those who became Bahá'ís earlier at the refugee camps at Thailand and deepen them; and to teach the new people. My dear friend Mr. Jun from the Philippines, and I were sent to Battambang and to another province close to the Thai border called Srey Sophon. People would haunt us with all sorts of scary stories of torture. We became disinterested and desensitized after a while, as the stories basically had the same script inflicting us with negative spirit. We were confronted with a new group here. While teaching in Sarawak was rather easy, and teaching in India was challenging, natives of this land were gripped with fear. So our approach in conveying the message had to be different. Most people only knew Buddha. So, a method I found useful was to make a connection between Buddha and Bahá'u'lláh. The good thing was that at that time they were not attracted to material possessions. Some used to say, "The teachings of your Faith are good. But where were you when we needed you?" The Permanent Teaching Institute later used to hold training programs for key believers. Very often the program had breaks every 15 minutes as the participants had great trouble concentrating. It was unlike the Cambodian generation of today which had not experienced the torments of war that their parents or grandparents did.
People are always engrossed with matters of their circumstances. What I learnt was that a generation that comes afterwards, especially the young one is much readier to accept Bahá'u'lláh. They are not tied up to the beliefs and practices of the former generations.
Practical Teaching Technique
I also was fortunate to meet Mr. Wolfgang Jacobson in Cambodia. He was a man constantly teaching, and would not even rest a moment. Honestly I have never seen a bolder gentleman than he, when it comes to presenting the Faith. In a span of just one week, more than 80 people became Bahá'ís through his efforts in one town alone.  What was  his formula, I kept wondering. His approach to teaching was creative. Later he told me, he would sit in a train and ask the passenger in front of him where he was going. From the response of the passenger, Mr. Wolfgang would estimate  the time he had at his disposal to tell him about the Faith before the passenger reaches his destination. He would then give the Faith within that period of journey. These are all little techniques I have learnt to apply in my own life.
Afghanistan
I was fortunate to work under the UN mission in Timor Leste in 2001, which later took me to Afghanistan in 2004.  While in Afghanistan I happened to have Mr. Raymond Peter of Malaysia as a colleague, working on the same project. Our duty station was at a place called Nimroz, just 3 kilometers from the Iranian border in the desert. We were specifically told not to contact any friends for security reasons. Stepping out of the building where we worked and stayed meant immediate danger. It was fortified day and night with armed guards. During the nights after work, Mr. Raymond and I worked on constructing a power point presentation based on the passage of "Dispensation of Bahá'u'lláh" by our beloved Guardian. The presentation had tremendous  effect on its participants. I  went through the document numerous times and the effect was fantastic. One wakes up with a totally new understanding of the Faith, appreciating the greatness of the Central figures. Raymond Peter is truly a gallant worker of the Cause and a great trainer. The stay in Afghanistan was an eye opener as the presentation by Raymond Peter made me become an avid reader, becoming cognizant of the fact that learning of the Faith is a life-long process. It was a turning point in making me a book worm.

With Raymond Peter in Afghanistan. A Gallant Worker for the Cause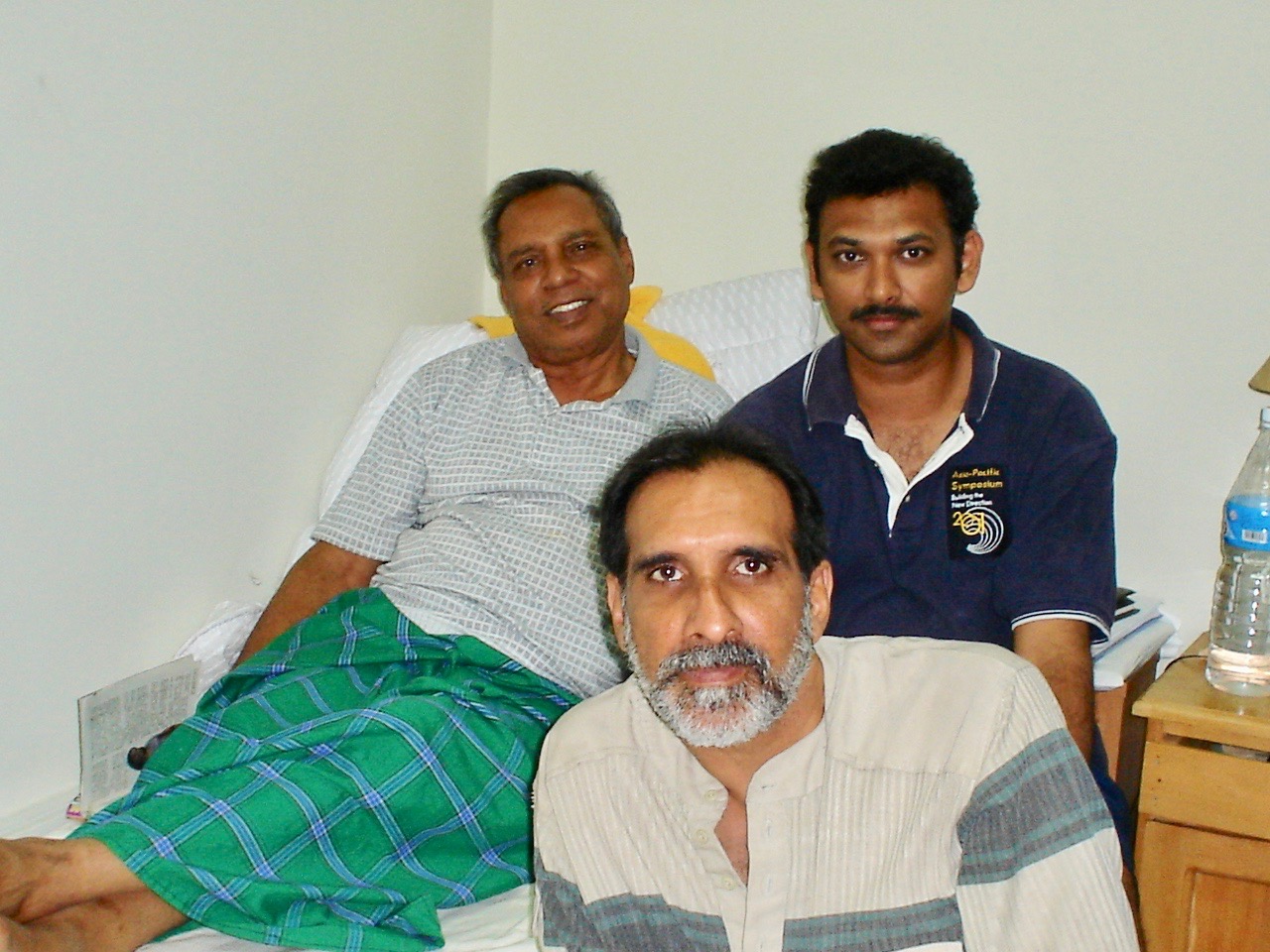 Nightly deepening sessions with G. A Naidu- my first Children Class teacher, and Amarjit Singh in Afghanistan.
INDONESIA
Lately in 2016 I met another devoted Bahá'í, Pak Makruf  in Surabaya. Indonesia. He was imprisoned in the 1970s for his religious beliefs. He said to me, "When one is called up by the authorities to explain, that opportunity is very rare and is sweet indeed".  I have also met many more shining Baha'is in my life but this association was too brief. But Indonesia taught me the meaning of courage through Pak Maarof.  My wife is Indonesian and so I go often to Indonesia to visit my in-laws.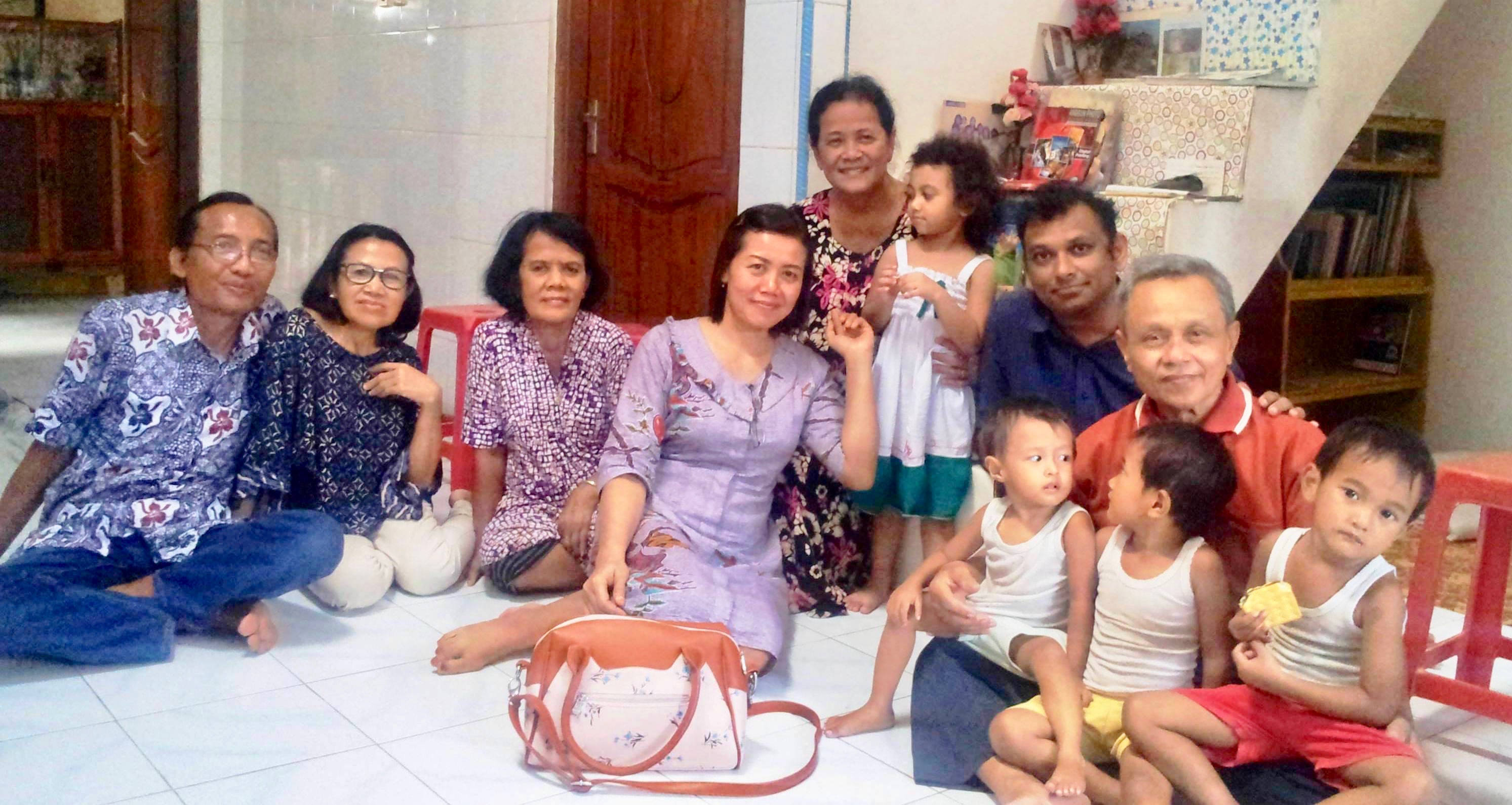 With my in-laws on left in Surabaya, Indonesia. To the extreme right is Pak Makruf

Tribute to parents and children class teachers
This narrative is essentially about how my parents and children school teachers made something out of me.  If at all I am worthy of calling myself a Baha'i, the credit goes to my parents and children class teachers who showed me the Light and led the way. Today my father is no more with us, but he is well remembered as my "friend, philosopher and guide", as people say. The best thing that could happen to any Baha'i is to be born for Baha'i parents who lay a firm foundation.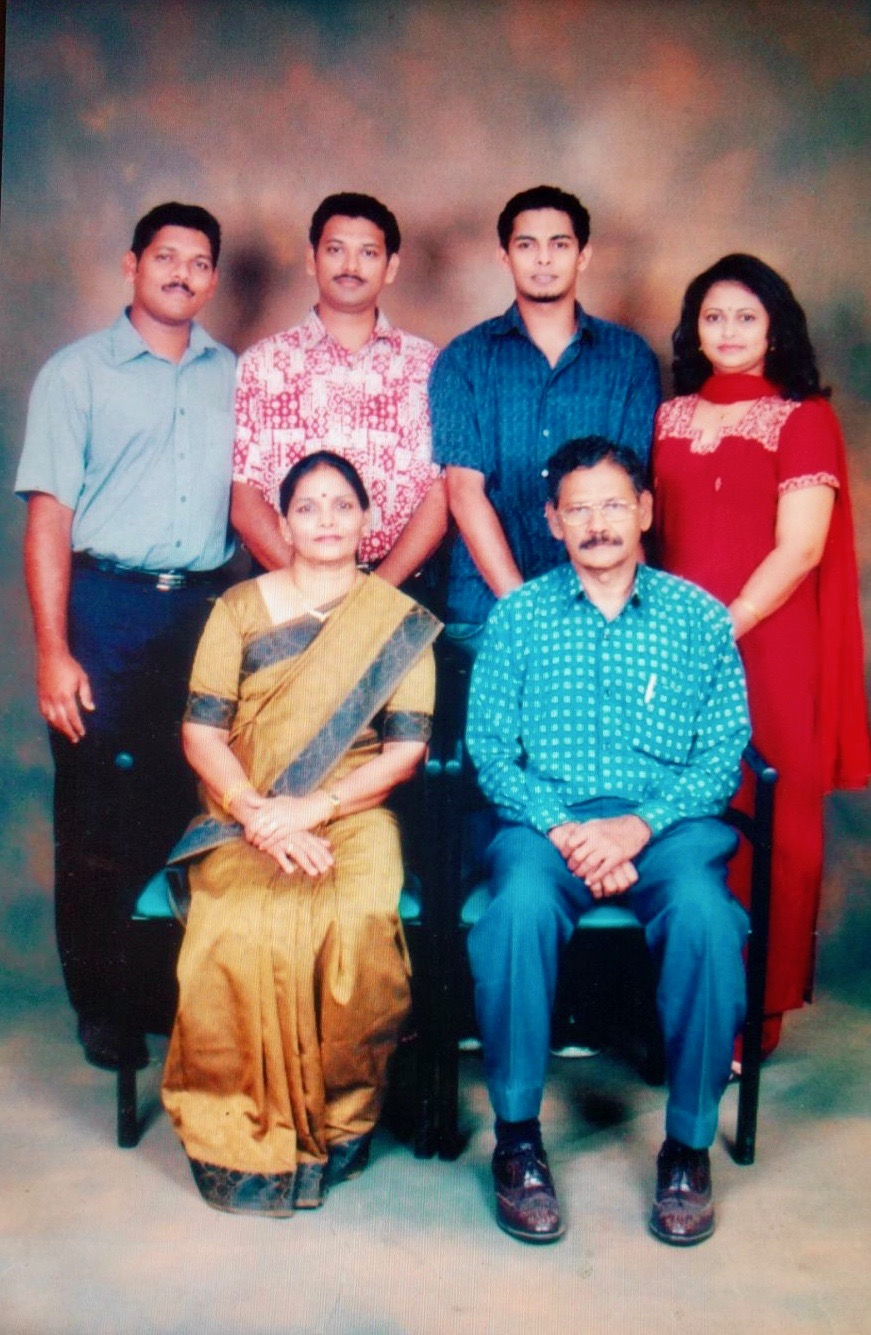 My Family L-R: Leroy, myself, Sanjay and Sujata
Today I reside in the city of Kota Kinabalu in the state of Sabah. I have one daughter who is four years old.  My wife and I are bringing up my daughter along the path my parents brought me up. I am currently a consultant for an organization. I also write computer programs for companies.
©Suresh Rama Naidu
Sabah
Malaysia
31 March, 2017
Copyright©bahairecollections.com