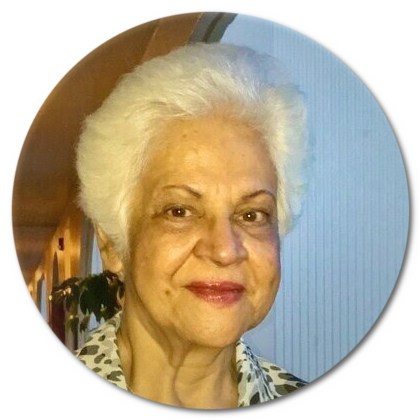 11 September 1937 to 29 September 2022
We received the news of the passing of Beatrice (Betty) Benson, devoted steadfast handmaiden of Bahá'u'lláh, with much sorrow. Her tireless labors to advance the Cause of God, distinguished by her service as a member of the Continental Board of Counsellors in Australasia for two decades, of your National Assembly, and of the Auxiliary Board for Propagation in Australia, are remembered with great fondness and appreciation. May the memory of her selfless dedication as a teacher of the Faith continue to inspire and encourage all those who knew her. To her children and other family members we extend our heartfelt condolences and assure them of our fervent prayers at the Sacred Threshold for the progress of her radiant soul, now joyously reunited with her husband, Richard, in the heavenly kingdom. We advise you to hold a memorial gathering in her honor and, by copy of this message, call upon the National Spiritual Assembly of Samoa to arrange a memorial service in the Bahá'í House of Worship in Apia, as circumstances permit.
– The Universal House of Justice to the National Spiritual Assembly of the Mariana Islands dated 30 September 2022
Beatrice Benson better known as Betty Fernandez in her early life was one of the handmaidens created by the wondrous hands of Bahá'u'lláh and occupies a peerless and unparalleled place in the history of the Faith in Malaysia and the several countries where she served the Faith with such a devotion and commitment, leaving behind indelible traces for all generations to admire and to emulate. Born in Kuala Lumpur, the federal capital of Malaysia as the daughter of the late Anthony John and Margaret Grey Monteiro. She obtained her teaching degree from the prestigious Teacher Training College Kirkby, Liverpool in the United Kingdom in 1957. She returned to Malaysia and started her first teaching post in the government school in the town of Jasin, state of Malacca in January 1958. It was through mysterious circumstances that she accepted the Faith in that town that boasts of many historical events for the Faith. Mr. Leong Ho Chiew, a high-ranking police officer, Mr. Anthony Louis, a Technical Assistant with the Public Works Department and Tushar Kanti-Paul, a teacher at a Jasin Government School were carrying out aggressive teaching activities in Jasin when Betty arrived there. They introduced themselves to Betty who said she was looking for the local teachers' quarters where she would be staying  and further mentioned that she wanted to get to know more of the local people. The three replied quickly that the best way of getting to know the local people was to attend a 'fireside' at Leong Ho Chiew's police quarters. When Betty joined the service as a teacher in the same school where Tushar Kanti-Paul was also teaching, and the latter introduced her the Faith first. Betty, a staunch Roman Catholic attended two firesides at the police quarters of Leong Ho Chiew. All she wanted was conclusive proofs that Bahá'u'lláh was the return of Christ. Initially she entered into a lot of arguments with Mr. Eustace Anthony Fernandez, affectionately called Tony Fernandez, a believer from a Catholic background and a Deputy Police Officer of Jasin District. She kept discussing the Faith with other elders from Malacca town such as Leong Tat Chee and G. Saurajen, the first believer of that town when they visited Jasin. A great help came from Miss Jeanne Frankel, an American pioneer and the Knight of Bahá'u'lláh from Nicobar Islands who stopped over in Penang in October 1957 and visited Malacca for the Summer School in December that year while waiting for her next posting to Cocos Keeling Islands. Jeanne was able to provide satisfying answers to all doubts that Betty had harboured in her heart. Betty got hold of all the Bahá'í literature available and became an avid reader, through which she understood so well the truth of the Mission of Bahá'u'lláh.
Finally, she accepted the Faith on 26 April 1958, and that was the beginning of a new chapter in her life which was a great blessing for the Cause of Bahá'u'lláh as well on account of the indelible services she rendered in several parts of the world till her passing. Betty came into the Faith when very few women were in the forefront of activities. She was one of those few ladies in the then Malaya who had a meteoric rise in serving the Cause and set example for several other ladies to emulate.
Betty was one of those fortunate who attended the Intercontinental Conference held in Singapore in 1958 where she was privileged to meet nine Hands of the Cause of God including Mr. Leroy C. Ioas, Mr. Tarázu'lláh Samandarí, Mr. Abu'l-Qásim Faizi, Mr. Harold Collis Featherstone, Dr. Raḥmatu'lláh Muhájir, Miss Agnes Baldwin Alexander, Mr. Shu'á'u'lláh `Alá'í, Dr. `Alí-Muhammad Varqá and Mr. Enoch Olinga, with some of whom she had continuous association in later years.
In late 1958 Tony Fernandez and Betty transferred to Malacca town where Betty taught at the Saint Francis Xavier School, the largest Catholic educational institution in the town, while Tony Fernandez served as the Chief Traffic Officer. Betty married Tony  Fernandez on 5 October 1958 in Malacca, and that became the first Bahá'í wedding of the then Malaya. The wedding received opposition from the Catholic community in Malacca with the priests attacking the would be couple from the pulpits of the churches, but nothing could shake their firmness in the Cause as by this time they were as strong as the Rock of Gibraltar. This wedding brought the biggest publicity ever for the Faith with those highest in authority attending their reception, and with local newspapers flashing the news with photographs, only to silence the opponents forever. As the wedding was held immediately after the Intercontinental Conference in Singapore, two hands of the Cause – Mr. A. Q. Faizi and Miss Agnes Alexander attended their wedding, along with many other participants of that conference.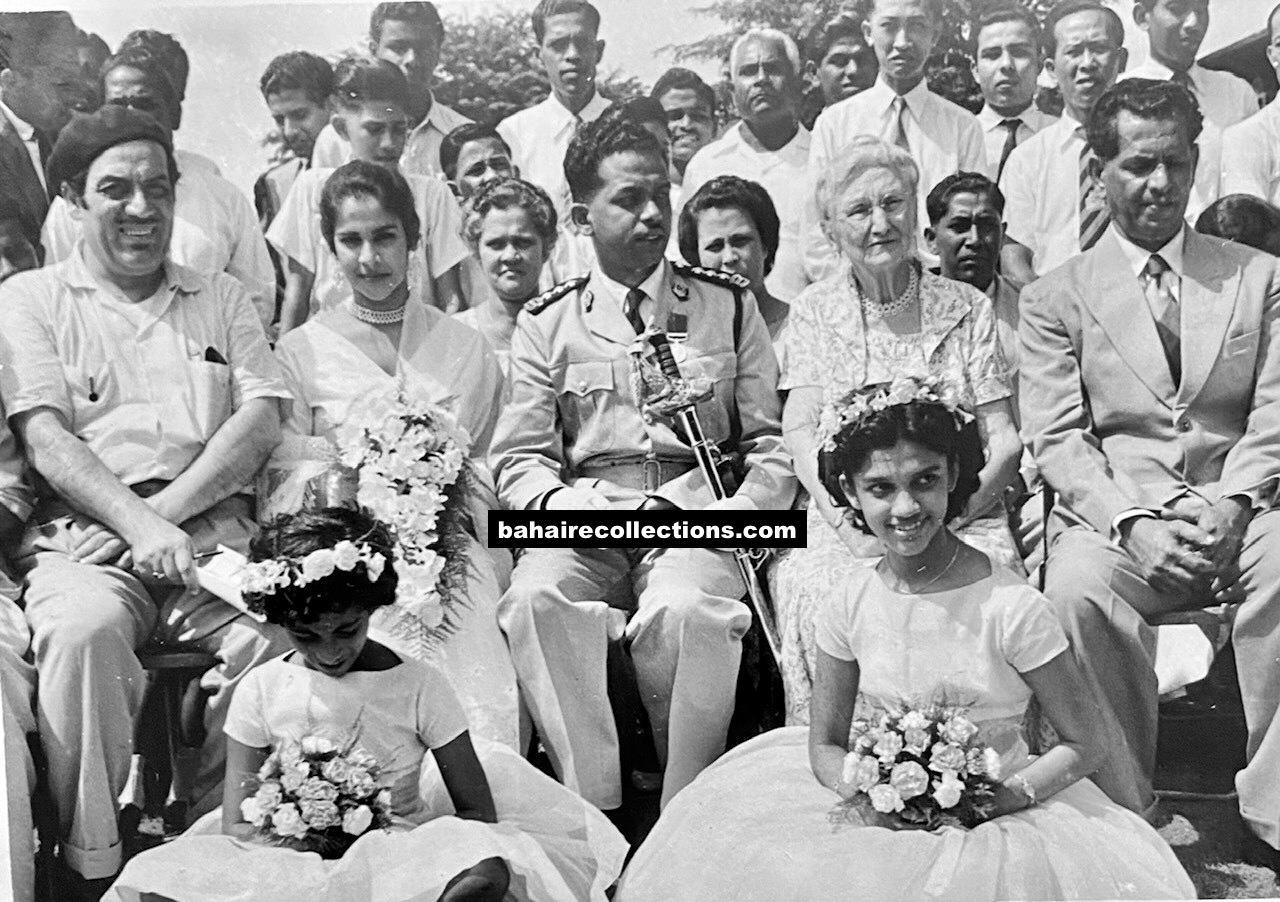 First Bahá'í  wedding of Malaya. To the right of Betty is Hand of the Cause of God Mr. A. Q. Faizi, and to the left of Tony is  Hand of the Cause of God Miss Agnes Alexander
The couple served the Faith in Malacca with great zeal and enthusiasm, including service on the Local Spiritual Assembly of the Bahá'ís of Malacca from 1959 to 1963 until their transfer to Bagan Serai town in the state of Perak, at the end of 1963.
It has to be mentioned that from the time of acceptance of the Cause, Betty was an active participant of several Bahá'í gatherings such as teaching conferences, summer, and winter schools, which she never missed, and she was a principal speaker on many of these functions. She had the privilege of meeting several Hands of the Cause who came to Malaysia while she lived there. Throughout her stay in Malaysia, she had the privilege of meeting all the Hands who came to the country such as Mr. Shu'á'u'lláh 'Alá'í in January 1960 in Malacca town and met Amatu'l-Bahá Rúhíyyih Khánum in her visit to Port Dickson in 1961 and again at the First National Convention in 1964. Some Hands whom she met when they made repeated visits to this country were Mr. Collis Featherstone, Mr. A. Q. Faizi, and Dr. Muhájir.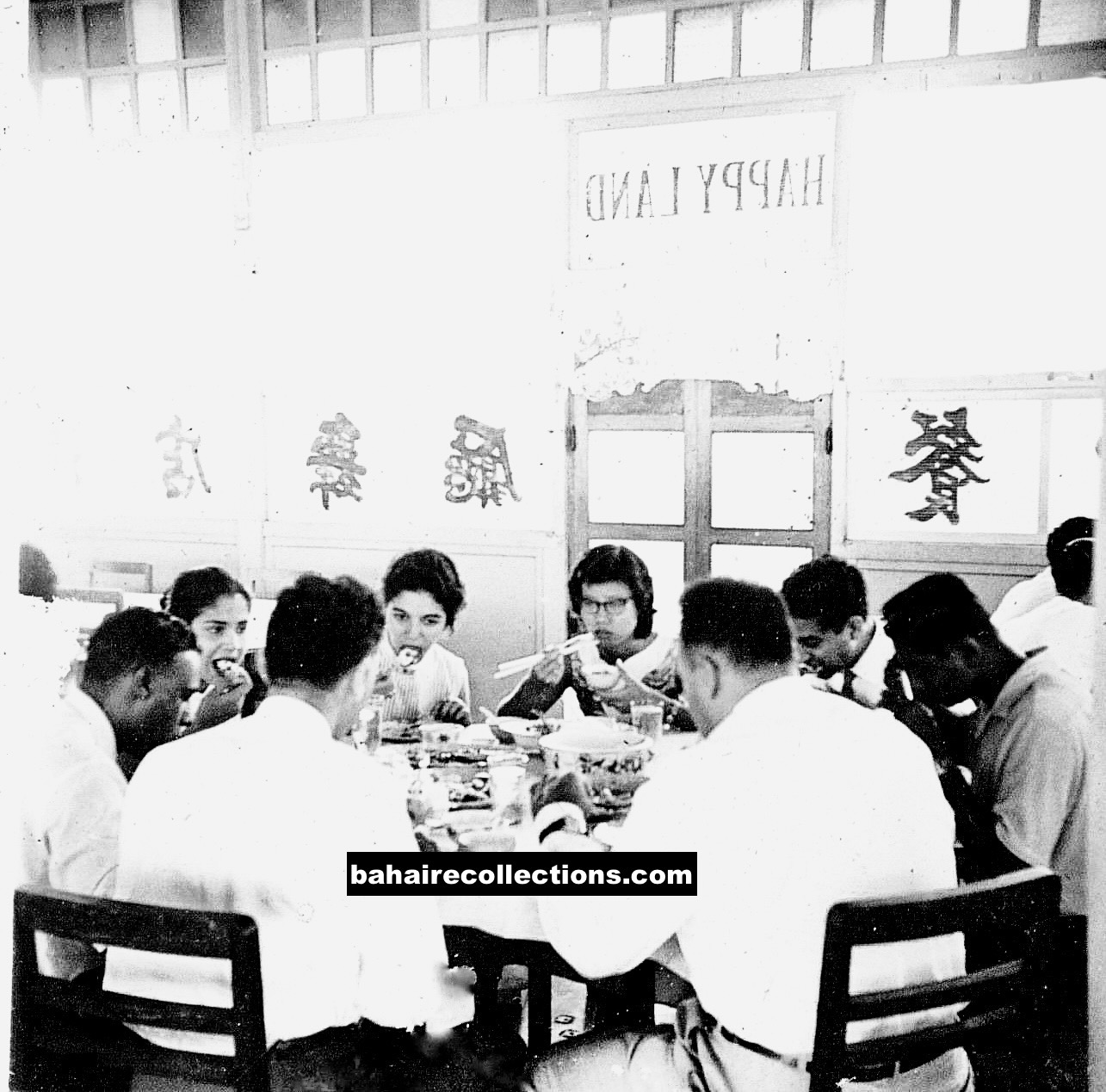 Lunchtime with at the First Pan Malayan Teaching Conference at Happy Land hotel, Malacca in 1960. Betty at left  is seated beside Mrs. Írán Muhájir. Dr. Muhájir is at right with his back to the camera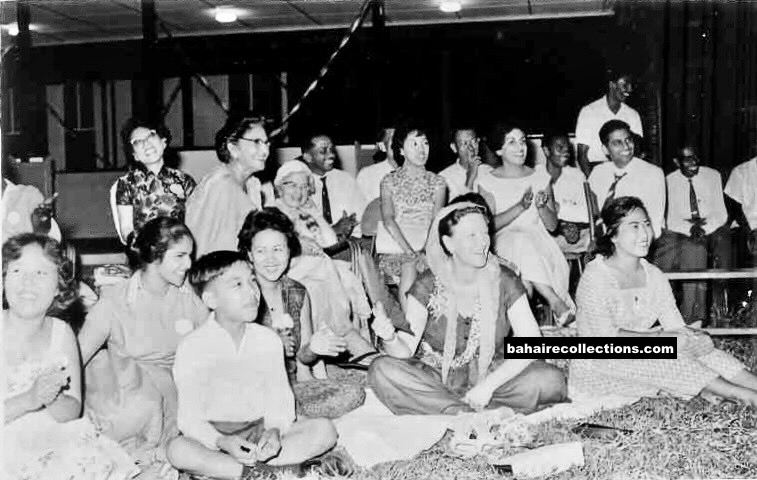 Campfire at the Sunshine Camp in Port Dickson during the visit by Hand of the Cause of God Rúhíyyih Khánum in 1961. Seated  second from left on the canvas spread on the floor is Betty, with Lily Jansz of Penang to her left. At the extreme right is Mrs. Lily Chinniah, with Rúhíyyih Khánum to her right. The three ladies seated on chairs at the back of Betty are L-R: Mrs. Theresa Chee, Mrs. Shirin Fozdar, and Jessie Revell, Treasurer of the International Bahá'í Council
Betty, coming into the Faith at a time when much manpower was needed for propelling the Faith into greater heights, also was selected to serve on several committees from the time she accepted the Faith. The early years in Malacca town were very busy years for Betty. In 1960, she was appointed to serve on the Pan-Malayan Teaching Conference Committee, a precursor to the National Teaching Committee, with its base in Malacca town and was an active participant of the two conferences organized by the Committee in Malacca – the First Pan-Malayan Teaching Conference held on 8 May 1960 at Happyland Hotel in Klebang Kechil, Malacca, and graced by Dr. Muhájir. On the suggestion of the Hand of the Cause at this conference Betty was appointed on the Teaching Planning Committee that was formed at the conference. On 11 February 1961, a special gathering was held for the believers to meet up with Hands of the Cause by Dr. Muhájir and Mr. Tarázu'lláh Samandarí who came to Malacca. On 12 February 1961, the Third Pan-Malayan Teaching Conference was held at the Happyland Hotel in Malacca and graced by Dr. Muhájir in which Betty was an active participant. On 13 February 1961, Betty participated in a special Get-Together arranged for the believers to meet Mr. Samandarí.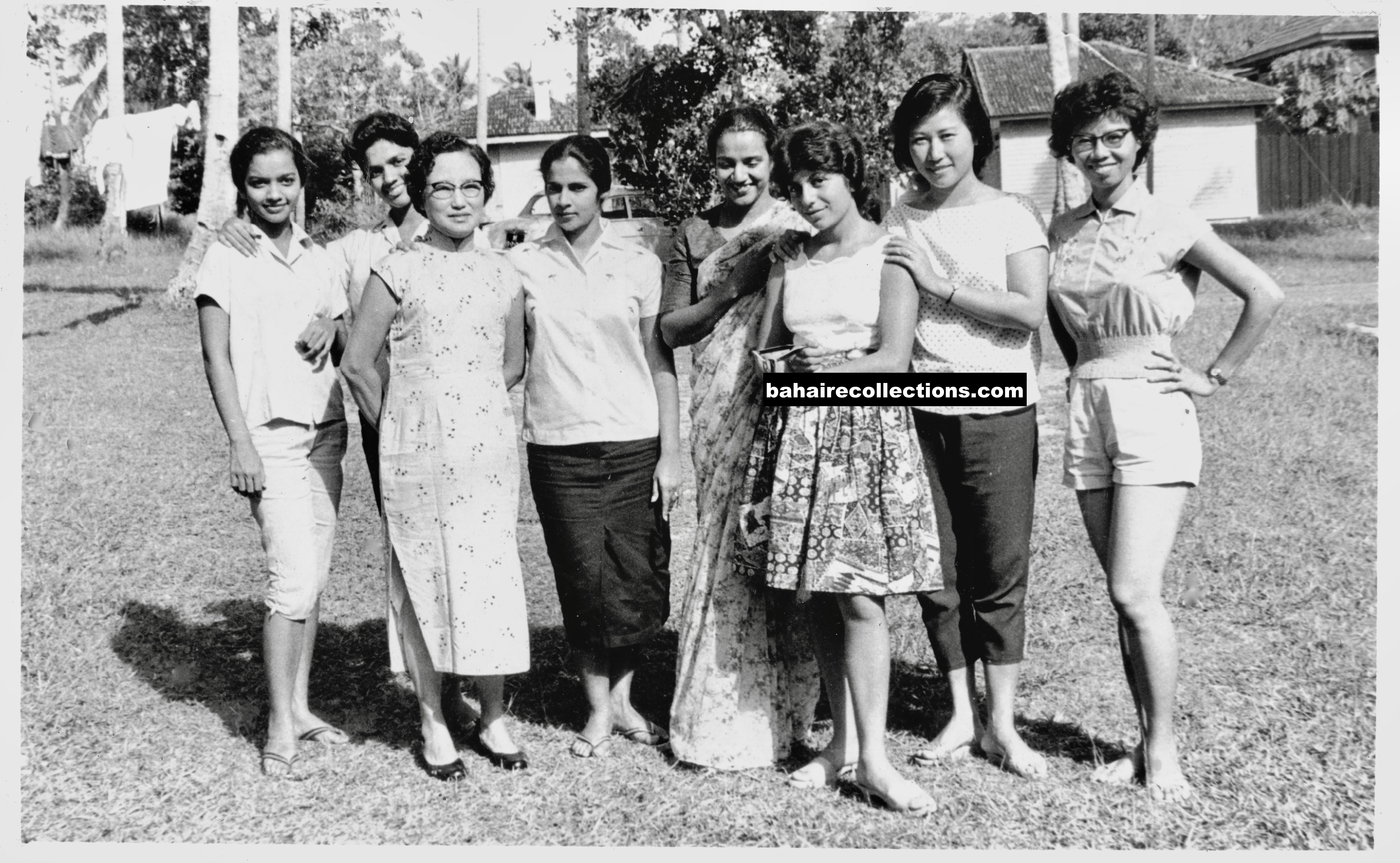 Summer School of 1960, Port Dickson. Mrs. Leong Tat Chee – third from left; Betty, fourth from left; Mrs. Shantha Sundram, fifth  from left. At the extreme right is Miss Koh Ai Leen, with Mrs. Lily Chinniah to her right.

In 1962, Betty headed the Naw-Rúz Sub-Committee in Malacca town and was the chairperson of the Naw-Rúz celebrations of that year, which was the grandest in the country to date, attended by some 150 friends. Her organizational skills came to the attention of everyone who placed accolades on this maidservant for a wonderful job done.
Betty had a passionate liking for field teaching. She singly or by joining others had undertaken many teaching trips to new areas from 1960 including the towns of Muar, Johor Bahru, and Kluang in the state of Johor; Mersing town in the state of Pahang, Tampin in the state of Negeri Sembilan and later Butterworth in the north. Betty was a natural choice to serve on the Women Affairs Sub-Committee when the National Teaching Committee of the Federation Malaya and Singapore was formed in 1963.
Thus, her stay in Malacca from 1958 to 1963 laid strong foundation for her in that she was inspired by several Hands of the Cause, appointed to serve on various committees, became a dedicated field worker, served on the Local Spiritual Assembly, and proved to be a good organizer of events. Throughout her stay in Malacca town, Betty was viewed as one of the most outstanding maidservants, with matchless dynamism and a strong driving force in serving the Cause.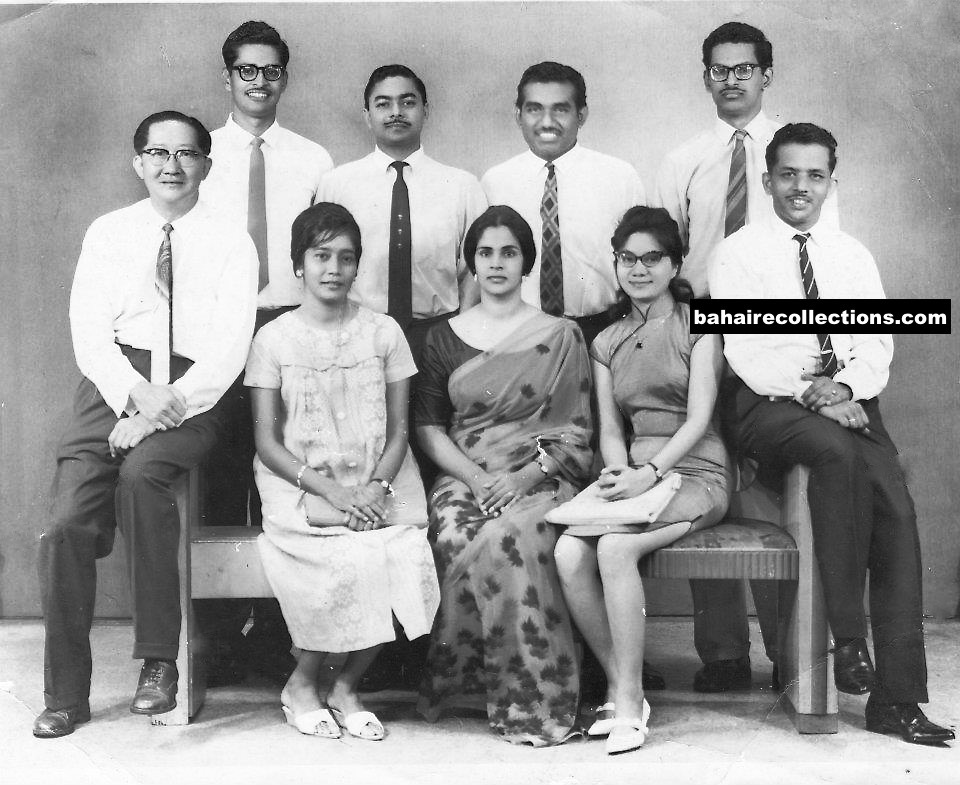 Local Spiritual Assembly of Malacca, 1963. Seated L-R: Leong Tat Chee, Daisy Das, Betty, Chiang Kim Lin and Tony Fernandez. Standing L-R: S. Vasudevan, Tushar Kanti-Paul, Raymond Peter, and S. Bhaskaran
In the later part of 1963 Betty and Tony Fernandez moved to Bagan Serai, a town in the state of Perak, much to the sorrow of many in Malacca state. Tony Fernandez was the Officer-in-Charge of Police Department in the District of Krian, while Betty was a teacher at the government English Secondary School. It was a blessing as Bagan Serai was a small community before 1963, and with their transfer the community was activated with the formation of a Local Spiritual Assembly in 1965 and initiated several activities. In the same year Mr. Maniam Muthiah, a travel teacher  to  Sarawak returned to West Malaysia and stayed in the police quarters of Tony and involved actively in local teaching.  Some of Betty's students in her school too accepted the Faith and became the strongest of believers. The spacious police quarters of Tony Fernandez have naturally become a center of activities, serving the needs of both the urban and rural believers. One Mr. Rajagopal who was a field worker for the Cause, brought in several believers from the rubber plantation settlements into the residence of Betty for activities.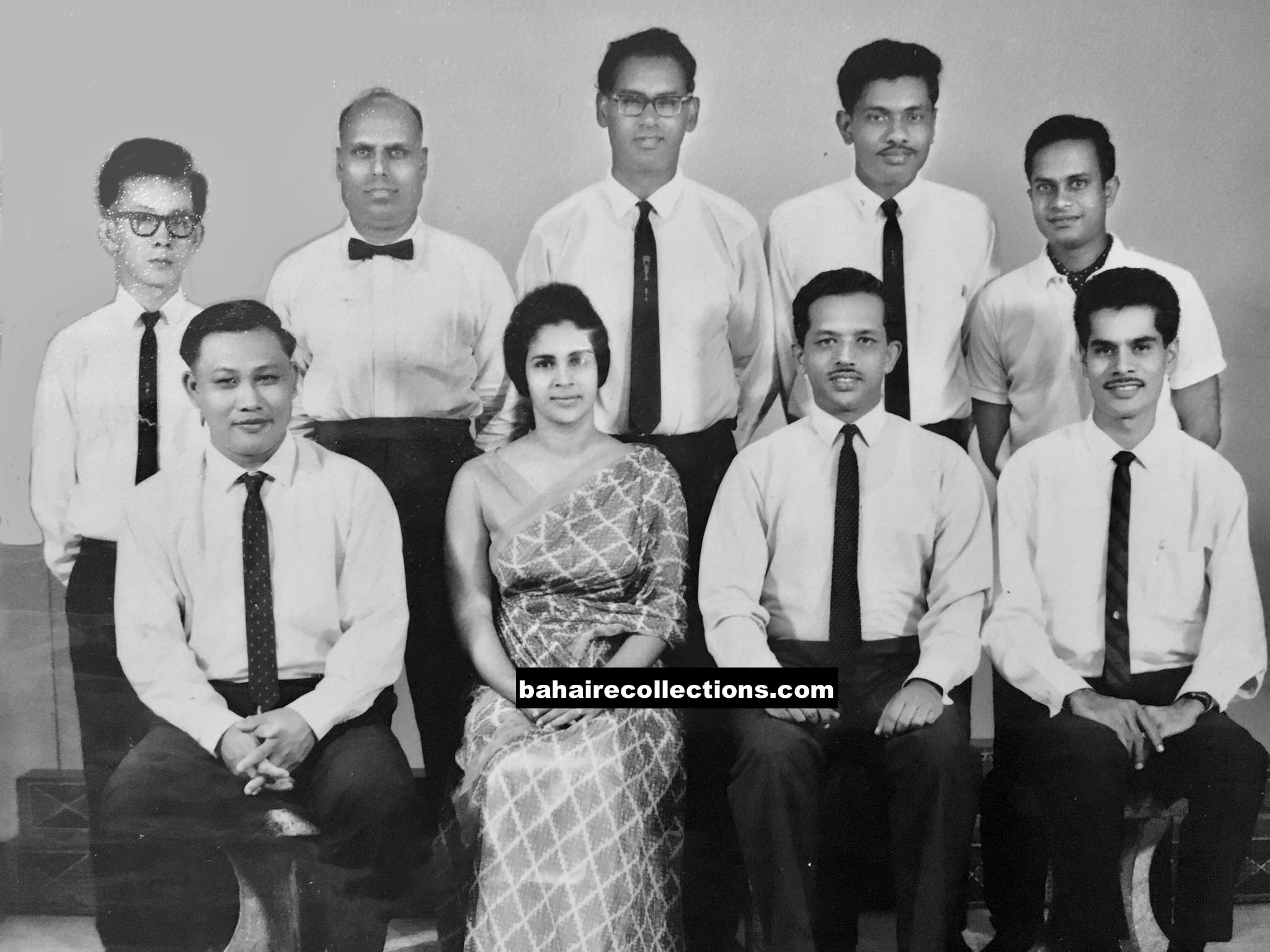 Local Spiritual Assembly of Bagan Serai, 1965. Seated in the centre are Betty and Tony Fernandez
Using their home as a base, Betty spread the Cause around places like the towns of Parit Buntar, Bandar Baru and Taiping, and the nearby fishing villages that had large concentration of the Chinese race. Betty also served at state level events, as she was chosen as the Chairperson of a highly successful Perak State Level Conference held on July 31, 1966, at the Double Lion Hotel in Kuala Kangsar. That was the town which was just opened to the Faith and Betty together with others saw to the consolidation of that nascent community.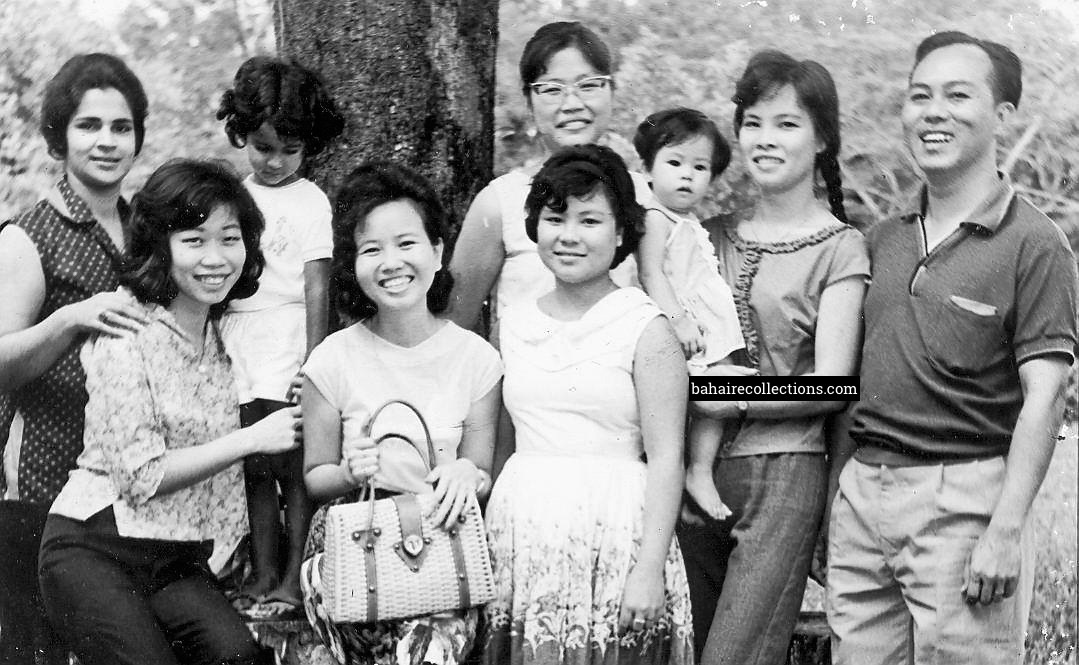 Betty visiting the family of Mr. Phung Woon Khing in Kuala Nerang, Kedah, 1964. Betty is at  the extreme left with daughter Zeena and Miss Khoo Siew Thay. Mr. Phung is at the extreme right, with his wife next to him carrying their daughter Judy Phung Li Lian. Beside Mrs. Phung is Ms. Phung Siew Ngeat, sister of Phung, and in front of her is Ms. Phung Siew Choo, another sister of Phung.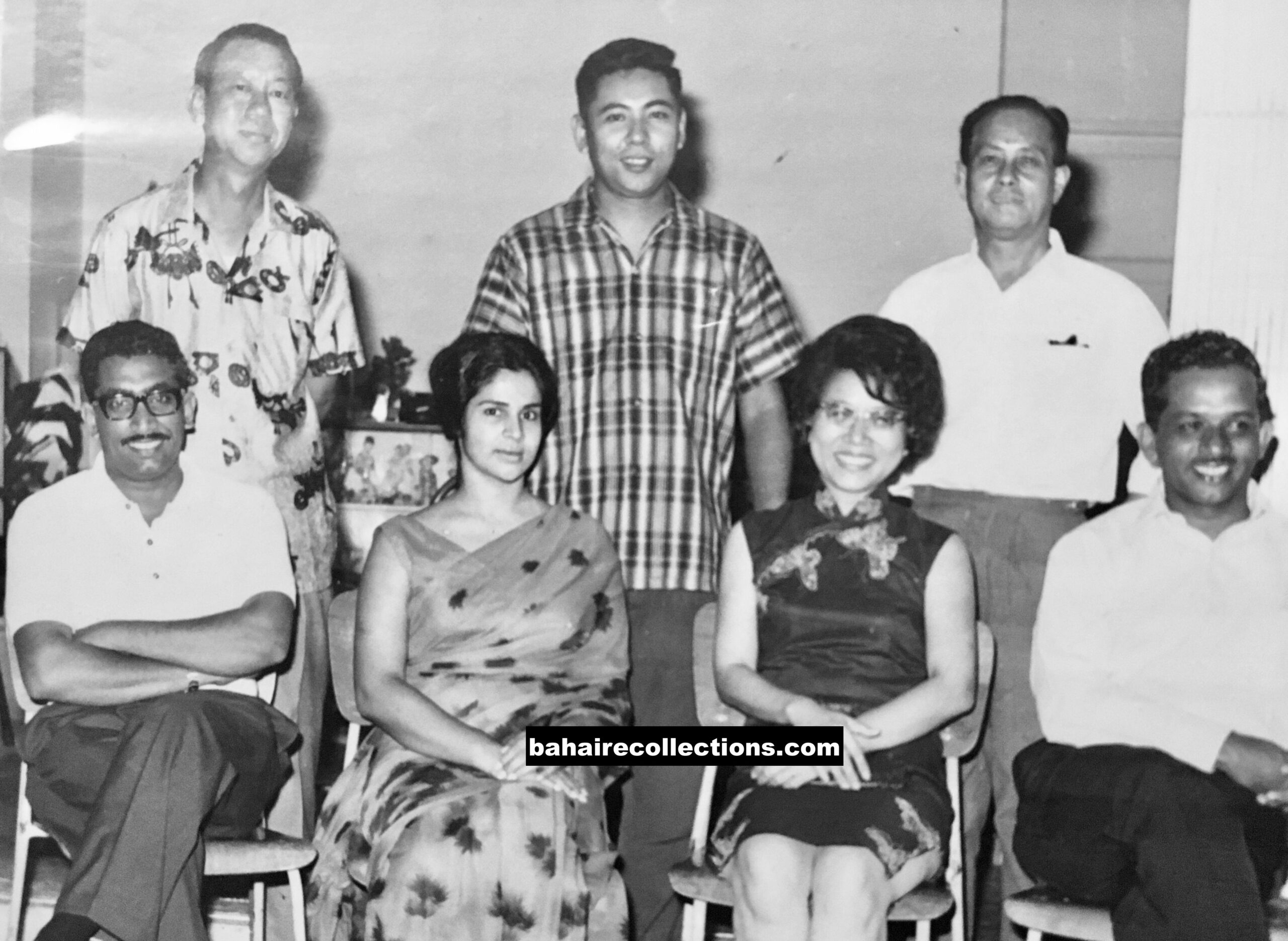 Naw-Rúz celebrations  in Ipoh, 1965. Standing  L-R: Chee Ah Hin, Rogers Sammy Chung, and Yeoh Chai Lye. Sitting L-R : Radhakrishnan, Betty, Theresa Chee and Tony
Meanwhile, it was while living in Bagan Serai that Tony was elected to the National Spiritual Assembly in 1965, and since then he was actively concentrating in matters related to the national institution, while still actively involving in local and regional activities. During the tenure of Betty and Tony in Bagan Serai many had accepted the Faith and become strong. Mr. P. Thinathayallam (now in Subang Jaya) accepted the Faith in 1965, and in the same year Mr. Munusamy Nathamuni (now a retired Major in Rawang) accepted the Faith in the dining hall of the residence of Tony, and Betty presented him with the a prayer book and the book "Bahá'u'lláh and the New Era".  Mr. Hua Keng Tong, who signed up on 12 March 1967 recalls receiving a white prayer book from Betty when he went to her house for the first time.  Throughout that year of 1967 he was attending the deepening sessions and the Feasts at the residence of Tony  in Bagan Serai that had truly enabled him to grip the essence of the Mission of the Blessed Beauty. Today he is a pillar in Skudai community in Johor state.
There was always a string of visitors to their residence dropping in to meet the rising community in their residence. In January 1967 Hand of the Cause of God  Mr. Tarázu'lláh Samandarí made his last visit to Malaysia, this time with his son Dr. Mihdi, after attending the Bahá'í  Seminar in Singapore in December 1966. Bagan Serai was one of the communities they visited during their two-week tour of Malaysia in January 1967, as mentioned in the Feast Newsletter dated 18 January 1967. Since Tony and Betty  were residing in Bagan Serai, they organised meetings for the Hand of the Cause and his son in Taiping and Parit Buntar and then brought them to their home. Betty says, "It was a great blessing have them with us".  On the following day a gathering was held at their residence for the believers of Bagan Serai. It was in that gathering that N. Munusamy met  Mr. Samandarí who was the first Hand of the Cause he had met in his life. He had registered that meeting in January 1967 as the most memorable day in his life. Betty also had the privilege of driving them to a few towns around Bagan Serai for teaching and all the way from Bagan Serai to the northern town of Alor Star to meet the believers there. Throughout this journey she gained so much knowledge, inspiration, and strength from her conversation with Mr. Samandarí, with the translation provided by by Dr. Mihdi.
Dr. Muhájir who had a fond liking for the couple and their two daughters dropped into their residence in Bagan Serai whenever time permitted as he was travelling up and down the country.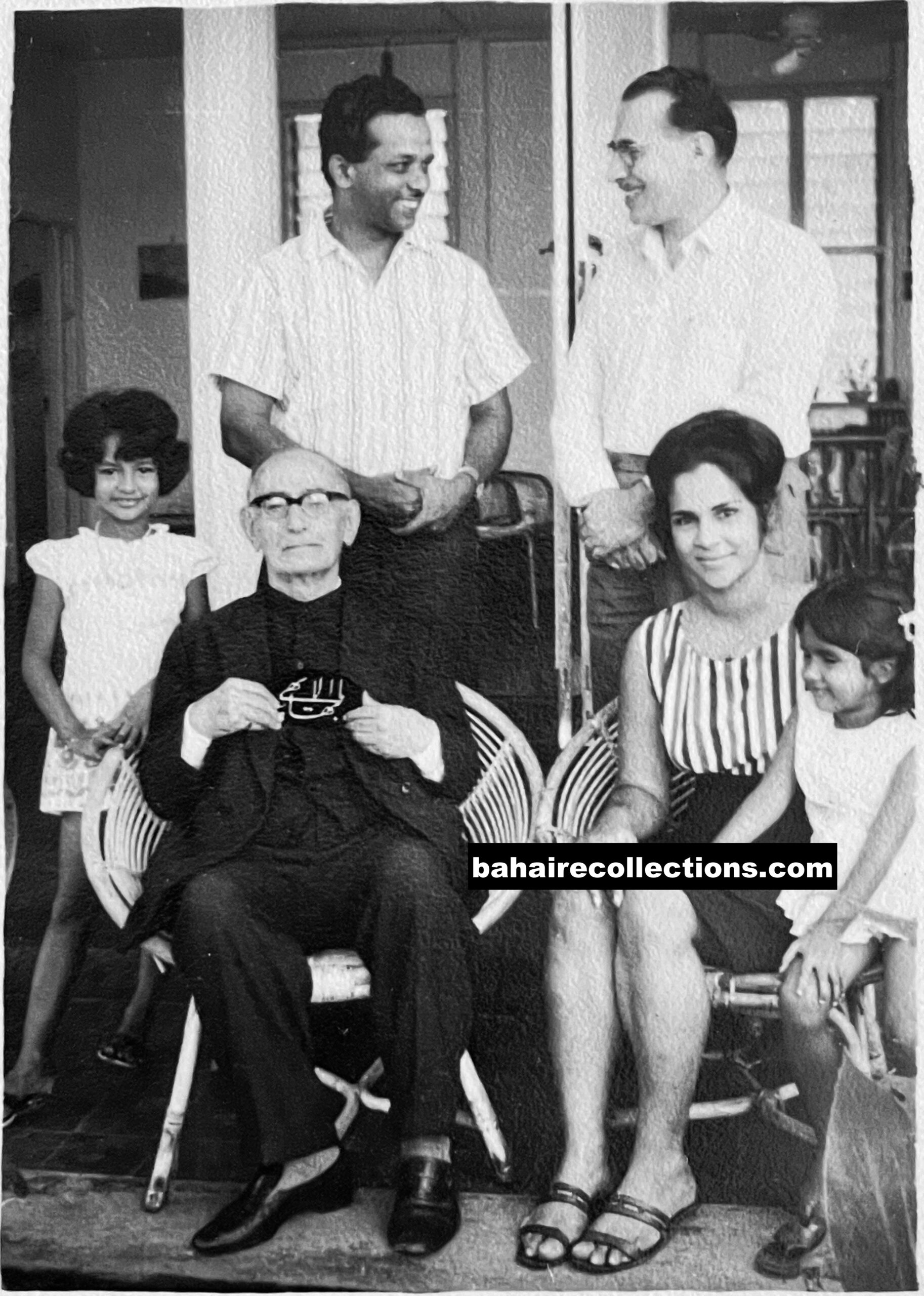 At the residence of Tony and Betty in Bagan Serai, January 1967. Seated are Mr. Samandarí at left and Betty at right, with Zeena next to her. To the right of  Mr. Samandarí is Shirin. Standing at back are Tony (left) and Dr. Mihdi (right).
In 1967 Betty was appointed to the Women's Committee which was formed by the National Spiritual Assembly. The mid-1960s was still the time when the Bahá'í women of Malaysia were still struggling hard to come into the forefront of activities. The initial work of the Committee was to compile a list of Bahá'í women, correspond with them and activate them, which Betty and her fellow committee members carried out religiously. With the launching of the Five-Year Period for Proclamation in Malaysia (1967-1973) the National Spiritual Assembly set up the National Bahá'í Information Service in order to spearhead the proclamation activities in the country, and Betty who was appointed to this body was actively involved in the proclamation activities.
While in Bagan Serai, the couple, as the key believers and towering figures gave all the encouragement for many projects to take off the ground. It was during their tenure in Bagan Serai that this community emerged as the pivot of Bahá'í  activities in North Perak.
Their family moved from Bagan Serai into Petaling Jaya in 1968.  Mr. N. S. S. Silan who was on the Local Spiritual Assembly since Riḍván 1967  recalls the coming of the family of Betty into Petaling Jaya in 1968 was adding of strength upon strength in this community. The Malaysian Bahá'í  News magazine of March 1968 issue flashed this glad news, "Tony has been transferred to the federal capital and appointed Officer Commanding the Police District of Petaling Jaya". Mr. Lum Weng Chew wrote the history of Petaling Jaya based on the records of the Local Spiritual Assembly. "The History of the Faith in Petaling Jaya" written by him and published in the The Satellite, the official newsletter of the Local Spiritual Assembly of Petaling Jaya mentions, "1968 was "spiritual take off" year for Petaling Jaya. Tony, a member of the National Spiritual Assembly and his wife Betty Fernandez joined the community and the local assembly in 1968. Their experiences in teaching and working for the beloved Cause were great assets to the community."
The members of the  Local Spiritual Assembly for 1968 were Mr. Tony Fernandez   (Chairman),  Mr. Leong Ho Chiew (Vice Chairman), Mr. N. S. S. Silan, (Secretary) Betty Fernandez (Treasurer), Mr. V. Theenathayalu, Mr. K. Sivaydan, Mrs. Rajah, Mrs. Gina Leong, and Mr. R. Ganasa Murthi. Betty continued to serve on the Assembly as Vice Chairman in 1969.
Although there was already a Bahá'í Centre at 8, Jalan Padang which was the home of Leong Ho Chiew, the residence of Tony and Betty at 12, Road 16/6  too was buzzing with activities. The couple volunteered to host Feasts, organise firesides, and observance of Holy days at their residence. The observance of the anniversaries of the Birth of The Báb and Bahá'u'lláh in 1969, with dinner parties attracted nothing less than 40 people.  The Naw-Rúz of 1970 was celebrated with an open house with a huge crowd turning up.  The Declaration of The Báb was also celebrated with a dinner party on the evening of 22 May 1970.  On many occasions their house was more like a hostel to many local and outstation believers who used to congregate for gatherings, and Betty was more than happy to provide the best hospitality which was simply second nature to her. Betty moved with people of all walks of life. She was very much an embodiment of warmth, encouragement, and love, and whom believers could rely on for drawing strength during moments of distress.
Earlier in 1969 when the National Spiritual Assembly formed the National Coordinating Unit, Betty was appointed on this Unit. This Unit was to monitor closely the reports received from the Area Teaching Committees in West Malaysia and help the National Spiritual Assembly in planning and coordinating all teaching activities and activate the dormant Local Spiritual Assemblies and communities and encourage them in teaching work. From 1970 onwards the National Spiritual Assembly tasked Betty with special functions, and she started representing the Faith at several proclamation events such as the observance of the United Nations days. During the same year, the Senior Sessions Court President wrote a circular to various groups asking for representatives to serve in the Juvenile Court. The National Spiritual Assembly appointed Betty as one of the members to represent the Bahá'í community.
Sadly, their marriage ended in 1970, and Betty relied on the unfailing hands of Bahá'u'lláh in carrying on with her life. Bahá'u'lláh held Betty tight under His protective arms, as she was destined to do more thing for His mighty Cause, rather than dwelling on unpleasant accidents in life. Bahá'u'lláh's good pleasure was always  the goal and object of her existence from the time she accepted His glorious Cause. Bahá'u'lláh opened a new path of service for her to use her immense energy for the Cause. In May 1970, Counsellor Dr. Chellie John Sundram, with the blessings of Hand of the Cause of God Dr. Muhájir,  appointed her Auxiliary Board member to serve in that capacity and to assist Mr. Leong Tat Chee of Malacca, the first Auxiliary Board member of Malaysia, who was ailing with a terminal illness. History has it that Betty was the first female Board member for West Malaysia. She demonstrated her immediate commitment to service as Board member. The Local Spiritual Assembly of Petaling Jaya in its Feast newsletter of 17 June, 1970 wrote, "We joyfully announce the appointment of Mrs. Betty Fernandez as an Auxiliary Board member. This momentous announcement surprised and thrilled many. We are very happy yet sad for Betty will not be able to serve the assembly anymore. However, we are proud, very proud to have an Auxiliary Board member residing within the jurisdiction of our assembly. Hearty congrats to Betty, may the spirit of Bahá'u'lláh be with you always".
That was a new chapter in her life, and she not only served the Cause effectively as a Board member, but also set a great example. Betty made her debut as the newest Board member at the Summer School held in July 1970 in Port Dickson where she spoke on "New Race of Men" touching on the high standard needed of the Bahá'ís to win over the outside world. The audience was spellbound with the eloquence and clarity with which she spoke. From the very early days Betty had already become known as a  well-read and knowledgeable believer, with a consuming interest in a variety of Bahá'í subjects.  It did not take long before there were invitations extended to her from all over Malaysia. She obliged gladly with no moment of real rest for herself. Everywhere Betty went she radiated so much love, faith, and inspiration which the believers were looking for. She was a favorite among the youths of Malaysia, and from 1970 she participated in national and regional youth conferences to steer the youths to rise to higher levels of service.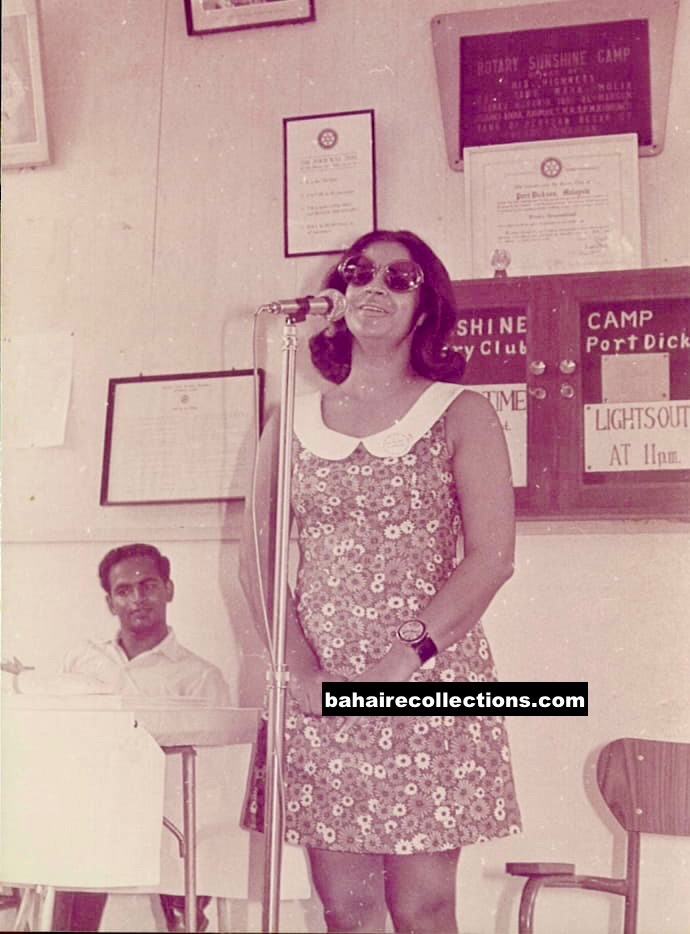 Board member Betty speaks at the Summer School held in July 1970 in Port Dickson. Seated to her right is R. Ganasa Murthi
On 3 October 1970 Betty, Mr. V. Theenathayalu, Mr. Yin Hong Shuen and Mr. N. S. S. Seelan  went as home front pioneers to Singapore to proclaim the Message of Bahá'u'lláh and to announce loud and clear in every corner of the island country the forthcoming Oceanic Conference of the South China Seas to be held in early January 1971.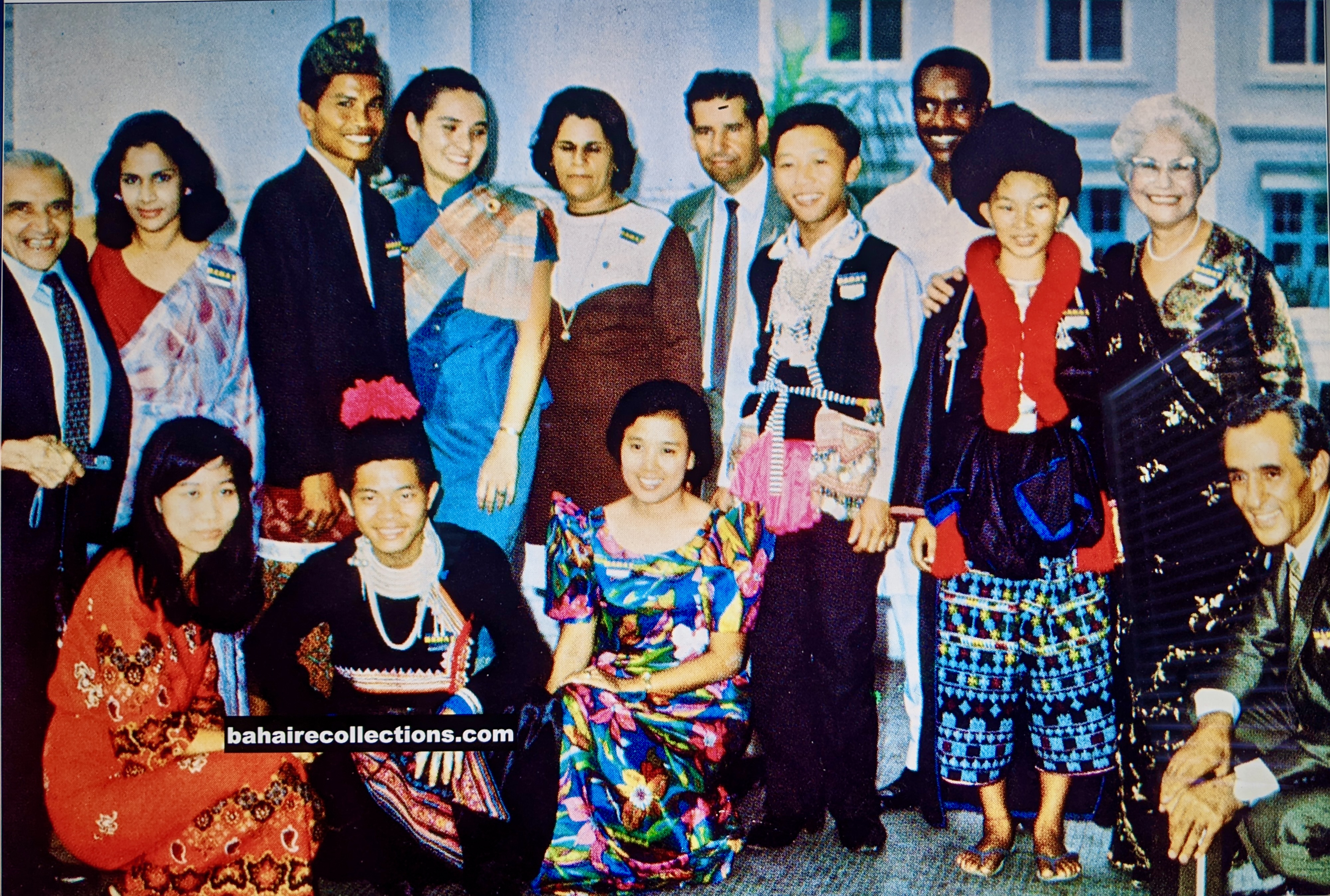 Gathering of believers from various cultural background  during a night session of the Oceanic Conference held in Singapore in early January 1971 when dignitaries of Singapore were invited.  Standing at the extreme left is Philip Marangella from Japan, with Betty next to him. Squatting at extreme left is Miss Khoo Swee Tay, and squatting at the extreme right is Counselor K. H. Payman from Indonesia. Standing at the extreme right is Shirin  Fozdar from Thailand. This famous photo was published in a Teaching booklet following the Oceanic Conference
Hand of the Cause of God Dr. Muhájir had a fond liking for Betty, and whom he had personally appointed onto a few committees before the election of the National Spiritual Assembly in 1964. She was faithfully supportive of all the plans that Dr. Muhájir gave the community after consultation with the National Spiritual Assembly. In Riḍván 1971, Dr. Muhájir presented a plan by which at least ten islands had to be opened to the Faith within the next six months. To carry out this task the Hand of the Cause appointed Betty as the coordinator, and those Islands were opened to the Faith under her able stewardship.

A gathering with David and Joy from Michigan, USA in Butterworth, 1971. Seated L-R: S. Nagaratnam, David Earl, Betty,  Joy Earl, Lily Jansz. At the back-middle are Molly (L) and Dr. Sreenivasan (R) carrying Sha'in. At the extreme right at back is Vijayasegaran
In 1971 she went to meet the community in Thailand to represent Counsellor Chellie Sundram and in 1972 she represented the Continental Board of Counsellors at the National Convention in Thailand. She also spoke at the unit conventions and the National Conventions in Malaysia in 1971 and 1972. She was a great help in Singapore, both before and after it elected its own National Spiritual Assembly in Riḍván 1972. Upon being appointed Auxiliary Board member, Betty was involved in many activities and had not much time for leisure of her own.

During the National Convention of Thailand, 1971. L-R: Jaigopal Jand, Mrs. Maliheh Jafari, Victor Greenspoon, Yogachandra who pioneered to Thailand from Sri Lanka, Betty. Behind Betty are Mr. and Mrs. Robarts with whom Betty stayed in this trip. Mr. Robarts is the son of Hand of the Cause of God Mr. John Robarts. At the back is Nasser Jaffari, a pioneer to Thailand from Iran.  Second from right is Mrs. Savita Jand and at  the extreme right is Kuhn Noi.

There was also one untravelled path that she had travelled when she and Mrs. Shantha Sundram became pioneers of what was called the Pre-Declaration (Pre-Dek) Institute held in Penang in 1972 to address the needs of children nearing the age of acceptance of the Faith. It was the first time Pre-Dek Institutes were held in Malaysia or South East Asia. This was followed up with a few other institutes of the same kind in her absence from Malaysia.
Her last major activity in Malaysia was the first Winter School held in Johor Bahru in December 1972 where she had conducted a class on the Hidden Words of Bahá'u'lláh. In conjunction with the winter school a public talk was arranged at the Diamond Jubilee Hall in Johor Bahru with Betty, as the guest speaker spoke eloquently on the Faith.
In January 1973 she migrated to Western Australia with her two daughters. Prior to that, on 27 December 1972 a farewell dinner was given for two families- that of Leong Ho Chiew and Betty at the Petaling Jaya Bahá'í Centre.  The Leong family was going to Tapah town in the state of Perak at end of December 1972.  Many friends from Petaling Jaya, Kuala Lumpur, Klang and Sungei Way, as well as members of the national institution were invited.  The  departure of the two families was  too painful a separation for all those who had developed boundless love for them. The Local Spiritual Assembly wrote in its Feast newsletter of 18 January 1973, "It was indeed a loss…. spiritually… financially … and those lovely dinners and buffets". Suffice to say it was a great loss to Petaling Jaya but a precious gain to their respective destinations. While in Petaling Jaya Betty had given her fullest support to the community, both as a member of the Local Spiritual Assembly and as Board member.  Betty as a Board member sent a message about the effectiveness of The Satellite newsletter in its 2 March 1972 issue:
"The Petaling Jaya Bahá'í Newsletter has been so dear to the hearts of all who have watched its growth from year to year that it has emerged itself into a vehicle known as "THE SATELLITE". Throughout the Bahá'í  world such an intimate organ as this has proven to be the means of great inspiration to the friends. It is my sincere wish that this organ will so knit the community of Petaling Jaya that each Bahá'í  may become like a satellite revolving round the Faith of Bahá'u'lláh."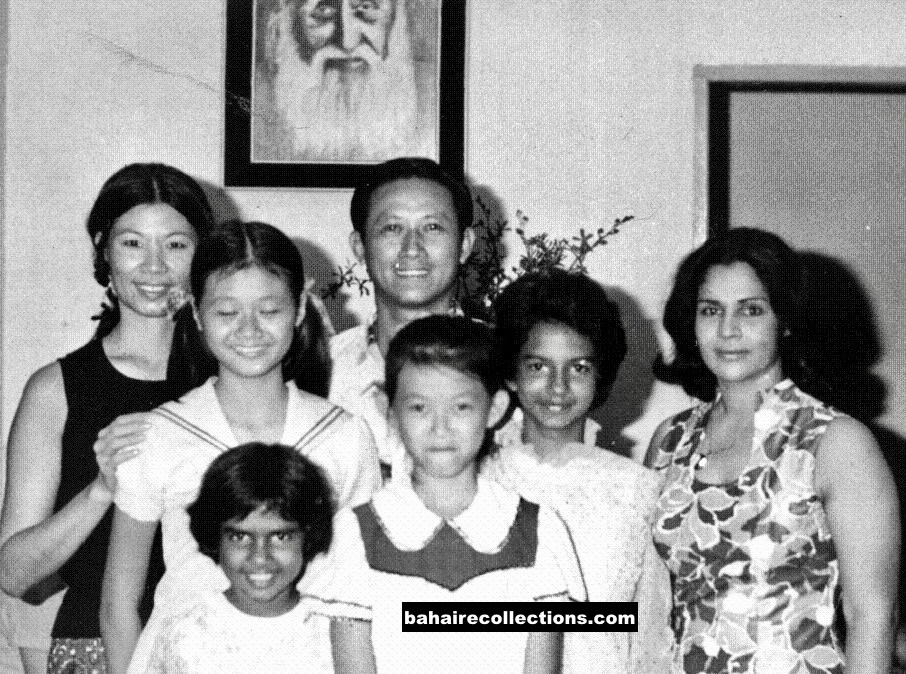 Farewell dinner party for the families of Betty and the Leongs at the Petaling Jaya Bahá'í Centre
From Australia Betty continued to visit Malaysia from time to time to meet up with her family and old believers. When Betty came back to Malaysia three years later in December 1975, she met some 50 believers at the Petaling Jaya Bahá'í Centre, and gave this positively charged advice,"PUT FAITH BEFORE SELF AND YOUR TROUBLES WILL BE OVER."  To those who had gathered it became clear and manifest that Betty demonstrated the unshakable faith she had in the unfailing assistance that comes from the Blessed Beauty in times of trials and tribulations.

Earlier, while residing in Malaysia, Betty had developed the fondest liking for some souls. She had a great affection for Auxiliary Board member Mr. Leong Tat Chee whom she loved like her own father. When he passed away in October 1972, Betty had major surgery which required a blood transfusion and through which she contracted hepatitis. It made her very weak trying to heal from the operation and fight the hepatitis, but she was determined to attend his funeral. She flew from Kuala Lumpur to Malacca for the funeral. Of Leong Tat Chee she says, "I consider Mr. Leong my true spiritual father whose deep love for Bahá'u'lláh was exemplified in his life…His commitment to and love for the Faith was so advanced that he used every opportunity to assist each and every one who found the Faith to become committed and steadfast. Both my children were born in Malacca and the Leongs were my parents in every way. I could not have wished for more…"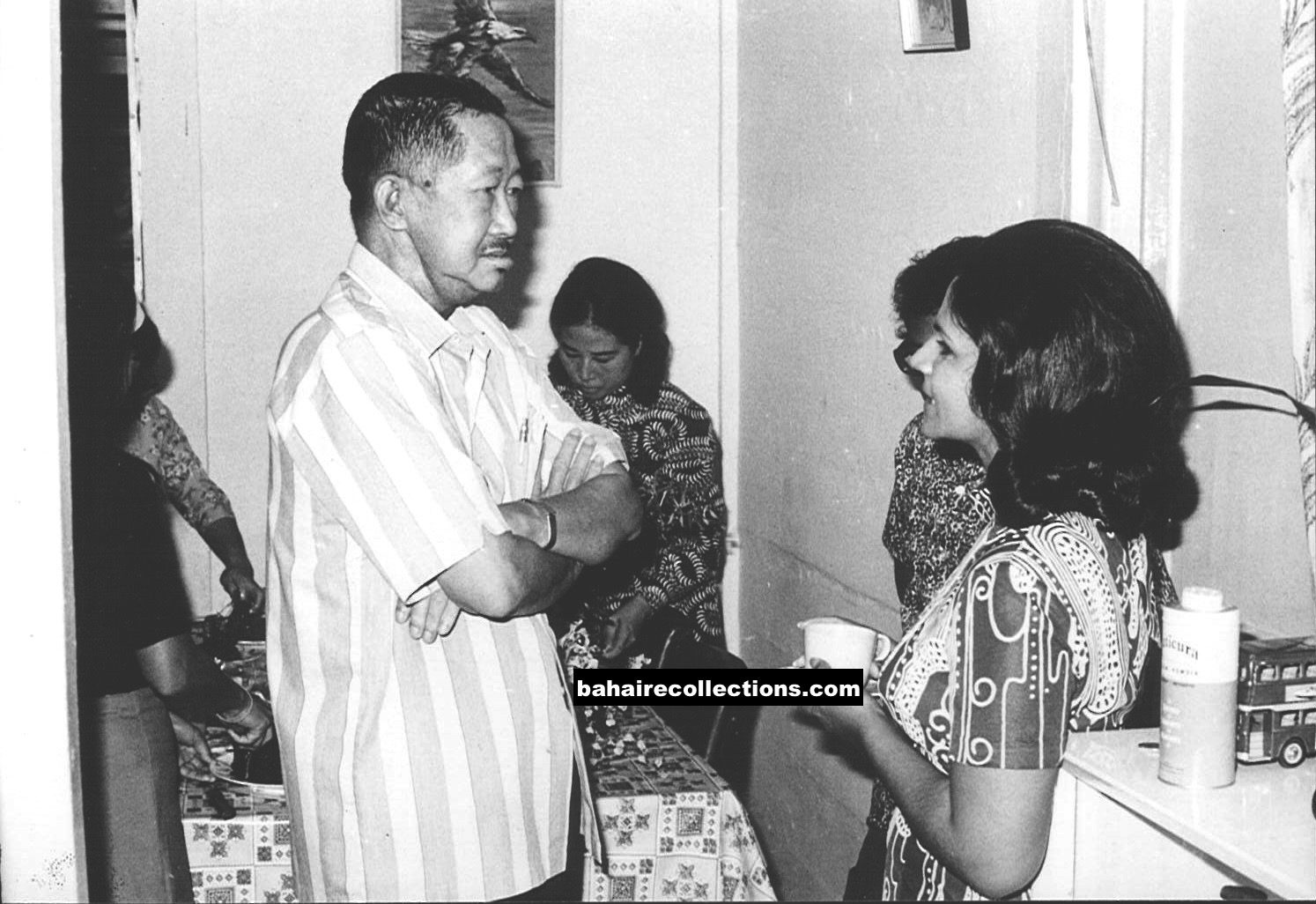 Betty meets Leong Tat Chee at the residence of Inbum Chinniah in Kuala Lumpur on Naw-Rúz day on 21 March 1971, which also happens to be the date of birth of Leong Tat Chee.
Among others who gave her all the strength during moments of distress were Mr. Inbum Chinniah, who served on the National Spiritual Assembly from 1965 to 1972. Of Inbum Betty says, "I had not only known Inbum as a close friend but worked with him on institutional cooperation and coordination. We attended the same college in UK but on different years. We accepted the Faith around the same time, were able to confide with each other on critical matters."
Betty was close to Counsellor Dr. Chellie J. Sundram and his wife Shantha and their daughters. There were also countless others whom Betty loved in Malaysia, but her life had to go on in another part of the world. She left the shores of Malaysia after registering a record of unprecedented and unparalleled services, never to be dimmed in the course of time, and which would outlast generations to come.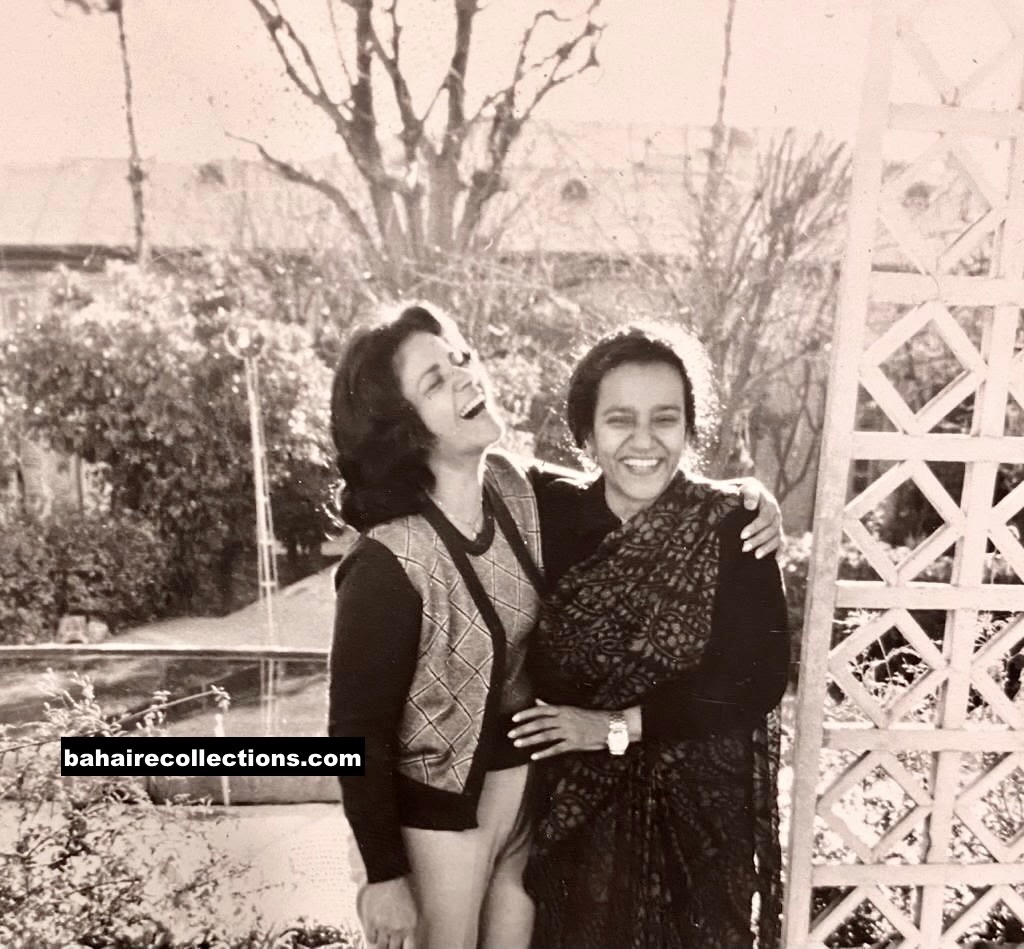 Betty and Mrs. Shantha Sundram at the House of The Báb in Shiraz, 1975
When arriving in Australia Betty was already well-grounded in several facets of the Faith with the kind of training, experience, and exposure she had in gained in Malaysia, and was able to accept new responsibilities. Thus, Australia greeted her with more work for the Cause of Bahá'u'lláh. She continued to serve with the same zeal, enthusiasm, and energy in the newly arrived land. In Western Australia, Betty worked as a teacher at Melville Primary School in Perth. She served on the Local Spiritual Assembly of South Perth from 1973 to 1977 and later was appointed as an Auxiliary Board member for Western Australia from 1977 until 1988. Dr. Peter Khan who was one of the Counsellors for Australasia was her mentor.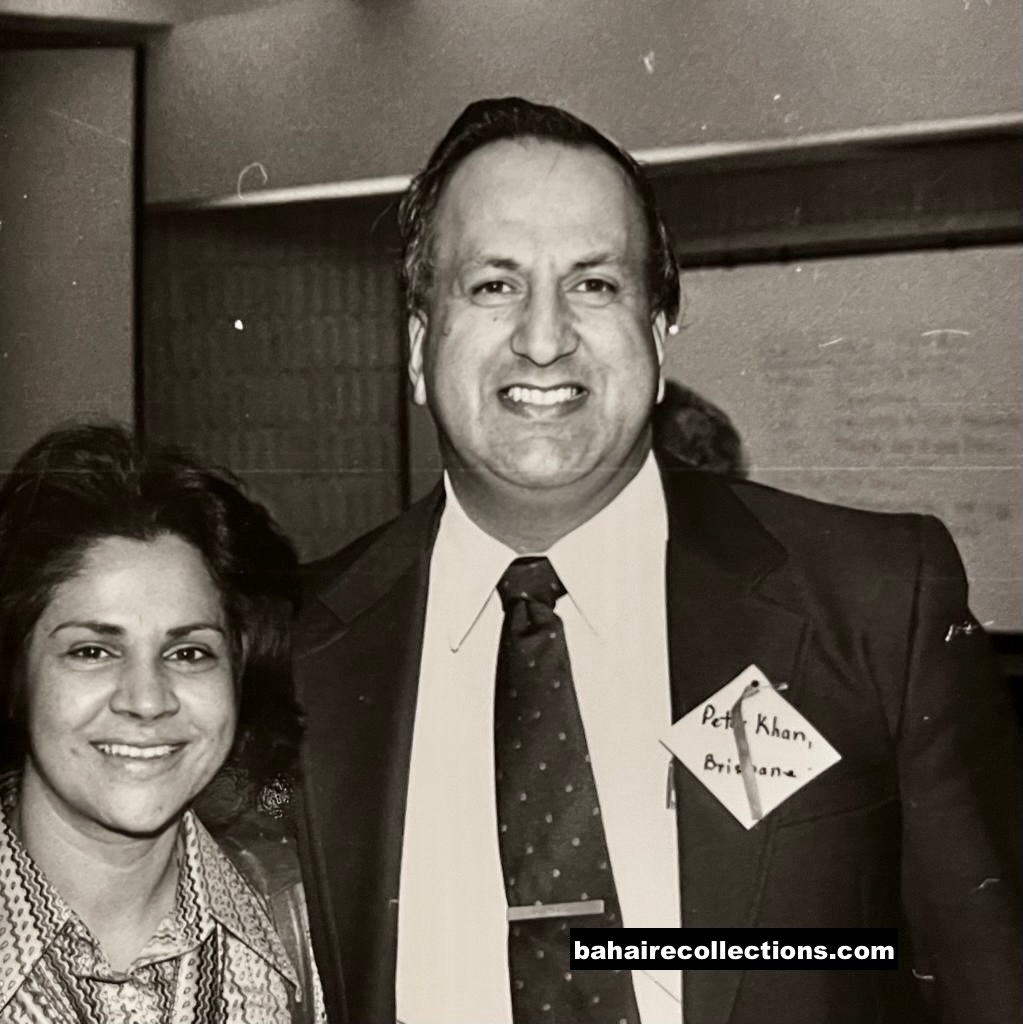 With Counselor Dr. Peter Khan
Although settled in a foreign land her coming to Malaysia was always eagerly waited for by the early believers. One of the happiest moments by the early believers was her participation as Board member in the South East Asia Regional Conference held in Kuching, Sarawak in December 1978 which had the theme of "The Mighty Forces Within," and her talk moved the hearts of the audience. Throughout her stay abroad she visited Malaysia from time to time in her individual capacity, and some gatherings were arranged for her in some homes, all to be inspired by her stories.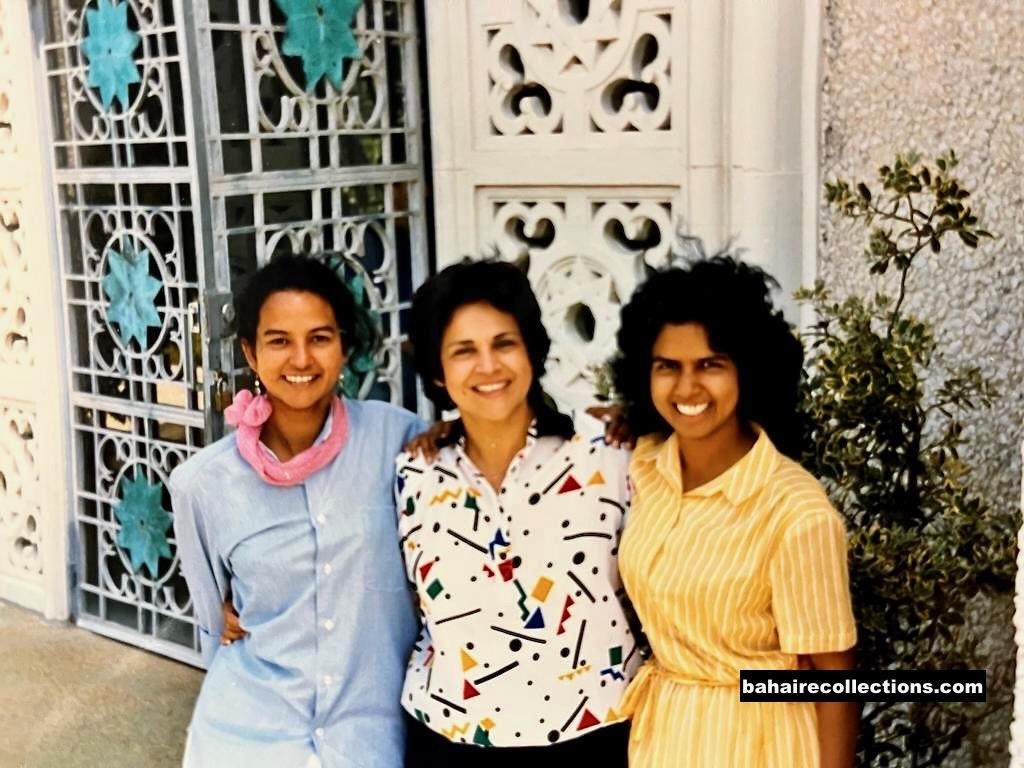 Betty with Shirin at left and Zeena at right at the Bahá'í House of Worship, Sydney, 1989
During her Australian years, she visited and worked with Bahá'í communities throughout Western Australia, especially venturing out into the outback regions of the Kimberley, the Pilbara, the Gascoyne, and the Goldfields. In 1988, she began traveling to regions in the Pacific, spending time in the Island countries of Fiji, Tonga, Yap, and Palau.  During this time, she met Justice Richard Benson, who was a Counsellor for Micronesia residing in Chuuk and who served on the Supreme Court of the Federated States of Micronesia. On 26 January 1989, Betty and Richard were married and she moved to live in Chuuk. From this point in her life, she became a full-time worker with Bahá'í communities, and she served on the National Spiritual Assembly of the Eastern Caroline Islands from 1989 to 1990.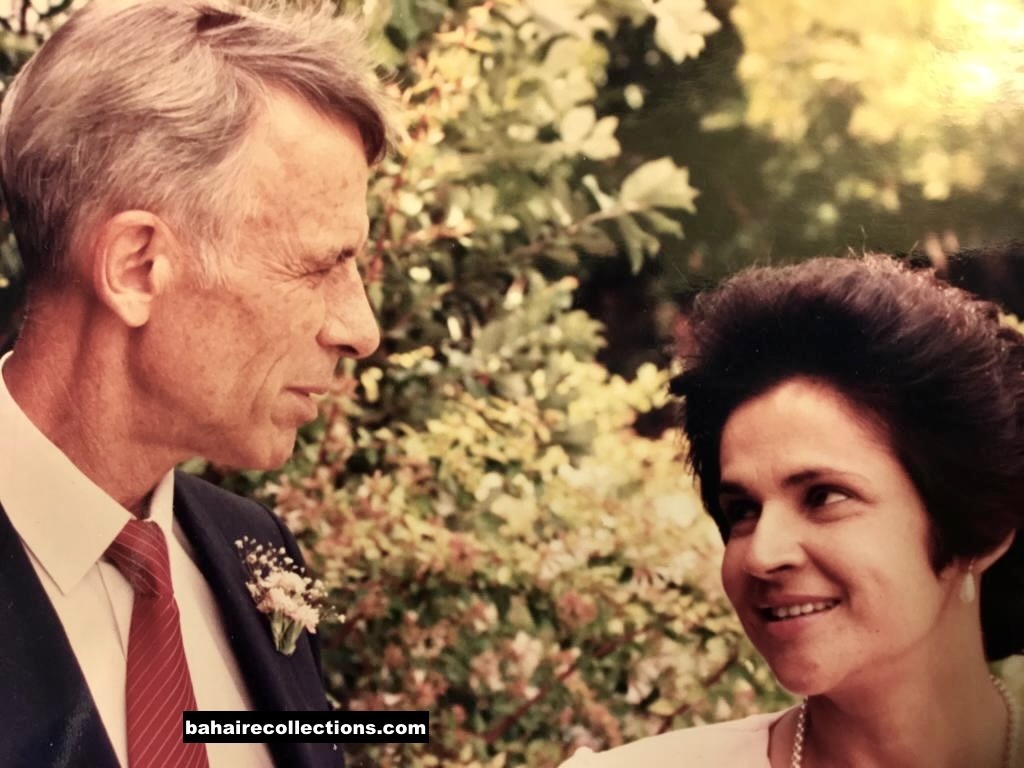 Richard and Betty, 1989
Betty was appointed to the Continental Board of Counsellors for Oceania from in November 1990 to 2010, with jurisdiction for Micronesia from the Marshalls to Palau.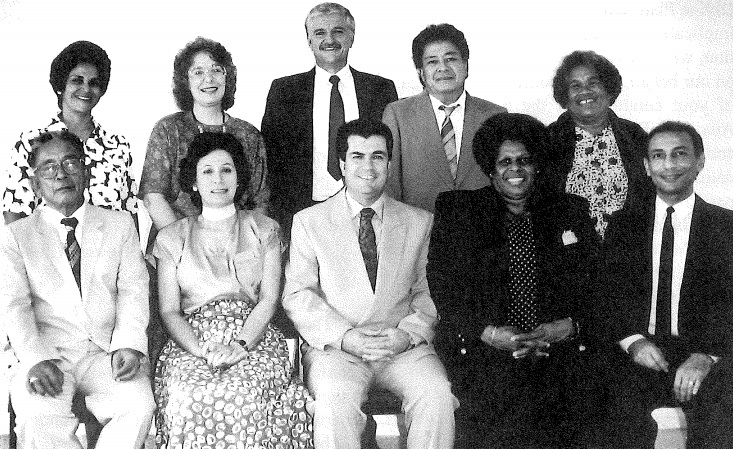 Members of the Continental Board of Counsellors for Australasia in 1991. Seated from L-R: Ben Ayla, Violette Haake, Sirus Naraqi, Tinai Hanckock,Kamran Eshraghian.  Standing L-R: Beatrice Benson, Gayle Morrison, Bruce Sounders, Afemata Moli Chang, Betra Majmeto. (Copyright: National Spiritual Assembly of the Bahá'ís of the United States)
For the first ten years she worked in Tonga and the next ten years in Fiji and Samoa. She also carried out services on the east coast of Australia from time to time also New Zealand when needed. Betty and Richard moved to Guam from Chuuk in 2001 where they became an integral part of the community and from 2010 to 2019, Betty served on the National Spiritual Assembly of the Mariana Islands and on the Local Spiritual Assembly of Chalan Pago-Ordot.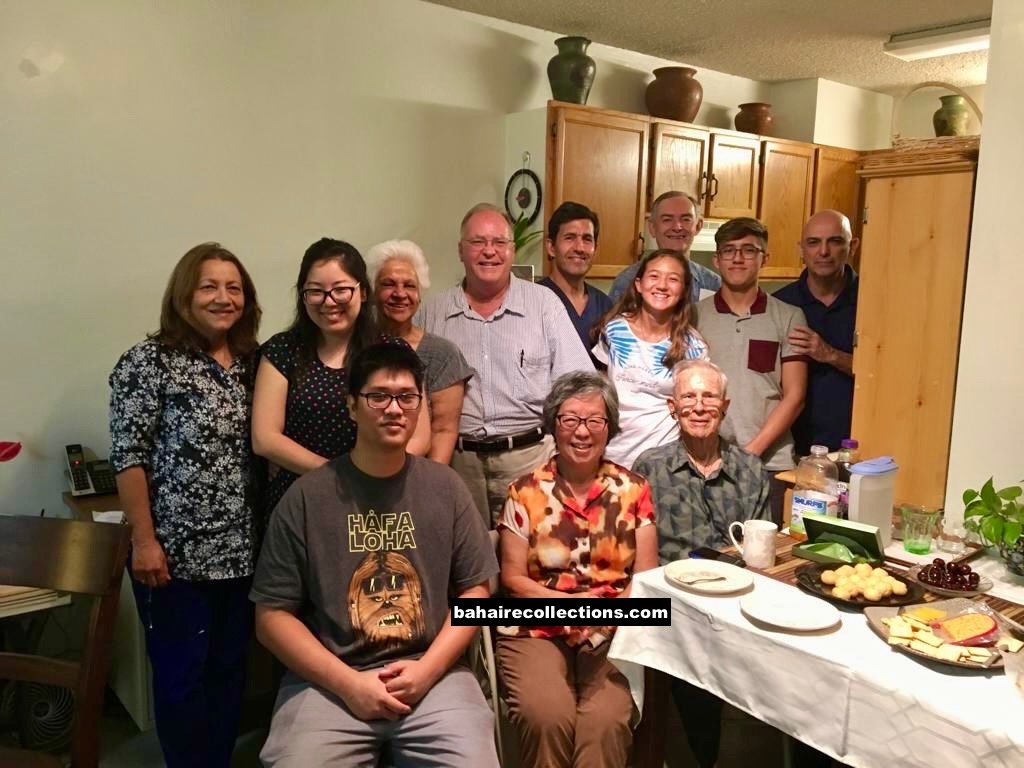 With some believers of Chalan Pago-Ordot. Betty stands third from left and Richard is seated third from left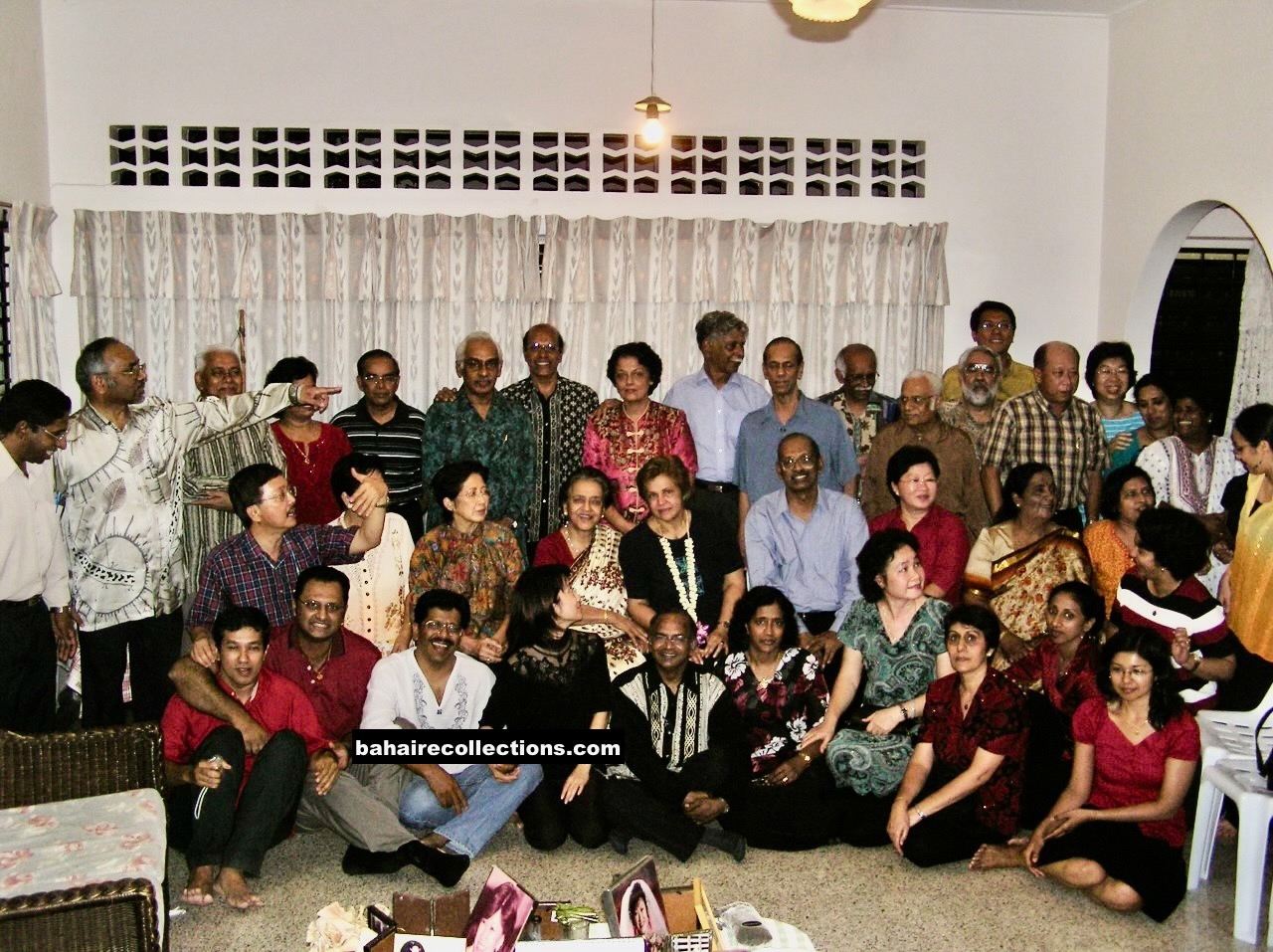 Gathering of some friends to meet Betty and Mrs. Shantha Sundram in Petaling Jaya, 2004

When her husband Richard became seriously ill in the last seven years of his earthly existence, Betty lovingly and selflessly took on the role of primary care provider. Betty's daughter Zeena from New York visited her for the past five years and assisted by putting their administration in order and sorting through their belonging. Following Richard's passing on November 17, 2021, Betty's health declined. She had planned to move to New York to live with Zeena's family and so Shirin and her husband Tim, flew from Australia to Guam to pack her up and escort her to New York. She was immediately hospitalized where medical tests revealed that she was suffering from widespread cancer. She went into hospice care at Zeena's home where Shirin and Zeena's families took care of her until her passing. In those fifty-four final days of her earthly life, Betty looked forward to the next stage in her soul's eternal journey—meeting her loved ones in the kingdom of the unseen realms. While counting her last days the one thing that kept her happy was she receiving hundreds of messages from friends all over the globe via WhatsApp, which her daughters Shirin and Zeena read out to her. As the messages were read out Betty smiled with so much radiance. Perhaps she never imagined that she had earned the love and admiration of multitude of friends from across the globe. On 29 September 2022, the precious soul of the ever-precious Betty winged its flight to the realms above surrounded by her loving family.  Betty's greatest happiness was to have witnessed during her lifetime her two daughters Shirin in Tasmania and Zeena in the USA serving the Cause effectively, along with their spouses and children.
A very befitting funeral service was held for her, organized by the families of Betty's daughters and their families. Numerous messages from institutions and individuals poured in carrying the greatest admiration and accolades for her services. The Supreme Body sent a weighty and loving message for her family. Betty was  buried at the Bahá'í Memorial Park at Rose Hills Memorial Park, Putnam Valley, New York.
The International Teaching Centre sent a message dated 30 September 2022 to Dr. Kirk Johnson, Continental Board of Counsellors in Australasia, in which the institution mentioned that Betty will be remembered for her contributions to the progress of the many communities in which she served and that her distinguished record includes her services to the institution of the Counsellors—as an Auxiliary Board member and as a Continental Counsellor in Australasia—and her service on several National Spiritual Assemblies. The institution also assured its supplications in the Holy Shrines for the advancement of her noble soul.
Betty having lived the life had won over the love and admiration of the wider world as well. Jessy Gouge, Mayor of the District of Chalan Pago-Ordot, Government of Guam sent a message dated 1 October to the families of the two daughters of Betty in which he praised Betty, as one who was a very loving and caring person, providing encouragement and love to the lives she touched.
Betty occupies a special and unparalleled place in the history of the Faith wherever she served and has set examples that could perhaps be rivaled, but never replaced. She had truly adorned and added luster to the history of the Faith in many ways for the current generation and generations yet to be born to emulate and admire with awe and wonder. Betty had truly inspired countless souls across the several continents and the vastness of the Pacific where she had served the Cause.
Betty was an embodiment of genuine love for humanity. She had a soft spot for the downtrodden in society and found ways of extending financial assistance, without knowledge of others. Under all situations and tests and tribulations Betty had displayed such indomitable courage and unswerving dedication. Her faith and love for the Blessed Beauty was simply boundless, and her attachment to the Master was so great, that she would begin her days reciting the Tablet of Visitation of `Abdu'l-Bahá. Whenever friends with distress approached Betty for consolation she would invariably draw their attention to what the Blessed Beauty had said, "My calamity is My providence, outwardly it is fire and vengeance, but inwardly it is light and mercy," something that she herself believed with heart and soul. And she would follow with her own advice, "Our lives are in His hands, and He does with us only what He deems best for us, what more can we ask?"  Betty had fully resigned herself to the will of Bahá'u'lláh to decide the course of her life on this earthly plane.
Betty was always a source of strength to everyone who needed consolation. Many dejected or downtrodden were uplifted by her sincere love and  kindness. She always referred to what the Writings had to say whenever someone faced trials and tribulations.  That may explain why the very company of Betty would enhance the spirit of those who met her. She saw only the good in everyone who crossed her path.
Her favorite Bahá'í song was "Look at Me, Follow Me, be as I am, `Abdu'l-Bahá," along with "Will you give your life for Bahá'u'lláh." Her only goal in life was to cheer the heart of Bahá'u'lláh by serving the Cause to her best. Looking back into the life and legacy of Betty, there can be no shadow of doubt that she was created by the wondrous hands of Bahá'u'lláh for serving His glorious Cause in various capacities. Thus ended the illustrious life of a devoted and steadfast  handmaiden of Bahá'u'lláh.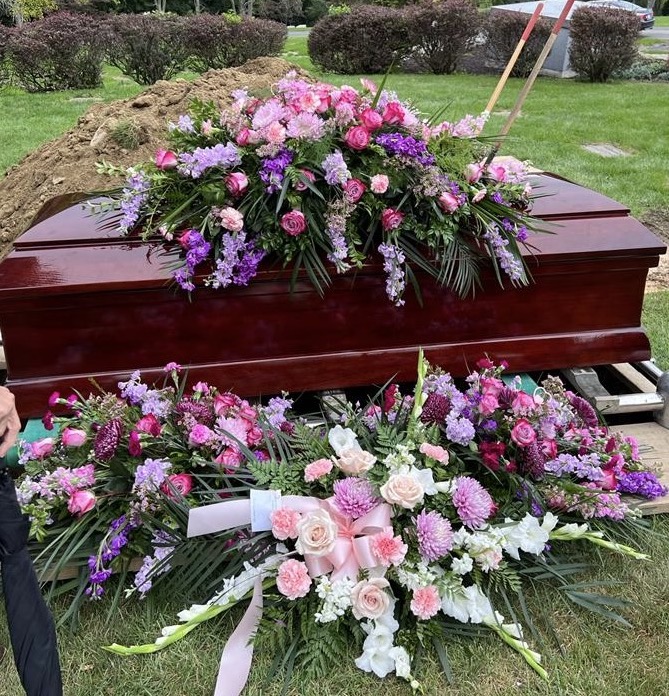 Resting place of Betty at the Bahá'í Memorial Park at Rose Hills Memorial Park, Putnam Valley, New York.
Betty shall always be seen as a shining example in every possible way, and her name shall forever be fondly remembered in our history.
References:
A. Manisegaran, Jewel Among Nations, Splendour Publications, Malaysia, 2003.
A. Manisegaran, Dawnings, Bahá'í Publishing Trust of Malaysia, 2019.
Email communications and personal conversations with Betty in the early days.
Compilation of Newsletters of the Local Spiritual Assembly of Petaling Jaya availed  by  Mr. Lum Weng Chew of Toronto, Canada.
A word of thanks to Shirin Fernandez of Tasmania,  Zeena Arturo of USA and Susheel Croft of Australia for availing some family photos.
A. Manisegaran
31 December 2022
Copyright@bahairecollections.com