MOMENTS WITH THE FATHER OF VICTORIES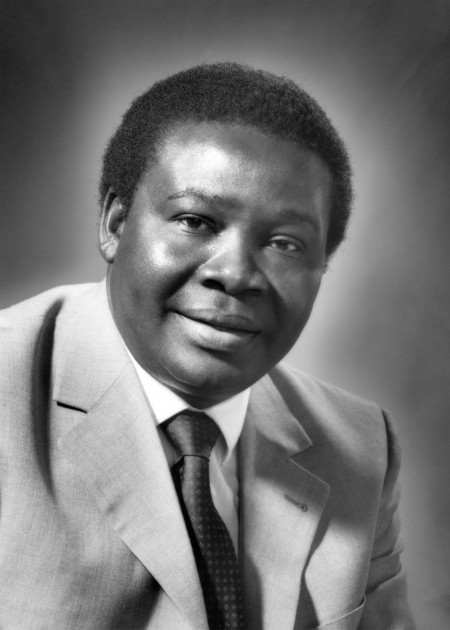 Hand of the Cause of God Enoch Olinga
(Photo credit: Bahá'í International Community)
I am truly honored to write a brief account of some precious moments I had with the Hand of the Cause of God Mr. Enoch Olinga. I had the privilege of listening to his talks and exchanged brief and memorable conversations. I will try to dig into my half a century old memories to the best of my ability. I am now 77 years of age and am struggling to recollect memories of that radiant soul. His glowing face with warm smiles and a positive tone of speech impressed me very much.
Earlier, I had heard some interesting stories about how he had embraced the Faith and was instrumental in leading thousands of souls to the Cause of God in Africa. One could imagine how I would have felt being privileged to be in his presence and listening to him. My first encounter of Mr. Olinga was in New Delhi in April 1970 when I was on the way to Iran from Laos for a family visit.  I stopped over in New Delhi in order to see a number of friends that I had made in my previous visits. Mr. Olinga was in New Delhi visiting communities, friends and his children who studied in the New Era School in Panchgani, Pune. I had a valuable and uplifting time of being in Mr. Olinga's presence on two mornings when we were having breakfast and during long talks on various subjects. Both of us stayed at the National Bahá'í Center in 9 Canning Road. He occupied the special guest room and I stayed in a smaller room on the second floor.
While having breakfast with him, at one point I was contemplating asking him about his meeting with the beloved Guardian and was waiting for an opportunity to ask him directly. Surprisingly, he must have read my mind when he began to talk about the Guardian's all-conquering love and radiance. Mr. Olinga went on to relate that the Guardian had always talked with great assurance about the victories that the friends would win through their future services to the Cause of God. And when he began to speak about the sudden passing of the beloved Guardian during the midpoint of the Ten Year Global Plan, I saw tears rolling down his face. He said that the Bahá'í world suddenly felt the great loss of its only Guardian and that was indeed an irreparable loss.  After the passing of the Guardian, all the Hands of the Cause of God gathered in the Holy Land to see what was coming next and to comfort and reassure the believers to remain firm and united in the Covenant until guidance came. Soon the guidance was found and was communicated to the Bahá'í world community. The message stated that there would not be another Guardian and that the Universal House of Justice would be elected in six years' time in 1963, which would lead and administer the affairs of the Faith globally. During these six years, the Hands of the Cause of God that formed the Custodians of the Faith would lead the Bahá'í world community. Although we are well aware of the aftermath of the passing of the Guardian and the events that ensued, Mr. Olinga mentioned the same, but there were so much force and firmness in what he spoke.
At that point, the Covenant-breakers tried to poison and confuse the minds of the believers but in vain. I had heard earlier at a meeting in 1961 in Tehran when the Hand of the Cause of God Mr. Jalal Khazeh was addressing the believers that the attempts by the covenant breakers in causing disunity had failed and was to no avail, and the unity of the Bahá'í community was preserved. Mr. Khazeh mentioned that when Charles Mason Remey claimed being the next Guardian that surprised every sincere believer Mr. Olinga said, "How can he possibly be the next Guardian?" He is neither an Aghsan (the descendant of Bahá'u'lláh) nor does he know Arabic and Persian to read the Writings of Bahá'u'lláh and explain their deep meanings."
During our breakfast, the topic of the Tibetans that had antique shops close by the Bahá'í Center cropped up. They were selling stone beads and had known a bit about the Faith but did not care to investigate any further. He knew that a group of them in the rural Himalayas had embraced the Faith in 1967 shortly before the International Conference held in New Delhi. The coming of Tibetans under the banner of Bahá'u'lláh in itself was a victory owed to the blessings of the conference. Mr. Olinga asked me if I was at that historic conference. My answer was positive. He asked me if I knew how many of them were there who had embraced the Bahá'í Faith and if I knew any stories about it.  My answer was again positive. Immediately, he asked me to relate their coming into the Faith, and his keenness grew.  I had to tell him that I was there when they joined the Faith.  How come? He asked. I explained that Dr. Muhajir on one of his visits to Laos in May 1967 approximately four months prior to the New Delhi International Conference had asked me to come to New Delhi one or two months earlier. He said there were many teaching, consolidation and proclamation projects being planned to maximize the effects of the conference, therefore, a number of people had been asked to come for help. Following Dr. Muhajir's advice, I reached New Delhi about six weeks prior to the conference. Dr. Muhajir in consultation with the National Spiritual Assembly and the National and the Area Teaching Committees that were in New Delhi teamed up with the friends and each was assigned to do different tasks in many cities and towns in India. My share of work was to go for teaching up north to Punjab and the Himalaya ranges. It was in the Himalayas where I accidentally came in touch with the Tibetan refugees in India. My plan and focus were to share the Bahá'í healing message with the Hindus and Buddhist followers and communities but teaching the Tibetans was something unexpected that came from heaven. I spent a memorable week with the Tibetans. Over fifty Tibetans from about twenty families embraced the Faith and four of them came to New Delhi and attended the conference. Mr. Abul Qasim Faizi and Dr. Muhajir who were at the Conference showered them with their love. Mr. Olinga was fascinated and full of joy with the story especially that episode about opening the Faith to the Tibetans – it was one of the yet unachieved goals of the Nine-Year Plan (1964-1973) of the Bahá'ís of India.
My next opportunity of meeting Mr. Olinga was in Singapore at the Oceanic conference of the South China Sea in January 1971. Mr. Olinga and Mr. Collis Featherstone were the two Hands of the Cause of God who came for the conference. Mr. Olinga was the official representative of the Supreme Body at this conference.
Some of the believers from other countries had come a few days earlier to Singapore to help in teaching activities. Just prior to the conference we went out in teams for proclamation and teaching in various parts of Singapore, and in the evenings, we used to sit at the open-air food-stalls, eating, joking and exchanging stories and had a great time together. Among these youth were the Astani sisters and the Sorayas from Indonesia; Ravichandran, Yin Hong Shuen, Satanam, Silan, Choo Yoke Boon, and Muthaya from Malaysia; two American youths and a few others were on the team. We occupied three or four tables, akin to a mini-conference. The evening before the conference, that is on Wednesday, 30 December 1970, a group of us went to the front desk of the hotel where Mr. Olinga stayed and said we needed to see him. The message was passed to the room of Mr. Olinga. A short while later, he came down, welcomed us and we gathered at the corner of the hotel lobby. He asked how our proclamation activities were going on. We replied they were going well in most places although some teams experienced small challenges. In most cases, people asked about the purpose and about the participants in the conference which had received good publicity by then. Mr. Olinga mentioned that those teaching experiences would prepare us for international services in the form of pioneering to other countries. We realized that he was making a point of preparing us to become ready for international pioneering. He mentioned that countries such as India, Africa and in many other countries in Asia and South America people were thirsty and curious to hear and learn new ideas and they can, step by step, become attracted to the teachings of the Faith. And true enough, there was a call for pioneering at the conference. So, my guess was correct.
The official appearance of Mr. Olinga and Mr. Featherstone was at the Unity Feast that was arranged on the evening of Thursday, 31 December 1970 at the Singapore Cultural Hall. That Unity Feast generated so much warmth.
It was on the following day that the conference was to officially start at the Victoria Memorial Hall, the very place where the Intercontinental Conference was held in 1958. All Bahá'ís had gathered in the hall and were anxiously waiting for the conference to start. The atmosphere was simply electrifying with the coming together of believers from all strata of society and walks of life.
While waiting for the entrance of Mr. Olinga into the conference hall, a number of friends were invited to queue up at the hall's entrance in order to greet him. I do not know why I was lucky to be one of them to greet and welcome him. When he shook my hand, I felt a warm current running through me. I felt so vitalized by that one touch. At first, I thought that it was a mere illusion to have felt a kind of current running into me when I touched his hands. But later a few other friends shared with me the same experience. And when his warm tone of voice while shaking my hand echoed asking me "How are you?" I could only say "Fine. Thank you". Mr. Olinga gave many speeches during the three-day conference.  Each time he started his talk with the phrase, "Are you happy?". When we answered, "Yes" he would ask again, "Really? Are you really happy?". We would say, "Yes" again. Then Mr. Olinga would say, "Dear Friends, this is the day of Supreme Felicity. You are living in the days of the King of Days, the days that belong to the Supreme Manifestation of God. You must feel most happy to have accepted Bahá'u'lláh as the Messenger for the day." This was his style of opening talks throughout the conference. The one main lesson or guidance we received at the conference was to feel proud and happy to be a believer in Bahá'u'lláh.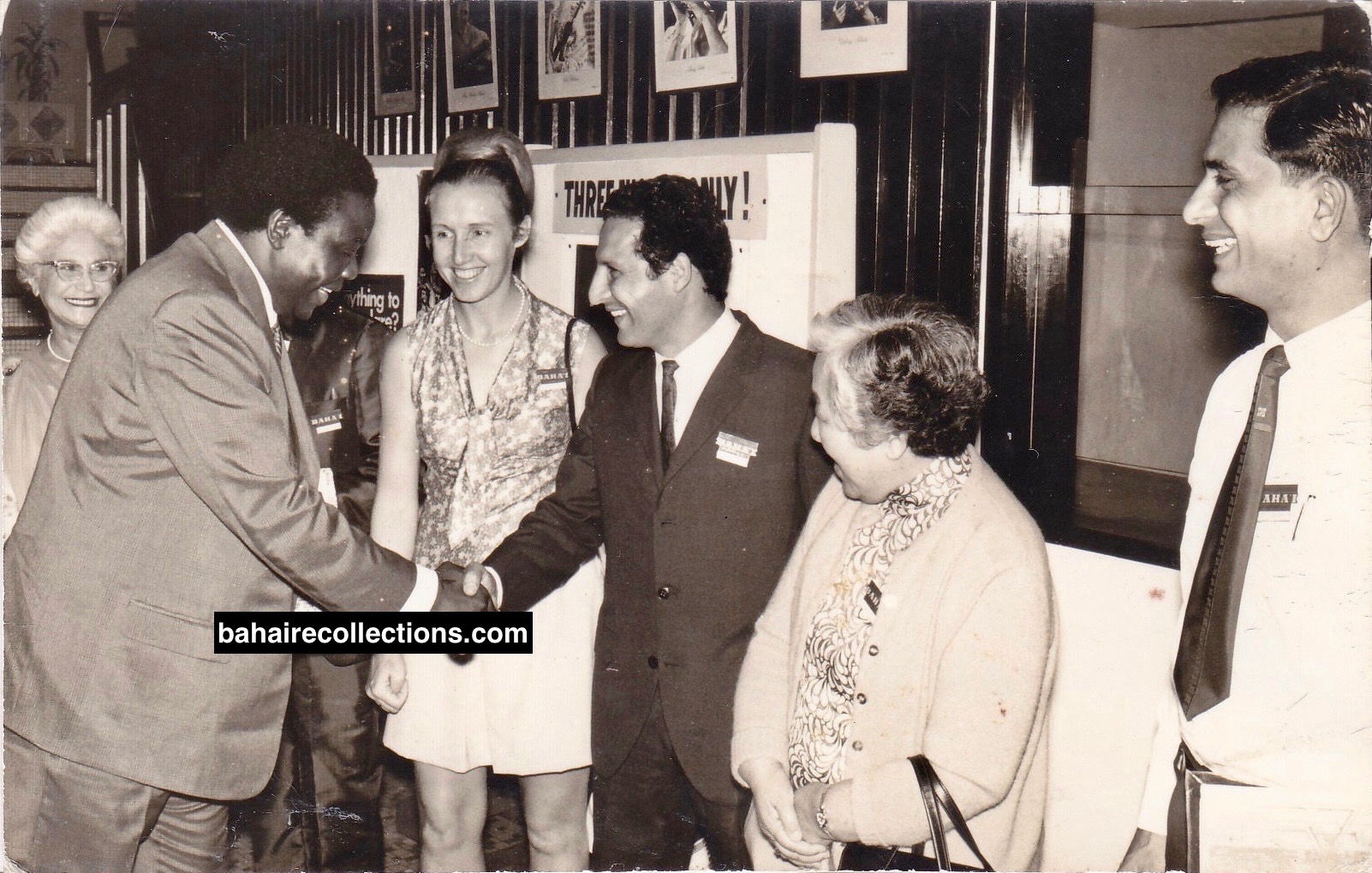 Mr. Olinga is welcomed by L-R: Mrs. Shirin Fozdar from Thailand, Mrs. Greta Fozdar from Sarawak, Mr. Firaydun Mithaq from Laos, Mrs. George Lee from Singapore and Mr. Rusi Irani, a pioneer from India to Brunei.
There were several messages and guidance that Mr. Olinga gave at the conference. He talked about the victories and the progress of the Faith on the global level and related some inspiring stories of pioneers and local believers that had achieved great victories in the field of teaching and consolidation even in the remotest spots of the world. He addressed the youth in the conference who composed over fifty percent of the participants with great zeal and pointed out how the youth have been serving the Faith at the forefront of teaching and pioneering. He urged the youth to think about their future in relation to their future services to the Cause of God. For example in the course of their education and preparing for their future occupations, they could think about where they were most needed to be in order to serve the Faith effectively and then assume the kinds of professions that were practical and available in those places. With such initiatives, they could offer themselves as fulfilling home-front or international pioneering goals. There was a call for pioneering which received a great response.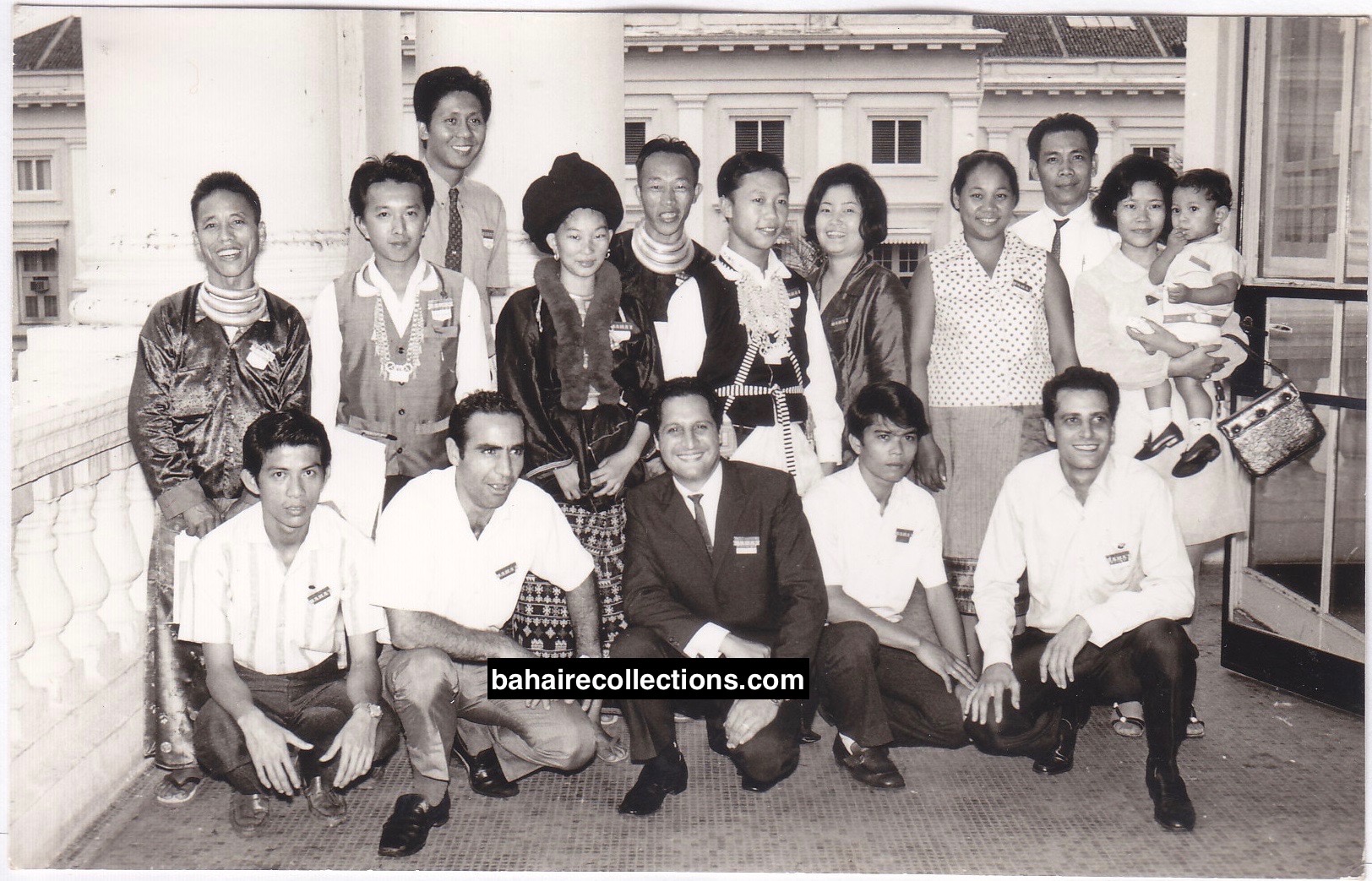 Friends from Laos. Squatting second from left is Dawood, with Firaydun Mithaq to his left. Squatting at extreme left is Faiz Yaganegi, with his wife Meungma standing at his back and carrying the eldest son Hooshmane.

After the Oceanic Conference, Mr. Olinga had a plan to visit the Bahá'í communities in the neighboring countries in Southeast Asia including Laos and Thailand. At that time I was serving as an Auxiliary Board Member for Protection in Laos. So I was asked to meet him and to give some background information. During the lunch break of the Oceanic Conference, I went to see him at a quiet corner and we conversed for an hour. I felt a bit tense sitting with him, but he made me feel comfortable in every way. He changed the atmosphere as if we had known each other for ages. He was so friendly and so humble talking to me as if to a long lost friend. God knows how delighted and wonderful I felt.
Mr. Olinga loved the youth especially the pioneer-youth. I could see him on several occasions and gatherings when the youth circled around him, telling him their stories and future plans and sang for him. Mr. Olinga had a very youthful spirit and a bright smiling face that attracted the youth to him. He was such an adorable and radiant person.
He came to Laos in February 1971. In Laos, he visited the Bahá'ís in the capital – Vientiane. In 1971, Vientiane had a population of about one hundred believers including seventeen pioneers. There were over sixty thousand believers in Laos mostly in the rural communities when Laos was experiencing mass-teaching in the sixties and seventies. But since most of the members of the National Spiritual Assembly and the Auxiliary Board members and teachers had been attending the Oceanic Conference in Singapore and had not returned, there were not enough people to organize a larger national gathering to welcome the Hand of the Cause of God Mr. Olinga on his first and only visit to Laos. About forty to fifty believers attended the gathering at the National Bahá'í Center to meet Mr. Olinga. This was very embarrassing for the friends in Laos. He did not feel well and did not speak much. He asked the friends about the conditions of progress of the Faith in Laos as well as in Vientiane. The friends explained that the Faith was spreading like wildfire in the provinces, especially in the rural communities and villages where thousands of people were entering the Faith in masses. But the expansion and progress in the cities were slow since the city dwellers were busy with the materialism of the city life. He encouraged the city believers to visit the rural communities for consolidation and assist in deepening the new believers. He remarked that the friends in Laos must seize the opportunities while receptivity was high, and conditions were favorable. And since the world was changing fast developing human resources was urgent. He gave the example of some countries where the teaching had suffered from insufficient teachers and deepened believers. In addition to the friends that Mr. Olinga met at the gathering at the Bahá'í Center, he visited several Bahá'í friends and families at their homes with joy and happiness. At every home visit, he poured his love and told little stories of how single families in Africa and elsewhere through regular praying and sharing the message of Bahá'u'lláh with their neighbors and friends had enlarged and expanded their communities. He said that the easiest way to teach the Faith is to visit friends and neighbors in their homes and serve them. When children were around with parents he told them the importance of education and emphasized on their attending children's classes. He showed them his own children's pictures that he carried in his wallet and introduced them. The Laotian children were happy to see the pictures, and screamed with joy and laughed.
His greatest happiness was meeting the Hmong hill tribal people. He took a lightning trip to Salabouly province to see the Hmong hill tribe believers where a Persian pioneer Mr. Dawood Saadati lived and served the Faith. Mr. Olinga was himself from the Teso tribe in Africa. That may be the reason as to why he was interested in seeing the other tribal believers. He was well prepared to make the arduous trip to the hills of northern Laos to visit them. Friends told him about the difficulties of food and accommodation but that did not change his desire of meeting the tribal believers, and he still decided to visit them at any rate. He had to stay at the humble house of Dawood. Although Salabouly was the capital of the province it was not more than a big village. Here I have to explain the condition of Salabouly in order to understand the hardship that Mr. Olinga had to endure in completing that trip. Salabouly in the 1970s had no hotel, no guesthouse and any kind of rental accommodation. People there were mostly farmers and lived in scattered farmhouses surrounded by farms. Visitors had to stay with the farmers. Dawood's house was a small wooden farmhouse with an abandoned vegetable garden behind it. Its furniture was one bed, one mosquito-net, an old shabby table, and four stools – all in one living room. At first, I used to live there, then Giti, my wife joined me after we got married. Later on, Dawood used it. I had rented it for the equivalent of ten dollars per month. Most houses in the village had no source of water, proper toilet, shower, and electricity. Water had to be carried from a nearby field-stream. The roof leaked during rainy days. I  had to improvise and make the house slightly better to the extent I could afford. At least this house had a toilet that we had built and a jar of water to use and bathe – with that it had an advantage over the other homes. Several international and local travel teachers and visitors had stayed in this house where many prayers were recited. Mr. Olinga stayed in this house for three nights with no complaint whatsoever. Instead, he was full of joy and laughter.
It was only twenty hours earlier that the tribal friends had got the news of Mr. Olinga's visit. Since they knew the station of the Hand of the Cause of God, they immediately dispatched messengers to many tribal Bahá'í villages inviting them to come to Salabouly to meet Mr. Olinga. Some had to walk for hours to reach the venue. Finally, many tribal and some non-tribal friends gathered.  They brought along meat, rice, vegetables, fruits, and homemade rice cakes. Mr. Olinga hugged and greeted everyone with joyful smiles – men, women, and children. His talks had to be translated first to Laotian and then to Hmong dialect so that everyone could understand. He spoke to them about the progress and the universality of the Faith. He mentioned that everywhere he went he saw the tribal people were pure-hearted and hardworking. He said he felt that Hmongs were among the most devoted and active believers and hoped that Hmong Bahá'ís will not rest in taking the Cause of God to their entire fellow tribal populations. The friends listened, sang and danced in their native ways and entertained Mr. Olinga. The gathering lasted for fifty hours and the participants hardly went to sleep, as with the talks and the presence of Mr. Olinga sleep had departed from them.
The crowd attracted the neighbors and the larger community friends that came and circled around the gathering and were curious to see what was happening. Some of those neighbors and friends got interested and began asking questions and a few went on to investigate the Faith.
In Salabouly, tribal friends tried to arrange a meeting for the Hand of the Cause of God with their Local Spiritual Assembly but unfortunately, a quorum did not materialize since five members of the Assembly were away.  Anyway, he met with the few members present and inquired about their plans and the progress of the Faith in Salabouly.  Their reply was that their teaching and other activities were very much decentralized in various locations in the province and was going on well with the help of the traveling and the short-term travel teachers. Mr. Olinga expressed appreciation for their devoted services and assured them of the unfailing divine assistance for their continued endeavors.
The conditions in the tribal homes in Salabouly was a bit rough and Mr. Olinga got sick and had to return to Vientiane earlier than planned. But the memory of his visit to the tribal friends in Laos was alive in the minds for a long time.  Tribal believers kept asking about Mr. Olinga whenever they saw us. They became very sad when they learnt of his assassination in September 1979.
After Mr. Olinga had completed visiting Laos and Vietnam in January 1971, he stopped for a few days in Bangkok for rest before going to Malaysia for a new round of meeting communities and friends.  While he was resting in Bangkok, we learned that he had called the Bahá'í Center and had spoken to Mrs. Shirin Fozdar whom we called mummy.  Upon hearing this news, I called to greet him and see if it was all right to go to see him. He graciously accepted and delightfully Mr. Nasser Jafari who was a new pioneer from Iran and I went to his hotel.  We called him from the lobby and he invited us to his room. Seeing Mr. Olinga again and listening to some of the little stories that he told us about his visits to Laos and Vietnam was joyful and uplifting. He related a story about the horror of the devastating war in Vietnam. He mentioned that when in the airplane there was an American General sitting next to him. During their conversation, Mr. Olinga asked the General why the war had been prolonged to which the General replied, "Mainly because they did not know who their enemies were since all the Vietnamese looked the same, wore the same kind of dress and spoke the same language." And the enemies were everywhere and even among their own friends. Then Mr. Olinga asked me if it was the case in Laos too.  I replied, "According to an army officer in Laos, they do not want peace because it is not to their advantage. They like the war to go on." Hearing this unusual reply made Mr. Olinga burst into laughter, loud enough to shake the room and everything in it. Even we too could not stop laughing.
I met Mr. Olinga once again in India in 1974. At that time, Hand of the Cause of God Dr. Muhajir was also visiting India. Dr. Muhajir and I went to see Mr. Olinga in his hotel.  He was not well and was suffering from stomach ache. Dr. Muhajir gently and jokingly poked at Mr. Olinga's stomach.  Mr. Olinga and Dr. Muhajir were in the last contingent of appointment as Hands and they were very close friends. After exchanging customary greetings, we started to converse in the hotel room.  By the time we were leaving Mr. Olinga said he already felt much better and said it must have been due to Dr. Muhajir's magical poking on his stomach.
There was one incident where I was not present, but this was related to me by my friend Mr. Javanshir from Iran who had served in Hong Kong and the Philippines and was there at a meeting that took place in Teheran in 1975. As a close friend, he used to share some interesting stories with me. These stories moved me so much that I wish to share with the readers. In 1975, when Mr. Olinga was visiting the believers in Iran, he was invited to a home in Tehran where the parents of the three youth that had recently been killed in Mindanao island in the southern Philippines, had gathered.  These three youth were among the over three hundred student-pioneers from Iran that studied and served the Faith as pioneers in the Philippines.  The Universal House of Justice announced to the Bahá'í world that these three youth had attained the rank of martyrs in the Bahá'í Dispensation.  My very close friend who was also a pioneer student in the Philippines and knew the three martyred youth,  had completed his degree and had returned to Iran,  was also present at this meeting.  Later on, he told me the details of that meeting:  "The parents of the youth were sobbing.  Mr. Olinga most lovingly hugged every one of the parents and consoled them. He told them that your children are in heaven united with God.  That martyrdom is the closest and the fastest pathway to God. You must rejoice because they are happy and with God. What is a greater blessing than this? He comforted them and assured them of  God's infinite bounties." This act of Mr. Olinga meeting and comforting the parents of the three youth martyrs is another manifestation of his extreme tender heart, love, and meekness that distinguished his character and personality.
Although my meeting with Mr. Enoch Olinga was quite brief, he left a permanent impression on me. I was totally devastated when I learnt of the untimely passing of Mr. Olinga on Sunday, 16 September 1979. This was the message that the Universal House of Justice sent out to the Bahá'í world:
WITH GRIEF-STRICKEN HEARTS ANNOUNCE TRAGIC NEWS BRUTAL MURDER DEARLY LOVED GREATLY ADMIRED HAND CAUSE GOD ENOCH OLINGA BY UNKNOWN GUNMEN COURTYARD HIS KAMPALA HOME. HIS WIFE ELIZABETH AND THREE OF HIS CHILDREN BADI, LENNIE AND TAHIRIH HAVE ALSO FALLEN INNOCENT VICTIMS THIS CRUEL ACT. MOTIVE ATTACK NOT YET ASCERTAINED. HIS RADIANT SPIRIT HIS UN-WAVERING FAITH HIS ALL-EMBRACING LOVE HIS LEONINE AUDACITY IN THE TEACHING FIELD HIS TITLES KNIGHT BAHAULLAH FATHER VICTORIES CONFERRED BELOVED GUARDIAN ALL COMBINE DISTINGUISH HIM AS PREEMINENT MEMBER HIS RACE IN ANNALS FAITH AFRICAN CONTINENT. URGE FRIENDS EVERYWHERE HOLD MEMORIAL GATHERINGS BEFITTING TRIBUTE HIS IMPERISHABLE MEMORY. FERVENTLY PRAYING HOLY SHRINES PROGRESS HIS NOBLE SOUL AND SOULS FOUR MEMBERS HIS PRECIOUS FAMILY.
On Monday, September 24, 1979, the mortal remains of Mr. Enoch Olinga was laid to rest near the House of Worship in Kampala, next to the spot where Mr. Musa Banani, his fellow Hand of the Cause of God, was buried. Mr. Banani, the "Spiritual Conqueror of Africa", and Mr. Olinga, the "Father of Victories" are today laid close to one another.
When the tragic news of the passing of Mr. Olinga and four members of his family, wife Elizabeth, children Badi, Lennie and Tahirih reached us, we were in South Korea. We were naturally deeply saddened and grieved especially because we knew him personally.  We held a memorial service on the afternoon of Sunday, 23 September 1979 at the National Bahá'í Center.  Friends who came recited prayers, read the cable from the Universal House of Justice and talked about Mr. Olinga. About two or three months after his passing, the Hand of the Cause of God Mr. Collies Featherstone and his wife Madge visited South Korea. We asked him about Mr. Olinga's passing and he kindly talked about it with more details.  We thought sometimes it is hard for us to understand God's wisdom and mystery.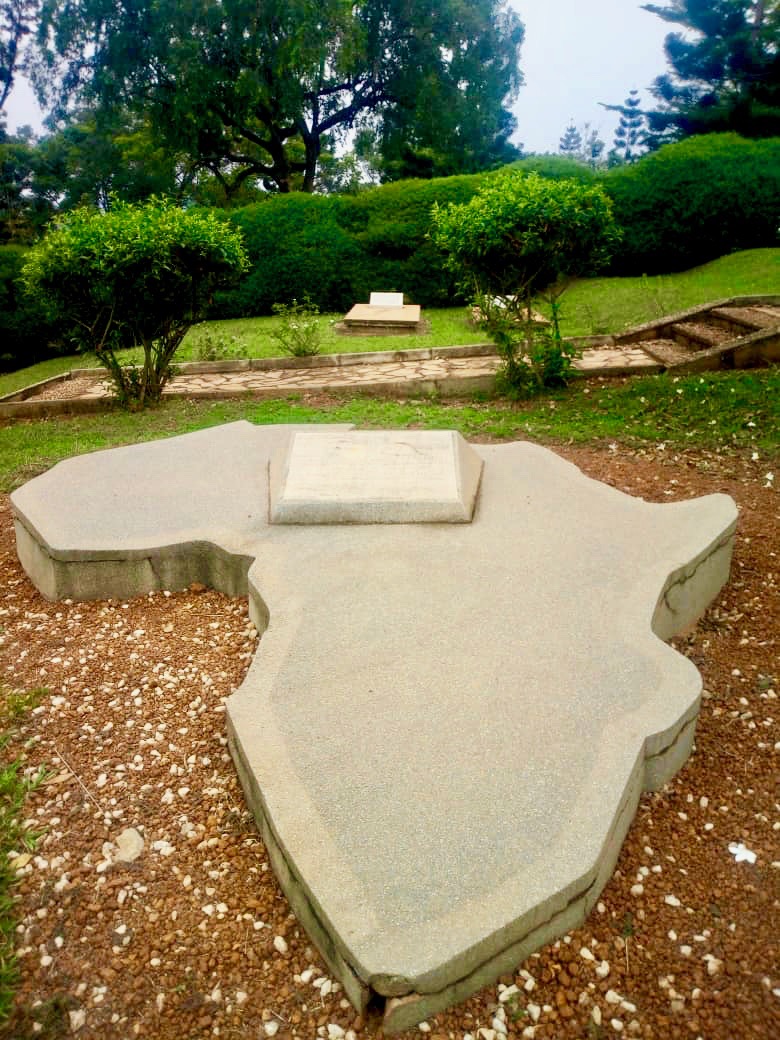 Resting Place of Mr. Enoch Olinga

Resting place of  Mr. Musa Banani, and that of Mr. Enoch Olinga at the back, with the National Bahá'í Center at upper right.

(Photos of the resting places credited to Mr. Moses Kasule)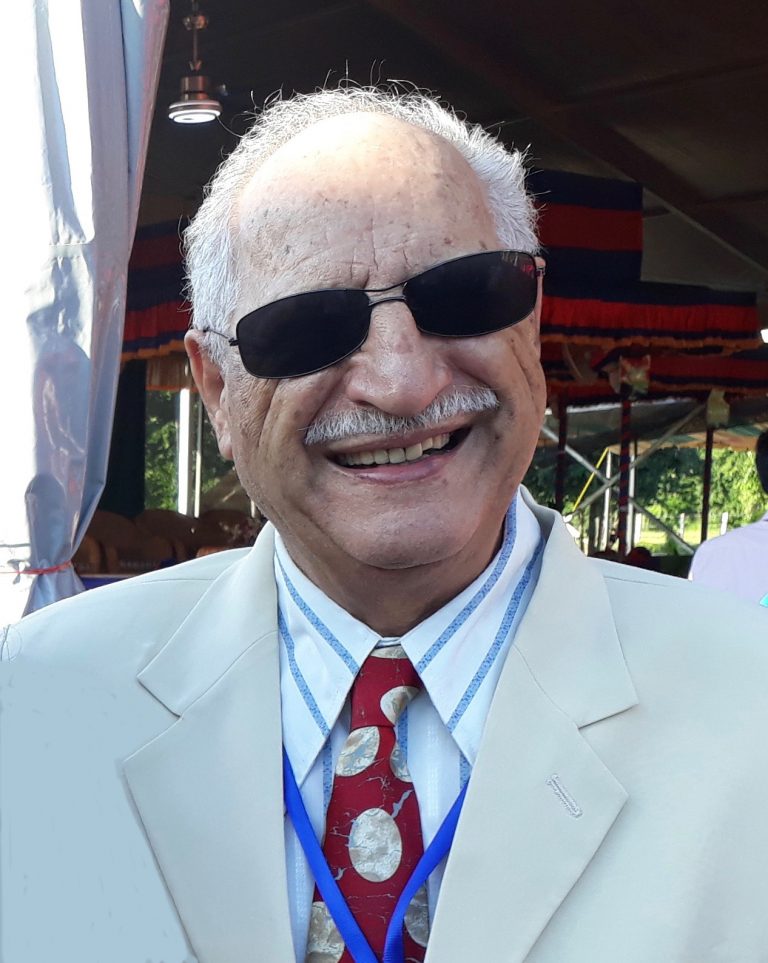 Dr. Firaydun Mithaq
Chieng Mai
Thailand
28 February 2019
Copyright@bahairecollections.com
ABOUT THE AUTHOR:
Dr. Firaydun Mithaq (Mithaqiyan) was 20 years old when he pioneered to Laos in 1962, thus catching up with the last year of the Ten Year Crusade-Plan. Coming from the fifth generation of Bahá'ís on his father's side and fourth generation from mother's side, he was raised in a devoted family. From the age of two to fifteen, he grew up in home-pioneering locations among the Kurdish population,  with his four siblings. He spent the first seven years of pioneering among the tribal masses of spirit worshipers in the hills, mountains and the urban and rural Buddhist communities in Laos. Mithaq witnessed mass teaching in these areas in 1963, from a single village of forty-five tribal people to about one hundred thousand believers in 1973. In 1973, he was appointed to serve on the Continental Board of Counsellors in South East Asia. From 1975 to 2017, he and his family pioneered to Hong Kong, South Korea, China, and Thailand. From 1987 to 1992, he lived in the aboriginal communities in Northwest Australia such as Carnarvon, Onslow, Karratha, Roburn, Port Hedland, Brume and Derby and engaged in travel teaching and community building activities. He currently lives with his wife Giti in Thailand. His pioneering life was highly inspired under the direct love and guidance of the Hand of the Cause of God Dr. Raḥmatu'lláh Muhájir.