Karuppannan-Malaysia
My parents were Hindus. I was inspired by the Tamil movies where the hero was always portrayed as kind, honest..etc. I always wanted to be like the hero in real life, but what I saw around me troubled and I started asking questions to my mother. I was barely 10 years old then. In the estate where I grew up I noticed some people were kept away from the rest. When some of them came to the house, they were not allowed to enter the house and were served tea in tin cans. This troubled me further, and I asked my mother for an explanation. She said they were untouchables. This further confused me because my best friend Parimanan was so called untouchable, and my hero in the movies always spoke of oneness.
At the age of 16, I met a friend who had become a Christian. I went to the church with him  a few times but found there was difference between the English educated and Tamil educated. I stopped going to the church. I went back to the temple and believed there was only one God and was called "Murugan". When I went to the temples to pray, I never did any other rituals.
At the age of 19 (January 1972), I joined the Royal Malaysian Air Force (RMAF). After 6 months of military training in Kinrara, Selangor, I was sent to England for technical training. While  I was in Kinrara  I first met Ponnusamy (Samy) who would play an important role in my quest for the Spirit of the Age.
While in England, I was again invited to Christian gatherings. I attended Bible study classes. I almost became a Christian if not for the fight between the Catholics and Protestants in Northern Ireland. I couldn't find the logic how people of same Faith could be killing each other.
In November 1972 I was posted to RMAF Kuching, Sarawak after completing my basic engineering training. Kuching was new for me. I did not have any friends. The only way to make friends quickly was to join the drinkers (who were my colleagues and seniors) in the bar. I never failed to attend temple services every Friday, although it was in the town far from the camp. That too came to a sudden stop when I found out there were two temples, of which one was for the untouchables. I gave up. My room mate at that time a catholic,  invited me to a Sunday service. I went only once and found the rituals at the Catholic Church were no different from the temple. That was the end of my church going.
In February 1973, I heard the name "Baha'i" for the first time. The laundry man in the camp by the name of Gopal was a Baha'i. He knew my friend Nadeson who had been a Baha'i. They were talking about Baha'i, Fasting and Naw Ruz. It all sounded strange to me. After Mr. Gopal left I asked Nadeson what it was all about. He only said a few words. After saying Baha'i is a new religion and it is a good religion,  he gave me a prayer book in Tamil.
I gave up on God and denied the very existence of God and took to drinks. I must admit that I drank heavily. Every night I would come back to the barrack in the wee hours and cry my heart out.  I hated myself. In mid December 1973 I was returning to my barrack in the early hours and I saw my friend Ponnusamy sitting  on the stairs and reading a book. I looked at the book. It was something Baha'i. Without saying anything I went to bed. The next day the same scene was repeated. On the third day Samy was there. I was drunk but decided to confront Samy. Many unreasonable questions were asked. After more than an hour's questioning, I became  sober. Samy told me "Karu I am a new Baha'i. If you are interested to know more, come with me tomorrow and you will get your answers."
The next day, I completely forgot the  my conversation with Samy the previous day. I was working overtime. Samy came to my work place and reminded me. I told him, "Wait for me, I will come".
I got permission from my supervisor to leave early. I ran from my workplace to the barracks,  a distance of nearly  one kilometer. I quickly took my shower and ran all the way back to the work place where Samy was waiting patiently. It was about 6pm.
The Search Ends
Samy and I boarded a taxi to the town. Along the way Samy did not say much, since I too did not ask anything. After about half an hour we arrived at the home of Dr John Fozdar (Knight of Bahaullah). When I entered the home there was a warm welcome, and I could not  believe what I saw and felt. Immediately I felt I had reached my destination. There was peace in my soul for a moment, and next it erupted into extreme joy. I met so many young people from  Chinese and Iban background. The hosts were Dr. John Fozdar and his wife Greta, a German. There was so much love in that atmosphere. At that time a 9- Day institute course was in progress. After chatting with the youth and having some cakes and soft drinks, it was time for a formal talk. Dr John spoke. It ended at about 10pm. Samy and I returned to the camp. We continued going every evening. One of the nights I met with the institute facilitator, the late  Mr. Kuppusamy. While talking about the Faith I said proudly, "I believe there is only one God and my God is Murugan". Kuppusamy replied, "That's good. Murugan means beauty and Baha'u'llah is the Blessed Beauty". At that very moment the last trace of prejudice and the last obstacle to recognize  my much sought Beloved, vanished in thin air. I recognized Baha'u'llah at that very moment as someone very special.. That night Greta offered to drive Samy and me to the camp and we were so spirited that we chanted the Remover of Difficulties all the way. The institute ended just before Christmas holidays and all the participants proceeded to the winter school in Sekolah Menengah Bau (Bau Secondary School).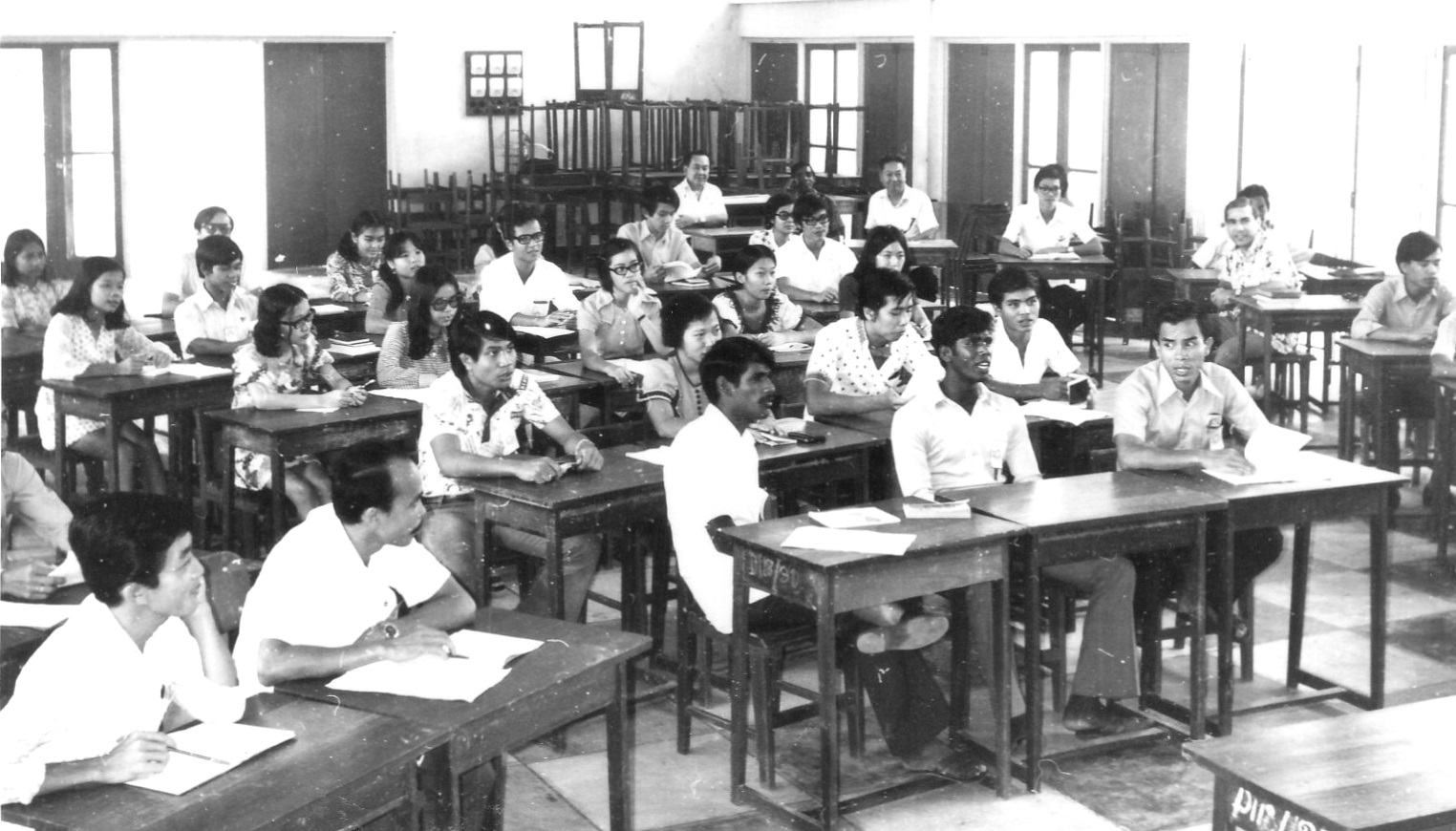 My first Bahai Winter School, with Ponnusamy
I also attend the winter school although I was not officially a Baha'i. There I met Bornoh Das. On the 2nd or 3rd day of the Winter School Das asked me to follow him to a basketball court while others were resting in the dormitory. It was late afternoon. We sat at the court and Das started explaining how one could become a Baha'i. I was already a Baha'i in my heart but was waiting for the right moment  to sign the card and that was on 21 January, my birthday. But Das told me that 23 rd was also a special day as it was closely associated with Abdul Baha. Immediately I took the card and signed it. I officially became a Baha'i. It was 23rd December 1973 and my spiritual journey began. Along the way in the last 43 years I have met many extraordinary people who were transformed by the message of Bahaullah.  There have been many instances where I experienced bounties of the almighty.  Those I will share in the near future. The journey continues…………..
With Ponnusamy and Bornoh Das
©bahairecollections.com