REMEMBERING SOBHANA KUMARAN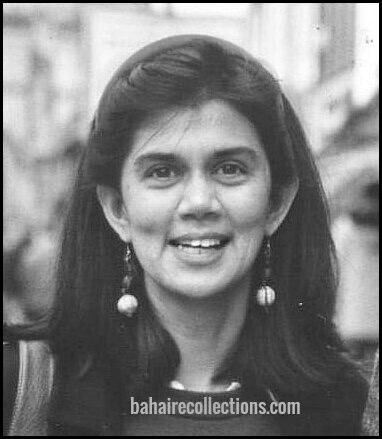 29 May 1959 – 10 April 2003
Here is the story of  Miss Sobhana Kumaran, an ardent Bahá'í youth whose short life was spent in service to the Cause with great dynamism, eagerness and enthusiasm. She set a fine example as to how one has to spend youthful days in a balanced manner – not neglecting the Faith while striving for excellence in the education field, and at the same time not setting aside education while serving the Cause of Bahá'u'lláh. In the end she tasted success in both these fields and has left indelible traces that shall always be admired and appreciated for generations to come. Perhaps only those who would come after us will be in a position to appreciate in fuller and greater measures the contributions of this noble and precious soul.
The family moved from Selangor into Seremban town in Negeri Sembilan in 1960. In 1961, Mr. P. E. Kumaran, a clerk at the Seremban British Army Camp in Paroi area of Seremban accepted the Faith through Mr Appu Raman from Alor Star. Kumaran gave his best to his family within his humble means.  When Muralydharan was born on 10 February 1961, his religion was entered as "Bahá'í" in his birth certificate, something considered a rare novelty in those days.  Through the strong encouragement from Kumaran, his sons  Jayakrishnan, Suresh, Sivapragasam, Muralydharan, Prem and Navin and daughters Sobhana, Sathy, Suguna and Shashi attended the Bahá'í children's classes. As they reached the age of maturity, they all accepted the Faith in stages. It was Madam Lily Ng, daughter of Yankee Leong, the first believer in Peninsula Malaya and the immediate neighbour of the family of the Kumarans. They never missed any Bahá'í meeting held in the Bahá'í Centre in Seremban at 333, Rahang Road, which was just a stone-throw distance from where their rented house at 333-B, Rahang Road, a house owned by Yankee Leong's younger brother Paul Yan Sim Min, a well-known millionaire architect. Kumaran's wife Ambiga Shanthappa Rao also accepted the Faith in 1984. Kumaran himself passed away in January 1993 and was laid to rest at the Bahá'í burial ground in Seremban.  Muralydharan  became a graduate and passed away in a motor  car accident on August 24, 1986. By this time  Sobhana  had became the tower of strength in the family and faced life with strong fortitude. It would not be difficult to guess that the real and inner strength came from the matchless spirit of the divinely propelled Faith.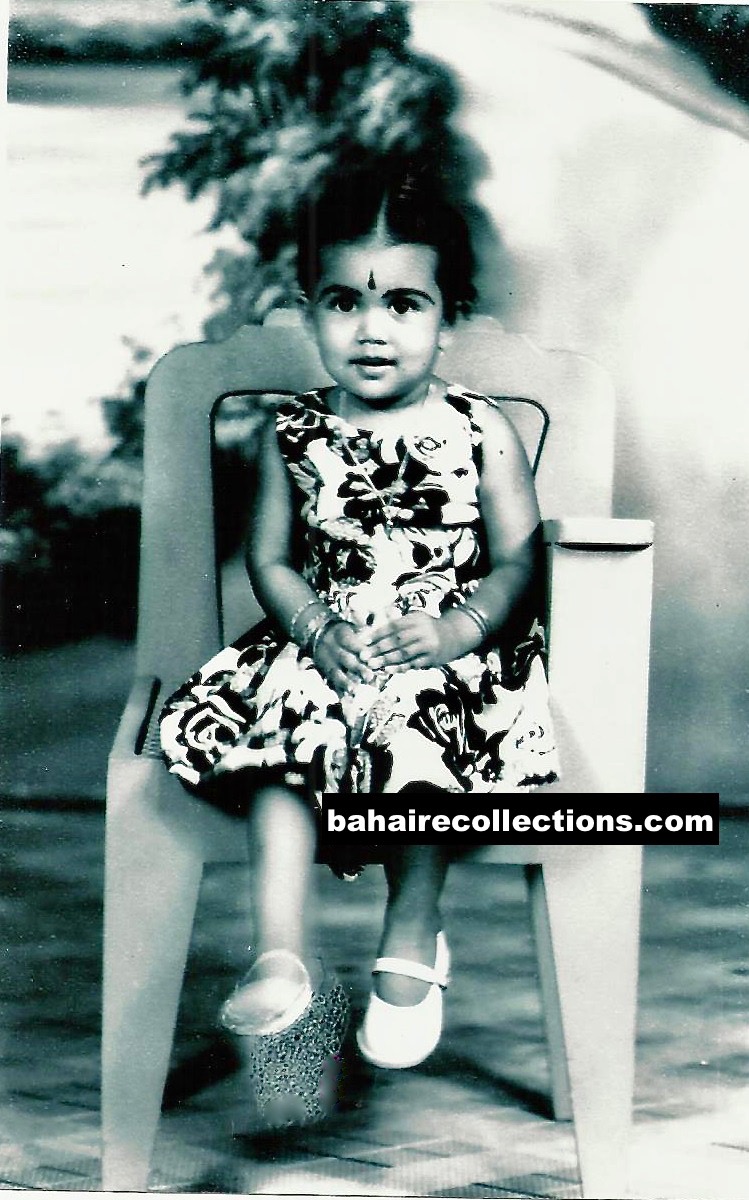 Sobhana, a budding spiritual giant, at age three.
Although Kumaran introduced the family to the Faith, it was his eldest daughter Sobhana who was the prime motivator in the family. Even when Sobhana was as tender as three years old, Kumaran detected the great potential in her and told his wife Ambiga that Sobhana would play some great role in guiding her younger siblings.  True enough, as Sobhana grew up attending children's classes, she herself became a children's classes teacher in Seremban. With the full blessings of her mother, Sobhana guided and encouraged her siblings to rise up to serve the Cause and do well in their studies.  Sobhana was also a strong and responsible force to ensure the family was closely knit. The family turned to her for guidance and advice, and she often served as a model for them. Most of the family members are now actively serving in various capacities in Malaysia, the United Kingdom, Germany  and Australia.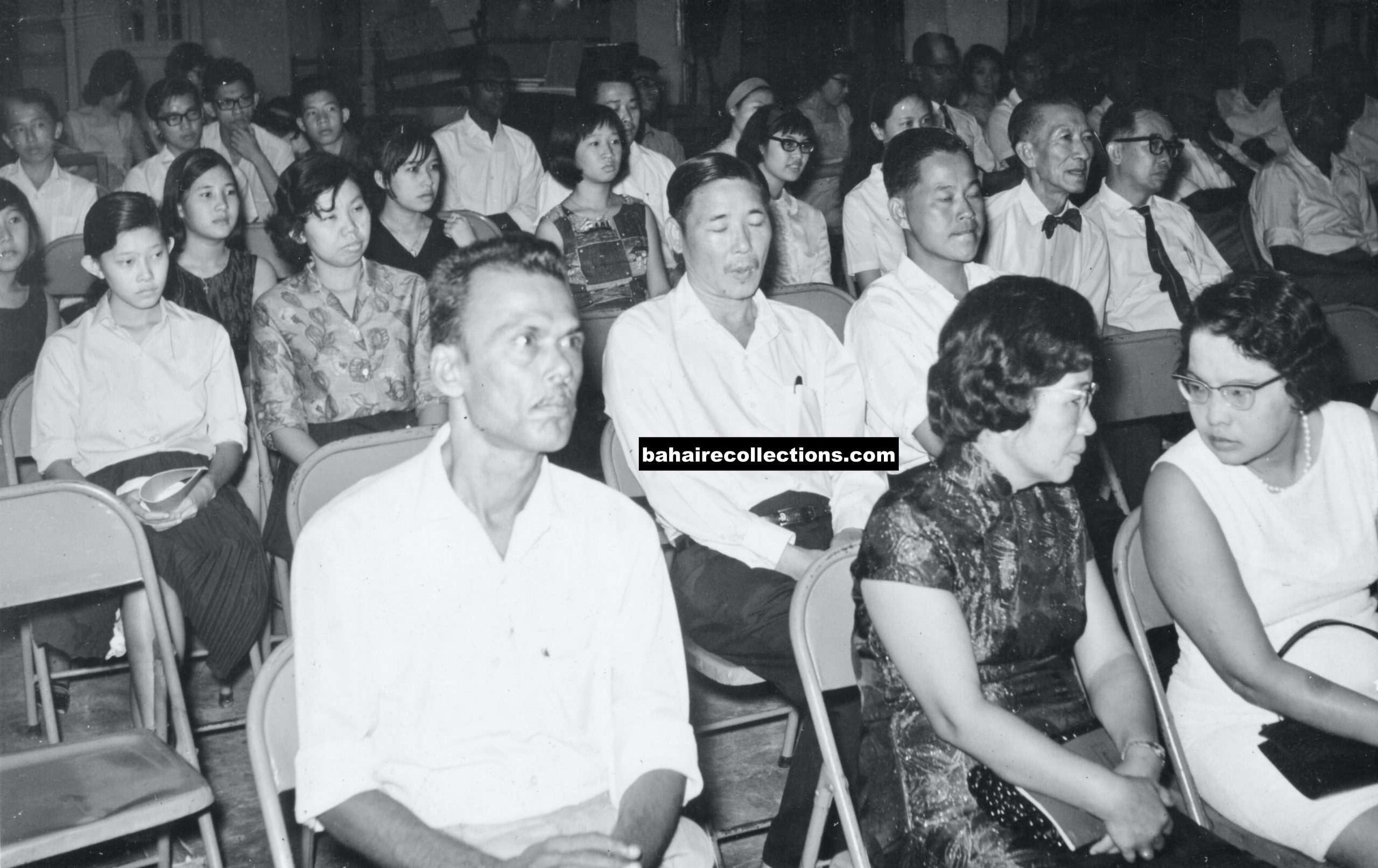 Mr. P.E.Kumaran (left) listening to the talk by Hand of the Cause of God Mr. Taráz'u'lláh Samandarí at the Vivekananda Hall, Seremban, July 1966. Seated at centre, right is Yankee Leong, with a bow tie.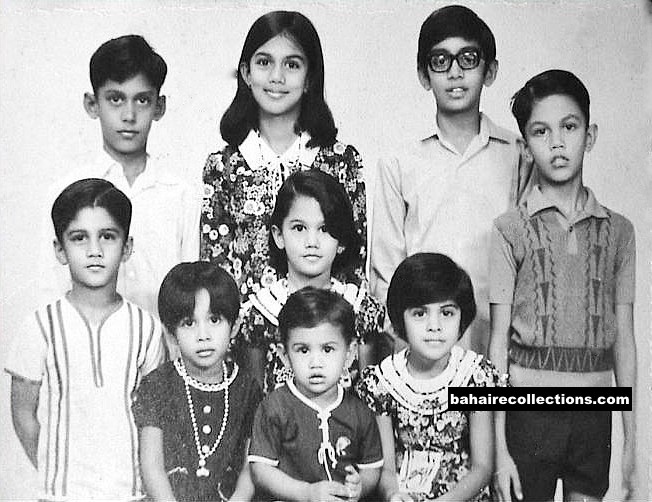 The Siblings.  Back Row,  L- R: Sivapragasam, Sobhana and  Jayakrishnan(Hari). Second Row, L-R: Suresh, Sathy and Muralidharan. Sitting, L-R:  Shashi, Prem and Suguna. (Missing is Navin)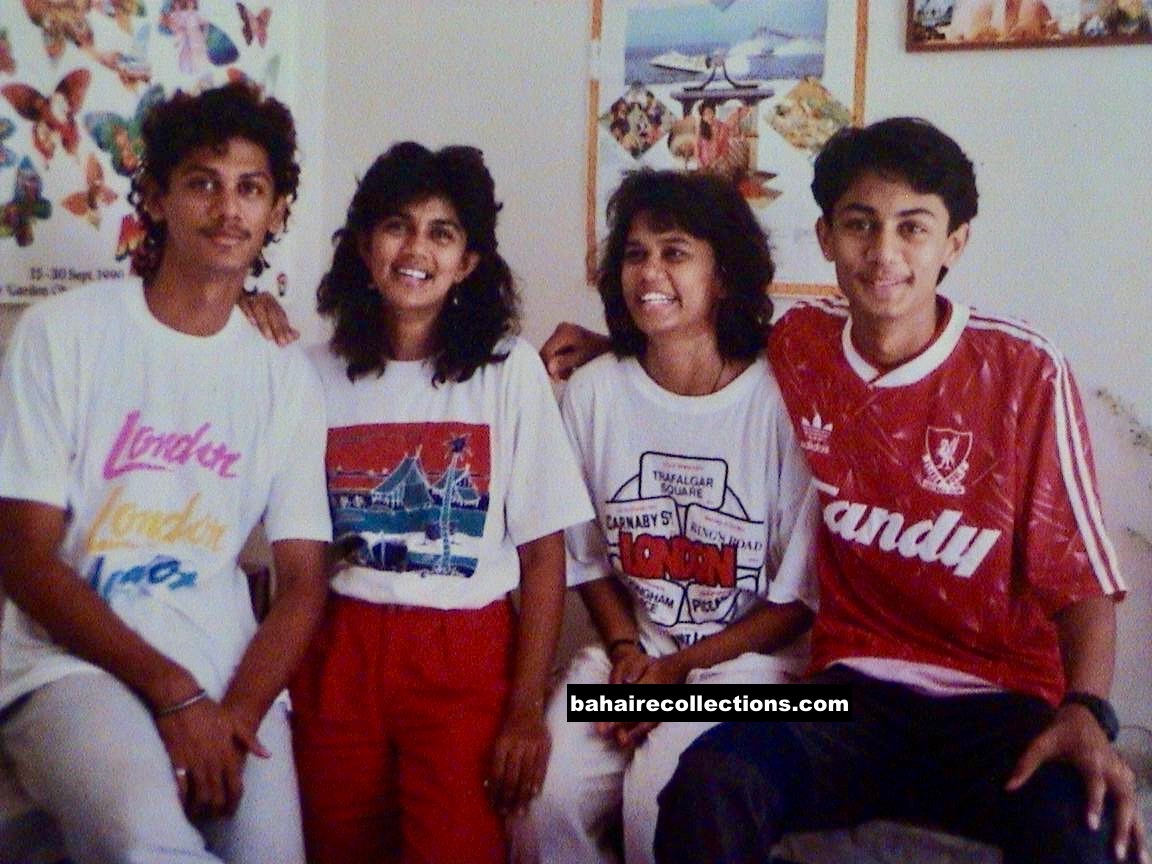 As they grew up. L-R: Prem, Sobhana, Sathy and Navin.
STUDIES AND CAREER
Sobhana was a bright student from her early days with outstanding achievements in academic field and co-curricular activities. When studying in the form five arts medium in the Convent secondary school, Sobhana was topping in her English literature to the amazement of her class teacher who would call upon the other students to take Sobhana as a perfect example of excellence in the subject. She was a good hockey player for her school too.  She was the first in her family to gain entry into a leading local university when she pursued a degree in English literature at University Malaya in 1979. This academic exposure moulded her into  a good speaker, a prolific writer, and an excellent Master of Ceremonies at large gatherings.
Even in her conversations or in writing letters, she employed that  striking mastery of language. In a letter  to her friend she wrote in a poetic style:
Always remember that….
Happiness is something
That's neither bought not sold
Its price is more than rubies
Its value more than gold
It's one of God's  great blessings
And we can keep it only
By giving it away
All the best,
Soaps (as she was fondly addressed among close peers)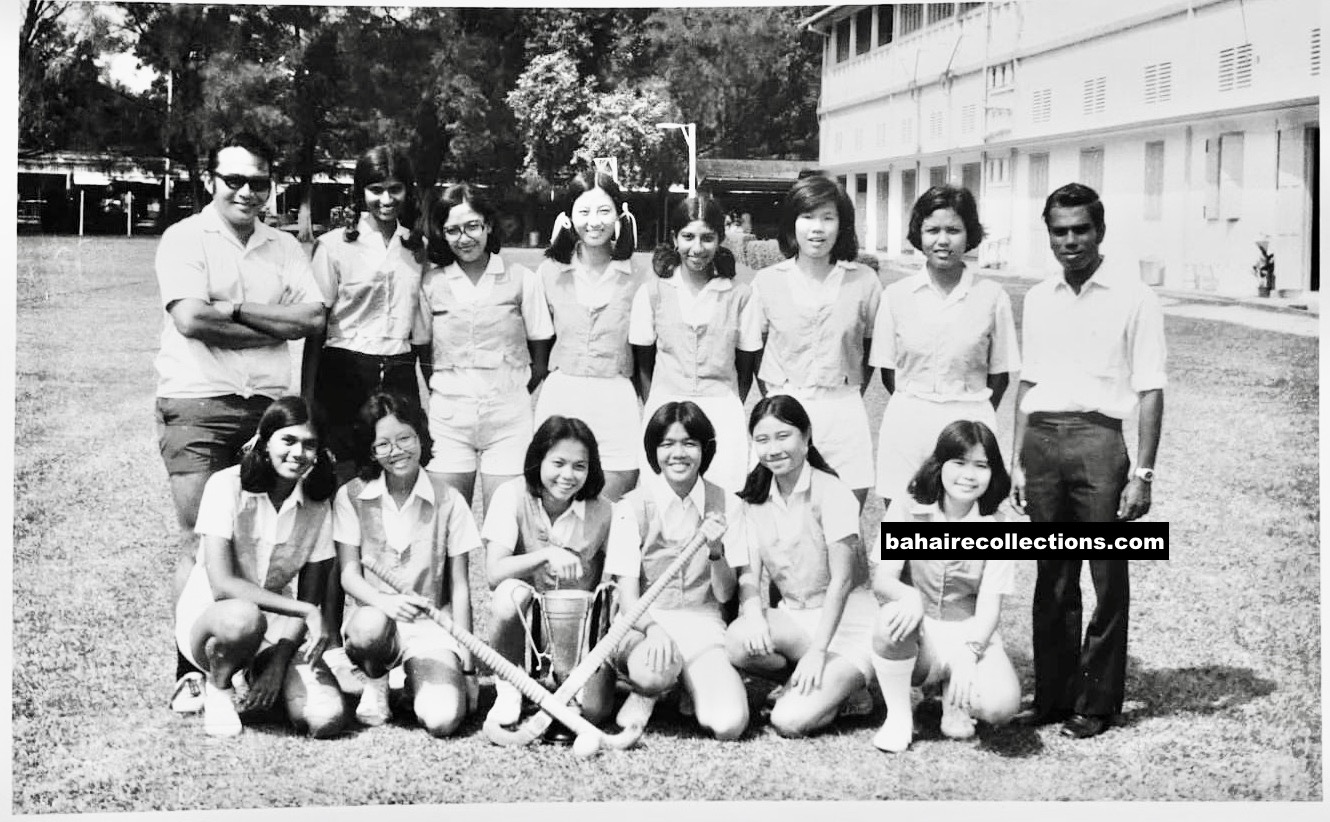 Sobhana squatting at extreme left was on the Hockey Team of the  Convent School at Birch Road, Seremban in 1975.  Next to her is Susan Chung, who is married to Gunendra and pioneering in Timor Leste at the time of writing.

Sobhana with her fellow student Amrit Kaur in 1978 during her sixth form at  the King George V, Seremban. In 1979 Amrit studied law while Sobhana did her bachelor degree in Arts.
As a postgraduate, Sobhana started her career as a teacher with Maktab Rendah Sains MARA or MARA Junior Science College in Kulim town in the state of Kedah in 1983 and was subsequently posted to MARA Junior Science College in Balik Pulau town in Penang island in 1985. Sobhana secured a teacher's post with the Language Centre at University Sains Malaysia in Penang in 1987, and that position added lustre for the Faith in Penang, and by extension in Malaysia in many ways.
Sobhana believed in excellence. In 1993, she was awarded two scholarships to pursue two degrees  at the Royal Holloway College, University of London – the British High Commissioner's Award  or what was called the British Chevening Scholarship for a master's degree in English Literature,  and the Ashes Scholarship  from University Sains Malaysia in Penang  to pursue her PhD.  With that she pursued her master's degree from October 1993 and completed it in September 1994. When her family visited her for the convocation ceremony in London, Sobhana placed the convocation cap upon her mother's head to cheer her with her own child-like heart.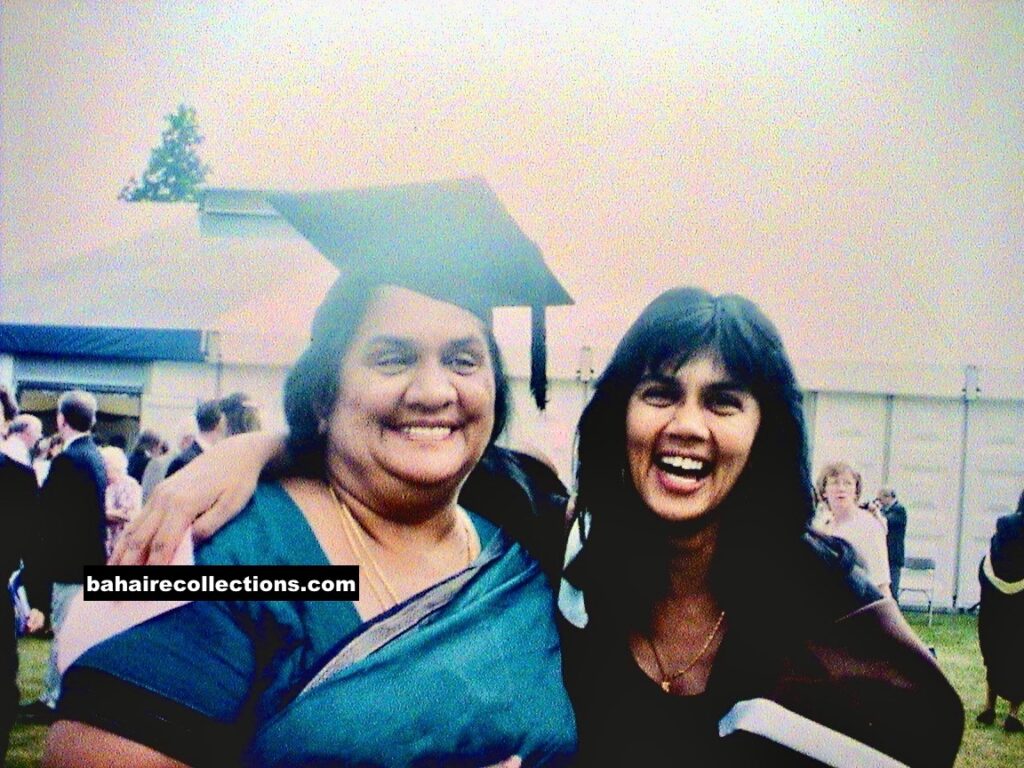 Sobhana with her mother at the convocation ceremony in London.
Upon completion of the master's degree, she started with PhD program in the same field of English literature. But as Malaysia went through a financial crisis, the Malaysian government called all  its students abroad to return to Malaysia  and continue, to cut cost. The Malaysian government introduced capital control to cut cost at every angle and this was yet one more step. In  November 1998, she returned to University Sains Malaysia in Penang  to continue her work. Sadly, it was at this point that she discovered that she was stricken with cancer, which shocked the members of her family. She had to give up her PhD studies to concentrate on medical treatment.
While any average person would have crumbled with this ailment,  Sobhana showed great bravery and courage in facing her challenges. She first took two years of medical leave to receive treatment in Kuala Lumpur and upon completion of her treatment, returned to work in Penang in January 2001. When she suffered a recurrence of the disease, she again took medical leave in February 2002 and returned to live with her family in Kuala Lumpur. That was about her academic excellence. And to her sisters she would say, "Always reach for the stars." Her outstanding scholarly pursuits has inspired many other devoted youths and students of Malaysia to follow in her exemplary  footsteps.
Meanwhile, knowing that her life on this earthly plane may not last long, in October 2000, Sobhana was moved to visit the holiest spot for Bahá'ís on this earth  to bow down her head at the sacred threshold of the Blessed Beauty, for perhaps the only time. She took along her mother who too was longing to visit the Holy Land, along with  her sister Shashi and her husband. From the Holy Land they  travelled to Germany to stay with Prem and  Navin, and their next destination was Scotland to visit Shashi and Crawford. Sobhana said that trip was the best  time in her life.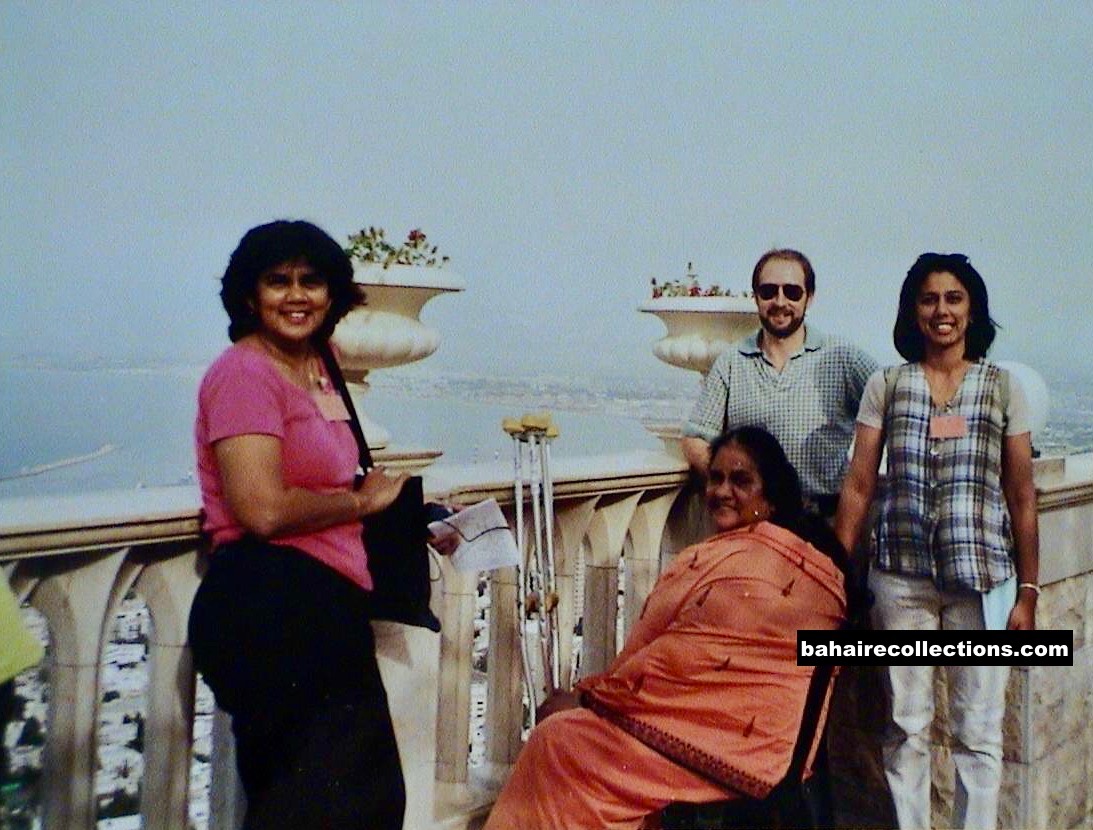 Overlooking the Bay of Haifa from the front of the Shrine of the Báb. L – R: Sobhana, Madam Ambiga, Crawford and Shashi.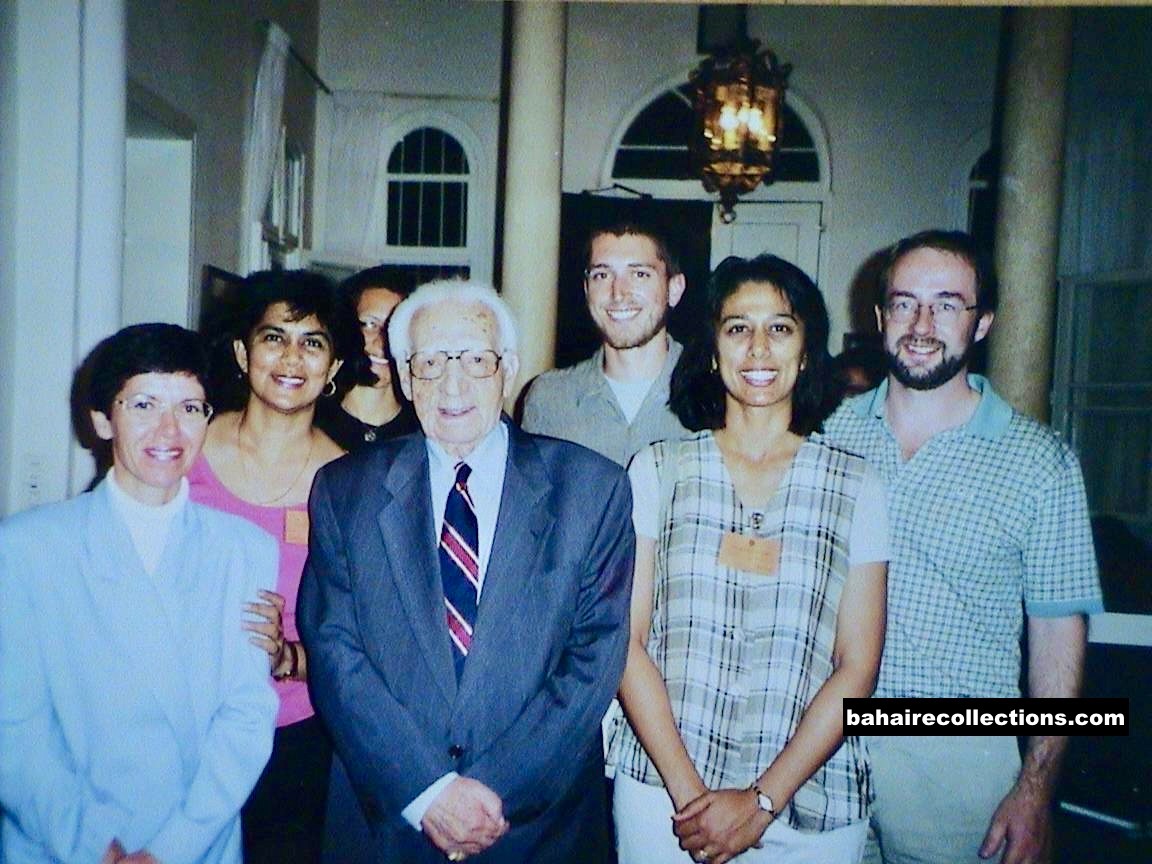 With Hand of the Cause of God Mr. `Alí-Akbar Furútan at the Pilgrim House. Sobhana is second from left. At extreme right is Crawford with his wife Shashi next to him.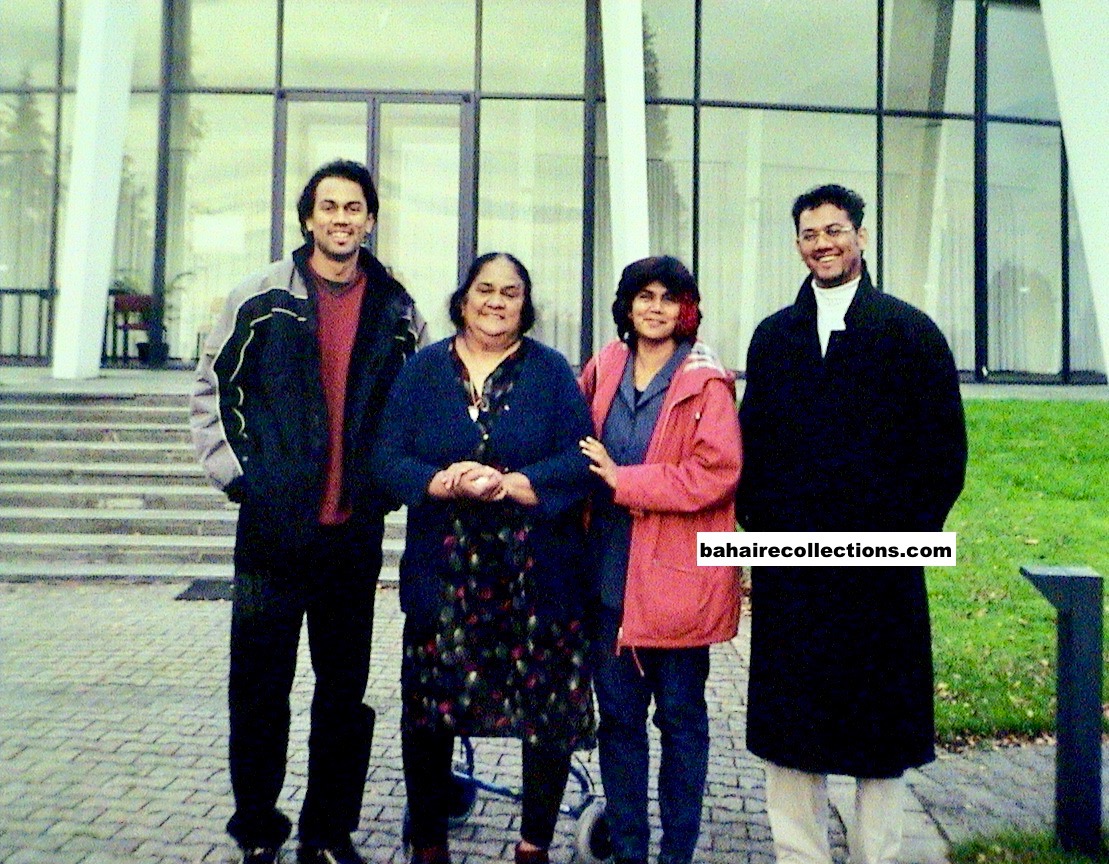 At the Bahá'í House of Worship in Frankfurt, Germany. L-R: Navin, Madam Ambiga, Sobhana and Prem.
SERVICE IN THE CAUSE
Sobhana was a Bahá'í who served the Faith in numerous capacities from her childhood days until her tragic passing, and always brought in rich harvests for the Cause. Her involvement in the Faith started with Bahá'í children's classes in Seremban, where Lily Ng was her children's class teacher and a source of great strength to her. Sobhana also had the privilege of receiving much love and guidance from Yankee Leong. Lily Ng recalls that Sobhana displayed many talents and leadership qualities even as a child, often taking the lead in organising children's class activities. She was a keen reader of Bahá'í books and was able to understand the Faith beyond her peer group even at an early stage in life. As she matured, she herself started conducting children's classes in Seremban and in nearby communities like Mantin. As a youth, Sobhana was a very active member of the Local Bahá'í Youth Committee of Seremban that won the Rose of Ridván award for several years as one of the outstanding youth committees in the country. She was in the forefront of Bahá'í activities and was seen in the Bahá'í Centre almost daily  to offer any assistance that was needed and took terrific efforts to assist visitors to the community. She, along with her siblings found coming to the centre the greatest joy, consolation and comfort during their early days. Throughout her stay in Seremban, Sobhana  proved to be a great asset to the community.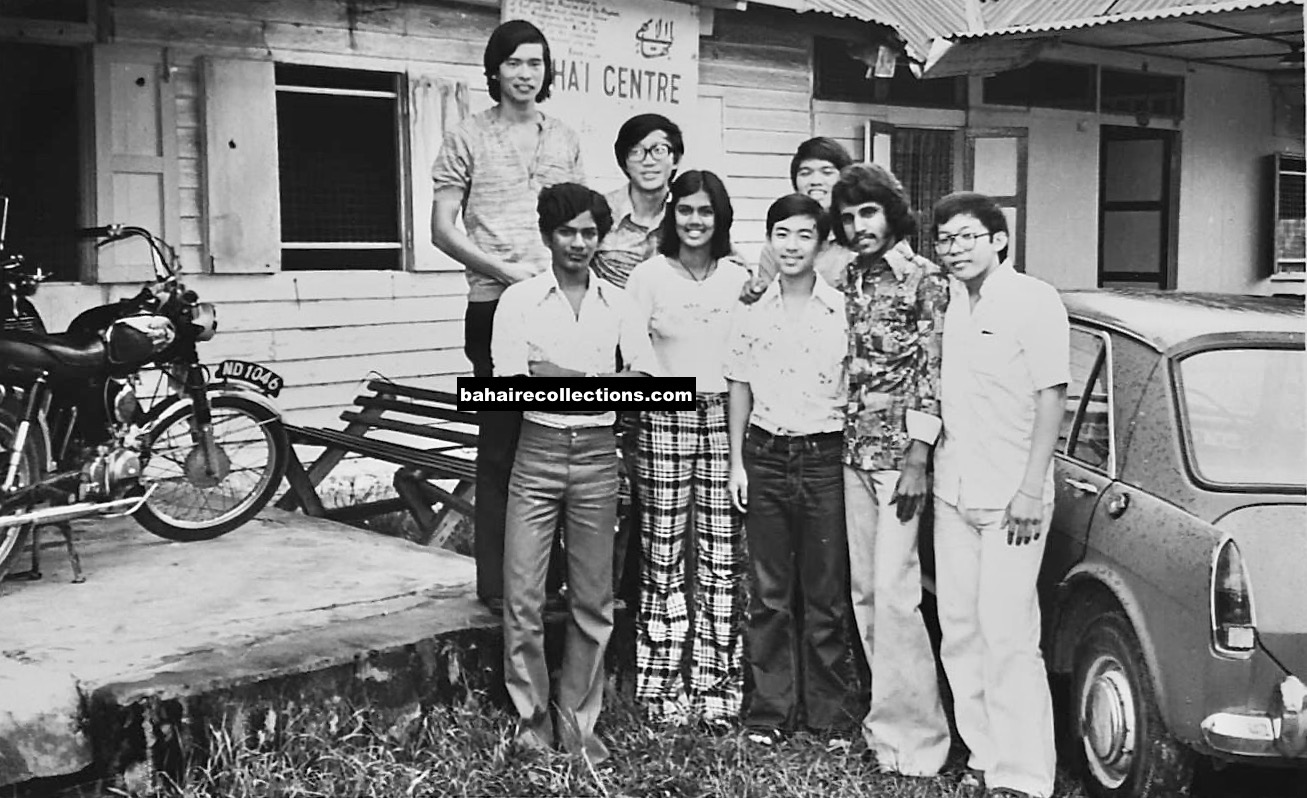 With the youths  at the Seremban Bahá'í Centre, 1976.  Front row L-R: Ritchie Anand, Sobhana, Wee Pang Lian, Vasudevan and Thock Kia Fang. Back row L-R:  Giam Chin Chai, Chua Teck Mean, and Wong Ah Loong.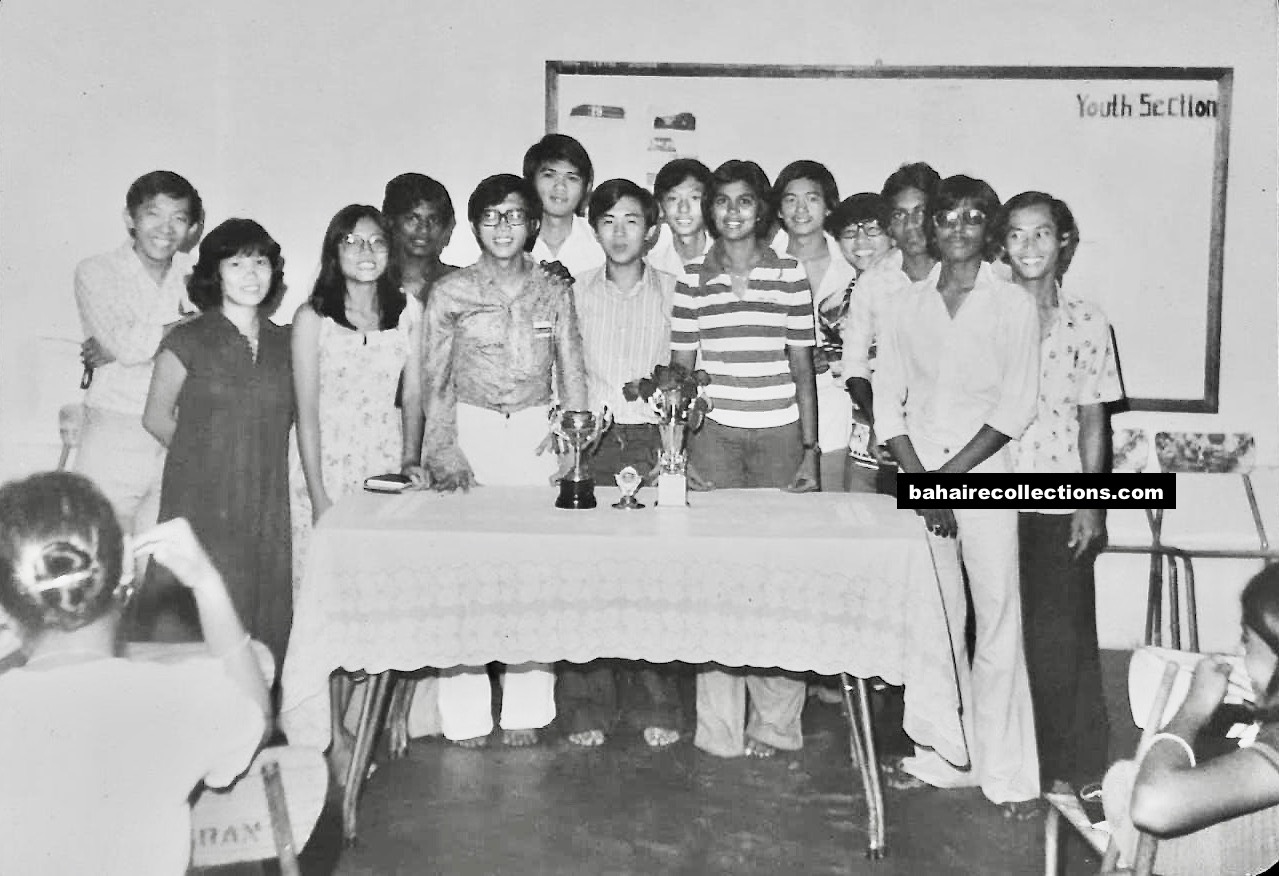 Winners of the Rose of Ridvan Challenge Trophy, 1977. Sobhana is in the centre, right.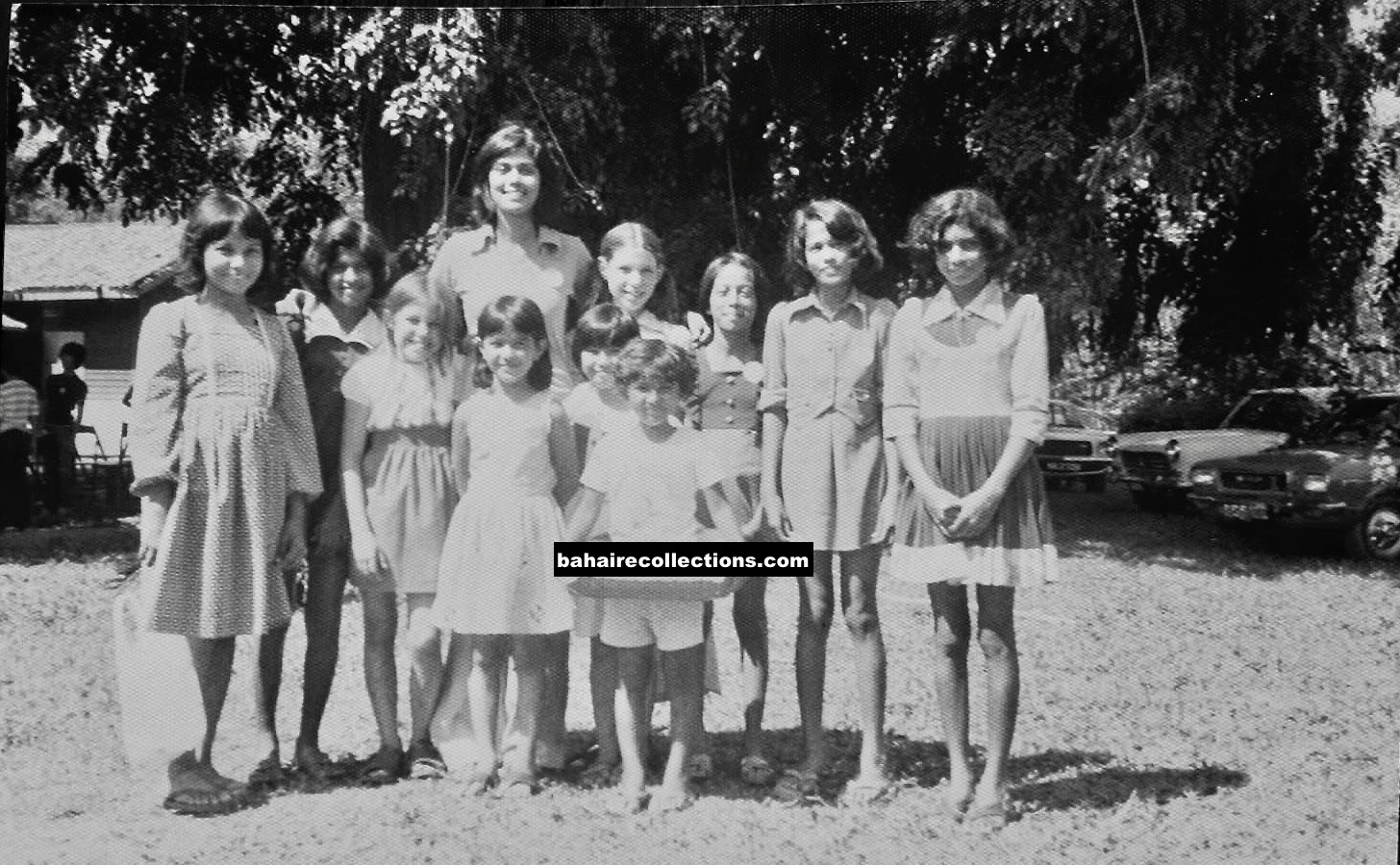 Sobhana taking charge of the children class at the Summer School held in Port Dickson in 1977.
Early on in her life, Sobhana showed a desire to serve in challenging areas. While in Seremban, she was involved in organising local and regional events, and paid articulate attention to every minute detail. Even as a student, she volunteered to be on the organising committee of the South East Asia Bahá'í Conference held in Singapore in 1977, and graced by Counsellor Florence Mayberry. Having developed a special affinity for the training of Bahá'í children, Sobhana volunteered to be a coordinator at the first Regional Children's Institute and Regional Conference  held at the Stella Maris bungalow in Port Dickson in August 1978. She also served as an Assistant to the Auxiliary Board member during this time, and travelled to some communities to conduct Bahá'í children's classes.
Sobhana served as an active  member of the University Malaya Bahá'í Society and was actively involved in activities in the communities of Kuala Lumpur and Petaling Jaya. She was a member of the National Bahá'í Youth Committee and contributed towards the consolidation and strengthening of youth in this country through numerous projects and activities. When residing in Penang, Sobhana served as a long-time Secretary of the Local Spiritual Assembly of the Bahá'ís of Penang, and when in Kuala Lumpur was the Secretary of the Local Spiritual Assembly of Kuala Lumpur for a brief period while receiving treatment for her cancer. Even during her studies in the United Kingdom, she served as Secretary of the Local Spiritual Assembly of the Bahá'ís of Runnymede in Surrey. She was also elected to the first Regional Bahá'í Council for the Northern Region of West Malaysia in 2001. Her academic excellence and deep knowledge of the Bahá'í Faith made her a natural choice for serving in the Association of Bahá'í Studies, the Centre for Bahá'í Studies and the Holiday College Board.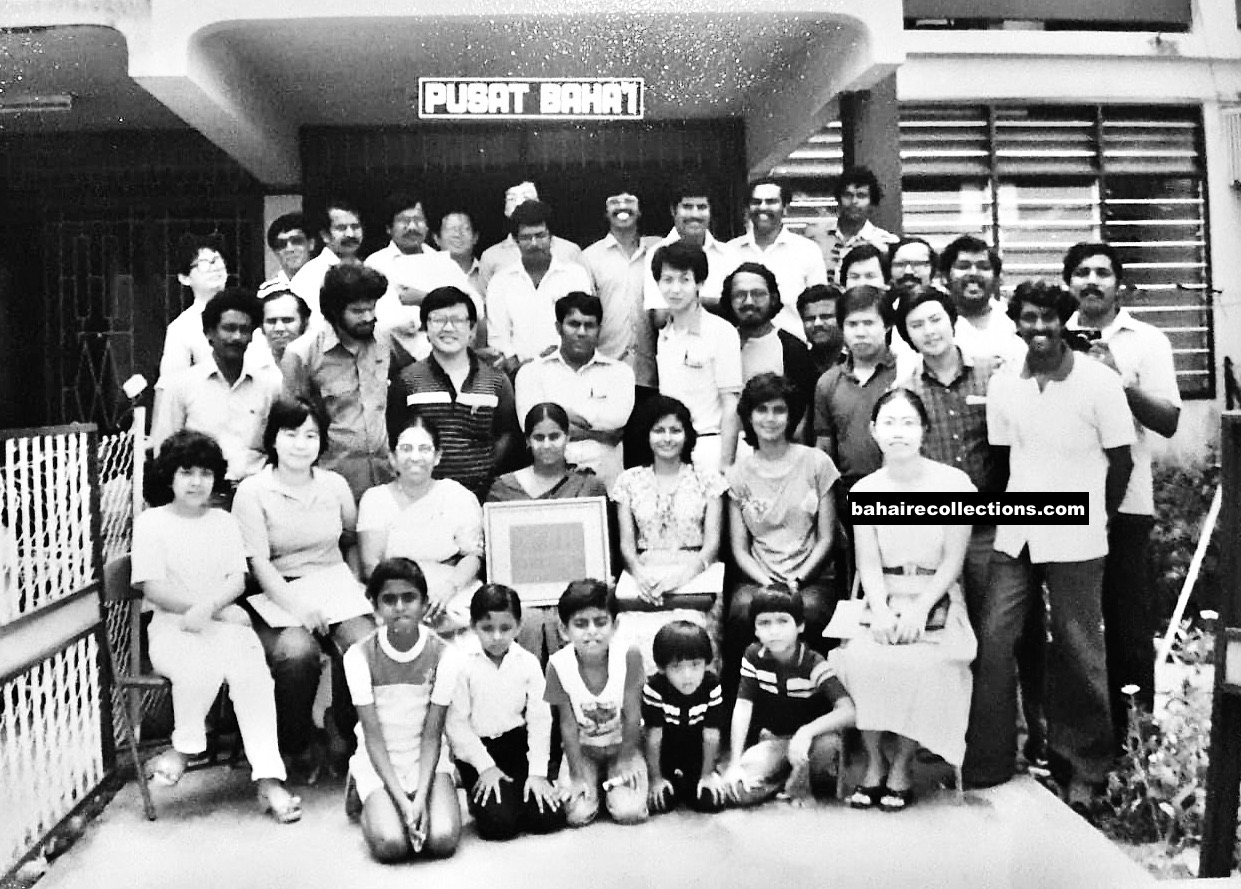 Sobhana, seated second from right with the believers of Sungei Petani.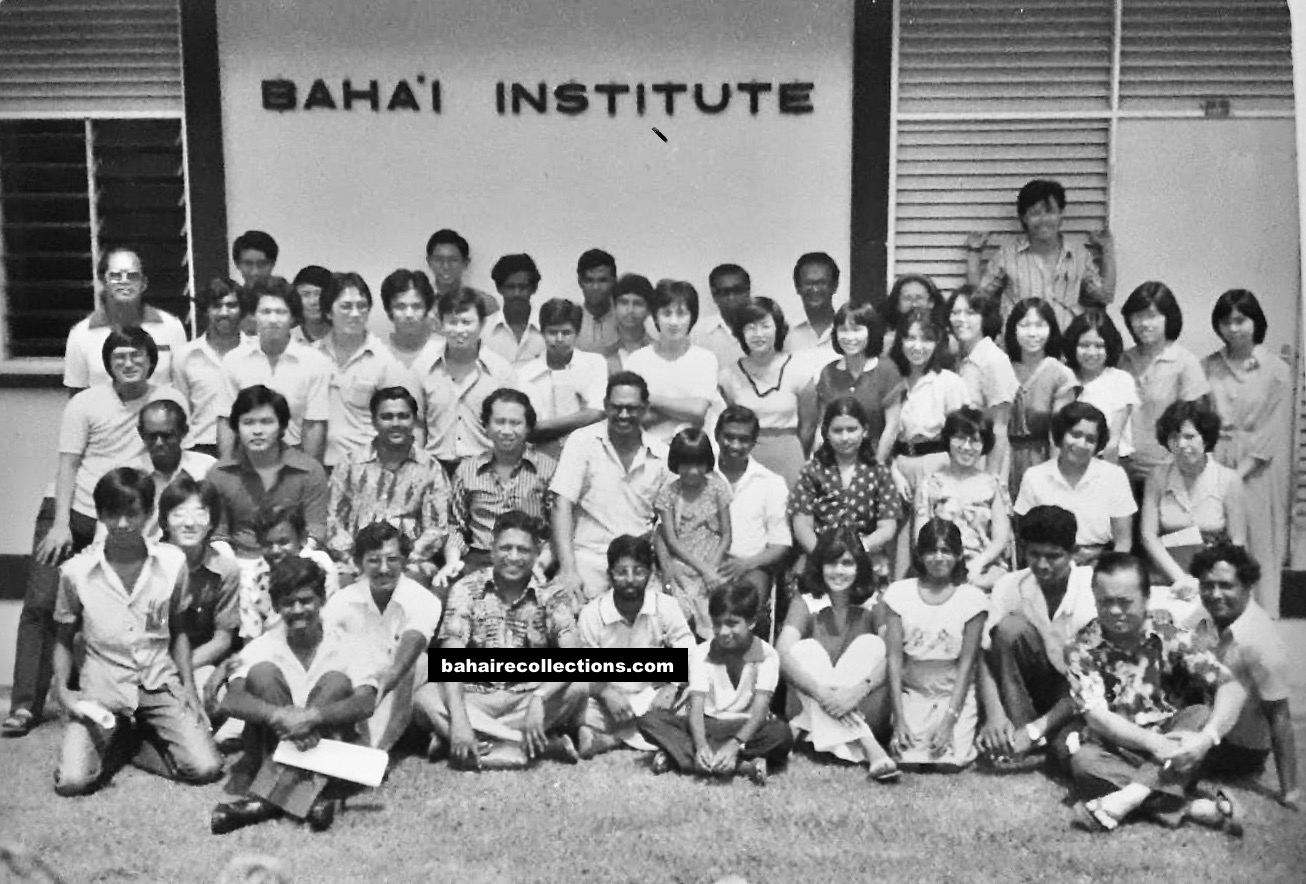 Sobhana squatting fifth from right at the Leong Tat Chee Teaching Institute, Malacca, 1981.
Sobhana was also a notable figure in the wider community. While in Penang, through the guidance of the then Counsellor Mrs Shantha Sundram, Sobhana became the Founding Secretary of the National Council of Women's Organisations in Penang. In this capacity, she represented the Bahá'í community in various Non-Governmental Forums on issues such as women, education and peace.

In Penang. L-R: Sobhana, Jeyabalan, Counsellor Dr. Chellie J. Sundram and Auxiliary Board member Mrs. Shantha Sundram.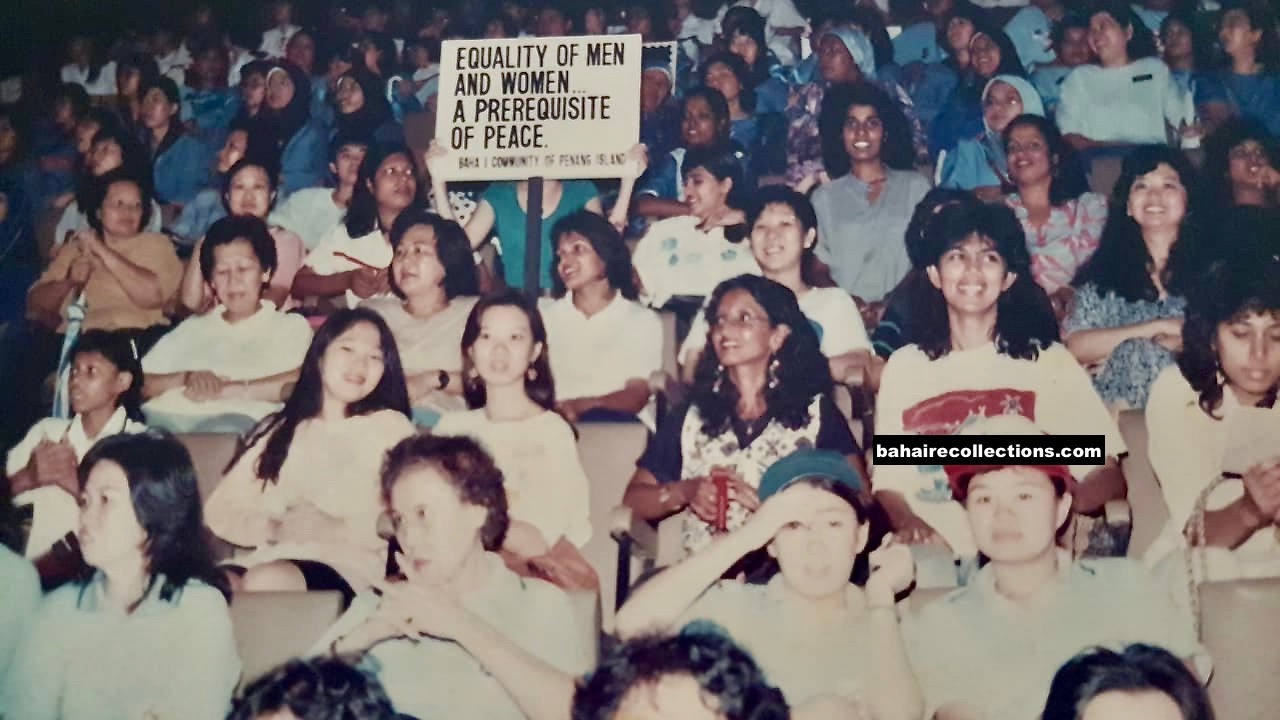 Sobhana among the members of the Bahá'í community of Penang at the observance of the Women's Day, September 1990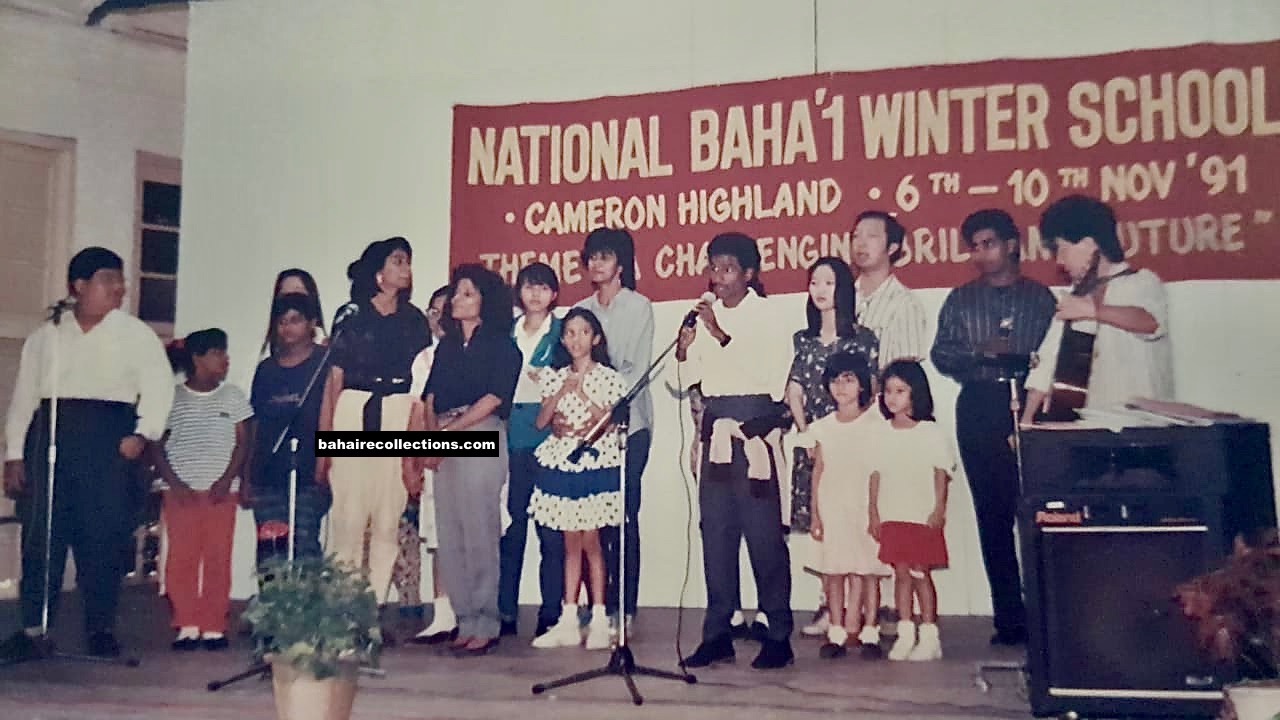 Winter School in Cameron Highlands, November 1991. Sobhana stands below the word Cameron in the banner.

Nothing but smiles at the Second Bahá'í World Congress in New York, 1992. L-R: Shashi, Sathy and Sobhana
AS WE REMEMBER SOBHANA
Sobhana will always be remembered as a firm and constant believer in the Faith from the day she accepted it until her last breath. She believed in doing her best for the Cause. She was a very good organiser of Bahá'í events and modelled her life very closely to the Bahá'í teachings. Some would describe her as a no-nonsense person as she never compromised on Bahá'í principles. Sobhana was very firm in her convictions, but flexible in her ways.
At many Bahá'í gatherings, meetings, and discussions Sobhana displayed a high level of intellectual capacity. It was also a joy to hear her expressing her views at local and national Bahá'í conventions, especially with great frankness, but in the right tone and spirit. Her respect for elders and for the institutions was simply beyond measure. Her obedience to the institutions was implicit. Sobhana was also an artistic person who loved to indulge in the fine arts, especially music, and she took an active part in the performing arts at Bahá'í gatherings and musical firesides.
One of Sobhana's her greatest assets was her radiant smile and dazzling eyes that attracted many towards her – both Bahá'ís and non- Bahá'ís. She possessed a powerful force, leaving great impact on those who met her, even for the first time. She was always positive in her thoughts and well-guarded in her speech which was coated with love and sincerity.
In the course of her numerous services, there was hardly any community in Malaysia that Sobhana never visited, both urban and rural. In many communities she had left a good impression of her services. Sobhana was a Bahá'í who won the admiration of a wide cross-section of the Bahá'í community. She believed in a clash of opinions, not of emotions, and was always the one to patch up differences following heated discussions.
People enjoyed her company because of the love and concern she showed them. As a true lover of humanity, she always lent a listening ear to people in distress and gave words of comfort and strength. Sobhana was always a balm to souls in distress. Wherever possible, she used to go out of her way to solve or relieve their problems, often unnoticed. She believed in good hospitality and was indeed a good host. She always welcomed guests with radiant spirit and made them feel very comfortable.
Sobhana had the ability to move freely with people from all walks of life including children, youth and even elderly people from both within and outside the Bahá'í community.
Sobhana was a firm and practical person, and she tried to handle life's challenges objectively. When she discovered that her disease had recurred, and after getting over the initial shock, she commented, "I may have fallen, but I am not finished!" Such was the fighting spirit in Sobhana. She was never a defeatist, but always looked for opportunities to scale hurdles. Even while enduring treatment for cancer, she was singled out by her surgeon as exemplary in her reaction to the disease. Sobhana offered comforting words and advice to other cancer patients who were finding it difficult to come to terms with their disease. Such was her courage in fighting for life, for she retained her brave and radiant disposition to the end.
THE FINAL JOURNEY
Some friends visited Sobhana in hospital during the last days of her earthly life and they were very disturbed when they saw her lying semi-conscious in bed, groaning in pain and grasping for breath. Bahá'ís from all over Malaysia who knew of her condition beseeched Bahá'u'lláh to let the Will of God to be done fast. Within a few days Sobhana's condition deteriorated rapidly, even to her doctors' amazement, and she passed away at 2:11 pm on Thursday, 10 April 2003.
A very befitting memorial was given for Sobhana at the residence of her sister Shashi and her husband Crawford. Large crowd of believers and friends gathered to pay their last respects.  A freelance journalist who attended her memorial service realised what a loss Sobhana's passing meant to the Bahá'í community in Malaysia and commented, "I knew Sobhana from a distance, but never realised that she was such a great person. It must be a real loss to the Bahá'í community." Naturally, her family and close friends found it difficult to accept the departure of this dear soul, one who was robbed of her life at its prime, and who was given such a short time on this earthly plane.
As her coffin was placed on stands for the friends to glance at her face for the last time before being lowered into the grave, her mother was seated  beside it, weeping away along with her family members and several youths who had congregated. S. Satanam who loved Sobhana very dearly from the time she was a child spent a long time looking at her face and weeping away. Emotions ran high among those who had gathered at the burial ground.
Thus came to a close a life well-lived, of one who strove, by day and night through life's challenges, to be an illustrious handmaiden of the Blessed Beauty.  One can  be solaced by this quotation from the Hidden Words, which was one of Sobhana's favourite: "To the true lover, reunion is life and separation is death. His breast is void of patience and his heart had no peace. A myriad lives he would forsake to hasten to the abode of his Beloved.'' She is now with her Beloved.
Yet, she clearly and truly has won the hearts of each and all through her indelible and impactful services rendered in those short-lived years on this earthly plane.  Sobhana Kumaran was one of Malaysia's most distinguished stalwarts whose exemplary spirit and unshakable loyalty will fondly be cherished for posterity. Her passing is deeply mourned even to this day, not only by members of her own family but also by those who knew of her relentless and exemplary services to the Faith and of the indelible service and legacy she has left behind. The believers who were closely associated with Sobhana feel most keenly for the loss of so precious and faithful a co-worker who provided invaluable assistance to the growth and maturation of the Faith in Malaysia in her own humble way. History would have it that Sobhana was a shining example to the youth in Malaysia. Only those who come after us will be in a position to appreciate the indelible traces left by this noble  and precious soul.
Resting Place of Sobhana at the Bahá'í  Memorial Park, Seremban.
A. Manisegaran
31 July 2021
Copyright@bahairecollections.com
Comments can be posted through:  info@bahairecollections.com