REMEMBERING KIT YIN KIANG

Kit Yin Kiang
28 April 1939 – 11 June 2012
Here is a brief story of Malaysia's first pioneer to Taiwan. The outstanding services of this pioneer extraordinaire shall forever be remembered in the pages of the history of Bahá'í pioneers.
Kit Yin Kiang, born in Jasin in 1939, came across a booklet on the Bahá'í Faith in 1957 which he read and became interested to learn more. Through his close friend one Mr. Chiam, he befriended Tushar Kanti-Paul, a Bahá'í and youth teaching in Jasin. Kit was taken to special firesides in Jasin itself each Thursday where Tushar Kanti-Paul was the speaker. Most of the time Kit was the only enquirer. Tushar cleared up several of his doubts. Even while investigating the Faith, Kit was already helping the Bahá'í teachers in translating talks on the Faith among some Chinese speaking people in Diamond Jubilee Estate, Rim Estate, Jasin Lallang Estate, and Bemban. One afternoon in early 1958, Shirin Fozdar came to give a talk in Malacca town for a group of thirty people. At the end of the talk, Kit signed up in the  Bahá'í declaration card. He became the first Jasin born ethnic Chinese to become a Bahá'í. But as soon as he became a Bahá'í, Kit Yin Kiang was even more active in teaching the Faith in the surrounding areas of Jasin as well as in several parts of Malacca state. He was all over Malacca state participating in Bahá'í activities.
Leong Tat Chee encouraged him to go to Taiwan as a pioneer, but Kit wanted to organize his life first. When in May 1962, Inbum Chinniah was posted to Jasin as Headmaster of the Secondary Vocational School, Kit worked as a part-time clerk in the school. Inbum desired to see the career development in Kit and so enrolled him in a correspondence course and Kit passed the examination. After passing the examinations in 1962, Kit joined the Bilut Valley Federal Land Development Authority (FELDA) Scheme in Bentong, Pahang. While serving the Faith in Bentong in 1966, Kit brought the Faith to the Asli settlements in Bentong area and brought 20 Asli people into the Faith. In 1967, he served on the Asli Teaching Committee and undertook teaching trips to Asli villages in the jungles.
When S. Vasudevan Sanggaran Nair started to stay in the Bahá'í Centre  in Setapak, Kuala Lumpur from the end of December 1965 and serving as Secretary of the National Spiritual Assembly of Malaysia, Kit Yin Kiang used to come from Bilut Valley on Saturdays and return by the last bus on Sundays weekends to give a helping hand to Vasudevan in his administrative works. But on Naw-Rúz  day Vasudevan sent a telegram to Kit, which read,
'COME IMMEDIATELY TO KL DR MUHAJIR IS IN TOWN'.
Kit sensed some urgency and took three days off from work and arrived in the National Center. As soon as Kit arrived Vasudevan welcomed him and mentioned that the Supreme Body had asked Malaysia to send a pioneer to Taiwan under the Nine-Year Plan and Kit was selected for this noble task. Kit gave a counter-proposal to go to Sabah instead. Vasudevan replied that what was needed was a pioneer to Taiwan and not a traveling teacher within Malaysia.  Then Dr Muhájir spoke to Kit and explained the urgency of the situation and he agreed to pioneer to Taiwan. Dr Muhájir took some friends for lunch for a double celebration – Naw-Rúz and the acceptance by Kit to pioneer to Taiwan.  In early May 1967, Vasudevan himself went to India to pioneer and Inbum Chinniah as the new Secretary of the National Assembly assisted Kit in leaving the country. Obtaining passport and visa were unknown to him and within five days they were sorted out. But the management of the Federal Land Development Authority (FELDA) had to reluctantly release one of the best workers. In the recommendation letter that the Manager of FELDA gave Kit, one sentence read, "Kit Yin Kiang is a  person who does not know the word 'impossible'." The manager was right as could be seen in what marvelous work he had done as a pioneer.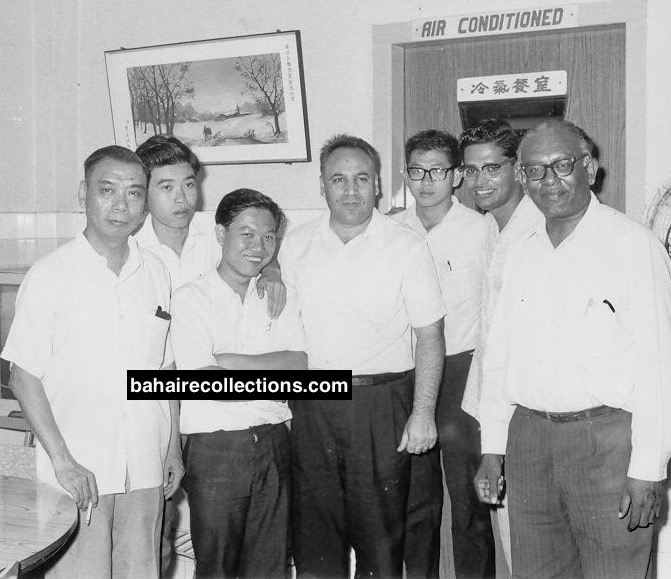 Naw-Rúz lunch. L-R: Wong Kok Mee, Lee Wai Kok, Kit Yin Kiang, Dr. Muhájir, Lim Kok Hoon, Vasudevan, and Appu Raman.
At the age of 27, and as a bachelor Kit Yin Kiang arrived in Taiwan to fulfill a goal given to the National Spiritual Assembly of Malaysia and earned the distinction of being the first Malaysian pioneer to Taiwan. Kit arrived by boat in the Kee Lung port of Taiwan on 8 August 1967, he was elected to the first National Spiritual Assembly of Taiwan in a by-election held on 20 August 1967. At another by-election held in November that year, he was elected Secretary of the national institution. He thought of remaining in Taiwan for two years, but circumstances led him to stay on longer, till 2002.
National Spiritual Assembly of 1968. Seated L-R: Mrs. M. Molin, Mrs. Elizabeth Yen (Treasurer) and Mrs. R. Suleimani. Standing L-R: Kit  (Secretary), John Huston, Yu Su-Ho, S. A. Suleimani (Chairman), Lin Yi-mou and Wand Tseng- ming (Vice-Chairman).
When Kit arrived, he found himself to be miserable, alone and inexperienced. He missed the Bahá'í gatherings and fellowship of Malaysia and hoped other  Bahá'ís from Malaysia would come along to pioneer in Taiwan. But that was not to happen. Resigning to the Will of God he kept on reciting the Tablet of Ahmad, of which together with a few other specific ones have been invested by  Bahá'u'lláh with a special potency and significance to keep his spirit high. Among his immediate activities were presenting Bahá'í books to libraries, colleges, and universities, and contacting aboriginal people. Soon his activities snowballed and were able to measure up to more than what was expected of him.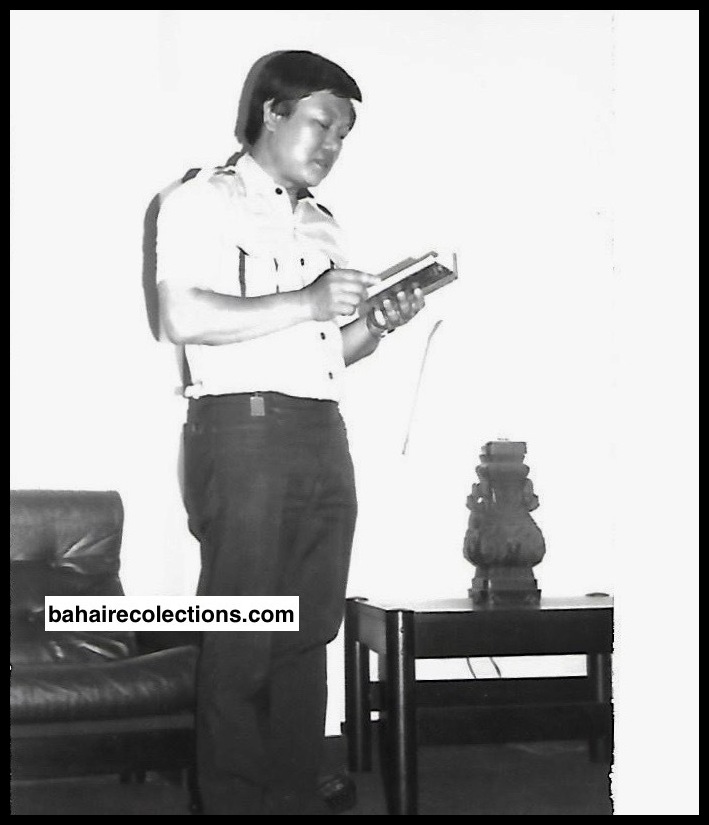 Kit, a full-time worker for the Cause.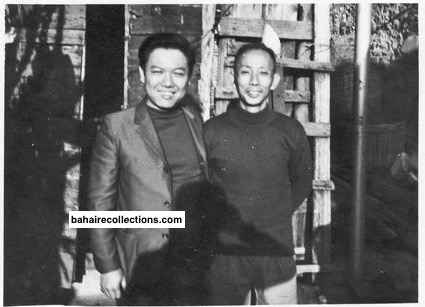 Kit with a believer in Taiwan.
Just a year earlier, at the suggestion of Hand of the Cause of God Dr Muhájir, a  Bahá'í Centre was purchased in 1966 under the name of Dr S. I. Dean from Hawaii. But the documentation work with the government authorities was delayed owing to untold complications and administrative red tapes and bottlenecks unfolding one after another. When Kit came to Taiwan, he was one of those who was assigned along with pioneers Dr S. I. Dean and Orpha Daugherty to sort this out. The authorities were looking for some favors to get the files moving, but the believers did not cave in to their demands Finally Kit did a marvelous job and in 1972 that the title was registered under the name of the National Spiritual Assembly of Taiwan. Having occupied the property, Kit was appointed its caretaker. And as the Secretary of the National Spiritual Assembly, he had his office that was facing the afternoon sun and the scorching heat of summer burnt his skin. He worked in that office in the mornings, and in the afternoon shifted to the kitchen area to work, as that area was relatively cooler in summer. As secretary of the national institution, he had to organize several activities.
There were times when Kit was with some Malaysian believers who were in Taiwan. In 1968, Leong Tat Chee went to Taiwan for travel teaching. He and Kit Yin Kiang travelled to several parts of Taiwan teaching the Faith to the people and visiting Bahá'í friends to deepen them. Chang Chee Phing who accepted the Faith in Taiping, Malaysia went to Taiwan in 1974 as a pioneer and served on the National Spiritual Assembly and as an Auxiliary Board member, and he and his wife went to Thailand in 1989. Goh Khye Seng who accepted the Faith in Malacca was pioneering in Hong Kong in 1975 and owing to the visa issue, he went over to Taiwan. The National Spiritual Assembly of Taiwan proposed to help him get a one-year missionary visa to do full-time work for the Faith in the National Centre and carry out travel teaching in Taiwan. Yip Kim Fook of Bidor town in Malaysia pioneered to Taiwan in February 1979 to under the Five- Year Plan and served on the National Spiritual Assembly and as an Auxiliary Board member. He returned to Malaysia in February 2006. Counselor Yankee Leong was one who was coming often to Taiwan right up to 1981. Kit Yin Kiang was a good company to all of them and they teamed up to carry out several teaching activities as well.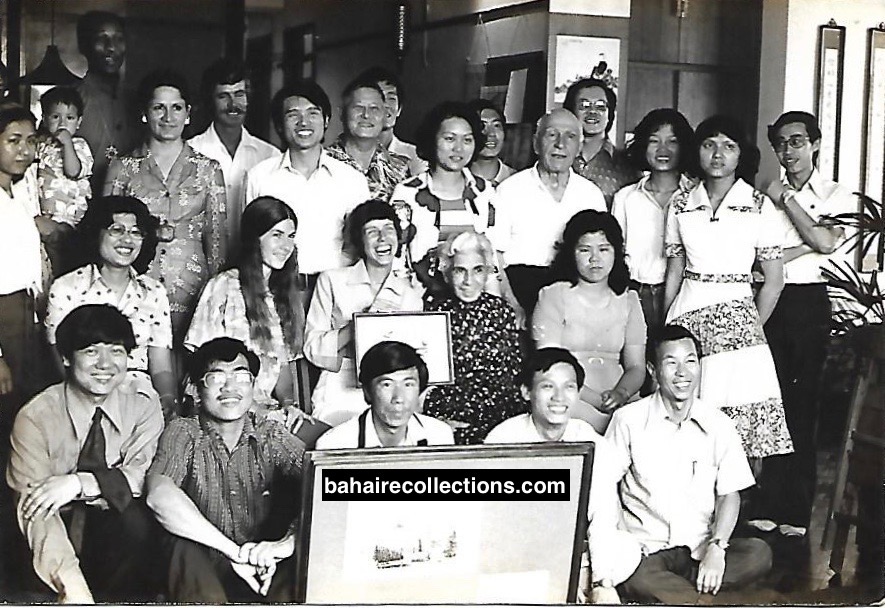 Malaysian pioneers with friends in 1977. On the floor  L-R: Kit Yin Kiang, Howard Tsai Tan Jung from Sarawak, Goh Khye Seng. Chang Chee Phing stands at the extreme right. Seated fourth from left is Mrs. Suleimani, and standing at the back towards her left is her husband Mr. Suleimani. The Suleimanis are the first pioneer couple to have come to Taiwan.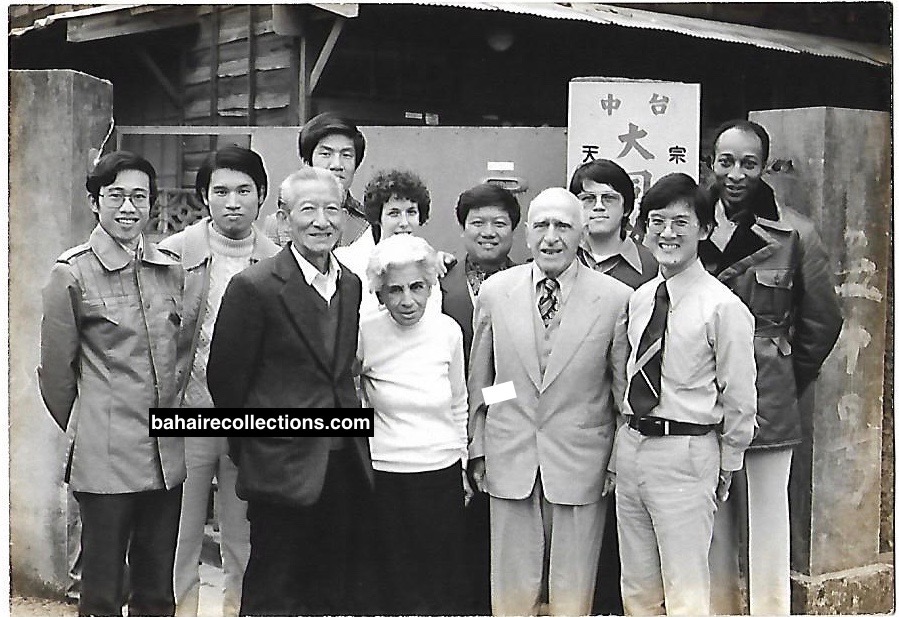 1976 gathering. Front Row L-R: Yankee Leong, Mrs. Suleimani, Mr. Suleimani, and Michael Hsieh.  Second-row L-R: Chang Chee Phing, David Huang, John Cheng, Roxanne Terrel, Kit Yin Kiang, Dale Eng, and Jess Willis.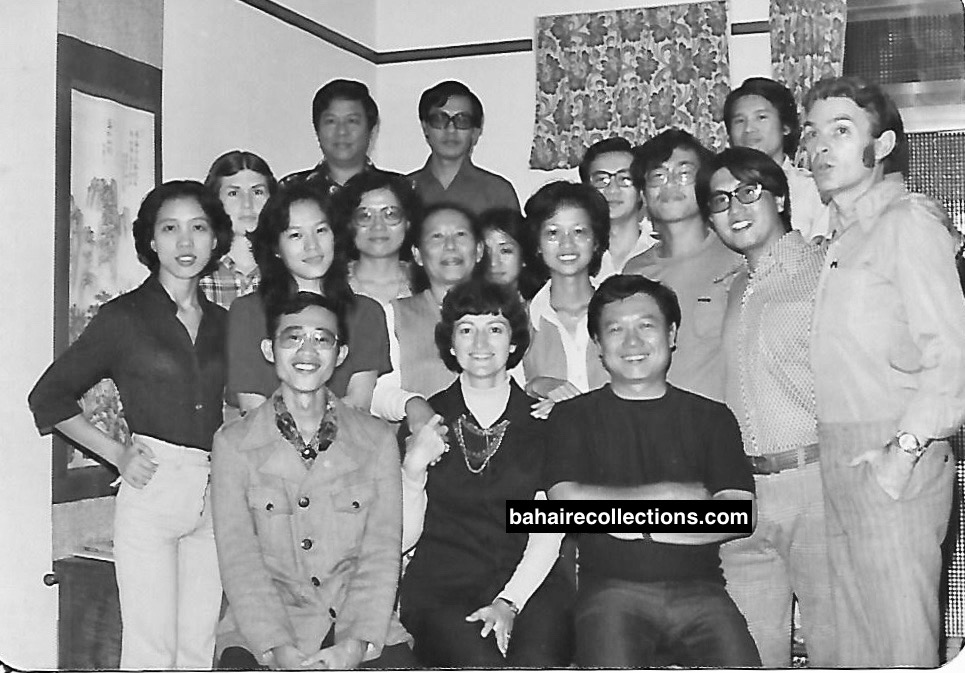 Gathering of 1978. Seated L-R: Chang Chee Phing, Ms. Gorski from the Bahá'í World Center and Kit. Lily Ng of Malaysia is at the back of Ms. Gorski.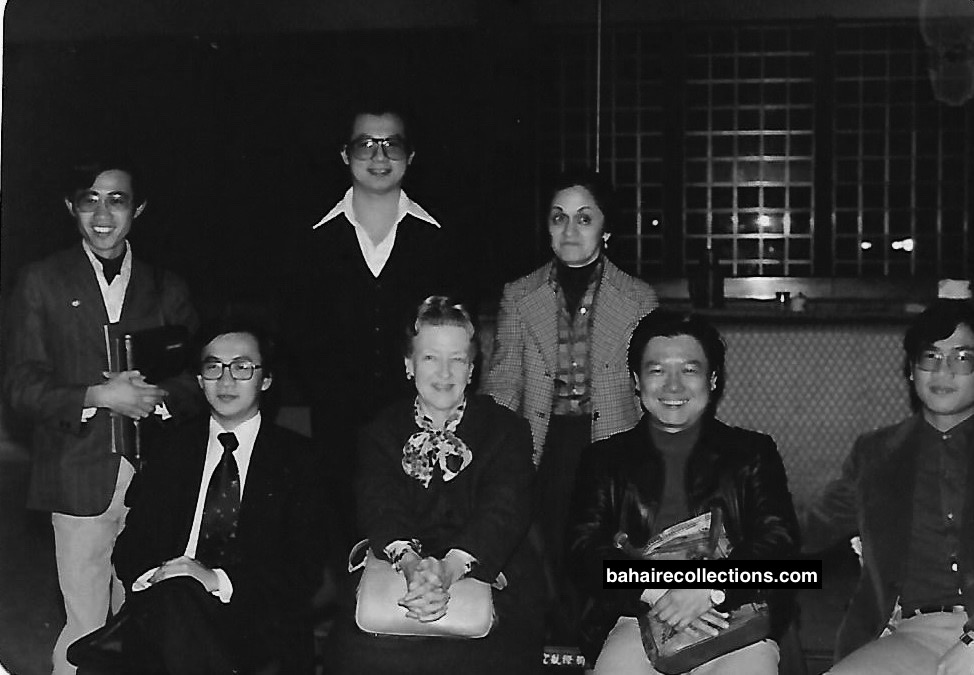 Amatu'l-Bahá in Taipei with Malaysian pioneers, 1979. Seated L-R:  Fong Kim Weng, Amatu'l-Bahá, Kit and Howard Tsai. Standing L-R: Chang Chee Phing, Alan Lai Weng Keong, and Violet Nakhjavani.
From the moment he went pioneering the political situation between China and Taiwan was not cordial and in the course of teaching the oneness of mankind, Kit was very much misunderstood and interrogated by the authorities. After Leong Tat Chee returned to Malaysia, trouble started for Kit. One  Colonel from the Garrison Command came to the Bahá'í Centre to enquire if Leong Tat Chee had ever in Lukang township if Bahá'ís are communists. When Kit denied vehemently and adding that Bahá'ís are not supporters of communist movements, the Colonel asked for a full report of the places and people Leong Tat Chee and he had met. Kit wrote the report and submitted. He realized that the Bahá'ís were under investigation by the authorities. So, teaching the Faith had to stop for two years from 1968 to 1970. The Bahá'ís turned this unfortunate situation into their favor. The more the authorities investigated the Faith, the more comfortable and relaxed they felt with the teachings, principles, and activities of the Bahá'ís. Finally, the government started to understand and appreciate the beauty of Bahá'í teachings and its power of positive influence towards the betterment of society. The Faith in later years became more respectable and acceptable by the authorities and was recognized as one of the positive forces of change for the Taiwanese society. Kit Yin Kiang was among the vanguards who played the leading role in bringing about this change.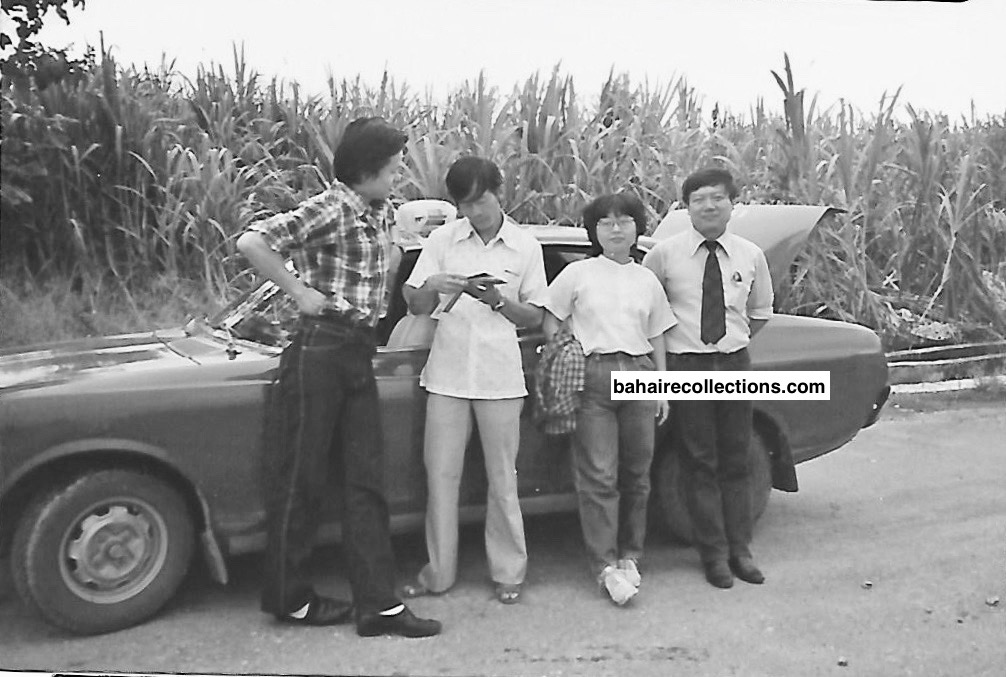 Travel teaching  in Kwang Fu County Hualian, 1979. L-R: Jackie Liang, Shen-Den Lee, Ms. Lai and Kit.

Kit was acutely aware, as time went by that a pioneer's life was to be prepared for the unexpected to happen any time. To cite an unfortunate incident, one day Kit rode his motorcycle from his working place to see Chang Chee Phing in the National Bahá'í Centre, and on his way, got hit by a vehicle and broke his left shin bone. He was hospitalized and had a stainless steel blade fixture to mend the fractured bone. During recovery, he showed a great sense of patience and peacefulness and even humorously made a joke that he had just become an iron man. Even in distress and sorrow, he was able to laugh it off.
Where work for the Faith was concerned nothing was too much trouble for Kit and there was always time. Around 1972, Mr. Edgar Olson, also known as Olie, an American pioneer to Guam in the 1950s came to Taiwan with his wife to assist with the local friends in the purchase of a couple of plots of land for the purpose of the endowment. After the negotiated amount was fully paid, a couple of the co-owners of the property from the Chen family unexpectedly died before the land title deeds were transferred to the national assembly. For the purpose of getting the transfer of title deeds, Kit had to make numerous trips regularly to negotiate with the Chen family in Linkou where the land was located. It was a three hour go and return ride on a motorcycle. Under normal circumstances, one would have given up. But during the numerous visits over several years with so much patience, pain and dedication, one of the Chen clan members became a Bahá'í. Finally, after Kit had left Taiwan the matter was resolved. Kit did not spare any segment in society in giving the Faith. He and Chang Chee Phing took the Faith to an aboriginal village in Rui Sui county Hong Yeh village, Hualian. Kit used tremendous wisdom in  teaching in the aboriginal village. He first gave the Faith to the head of the village, and only thereafter he gave the Faith to the villagers.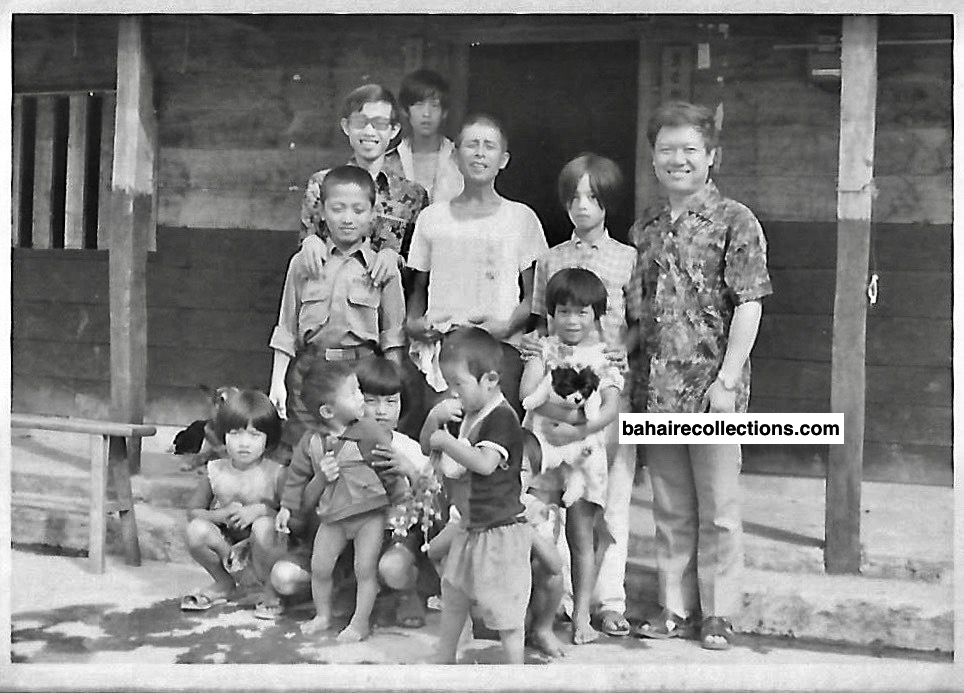 Visiting an aboriginal in Hong Yeh village, Hualian. Chang Chee Phing at left and Kit at the right.
While Kit was in Taiwan, he was not making frequent visits to Malaysia and almost became a believer lost in the horizon. The Malaysian believers did not have a direct touch with him except those who went to Taiwan for Bahá'í work. After landing in Taiwan it took him nine years to return to Malaysia to renew his passport. He was just an unsung hero to the many believers. It was at the Regional Bahá'í  Conference of South East Asia held in Port Dickson in December 1976 that he appeared on stage in Taiwanese traditional dress and gave a short speech. It was then that the forgotten hero was brought back to remembrance – this too by the earlier generation of Bahá'ís.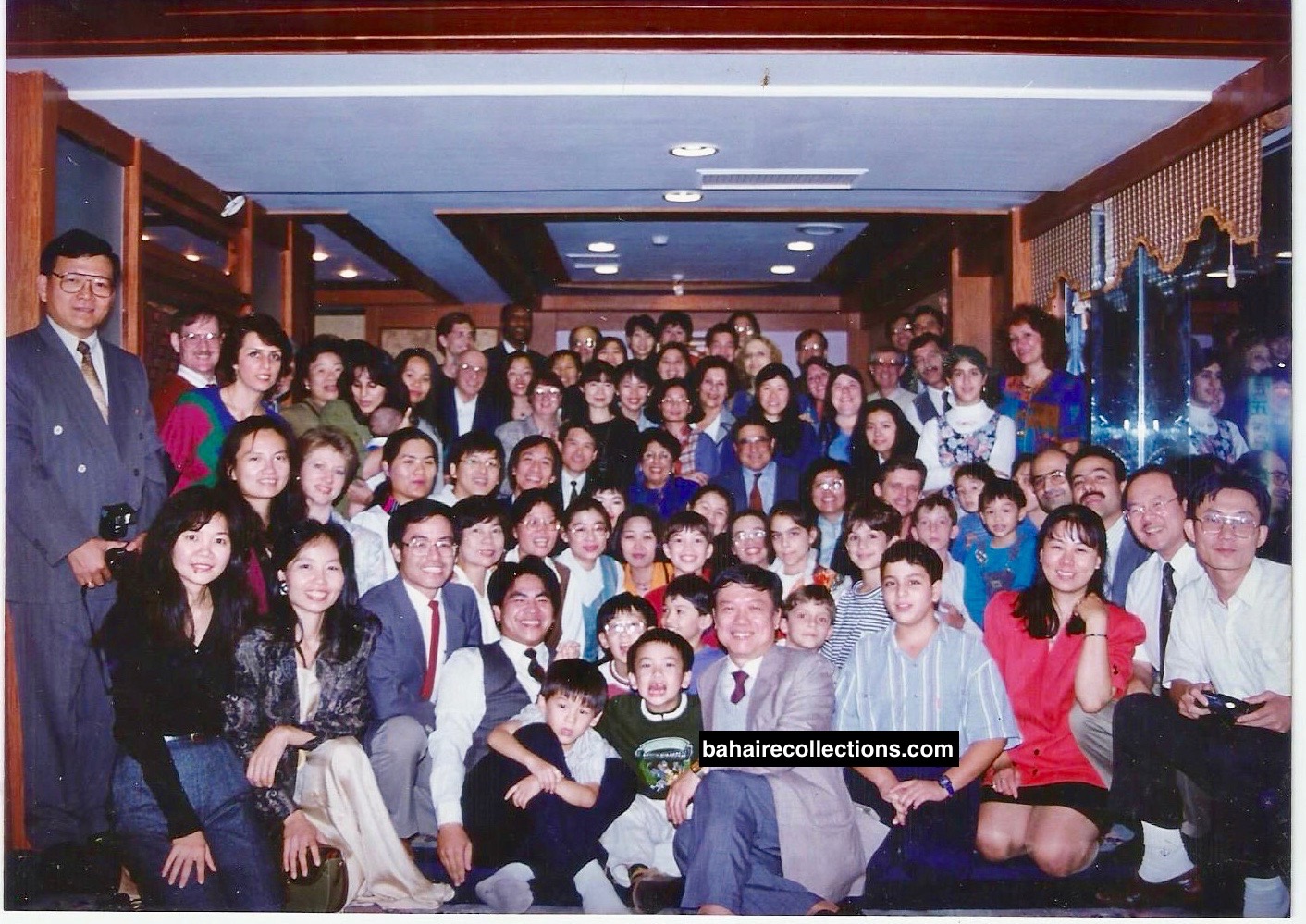 Visit by Member of the Universal House of Justice member Mr. Hushmand Fatheazam to Taichung in 1994. Yip Kim Fook stands at the extreme left.  Kit is frontmost, centre.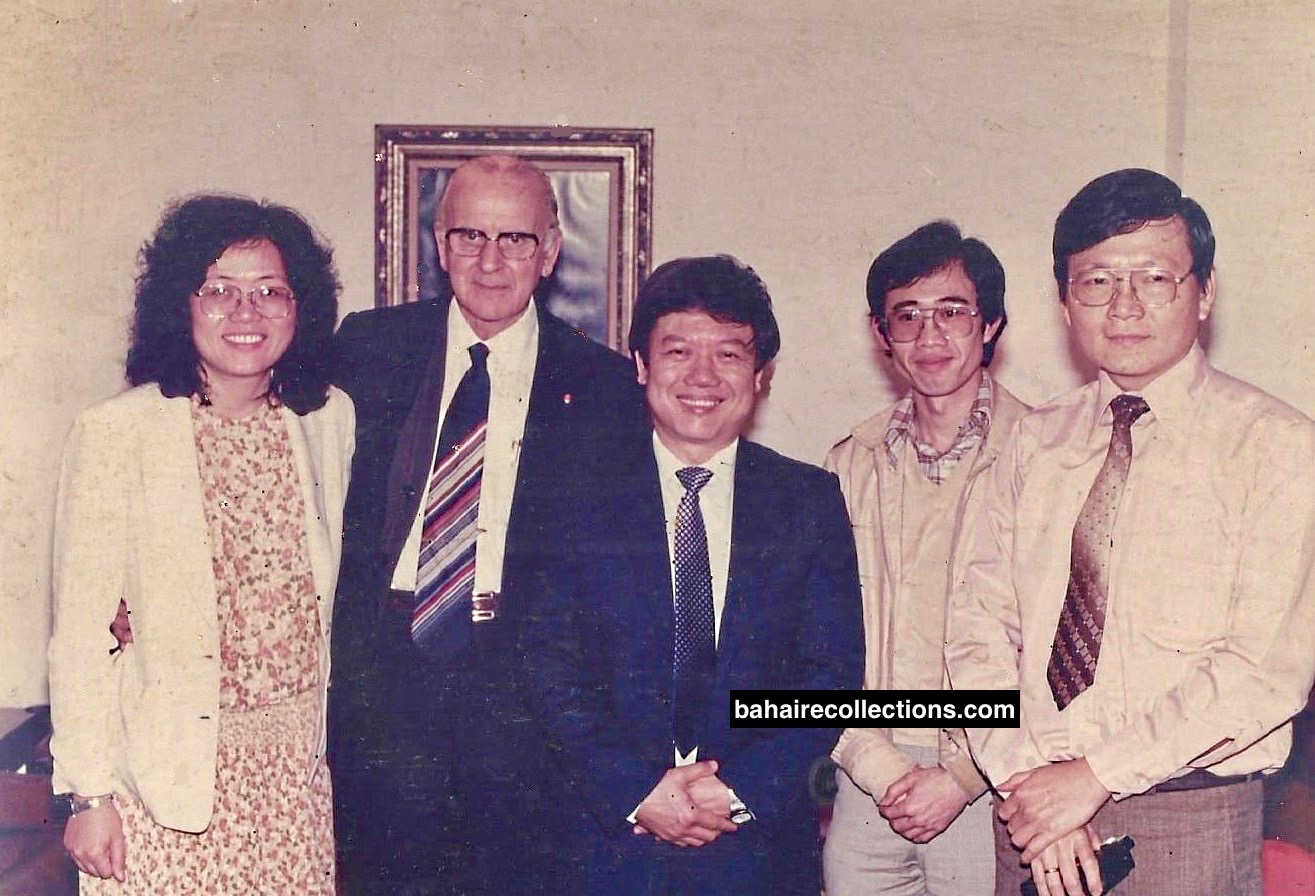 Hand of the Cause of God Mr. Featherstone meets the four Auxiliary Board members in the Haziratu'l-Quds in Taipei in March 1984. L-R: Mrs. Jean Boone, Mr. Featherstone, Kit, Chang Chee Phing and  Yip Kim Fook.
While serving the Faith in Taiwan, he also wanted to be independent in finance.  For some time, he was teaching English in Taiwan and earning USD60 per hour. In 1986, he started to show interest in business and in 1988 he joined a group of friends to form an export company and undertook business trips to India, Jordan, Lebanon, Egypt, and Syria where he also took the opportunity to meet the Bahá'ís.
He was a very wide traveler to many countries to promote the Faith. In 1986, he had the bounty of visiting the House of the Báb and Bahá'u'lláh in Iran. After attending the opening ceremony of the Bahá'í House of Worship in New Delhi in December 1986, he visited Calcutta for teaching the Chinese there.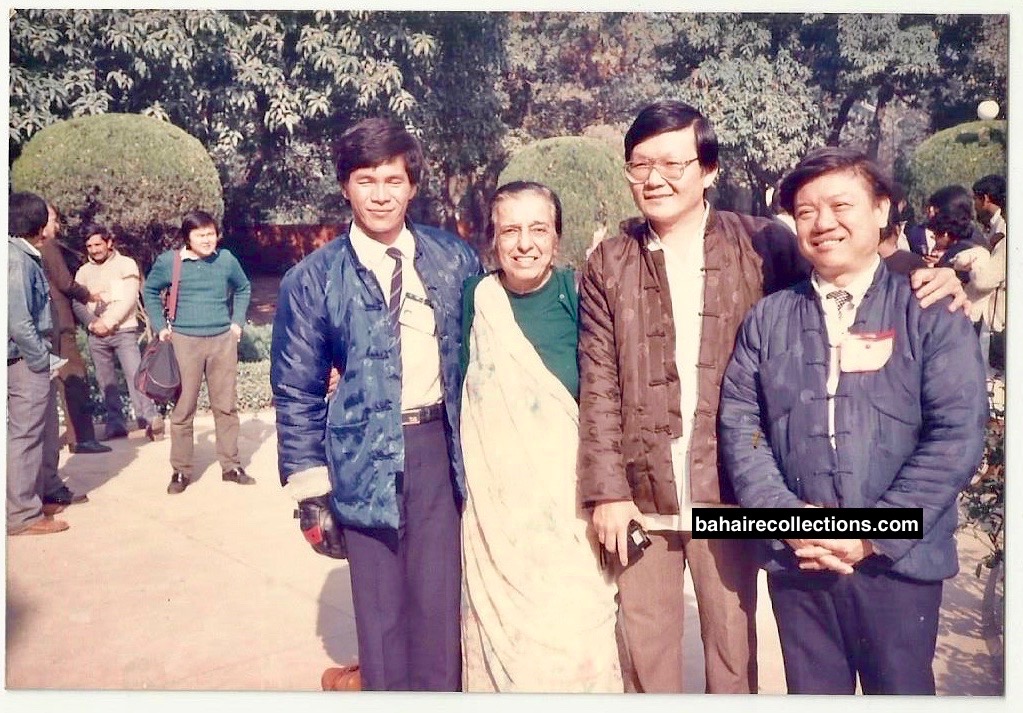 Opening of the Bahá'í House of Worship in New Delhi, 1986. L-R: Bobby Lim from Sarawak (who passed away in Taiwan) Mrs. Shirin Bhoman, Yip Kim Fook, and Kit.

  Teaching the Faith to an enquirer in his hotel room, Calcutta.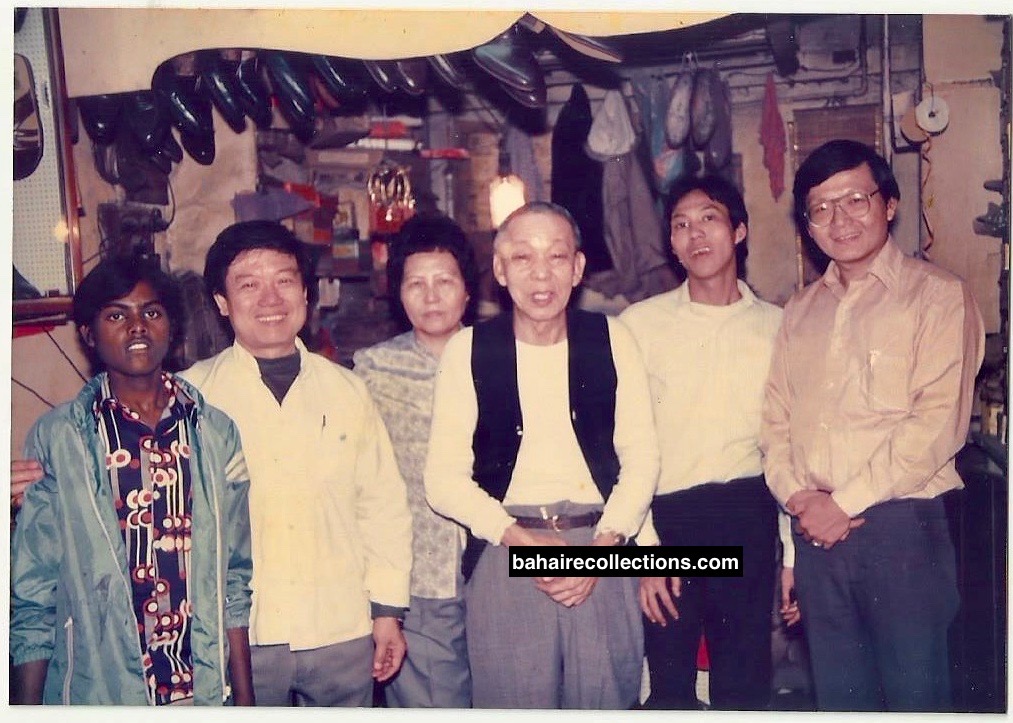 Visiting some Chinese in Calcutta after the dedication of the Bahá'í  House of Worship in India. Kit is second from the left and Yip Kim Fook at the extreme left.
In 1990, he attended the Chinese Symposium in San Francisco to deliver a talk on the success of teaching the Chinese in Taiwan and form team to teach the Faith in San Francisco. In 1995, he went to Russia for travel teaching. In 2000 he also went to Siberia, USA, Canada, Mongolia, and the Commonwealth of Independent States (CIS) countries for Chinese teaching. However, his greatest dream of taking the message to China, for which he prayed ardently never materialized. He was most happy to have gone for the opening of the Terraces in the Holy Land in May 2001 where he met some of his old friends, including Sabapathy, Malaysia's pioneer to Mozambique and S. Satanam of Seremban. Kit had undertaken three trips to the Holy Land, of which two were on pilgrimage.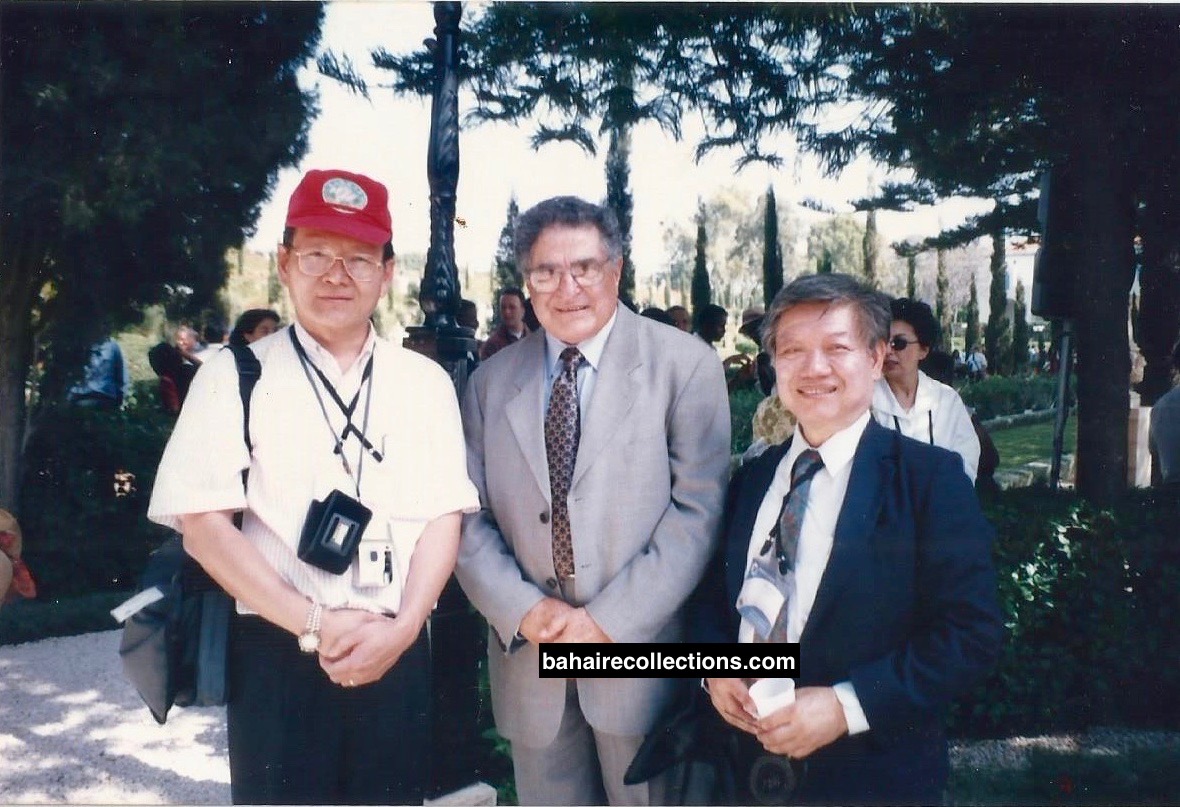 Opening of the Terraces, May 2001. L-R: Yip Kim Fook, Mr. Hushmand Fatheazam and Kit.

Mention has to be made that Kit's life was never a bed of roses. While everyone has a life that is full of both ups and downs, Kit's life was more on the downside. Though he was active in the field, there was an inner vacuum in him.  At one time he desired to get married. Dr Muhájir noticed this yearning in Kit and when he came to Malaysia, he mentioned this to some friends, including N. S. S. Silan. In a jest, Dr Muhájir mentioned to Silan to send an unmarried and dedicated lady pioneer to Taiwan.  In November 1987 Kit married Ms. Osulei Ettahadiah from the USA who came to serve as travel teacher under Dr Muhájir Teaching Project. Through this marriage, he had a son, Kit Kuang Ren. Too sad to relate, somehow this marriage did not last long. His wife and son went to the USA, leaving Kit behind in Taiwan. Once again, a huge void crept into his life, plunging Kit into a period of deep depression and uncontrollable sorrow. The heart-broken Kit was comforted by friends and Bahá'í institutions. After some struggle and prayers, he rose up again, leaving his fate in the unfailing hands of Bahá'u'lláh, and focusing on Bahá'u'lláh and His Cause. Believers were happy to see Kit once again soldiering on, moving unrestrained as a wind. His faith, steadfastness, and obedience to the Cause of God were beyond description. He never complained about whatever befell in his life or in his services for the Faith.
In 2002, this God-intoxicated servant was struck down by a stroke and was incapacitated. He was first treated in Chia Yi Christian Hospital and then in another hospital. After he was discharged from the hospital following a three-month treatment, he went back to  Chia Yi where he lived.  Though he had medical insurance, the treatment in Taiwan was exorbitantly high and beyond affordability for Kit. The National Spiritual Assemblies of Taiwan and Malaysia, together with Counsellors and relatives of Kit consulted on the best options in view of the circumstances.  It was collectively decided that the best way out would be for Kit to return to Malaysia and get the treatment there. The august national institution of Taiwan gave Kit a large sum of money that was donated by friends in Taiwan. Kit himself had accumulated a few hundred thousand NT dollars from his social security fund. Kit's nephew and niece arrived from Malacca and took him home. That was the saddest moment for Kit, the Bahá'í institutions and friends in Taiwan. Kit was sad he could no more be productive in the field. The friends in Taiwan were sad to see the finest human gem leaving their shores for good.
Thus, Kit returned after serving for 35 years during which period he had served as Secretary of the National Spiritual Assembly of Taiwan for nine years, and as an Auxiliary Board member for Protection and Propagation for thirteen years. He also served on the Teaching Institute Committee, whose function was to plan and arrange the curriculum and teaching materials and selected potential teachers. He was the administrator of Taiwan  Bahá'í Institute and was on the first Proclamation and Public Relations Committee set up in 1968. He also undertook travel teaching trips to the United States, Canada, USSR, the CIS countries and India, especially to inspire Chinese teaching activities. In 1983, Kit received an award from the Governor of Taiwan for religious services. He was also an excellent translator, rendering the sacred Writings into Chinese for local friends. The Bahá'ís of Taiwan would owe much to Kit for his wide range of translation works done into the Chinese language, thus enriching the Chinese Bahá'í literature that served all the Chinese people all over the world. To a large extent, Kit joined a few other dedicated workers to become the actual muscle in building the community during the early days.
When he returned to Malacca, he first stayed with his elder brother's family but was sad for not being able to move around for Bahá'í activities. With the blessings and approval of the Local Spiritual Assembly of Malacca, he moved into the Leong Tat Chee Training Institute and was taken care of by friends. Kit was spending the last days of his life recollecting, and sharing with visitors his days in the pioneering field. On suggestion from friends who were thrilled to listen to those heroic stories, Kit wrote down his biography. His left hand was disabled from a stroke, and yet he tried to type with his fingers of his right hand with great difficulties. Unfortunately, he could not complete it.
But knowing that his days were fast approaching Kit went for his second pilgrimage from Malaysia in 2004. His first was in 1986 while still in Taiwan. This time he requested his son from the USA to come to Malaysia and to accompany him for pilgrimage. Kit paid for the entire journey of his son. That was the first time he saw his son after sixteen years. Lim Soon Siang, a believer studying in Malacca at that time accompanied Kit to the Holy Land to be of assistance to him. Kit missed his only son and only heir. The son was quietly enquired through the instrumentality of a third party, even while in the Holy Land, to check if he had any desire to return to Malaysia to be with his father any time in the future. The son declined to be in Malaysia. Kit was informed of that decision and he once again returned to Malaysia to continue his life in solitary.
That said, and to add insult to injury, Kit's fortune slipped to the worst as time passed by. He was lonely in the Teaching Institute and friends knew this and tried their very best to visit him often, bringing food along. Yet on days when there was no visitor, Kit would sit on his wheelchair and cook something for himself. A believer who happened to see the kind of food that he had cooked was in tears, as that was not the kind of food any person would consume! Yet, Kit had to live by eating something. Kits sister used to visit him occasionally and his close friends like Mr. S. K. Somu, Ms Saratha Sangaran Nair, Mr. S. Sathasivam and Mr. Jerry Chong from Malacca used to visit him more often, and at times took him out for dinner.
What was all the more disturbing was that struggling from his wheelchair, Kit had to visit the toilet or take shower himself. That was a half shower. He had full showers when Jerry, Somu and other friends visited. Having a lot of health complications, Kit went for treatment in government hospitals and private clinics as far as Shah Alam in the state of Selangor. He insisted on paying for transport to whoever took him to these places. Sometime later he went for leg surgery and was able to walk slowly, but soon lost his will power and went back to his wheelchair.
As hard as it may be there was one thing that continued to concern him- his inability to teach the Faith. Heeding to his request, the friends of Malacca took him to teaching trips as often as possible, and those trips kept him warm and happy. He also conducted deepening classes in the Institute for the Chinese speaking friends.
When he was sent off to Malaysia, the National Spiritual Assembly of Taiwan offered him a good sum of money for his rainy days. The Bahá'í Institute where he was staying was quite accessible by members of the public. He kept some savings in his bag. Alas! That was stolen by some unknown people. Thefts had taken place several times. Someone gave him an idea to invest for guaranteed returns. Kit invested with full hope, but lost all! Without his knowledge, someone had stolen his ATM card and withdraw to the last coin of whatever he had in the bank. When Kit was taken to the bank, he drew blank when he realized that his life savings were reduced to zero! He remarked to Jerry Chong, his close friend in Malacca, "I may have lost my everything in life, yet I am still the happiest person  – all because I have  Bahá'u'lláh within me, and nobody could steal Him from me!". As Kit said these words, his own eyes welled with tears and the listener broke down. Jerry himself was baffled and could not get a clue if Kit was shedding tears of joy or tears of sorrow. What Jerry witnessed was a true believer who had submitted himself wholly to the will of Bahá'u'lláh and never wavered under the throes of any kind of sufferings.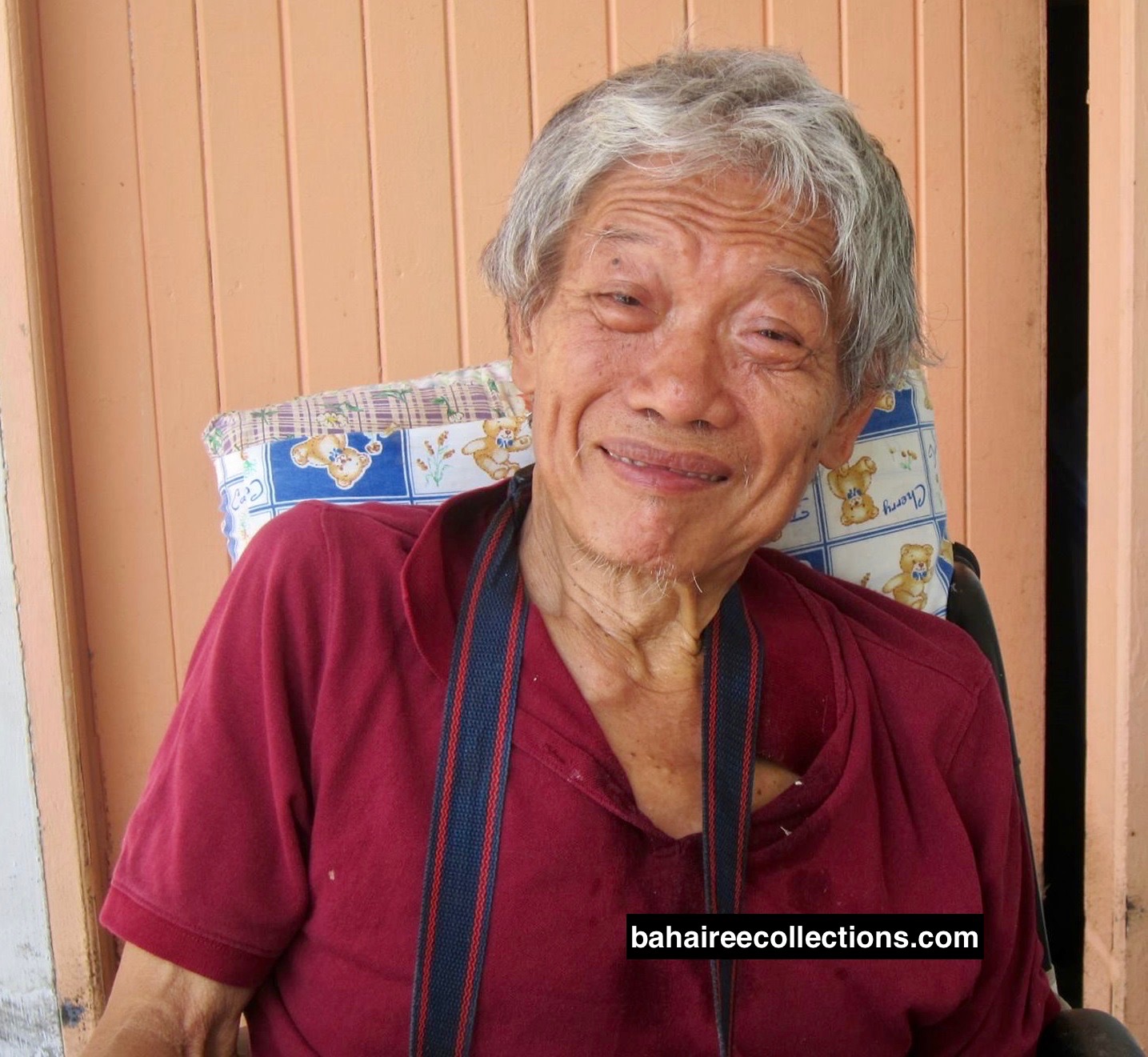 "I am still the happiest person – all because I have  Bahá'u'lláh within me, and nobody could steal Him from me!"
Jerry Chong woke up one morning to notice that he had received several missed calls from Kit. The previous night he had switched off his mobile phone and therefore the calls did not go through. He immediately rushed to the Leong Tat Chee Institute, and to his shock saw Kit lying on the floor, shivering with no blanket on him. He looked very sick. Apparently, he had become sick the previous day and fallen off his wheelchair. Jerry and a few friends rushed Kit to the Malacca Government hospital. On the way, Kit threw out whatever he had consumed the previous night. In the hospital, Kit was diagnosed for viral infection in his blood. He became unconscious and was put on a life support machine. At 6 in the morning on Monday, 11 June 2012, Kit was called to the Supreme Concourse, at age 73. The sad news was at once flashed within and without Malaysia. Many local friends from Malacca and outstation rushed for his funeral. Mr. S. Sathasivam of Malacca attended to washing and shrouding his body. He was laid to rest in the Bahá'í Memorial Garden in Jelutong, Malacca, following a dignified burial ceremony.
Kit was a precious pioneer who made both the sending country Malaysia and receiving country Taiwan very proud. Kit served selflessly and enthusiastically to gain a permanent place in the hearts of believers and non-believers. Yip Kim Fook who had served with Kit in Taiwan says, "Kit shall always be part of Taiwan's Bahá'í history as his presence was everywhere serving the Faith and the believers – at birthday events, marriages, funerals, international airport, summer and winter schools, Bahá'í gatherings often as a speaker and a translator. How fortunate I was to have the privilege of meeting Kit, of learning from him, serving along with him  in Taiwan, India, and the Holy Land".
Chang Chee Phing who had served with Kit in Taiwan says, "Whether working as a reporter or an English teacher or a businessman, he always found ways and opportunities to talk about the Bahá'í Faith. In the arena of teaching the Faith, many of his listeners often fell into his charming spell and fell in love with the Person of Bahá'u'lláh. His earnest tone of argument and sound interpretation of the Bible or Buddhist Scriptures were soul awakening. His prayers are sincere. At home, Kit loves cooking and his hospitality for the friends and visitors knows no bounds. Young college student inquirers often get some treat of ice creams after a fireside near the Taipei Bahá'í Center. He likes to crack jokes and it always lightens up the spirit of the people around him. Some of Kit's remarkable spiritual strengths are steadfastness, radiance, humor, modesty, and generosity."
Ms Laura Cheng who became a Bahá'í during Kit's time and once served with him on the Bahá'í Publishing Trust of Taiwan says, "Kit is my spiritual enlightener, a spiritual companion, best friend and brother of many Bahá'ís in Taiwan. Kit had a warm face, and he was always smiling under all situations. Although he was materially not very rich, he never refused to help anyone who needed help. However busy his life had been, his priority was always the needs of the Faith. Even to this day, many friends still remember Kit who always radiated happiness to the people around him. We miss him forever."
The National Spiritual Assembly of the Bahá'ís of Taiwan sent this message to the believers in the country:
"He was unwavering and fearless at defending the Faith in face of the political white terror then, had to be answerable to the Garrison Command numerous times over many years. His selflessness and sacrificial spirit over the years of service had moved and touched many pure-hearted souls. His tireless footsteps tread all over the island placed him closest to the pulse of the community.  Truly he has been exemplary in many ways in the history of the Faith in Taiwan. We call upon all the friends to pray for the progress of his soul and to attain God's abode by His infinite grace".
The love that the national institution of Taiwan had for Kit was so boundless that they sponsored the erection of a  gravestone made of marble stone for Kit.
The National Spiritual Assembly of the Bahá'í s of Malaysia sent this message to the community:
"As a person, Kit has been known for his warm and hospitable nature, never turning down an opportunity to help someone: be it welcoming a pioneer or travel teacher to their post, or visiting the friends, encouraging them to arise to serve the Cause which he so loved and served. Truly many are the souls out there whose lives have not been influenced by Kit's loving touch. He will be sorely missed. The Assembly requests that you remember the late Mr. Kit Yin Kiang in your prayers for the progress of his soul in the divine realm."
In his passing the Malaysian Bahá'í Community, as well as the Taiwan Bahá'í Community has lost  a distinguished and truly dedicated Baha'i pioneer and legendary believer whose services in Taiwan and other Chinese speaking countries where he served would adorn his name in the annals of the Faith. Looking back at Kit's life, one would agree that certainly incalculable blessings await him in the realms above for the services he had carried out on this earthly plane with all sincerity and devotion.

The final resting place of the immortal Kit Yin Kiang.

The Guardian is well aware of the great sacrifices required of the devoted pioneers, and of the problems, they must meet and conquer. This is why he feels that the work of the pioneers is the most important Bahá'í task any individual can perform today—more important than serving on a National Assembly, or any administrative post. While it carries great responsibilities; and difficulties; yet its spiritual blessings are so great, they overshadow everything else; and the opportunities for special victories of the Faith so abundant; the soul who once tastes the elixir of pioneering service, seldom will do anything else.
(From a letter written on behalf of Shoghi Effendi to an individual believer, June 5, 1954)
A. Manisegaran
North Carolina
USA
31 August, 2019
©bahairecollections.com