I LAID ALL MY AFFAIRS IN HIS HANDS
Yaw Kam Sim
It all happened in the year 1968 when I was working as a clerk at the St. John's Primary School in Bukit Nanas, Kuala Lumpur. And it is indeed a strenuous effort to recall with minute details all that had happened more than half a century ago. Mr. Tan Kim Kee, an active  believer in the Kuala Lumpur Bahá'í community was a colleague of my elder brother, and had been teaching him the Faith.  But my brother did not show much interest. That was the time when Inparaju Chinniah, affectionately called Inbum Chinniah was serving as the Secretary of the National Spiritual Assembly of the Bahá'ís of Malaysia. He had sent around a word that he was looking for a translator to translate the 19-Day Feast newsletters into the Chinese language. Working as a clerk in the St. John's Primary School required me to work only half day, and that allowed me to work the other half elsewhere. I showed interest in taking up the offer of the job. I  was called for an interview, and after the exchange of formalities, I was given the job right away, although I was not a Bahá'í.
In addition to being a translator, I also did clerical work for Inbum. Most of the time Inbum would dictate letters to me to be typed out and later he would sign them to be sent out. I can still remember when he first told me that whatever I read in those letters would always remain highly confidential and kept within the four walls of the Secretariat office. I gave my word and lived up to his expectation. Withing a short period of time, I earned the trust and confidence of Inbum.
The greatness of Inbum was that he never taught the Faith to me. He wanted me to find out about the Faith on my own. When I came to work in the National Bahá'í Centre, there was another believer Mr. G. Kuppusamy who was translating the 19-Day Feast newsletters into the Tamil language. Mr. C. Kanagaratnam was serving as the Administrative Assistant for the National Spiritual Assembly. These, along with other Bahá'ís frequenting the National Centre mentioned about the Faith every now and then. The Bahá'í Centre was always bustling with a hive of activities and visitors. They too taught me the Faith. Somehow, I did not pay much attention to them. However, each time I was translating the Feast newsletters, there was always a quotation from the Holy Writings of  Bahá'u'lláh or `Abdu'l-Bahá'. It is true I was not paying much attention to the friends who taught me the Faith. But I just could not avoid the powers I found in the Holy Writings. In the course of translating them, I had to go to the roots of their meanings. I was spontaneously attracted to them and eventually found myself being interested and absorbed into the Writings. In addition, the letters of Inbum were so moving. They never sounded like letters loaded with orders and directives which was common and the norm in the corporate world. Inbum's letters were far different. They were full of loving advice and guidance, sometimes bearing quotations from the Bahá'í Writings. Little did I realize that in the course of translating the Feast newsletters and typing the letters of Inbum, I was slowly immersing into the ocean of His words. They were all so moving to my heart. I found the portals of understanding unlocking my heart. After almost a year, I on my own volition declared my faith in Bahá'u'lláh. Inbum was very happy to learn that I had become a Bahá'í. He presented me with a signed prayer book, which I still keep very dearly in my possession. The Bahá'í community in Kuala Lumpur was happy as well.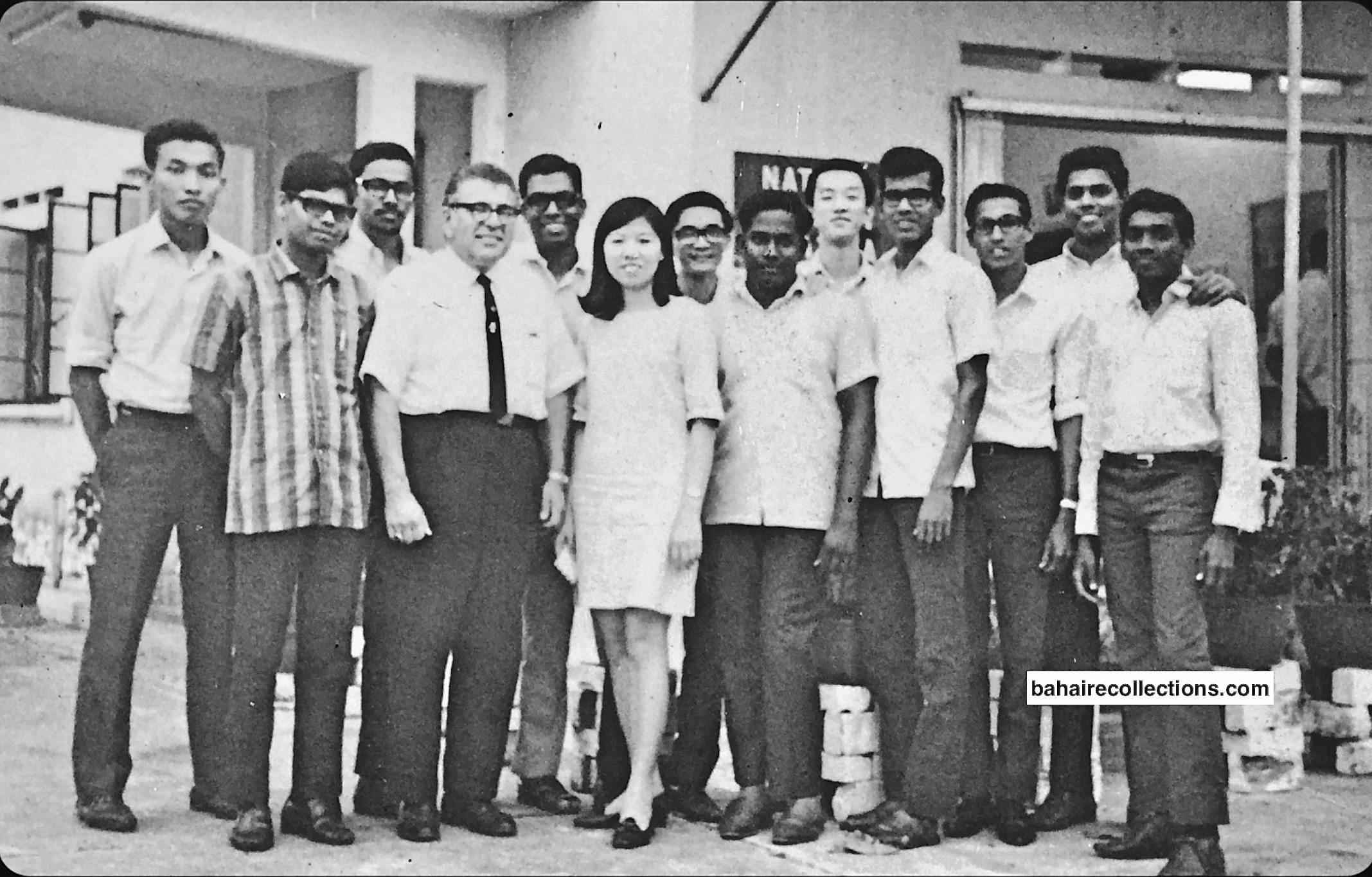 Colonel Salvatore Pelle, Public Relations Officer of the National Spiritual Assembly of the Bahá'ís of the United States of America and Information Director for the United States Air Force for 24 years conducted a Youth Proclamation Workshop in December 1969 at the National Bahá'í Centre. Standing L-R: Choo Yeok Boon, A.P.Arumugam, Dr. Singaravelu, Colonel Pelle, Inbum Chinniah, Kam Sim, Yin Hong Shuen, (unknown), Tan Kim Kee, C. Kanagaratnam,  Machamboo, Thanabalan, and G. Kuppusamy.
With the acceptance of the Faith, responsibilities were naturally placed upon my shoulders, especially to cater for the needs of the Chinese speaking friends. Following the development of pockets of Chinese speaking believers in the country, there came a need to appoint a committee for them. In 1969, the National Spiritual Assembly of Malaysia appointed a Chinese Affairs Department. I was appointed on this Department and made responsible for the state of Selangor. In 1970, Inbum gave me a book, "The Tablets of The Divine Plan" by `Abdu'l-Bahá' to be translated into Chinese. I hesitated as I thought I was not deepened in the Faith or spiritual enough to undertake a translation of so weighty a book.  But Inbum encouraged me to do my best, assuring that he had all the confidence in me in completing the task. I said a lot of prayers and then embarked upon this Herculean task.  With prayerful efforts I translated the book in full, and forwarded the manuscript to the Malaysian Bahá'í Publishing Committee. Counselor Dr. Chellie Sundram who was based in Penang was in charge of publishing it. Mr. Mei Siew Hong of Alor Star town in the north was appointed to review the book. It was eventually published in 1982, when I had already left the shores of Malaysia to settle in the USA.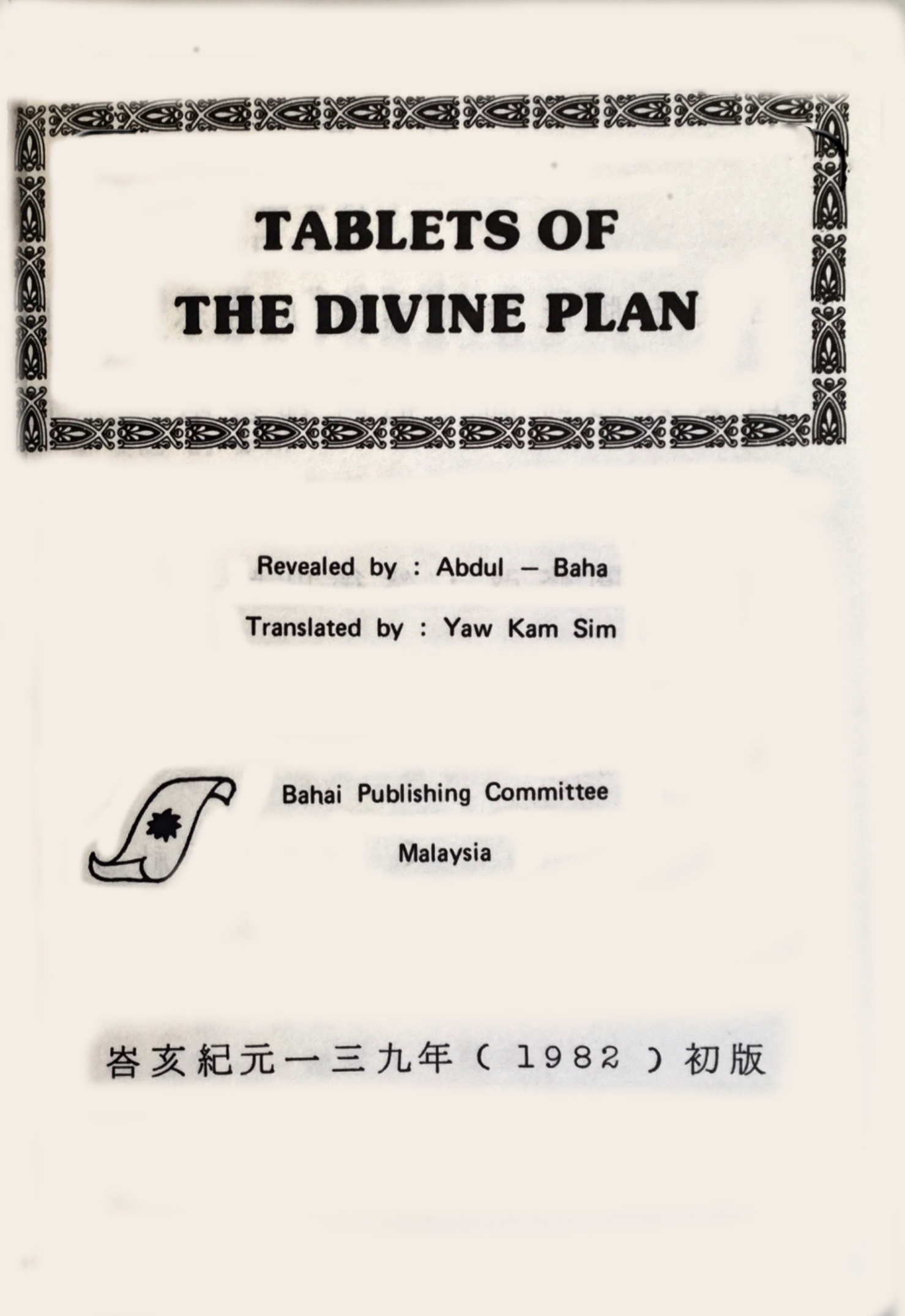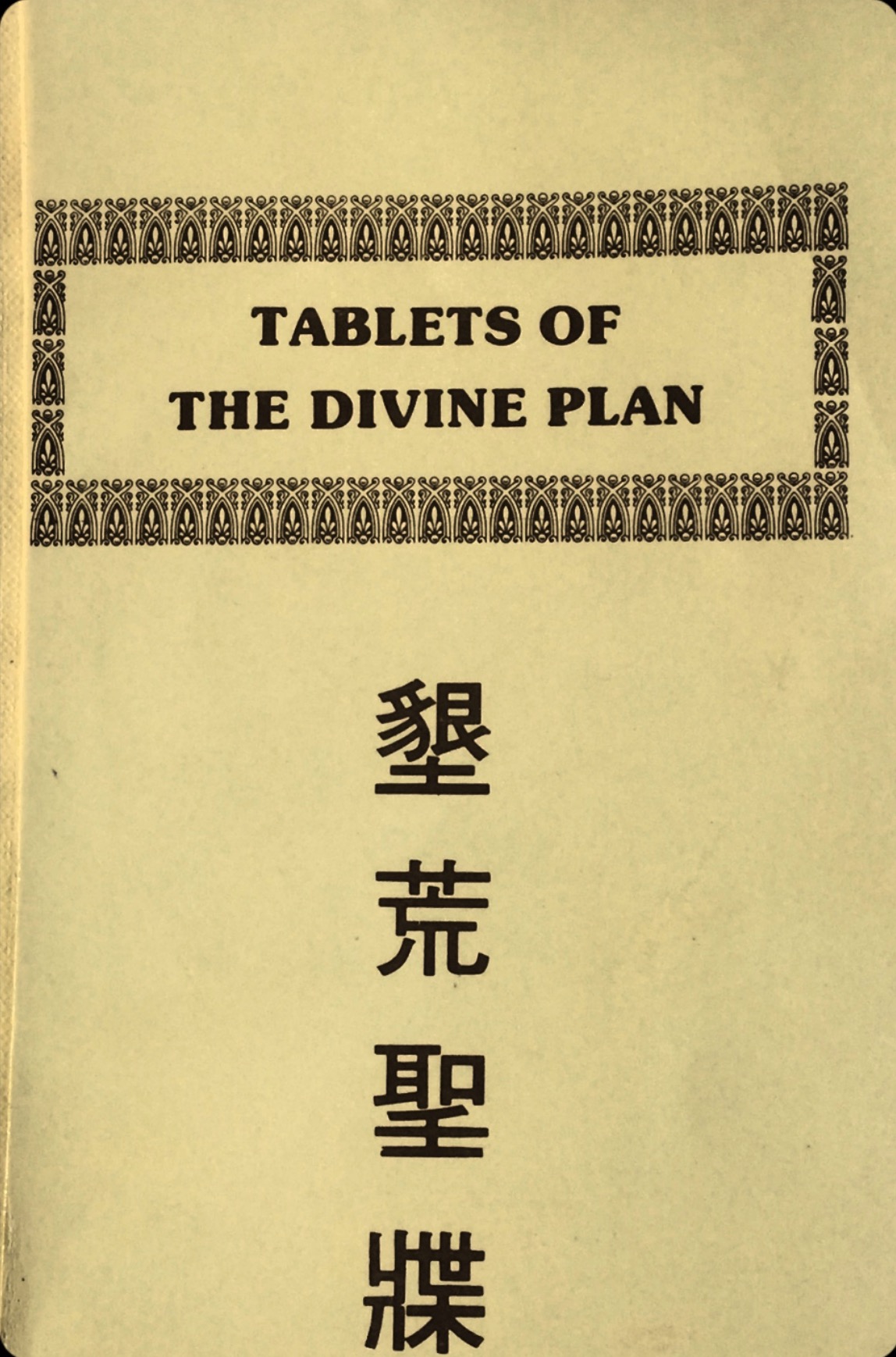 TABLETS OF THE DIVINE PLAN translated into Chinese.
More responsibilities came by. I was entrusted to be a speaker at the Chinese Teaching Conference held at the National Bahá'í Centre in Kuala Lumpur in  June 1971, called for by the Local Spiritual Assembly of Kuala Lumpur. The importance of teaching the Chinese was stressed at this conference. Although I was also appointed to the Selangor State Teaching Committee, I still undertook teaching trips to the towns of Seremban and Malacca, not forgetting the teaching trips to the states of Johor and Pahang.
One of the major events still vivid in my mind was the Oceanic Conference of the South China Seas held in Singapore in January 1971. I joined a group of Bahá'ís from the Kuala Lumpur and Petaling Jaya communities to make that trip to Singapore. We were very grateful to A.P. Arumugam who chartered a bus to take us all the way to Singapore and arranged good accommodation in Singapore. That Conference was a moving experience to me, as I could see hundreds of believers from various backgrounds mingling as more than family members. I could see the teachings of the Faith in action. I recollected these words," Oh Bahá'u'lláh! What hadst Thou done!" I met Hands of the Cause of God Mr. Enoch Olinga and Mr. Collis Featherstone. When I requested Mr. Olinga to sign in my Chinese Bahá'í Prayer book, he gladly consented. He signed and till this day I  cherish the book that contains his signature. Now that we do not have living Hands of the Cause of God and there is no more provision for the appointment of new ones, I seem to realize the value and significance of the book in which Mr. Olinga had signed. I would not barter the book with anything else.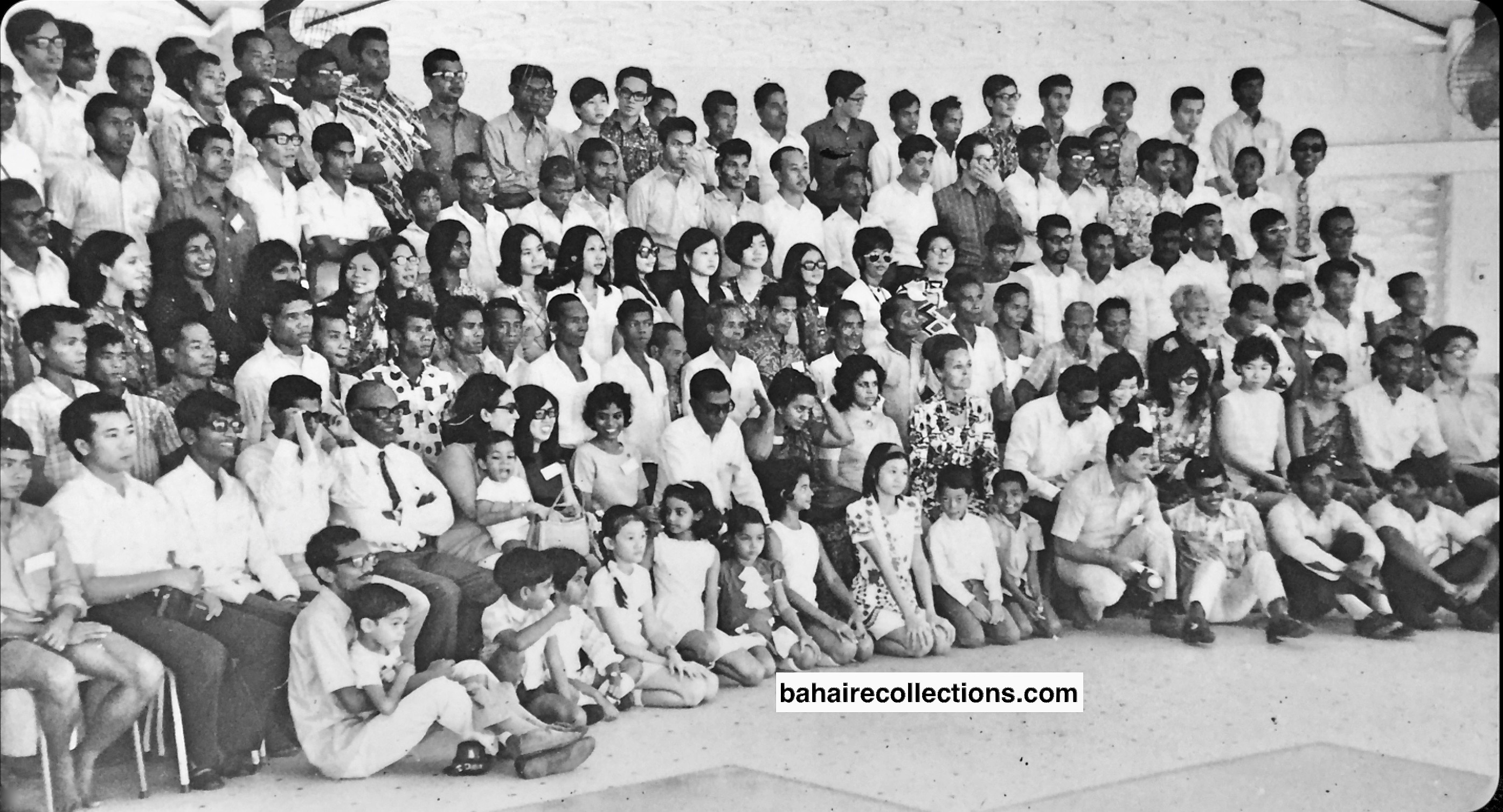 National Bahá'í Convention of 1972.  Kam Sim is seated seventh from the left between Lily Chinniah on her right and Kamachee on her left. Next to Kamachee is Inbum Chinniah.
Another memorable event was the Bahá'í Winter School held in December 1971 at the Kranji Holiday Camp, off Woodlands Road, Singapore. It was at this Winter School that I first met Mathews Wagner or Matt, my husband. He came to Malaysia in 1970 and started his contract as an American Peace Corp in January 1971 in the long-houses, some 30 miles away from the town of Kuching in Sarawak. While living among the natives who were called the "Iban" people, his eyes happened to fall on a poster of the Bahá'í House of Worship in Wilmette, USA, that was hung on a wall. Fascinated by its beauty, he went closer and read one line at the bottom of that poster that read, "The Earth is but One country, and Mankind its citizens." He was thunderstruck by that strong message from the Blessed Beauty. He was further pleased to learn that the House of Worship is located close to Chicago city where he was born and brought up. By this time G. Kuppusamy who worked in the National Bahá'í Centre in Kuala Lumpur had moved to Sarawak. Matt became acquainted with him. Kuppusamy gave Matt the address of the Bahá'í Centre in Kuching town. Highly desirous to learn more about the Faith, Matt went over to meet up with Dr. John Fozdar in his clinic and learned of the Message in greater details. Towards the end of 1971, Matt had a long vacation and came over to Singapore. It was while he was in Singapore that he participated in the above mentioned Winter School in Singapore. After the Winter School was the celebration of the 19-Day Feast at the Bahá'í Centre in Singapore. Matt turned up at the Feast but was diplomatically and politely informed that the Feast was only for Bahá'ís. Deep in his heart, Matt was ready to accept the Faith and was always carrying a Bahá'í declaration card in his pocket. But since he had not formally accepted the Faith, Matt took his motorcycle and went for a ride. Unfortunately, and perhaps by some providence, his motorcycle broke down and he had to return to the Bahá'í Centre. By the time he returned to the Bahá'í Centre, the Spiritual and Administrative parts of the Feast were already over. And it was during the social part which a non- believer could attend that Matt signed up as a believer.  After he accepted the Faith in Singapore, Matt traveled to Kuala Lumpur.
Next, Matt participated in the first Nine-Day Spiritualization Institute that was conducted at Port Dickson in December 1972, followed by the first Bahá'í Winter School of Malaysia held at the Vocational School in Johor Bahru close to Christmas,  December 1972. At this Spiritualisation Institute Matt was able to immerse deeper into the Writings and consort with several key believers. After the Institute, he pioneered to Brunei to fulfill one of Malaysia's goals. Matt and I became friends and kept writing to each other. He made several trips for Bahá'í activities in Kuala Lumpur where we used to meet up.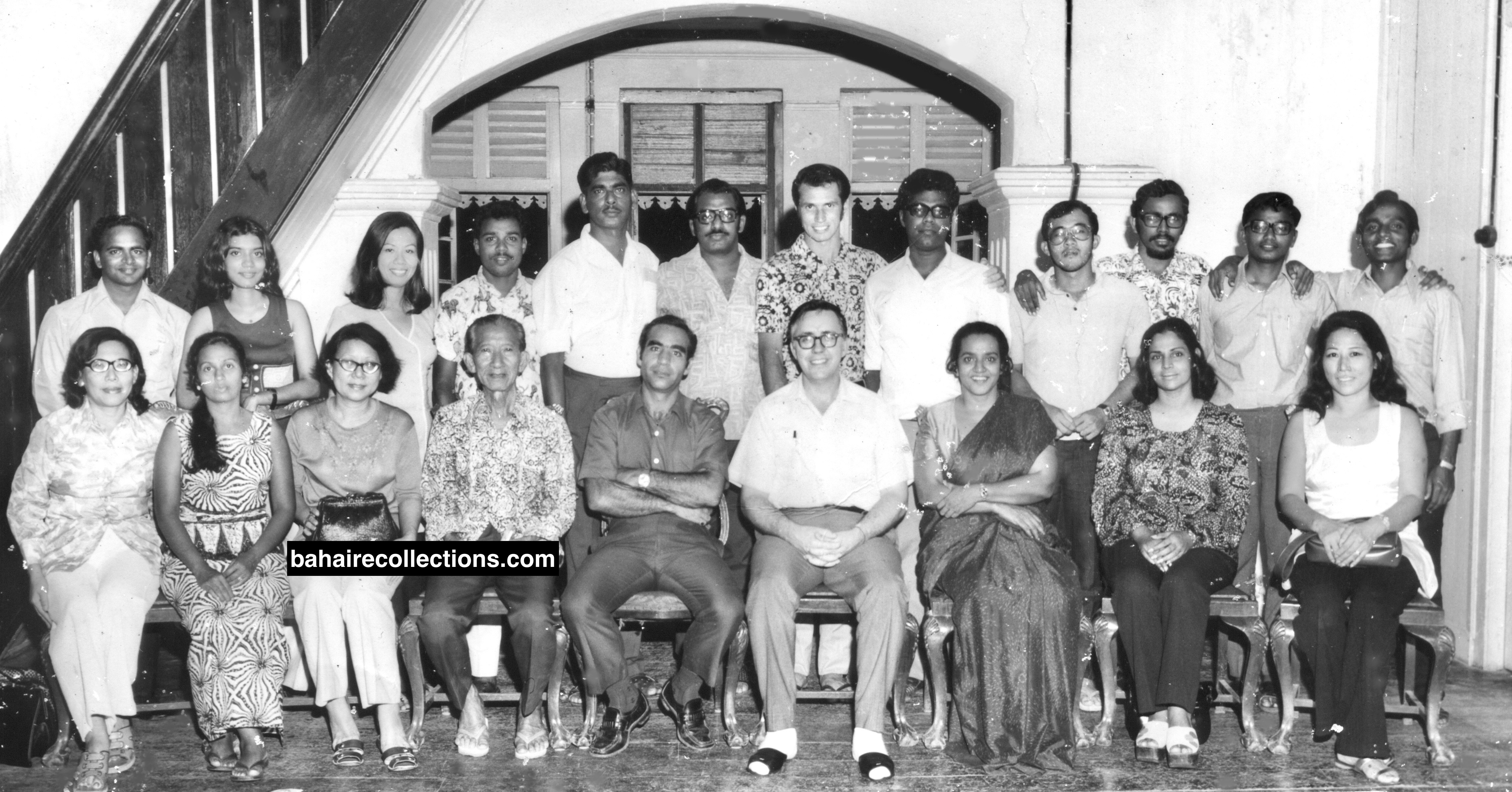 First Nine-Day Spiritualization Institute in Port Dickson. Sitting L-R: Lily Ng,  Rajambaal Nagaratnam, Theresa Chee, Yankee Leong, Dawood, Jenabe Caldwell, Shantha Sundram, Betty and Lily Chinniah. Standing L-R: R. Ganasa Murthi, Nita Tahmasebian, Koh Ai Leen, G. Appala Naidu, Nagaratnam, Dr. M.M. Sreenivasan, Mathews Wagner, N. Nagendran, Kenneth Mak, Dr. M. Singaravelu, M. Ganesan and Ramu Naidu.
On my part, I did not want to miss any conference where I learned so much about community life. In July 1972, I attended the Summer School held in the coastal town of Port Dickson. Effective 1973, I served as a member of the Local Spiritual Assembly of Kuala Lumpur for a few years. I remember serving with Dr. M.M. Sreenivasan, A.P. Arumugam, Suguna Arumugam, Machamboo, Jami Subramaniam, Mrs. Elizabeth Gibson, A Govindasamy and Kanagaratnam. In 1974, I was also appointed as Bahá'í Bookshop Manager.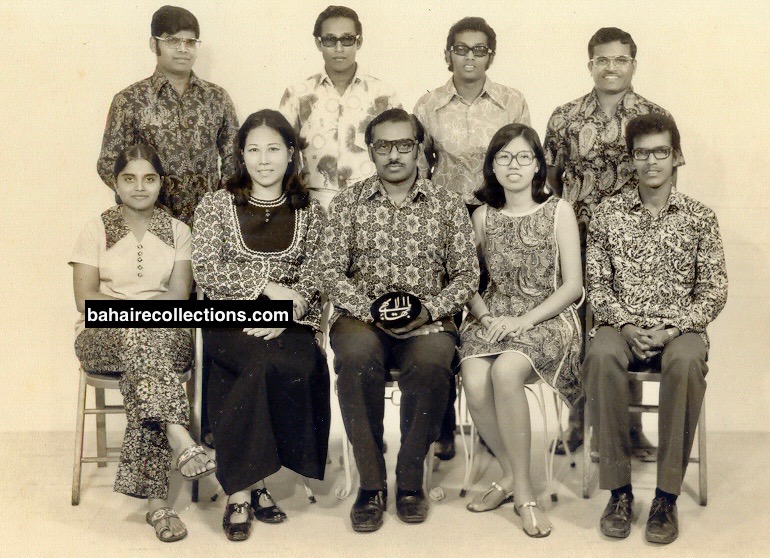 Local Spiritual Assembly of Kuala Lumpur for 1973. Standing L-R: A.P.Arumugam, Machamboo, A. Govindasamy and Jami Subramaniam. Sitting L-R: Suguna Arumugam. Lily Chinniah, Dr. M.M. Sreenivasan, Kam Sim and C. Kanagaratnam.
There were also situations I honestly missed. I enjoyed every moment working under Inbum Chinniah. He left for pioneering to Africa towards the latter part of 1972 and I missed him so much. When Inbum returned in 1973, he was appointed as an Auxiliary Board member. Upon appointment as Board member, Inbum requested me to work for him, this time in a different capacity. He was given a room as his office in the local Bahá'í Centre in Setapak. By this time, I was no more working at the National Bahá'í Centre.  I would go to the Local Bahá'í Centre in Setapak and continued to do clerical work for Inbum. Then one day I was called back to work at the National Centre.
VIETNAM
I came to translate 19-Day Feast newsletters into Chinese. Upon acceptance of the Faith, I was called upon to serve the needs of the Chinese speaking believers in Malaysia. Then came a new development- my knowledge of the Chinese language was needed overseas. In 1974, the National Spiritual Assembly of Malaysia had a goal of sending a Chinese speaking travel-teacher to South Vietnam for 6 months. I volunteered but instead could only get 4 months unpaid leave from the school where I worked. In 1974, I took a four-month unpaid leave to go travel teaching in South Vietnam.
I had a nice welcoming when I first arrived in Saigon (now Ho Chi Minh City) in the evening hour. I was welcomed by heavy rain. There was a party of the local Chinese Bahá'í s who came to receive me at the airport. One Mr. Tang took me to his home and provided good Bahá'í hospitality. Mr. Tang was a businessman and he was the only Bahá'í in the family of 6 children. He had a small apartment across from his house. I stayed in that apartment for four months. Every morning the sweet and kind Mrs. Tang would prepare breakfast for me and made sure that I was comfortable. She always treated me like one in her family.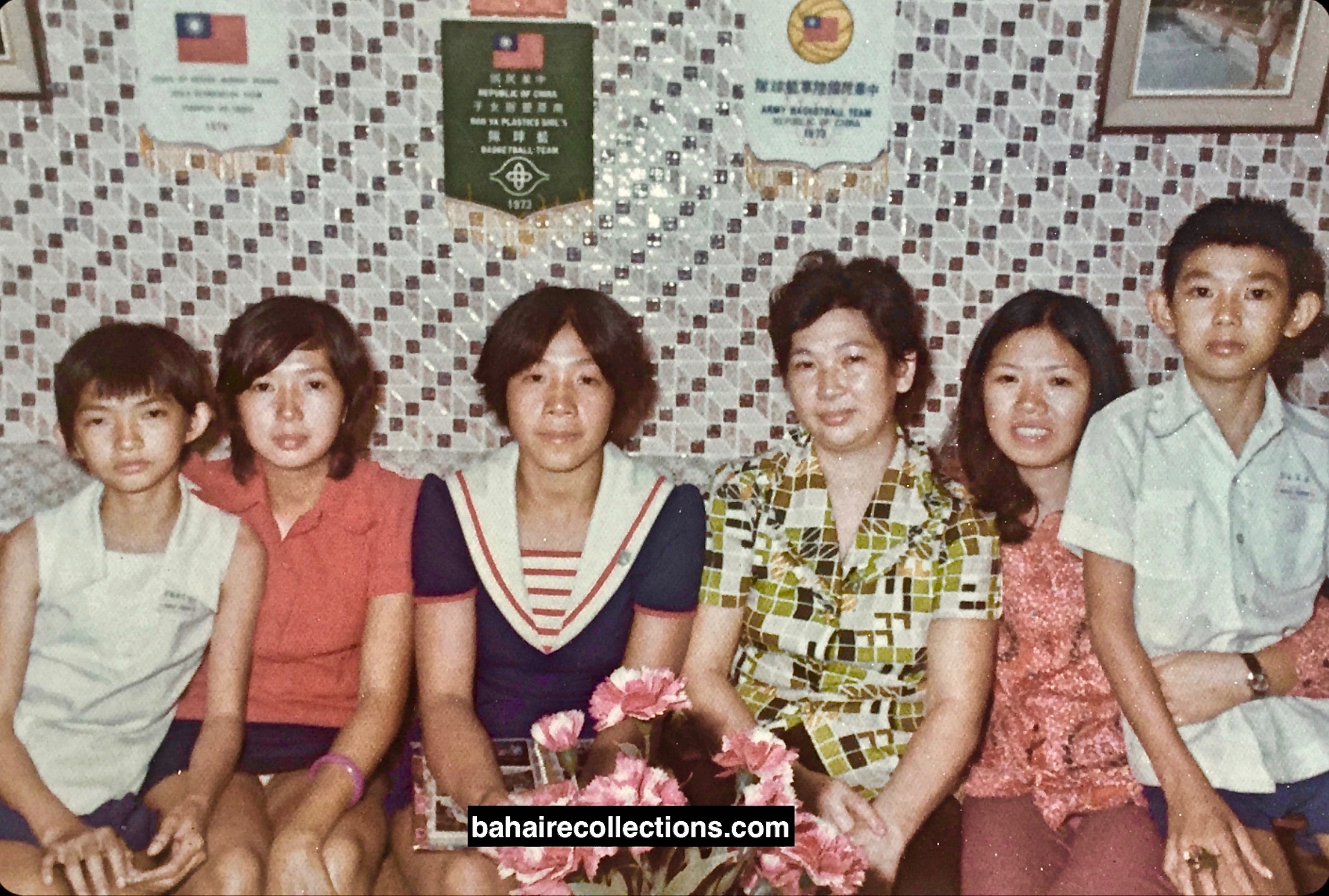 With Mrs. Tang and her children. Kam Sim is second from right.
Another Bahá'í, one Mr. Lu wrote an article in the Chinese newspaper in Chinatown about my arrival and invited the local Chinese students to meet me at the National Bahá'í Centre. I gave a talk about the Bahá'í Faith and also a short lesson in English grammar.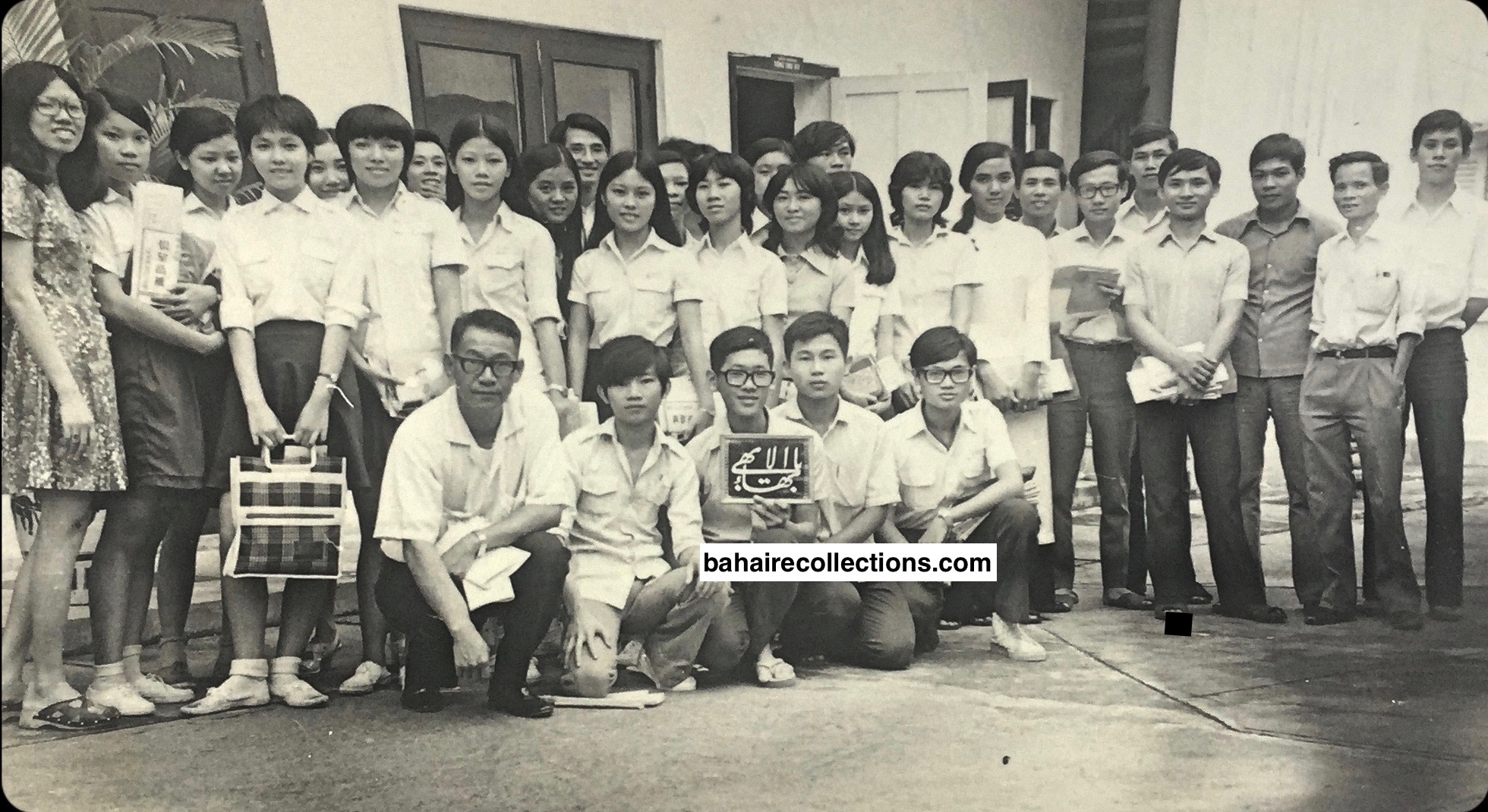 At the National Bahá'í Center in Vietnam – a gathering of Bahá'ís and Chinese students. Mr. Lu is squatting at the extreme left and Kam Sim is standing at the extreme left.
Mr. Chung Quan, another young Chinese Bahá'í, would take me on his scooter for teaching or visiting Bahá'ís. His family owned a bakery and he rushed to help out so that he could have the time to take me for teaching trips in the afternoons.  He was a wonderful friend and a great help to me in organizing the teaching activities in Saigon. During the weekends, I would visit Miss Khoo Siew Tay, a believer from Penang and was now working for the World Health Organization in Saigon. She was actively serving on a Foreign Teaching Committee, as well as helping with the children's classes. We would hang out together. Once we organized a fireside and a dance lesson at her apartment. A few Bahá'í youths turned up for the event and it was full of fun.
During my stay in Saigon, I attended a Bahá'í Youth Camp. I conducted a mini spiritualization class in Chinese for some Bahá'í youth. I had also traveled to visit Mr. Lu's hometown and met his family. On my way back to Saigon, I also traveled to a different town to visit a Chinese Bahá'í, whom I had met at the Winter School in Singapore. I also took a bus trip with one Bahá'í girl who was studying in Saigon to visit her family. Her father and brother are Bahá'ís. The same day after we arrived, her father organized a fireside at an open field in the evening. There was quite a big turnout.
While teaching in South Vietnam, I had the bounty of meeting the Hand of the Cause of God Mr. Collis Featherstone and his wife. Mr. Featherstone came for a few days to consult with the National Spiritual Assembly and meet the community. One evening, Khoo Siew Tay and I had the bounty of having dinner with Mr. Featherstone and his wife. Mr. Featherstone praised the Bahá'í community of Malaysia, and gave me all the encouragement to serve the Cause.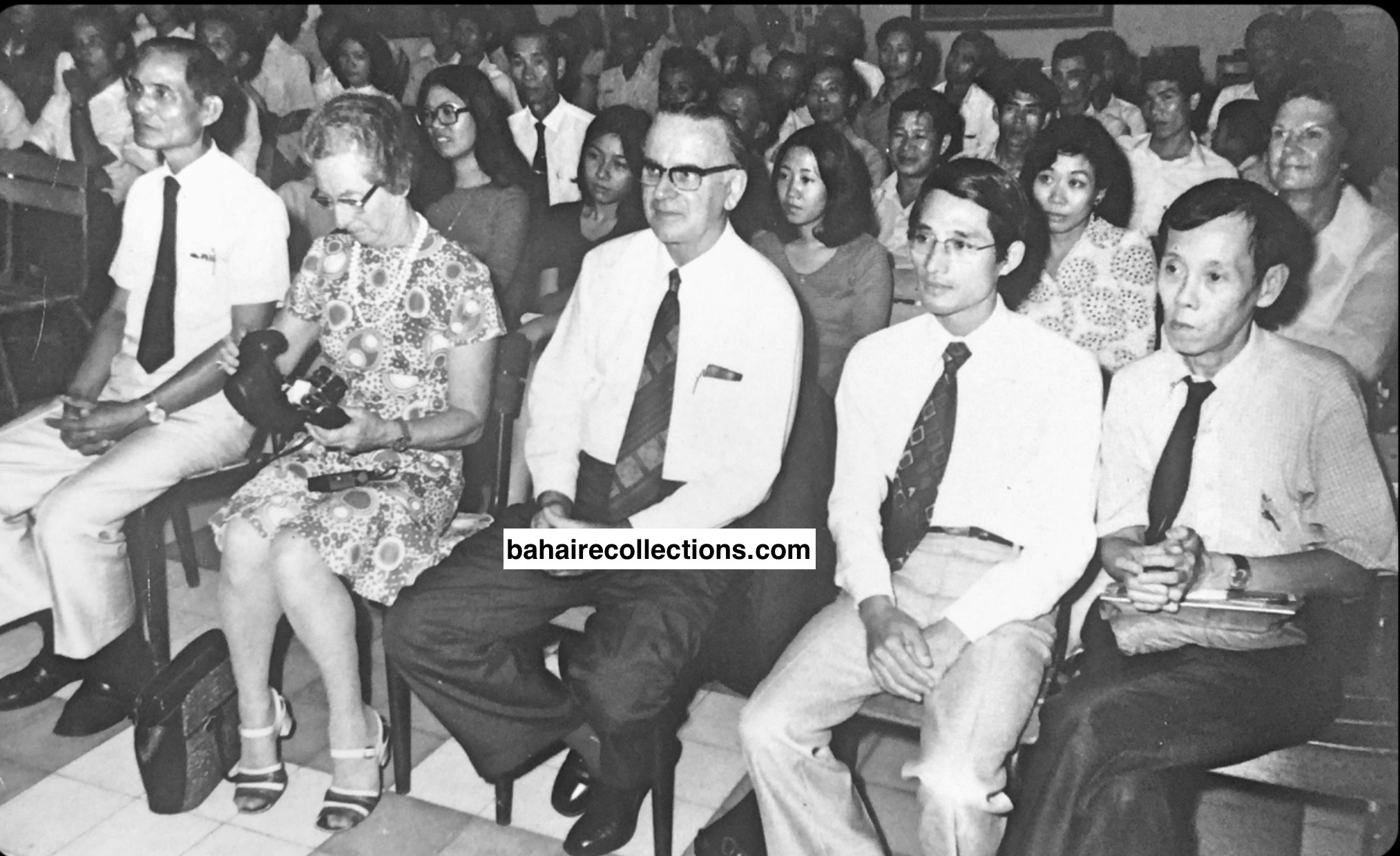 Mr. and Mrs. Featherstone with the believers of Saigon. Kam Sim is seated at the back of Mrs. Featherstone.
In 1974, South Vietnam was still at war with North Vietnam. I did have a few hair-raising experiences. I had run into a few protests in Saigon and was tear gassed. It was scary at first, but eventually, I learned to run away as fast as I could, like the rest of them to protect myself. On a bus trip up north to visit a Bahá'í family, a fight broke out between two factions. We could hear the sound of gunshots coming from the front direction. Suddenly, the bus stopped and the driver ordered us to vacate the bus immediately. My friend grabbed my hand and ran toward some bushes on the roadside. We hid among those bushes. Time just stood still, and our hearts were full of agony, not knowing what would befall us. I summoned all my courage and prayed. After some time we could not hear the sound of gunshots, and the bus driver told us to return to the bus. The onward journey continued without a hitch.  The whole incident was really scary, but for the Vietnamese, they seemed to accept it as a normal part of their daily life. As for me, I laid all my affairs in His hands!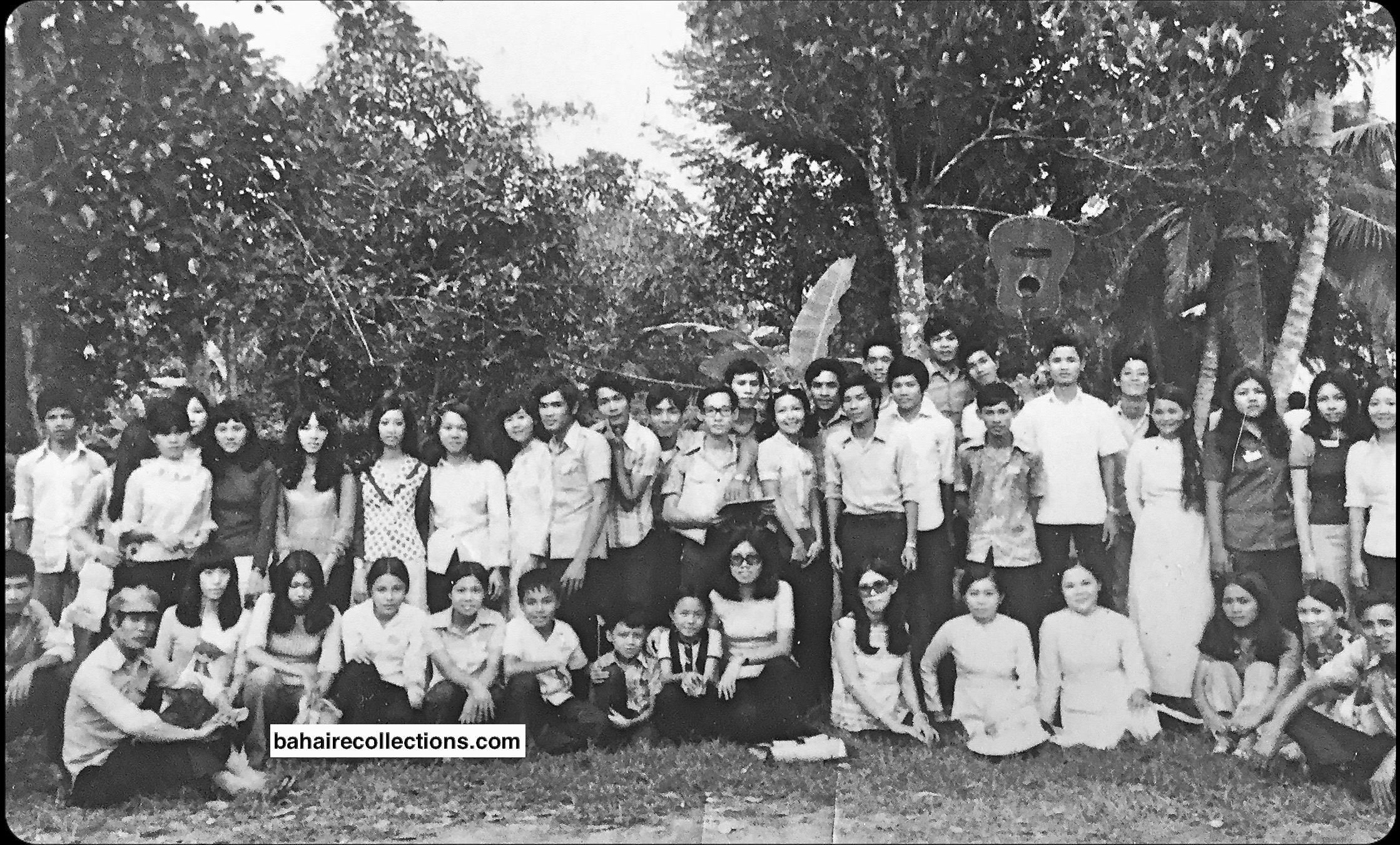 Vietnamese Bahá'í Youth Conference, Kam Sim is squatting seventh from right.
The four months seem to have vanished like a twinkling of the eye. On my way home after the four months, I stopped by at Phnom Penh, Cambodia to visit Mr. Dempsey Morgan and his wife. I had met this American couple at the Oceanic Conference in Singapore. Mr. Morgan was an early pioneer to Indo China in the 1950s. I also visited a Bahá'í pioneer, Christine with whom I had gone on a teaching trip in Seremban. She had married a Cambodian and had a son. From Cambodia, I went on to Bangkok in Thailand and visited some of the Malaysian pioneers there. Unfortunately, I fell sick and could not involve in any local teaching activities. The trip to Vietnam, Cambodia, and Thailand transformed me to a large extent. I returned to Malaysia wanting to serve the Cause more than ever. I was praying for  Bahá'u'lláh to enable me to serve more. The feeling to serve more waxed as days passed.
Days passed after my return from Vietnam. I continued working at the National Bahá'í Centre in Kuala Lumpur. One Miss Abeysundra called Molly from the Singhalese background was working full time at the National Centre. Ramarao, a youth from Patani Para Estate in the northern state of Kedah joined as an Administrative Assistant and caretaker. He proved to be hardworking. Mr. Machamboo was another believer from Malacca who worked at the National Centre. He was a soft spoken and kind mannered man. I hardly saw him being angry at anybody. Govindasamy married Molly and I still remember my visit to their home when their first child was born, and Govindasamy making chappati for dinner. I remember attending the wedding of Ravichandran and Nargis in 1975.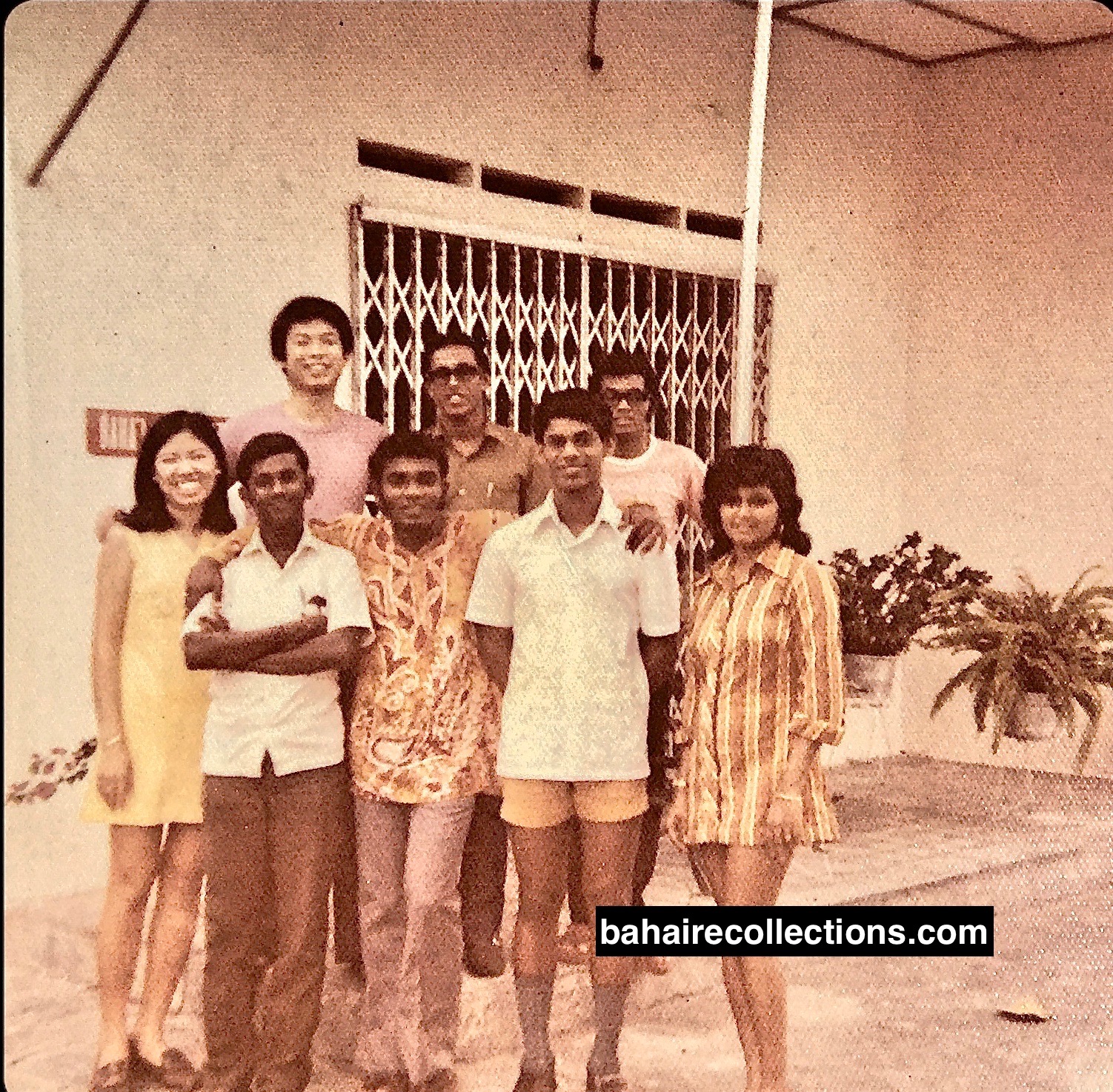 With staff of the National Bahá'í Centre with visitors, 1974. Front row L-R:  Kam Sim, Sri Krishnan, Govindan, Ramarao, Molly. Back row L-R: (unknown) Machamboo and A. Govindasamy.
MOZAMBIQUE
Things were going smooth when the year 1975 became another turning point. That was the year where I made a decision to move out of the country for good by the instrumentality of the Divine Will. I decided to go pioneering to Mozambique – most unexpectedly.
The call came through Mr. Sabapathy or Saba as we called him, who was pioneering in India. In mid-1975, Saba came back to Malaysia and was looking for a job. I remember him telling me about his joyful experiences of pioneering in India and about his wife and children who remained in India at that time. Each time I talked to Saba, the subject of pioneering always cropped up. He encouraged me to think seriously about pioneering, assuring me that the love of Bahá'u'lláh that would unfailingly descend upon pioneers. He also said it would be best to pioneer while still unmarried as there would be no family commitment. Not being able to find a job in Malaysia, Saba was thinking of returning to India and then go pioneering to Mozambique. He had learned that two pioneers were needed in Mozambique under the Five-Year Plan. He wanted to go first and wanted me to be the second pioneer needed in Mozambique. I was hesitant. Saba was persistent. Before returning to India, Saba wrote to one Miss Lizet, a Brazilian pioneer already in Mozambique about my job prospects there. To my surprise, Saba received a letter from Lizet while still in Malaysia which mentioned that her boss, a local Chinese, whose family owned a big departmental store in Maputo, the capital of Mozambique, had offered me a job. Saba handed the letter to me and asked me to consider very seriously and left for India. From India Saba left for Mozambique in 1976.
After getting the job offer, there was no excuse for me not to go. I prayed and meditated and left everything in His blessed hands. Soon it dawned upon me that my prayers to serve the Cause more has been answered through this job offer coming from Mozambique. If a job was an issue, that has been sorted out. If security was a matter, I was under the sheltering care of Bahá'u'lláh. So I took the plunge. I resigned my job at the school, knowing fully well that I would be losing out all my perks, especially pension benefits that come at retirement age. I left that job to take up the job for Bahá'u'lláh. After tendering my resignation, I went home to tell my parents. My parents were concerned about my future, but I showed them the letter offered by a Chinese family in Mozambique. I am the third among eight siblings. I am basically a strong person and my family knew that. I had gone to Vietnam and returned safe and sound. My parents blessed my trip to Mozambique. And here was I preparing to leave for an unknown country far away from my family and friends.
The future is not ours to see, people say. The Guardian says nobody knows what our future would be. I was going pioneering and I was not sure if it was a one-way journey. Several thoughts did rush into my mind. I would be missing my family and friends should I bury my bones overseas. My heart went for my spiritual father Inbum Chinniah. The true Bahá'í love he showered upon me, the guidance and words of encouragement he gave me shall always be etched in my heart. I recall with tearful eyes the times I spent visiting him and his family for lunch, and the discussions on the Faith that followed. I felt the mere conversation with Inbum would strengthen one in the Faith. In 1980 when I was already in the United States news reached me that Inbum passed away suddenly and most unexpectedly. I was devastated. God alone knows that piercing pain I felt. I wrote to Lily Chinniah and conveyed my deepest condolences. She sent me a very loving reply. I am led to understand a book has been written about Inbum Chinniah, which he surely deserves. I pray someone would send me a copy of that book.
Back to my story. Close to Christmas of 1975, I went over to England to visit my sister in Birmingham and then spent a few days with Ravichandran and Nargis, and her sister and a few other Bahá'ís in Oxford. Ravichandran was pursuing his Engineering Degree after his marriage to Nargis. Taking advantage of my trip to London, I went to the resting place of the beloved Guardian with my sister and prayed for guidance and strength to serve the Cause.  How modes and simple was his resting place, and yet the spirit that it evoked within me!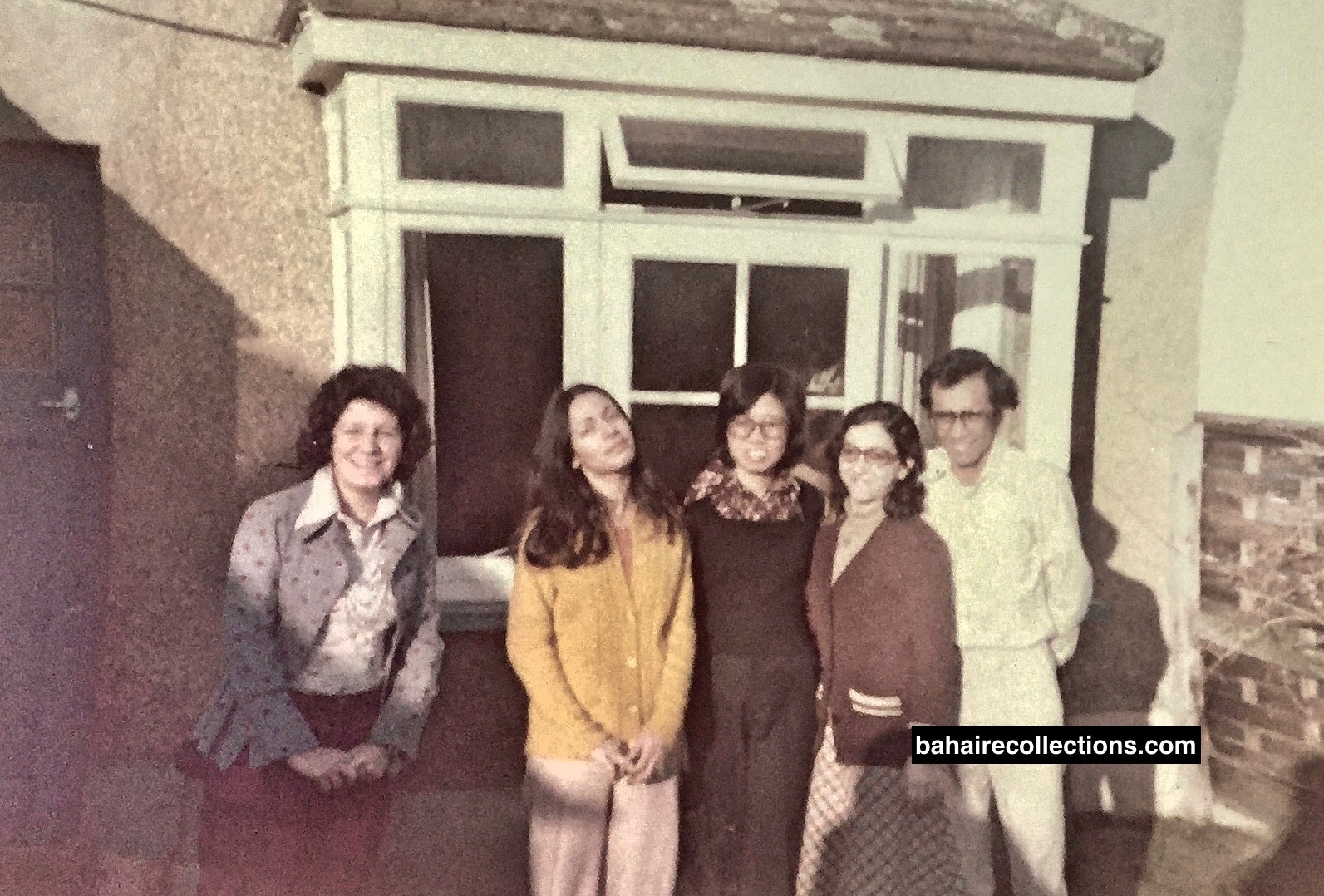 Sheffield, England. L-R: Zhila, Tahereh Silan, Kam Sim, Nargis and Ravichandran.

Then my next destination was Africa. My first stop in Africa was in Nairobi, in early 1976, where I had a transit flight to Lourenco Marques which was the capital city of Mozambique at that time. However, when I landed in Nairobi, I was informed that the flight to Lorenzo Marques was canceled indefinitely due to the insurgents fighting in the airport area. That was a rude welcome!  I had to figure out what I should do next, as I did not have much money with me to last a long time. I was caught! But my prayerful heart told me that was not the end of the world and that a path shall surely open. How could the contrary be the case, as I was on my Heavenly Father's sacred mission. A quick thought and prayer. I decided to book a flight to Swaziland, as the National Spiritual Assembly there was in constant contact with the Bahá'ís of Mozambique. Swaziland and Mozambique shared borders. It was while in Oxford that Ravichandran had advised me to go to Swaziland in case I could not fly into Mozambique as planned. I do not know what made Ravi give me that advice, but I saw the relevancy and usefulness of the advice that did work now.
While looking for an airline to fly into Swaziland, I was faced with the burden of dragging my heavy luggage. It was unbearable, given the jet lag, anxiety and agony I was going through. I took my chances and left my luggage with a lady in one of the airline kiosks at the airport. I knew I was taking a great risk of leaving my valuable belongings with an unknown lady. I simply had to do that. After about 45 minutes, I was able to secure an air ticket to Swaziland for the next morning. I returned to the lady and found her looking after my luggage, with a warm and sincere smile. I was so grateful to the lady, who kept my luggage. Out of gratitude, I gave her a big box of chocolates, which was presented to me as a gift when I left England. I felt such a stranger  who could be so trustful at the most desperate moment deserve more than chocolates. But that was all I could offer her at that time. She is still in my thoughts.
From the airport itself, I then sent a telegram to the National Spiritual Assembly of Swaziland to inform them of my arrival the following morning. Next, I booked a room in a modest hotel in Nairobi from where I phoned the Nairobi Bahá'í Centre. A Canadian Bahá'í lady who took my call came over to the hotel and picked me up. She took me to have dinner with another Canadian pioneer family. After I got back to the hotel, a Filipino Bahá'í, whom I had met at the Oceanic Conference in Singapore in early 1971, brought along another friend to say hello. We talked till the wee hours of the early morning. I almost missed the flight the next morning as I overslept!
I landed in Mbabane, Swaziland late morning, but no Bahá'í was there to pick me up. I was pretty exhausted flying half the way across the globe from Malaysia. My mind was not keen anymore with jet lag bothering me. But I resorted to ardent prayers. I faced a dilemma, but this dilemma was in the pioneering field and I was once again more than certain my fate was in the hands of the Blessed Beauty. In the end, I hitched a ride with a local Swazi man who knew the Allens who were on the National Spiritual Assembly of Swaziland. When I arrived at the Bahá'í Centre, the person who was supposed to pick me up at the airport had just gotten into the Bahá'í Centre and informed me that she had received my telegram only that morning. Anyway, I was given a stern warning by the Bahá'ís as it was unwise to hitch a ride with a stranger!  I was also told I had been lucky to have arrived safely in the Bahá'í Centre. Once again I was rescued.  That was assuring for me.
A few weeks after I arrived in Swaziland, I met Charlotte. She was an American pioneer in Mozambique. Mail was not coming into Mozambique. All mail meant for the believers in Mozambique were sent to Swaziland. Believers traveled from Mozambique to Swaziland to collect the mail. Charlotte came down to Swaziland to pick up the mail and to share with the local believers information about the Bahá'í situation in Mozambique. The first information I received from Charlotte was that there was not much teaching going on in Mozambique owing to internal fighting. So I was going to a country torn by internal strife, chaos, and anarchy. But that was where I was meant to be. I said to myself "Whatever will be will be."
A couple of days later, Charlotte and I drove from Swaziland to Lourenco Marques, the capital city of  Mozambique. I was made to understand that there was neither a National Spiritual Assembly nor Local Spiritual Assembly in Mozambique. So I knew much work had to be done in that country. I was happy to see Saba who had come there just a few months earlier. I met Lizet, the Brazilian pioneer with whom Saba was communicating on my behalf while in Malaysia. There was another newly arrived Portuguese pioneer family. They were Mr. Saverdra,  his wife Naomi and their two young children, Sonia and Jorge. Saverdra also worked in the same company as Lizet.
Upon arrival, I stayed with Lizet while waiting for my work permit to be approved. In the meantime, Charlotte was packing up to move back to Swaziland as the condition in Mozambique was getting very difficult and dangerous, especially for Americans. After she left Mozambique I moved into her apartment. Unfortunately, a few days after I moved in, the apartment was burglarized. I lost my two precious possessions – a new camera and a radio with a tape recorder. Saverdra was so concerned about my safety that he came over to replace the two broken locks. What could the loss of these earthly possessions do to me when I was already the wealthiest with the love of Bahá'u'lláh in my heart!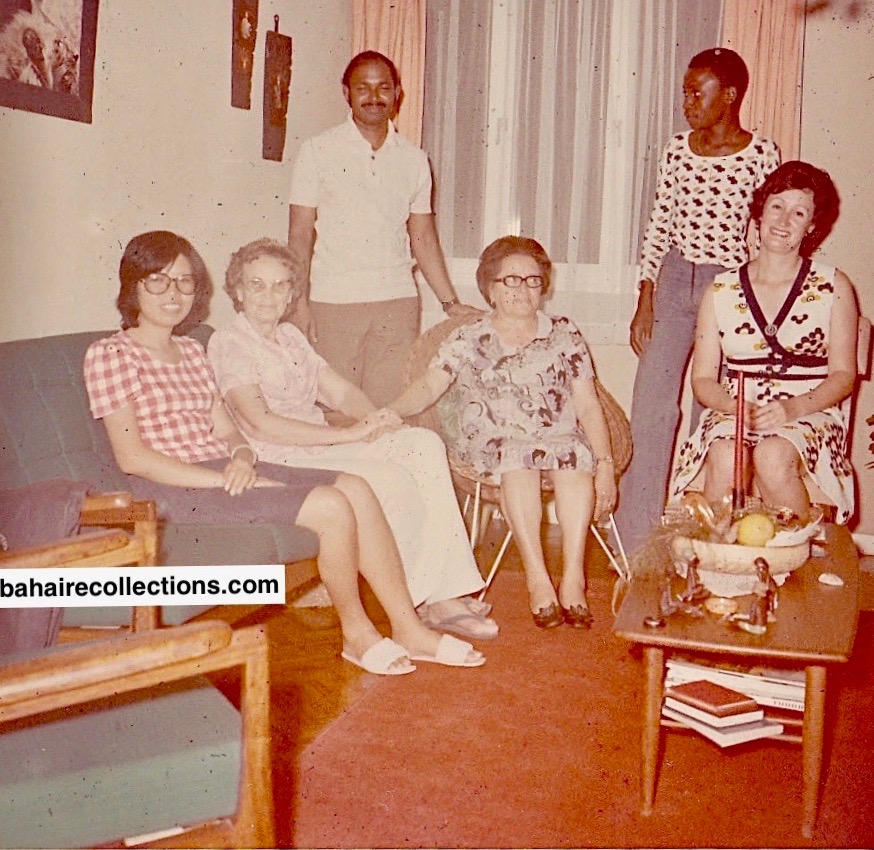 At Lizet's apartment in Maputo. L-R: Kam Sim, Charlotte Pinto and Saba with other friends.
While I was still waiting for my work permit, Lizet went home to visit her family in Brazil. Papa Duna, who was an Auxiliary Board member and spoke English well, invited Saba and I to have dinner in his home. Saba and I walked to Papa Duna's home, which was situated in a 'Barrio,' where the Black Mozambicanos lived. We had a very enjoyable dinner and a pleasant evening with Papa and Mama Duna. When Lizet got back, we told her about our experience in Papa Duna's home. She was appalled and reprimanded us for doing so, as it was highly dangerous and quite unsafe to go to the Barrio at night. Again we were rescued from a dangerous situation.
I started working at the Chinese family-owned company soon after that. While living in Lourenco Marques, all the pioneers could not afford to own a car. The buses were very crowded, often overflowing with passengers hanging out the entrance way. That would be uncomfortable for any lady to travel and pick-pocketing could not be ruled out. So, wherever we went, we had to walk. The only time I took a bus with no choice was with Lizet to visit Hippolito, a young Mozambican Bahá'í who also worked in the same company. As his village was quite far from the city, it was impossible to walk there. Hippolito's nephew had just passed away. Lizet and I went to his home which was nothing more than a round straw hut, to offer our condolences and say prayers.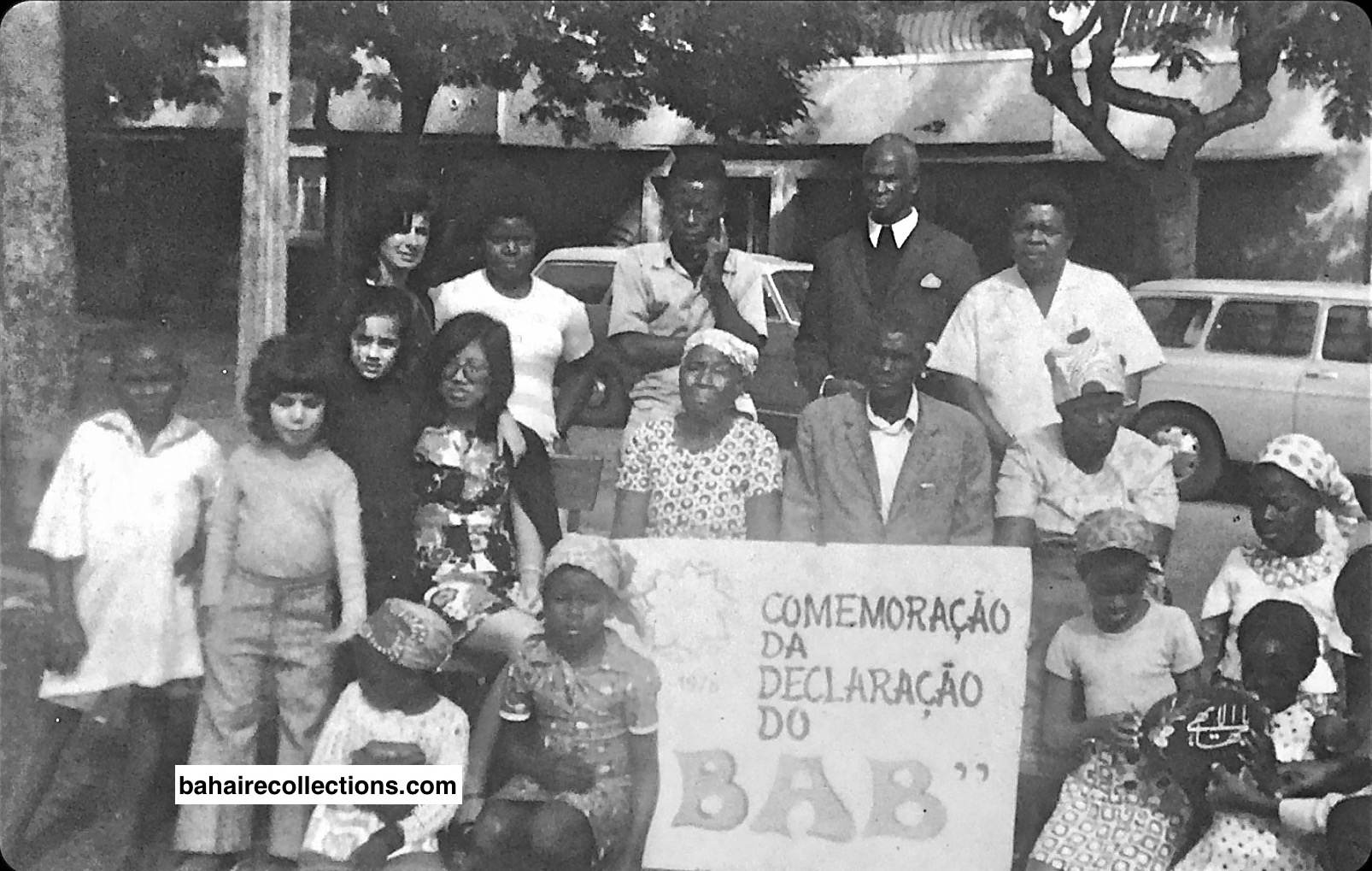 Celebration of the Declaration of the Báb on 23 May 1976 at the Maputo Bahá'í Centre.
There were not much teaching activities going on in Mozambique as it was still unsafe to travel to the villages. There was a rented Bahá'í Centre in Lourenco Marques, where the Bahá'is from the surrounding areas and pioneers gathered to celebrate Feasts and Holy Days.  Every morning Lizet and I would walk to Saverdra's house for the morning devotional, and from where we go to work. It was comforting to travel together for work as all the three of us worked for the same company. All my co-workers, including my boss and his family in the company, knew that Saverdra, Hippolito, Lizet and I were Bahá'ís.
With few activities going on in Mozambique we attended activities in neighbouring Swaziland. Once we attended a Teaching Conference in Swaziland. All the pioneers, along with Papa and Mama Duna took the long bus journey to Mbabane, the capital city of Swaziland to attend the two-day conference.  We had a great time.  There was, however, one teaching trip that I made with a Bahá'í pioneer couple in Mbabane to a nearby Swazi village.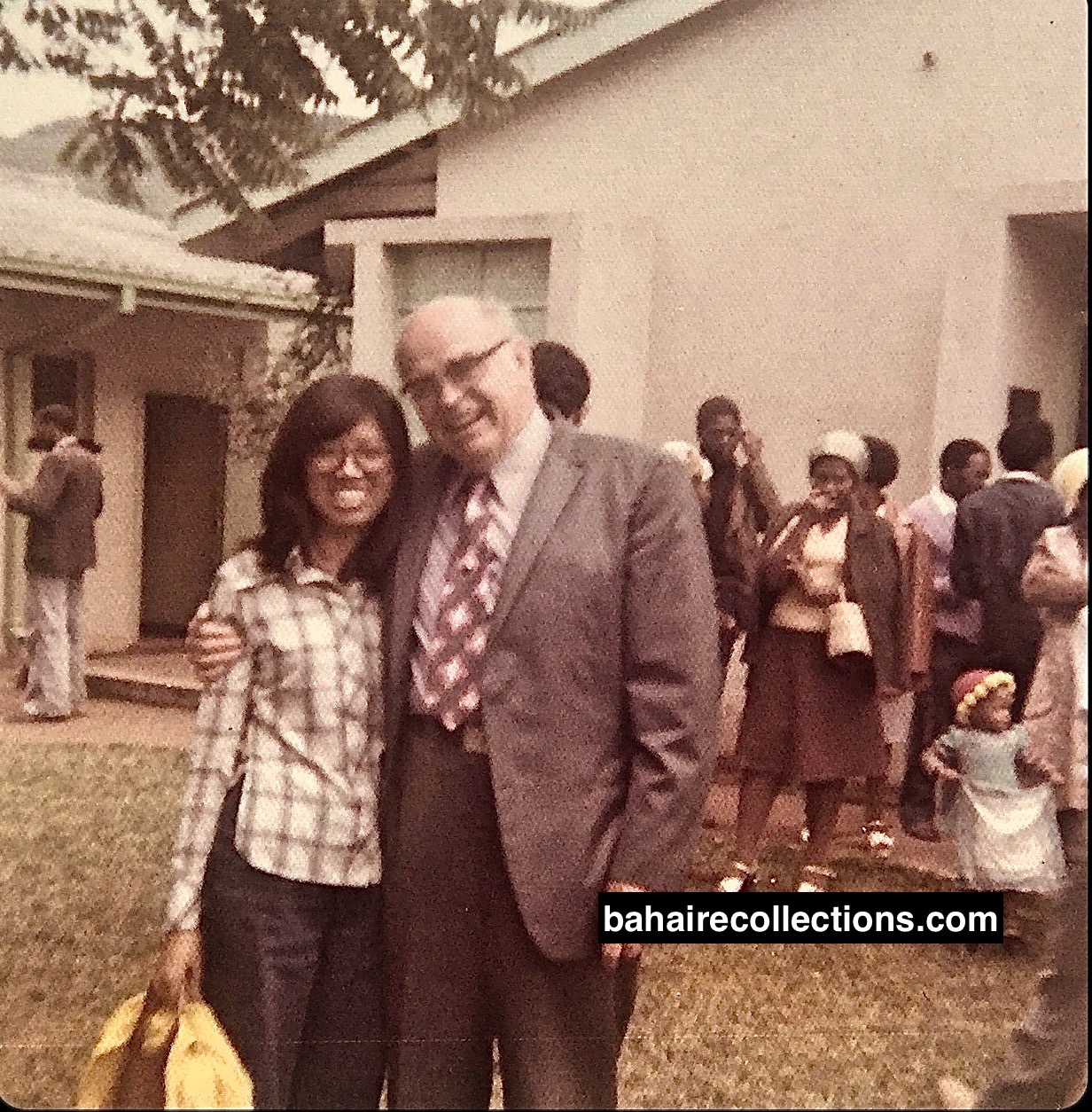 At  Teaching Conference in Mbabane, Swaziland with John Allen, member of National Spiritual Assembly of Swaziland.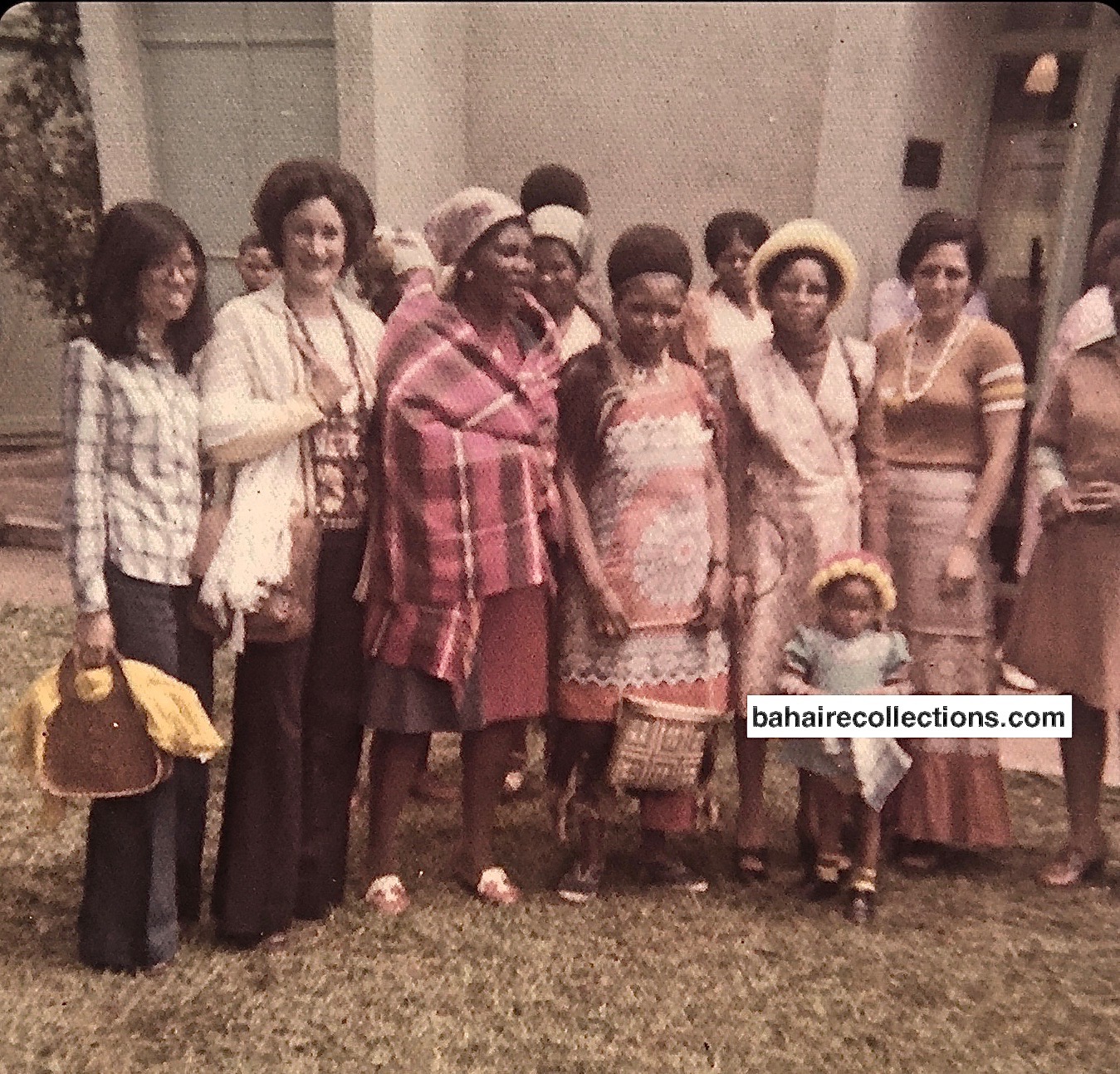 At the Teaching Conference in Mbabane, Swaziland.  Kam Sim is at the extreme left, with Lizet, the Brazilian pioneer next to her.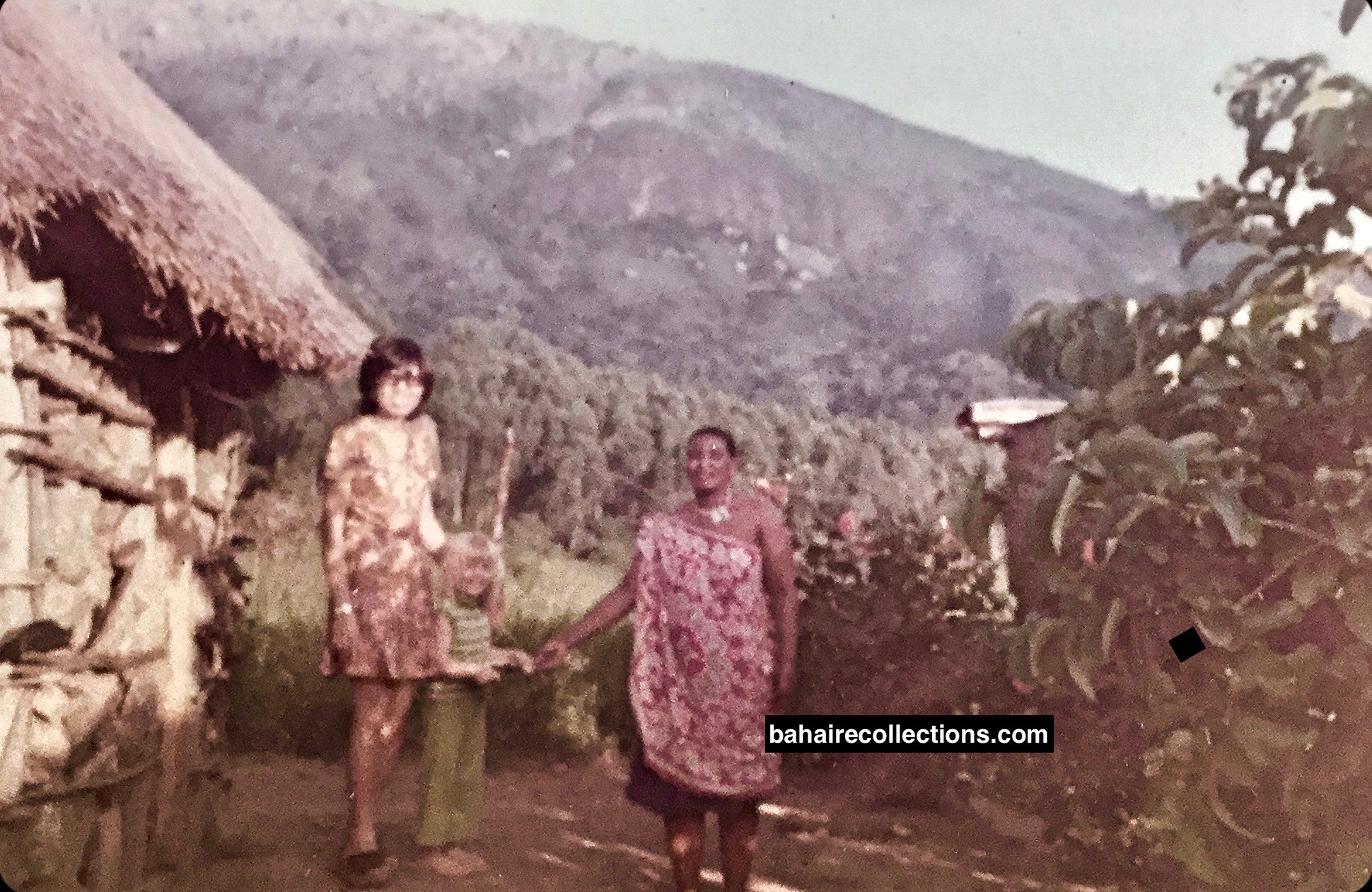 At a Swazi village near Mbabane with little Jennifer, and a friend of the Faith. Jennifer is the daughter of the caretaker of the Bahá'í Centre in Mbabane.

Despite the slow growth of the Faith in Mozambique we had been blessed in other ways. We pioneers in Mozambique were like members of one family. We always helped one another and prayed together. Lizet loved to cook but hated to wash dishes. Many a time, she would invite Saba and I for dinner. After savoring her Brazilian cuisine, Saba and I would gladly wash the dishes that filled the sink. Sometimes, the three of us would go downtown to enjoy the locally famous "torradas," a Portuguese toast. On many occasions, Saverdra and his family would invite us to go to a nearby park to relax, enjoy each other's company and spend the evening together. We all drew strength from each other.
Conditions in the Lourenco Marques city were deteriorating as time went by. The que for buying bread was getting longer by the day. Luckily, the company that I worked for also owned a supermarket and a bakery, where I could get my rations of bread and meat when it was available. Many of the local Portuguese were going back to Portugal. Big shipping containers could be seen in front of homes everywhere in the city, loading household effects for moving them overseas. A Portuguese Bahá'í family, that had been living in Maputo for a long time, just packed up and left.
Occasionally Lizet, Saba and I would go down to Swaziland where we got letters from the Universal House of Justice and other Bahá'í-related information. The journey to Mbabane could take between 5 to 7 hours, depending on how many times the bus would be stopped by the soldiers to search the passengers or the bus. On these trips, I would buy cans of cashews in Maputo (at this point the capital city was changed to Maputo) and sold them to the Bahá'ís in Swaziland – at cost. With the Rand, the Swazi money, I would buy sugar to be shared with the Bahá'ís back in Maputo.
On a few of these trips, I had a few scary experiences. Once I was carrying a deed of a house for a friend to be delivered to one of his family members in Mbabane. One of the soldiers discovered the deed in my duffel bag. I was questioned, intimidated and interrogated but finally released. But sad to relate, the deed was confiscated. On another occasion when I was traveling with Saba I had a few Rands in my possession. At the border crossing, all the men were ordered out of the bus and searched. After a while, Saba came over and told me that it was a very thorough search. I was worried that they would do the same for the women and discover the Rands that I had in my possession. What else could I do other than invoking the name of Bahá'u'lláh. Thanks to Bahá'u'lláh, nothing happened as feared!  I was able to have extra Rands for buying my groceries. On yet another occasion, I was hitching a ride with a co-worker and his friends who frequently went to the casino in Swaziland during the weekends. We crossed over the border and reached their friend's house. They pulled out the front dashboard of the car and took out bundles of Escudo (the currency of Mozambique). To my horror, I realized that they were smuggling the local currency. That was the first and last time that I ever hitched a ride to Mbabane with them. I did not want to be branded a criminal and bring shame to the Faith.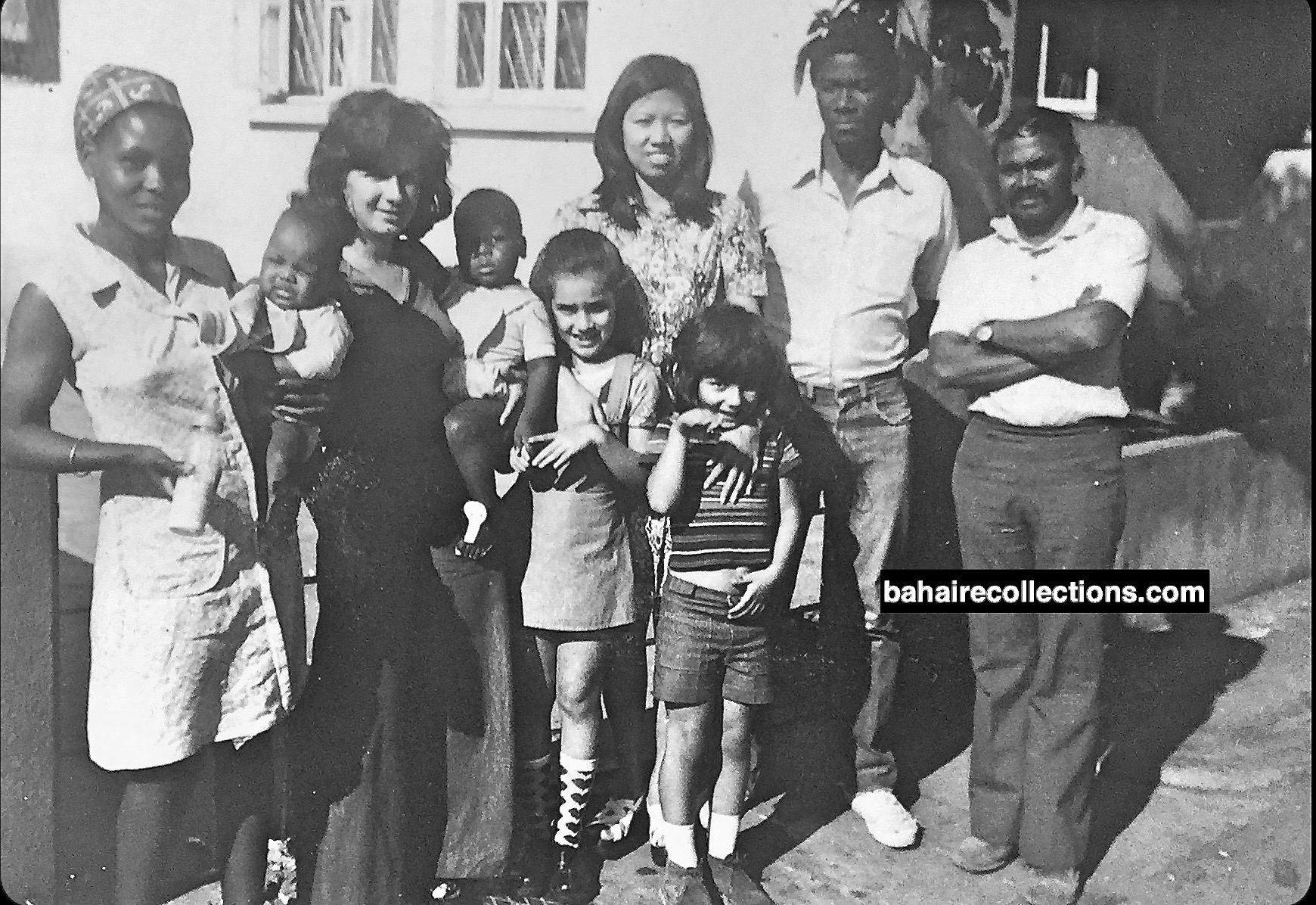 In front of the house of the friends of the Faith Mr. and Mrs. Joán, and Naomi and their children. Saba is at the extreme right.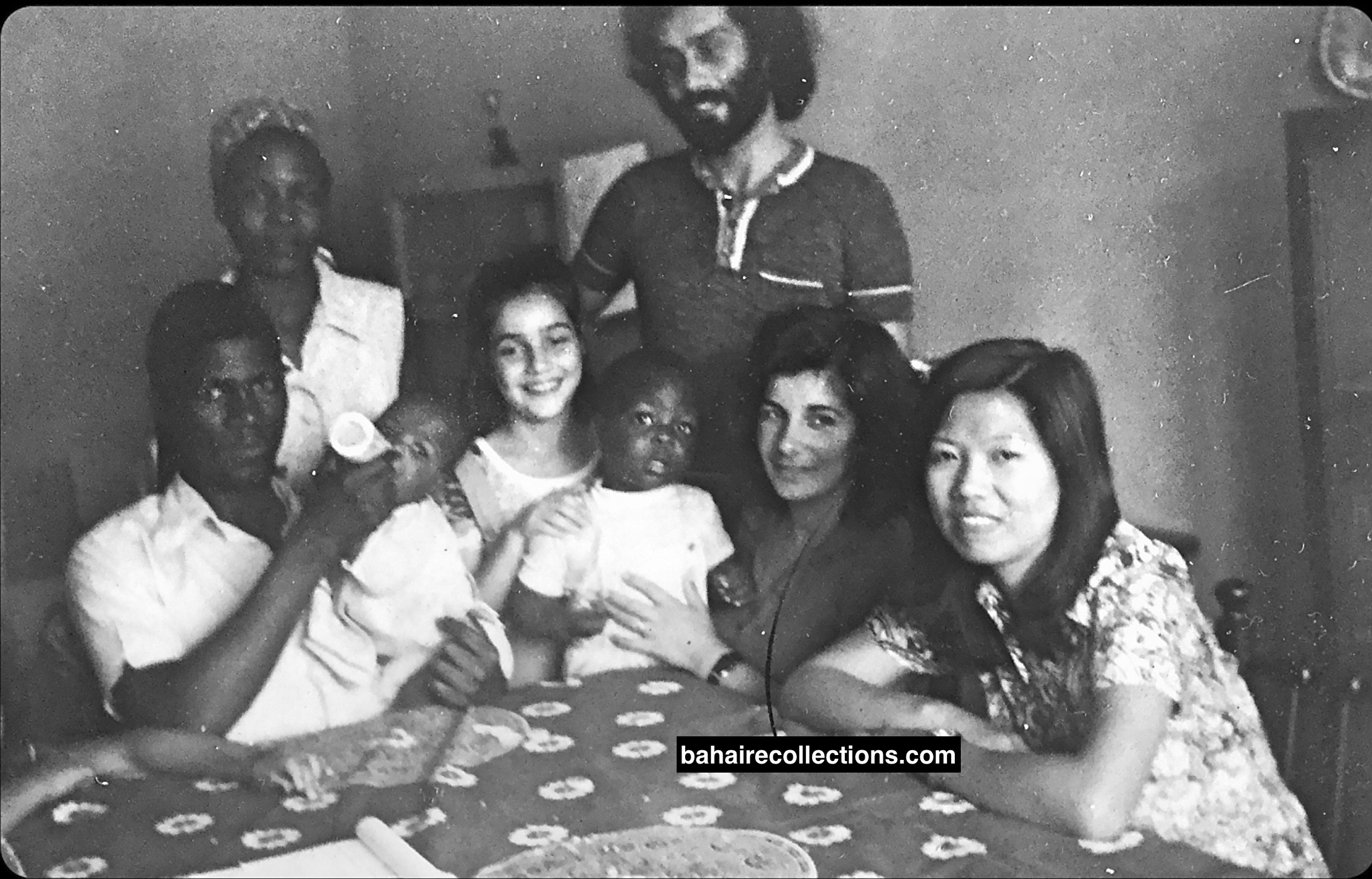 In Joán's house with Saverdra standing behind his wife.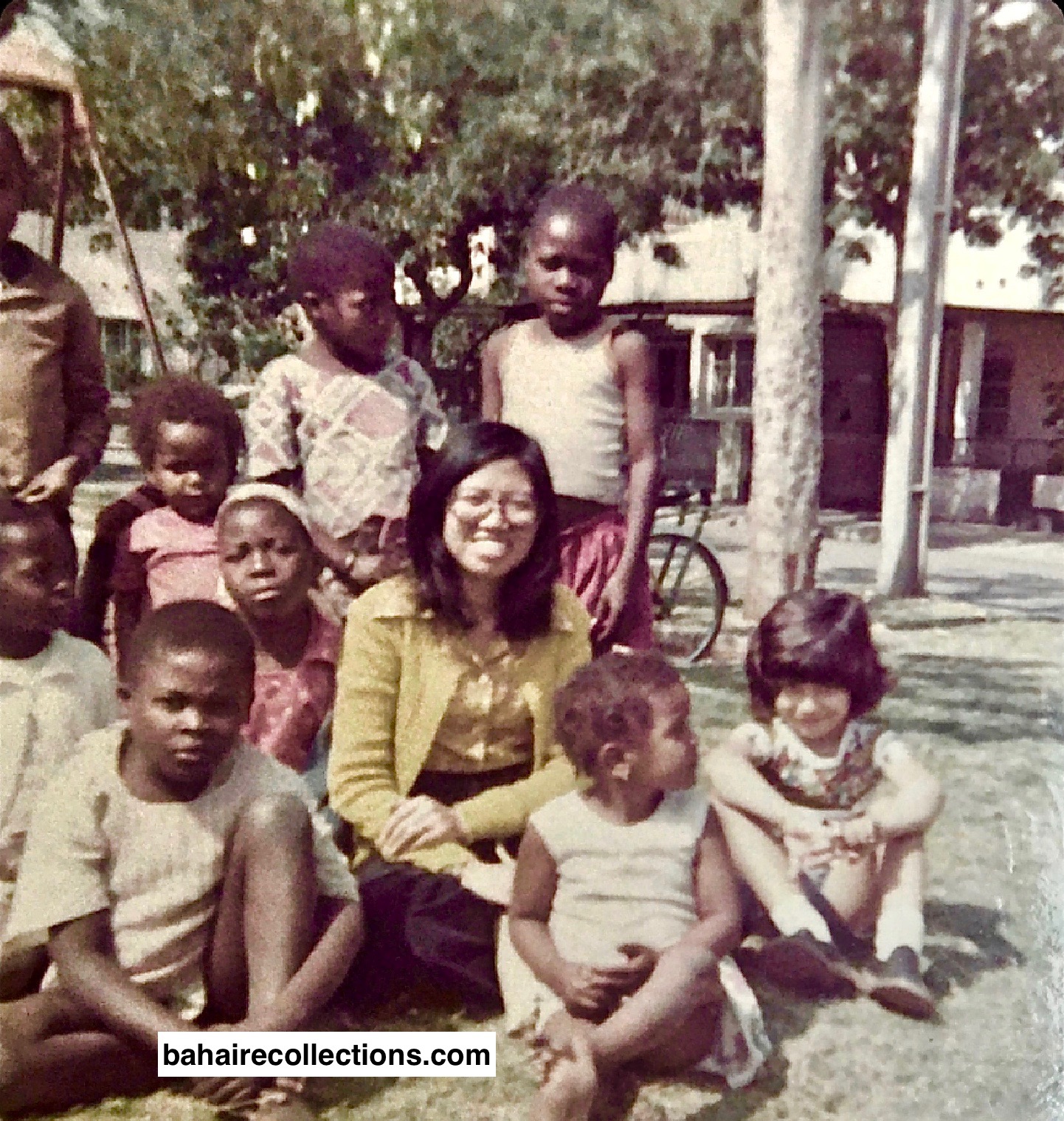 In front of the Maputo Bahá'í Centre with little Jorge and children.
After the country gained independence, conditions were surprisingly getting still worse. Saba was working and had rented a house waiting for his family to come from India. But several other pioneers were moving out of the country. The sad news came when Saverdra decided to move back to Portugal, and my boss was in talks to sell his family's company and move the business to Portugal. There was talk about Lizet going to work in Portugal. I wondered what my own fate would be with all my co-pioneers leaving one by one. The Chinese family for which I worked had a business in Macau and I thought of moving to Macau. But there was another dilemma if I went to Macau. By this time Matt and I had decided to get married and were waiting for the right timing. It was dangerous for Matt, an American to come to Mozambique. And we could not start our lives in Macau. Matt was living in Vermont, a state in the Northern Eastern United States, where he was pursuing his graduate degree. So the only option left for me was to move into the USA and get married there. Matt applied for a fiance visa for me to enter the USA.
Eventually, Lizet went to work in Portugal. While waiting for my visa to the States, I first moved in with a Portuguese Bahá'í family in Maputo as they insisted that it was unsafe for me to live alone. I continued to work for a while and then moved out to Swaziland to wait for my visa to the States. While in Swaziland, I wrote to my parents in Malaysia informing them of my marriage, sought their blessings and asked for written consent. The consent letter from may my parents arrived, and I forwarded it to Matt in Burlington, Vermont, USA. I learned later that the Local Spiritual Assembly of Burlington, USA had got it translated into English and verified by a local university.
Finally, my visa arrived, and I left to the States to get married. That was after 16 months in Africa.  When I arrived in Burlington arrangements were made for me to stay with a Bahá'í family. A week after I arrived in Burlington, Vermont, where we got married on 21 April 1977 – the auspicious Ridván day. We had a very simple and quiet wedding – no pomp, no extravaganza.  Both Matt and I were new in town and our families were far away. We only had a member of the Local Spiritual Assembly to officiate the wedding and a Bahá'í couple as the two witnesses. Today, we are blessed with a very happy marriage, all through the infinite mercy of Bahá'u'lláh.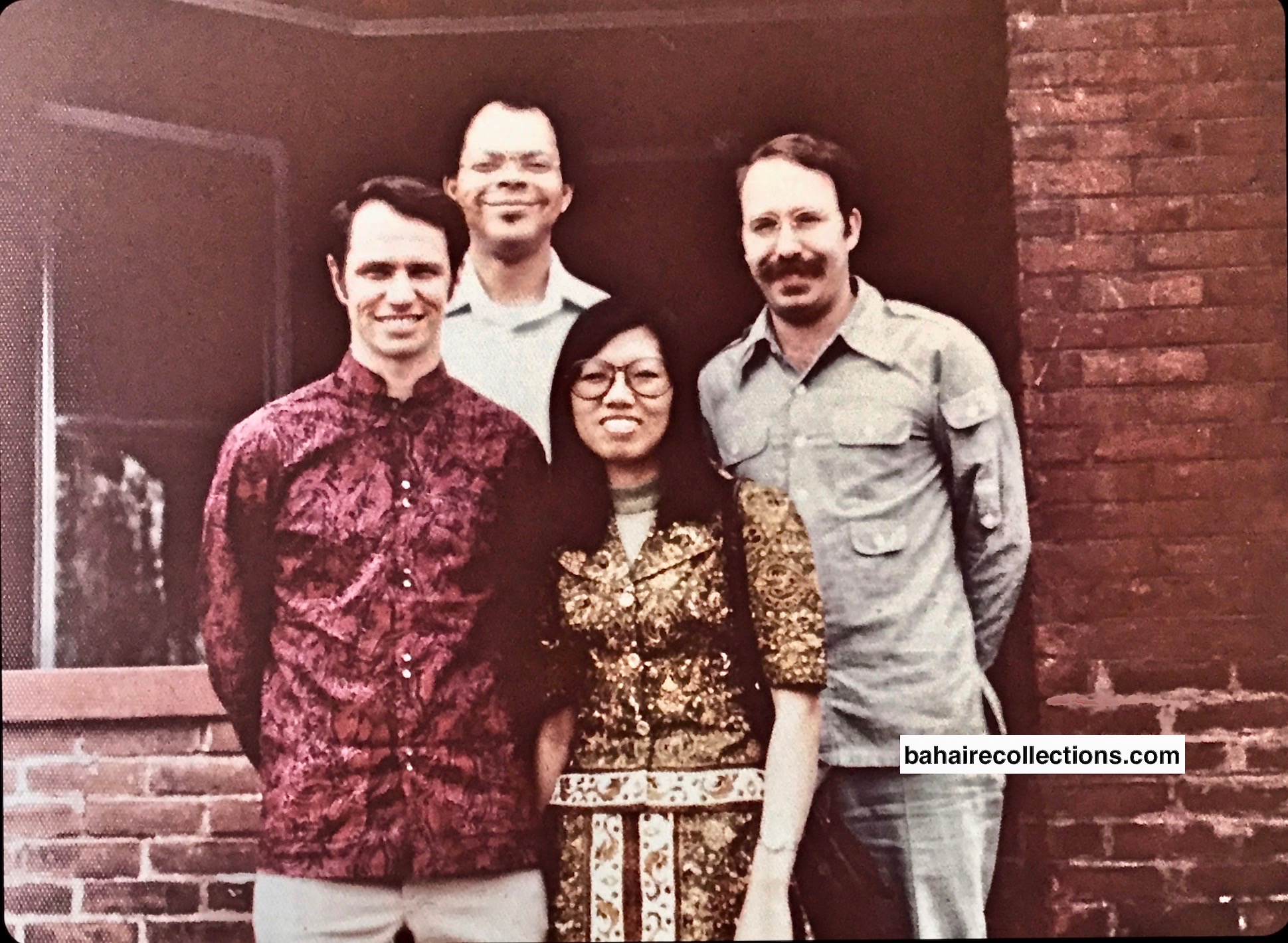 Photo taken with Matt and Bahá'í friends on my wedding day. Standing at the back left is Edward, representative of the Local Spiritual Assembly. Standing at the right is a witness for the wedding. His wife was another witness who snapped this photo.
After Matt and I married in Vermont, we had very little money. With Matt's Master's degree in Teaching English as a Second Language, we decided it would be best for us to go to Saudi Arabia to make some money. We found a job in the mountains of Saudi Arabia near the Yemen border. After our arrival, the Bahá'ís there visited us. It was extraordinary to hear their story. The local situation demanded them to lead two lives -as Muslims and as Bahá'ís. They also gave us advice about not teaching the Muslims.  After Saudi Arabia, Matt found a teaching job in Lisbon, Portugal. While we were in Lisbon, I was thrilled to re-connect with Lizet and Savedra and his family. Matt and I returned to the States to spend time in Florida, Pennsylvania and in small towns near Los Angeles. Much later we moved to Albuquerque, New Mexico where we found our Bahá'í niche with the wonderful Bahá'í community here. We were immediately put on several committees, had devotionals and study circles at our house and contributed to many of the Bahá'í celebrations.
We have one daughter, Jessica, who was born in California. She is a Major in the US Air Force, living in Montana with her husband Erik and our grandson Daelin. We have done our best, are grateful for the abundance Bahá'u'lláh has given us and for the rest of our lives will be of service to the Albuquerque Bahá'í community.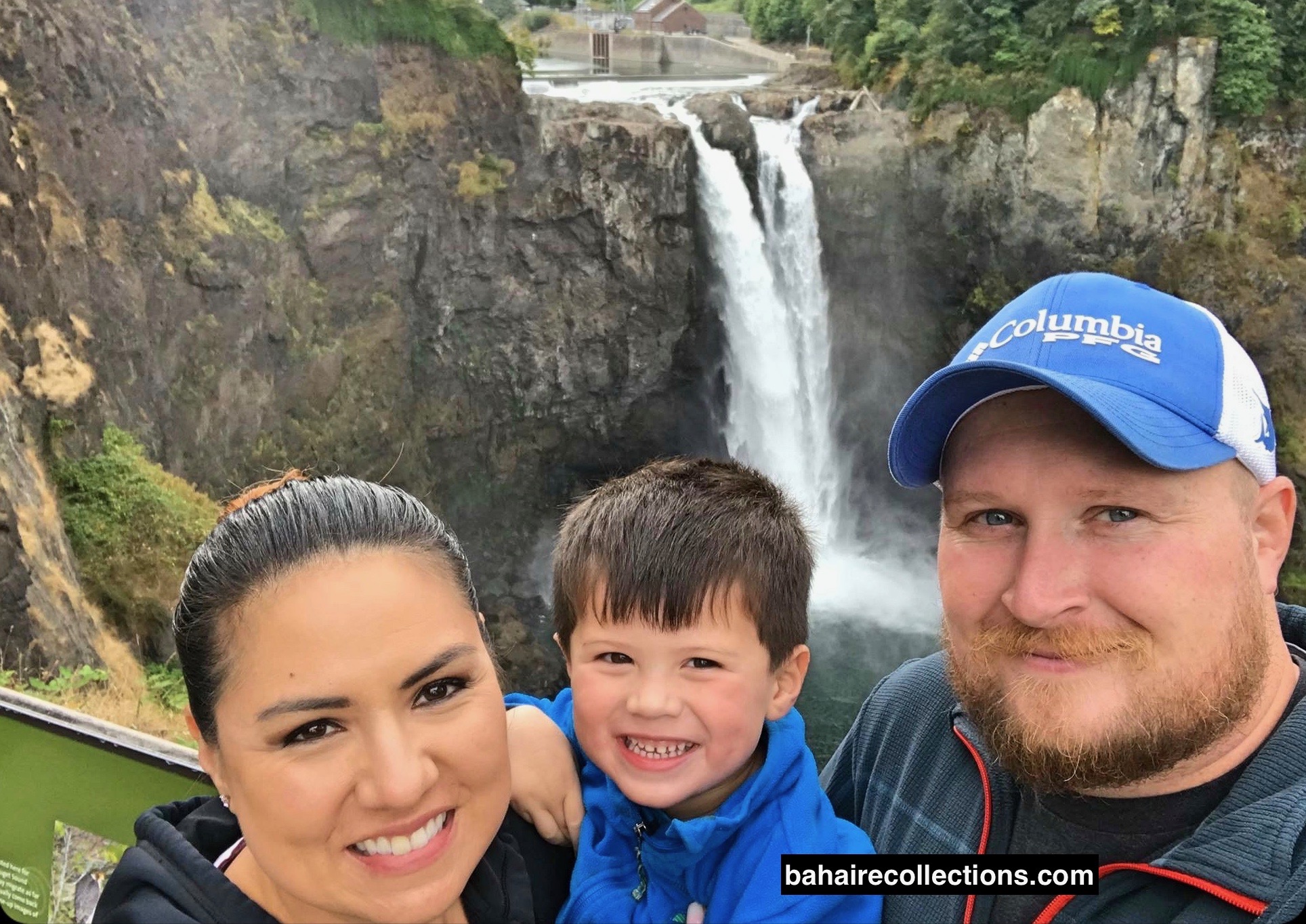 Jessica and her husband Erik with Daeilin.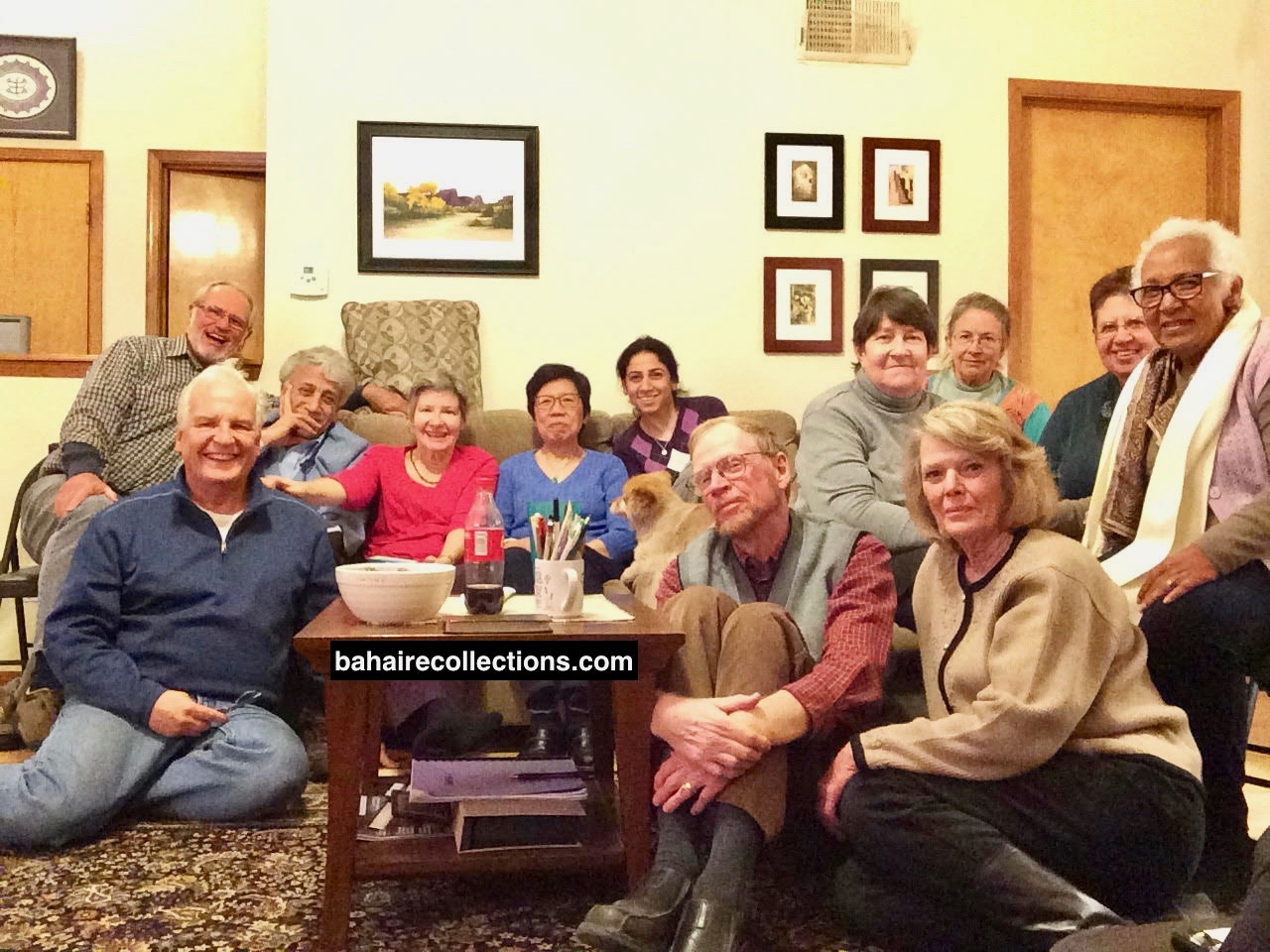 East Sector Ruhi Study in Albuquerque. Matt is sitting on a chair at the extreme left. Kam Sim is fourth from the left on the sofa.
In the course of my journey in travel teaching in Vietnam and pioneering in Mozambique, there were many challenging occasions and highly dangerous situations -real Roller Coaster situations that I faced. But all these stresses, challenges, tests, trials, tribulations and explosive situations were blessings in disguise. They were sent to make me stronger in the Cause. In each of the difficult and dangerous situations, I used to diligently recite the Tablet of Ahmad and mention to Bahá'u'lláh with all feelings, "I lay all my affairs in Thy hands." When I laid my affairs in His hands, I truly, sincerely and definitely did, without a shadow of doubt. As I had faith in Him so was I always blessed. As my story would run into pages I would not wish to mention the numerous miracles Bahá'u'lláh performed in my life. I am acutely aware that Bahá'u'lláh knows the right solution for every situation, and my faith in Him had never failed me – not at all!  I am truly grateful that at every step of the way, I had wonderful Bahá'ís and several kind-hearted friends of the Faith who offered me help and encouragement. I am also thankful that Bahá'u'lláh has given me the bounty of serving Him, in my own small and humble ways. And my current prayers is for Matt and I to be strong in the Covenant till the very last breath! How lovely to mention the name of Bahá'u'lláh when breathing our last!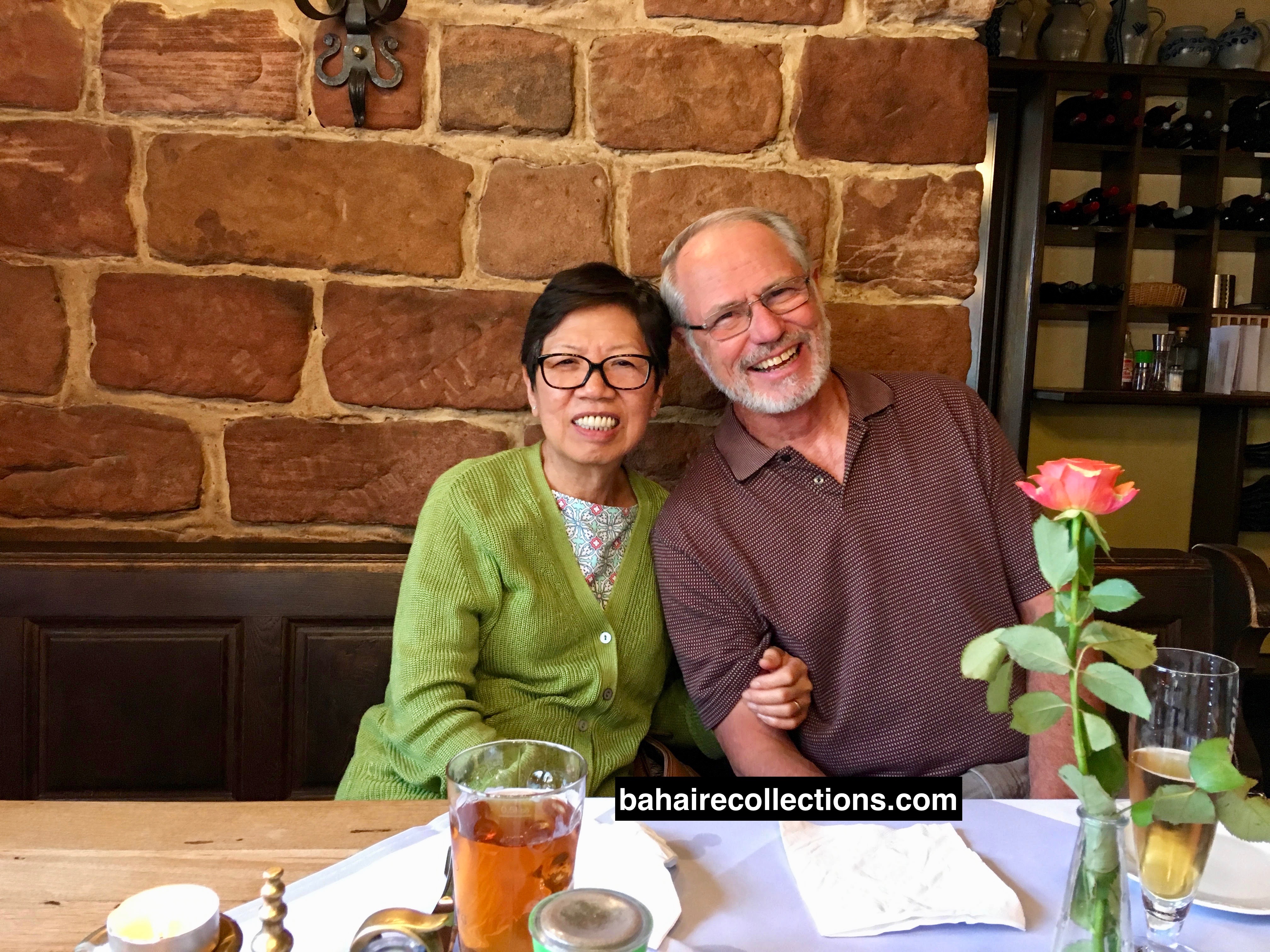 We have been blessed beyond measure!

Yaw Kam Sim Wagner
Albuquerque
New Mexico
United States of America
30 April 2019
Copyright © bahairecollections.com
You may leave your comments at: info@bahairecollections.com