Looking Back With Immense Gratitude
Mari-Malaysia
As I look back I am eternally thankful to Bahaullah for having chosen this unworthy servant to serve His Cause. I am equally thankful to those who brought the Faith to me and deepened me in the Cause.
I was born in a coconut plantation near the coastal town of Bagan Datoh, the mouth of Perak River. I was placed in a Telugu school in standard one in 1957. Just after the independence, my family had moved from this coconut plantation to a rubber plantation in Bahau, Negeri Sembilan. Since there was no Telugu school in that estate, I was sent to an English missionary school. I did not know a word in English, when I started schooling in January 1958. I was placed in standard two, as I was 8 years old at that time. I completed my lower secondary in 1966, but was not able to pursue my further education owing to the poor financial situation of my family. At the age of 17, I was gainfully employed as a rubber tapper in Sungei Sabaling estate, the same estate as my parents.
Life in the estate brought me lots of joy. I leave to work in the morning and return home around one in the afternoon. I take a good rest while listening to Hindi, Tamil and Telugu songs on a record player. Later in the evening, I would accompany my father for  working in a big farm where we grew vegetables. In those days the management used to allocate  land for interested estate workers to do farming.  We used vegetable grown from this farm for our own consumption, and any surplus would be given away to the neighbors and friends. After working in the farm I would go for football game with my friends. I  played fairly well and was chosen as captain for the team. During most of the weekends, we would go to the neighboring estates for football matches. We really enjoyed spending our time watching movies, hunting, and fishing. It was a carefree, joyful life.
The Baha'i Faith Wafts Over Me.
It was during those happy days of my life in this estate that I first heard about the Baha'i Faith from Mr. Ramanaidu. He was posted to Gemas after his teacher's' training college. During the weekends, he would come to the estate where we lived, where his own parents were working.
I clearly remember him as a good football player. One Saturday, he would come to the field where we played football and taught us how to play a good game. At several occasions he had served as referee during matches. We were all very happy to be coached by Ramanaidu. One day  he asked me if I could gather some youths and adults in a particular area, to talk about "Progressive Revelation" and also about the "Life and Death". Later that day itself, around 25 of us gathered at the estate library. One of them was my eldest brother. He was also curious to listen to the talk as he knew Mr. Ramanaidu  childhood days in Bagan Datoh. Mr. Ramanaidu  spoke to us on the progressive revelation and the human soul. I still remember it to be very inspiring and heartwarming, as he delivered the message very eloquently in both Telugu and Tamil languages. A couple of my friends accepted the Faith there and then. I too wanted to, but hesitated to join them out of my fear for my brother. That was the first time I had heard about the Bahai Faith and Baha'u'llah.
Days and months passed. Ramanaidu was in constant contact with me. By then, he got married and had been transferred from Gemas to Bahau, even closer to the estate. Even though I was not a Baha'i, I still would attend most of the gatherings held in his house. He organised Baha'i Holy days in the house with talks delivered by specially invited speakers from other parts of the country. Bahai visitors to Malaysia were also brought to the estate house.
It was at  one of the days in the early 1970, that I was sacked from this estate as a result of my own fault.  In those days, it was quite common in the estates for rubber tappers to add a little water into the latex. That was not permissible, which I did not take too serious. The field conductor was among the workers at the rubber factory when attempting to add water, my friends around me tried to hint to me not to do so.  I just ignored them thinking that that was  quite alright. But they were actually trying hard to save me from the trouble that was to come ahead. The field conductor was really puzzled watching at the strange thing happening right in front of him. He instantly fired me in front of all the workers, and requested me to go to the office later in the afternoon. I went to the office and was ushered into the Manager's office. The manager, Mr. Tolsen said, "You are sacked. Take your last pay and get lost from this estate!" These were the actual words uttered by Mr. Tolsen.  I was shocked and sad. But looking back it was the sacking that later led me into the Faith. I considered that sacking a true blessing. Had I stayed on in the estate, I would not have become a Baha'i for fear of my elder brother. I was left with no choice but to leave that estate.
I left to the neighboring estate of Ladang Geddes to assist my aunty in their small rubber plantation. The old routine hobbies repeated. I continued to play football every evening. One day, Mr. Ramanaidu came to the estate and saw me in the field. He patiently waited until the game was over. He then came up to me and gave me a list of  15 names. He told me, "These are the Baha'is in this estate." He further said, "Can you  please gather them at Mr. Sinjaman's house?". That was his humble request. He also allowed me to use his motorcycle to carry out this task. I went around on his motorcycle and invited the friends for the gathering at 7.30 in the evening. Those were the deepening classes that continued to take place for a year or so. Although I still was not a Baha'i, I did attend the deepening classes with them. However, since I was a regular participant, everyone assumed that I was a Baha'i.
Every time I attended the deepening classes, I was carried away by the creative words of Baha'u'llah. My inner being prompted me to investigate more about the Baha'i Faith. I was deeply moved by the principles of oneness of mankind and oneness of all religions. I thought to myself how beautiful would life be if all could live together as the flowers of one gardenas taught in the Bahai Faith! The other teachings that attracted me were prayers and the subject of  eternal life.It was during these deepening sessions on the 15th of April, 1971, I declared my faith in Baha'u'llah. During Ridvan election on the 20th. April 1971, I was elected to the Local Spiritual Assembly of Ladang Geddes, Bahau. I was merely 20 years 11 months and 25 days old. I had to wait 5 more days to attain age 21. Whenever Mr. Ramanaidu and Mr. G.A Naidu organize deepening classes at his residence, he will invite the neighboring Baha'is to attend. Together with few other friends, I would cycle for almost 9 miles to attend these gatherings. And that is where I had met my dear friend Dr. Nathesan Sellappan, now in Muar.
I must say that surprisingly Ramanaidu never coerced me into accepting the Faith. It was in fact the sincerity and love showered upon me by Ramanaidu's family which became another contributing factor for me to accept the Faith. When his second child was only one month old, he left his family under my care and went on a teaching trip to India for six months.
First Introduction to the Asli people
It was in the August school holidays in 1971 that my services for the Asli believers had just begun. A team comprising of Mr. Ramanaidu, Mr. G.A. Naidu, Mr. Satanam, Mr. Isaac De' Cruz, Mr. Nagendran and myself went for teaching at the Tasek Bera Asli settlement. That was followed by a trip to Kampong Jentong with a team comprising the above. Another group from Alor Star with Mr. Ganesamurthi, Mr. Jeyagoban and Elangovan joined us during the Hari Raya public holidays. With them we visited Kampong Gepai, Bidor the following day. These two maiden trips had made me fall in love with the simple, loving and much lovable Asli people. That gave me the desire to serve them. That was just the beginning. At that period of time, there wasn't any Baha'is around Sungkai or Bidor to take care of the Asli believers. In 1975, Ramanaidu had got a transfer to Bidor, and I was then working for a Japanese company in Masai. Ramanaidu wrote a letter asking me to consider coming over to Bidor to assist him in the Asli activities. In the same year  I left Masai to join him in the teaching work in the jungles. When Leong Ho Chiew came to Kampar on his official posting he too was of great help to the Asli believers in this part of the country.
I still remember the South East Asia Regional Conference held in Port Dickson in December 1976, where three Hands of the Cause were present- Mr. Collis Featherstone, A.Q. Faizi and Dr. Muhajir. The National Spiritual Assembly had wanted as many believers from the Asli areas to attend this historic gathering. I remember chartering a couple of buses from Bidor and Sungkai for the Asli believers. We all were accommodated at the Stella Maris bungalow, not too far from the National Union of Banking Employees (NUBE) building where the main conference was held. We cooked near the Stella Maris bungalow and the special classes were for the Aslis were also held there. Only at night we all gathered at the NUBE building for social events.
At this conference, Hand of the Cause of God, Mr. Muhajir made a call for pioneering. I immediately volunteered to pioneer to Sarawak. I was in Sarawak for a year and then in Sabah for another three months. When I was in Sabah, I wrote a letter to the Secretary of the National Spiritual Assembly of my location and my activities in that remote area. Soon, I received a letter from the then Secretary, Mr. R. Ganesamurthi requesting me to return to Bidor to assist Ramanaidu in the Asli activities. During those years in the mid 1975s thousands of Asli people had accepted the Faith in Northern Perak, Ulu Kelantan and Pahang. As requested by the National Spiritual Assembly, I returned to West Malaysia in January 1977.
As Ramanaidu was in Bidor, I decided to settle around Ipoh town so that I could be of some help to the Asli believers from northern Perak right up to Ulu Kelantan. The centre of activities for them was at the Ipoh Bahai Centre. By the grace of Baha'u'llah, I got a job in Hospital Bahagia in August 1978. Although I was serving as the Assembly member of Ipoh community, my heart and my concentration was still centered on the Asli activities in the deep jungles for whom I have been serving from 1971.

Some members of the National Assembly, Board Members Mrs. Shantha Sundram and Mr. Rama Naidu, Counselors Yankee Leong and Inbum Chinniah, and some Asli teachers with Asli believers at the National Convention, Merlin Hotel, Cameron Highlands, 1978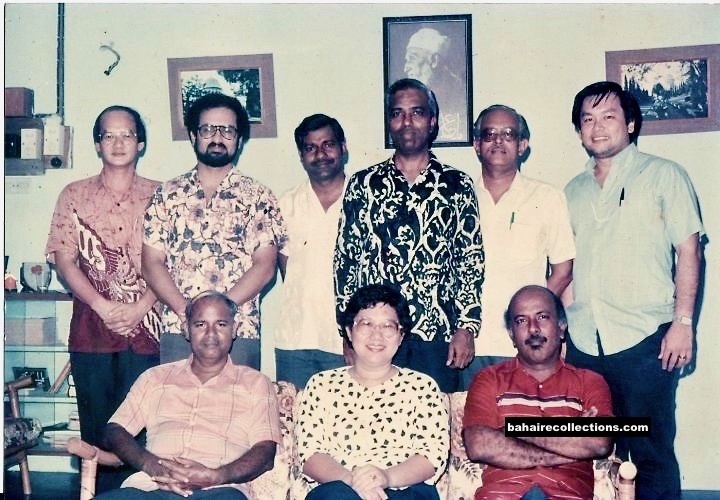 Local Spiritual Assembly of Ipoh. Seated L-R: R. Kanniappan, Doreen Tan, Vasudevan. Standing L-R-Tan Boon Tin, Vijayasegaran, Y. mari, Arumugam, K. Krishnan and Bernard Ong.
Bahaullah has enabled me to serve His Cause in some humble capacities. I served as an assistant to Auxiliary Board Member Ramanaidu for 4 terms, and for Auxiliary Board Member Tan Boon Tin for 2 terms.  Finally I myself was called upon to serve as an Auxiliary Board Member for two terms under the then Counselor Jayagoban, and Counselor Dr. Lee Lee Ludher. I was privileged to serve as Treasurer for the Asli Committee for many years. Currently I am a member of the Task Force for the Training of the Local Spiritual Assemblies in the Asli regions. When the law of Huququ'llah was made applicable to the whole world effective 1992, I was appointed as the representative of Huququ'llah for the Asli region by the Board of Trustees of Huququllah South East Asia, lovingly guided by Mr. Theenathayalu.
Since the day I became a Baha'i in 1971, my love and passion to serve the Asli community has gone deep into my heart. My love for the Asli believers is simply beyond bounds.  By the Will of God, I look forward for the continuity of the same bounty until my last breath.
Through the arrangement of my parents, I was married a distant relative girl from Hutan Melintang. We married on 11 November 1979 at the Teluk Intan Hindu temple, and that very evening we had a Bahai wedding at the town hall in Tanjong Rambutan. A couple of weeks later my wife accepted the Faith, and she became an added strength to my Baha'i services. My first two children are boys, Sirenjivee and Yuvaraj.  My second son Yuvaraj passed away on 8 March 2010 from a road accident at the age of 26. The second two are girls, Lua Preethy and Liva Preeya. It was the late Ramanaidu who gave names for all my four children. I am blessed to have a good family is involved in promoting the Cause.
As I look back, if feel immensely grateful to Bahaullah, my father in heaven, and Rama Naidu, my spiritual father for what I am today.
Y.Mari
Ipoh
Malaysia
25 September, 2016
Copyright © bahairecollections.com