REMEMBERING LILY JANSZ
REMEMBERING LILY JANSZ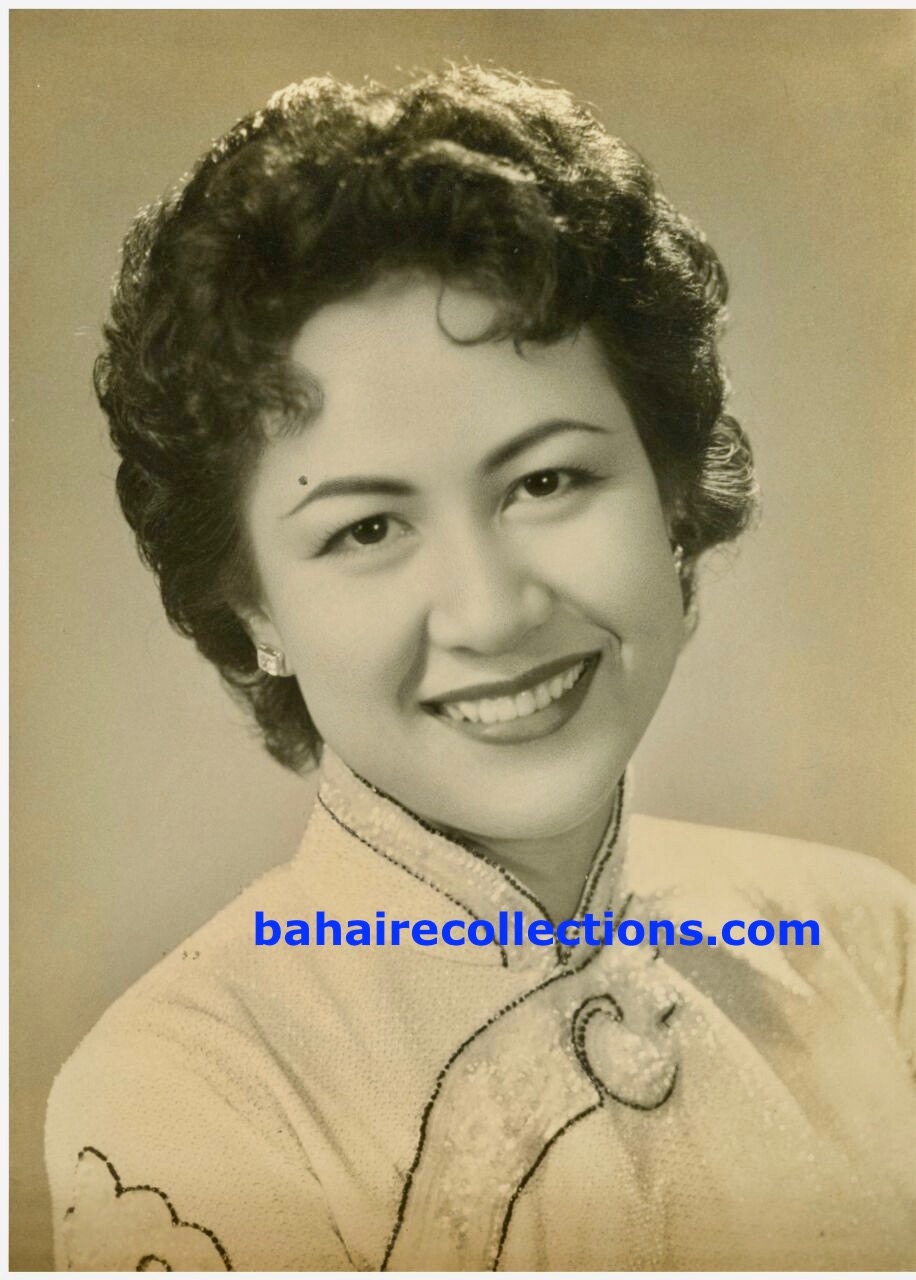 21 October 1928 – 10 January 2016
Here is a brief story of a sincere maidservant of the Cause who carried out tireless services for the Cause from the time she accepted the Faith in 1958, earning profound admiration and appreciation from individuals and institutions, including the Universal House of Justice, at the time of her passing. From the time of accepting the Faith,  Lily Jansz had one goal and only one goal in mind- to please the heart of Bahá'u'lláh  through relentless service in the vineyard of her Lord.
Lily Jansz, whose father George was a Ceylonese Dutch Burgher, was born on 21 October 1928 in Sungei Petani, Kedah. George came from the then Ceylon to British Malaya slightly after 1902 and married a local Chinese lady Miss Amy Choon in 1910 at the Wesleyan Church in Ipoh town in the state of Perak. From this marriage arranged by a broker, five children were born in Perak and later three in Sungei Petani, with Lily Jansz as the youngest. In 1915, the family bought three acres of land in the Bakar Arang suburbs of the Sungei Petani town and built a family home on that land. George ran a printing firm, and after the First World War, he had a coconut plantation. This was where Lily grew up in her childhood days.
Later Lily and her elder sister Janet Boey had a hairdressing salon, "Salon de Beaute," in Penang. It was while here that Lily Jansz was destined to accept the Faith. She came to know the Faith through Miss Jeanne Frankel and her mother Mrs. Margaret Kelly Bates who had arrived in Penang in October 1957 from their pioneering post in Nicobar Islands. While Jeanne Frankel and her mother were waiting for instructions from the Guardian on their next pioneering posting, they started to teach the Faith to the local people in Penang. It all started when Jeanne and her mother wanted to get their hair done. For that purpose, they walked into a hairdressing salon, "Salon de Beaute". While doing up their hair they mentioned the word "Bahá'í" to Lily and her sister Boey. Jeanne and her mother invited them to their house for further discussions on the Faith. After some visits Lily accepted the Faith. She did not fully understand all the details of the  Bahá'í teachings but was fully convinced that the Bahá'í Faith was certainly a good religion. Having accepted the Faith, she resorted to reading on the Faith from whatever literature was made available to her.
The Salon de Beaute became a focal point to attract many others for the Faith. Many wives of prominent people of Penang came to her beauty salon to improve their looks. Several others came to know about the Faith through Lily Jansz and it became clear that the Hand of Providence had chosen her to play this important role throughout her life, in a quiet and often unpublicised way. She was able to attract people from the higher brackets in society. She was running a beauty parlour where the wives of the prominent people of Penang came to improve their looks, and to whom she gave the Faith. With her acceptance of the Faith, she chose a path of teaching the Cause with such an obsession in different capacities for more than half a century, to the awe and admiration of many Bahá'í women of her time. She was certainly one of those few Bahá'í heroines who rose and showed the way at a time when not many believers of her sex were active in the field.
Lily immediately started sharing the Faith to several eminently placed ladies who visited her salon. Through the efforts of Jeanne and her mother, the first Local Spiritual Assembly of the Bahá'ís of Penang was formed during Ridván 1958 with Mrs. Keong Hean Kok, Miss Lily Jansz, Mrs. Shantha Sundram, Mrs. Myra Ong Hak Lim, Mr. Ong Kim Seng, Mr. Chew Swee Seng, Dr. Chellie J. Sundram, Mr. N. Jegathesan and Dr. P. K. Rao. Mrs. Shantha Sundram was elected the Secretary of the Assembly while Lily Jansz was elected Treasurer. She served on this institution for several years.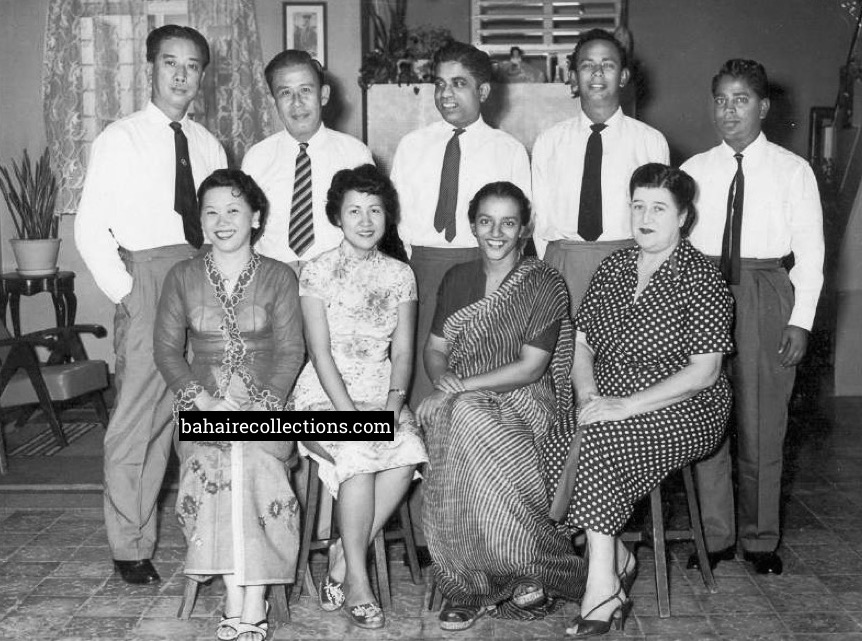 First Local Spiritual Assembly of Penang, 1958. Chairman Dr. Sundram is standing in the middle. Seated in the middle are Lily Jansz and  Mrs. Shantha Sundram
Apart from involving in local teaching she also started to move outside Penang.  In August 1960, Theresa Chee of Alor Star accepted the Faith at the Bahá'í Summer School in Port Dickson and once back in Alor Star the  excited Theresa called the Penang Bahá'ís for assistance. The ever-ready Bahá'ís of Penang- Dr. Chellie Sundram, Dr. P. K. Rao, Shantha Sundram, Lily Jansz  and  Chong Kia Toon came for a fireside chat at Theresa Chee's house. It was to Chong Kia Toon that she married later.
Throughout her Bahá'í life, Lily attended many Bahá'í gatherings held all over Malaysia, such as Summer and Winter Schools, National Conventions, teaching conferences and gatherings held in honor of visiting Bahá'ís. She had moved closely with the very early believers of Malaya who had laid the foundation for the growth of the Faith in Malaya and had met several visiting Bahá'ís, chiefly Hands of the Cause who blessed this soil through their visits.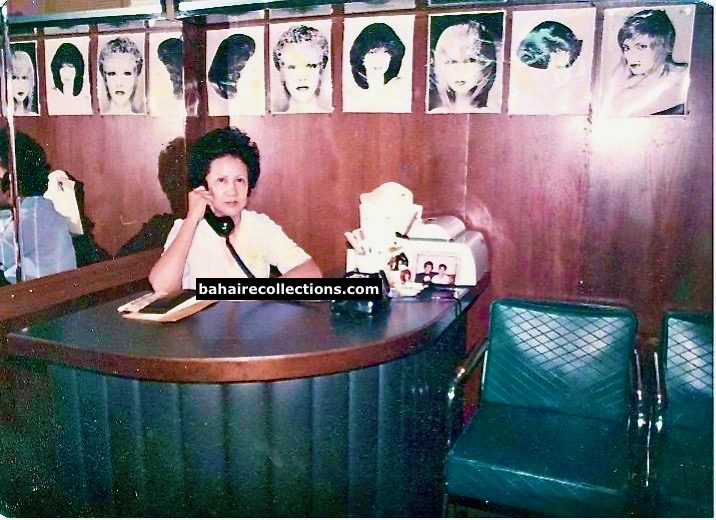 Lily in her Salon de Beaute
It needs to be mentioned that her elder sister Lily Boey moved to Singapore in 1965 after marriage and opened her own salon there. Lily Jansz managed the Salon de Beaute on her own in the ground floor of Hotel Merlin, the most famous and leading hotel in Penang. Today it is renamed City Bay View Hotel. It needs to be mentioned that Lily was doing well in her business but never attached to materialism. There is a verse of the Blessed Beauty that she came across when she newly accepted the Faith. The verse is,   "Exultest thou over the treasures thou dost possess, knowing they shall perish? Rejoicest thou in that thou rulest a span of earth, when the whole world, in the estimation of the people of Bahá, is worth as much as the black in the eye of a dead ant? Abandon it unto such as have set their affections upon it, and turn thou unto Him Who is the Desire of the world."
When the Local Spiritual Assembly in Georgetown had its Bahá'í Centre in the home of Lily Jansz, her home became a hive of activities. Children's classes, Chinese Teaching Conferences and Bahá'í weddings often took place in her home. Lily was always a "foot soldier" in the Cause, opening her house for Bahá'í activities. She seldom was the speaker but would rather invite others to speak on the Faith. She loved teaching the Faith and warmly welcomed Bahá'í teachers and travel teachers. She offered the best hospitality for the travel teachers, for whatever length of time they stayed in her house.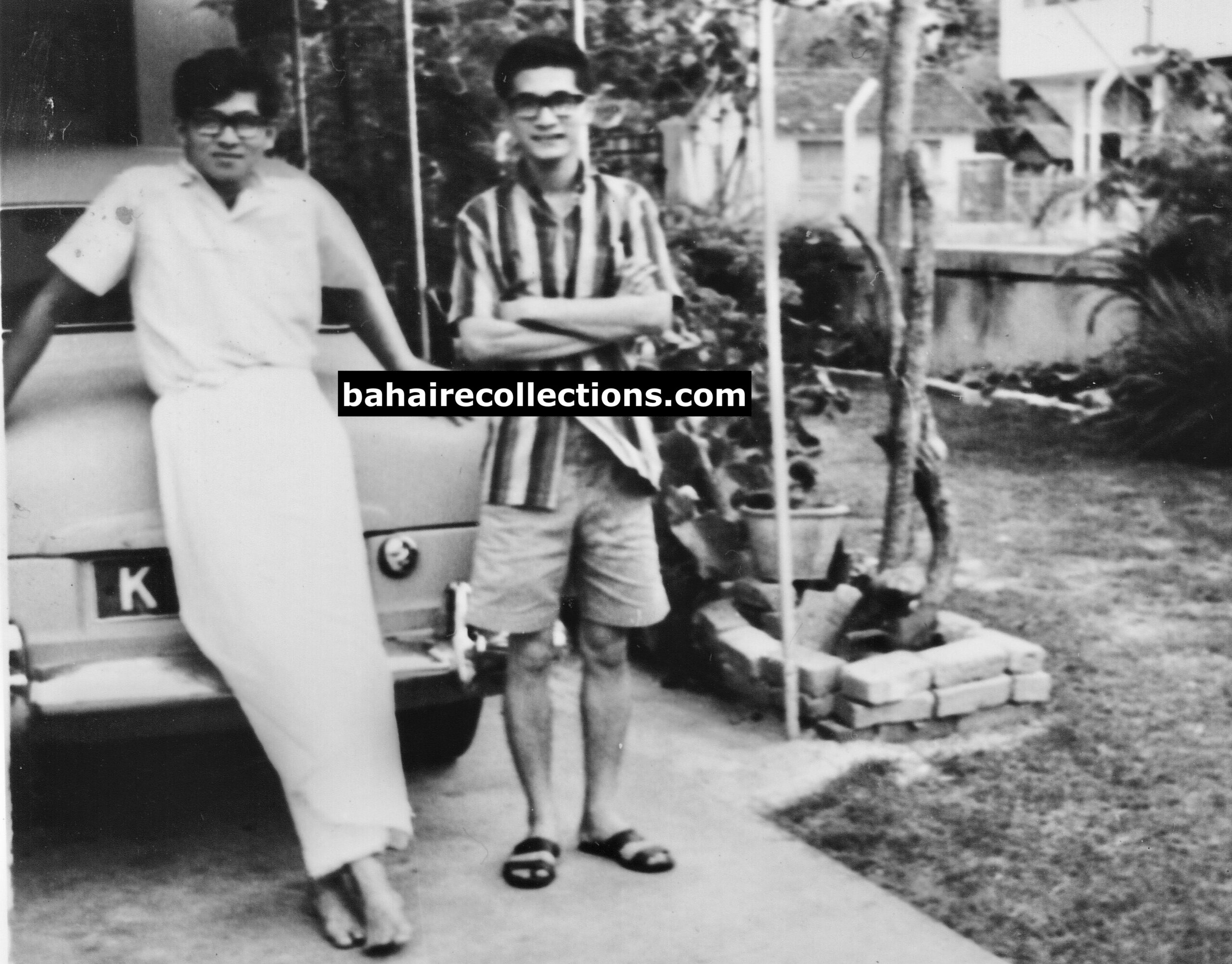 Home of Lily Jansz in Penang, 1971. With Lom Kok Hoon and Yin Hong Shuen from Alor Star.
For a long time, the whole of the Penang Island had a one island— one Assembly situation. A new Local Spiritual Assembly in Gelugor was formed in 1972, with its Bahá'í Centre at the home of Dr. Chellie J. Sundram and Shantha Sundram at 3, Minden Heights. The Local Spiritual Assembly in Georgetown had its Bahá'í Centre in the home of Lily Jansz at 20, Lim Cheng Teik Square. Teaching and consolidation projects in the fishing villages was a major activity of the Georgetown Bahá'ís. Lily, Wong Meng Fook and Soh Aik Leng were part of the 'original' teaching team that opened up the fishing villages in Penang Island, and Tanjung Piandang in North Perak from 1972 to 1980. Lim Kok Hoon had also given a helping hand. The fishermen became firm in the Faith from the hospitality that Lily provided when they visited her home. They were deeply moved and touched to see an eminently placed lady in society opening her home and extending a sincere, true and warm welcome each time they came to the Bahá'í Centre for activities. She was indeed a true attracter of hearts of men. Home visits became a key activity focus and Lily Jansz became a household name in Kuala Sungai Pinang and the other fishing areas. There was always a ready welcome and open house when the teaching teams visited the homes of the friends. The teaching teams were introduced to other families in the village who have not enrolled. She was giving the Faith to simple fishermen going out with their trawlers, drinking and gambling. One of the Bahá'í teachings which Lily Jansz conveyed to the fishermen who became Bahá'ís was 'Work is Worship' and that earning a living was enjoined upon each and every one.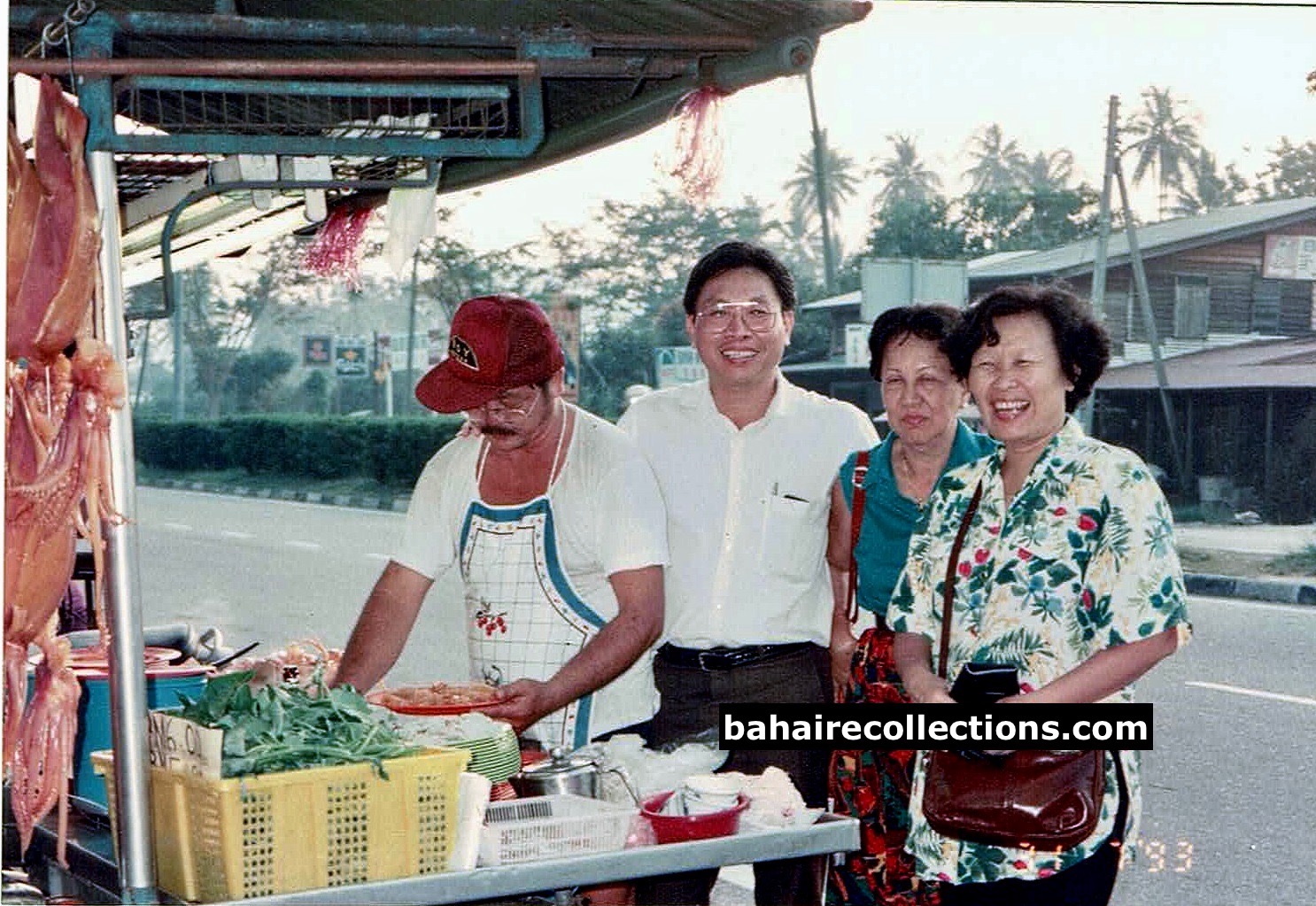 Teaching team visiting one of the believers from Kuala Sungei Pinang fishing village. L – R: Ah Seng, Wong Meng Fook, Lily Jansz and Susie Wong
This set off a chain of events among the newly enrolled friends. Whereas previously they were content to go out in their trawler fishing boats, they became serious and started to explore ways and means to earn their living. Regular children's classes were held and Bahá'í weddings also took place at the Bahá'í Centre.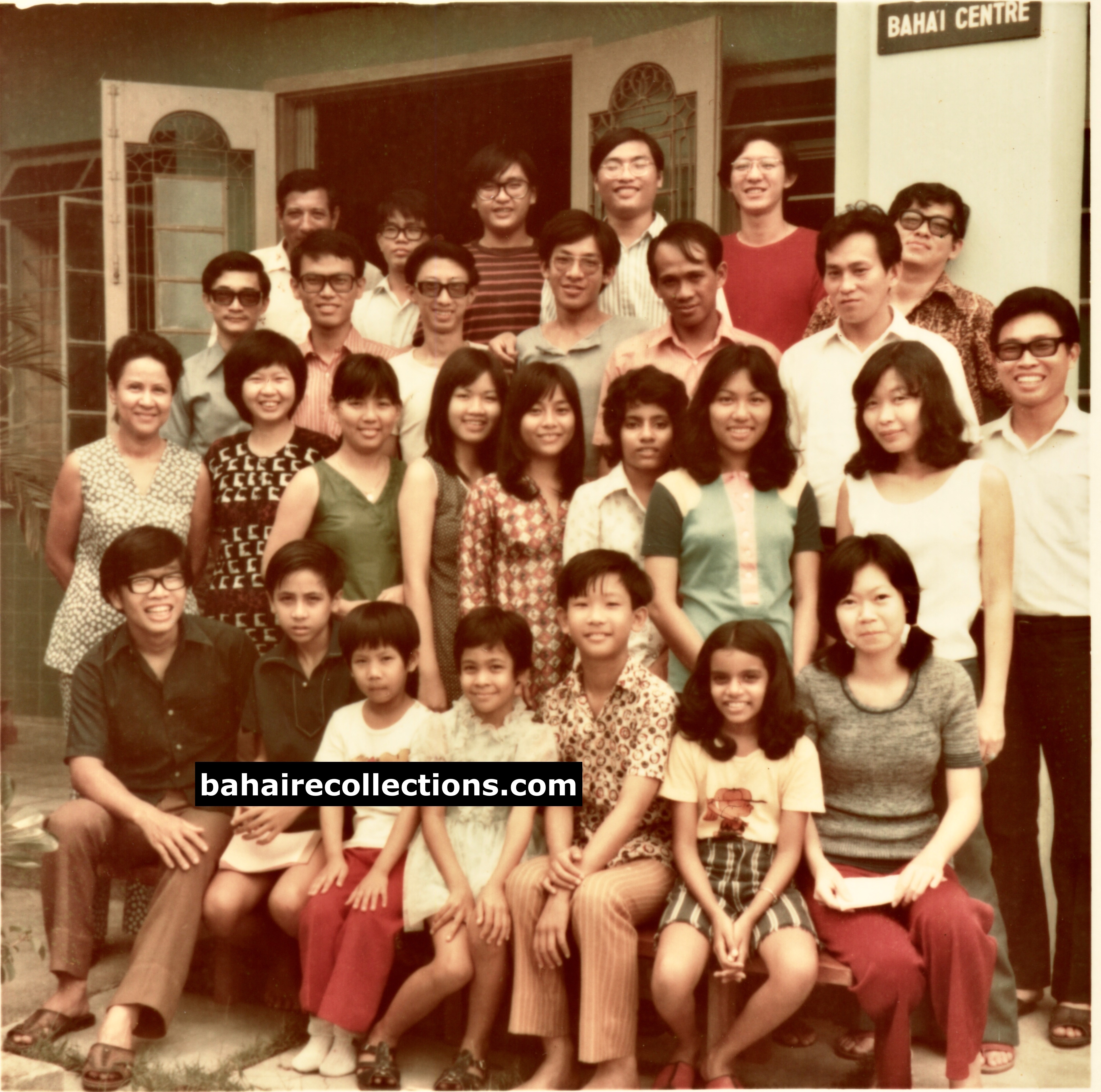 The first  Hokkien Teaching Conference, 1972, held in the house of Lily at 20 Lim Cheng Teik Square, bought in 1958. Leaning on the wall towards the right is the organizer Lim Kok Hoon. Wong Meng Fook is at extreme right, and the host Lily Jansz is at extreme left.
Lily used her profession to bring the Cause to the highest authorities and was soon distinguished as one of those early believers to take the Faith to those in high places. In the early 1970s Lily was made a member of Thailand's Exalted Order of the White Elephant; this chivalric award being presented personally by King  Bhumibol Adulyadej.  Due to the deterioration of Lily's ribbon associated with this Royal Thai honour it was not possible to identify which category of this Order she belongs to and Lily, herself, has forgotten. Lily and her sister Jane Ong, shared links to Thailand's Royal Family.
When the fame of the hairdressing salon in Penang became very famous and popular, it caught the attention of Her Royal Highness  the Sultanah of the state of Kedah and became her customer. From 21 September 1970 to 20 September 1975,  she became the Raja Permaisuri Agong (Queen) of Malaysia. Lily Jansz was selected by the Queen as her personal hairdresser on her majesty's state visit to India, Thailand and  Pakistan. In July 1974 she was selected to accompany the King  and the Queen to England, France and Switzerland. Lily refused monetary payment for her services to Queen. The Queen was much touched by her kind gesture. And  presented Lily  with gold jewelry instead and allowed to enjoy   special privileges, like a private room and use of the official car, with which she was able to visit the Bahá'ís. When the Queen went out on official engagements, she entrusted Lily with her whole bag of jewels for safekeeping!
The Malaysian Royals and their household were guests of Queen Elizabeth at the Buckingham palace. From the Claridges Hotel where Lily was lodging she had written a moving letter to the Queen on 19 July 1974. On departure, Lily presented Her Majesty Queen Elizabeth II a special gift- two illumined prayer cards. She also gave the message to people she came into contact with.
The Buckingham palace wrote a letter of appreciation to Lily through the Malaysian High Commission, praising her gesture. The letter dated 23 July 1974 reached the Royal Palace in Malaysia and was forwarded to her residence in Penang. That letter reads:
"Dear Miss Jansz,
I am writing to thank you very much for your extremely charming letter which you wrote on the 19th July from Claridges Hotel. Her Majesty is very touched by your kind wishes and also by the beautiful Bahá'í prayers which you so kindly sent her.
I am passing on your thanks to Mr. Luigi and may I, in return, say how much we all enjoyed the visit of Their Majesties and the Malaysian Household. We could not have asked for more delightful or helpful guests."

Letter from Buckingham Palace
Lily was further honoured on 14 January 1975, being made a Member of the Order of the Royal Household of Malaysia (BSD) or known in Malay as Bentara Setia Diraja. Her medal, presented by the King, was awarded for her "undivided loyalty" and service to the Queen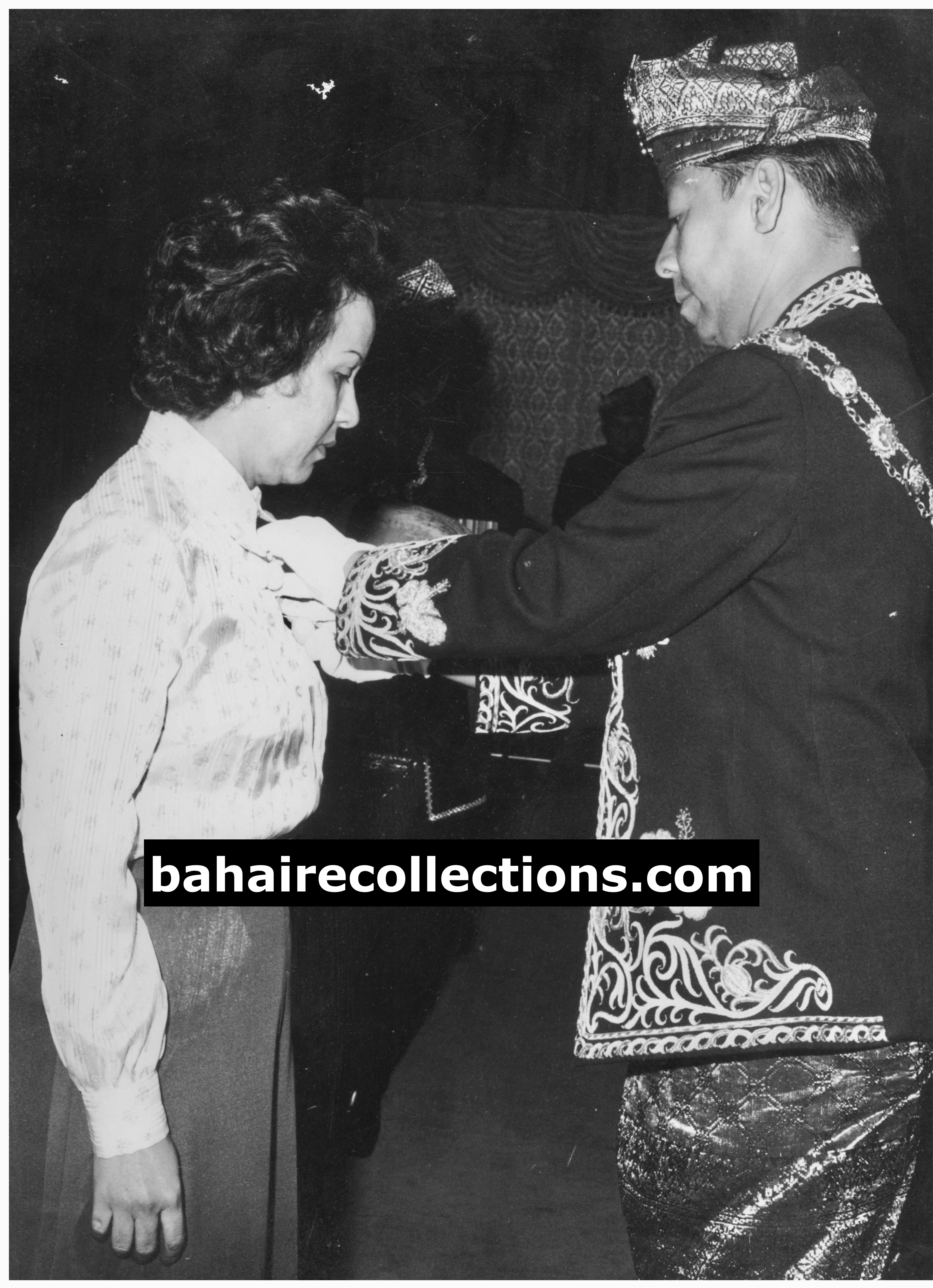 Lily Janz receiving BDS  medal from His  Royal Highness  the King of Malaysia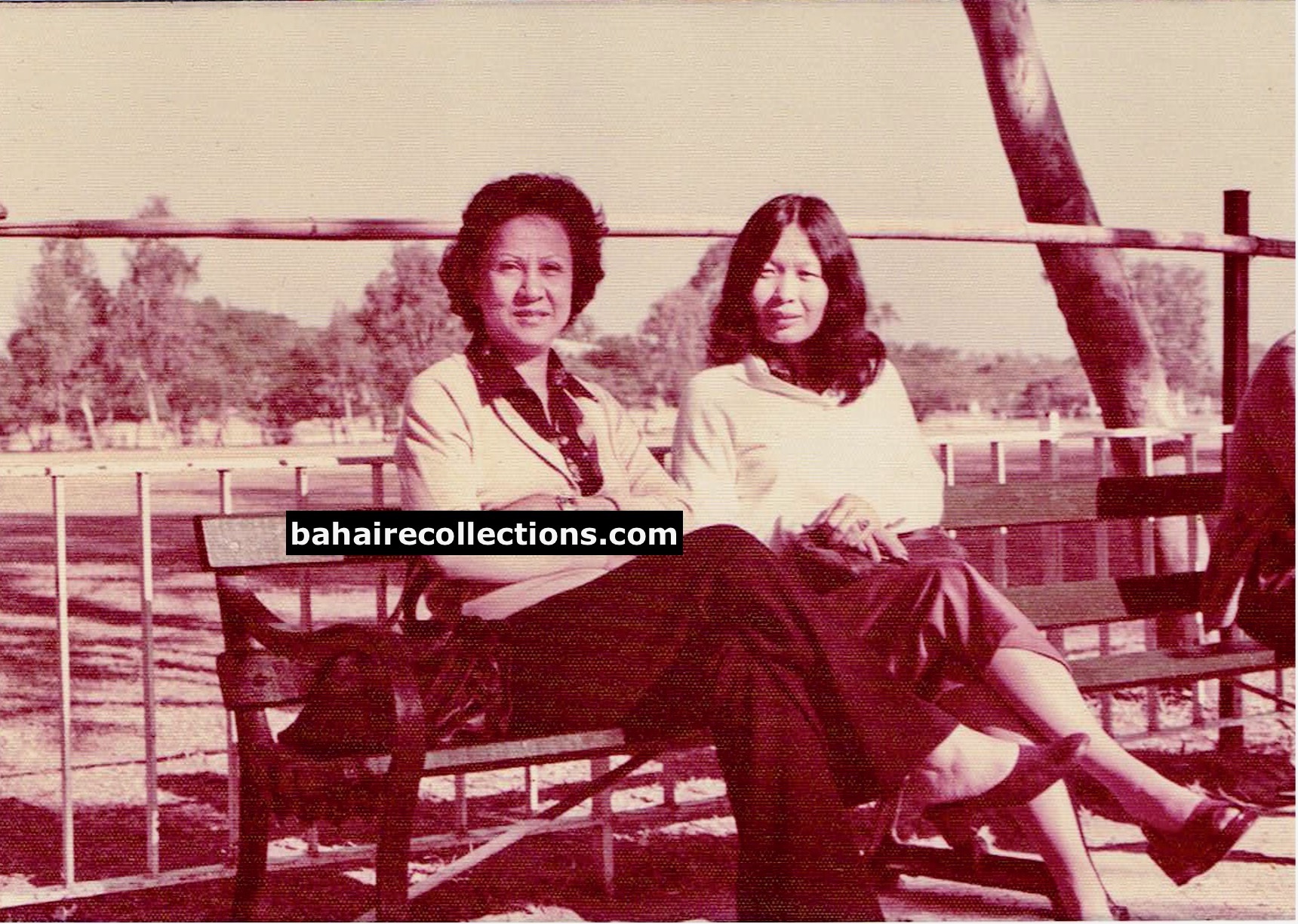 Lily and Susie Wong relaxing at a park near the venue of the International Teaching Conference held in Kong Kong, November 1976
Lily was suffering from Parkinson disease from the 1980s. Sadly her marriage too failed.  But she went on with life getting strength from the Faith. Even from the early days there was always an inner agitation compelling her to rise to a higher plane of service. In the 1980s she could not practice her profession with effectiveness as her hands were trembling.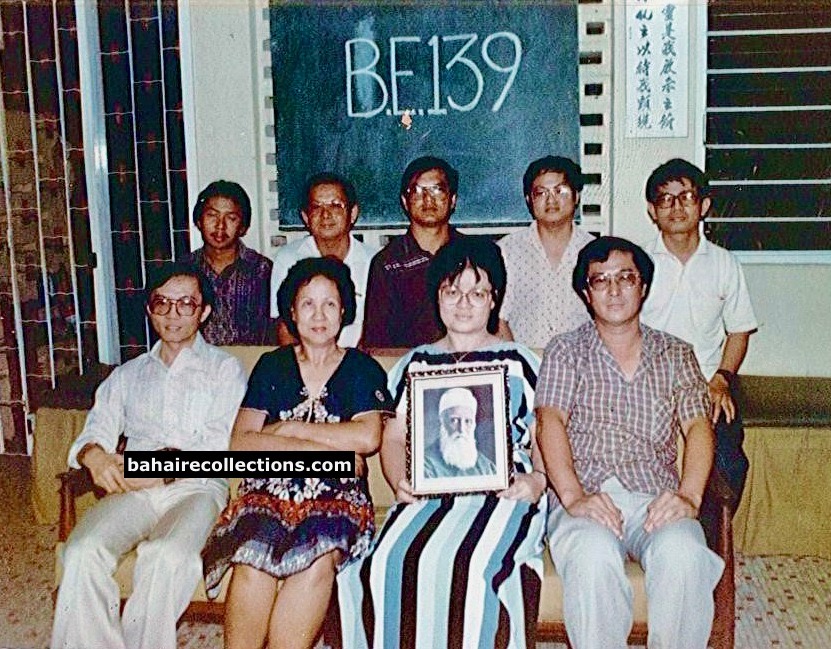 Local Spiritual Assembly of 1983. Seated L-R: Hua Keng Tong, Lily Janz, Mrs Teik Cheow, Mr Teh Teik Cheow.  Back row L-R:  Teh Seng Chai, Wong Hong Fong, Yeap Hong Ean,T an Beng Sooi and Soh Aik Leng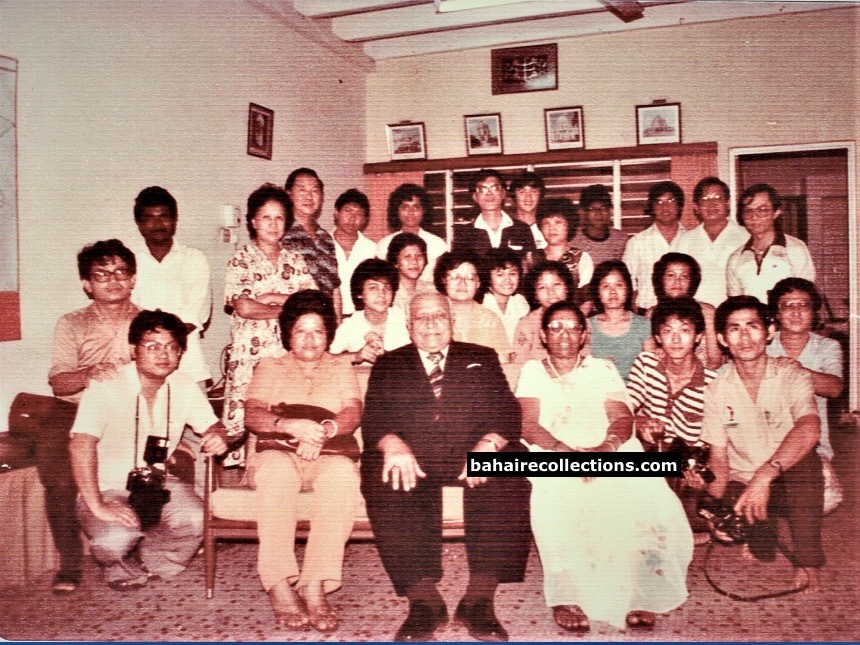 Visit by Dr. H.M. Munje of the National Spiritual Assembly of India to the residence of Lily in 1983. Dr Munje is seated in the centre, and Lily Jansz stands third from left
In 1984 she sold off her business and rented out her house and chose to pioneer in South Thailand, finally fulfilling her own burning desire to be a pioneer. In Hat Yai she moved closely with Mr. Victor Greenspoon, pioneer there in bringing the Faith to many local people. Having gained sufficient experience in understanding the simple fishermen in Penang, she was able to win the hearts and minds of the people in Hat Yai  which became a base. The Bahá'ís of Malaysia from time to time went to  Hat Yai  for teaching and joined her in the teaching trips.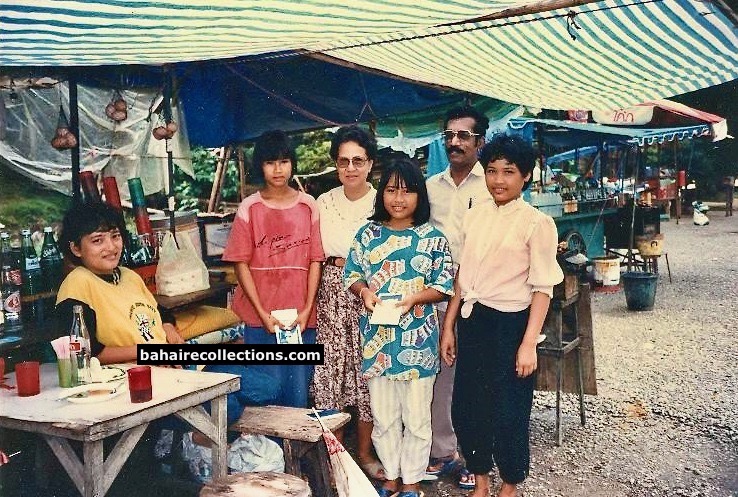 Lily and Kesavanathan teaching at a stall in Hat Yai, South Thailand
In late 1985 her son Dr. Poh Chean Chong, a dental surgeon who completed his degree in the Philippines, visited Lily and together they visited many communities in South Thailand. Lily had advised her son not to work in Malaysia but to serve abroad in a pioneering post. He consulted the Universal House of Justice and after job searching in several African countries and settled for good in Cape Verde. He is married and has rooted himself there. Lily was most pleased with her son's gesture in becoming a pioneer.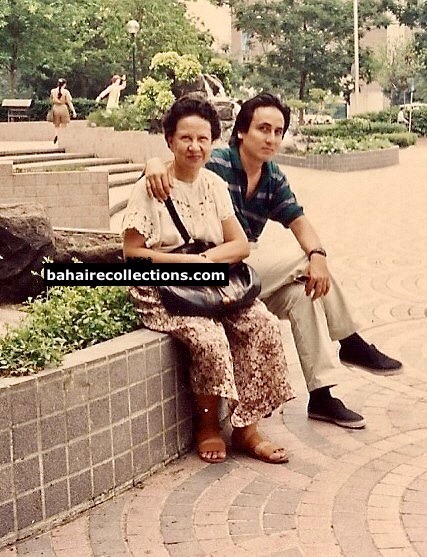 Lily with her son Dr. Poh Chean Chong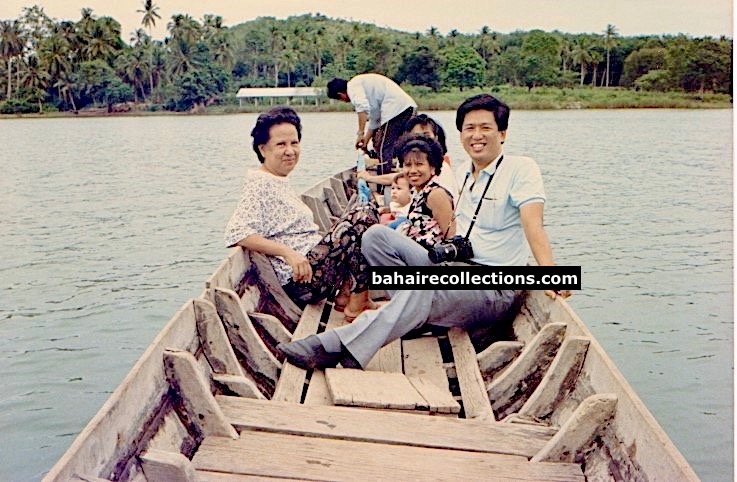 Lily Janz  and Chong Boo Haw of Alor Star on a teaching trip to Tawa Island, South Thailand, January 1987.

From Thailand she visited Penang from time to time to collect the rentals from her tenant. Although suffering from Parkinson disease she was still able to visit many parts of South Thailand where she won the hearts of the people. She was often assisted by the Bahá'ís of Alor Star in her teaching efforts. Having had the privilege to meet Amatu'l-Bahá Rúhíyyih Khánum in the latter's first trip to Malaya in 1961, Lily was further inspired and guided by Amatu'l-Bahá when she visited Hat Yai in January 1987.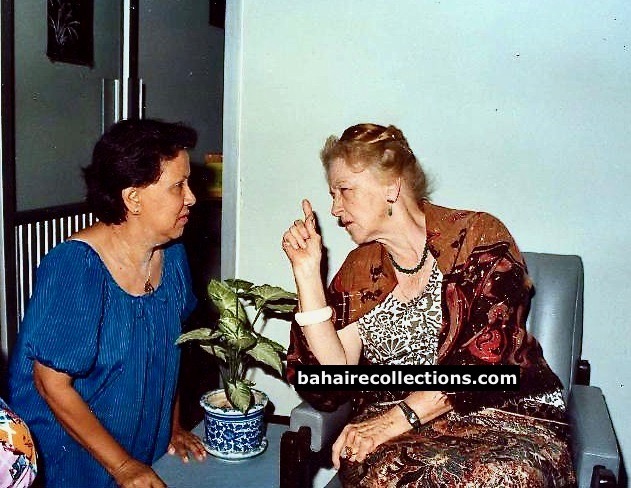 With Hand of the Cause of God Amatu'l-Bahá Rúhíyyih Khánum at Hat Yai, January 1987
While serving in Thailand, Lily's daughter, Chong Siew Lian, had given her mother an air ticket to go to Sydney during Christmas 1990.  Lily had been advised to go to Cabramatta to help with a Vietnamese teaching project. The teachers were staying at a rented house for the project. Lily had offered her assistance in cooking for the teachers. Even while on holiday, her heart was moved to offer assistance in this teaching campaign, cooking for the teachers. There she met Dr. John Bruha, an American believer who was pioneering in Sabah, and who was also in Sydney for a marriage holiday. They had earlier acquainted themselves at the Summer School held in Port Dickson in 1988.
They were soon married in the Kota Kinabalu  Bahá'í Centre on 12 August 1991, starting another chapter of active service for the Faith. Their home in Taman Jumbo in Kota Kinabalu was used as a kind of Bahá'í Centre. The large hall was an excellent venue for Feasts, Holy Days, Assembly meetings and other functions. There were two bedrooms for two Iban youth pioneers from Sarawak.
Lily made sure that there was enough food for anyone entering the door. In  a by-election Lily was added  to the Local Spiritual Assembly of Putatan, a satellite town of Kota Kinabalu.  They were actively involved in daily teaching trips. Weekends were devoted to undertaking teaching trips to the interiors. To raise funds for the Faith they  made shell-based ear-rings and brooches which Lily sold   to Bahá'ís and neighbours. and the receipts went to the Local Fund, earmarked for teaching.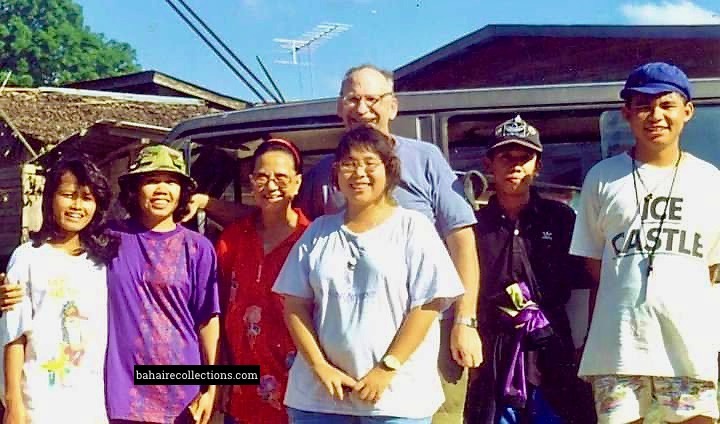 Gathering in Pitas  in 1993.  L-R: Chusna, Betty,  Lily Jansz, Dr. John at back, Chang Ruiz (now in USA), Riban and Ryan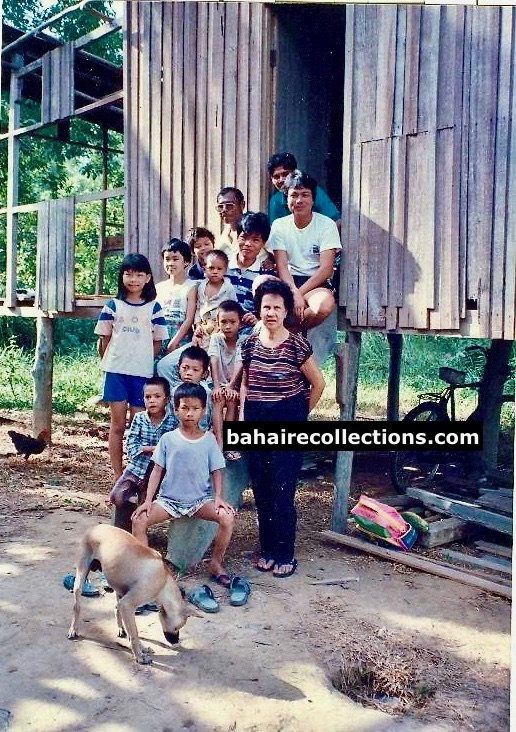 Lily teaching in Sabah
After a couple months, when the Local Spiritual Assembly was found to be stable they moved to serve at a nearby village in Penampang District. Their  home there became a stopping point for Bahá'ís from Kota Kinabalu and Putatan driving into the interior for teaching or on their return for a cool drink, a light meal, a rest or even a shower. With their teaching efforts the Kampong Tuunon in the Penampang District was thus opened to the Faith. The couple stayed there as members of the community, introducing the villagers to the Bahá'ís and the Faith.
During this period, Lily made frequent trips to Penang and Thailand to keep up with her teaching and pioneering work there. Lily's health was failing further. Despite poor health she was able to  attend  the Second Bahá'í World Congress in New York in November 1992. Lily was very moved, and her spirit was reinforced to meet many of the very early believers, some of whom she had met in the Malayan soil in the early days. She was also very grieved to see the acute poverty, hunger and homelessness of some segments in New York. Her tender heart reached for them. Settling down this time in Kampong Tuunon, they organised regular weekend deepening sessions and undertaking teaching trips to the Pitas district.
Unfortunately, Lily's health further deteriorated. In one of the teaching trips into the jungles, Lily was advised to avoid the perilous journey, to which Lily said she would be very happy to lay down her life in the path of service. The Bruhas were very kind and hospitable and touched the hearts of both the Bahá'í and the wider community.

Lily and John with Mr Yon Yun Thong and family in Kota Kinabalu
In late 1994, under the request of the  World Centre   Dr. Bruha  went to Vietnam to  coordinate the BIC-Hanoi English Teaching Project there. Lily liquidated their property in  Sabah and went back to Penang to resume her Penang and Thailand teaching. As her application for Visa to join  Dr. Bruha  in Vietnam was turned down she remained in Penang. After seven months in Vietnam Dr. Bruha  returned to Penang.
With a strong desire to pioneer somewhere they made more than two hundred applications round the world but there was no sign of any door opening.  In 1995 they moved to California and became members of the Bahá'í community of Eldorado County Northeast and in the following year were elected to the Local Assembly. Lily took upon herself the task of looking after isolated members of the community, with their van taking the needy members of the community to free food stalls. They had a small walnut orchard, and the nuts were offered to members of the community in exchange for contributions to the Bahá'í Funds. In 1998, Lily and Dr. Bruha moved to Hebron, Wisconsin where they assisted in establishing the Rock River Valley Teaching Committee.
As job situation was not promising, Lily and Dr. Bruha decided to pioneer to Australia. From California they flew into Penang in July 1998. While Lily stayed there, Dr. Bruha  flew to Canberra to make  visa, housing and employment arrangements, which took some  eight months.  While waiting in Penang,  Lily made regular teaching trips to Thailand and Penang and taught children's classes that had been started decades previously.
When Lily joined Dr. Bruha, they initiated and manned a weekly proclamation stall at the local flea market in Canberra. Dr. Bruha, endowed with artistic talents, designed over two-hundred bookmarks, compilations containing quotations from the Holy Writings, pamphlets and refrigerator magnets of which they gave away to more than 22,000 people who visited the stall. This allowed the stall to operate without Assembly's funding for eleven years.
With their health conditions declining rapidly they were placed in a rest home some four-hour drive away from Canberra on the  coast of New South Wales That was a nursing home on a hillock overlooking the sea. Lilly was quite bed ridden while John stayed in one of the rooms on the lower level. Each morning John  wheeled Lily out and while overlooking the sea, together they will said their morning prayers.   The last  six months of 2015 brought a rapid decline in Lily's health. Towards the end of December, Lily started to lose her appetite, mostly because she needed more and more help with eating.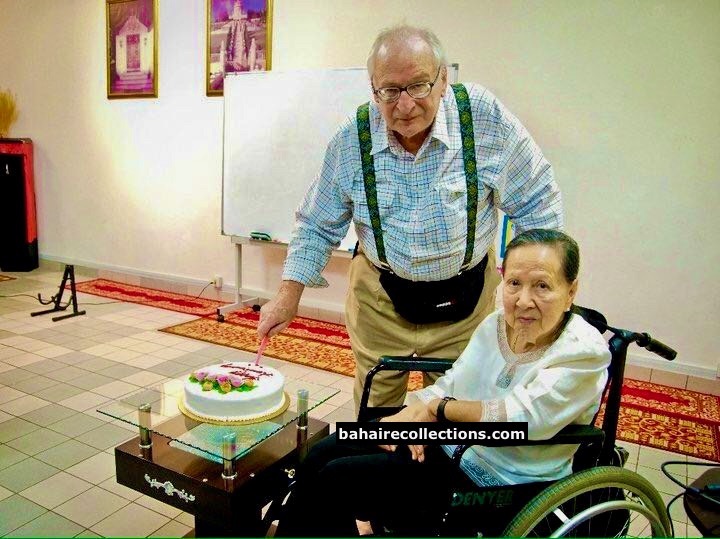 They loved and cared for each other and served the Cause
The evening of 9 January,  Lily  quietly grasped the  arm of Dr. Bruha and  told him that her happiest days were in serving the Cause together as one soul.
On the noon of 10 January 2016, Lily's soul ascended to the  Abhá Kingdom. The Universal House of Justice in its letter dated 13 January 2016 sent this message to the National Spiritual Assembly of the Bahá'ís of Australia:
The Universal House of Justice was saddened to learn from your email letter dated 12 January 2016 (13 Sharaf 172) of the passing of Lily Jansz, dedicated handmaiden of Bahá'u'lláh. May the memories of her devoted services to the Faith—particularly in carrying, together with her husband, Dr. John Bruha, the light of Divine Guidance to Malaysia and other lands—be a source of inspiration to all those who knew her. Kindly extend the loving sympathy of the House of Justice to her husband and other loved ones for the loss they have sustained and assure them of its heartfelt supplications in the Holy Shrines for the progress of her noble soul throughout the heavenly realms. Prayers will also be offered for their comfort and strength in their bereavement."
The Spiritual Assembly of the Bahá'ís of Sabah in its message dated 12 January 2016 to Dr. John Bruha mentioned:
The Spiritual Assembly of Sabah wishes to express its deepest condolence over the passing of Madam Lily Jansz. Last night  Bahá'í friends from Penampang and Kota Kinabalu held special prayers at the Bahá'í Centre in memory of Madam Lily or Aunty Lily as she was fondly know over here.
During the memorial and prayer gathering the friends shared inspiring stories of some of Aunty Lily's dedicated services to Bahá'u'lláh in Sabah as well as in West Malaysia and Thailand. Our hearts and thoughts are with you and family during these days of grief, but we are also cheered in remembrance of Aunty Lily's exemplary dedication, steadfastness and selfless service to the Blessed Beauty. We are also comforted with confidence of her status and well-being with the company on high. On this earthly plane, we will always be encouraged and inspired by her radiant spirit and legacy.
The Spiritual Assembly of the Bahá'ís of Malaysia mentioned this in its message to the community dated 12 January 2016:
It was with much sadness that the Spiritual Assembly learnt about the passing of Mdm Lily Bruha, devoted and faithful maidservant of the Blessed Beauty in Australia on 10 January 2016. The Assembly recalls with much gratitude her praiseworthy contributions to the advancement of the Faith in the early years in Penang, as well as her pioneering services in Thailand and Sabah…. Friends are kindly requested to offer prayers for her soul in the heavenly realms and that she be richly rewarded for her selfless efforts for the Cause of her Beloved.
The National Spiritual Assembly of the Bahá'ís of the United States in its 20 January 2016 message to the National Spiritual Assembly of the Bahá'ís of Australia, mentioned:
"Mrs. Jansz's departure clearly represents a loss to both our national communities. We join you in saluting―and expressing deepest gratitude for―the intrepid pioneering spirit that motivated her efforts to further the advance of the unifying Bahá'í teachings in the diverse lands of Malaysia, Thailand, and Sabah, as well as on the Australian home front.
Kindly extend our heartfelt condolences to her husband, Dr. John Bruha, and to her loved ones and friends. Be assured she will be remembered in our prayers beneath the lofty dome of the Mother Temple of the West, where we will offer supplications for the eternal progress of her precious soul."
The National Spiritual Assembly of Australia in its message to Dr. John Bruha dated 27 January 2016 mentioned:
The National Spiritual Assembly takes this opportunity to honour dear Lily's many contributions to the development of the Faith, including her pioneering spirit which will be remembered with fondness, which saw her raise the banner of Bahá'u'lláh  in Malaysia, Thailand, Sabah and on the home front in Australia…  We are sure that dear Lily's soul has also been, and will continue to be blessed by the steadfastness and service of her beloved family to the Cause of God.
Seldom has a believer who passed away receive such glowing tributes from National Spiritual Assemblies and the Supreme Body. They all one and all  offered  accolades for her steadfastness and services for the Faith. Each of her thoughts were for the Faith. Each of her movement out of Malaysia was to undertake some kind of pioneering activities. For several decades she was failing in health, but her indomitable spiritual strength propelled her to serve the Cause with all her energy till her last days. This handmaiden certainly deserves all our prayers for her selfless services rendered over more than half a century of her Bahá'í life in West Malaysia, South Thailand, Sabah, USA and Australia. Suffice to say this handmaid was handpicked by the Blessed Beauty to render unique, and selfless services for the Cause during the early days of the Cause. She had left strong legacy and indelible traces wherever she served.
Dr. John Bruha himself passed away on 1 June 2020.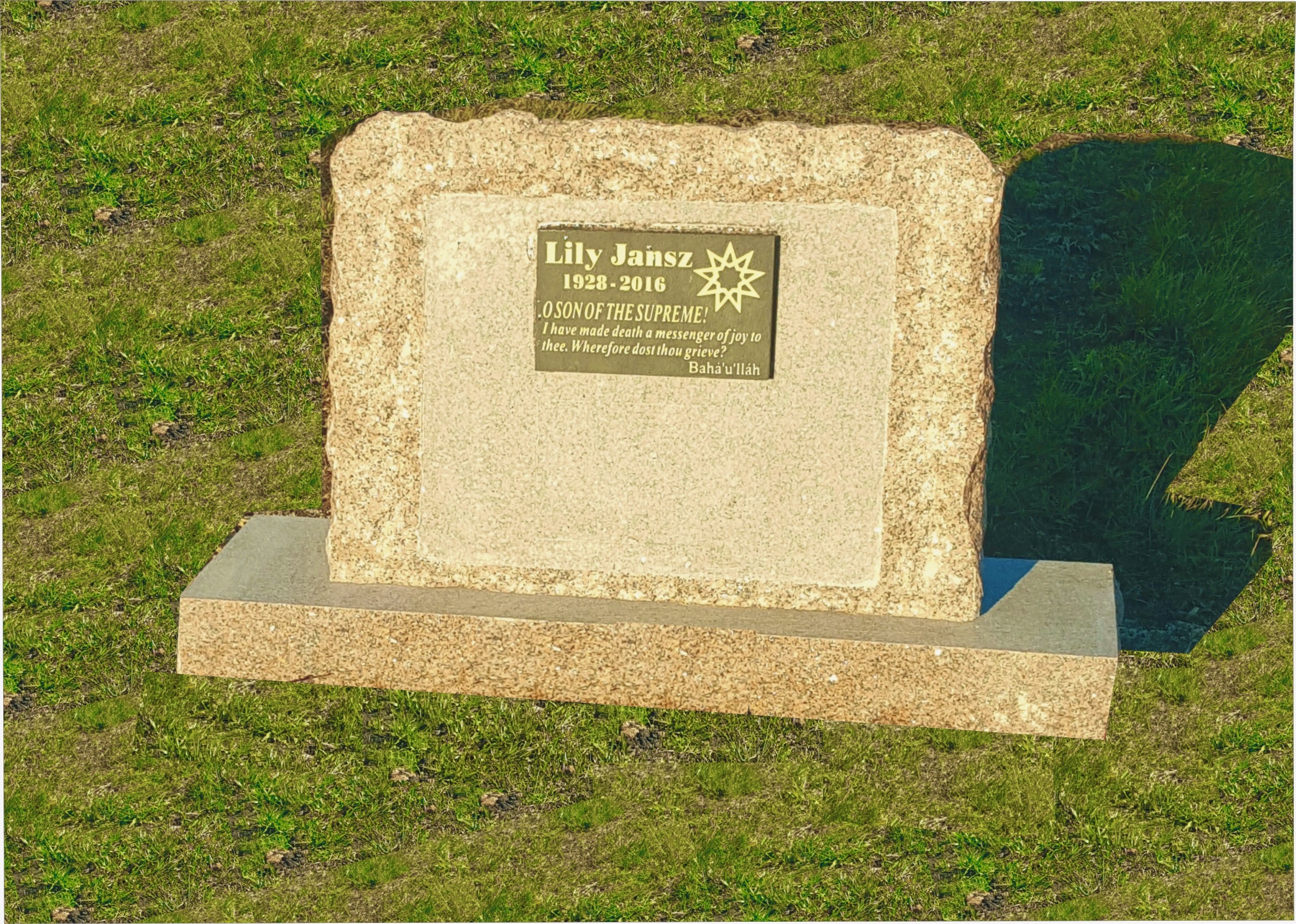 Resting place of Lily Jansz,  Narooma, New South Wales
A. Manisegaran
30 June 2022
Copyright@bahairecollections.com
You may leave your comments at: info@bahairecollections.com