REMEMBERING DR. CHELLIE SUNDRAM
REMEMBERING DR. CHELLIE SUNDRAM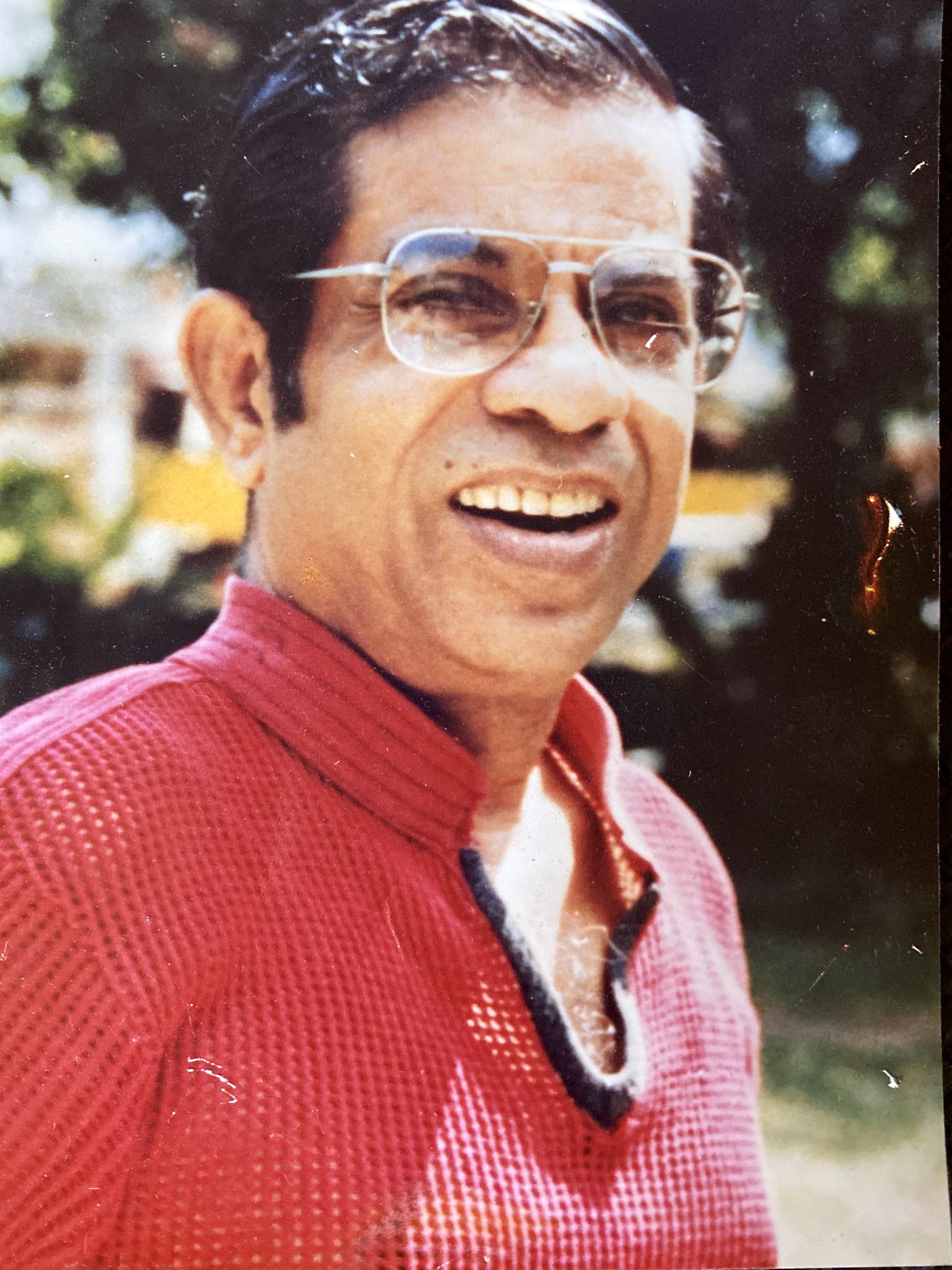 11 December 1920 – 23 February 1993

This is a humble effort to recollect in brevity my personal interactions and friendship with Dr. Chellie John Sundram. It began in 1966 when I traveled from Laos where I had been pioneering since 1962  to attend a  Summer School in Malacca. On the way, stopped in Penang and was taken to a gathering of friends in the Peel Avenue home of the Sundrams and was introduced to the host Mrs. Shantha Sundram. At once I noticed that she was a marvelous lady with a radiant face, sharp eyes and a sweet smile. Her husband Dr. Sundram had high regard for pioneers. As I was introduced to them, they greeted me with a warm welcoming smile. In that first meeting itself, they became my instant friends. This was the beginning of about thirty years of intimate friendship with Dr. Sundram, and forty-five years with Shantha Sundram. In total, that adds up to more than half a century of the fondest bonds with the Sundram family. When I got married to Giti in 1968, she too entered into friendship with the Sundram family. From the beginning, they treated Giti and me as members of their family.
My second visit was a follow-up with Dr. Sundram to have my tooth checked that was fixed on my previous trip. Checking into a small Inn in downtown Georgetown area, I telephoned Dr. Sundram at his Dental Nursing School the following morning to let him know that I was about to come over to the Dental Nursing School to get the tooth fixed. He immediately sent me a car driven by Miss Khoo Siew Thay. Arriving at the Inn she informed me that Dr. Sundram had instructed that I must check out of the Inn and stay with the Sundrams as their guest.  I guessed the Sundrams must have known the financial dilemmas we pioneers go through.  I gladly accepted the offer and arrived in his Dental Nursing School to have my tooth fixed and stayed in their home.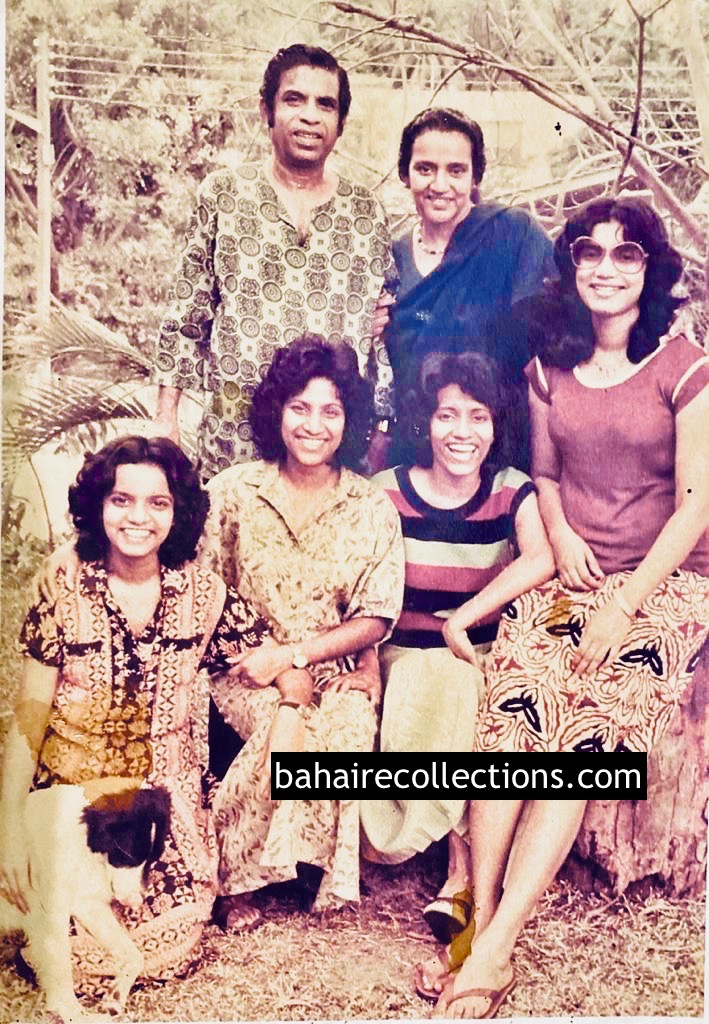 A family picture of 1976. L-R: Malini, Susheel, Padma, and Navanita
I must admit that it was not easy for anyone to befriend Dr. Sundram in the first encounter itself. Chemistry would not click right away, as they say. My first encounter in working with him was indeed rough as there were differences of opinions and approaches between us. In Dr. Sundram there was always a spark of critical thinking that spoke of a keen and intellectual mind — the very reason why it was not always easy for everyone to understand him. Dr. Sundram set a high standard of serving the Cause and he was straightforward, open and vocal with those believers who had high capacity. He would encourage those friends to tap their own talents to the maximum. He himself would do what would take ten persons to perform, and all his tasks were performed with excellence. When he appointed Auxiliary Board members, he expected a high standard from them as well. But since I understood him well enough, we teamed up quite well to work together amicably for the Cause during the thirty years of our friendship that lasted until his passing.
A quality that I appreciated all along, was the relentless and hardworking attitude that he employed throughout his life. He was a very distinguished personality well accepted and recognized by the friends within the Faith and among the academic and the professional circles in the wider world. Both of us had served on the National Spiritual Assembly and as Counselors, and when dealing with him, I always admired the meticulous ways by which he performed his tasks, giving careful attention to all the minute details. He was far ahead in his thoughts, plans, and vision, and at times I found it difficult to follow. My high regard for Dr. Sundram in no way diminished my love and respect towards my other fellow Counsellors of the time such as  Mr. Yankee Leong from Malaysia,  Mr. Khudarahm H. Payman from Indonesia and Mr. Vicente Samaniego from the Philippines. They were each unique and unparalleled spiritual giants in their own ways.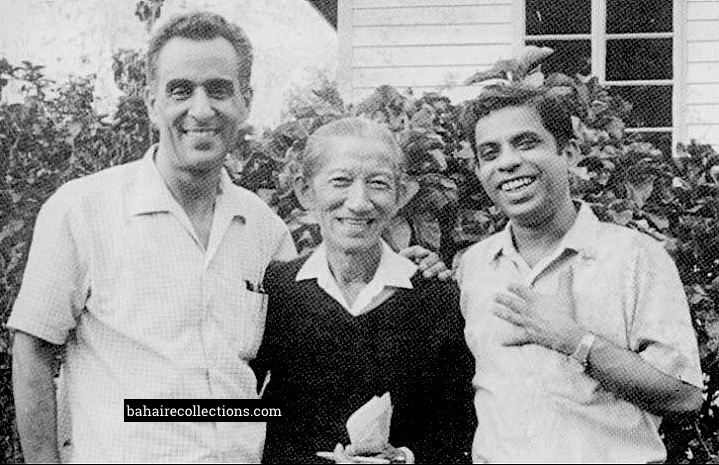 Among the first batch of Counselors, 1968. L-R: K.H.Payman, Yankee Leong and Chellie Sundram.
Dr. Sundram was highly knowledgeable, meticulous and precise in whatever task that he handled. The one event that is etched in my memory is the exhibition that he single-handedly put up at the Oceanic Conference held in Singapore in January 1971 which invited accolades from none other than the Hand of the Cause of God Mr. Enoch Olinga who was the representative of the Supreme Body at that historical conference. The multi-talented Dr. Sundram had set a magnificent, dignified and beautiful exhibition, a standard that has yet to be surpassed.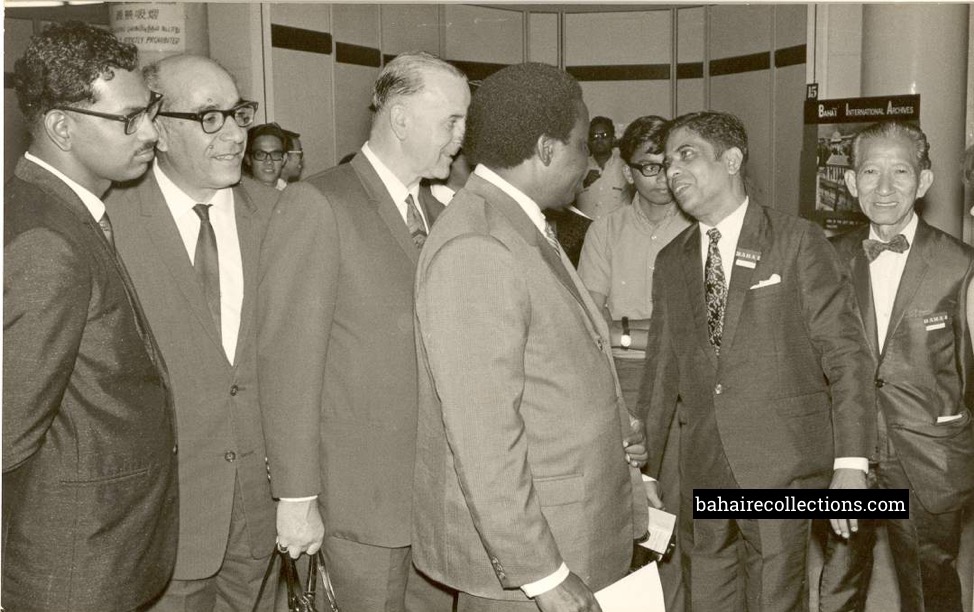 Dr. Sundram welcoming the Hands of the Cause Mr. Collis Featherstone and Enoch Olinga at the exhibition held at the Oceanic Conference, Singapore 1971. At the extreme right is Counselor Yankee Leong. At the extreme left is S. Bhaskaran with Dr. Astani of Indonesia next to him.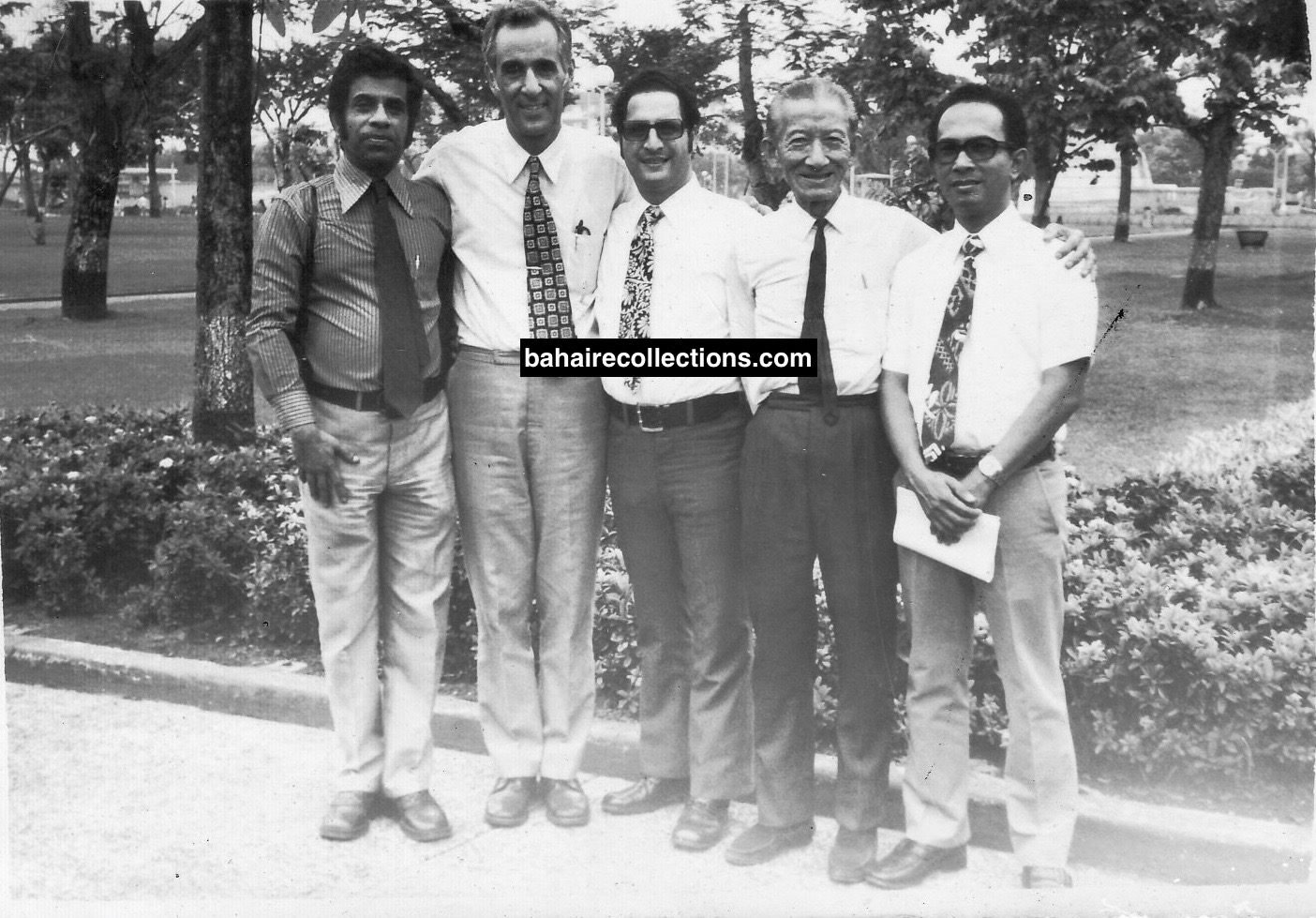 Meeting of Counselors in Manila, 1973. L-R: Dr. Sundram, K. H. Payman, Firaydun, Yankee Leong, Vicente Samaniego.
In the early seventies, Dr. Sundram came to Laos on a project for the World Health Organization on which he was serving as a Dental Consultant since 1971.  Fortunately, the hotel where he stayed in Vientiane was less than ten minutes' walking distance from where we lived.  Dr. Sundram spent time with my family after his office hours were over. I took him around in Vientiane to meet the friends, visit our new temple land, participate in the Feast held in the Bahá'í Center, and last toured the city. Yet his interest was always centered on the health of the Bahá'í community of Laos.  He came to our house most of the afternoons for tea or in the evenings for simple dinners that Giti cooked.  One day Giti made a sweet dessert from broken wheat which Dr. Sundram liked very much.  He asked, "Where did you get this stuff from?  It must be expensive and imported." Giti replied, "It was from the USA, given as an aid to the refugees.  Since the refugees do not like eating broken wheat, they exchanged it for other goods at the market. Sadly, it is sold as animal feed, especially for pigs. That is why it is cheaply, and we conveniently bought them." Dr. Sundram immediately shot back, "So you have decided to give me animal feed meant for pigs." We laughed our lungs out. But he well understood as pioneers we were cutting corners to sustain ourselves. But what interested him more was to see a copy of the Lao Bahá'í News that I had produced in a primitive form and got them photocopied. Dr. Sundram was impressed, and with his artistic mind suggested some improvements.
A few incidents that followed soon convinced me that Dr. Sundram was always aware and conscious of the problems and difficulties that the pioneers had to face in the unfamiliar conditions. He was always ready to help them so that they could stay on and serve the Cause.
When I was in his home in Penang again as his guest, Dr. Sundram surprised everyone by presenting a beautiful music keyboard to his children to take up music lessons, particularly for Malini to encourage her.  The following day, he presented me with a manually-operated cyclostyle machine that he had been using for some time. He handed it over to me and said it will assist me in printing the Lao Bahá'í News that he had seen in his previous visit.  How sharp was his observation and how well he had registered the needs of the Faith.  He asked Nirmala, a dental nurse who worked with him and who was treated as a member of his family to teach me how to operate it.  I took the machine to Laos and placed it at the National Bahá'í Center, and it well served the community.  He was a keen observer of details when visiting communities.
When I was at his home in Minden Heights in 1973, Dr. Sundram took me to his dental laboratory and showed me an electrically operated Offset-Printing Machine that weighed about 400 kilograms, together with its accessories. He said, "It is for you, take it to Laos.  Now you can print anything you want with this machine."  I thanked him but declined the offer. But he insisted, "You can print pamphlets and teaching materials for the Faith, and perhaps could also generate some income out of it for your family. I know the life of pioneers is not easy." I thanked him as tears welled in my eyes.  It took a few days to work out the export papers and transport them by train to Vientiane.  The machine was placed at the National Bahá'í Center and was used to print teaching materials.  I did not use the machine for generating personal income as printing was not directly related to my line of business activity.
In the seventies, there were about 350 Iranian student pioneers in the Philippines. Whenever I visited the Philippines on Bahá'í official duties, I could see the strong love that Dr. Sundram had for the pioneers.  He always had some readily available programs for supporting the pioneers and provided them workshops, academic advice, or guidance on financial matters.  The youth and the pioneers found Dr. Sundram as their trusted mentor and often expressed their admiration for him.  When a youth in the Philippines started a small scale side-business to partially finance his living expenses, Dr. Sundram, unasked purchased and offered to him several packages of the items that he was selling to help sustain himself in the field. On another occasion, he gave a no-interest loan to yet another youth to start a small business.  He gave similar help to a young sister and her brother who were going from Malaysia to Sarawak for pioneering. They had just completed studying a hair-dressing course and were going to open a beauty salon and barbershop in Sarawak. He gave them some money in case what they had in their possession was insufficient.
In 1980 Dr. Sundram helped my youngest brother Farzad Shirazi, a student pioneer in Manila.  Dr. Sundram brought Farzad under his supporting wings when he faced difficulties and needed fatherly care and guidance. It was clear that Dr. Sundram did not help Farzad just because he was my brother, but because of the genuine care and guidance that Farzad needed, which Dr. Sundram was able to provide.  Farzad loved and respected Dr. Sundram like a father figure, and was devastated when he learned of the passing of Dr. Sundram.
Dr. Sundram extended a helping hand to friends who were not Bahá'ís. Once when he was visiting South Korea he asked me to take him to a shop selling suitcases, to buy a handle for his colleague whose handle of the suitcase had broken.  Since no spare handle was available in the shops we visited, he ended up buying a whole new suitcase for his colleague.  Dr. Sundram said that he had to take care of the needs of his colleague when they asked for his help.
Dr. Sundram had a very soft and loving heart, something which not many would know. In  Manila, his housemaid absconded with some cash and jewelry. Surprisingly, Dr. Sundram did not report the incident to the police. Instead, he took me to the maid's family where he encouraged her to come back with the missing money and jewelry, promising that she could still keep her job.  The maid regretted her actions and subsequently did come back with the jewelry, but not the money.  Dr. Sundram lovingly told her that she could return the money gradually in installments and promised that he himself would help her towards making that happen.
Dr. Sundram was making frequent visits to Vietnam when he was with the WHO. The National Spiritual Assembly of Vietnam held Dr. Sundram who was a Counselor then in high esteem since he often met with them and gave suggestions and guidance in dealing with government authorities with diplomacy.  His approach helped the steady growth of that Faith in that war-torn country.  In 1975 we held the meeting of the Board of Counsellors in Ho Chi Minh city in Vietnam. Hand of the Cause Dr. Muhajir blessed us with his gracious presence. Dr. Sundram had very high respect for Dr. Muhajir and was always humbled in his presence. Dr. Sundram used to refer Dr. Muhajir as a man with super-brain, a great organizer and a true visionary.
While sitting with the National Spiritual Assembly in that meeting, Dr. Muhajir reviewed their goals and gave them practical suggestions for teaching, publications, management, and maintenance of Bahá'í properties. After the meetings with the National Assembly and the Board of Counselors were over everyone returned.  I had to stay back for a few more days for additional work to be accomplished.  But Dr. Sundram told me not to stay in the hotel anymore but to move into his flat and stay with him to keep him company, and of course to avoid unnecessary expenses. I squeezed into his single-room studio flat.  To my surprise, he offered his bed to me saying that he liked sleeping on the couch. I knew he was sincere in providing the better part of the comfort for me. But since he was older, I felt it would be disrespectful if I took his bed. I kept declining while he kept insisting. As I was not relenting, he finally gave up and said "Okay man! Do as you wish."  I took it to the couch and had a good sleep. A few days passed this way.
At nights we talked about the needs of the Faith until past midnight and in the mornings we had late breakfasts before going out to his office and downtown to meet people and friends. When discussing community matters, Dr. Sundram would bring out details, some of which I missed observing. He was quick to detect the problems prevailing in those communities, and he was always right.  There was a case of serious disunity among some friends and Dr. Sundram detected the root cause – they joining hands to do business. I mentioned to him what Dr. Muhajir told me that believers are not mature and spiritual enough to enter into business arrangements, and they would be placing too many expectations on each other and when the business failed they would invariably blame each other. Dr. Sundram concurred with the thoughts of Dr. Muhajir.
What amazed me and fellow Counselors as well as the health index chart that he devised, where he listed the various activities and related matters on a chart and to be ticked against. The sum total score would give the Bahá'í health situation of the community. Likewise, Dr. Sundram always went for the latest gadgets in the market to be utilized for the Faith. He was one of the earliest to use the slide projector to show slides of Bahá'í activities. Likewise, he was one of the earliest to use the overhead projector in his talks.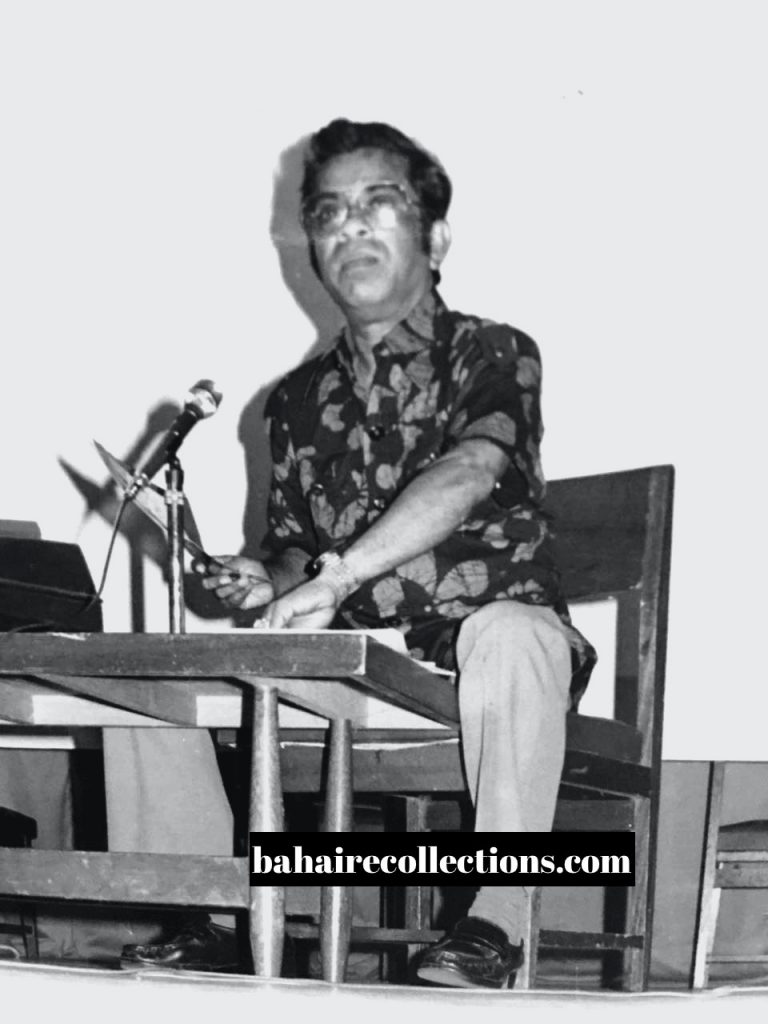 Driving home a serious point  with a style of his own.


Explaining with the aid of an overhead projector, at Alor Setar Bahá'í Centre.
When in South Korea I had to struggle to support my family and bear the cost of education of our two daughters – Sahba and Samo.  He was also well aware of my little abilities and skills and was concerned about helping me to get my daughters educated  One day he phoned me from his office in Manila, where he was based and told me that he had recruited me for a short-term consultancy job at WHO. I was to give workshops on preventive maintenance of dental equipment and to write a book on "Guideline to Dental Preventive Maintenance." I was very grateful for his offer but made it clear that organizing workshops were fine, but to write a book that required technical expertise and a good command of the English language was beyond my capacity. But he assured that he himself would guide and advise me in that writing task. That was how I started the WHO consultancy job and worked intermittently in that capacity for three years and finally published the book for WHO.  I received two certificates and three letters of commendation for what WHO considered my distinguished services. There was also benefits that Dr. Sundram had in his mind when recruiting me for that UN job.  In that capacity with WHO, I was given special visa privileges to visit Laos and other countries with ease. I visited Laos three times and served the Ministry of Health during the 1980s when no other visitors could easily to enter Laos.  With that job I also visited and served many countries, such as the US-Trust Territories and Micronesia in the Pacific Islands, Thailand, Vietnam, Guam, Saipan, Laos, Malaysia, Singapore, and the Philippines.  I could never thank Dr. Sundram enough for opening the path for me to sustain me and my family financially and for enabling me to serve the Cause more effectively.
Both Dr. Sundram and I were emotional personalities. There were moments when we had direct clashes and arguments. But they were only clashes of opinions and had nothing personal. Despite such heated moments our mutual love, respect, and unity always remained intact and never dimmed over time. Dr. Sundram knew well his weak points and struggled to have them controlled. I remember at meetings of the Board of Counsellors he used to ask me to sit next to him. The arrangement was I was to give him a knock on his knee in case of he became highly emotional so that he could calm down.
Once in 1976, a misunderstanding occurred between Dr. Sundram and a member of a National Spiritual Assembly.  This case reached the Board of Counselors and the National Spiritual Assembly. Dr. Sundram was naturally hurt that a personal clash between two individuals that could have been amicably settled outside was dragged into the institutions. An upset Dr. Sundram sent a letter of resignation from the Board of Counsellors to the Universal House of Justice.  Following that he did not attend the meetings of the Board of Counselors. But the House of Justice being an infallible body diffused the situation and cleared up the matter.  Dr. Sundram continued to serve as a Counselor. Interestingly enough, it did not take long before the other believer on that National Spiritual Assembly and Dr. Sundram became the thickest of friends. In Dr. Sundram I saw was a man of dignity and principles. He was not interested in holding any position in the Faith for the sake of it.
I personally knew Dr. Sundram was a painter, artist, and author of books. He wrote books on health administration and training and some Bahá'í training materials. As the situation in Indonesia began to recede in the 1960s the Bahá'ís organized plans to offer education to Mentawai children by adopting some Bahá'í children sponsoring their education in nearby Padang and raising them in their homes as Bahá'ís. Dr. Muhajir was the prime mover of this plan. In 1968-1969 the  plans were formulated and approved by the Universal House of Justice. thus the hostel was born.  Today Navanita and her husband Dr. Manoochehr Tahmasebian are managing the hostel. Dr. Sundram wrote a comprehensive report about the children and youth from Mentawai Island who were cared for at the Bahá'í hostel and received Bahá'í moral education, in addition to attending the local public school. Shantha Sundram who visited the hostel several times helped greatly in this project. She would buy the artworks of the Greatest Name that were made by the children to help in their upkeep, and sell them in other parts of the world. This served to increase their income and even helped to place one of the children through a medical school. He later graduated as the first doctor from Mentawai Island – Dr. Saralek.
A MAN OF RARE TALENTS
It was not surprising for the outside world to grab such a genius with keen insight and resourcefulness. After the passing of Dr. Sundram, I started gathering information to study this believer who was in my humble view the first in Malaysia to add luster to the Faith among those eminently placed in society. Dr. Sundram manifested signs of intelligence from his early schooldays and joined the King Edward VII Medical College the only higher institution of education in Singapore, and in 1946 obtained his degree in dentistry. He joined the Malayan civil service as a Dental Surgeon and was posted to Kuala Pilah in 1950 where the Director of Dental services recognized his talents and sent him in 1952 to the New Zealand Dental Service. Upon return, he set up the School for the Training of Dental Nurses in Penang of which he was the Principal for 15 years. That was the first of its kind in the Asia Pacific Zone and second in the world. Almost every aspect of the designs and models within this school and even the curriculum were  the products created from the emanation of his brilliance. His paintings too decorated walls of the dental school. The school attracted trainees from several parts of the world.
He was a very hardworking worker who would clock in early and leave the office not earlier than 6 in the evening, sometimes stretching to midnight. Though a taskmaster who set the benchmark for service, he had a warm heart for his subordinates. He was excellent in preparing documents and papers based on intense research and in-depth analysis. He would never take a moment's rest until the task he had embarked on would have been completed in full and to his satisfaction. While an average man would look into the horizon, Dr. Sundram would look "beyond the horizon" to see if he could discover something new. Such was his discovery spirit at all times.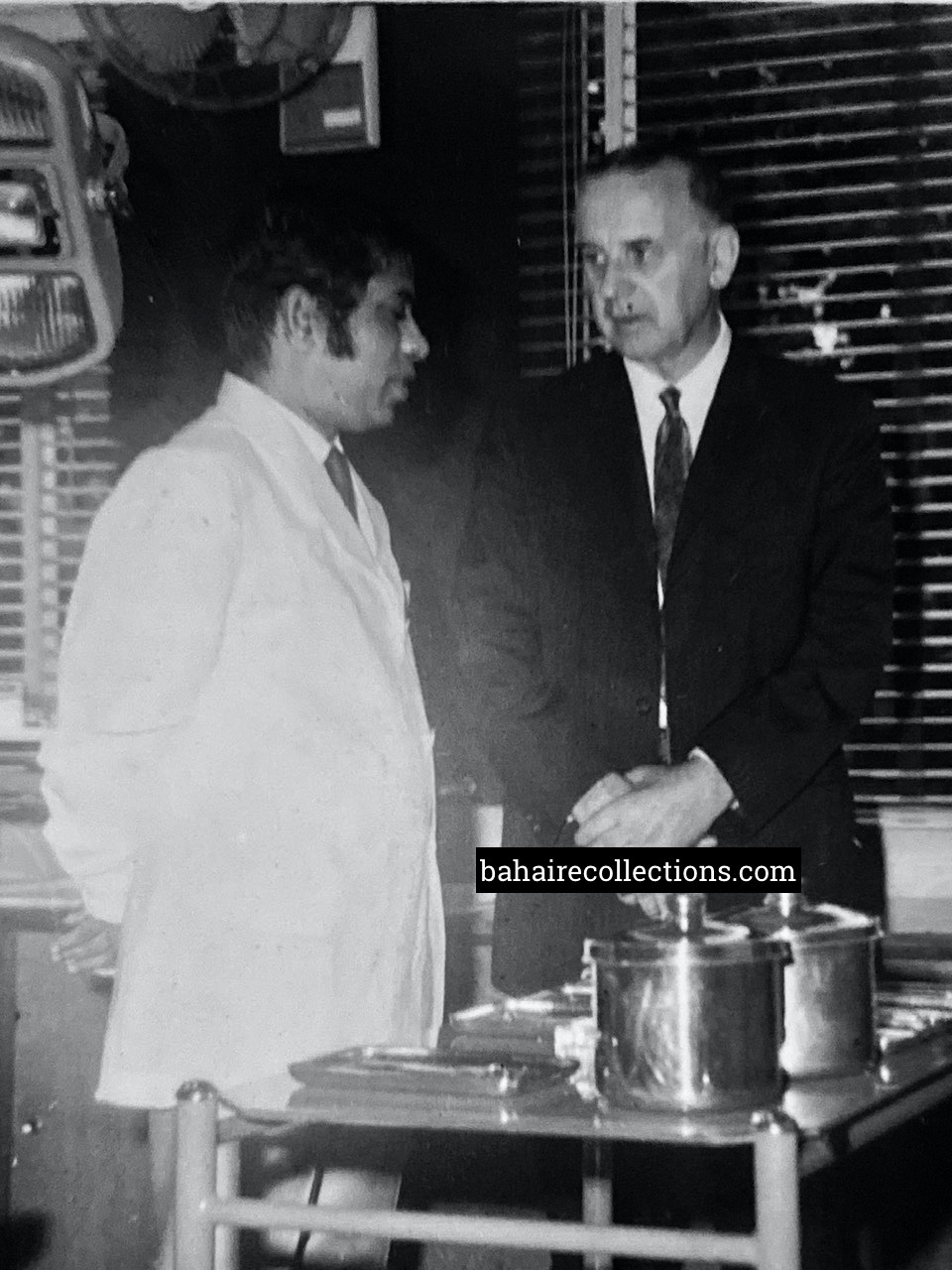 Hand of the Cause of God Mr. Collis Featherstone visiting the School for the Training of Dental Nurses in Penang
His excellent performance at the school earned the recognition of the World Health Organization, which in 1958 appointed him on the advisory panel on Dental Health right through 1968. This prestigious position took him places at international for running seminars and training. His career was brightened further with he obtaining his Master in Dentistry in 1960 at the University Malaya in Singapore followed by a Doctorate in Dental  Science from the Tokyo Nihon University in 1961, thus becoming the first Malaysian to have acquired a doctorate in that field. In the same year, the Malayan government awarded Dr. Sundram the Ahli Mangku Negara (AMN) for his meritorious services to the country. He gained further name and fame by serving as the chief editor of the Malaysian Dental Journal for a few years effective 1964 and as President of the Malaysian Dental Association in 1967 and 1968. In 1967 the King of Malaysia decorated Dr. Sundram with the Pingat Peringatan Negara (PPN) for his meritorious services. In 1972 he resigned from the Government service and joined WHO as a Dental Consultant. And there he created a number of "firsts." In March 1981 WHO sent a team of advisors and consultants and for the Tenth Asian-Pacific Dental Congress held in Singapore. That was the largest and most important dental assembly in the region. This event led by Dr. Sundram as the Regional Advisor in Oral Health and this event marked the beginning of a new era in forging closer cooperation between the Asian Pacific Dental Federation and WHO.  Serving on WHO, Dr. Sundram created a great impact in the international arena and received accolades and commendations, of which he never mentioned in the community- a sign of magnanimity of the man. While serving with WHO he was responsible for some 35 countries and millions had benefited from his project of upgrading their personal oral care. Professor Mori Morimoto from Nihon University in Tokyo where Dr. Sundram obtained his Doctorate in Dentistry visited the Dental School in Penang in 1993, and noting the legacy left by Dr. Sundram he had entered in the visitor's book as follows, "It has been my dram to visit this school ever since I knew Dr. Chellie Sundram in 1960. Now my dream is realized."
DIVINE WILL HAD BEEN OTHERWISE
He told me that he was offered a highly paid job with perks in Singapore, with a grant of Singaporean citizenship, but he had respectfully declined it. Dr. Sundram explained that he considered it a matter of loyalty to the Malaysian government which had decorated him with awards in recognition of his meritorious services to the country.
It is only natural any organization or government would grab such a genius. While the outside world was on the lookout for such a person with a host of rare talents, the Blessed Beauty brought him under His sheltering care to use his talents for the furtherance of His glorious Cause. I happened to read the book "Why They Became Bahais" compiled by Annamarie Honnold, and it was in a story that Shantha wrote in that book that I could see the Divine intervention in guiding the Sundrams into the Faith. Bahai pioneers from the USA Jeanne Frankel and her mother Mrs. Bates who had pioneered to the Nicobar Islands came over to Penang on their way to their next post in Cocos Keeling Islands. In the course of Jeanne looking for a dentist to fix her tooth, she and her mother befriended Shantha Sundram and in stages gave her the message. When Shantha accepted the Faith Dr. Sundram dropped in and was informed that Shantha had accepted the Faith.  Dr. Sundram remarked, "If it is good enough for my wife, it's good enough for me. Where's the card…" And Dr. Sundram signed in the declaration card. On a later conversation with Dr. Sundram I asked how strange a circumstance in which he had accepted the Faith. Dr. Sundram winked, smiled and remarked that people come into the Faith in different ways, and his coming into the Faith was destined to be that way. He was shaving and walked into the living room where he signed up. He further added that he started to investigate the Faith deeper starting with reading the book "Baha'u'llah and the New Era", and his continuous discussions with Jeanne Frankel till Ridvan 1958. His turning point was when he was elected Chairman of the Local Spiritual Assembly of Penang in Ridvan 1958. He soon emerged a convinced believer, and there was no looking back. The rest is history.
Jeanne Frankel, Spiritual Mother of the Sundrams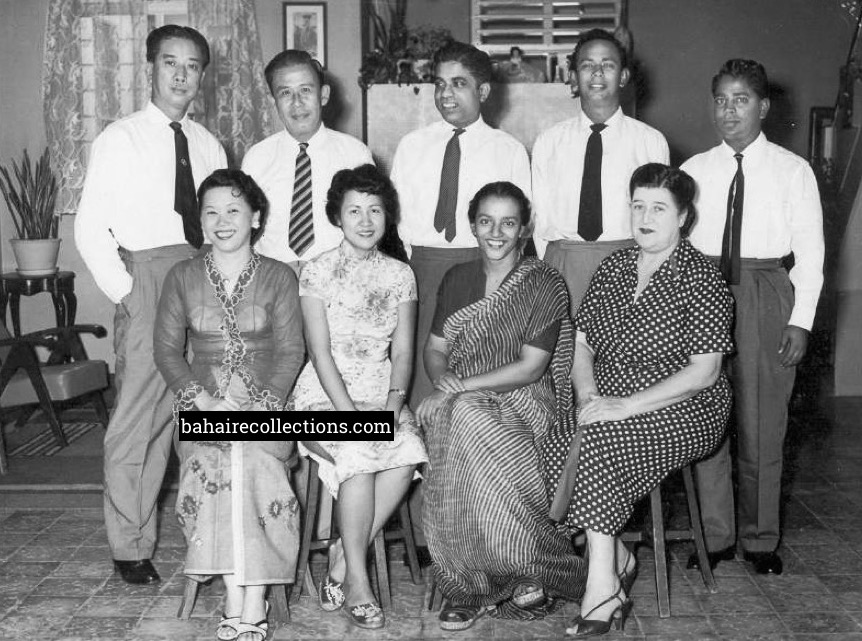 First Local Spiritual Assembly of Penang, 1958. Chairman Dr. Sundram is standing in the middle, while Shantha is seated third from left.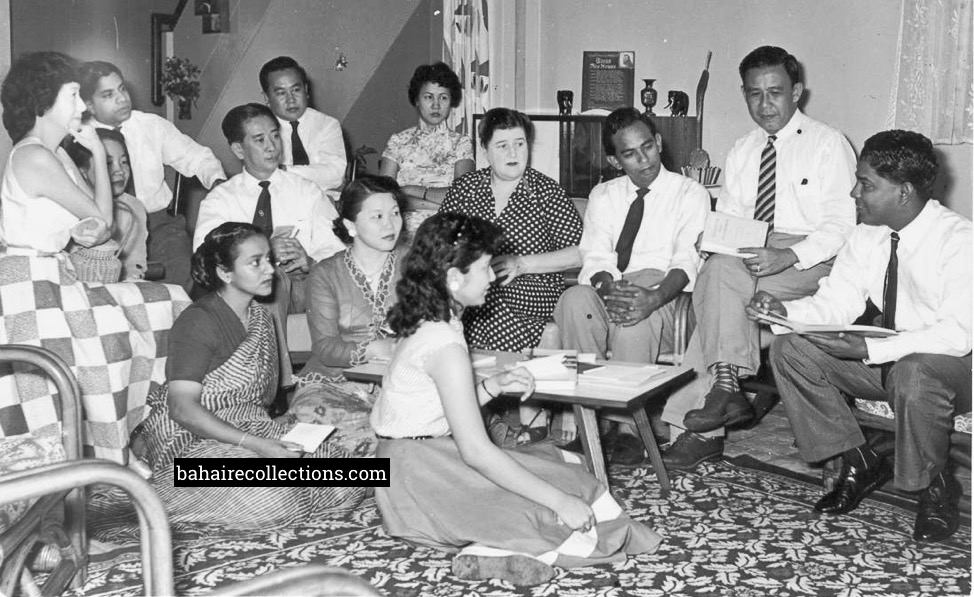 Penang became a dynamic community that led the way in administrative excellence. Dr. Sundram seated second from left, and Shantha seated on the floor clad in saree. (1959)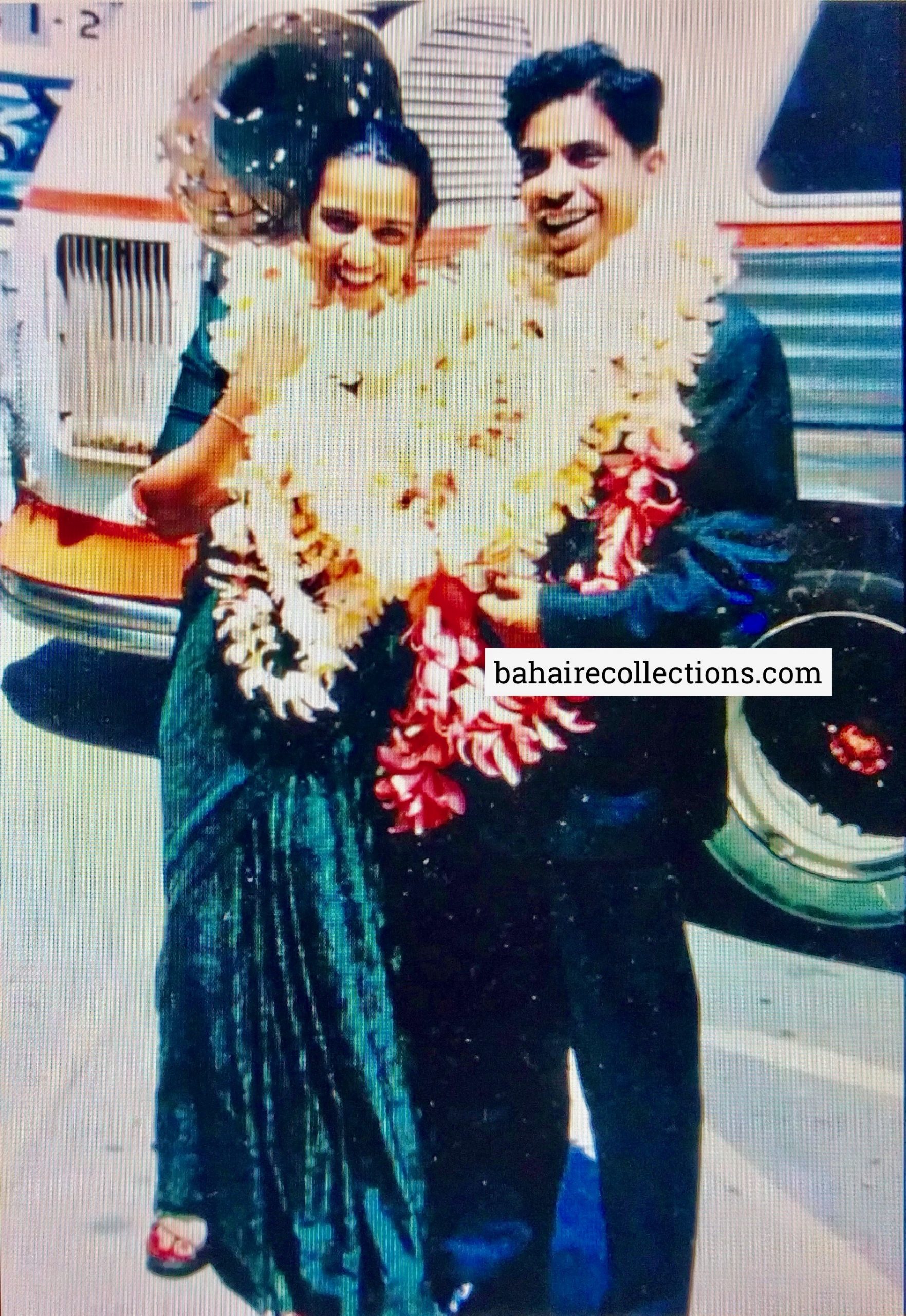 A trip to North Carolina, USA to meet with their spiritual mother Jeanne Frankel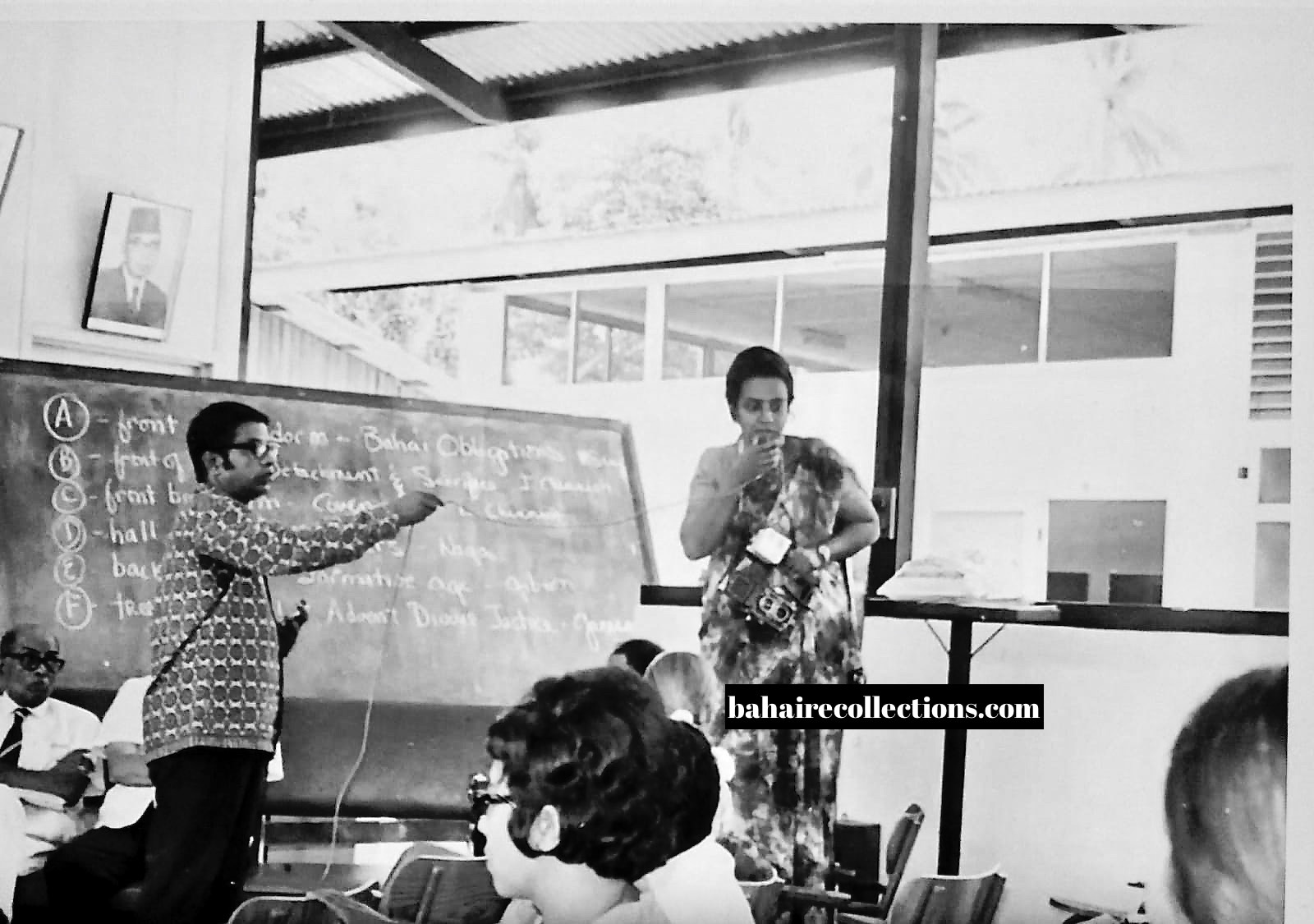 Dr. Sundram as Counselor and Shantha as member of the National Spiritual Assembly working together at the Summer School in Port Dickson, 1970

An endless energetic worker, taskmaster and one who was results-orientated – Proclamation Seminar in December 1970, Singapore
A natural orator
I met Dr. Sundram a few times in Perth, Australia after he had suffered a stroke that completely changed his personality from a highly energized and dynamic person to a mild, meek and soft person.  His speech, use of his arms and remembrance of the past were impaired. Yet the fighting spirit inborn in him started to manifest, and soon he was able to start painting once again with even better expressions. He started to slowly recollect the past. Next I heard Dr. Sundram had passed away on 23 February 1993, I was devastated to have lost a true friend.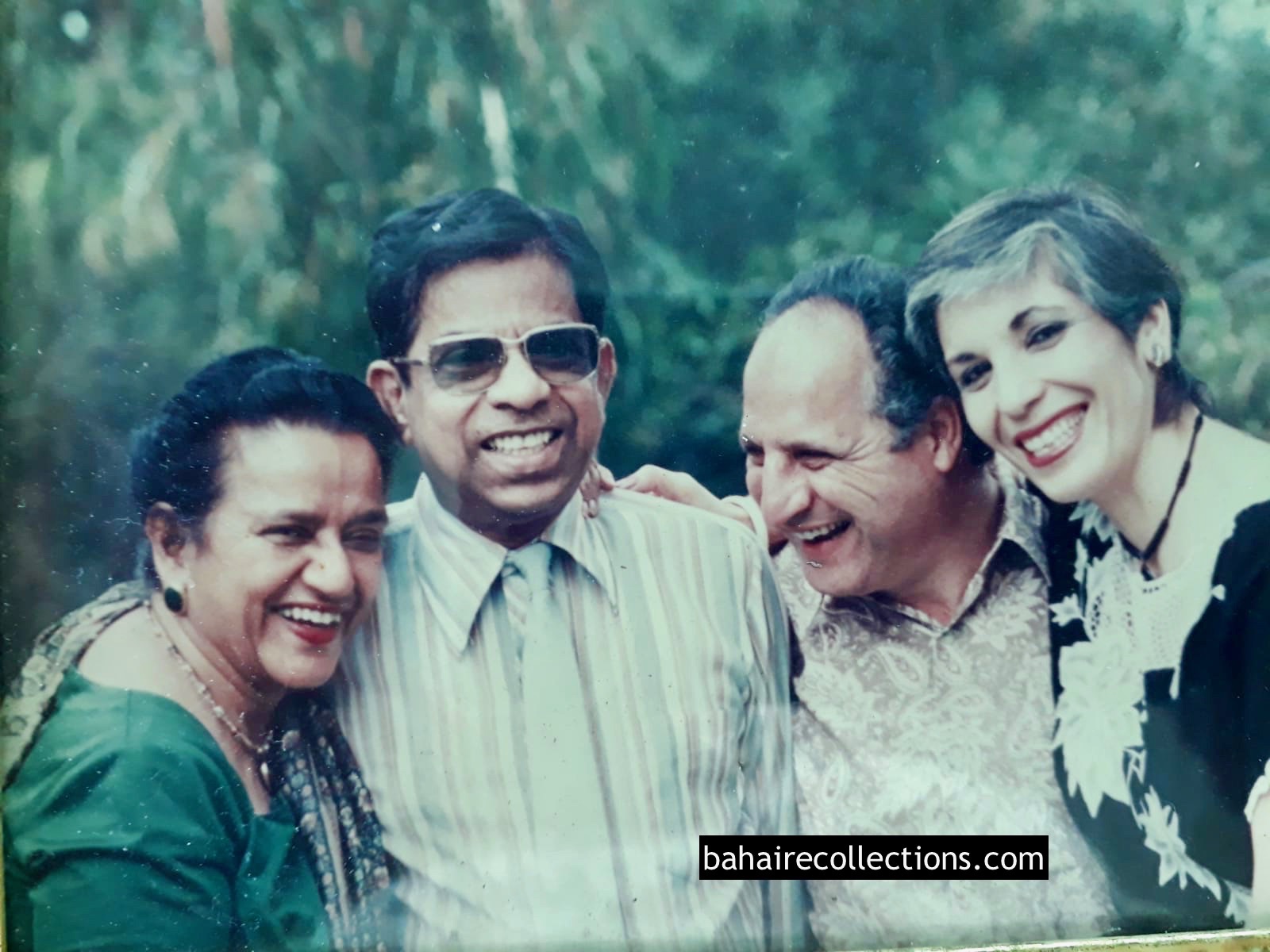 Privileged to have brought the Sundrams into my life
It gives me a sense of gratifying joy to know that the services of Dr. Sundram were recognized not only by the Universal House of Justice but by the other institutions of the Faith and the believers at large. In the outside world too, he earned the name as a man of great substance, ability, and intelligence.
Saddened learn passing Dr. Chellie Sundram, stalwart servant Baha'u'llah, whose loving nature, academic achievements and sincerity won for him recognition and opportunities render distinguished services through World Health Organization. His indefatigable services Cause God, including two decades as member Continental Board of Counsellors in Asia, until ill health forced his retirement, lent lustre to the Faith and are lovingly remembered. Convey his clear wife, members his family and friends, particularly the beloved Malaysian community, deepest love and sympathy, assurance prayers Holy Shrines progress his soul all worlds of God. – The Universal House of Justice.
Mrs. Shantha Sundram received a large number of condolence messages from various individuals and institutions of high standing both from within Malaysia and abroad, far too many to list.
Hand of the Cause of God Amatu'l-Bahá Rúhíyyih Khánum faxed: DEEPLY REGRET PASSING DEAR CHELLIE. HIS LOVE FOR OUR FAITH, DEVOTION AND TIRELESS SERVICES WILL ALWAYS BE REMEMBERED. I HOPE HIS OWN FAMILY AS WELL AS HIS FELLOW BELIEVERS WILL FOLLOW IN HIS DEVOTED FOOTSTEPS AND RENDER EQUALLY OUTSTANDING SERVICES. I WILL ADD MY LOVING PRAYERS FOR THIS DEVOTED SERVANT OF BAHA'U'LLAH TO THOSE OF MANY OTHERS WHO LOVED AND ESTEEMED HIM.
The International Teaching Center: "We are deeply grieved to hear of dear Chellie's passing and recall with tender and abiding affection his devoted services as a Continental Counselor, and his unremitting labours in teaching and deepening in the many countries where he served his beloved Lord. We send assurance of our petitions at the Sacred Thresholds for the progress of his radiant soul and of our prayers that his loved ones may be consoled by their Faith, the fragrances of Chellie's memory, and the surrounding love of the friends."
The Continental Board of Counselors for Asia: "He was  very precious to all of us and a stalwart of the much admired Malaysian community. From the earliest days of the Cause in Malaysia and later in South East Asia and the Asian continent, Chellie was in the forefront of its expansion and by his wise actions protected our beloved Faith. We well never forget him. We have prayed for the progress of his soul and are informing the international Teaching Center about our sad loss."
Counselor Ruhullah Mumtazi based in  Japan: "Chellie was very frank,  pure with a heart full of love for all his colleagues, very systematic, always respected the administration of the Faith and was the only one among the 36 Counselors at that time to have stored all Bahai statistics on his computer."
Counselor Dr. Sabir Afaqi from Pakistan: "Dr. Sundram's life will continue to inspire the friends in this region as it was full of devoted service on behalf of His  Cause."
The National Spiritual Assembly of Australia: "Dr. Sundram's distinguished and devoted service to the Cause of Baha'u'llah will ensure him a place in Bahá'í  history around the world as well as in his home country."
Dr. S. T. Han who was the Regional Director at the time of the passing of Dr. Sundram: "Chellie was a great person. Professionally he was extremely competent and hardworking and as a personal friend he was most sincere and helpful. Those who had the opportunity of working with him and knowing him personally remember him for his dedication to his work and his kindness."
An officer from the WHO Western Pacific Region Office: "He was professional in his approach to work. His reports were the best examples of his handiwork- well written, very neat and beautifully illustrated.  He seemed to have a deep concern for people. He had kind words for the general service  that he worked with and showed his appreciation not only by his souvenir gift items, but also through kind remarks that truly warmed the heart."
The Director of Children's Dental Center  and Dental Nurses Training school mentioned  "Dr. Sundram was a man of superlatively high standards and boundless enthusiasm for whatever task he took in hand."
The author recommends the  readers to visit the story on Shantha Sundram who teamed up perfectly with her husband Dr. Chellie Sundram in serving the Cause  with distinction: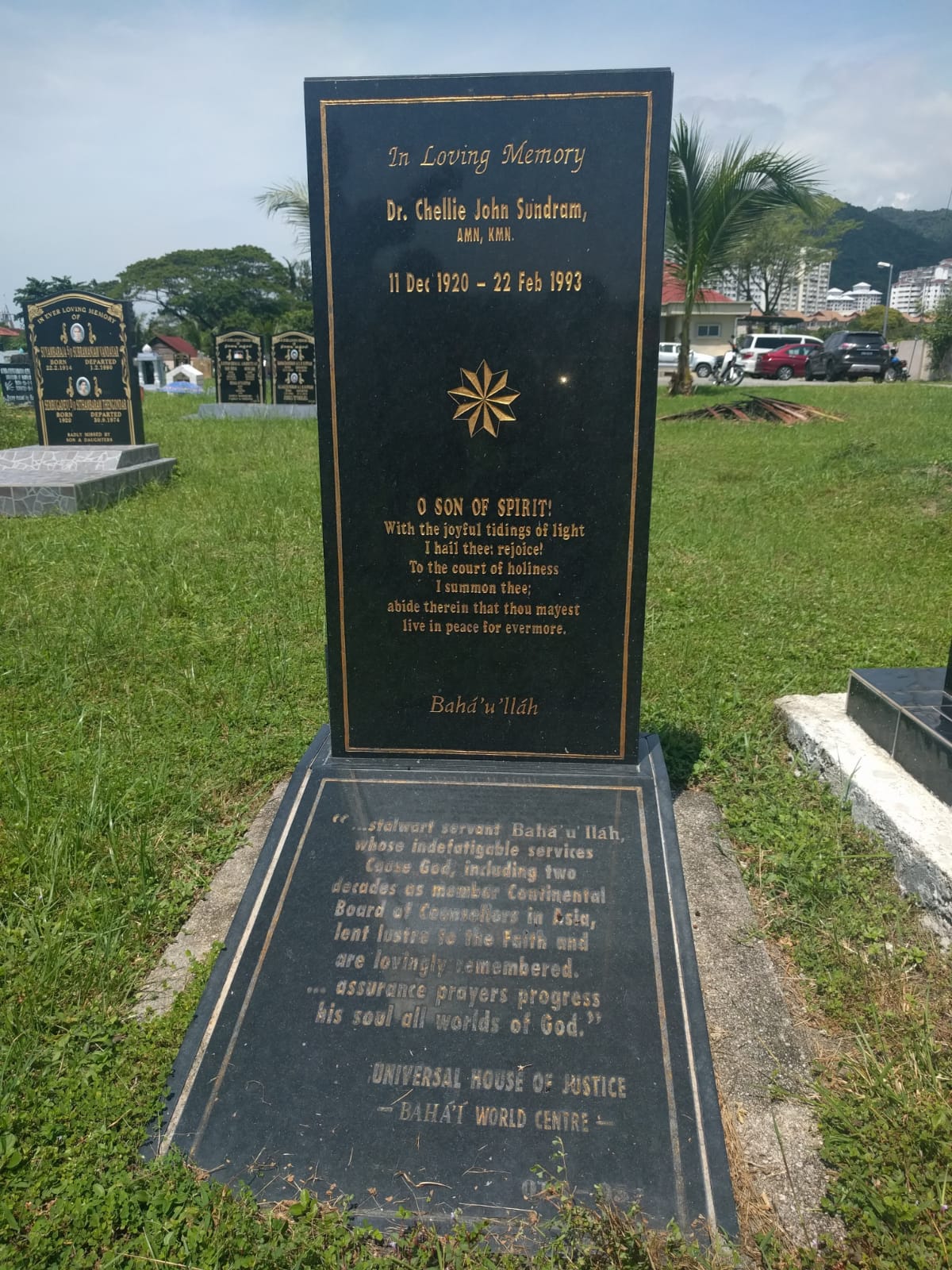 Resting place of Dr. Sundram at the Batu Lanchang Indian Cemetery, Penang
Dr. Firaydun Mithaq
Chieng Mai
Thailand
31 January 2020
Copyright@bahairecollections.com
P.S: I wish to thank the four daughters of the Sundrams for providing me some family-related information, and my gratitude to  Mr. Manisegaran for providing additional information and some great photographs for this story.