Remembering Sathiawan Singh Malhotra
Remembering Sathiawan Singh Malhotra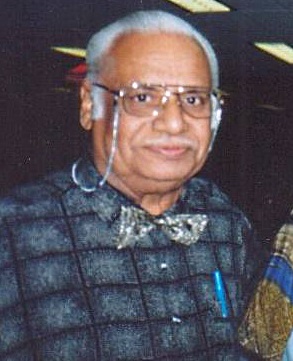 Sathiawan Singh Malhotra
Mr. Sathiawan Singh, who accepted the Faith during the Ten Year Crusade period, radiated so much love and affection in all gatherings. Though of advanced age, he was one of those who had won the admiration of a vast ocean of friends from all age groups within the Malaysian Bahá'í community.
Sathiawan Singh was one who had labored hard for the growth of the Faith in Malaysia in the early days. He accepted the Bahá'í Faith through his younger brother Surinder Singh. Surinder Singh himself was so active in spreading the Cause around the country that he was affectionately called "The roving ambassador of the Faith." Although hailing from the Sikh community, Sathiawan Singh was deeply moved by the Bahá'í teachings that at a Nineteen Day Feast held in Malacca town he accepted the Faith in 1961. He then had the audacity to take the Faith to the Sikh Temple in Malacca town where he publicly challenged his Sikh friends to investigate the Faith. When he took that bold action, he was immediately condemned and ex- communicated by the Sikh community. Not quite surprised with that  expected treatment, Sathiawan Singh spent the rest of his life associating with the Bahá'ís and getting involved in several  Bahá'í gatherings and activities. At a time when not many from the Sikh community in Malaysia had accepted the Faith. Sathiawan Singh proved to be a leading follower and promoter of the Faith.  Since accepting the Faith Sathiawan Singh was on fire with the love of God, serving the Cause with great enthusiasm and fervour.  Until the very end of his life, he continued to serve the Cause in every way possible, and within his means.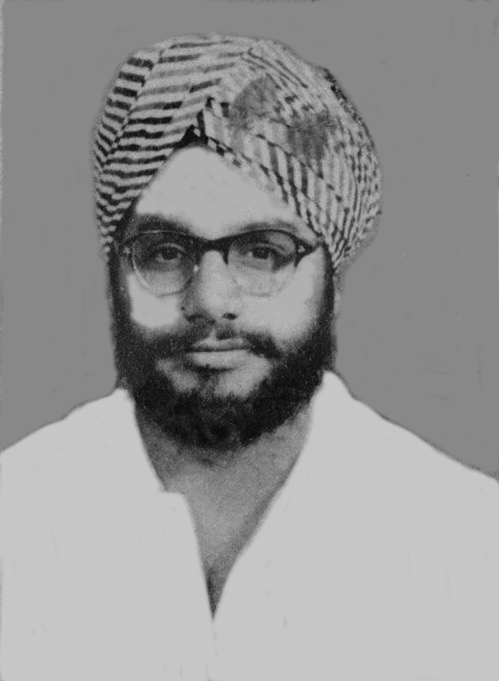 At the time of accepting the Faith in 1961
He accepted the Faith at a time when there were very few workers, with much work that had to be done. Whenever work had to be carried out for the Cause, Sathiawan Singh was almost always the first to volunteer his services. He holds the distinction of having been the personal driver for Amatul Baha Ruhyyih Khanum when she visited Malaya for the first time in 1961. According to what Sathiawan Singh related to the author, that one-week stint as her driver was the most memorable moment in his life. His association with Amatul Baha and the knowledge he imbibed from her during that period confirmed him in the Cause. Following the departure of Amatul Baha, Sathiawan Singh resolved to serve the Faith as never before. On many occasions he used to recollect those nostalgic moments, with a great sense of pride. He looked upon the those early years as a time of spiritual rebirth.
From the early days till the very end of his days, he made it a point to cook with his own hands and bring the food for Bahá'í gatherings, often unasked. Whenever meetings were arranged in his house, he would get very excited and go marketing and cook the whole day to provide his best. In many ways Sathiawan Singh was an example of true Bahá'í hospitality.
From 1960 to 1963 Sathiawan Singh was living in Kuala Lumpur. During that period, a great deal of manpower was needed to open up the state of Selangor to the Faith. In 1962, he was the Selangor State Representative of the Area Teaching Committee. As he was one of the few with own car, he played a great role in providing transport for Bahá'ís wanting to attend functions and go on teaching trips. In 1963 he served on the National Teaching Committee.
The First  Bahá'í World Congress held in London in 1963 was another turning point in his life. Earlier in 1961, when Amatul Baha was in Malaya, Sathiawan Singh had indicated to her his interest in cropping his hair and removing his turban. But Amatul Baha told him to come to the World Congress with the turban on. So, Sathiawan Singh was the only Bahá'í from the Sikh community, with turban on, to have attended the First Bahá'í World Congress in London. He naturally became the center of attraction for some 6,000 believers who had gathered from all the corners of the world.  He himself used to remark in a jest, "I was  the center of attraction as in a zoo. Many even took photographs me." Upon his return from the World Congress, Sathiawan Singh stepped up his teaching activities locally. One of the first thing he did was to visit Perak state on a one week teaching campaign with a group of Bahá'ís.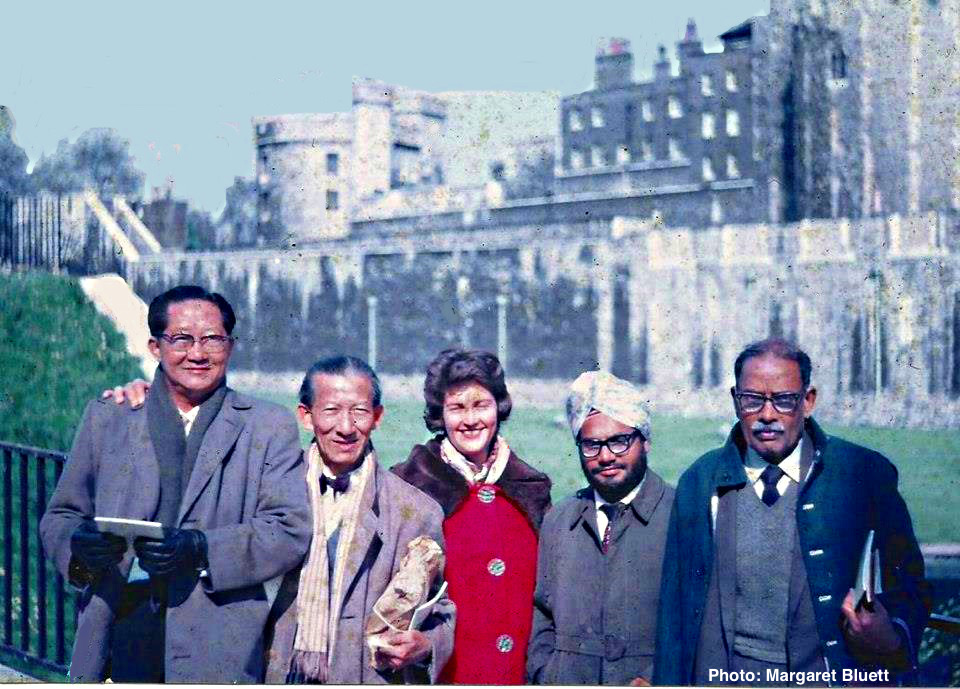 First World Congress in London, 1963. L-R: Leong Tat Chee, Yankee Leong, Margaret Bluett (Australia), Sathiawan Singh, K. Rajah.
In the later part of 1963, Sathiawan Singh went off to work in Singapore in a pharmaceutical company for some time. There he was a successful employee of foreign companies and led a luxurious life, with all the latest vehicles at his disposal. When the Bahá'ís in Malaysia were making efforts to open up the southern state of Johor to the Faith in the 1970s, Sathiawan Singh  made weekly trips to Johor from Singapore, and provided transport for teaching trips right up to the town of Kluang in the northern part of the state of Johor. While in Singapore, he flew to India, Pakistan, Sri Lanka and the Philippines on business and in each trip found his way to visit the  Bahá'í centers in those countries. He stayed longest in the Philippines effective 1971, where he associated himself with Counselor Dr. Chellie Sundram who was posted there under the World Health Organization project. Each time he returned to Malaysia from his overseas trips he would visit the former National Bahá'í Centre at Setapak, Kuala Lumpur to keep abreast of the latest developments of the Cause.  He came back to Singapore and stayed until 1983, when he returned to Malaysia.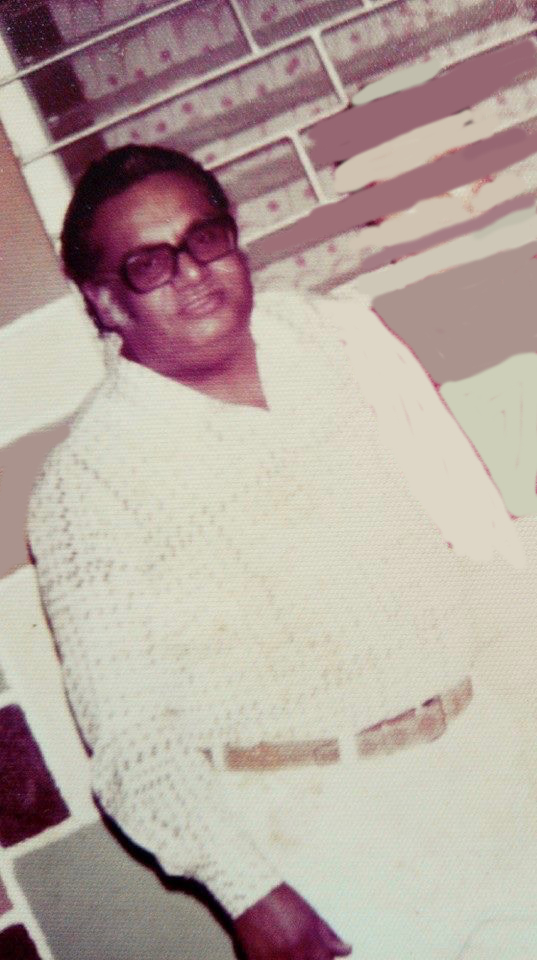 New look without his turban on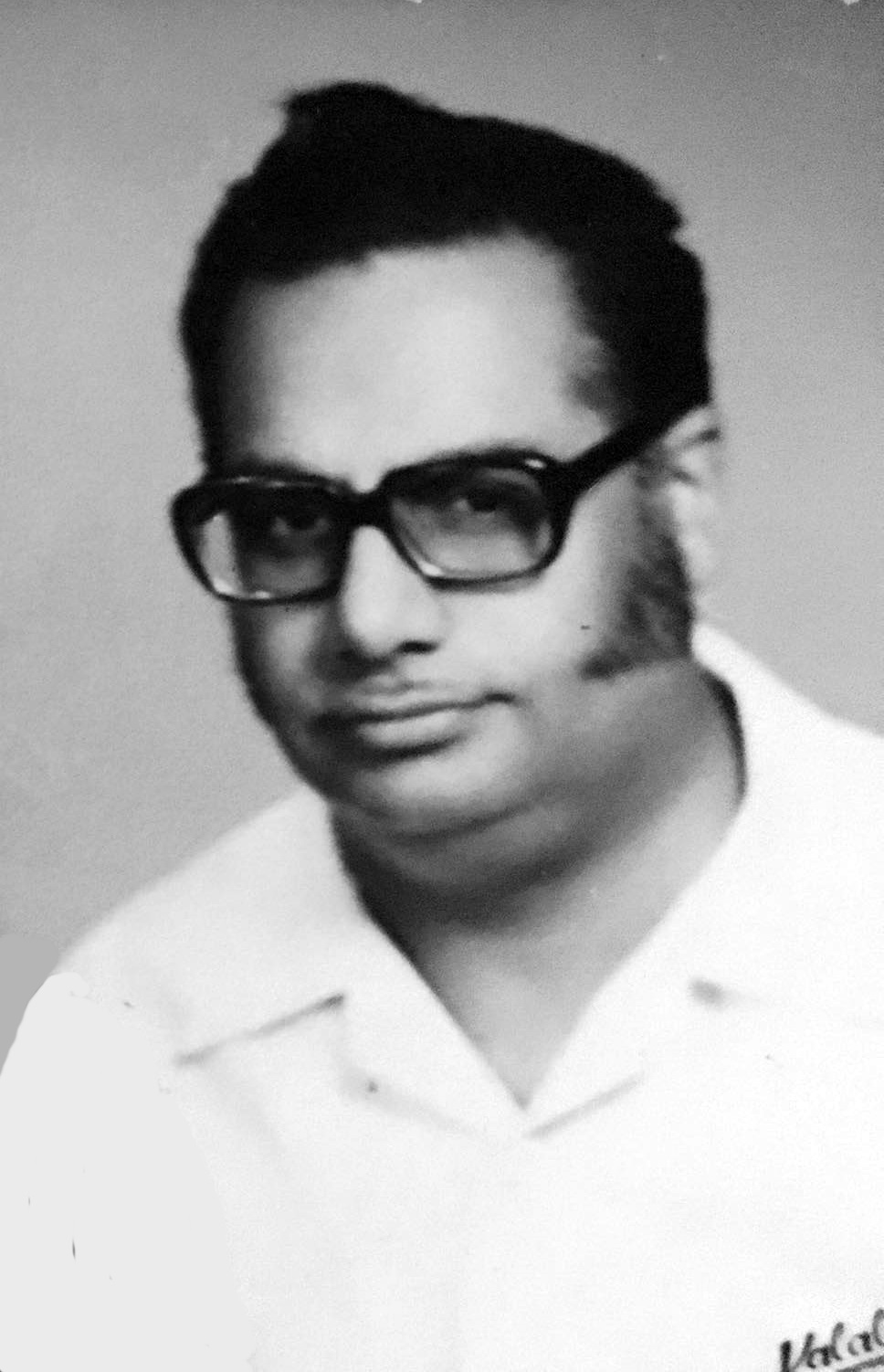 The one shining example that was second nature to Sathiawan Singh was his unlimited generosity. Philanthropy was always part and parcel of his life. At a time when he was financially well placed, he used to sponsor Bahá'ís from the ranks of students and the unemployed for  Bahá'í conferences. Whenever he could not join teaching trips, he always filled up the gas tanks of cars, as contribution on his part. On many occasions he had given financial assistance to deserving Bahá'ís, often without the knowledge of others. He was always on the lookout for worthy causes that needed help, and always contributed unasked. He was observant and sensitive to the needs of the Faith, which he really loved.
One day in the sixties, Sathiawan Singh turned up in Penang, and asked if the Bahá'ís there needed any money for the Fund.  They had just started a Bahá'í Centre Fund, and when Mrs. Shantha Sundram informed him of this, Sathiawan Singh made a generous contribution! Seeing the huge contribution Shantha commented that his business must have been good, to which he spontaneously replied, "Business is bad!  That's why I am giving more to the Fund." He had the unshakable faith that when you take care of the Cause of God, God would always take care of your cause. To him the needs of the Faith were far more important than his own. On another occasion when he went to Hong Kong, he bought a big refrigerator for the  Bahá'í Centre, much to the delight of the friends.
On another occasion, in Kuching town in the state of Sarawak, he was doing his business in pharmaceutical products and driving a mini Moke. He asked Dr. Fozdar if the Bahá'ís in Kuching had difficulties with transportation. Dr. Fozdar replied that his was the only car available. Right then, Sathiawan Singh immediately arranged to give his mini Moke for the Bahá'ís to use. At that time, being the only mini Moke in the whole of Kuching town, it made quite an impression on the town folks.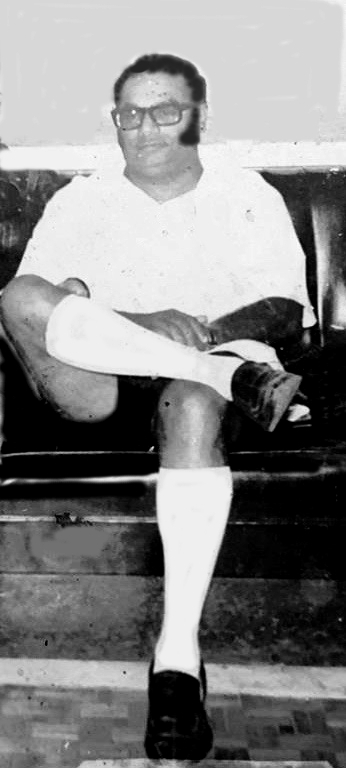 In planter's uniform- short pants and long socks
Sathiawan Singh had a great role to play in Singapore. He was leading a very comfortable life with a big house close to the Singapore Bahá'í Center in Cooling Close. That was the year when the members of the National Teaching Committee of Malaysia made frequent visits to Singapore to give a helping hand in preparing the island country in intensive teaching activities.  Sathiawan Singh used to visit the Bahá'í Center in the evenings and take out the members of the National Teaching Committee of Malaysia for sumptuous dinners on posh restaurants.  N.S. S. Silan who was on the National Teaching Committee and visited Singapore during those days says Sathiawan Singh had a great charisma in him.  In 1997  Sathiawan Singh was still working in Singapore as Foreign Marketing Inspector at Wismer Automation (S) Private Limited. That year he underwent a heart by-pass operation and soon  retired from work.  His dashing appearance in the Malaysian scene was made in 2000 at the 50th anniversary celebrations of the coming of the Faith to Malaya held in a hotel in Kuala Lumpur. From then on he aligned himself with  Bahá'í activities in Kuala Lumpur. Even  after his retirement when he had no means of income, he would empty his pockets of the only couple of dollars he had and gave for the Fund.  He on his own accord had paid all the bills for several gatherings that were held in hotels. He himself booked hotel rooms and urged the friends to do organize some events  for the Cause. Whenever he had some money in his hands, he would ring up his close friends and ask how the money could be put to use for the Cause. Almost every cent that he had went for the Faith. To him the needs of the Faith were more important than his own needs. He was involved in a business towards the end of his life, all for the sake of using the returns for the Faith. Before he could see the results he was already called to the kingdom. His love for the Faith was immense.
In the last five years, Sathiawan Singh was a very sad person, as he was saying farewell to most of his contemporary Bahá'ís. Despite his badly failing health, he forced himself to attend Bahá'í activities. During the last days of his life he was obsessed with the thought of teaching, and urged Bahá'ís to take him out for teaching trips and Bahá'í meetings. He served on the Local Spiritual Assembly of Kuala Lumpur Sentral where he contributed effectively. At almost all meetings he would bring food and refreshment that he himself prepared.
Sathiawan Singh had a strong urge to delve deeper into the writings, and never missed a single deepening session. Whenever he heard of Bahá'í gatherings, he was about the first to respond, and immediately ask for transport.  He was most grateful to some close friends who provided transport during his moments of difficulties.
Sathiawan Singh's life was an open book. He harbored no ill feelings towards anyone. Misunderstandings, if any, were always erased within seconds! He loved the company of knowledgeable Bahá'ís, and those with great sense of humor. His very company elevated one's spirit, as he always radiated so much love.  There could not be any Bahá'í who had not been touched by his radiant love and positively charged Bahá'í spirit.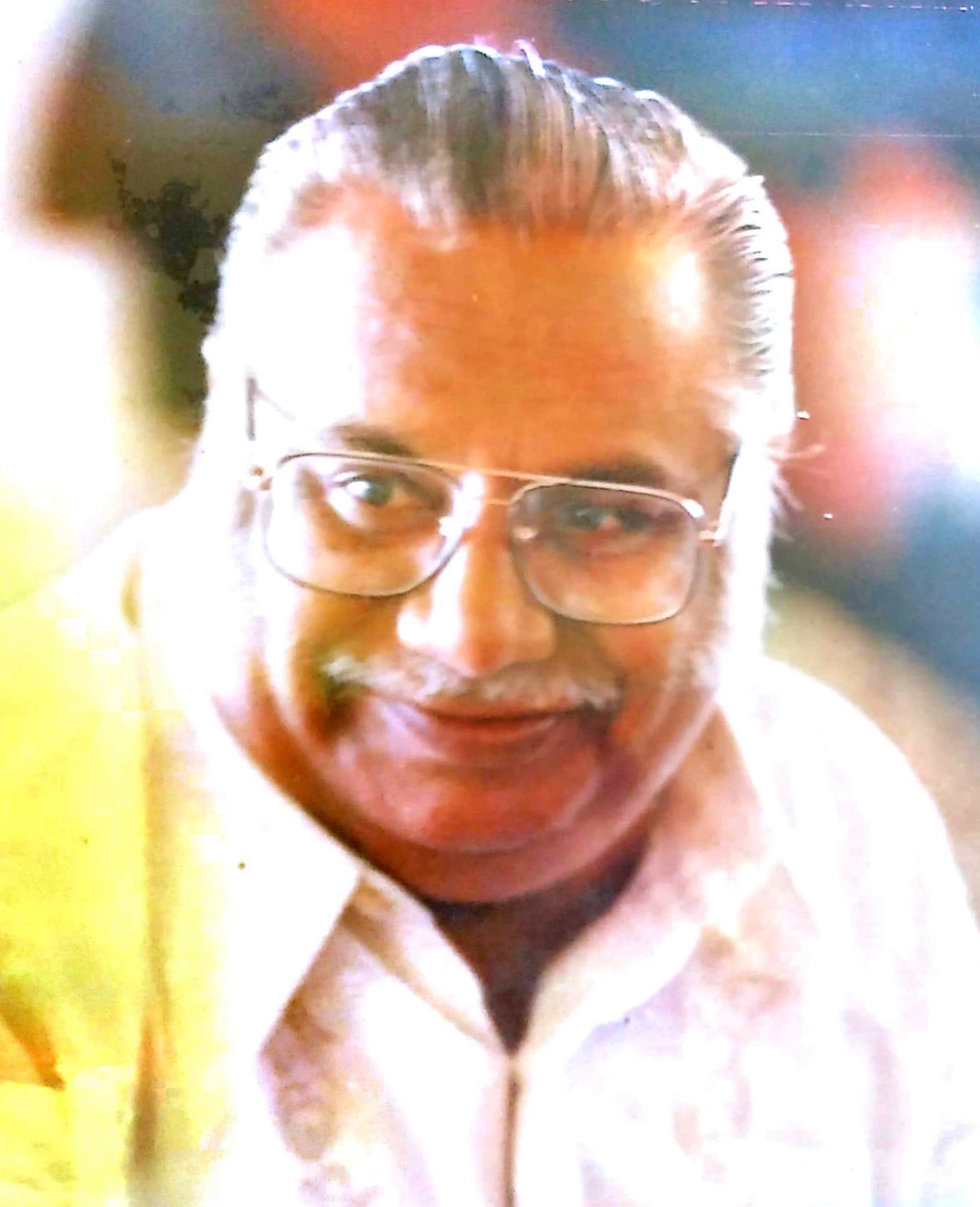 The ever radiant Sathiawan Singh
He would also be remembered for his constant flow of e-mails that he sent out to Bahá'ís and non- Bahá'ís alike, on topics of various interests.  Communicating with him over email was real fun, as he was always the first to respond, with unimaginable suggestions, coated with high sense of humor. He kept both himself and others on their toes through his unique kind of communication skills.
He used to get excited whenever he heard of news of progress and victory for the Cause of God. When his son held a high position in a local hotel, Sathiawan Singh was instrumental in getting special discounts for holding Bahá'í meetings in this hotel. Several were the activities that were held in that hotel.
He was very generous in his praise, and never looked at the faults of others. He gave praises without reservations whenever he saw talents in any Bahá'í.  He loved the company of Bahá'í children and always considered himself a grandfather to them. Bahá'í children also liked his company, for he was sure to turn up with some cookies and sweets wherever children were present. Sathiawan always considered Bahá'ís his true family members and felt very much at home with them. He gave the Faith to his family members, but they would not accept the Faith. That was his sad mark in his life.
Last Days
Sathiawan was hospitalized for several complications resulting from his earlier operation in 1997. He was a diabetic patient as well.  in early April 2006 he was admitted into the hospital for complications. The doctors gave up hope. But Sathiawan Singh, who was already very weak, resorted to prayers. To the amazement of the doctors he miraculously recovered.  On 8 April, to the shock of many, he drove himself to attend the Feast gathering in Kuala Lumpur. At that gathering he spoke on the power of prayers, citing his own case. His face was glowing with the love of Bahá'u'lláh. Then he left, whispering to the host that he had lived long enough, and was now willing to be called to the Kingdom on high.
He had three last wishes. The first was to attain the Holiest Spot on this earth, a wish that Bahá'u'lláh granted him and his wife in 2005. The second was to die before his wife, which came to pass. The third wish was for him to have a Bahá'í burial, for which he spent most of his last days convincing his family, and even writing a will.  He was once again admitted in the hospital for the second time in April, 2006. While he was lying on  his deathbed, Sathiawan Singh spoke to his family and they consented for a Bahá'í burial. Once that wish  was assured  he rang up and spoke to his children living abroad with great joy and excitement. A few hours after those calls, his soul ascended to the Abha Kingdom. He passed away in a state of coma on the night of 25 April, 2006.  Contrary to the assurance given by his  family, they decided to cremate his body according to Sikh rites. Nevertheless, the family was kind enough to allow the Bahá'ís to say prayers in his house just before the cremation.  Bahá'ís rushed to his house in the afternoon. His body was brought into his house and laid on a mat. The  believers who gathered said prayers for his soul to rest in eternal peace. The body was to be cremated a few hours later. The believers decided not to witness the cremation, and left his house with tears in their eyes.
A few days later a  memorial was organized in the National Bahá'í Center. Sathiawan Singh's wife and his eldest son were present at this memorial gathering. The Local Spiritual Assembly requested the author of  this story to share some of the fondest memories of Sathiawan. As the author recalled the salient services Sathiawan Singh had rendered the cause, his widowed wife and the eldest son were very impressed and felt immensely proud with the kind of services Sathiawan Singh had rendered the Faith, and the admiration he had earned in the Malaysian  Bahá'í community.
Sathiawan  Singh was one of those who had made Bahá'u'lláh the center of his life, and had no personal likes or dislikes in matters concerning the Cause and the believers. He always wanted to do more and more for the Faith, and felt that Bahá'ís should move at a faster pace. Although of advanced age, he himself was more youthful than the youths, and involved in all activities. The  Bahá'í community would always remember Sathiawan Singh cutting a trademark with a planter's uniform- short pants and long socks, and of course carrying a vacuum flask filled with coffee. He had the characteristic radiant smile, and was the center of attraction at all gatherings. The Bahá'ís loved him so much that both his presence and absence were visibly felt at Bahá'í gatherings. Those friends who had been in touch with him would miss a great worker for the Cause who was a shining example of complete detachment from this ephemeral and mortal world, and total attachment to the Cause. Perhaps future generations will be able to appreciate the true measure of Sathiawan Singh's contribution to the growth of the Cause in Malaysia.
A. Manisegaran
15 September, 2017
©bahairecollections.com