Striving to Walk in His Pathway
Striving to Walk in His Pathway
G. Appala Naidu-Malaysia
Born Appala Naidu, I am known to the community as G.A. Naidu. It was the late Counselor and my peer Mr. Inbum Chinniah who shortened my name from Appala Naidu Gauru Naidu to  just "G.A. Naidu". Whenever someone calls me by this name, I always think of Inbum who has created a deep impression in my spiritual life. But sometimes close Baha'i friends find it even more convenient to call me just "GA", to make it further short!
I came to know about the Bahá'í Faith in a strange way when I was undergoing my Teacher Training in Seremban. It was in the year 1963, when I was introduced to our late beloved Counselor Mr. Yankee Leong who spoke very briefly about the Faith in the Bahá'í  Centre at Rahang Road in Seremban. Although it was only a brief talk, I was moved by the sincerity and conviction with which Yankee Leong spoke to me. He seemed to put to practice whatever he was saying. I took immediate interest in the Faith, and wanted to learn more.  Sabapathy had come to Kuala Pilah as home front pioneer in 1962 and Jamie Maniam residing then in Rompin, used to visit Kuala Pilah and Bahau. It was through the association and sincere efforts of late Sabapathy and Jamie Subramaniam that I was given further knowledge about the Faith.
But the path to entering the worldwide Bahá'í    family was not smooth. I liked the Faith alright, but my hindrance  to accepting the Faith then was my indulgence in heavy consumption of alcoholic drinks and enjoying  the  social gatherings. It took only one year when in 1964 some changes happened within me. I was considered a sort of a leader of youths in Kuala Pilah town. In December of that year about 60 friends followed me and accepted the Faith during a vigorous teaching campaign that was going on. Although I accepted the Faith, I must admit that I was neither too serious or sincere enough.  I would not comment on my other friends and their feelings when they accepted the Faith. Gradually and deep inside my eagerness to learn more about the Faith increased. But the devil within me, that was sticking to old habits was haunting me. I went through an inner struggle and still could not  get out of my previously acquired  habits. It was a "hide and seek " game of attending Bahá'í  meetings and yet consuming alcoholic drinks and participating in social parties. It was honestly a very difficult process which took about 3 more painful years to eradicate.Then came the real twist. The turning point was when I was reading my first Bahá'í  book "Release the Sun" by Hand of the Cause  William Sears. It was not a voluntary move on my part to read the book. I was warded for about 6 months in a hospital in Kuala Pilah following a nasty motorcycle accident. To pass the time I read this book and continued reading a number of books, mainly on Christian subjects. The book " Bahá'u'llah and New Era" was another eye opener for me at that point of time. All these enlightened me immensely on the Faith. This hospitalization was the true turning point as it was during these six months that I was able to get a fuller and deeper understanding of the Faith. While I had accepted the Faith after taking a liking for the social teachings of the Faith, it was during my reading days in the hospital that I was able to see the other side of the Faith- the mystic and deeper spiritual aspects.  Looking back, I can see with utter confidence that the motorcycle accident was not a mere accident. It was an act of Divine Providence to rescue me from straying away after accepting the Faith. Every time I think of the painful period of hospitalization, I could only recall the Mercy of Bahá'u'llah, as He himself explains:
O SON OF MAN! My calamity is My providence, outwardly it is fire and vengeance, but inwardly it is light and mercy. Hasten thereunto that thou mayest become an eternal light and an immortal spirit. This is My command unto thee, do thou observe it. 
It was towards the end of the hospitalization that I emerged with clarity of thought and some wisdom.  I made a firm decision to give up my old habits and get deeper into the activities of the Faith.
I was posted to St. Aidan's  Primary School in Bahau town in the 1965 Fortunately, I had some knowledge on the Christian Faith through the book "Thief In the Night" written by William Sears. I gave the Faith to several people professing the Christian Faith. The headmaster of the school, Christian priests and Reverent Fathers had a great respect and admiration for me apart from listening about the Baha'i Faith, presented by connecting Christianity with the Bahá'í  Faith. By this time I was already active in the Faith.
Although I had heard of the Faith from Yankee Leong, it was Leong Tat Chee from Malacca who used to come often to Bahau to deepen the community. I developed a great liking and respect for this great soul.  My wedding to Thilagavthy of Seremban was conducted by Leong Tat Chee on 16 May 1966 at the Saint Aidan's English School hall in Bahau town. That was the first Bahá'i wedding that took place in Bahau town, attracting easily one thousand people- both Bahá'í  and non- Bahá'í s Among the non- Bahá'ís were teachers of primary and secondary schools, dignitaries of political parties and civil servants as well as family members and members of the public.  While presiding my wedding Leong Tat Chee took hold of that opportunity to give an excellent talk on the Faith. I believe that was the single-most event that attracted a very large scale proclamation for the Faith. It also boosted the image when a person from a Chinese background solemnized the wedding of an Indian couple. This wedding became the talk of the town for many days to come.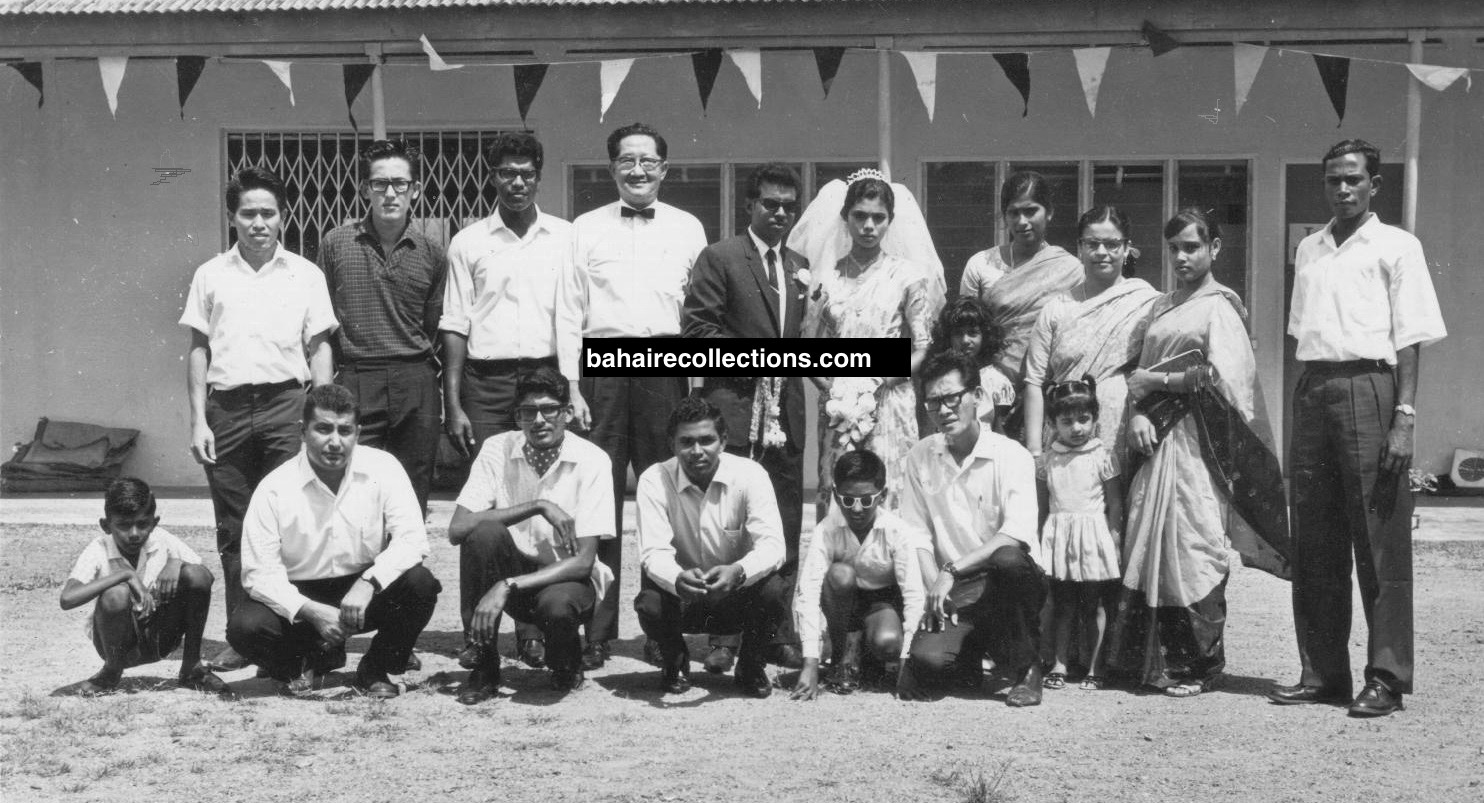 My wedding photo with a few friends, with Leong  Tat Chee standing beside me.
I left Kuala Pilah to Bahau as a home-front pioneer in 1967. I was fortunate enough to have taught in Bahau, as surrounding Bahau were so many rubber plantation estates. The multitudes of people living there needed the Faith and my main area of concentration was to take the Faith to those people. In many ways I was a lone ranger in Bahau, but assistance did come from Jamie Maniam who was in Rompin in the early 1960s. There was another additional manpower coming with Rama Naidu coming to Bahau. Rama Naidu first reported for his teaching post at the Tengku Abdul Rahman Primary School in Gemas in January 1966. But I wanted him to be in Bahau so that we could form a good team to take the Faith to the people speaking Telugu which was our mother tongue. Through my effort, Rama Naidu got a transfer to Saint Aiden's Primary School in Bahau, on 1 January 1969. This time Rama Naidu, Jamie Maniam and I teamed up so well to open up and consolidating many areas in Negeri Sembilan such as Rompin, Gemas, Bahau, Kuala Pilah and Kuala Klawang. Teaching activities grew manifolds. 22 Estates were opened up within a short period. The late Rama Naidu teamed up very well and there was not a single day without the extension teaching or planned deepening.  Bahau area appeared like mass teaching area. Important Bahá'í  visitors from overseas visited the Bahau area. Our  late Mr and Mrs. Leong Tat Chee were regular visitors offering a helping  hand in our teaching activities. Yankee Leong also made several visits. The others who visited and admired our activities were the members of the National Spiritual Assembly. Others like  Dr. Chellie Sundram, Mrs. Betty Fernandez, Vasudeven, Mrs. Elizabeth Gibson also visited Bahau area. Visitors from overseas such as Dr. Astani from Indonesia, Hushmand Fatheazam from the Holy Land, Jeanne  Frankel from USA, Hand of the Cause of God Mr. Collis Featherstone and his wife Madge, and Hand of the Cause of God A.Q. Faizi. Their visits and their words of  encouragement gave  much boost to the believers in this area.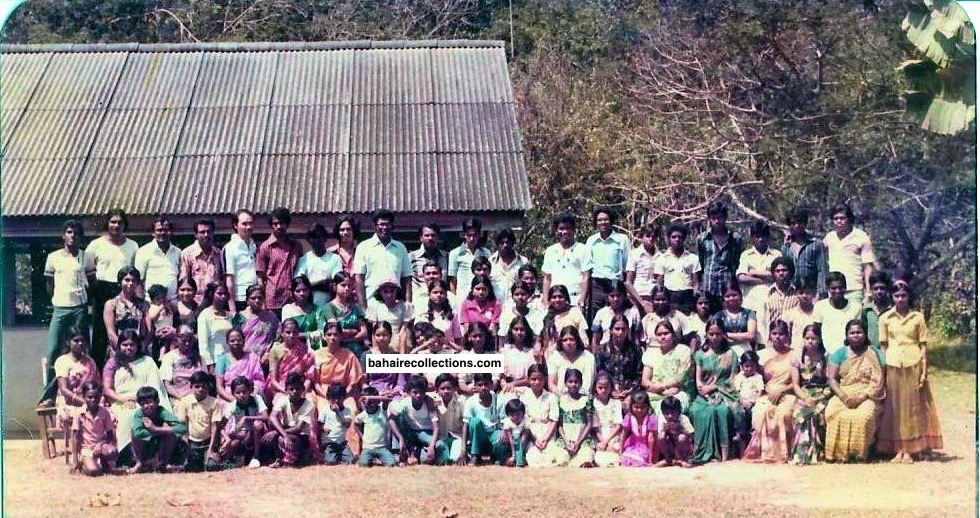 Bahá'í   Gathering in Batu Bersawah Estate
As a teacher we were also consolidating many students who came to study in the schools in town, such as the late Apparao, Kanagaratnam and Dr. Natheson as a temporary teacher. There were some other few teachers joined the Faith. Dr. Nathesan, Kanagaratnam, Bornoh Das , Biskumar, Y. Mari and others started moving around and involved in active teaching activities.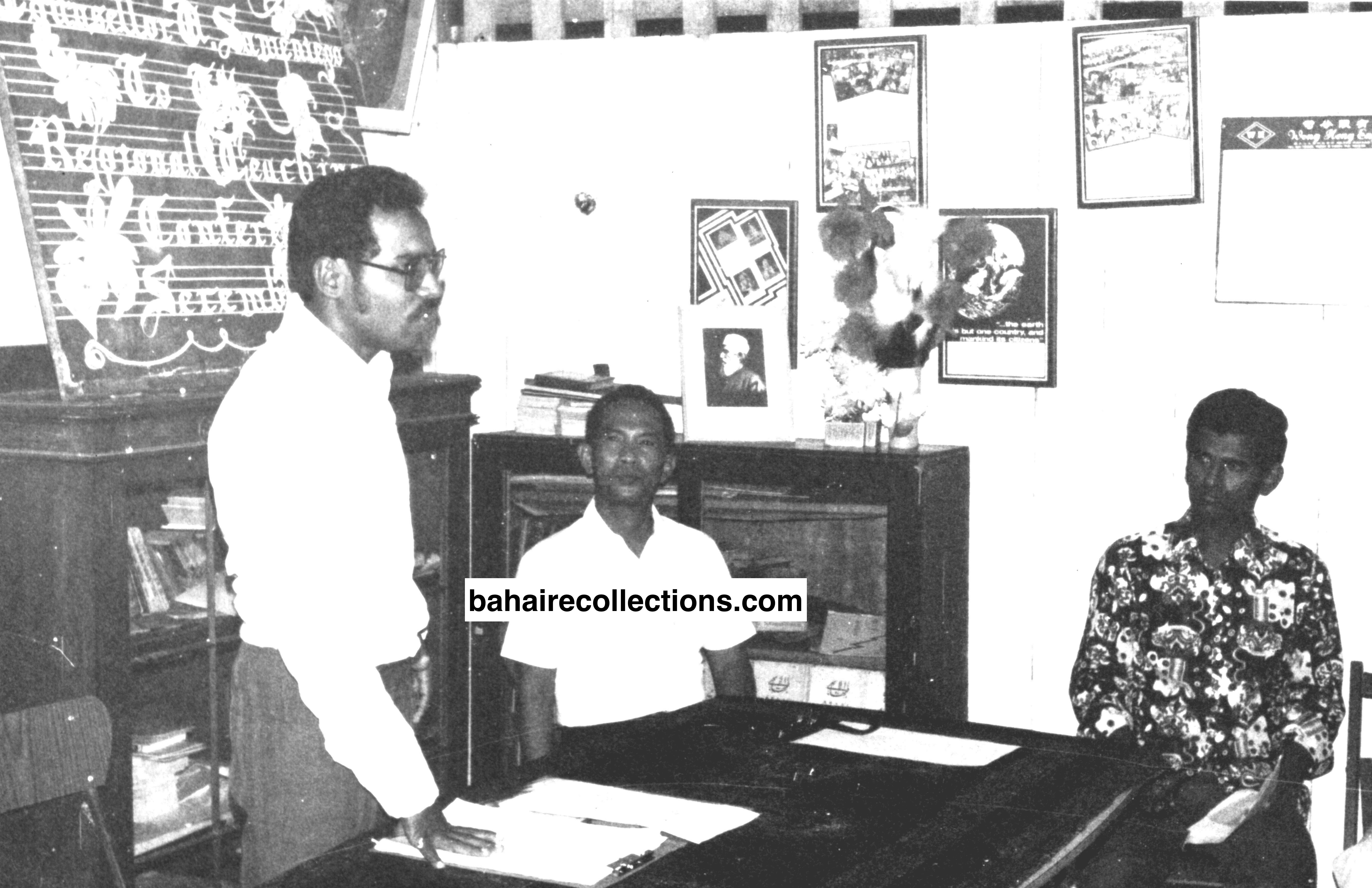 With the late Counsellor Vic Samniego and Isaac De Cruz in Seremban Bahá'í   Center
The National Spiritual Assembly called upon me to serve on the National Teaching Committee. This gave me an opportunity to travel throughout the country, encouraging teaching activities. There were moments when I spent more time traveling to the east coast and southern states. Mr. Kumara Das was my other strong companion on our several trips to East Coast. I could also spend a month in Sarawak for Iban teaching and another month in Sabah for extension teaching activities.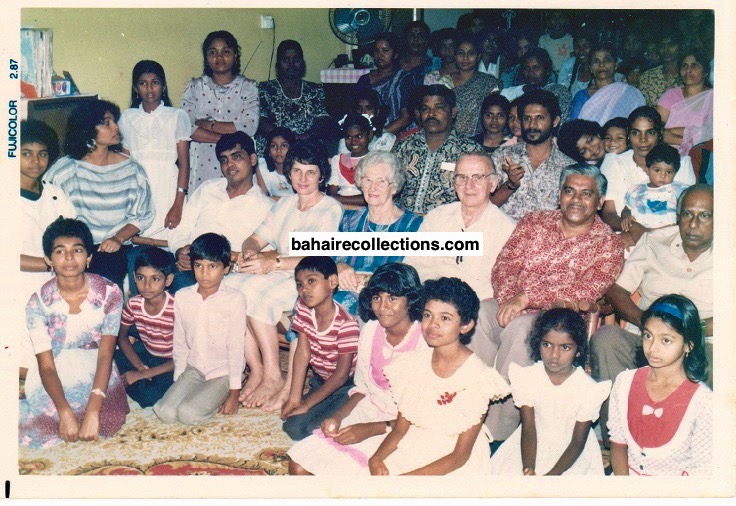 With Hand of the Cause Featherstone, his wife Madge, and some old time believers at a gathering in my home in Bahau.
From the Primary school, I was transferred under a special request  to Dato Mansor Secondary school in 1985 where I had further contact with teachers and students introducing the Baha'i Faith during the course of my service.
In the early 1970s the Local Spiritual Assembly of the Bahá'í s of Bahau had made application for acquiring a burial ground. This effort was somehow stalled. In 1985, through the blessing of Local Spiritual Assembly, I managed to pursue the matter with the Land Office of Bahau and the Members of Negri Sembilan  State Executive Council. Finally we managed to get an approval of a  3 acre burial ground, now known as the Jempol Burial ground.
Asli TeachingThe  early activities undertaken from 1970-1975 in connection with Asli (aborigional) teaching was one of my main area of teaching activities in Malaysia. In 1973, I joined Isaac De Cruz, Satanam and Nagendran  in undertaking a teaching trip to the Asli areas. On the second day we were joined by Choo Yoke Boon's aged mother, Theresa Chee and Richard Lee from Ipoh.  That was my first trip where I learned  many lessons. Such arduous journey at times could take 30  to 40 hours to reach several communities living deep in the thick jungles up in the mountains, and could even cost one's life chiefly through malarial infection.  Teachers would start entering the jungles in Perak and emerge in Pahang or Kelantan or vice versa. One must be physically strong to endure such a mountainous terrain.  Seeing the Baha'is visiting them was a great treat for the Asli friends.  Our happiness was always to see their faces glowing in happiness greeting the Greatest Name. Their love for the  Faith is so strong that keep saving their coins in bamboo containers to be handed over to the National Fund. Well not to say, it is quite a substantial weight for us to carry the donations back to the city.
It is a great challenge for them to be steadfast like a rock in the Faith amidst some real challenges . These dedicated Asli friends till today never recanted their Faith but grew stronger and stronger. I was appointed into the Asli Teaching Committee that was based in Seremban.  The Committee brought them  to Seremban for regular intensive deepening classes.
G.A. Naidu
Shah Alam
Malaysia
©bahairecollections.com