Remembering Jeanne Frankel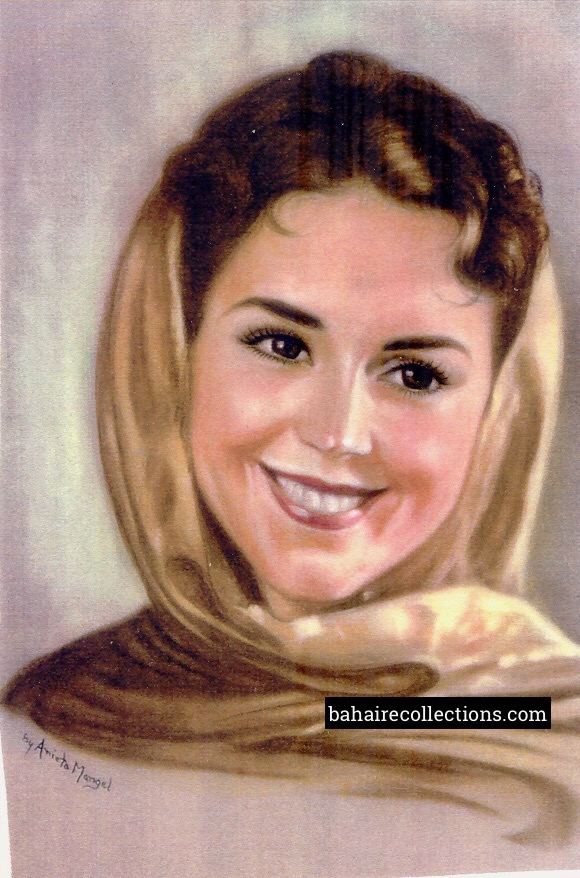 Jeanne Frankel, Knight of Bahá'u'lláh

How providential was the arrival of Jeanne L. Bates Frankel Cook de Corrales (Jeanne Frankel) and her mother Margaret Kelly Bates (Mrs. Bates) to Malaya in the year 1957. Initially, Jeanne and her mother had no  intention of stepping onto the soils of Malaya, but their service became a firm foundation during the formative days of the Faith in this country. Shared here is a glimpse of her services to the Faith in this country.
It was while they were pioneering in France in 1956 that they studied the goals of the 10 Year World Crusade, and realized that only three of the virgin goal areas mentioned in the Plan remained to be fulfilled. They wrote to the Guardian, seeking his advice as to where they should go next to serve the Cause.  The Nicobar Islands, inhabited mainly by Christians, was where the Guardian, considering their Christian background, advised them to go as pioneers.
Getting into the Nicobar Islands was no small feat. They sought visas first in Paris, France, from there they tried in New York, then they journeyed to Bombay where they were informed that their entry permits had to be obtained from Delhi.  They went and stayed in Delhi for 5 months, and were then informed by the national institution that it was impossible to go to Nicobar, as no foreigner had ever been granted a permit. After five months of prayers, negotiations, and fostering sincere friendship with the authorities, Jeanne and Margaret were finally granted limited access to Nicobar, with the assistance of the then Prime Minister, Mr. Pandit Nehru, and his daughter Mrs. Indira Gandhi, who was the Home Minister. That was considered a miracle!
They took a boat from Calcutta to Nicobar Islands. It must be noted that the authorities in the nearby Andaman Island were already unhappy with the vibrant teaching activities carried out earlier by Dr. K.M. Fozdar during his four month stay there in 1953. Jeanne and Margaret were aware of this restriction imposed on missionaries. Since missionary workers were not easily allowed on the Nicobar Islands, Jeanne and her mother entered the islands as entomologists. They received a brief training in entomology and on 3 July, 1957, on a visa lasting for two months, on condition they do not renew their stay, they finally arrived at the village of Car Nicobar, in the northernmost of the Nicobar Islands. The Guardian was extremely happy that the difficult pioneer goal area had been finally penetrated, through the power of Bahá'u'lláh! The Government of Nicobar assigned a young man called Nicolas as a guide to care for them. After a few weeks of their stay there, Nicolas became the first Bahá'í of the Nicobar Islands, thus fulfilling that goal of the 10 Year Crusade. With that, Margaret and Jeanne were named Knights of Bahá'u'lláh.
But the Nicobar authorities monitored the movements of Margaret and Jeanne and their activities were questioned. After two months of stay in Nicobar Island, they were deported to Madras city (now Chennai) in Tamilnadu, India on 19 August 1957. From there they boarded the "State of Madras" ocean liner and arrived in Penang at end of August that year. That was their first and brief trip to Penang. They rented a big house on Penang Road. The daughter of the landlady was Miss Kim, who became a Bahá'i, through their teaching efforts during their stay in August and September.
Jeanne and Margaret were still obsessed with opening the Nicobar Islands for the Faith so they proceeded to Singapore where they obtained visas for India, hoping to enter Nicobar once again. Upon reaching Madras through Singapore, the Indian government, wrongly suspecting them to be spies of the United States of America, kept them in the city of Bangalore in Karnataka State, under house arrest. When they were released after a few weeks, they left India through Madras, once again boarding the "State of Madras" ocean liner and arrived in Penang in about early October 1957. That was the end of their pioneering task in Nicobar Islands. Upon landing in Penang, they moved into apartments at 36 Northam Road, Penang rented out by a Chinese widow. They quietly observed the anniversary of the Birth of the Bab on October 20th. They stayed there for 6 months.
There was no Bahá'í community in Penang when they arrived. They waited in Penang for instructions from the Guarding for their next course of action. The Guardian passed away on 4 November 1957.  Shortly thereafter Mrs. Shirin Fozdar arrived in Penang from Singapore and requested them to stay on in Penang and teach the Faith, both in Penang and mainland Malaya. Meanwhile they also received news from the Hands of the Cause of God in the Holy Land that Cocos Keeling Islands, situated to the west of Australia, had no resident pioneer there, following the departure of an earlier pioneer. The Hands of the Cause wanted Jeanne and Margaret to go there. As Cocos Keeling Islands were politically under British rule, they applied for visas at the British Consulate to proceed there, and waited in Penang for the approval.
It was during this six month waiting period that Jeanne and Margaret carried out teaching activities in Malaya. As they were well-versed in subjects concerning the return of Christ, they were successful in attracting and bringing into the Faith people from a Christian background. Although stationed in Penang, both Jeanne and her mother moved across to Malacca town, Jasin and Masjid Tanah for teaching and consolidation activities. Yankee Leong, who was already busily moving across Malaya for teaching the Faith, got in touch with Jeanne and her mother in Penang and informed them of the first Bahá'í Summer School to be held in Malacca from December 27 to 29, 1957. He asked them to be speakers. So, they travelled to attend this historically significant first Summer School of Malaya. They both arrived a few days before the start of the summer school in Malacca.
The Summer School was graced by Hand of the Cause of God, Dr. Muhajir. At the Summer School, Jeanne spoke on the History of the Faith while Margaret discussed Islam. From the talks, Jeanne and her mother gave at the summer school, the participants were very impressed with their knowledge and ability to answer so many difficult questions. Their presence and presentation of these subjects at the Summer School provided great inspiration to the participants.  During this time Jeanne was entrusted with the task of preparing a correspondence course. By January 1958 she produced a study guide based on the book "Paris Talks." The course participants were asked to return lesson papers to her address at 36 Northam Road, Penang.
Following the participation in the Summer School, Jeanne and her mother stayed and assisted in the teaching and consolidation work in Malacca town, Jasin and Masjid Tanah. In Malacca town, they stayed in the spacious home of Mr. G. Saurajen.  Saurajen and Leong Tat Chee made full use of their stay in Malacca, organizing firesides, with several enquirers accepting the Faith. Jeanne was also giving deepening classes in the home of the Saurajens, and many Bahá'is gathered there every day. While Jeanne and her mother travelled together in Malacca state, it was Jeanne who spoke most during the firesides and deepening classes, with her mother providing all the support.
In Malacca town, several friends had heard of the Faith earlier, but it was Jeanne who gave them the final incentive to accept the Faith. Leong Tat Chee was trying his best to convince his daughter Lily Chinniah to accept the Faith, but her spiritual eyes were opened by Jeanne. Lily accepted the Faith on 19 January, 1958. Interestingly, Jeanne was the one who first planted the idea of Lily's marriage to Inbum Chinniah. After some hesitation Lily married Inbum on 9 April 1960 in Malacca. Lily is ever grateful to her spiritual mother.   Chan Suan Neo who later became wife of Anthony Louis and Koh Ai Lin, now in Germany, also accepted the Faith through Jeanne Frankel. Other early believers of Malacca town who were very much impressed by the knowledge of Jeanne Frankel were Kumara Das, Inbum Chinniah, Jami Maniam, M. Maniam and the children of Leong Tat Chee.
In Jasin there were already a few Bahá'is. Through the teaching efforts of Jeanne, Mr. Arumugam Ramanan, a Tamil School Headmaster accepted the Faith in 1958, followed by Raymond Peter, a Probation Health Inspector. Arthur Knight, a police corporal accepted the Faith through Jeanne in 1958 after attending several of her firesides in Malacca town. With her teaching activities, the first Local Spiritual Assembly of Jasin was elected on Ridvan 1958 in the presence of her mother, while Jeanne  was back in Penang to assist in the election of the first Local Spiritual Assembly of Penang. Anthony Casimir Louis, Tushar Kanti-Paul, Betty, and Anthony Fernandez were among the other Bahá'is who won the love and admiration of Jeanne Frankel. In Masjid Tanah Inbum Chinniah organized firesides in his house in and invited his staff and other friends to come and listen to Jeanne. It was during one of these firesides that Inbum's senior assistant, a close friend and good sportsman, Mr. Kesavan, accepted the Faith.
After the Summer School and teaching activities in Malacca Jeanne and her mother returned to Penang and concentrated in developing Penang. It need to be mentioned that Yankee Leong and Dr. K.M. Fozdar and Mrs Fozdar had made regular visits in the early 1950s to Penang and established a few contacts. The contacts were passed on to Jeanne and Margaret to enable them to follow up. Through their teaching efforts some accepted the Faith in Penang. Jeanne's  maid called Miss Eng; Jimmy Chew and his wife Connie; Dr. P.K. Rao, who was the Penang State Veterinarian; Lily Jansz who owned the "Salon de Beaute"; Mr. Ong Kim Seng who was a  Chinese businessman; Mrs. Myra Ong, an English lady married to a leading Chinese lawyer; Dr. Chellie Sundram and his wife Shantha; Mr. N. Jegatheesan who was an Assistant Secretary with the Penang State Government; Mrs. Chew Swee Seng who was a tailor were  among those who accepted the Faith. Jeanne and her mother became very close to the Sundrams and they moved from 36 Northam Road, into the house of the Sundrams for security reasons. Soon after that the house of the Sundrams became a centre for Bahá'í activities. On 11 March 1958, a grand fireside was arranged in their house where 45 friends had gathered. Jeanne was the speaker at this gathering that was attended by Yankee Leong and Anthony Louis.  With their teaching activities, a few more accepted the Faith.
Yankee Leong had informed Jeanne that  his daughter Theresa Chee  in Alor Star, was hesitant in accepting the Faith, and urged her to pay her a visit. Jeanne and Shantha Sundram visited Theresa Chee in Alor Star and gave books such as "Release the Sun," "Heart of the Gospel," "Christ and Bahá'u'lláh" and "Some Answered Questions," but Theresa was not easily convinced. Yet the seed was sewn.
Through the efforts of Jeanne and her mother, the first Local Spiritual Assembly of the Bahá'ís of Penang was formed during Ridvan 1958 with Mrs. Keong Hean Kok, Miss Lily Janz, Mrs. Shantha Sundram, Mrs. Myra Ong Hak Lim, Mr. Ong Kim Seng, Mr. Chew Swee Seng, Dr. Chellie J. Sundram, Mr. N. Jegathesan and Dr. P.K. Rao. This assembly later evolved as the mother assembly of the northern region in Malaysia.
In 1958 Jeanne had also   given a public talk at the Gandhi Memorial Hall in Sungei Petani, in which 40 enquirers had attended and shown keen interest in the Faith. That was the first public talk in Sungei Petani.
Incidentally it was only just before the election of the first Local Spiritual Assembly of Penang in 1958, that the long-awaited visa for Cocos Keeling Islands arrived. Unfortunately, the authorities charged US $ 500 per head per month. As this was a very huge and unaffordable amount, Jeanne and her mother decided to decline the offer.  Some time after the Ridvan elections they left for Singapore. The new community of Penang sent them off to the railway station in Butterworth, across in the mainland to head to Singapore in the south of Malaya.
From Singapore, they proceeded to Beverly Hills in California. When in California, they were informed that Hand of the Cause of God Emilia Collins was willing to pay for their visas and persuaded them to proceed to Cocos Keeling Islands. Overcoming insurmountable obstacles, they stayed on West Island, the capital of the Cocos Keeling Islands (at the Qantas Airport South Indian Ocean Station). Several of the staff and residents became Bahá'ís . The first to accept  Bahá'u'lláh was the store -keeper, Fred Baldwin. Their pioneering to Cocos Keeling Islands once again brought them into Malaya.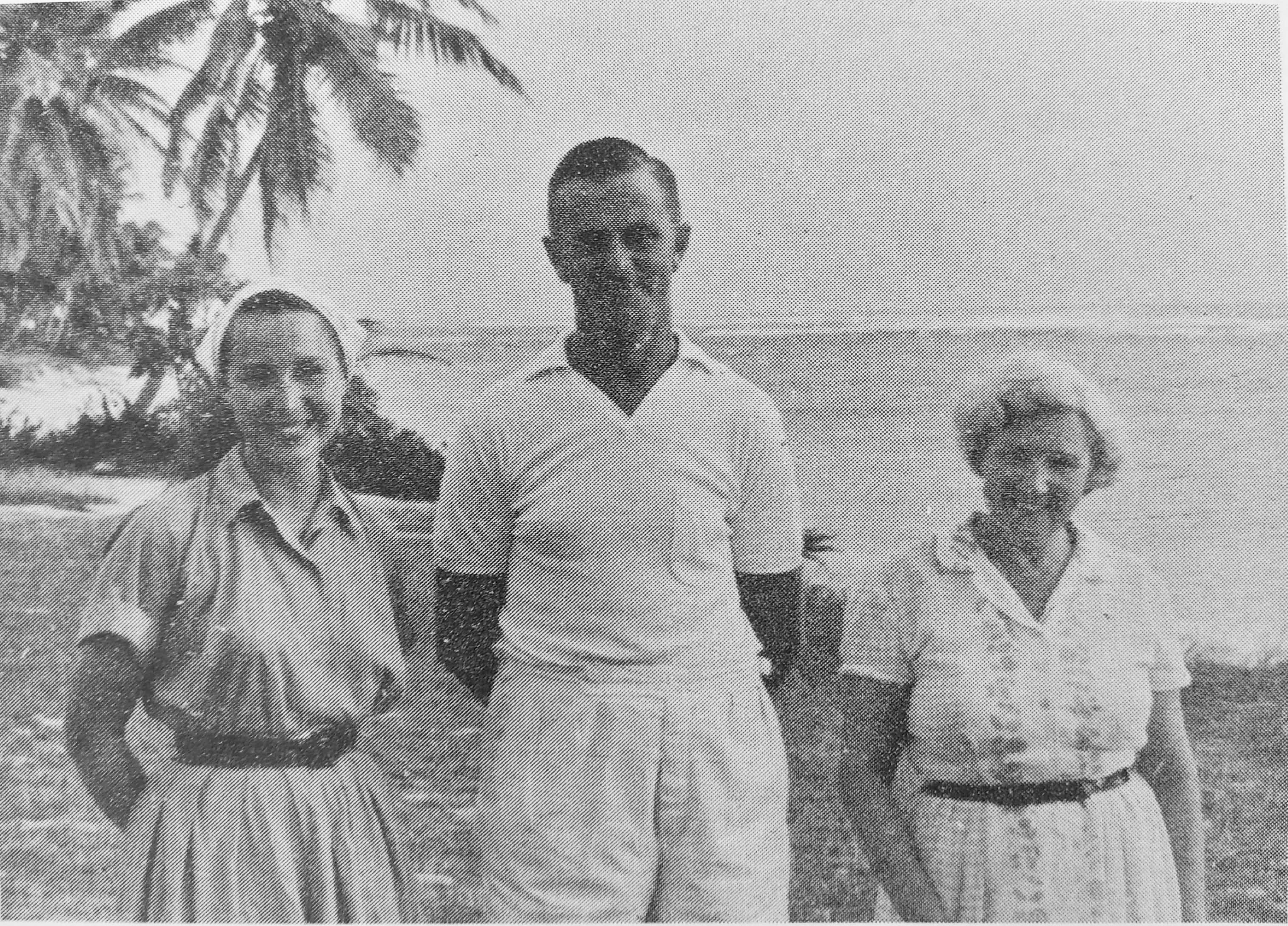 Jeanne Frankel (left) and her mother Margaret Kelly Bates (right) with Fred Baldwin (centre), the first believer in Cocos Keeling Islands, 1959
As the visa was too expensive in Cocos Keeling Islands, Margaret was urged to go to Borneo within two months upon arrival in Cocos Keeling Islands. In January 1960 Margaret arrived in Brunei and stayed in the house of Dr. John Fozdar for a few months. From Brunei Margaret wanted to move to Jessleton (now Kota Kinabalu) the capital of British North Borneo, (now Sabah, East Malaysia). Dr. Fozdar had requested Miss Joyce Burnham, the chief matron in Sabah if she could find a job for Margaret. Margaret then worked in the Queen Elizabeth Hospital in Jessleton, and Dr. Fozdar was in constant touch with her throughout her stay there. While working in Jessleton, Margaret fell sick, thus forcing Jeanne in Cocos Keeling Islands to join her.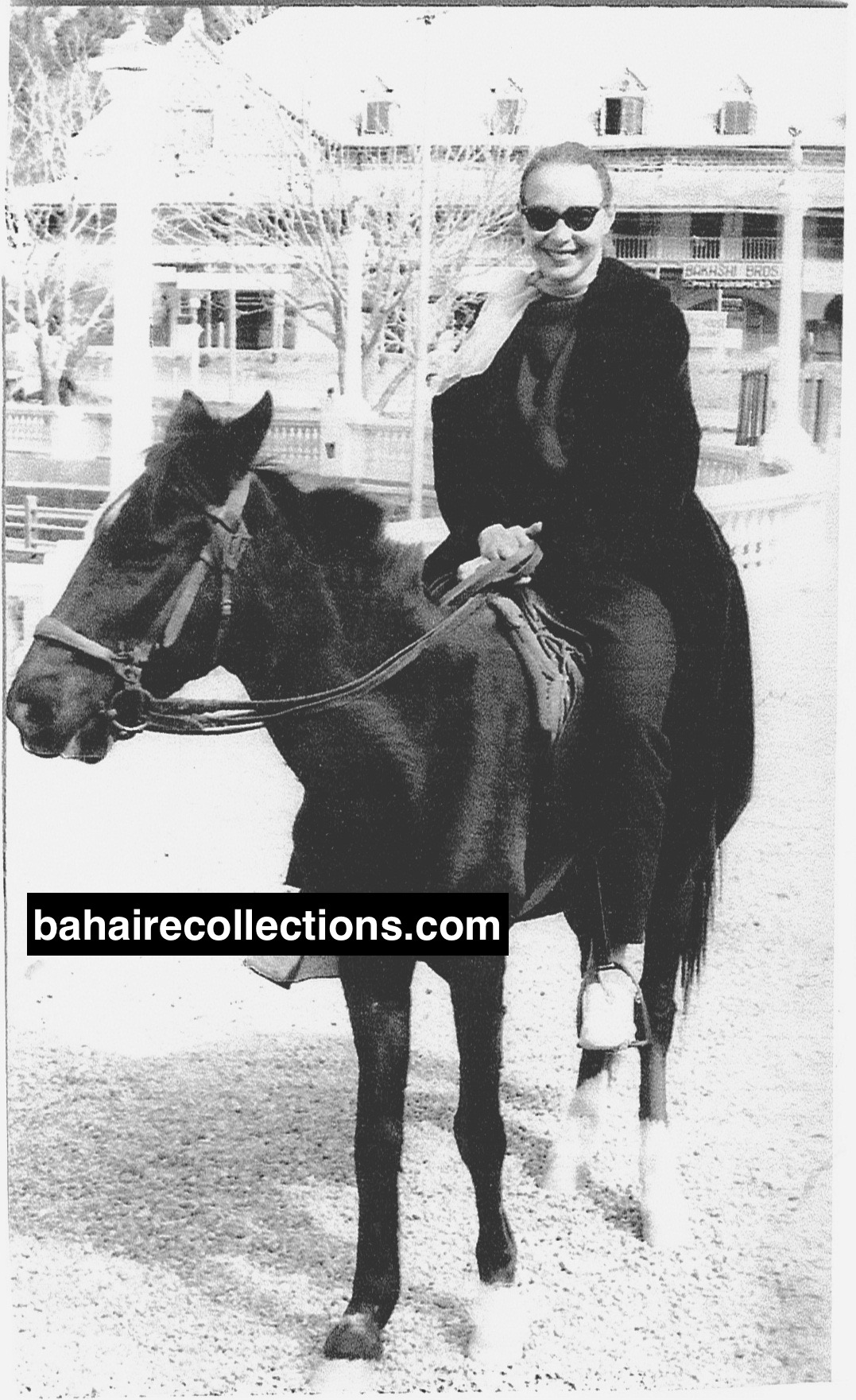 Jeanne rides horse in Australia, 1960
Jeanne stayed had to stay in Cocos Keeling Islands until the formation of an Assembly in Ridvan 1960.  Following the formation of the Assembly in Cocos Keeling Island Jeanne flew into Australia. After a lecture tour to some local universities in Australia, Jeanne came to Singapore on route to Jessleton. In this trip, Jeanne made a brief stopover in Kuala Lumpur and was involved in teaching activities. On 27 July 1960 Jeanne accompanied S. L. Thevar and Leong Tat Chee on a teaching trip to open Klang which was termed a difficult area. On 30 July 1960 Jeanne joined S. L. Thevar and some friends on a teaching trip to Kuala Kubu Baru. She also partipated in the Summer School in Port Dickson in August 1960.
From Kuala Lumpur, Jeanne arrived in Jessleton and stayed with her mother for a brief period. Margaret and Jeanne together never stopped teaching. In Jessleton, they taught the Faith to their guide, Mr. Lawang who accepted the Faith and became the first believer in British North Borneo. Soon after, due to Jeanne's poor health they both had to leave Jessleton, for medical treatment in Singapore and later Hong Kong. After Jeanne's recovery, the two of them left Hong Kong and continued to undertake Bahá'í lecture tours in Japan and South Korea, before finally leaving Asia for USA. On return to the United States, they established a home base in Stamford, Connecticut, and frequently traveled across the United States as Bahá'í teachers.
The Supreme Body designated 1968 as the International Year of Proclamation to mark the centenary of the proclamation by Bahá'u'lláh to the kings and the rulers.  A call came from the Supreme Body to urge all communities, including the Bahá'í community of Malaysia to start preparing for that unprecedented proclamation event. In response to that call, the National Spiritual Assembly felt Jeanne would be the right person to give public talks. Through special visa arranged by Dr. Sundram, Jeanne was back in Malaysia for three full months – June, July and August 1968 to assist in proclamation and consolidation work. The National Teaching Committee and other institutions worked out a program for her to visit various parts of the country. In July, a two-large scale public talks were held at the Kuala Lumpur Hotel Merlin (now Concorde) in early July, with Jeanne as the guest speaker. In Bahau Estate, in the state of Negeri Sembilan, hundreds of friends gathered to listen to the talk by Jeanne, with Appu Raman translating her talk delivered in the English language into Tamil.
Further the National Teaching Committee arranged an institute in the town of Prai in the north and another in Kuala Lumpur. These institutes covered many topics such as history, spiritual upliftment, Bahá'í manners and conduct and teaching methods. In Prai the main topic for the institute was "Man, His Spirit and Potentialities." There was also a lively discussion on the power of prayers.  In Kuala Lumpur, it was mainly the youths who attended the institute where they learned many aspects of living the Bahá'í life.
A meeting was arranged at the Yuk Choy High School, in Ipoh town, where Theresa Chee was a teacher. Jeanne was happy to see Theresa as a strong pillar of the Faith in Ipoh. A total of 500 students came to listen to the talk by Jeanne.  At another fireside held at a school in Kuala Kubu Baru, ten students accepted the Faith. A talk was given to hundreds of students at the Malacca High School. Following this, there was a meeting of Bahá'ís at the Malacca Bahá'í Centre. On 30 July, Jeanne spoke to the members of the Bahá'í Society of Jasin Secondary School. That was the first Bahá'í Society to be formed in any school in Malaysia. The next day she gave a talk to the students of the Jasin Secondary School. On 1 August, she spoke to the form six students at the Malacca High School on "The Spiritual Obligations of Man."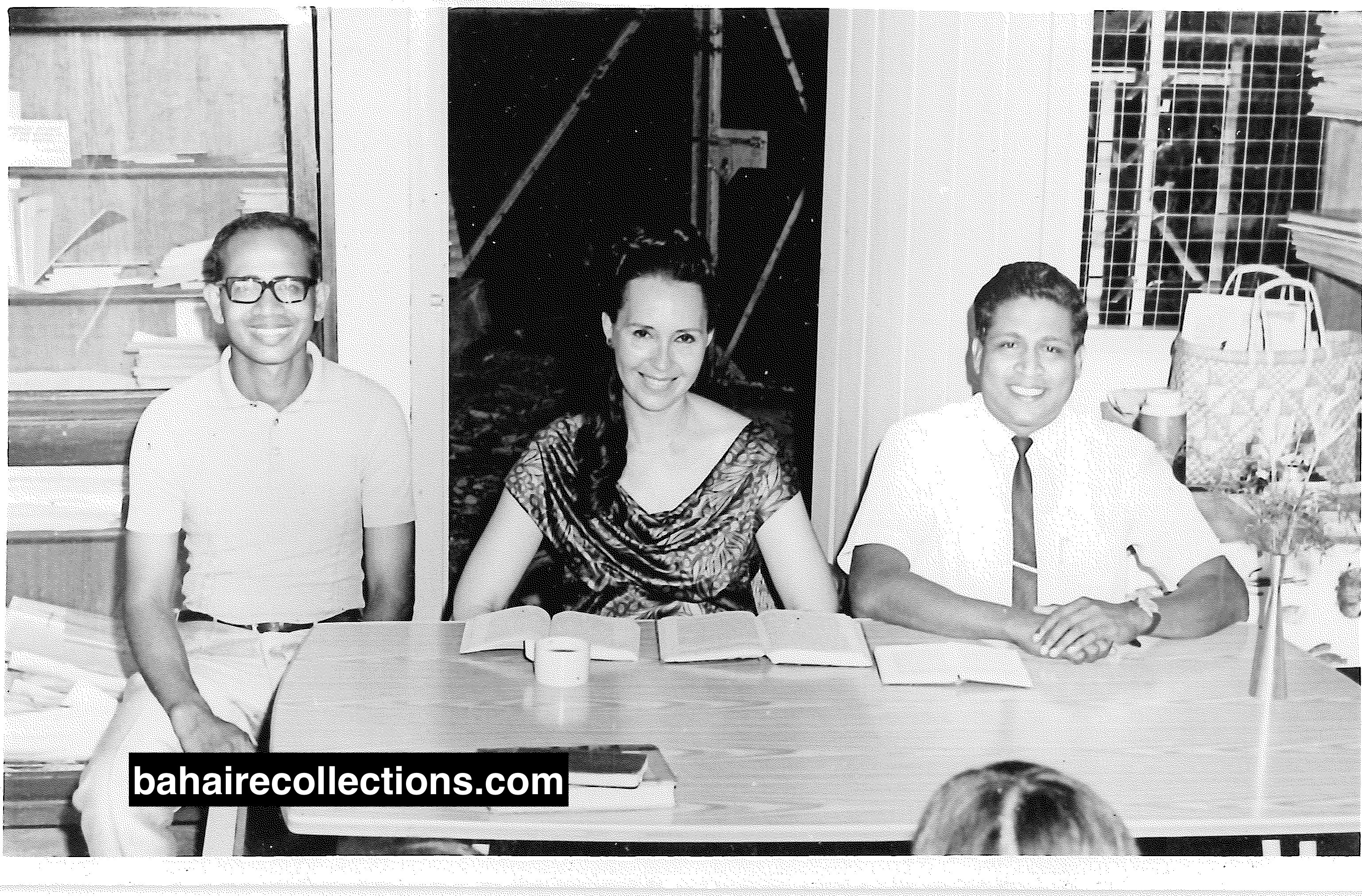 Jeanne in Malacca Bahai Centre in 1968, flanked by Anthony C. Louis on the left and Kumara Das on the right
The Tenth Malayan Summer School was held at the Sunshine Camp in Port Dickson from 2 to 6 August 1968. This provided a good opportunity for some of Jeanne's spiritual children to meet up with her again. Some of her spiritual children who were youth in her 1958 visit were already married. And they took along their spouses to the Summer School to be introduced to Jeanne. Jeanne was also so happy to see Lily married to Inbum, as she had encouraged. More than that she was most happy to learn at the Summer School that some of those who came into the Faith through her in Penang and Malacca were serving well. Dr. Chellie Sundram of Penang had served on the National Spiritual Assembly of the Bahá'ís  of Malaysia and was serving on the Continental Board of Counselors. His wife Shantha Sundram was the editor of the Malaysian Bahá'í Magazine. Raymond Peter was on the National Spiritual Assembly of the Bahá'ís of Malaysia. Other Bahá'ís whom she had met in Malacca were also serving well. Leong Tat Chee was serving as Auxiliary Board Member. Anthony Fernandez and Inbum Chinniah were on the National Spiritual Assembly of Malaysia. Theresa Chee to whom she and Shantha Sundram gave Bahá'í books in 1958 had accepted the Faith in 1960 and was already a strong pillar in the Faith in Ipoh town. Several other believers she had met in her 1958 trip were all serving effectively. She had every reason to be the happiest in the crowd.

Summer School of 1968. Jeanne is seated in the center, flanked by Mr. Leong Tat Chee on left, and Mrs. Shantha Sundram on right. Several Bahá'ís who accepted the Faith through her, or inspired by her in her first visit in 1957/8 turned up at this Summer School.
Jeanne's presence at the Summer School added more spirit as she described her pioneering experiences around the world. It was at this time that the news of the passing of the Hands of the Cause of God Hermann Grossman had just reached Malaysia. Jeanne took the opportunity to speak on his life and his services for the Cause. She enlightened the audience on the very high and unique station of the Institution of the Hands of the Cause of God, and reminded how lucky and privileged the Malaysian Bahá'ís were to have personal contacts with the living Hands of the Cause of God who often visited Malaysia. At the youth session, Jeanne spoke on "Living Rule" in which she listed the duties of Bahá'í youth in showing a new way of life to the outside world, and concluded by calling the youth to go pioneering. After attending the Summer School, Jeanne attended a party thrown for children in the town of Seremban. Jeanne visited several other Bahá'í communities in the three months she spent in Malaysia before returning home.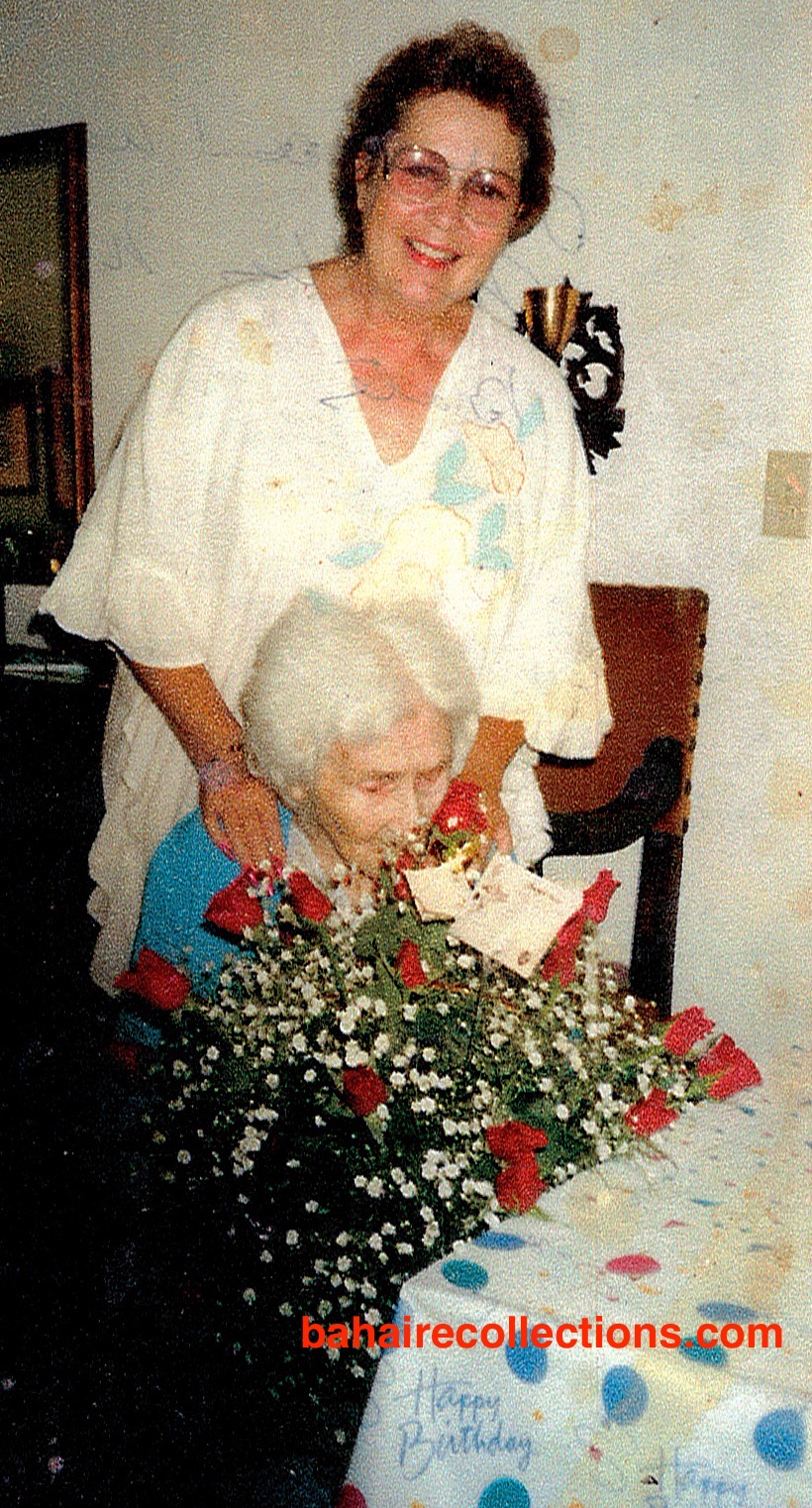 Jeanne with her mother Margaret, celebrating her 88th birthday in Orlando, 1977
On her return to the United States from her pioneering services in Cocos Keeling Islands, she established a home base in Stamford, Connecticut. She frequently traveled across the United States as a Baha'i teacher, often with her mother. They moved to Spain in 1965 for a little more than two years, then moved back near Stamford. In the early 1970s, Jeanne and her mother pioneered to Escazú, Costa Rica, where Jeanne met and married Arnulfo de Coralles, an attorney by profession. Jeanne was assisting her husband in his legal work. She worked in the Department of Tourism, and also participated in trade activities all over the world. She was also a translator of legal documents on diplomatic matters from Spanish to English.  In 1976, Jeanne was requested by the government of Costa Rica to serve as Consul for Costa Rica to USA, and the couple established the country's Consulate in Florida as well as the offices in Miami and Orlando. Margaret stayed in Costa Rica, serving the Faith and passed away, at the age of 100 years and 3 months on June 21, 1997.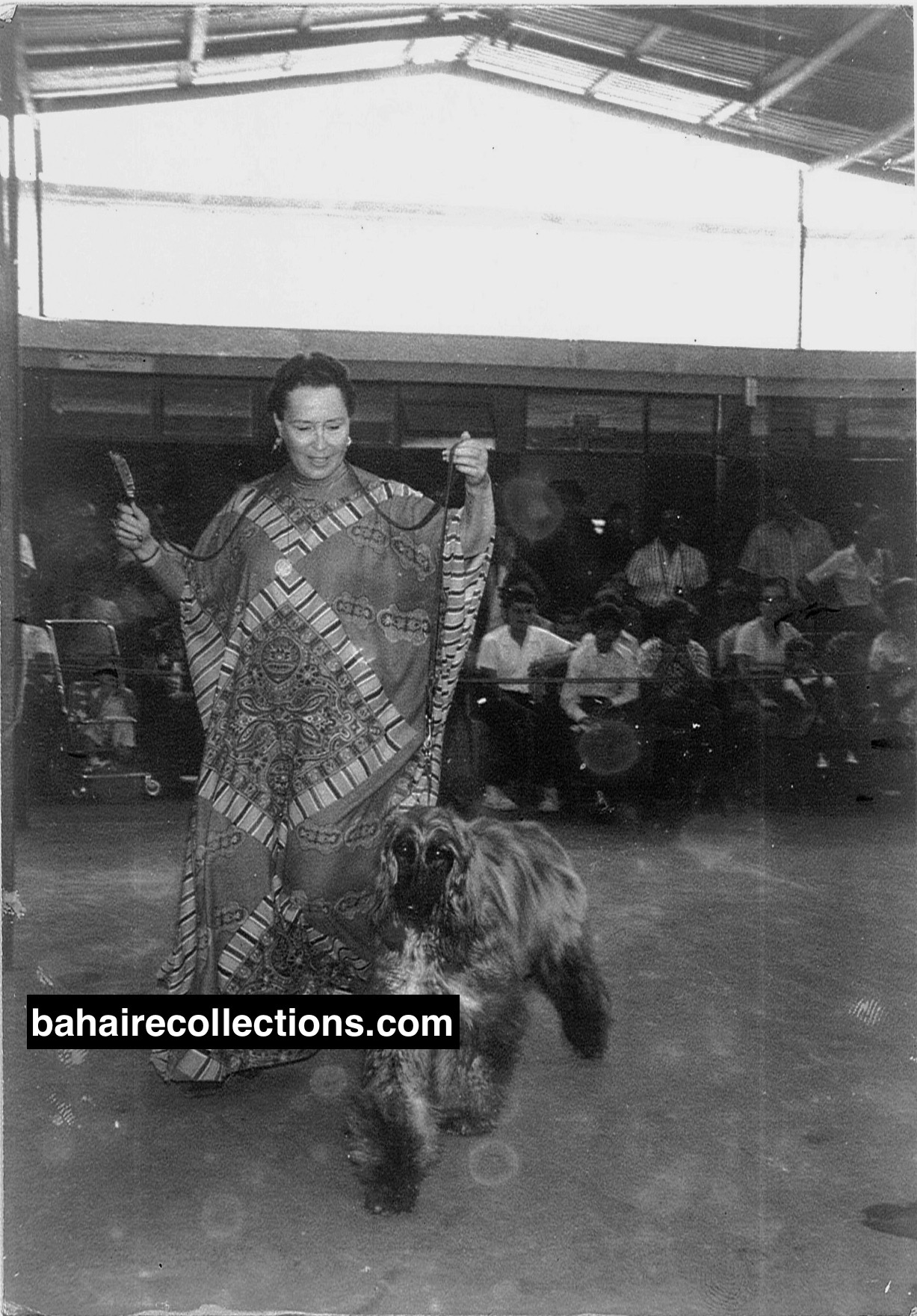 A great lover of animals, Jeanne at a Dog Show in Costa Rica, 1989.
Malaysia, her permanent home
Although Jeanne had gone to several parts of the world for teaching activities, it was in Malaysia where she left her heart. Even while in USA, her thoughts were still revolving around the Malaysian Bahá'ís she had met and associated with. From USA, she gave assistance in whatever way she could. For instance, even in the early days, she supplied books from USA to the Penang Bahá'í community when a Bahá'í library was being set up.
Jeanne expressed a strong desire to the author to visit Malaysia, to participate in the 50th anniversary celebrations of the coming of the Faith to West Malaysia, held in Ipoh town in Perak state in 2003. But her old age, coupled with health complications made her immobile. A copy of the book "Jewel Among Nations" was sent to her. She read with much pleasure and replied as follows, "I really enjoyed reading every line of your wonderful Jewel Among Nations. Finally, you have put down a fine record of history that would be cherished for all generations to come……". She autographed one copy of her book "Forget Me Not Nicobar" and sent it to the author.
Jeanne's love for the Malaysian Bahá'ís is well expressed in Shantha Sundram's book Mystic Connections, part of which reads, "So many of your stories have brought tears of joy and memories of a very special time in my life. This is what happened to us that wonderful day we stepped off from the ship, the State of Madras, on to the island of Penang. For we had arrived in our true home- Malaya! O, how I wish I could mention each of you by name, write to each one of you. Just to think of you brings me joy…… I love you all my dearest ones and I foresee many more great achievements. So, the family of my heart, I send my prayers and my love always."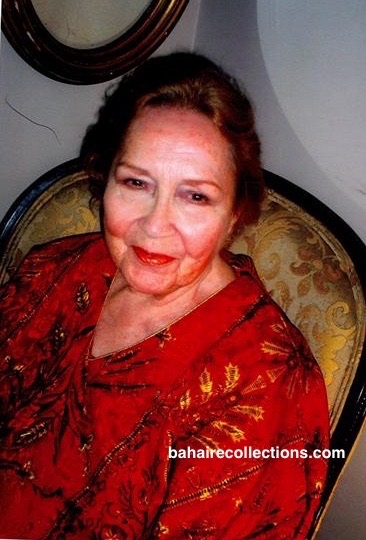 Jeanne in North Carolina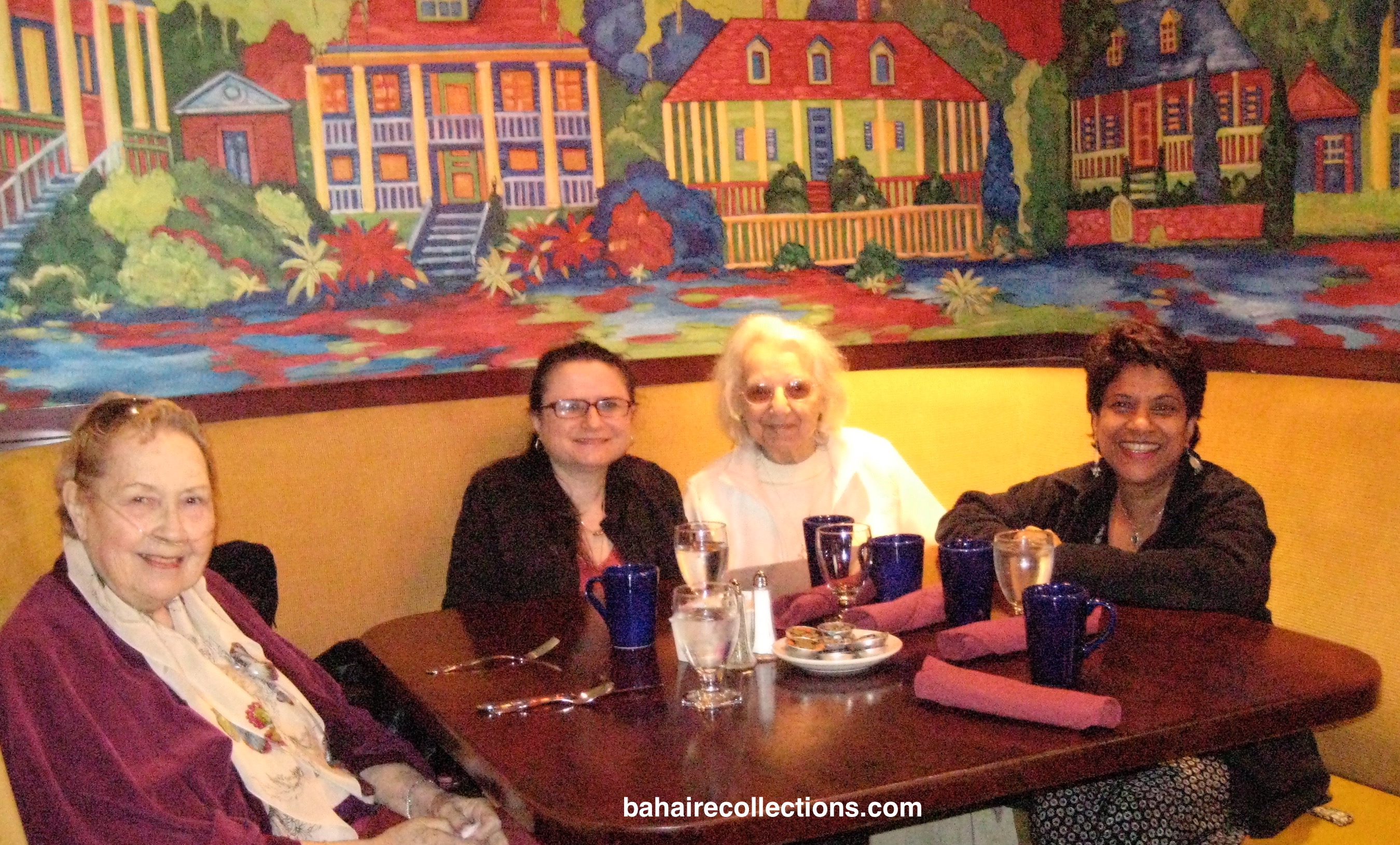 Susheel Croft of Australia seated extreme right, visiting Jeanne seated extreme left, in 2011
Passing of Jeanne
Jeanne and her husband spent twenty one years in Miami, Florida. Jeanne was all the time very active in the Baha'i community. They then sold their house in Miami because of the hurricanes and moved to Chapel Hill in North Carolina. But the cold weather in North Carolina was not suitable for Jeanne as she had developed Chronic Obstructive Pulmonary Disease (COPD), a disease of the lungs that develops over many years, and for which there is no specific treatment.  This disease eventually made breathing very difficult for Jeanne. She also had heart ailments along with this complication. Therefore they moved back to Orlando, Florida where they resided for three years. She also had heart ailments along with COPD. She was admitted into the hospital several times-she became very weak and was forced to slow down in Bahá'í services. She developed further breathing problems owing to acute pneumonia, and was given oxygen for life support.  Following a period of prolonged suffering, Jeanne finally passed away of lung complications and heart failure in Orlando on May 2, 2012, at the age of 81. She was given a befitting Bahá'í funeral with help of the Bahá'ís from S. W. Orlando on Thursday May 3, 2012, at the Baldwin Fairchild Funeral Homes, Pine Castle Chapel.  Her body was wrapped in pure white silk dress, and burial ring inserted into her finger. Many prayers were said for her soul to rest in eternal peace. She was buried at the Chapel Hill Cemetery, Orlando, Florida.
The message from the National Spiritual Assembly of the Bahá'ís of United States of America reads in part,  "[W]e especially appreciate the outstanding services Jeanne rendered to the world of humanity, in numerous countries, including the Nicobar Islands — where she and her mother Margaret were the first to share Baha'u'llah's message — and other lands such as Costa Rica, Spain, and Malaysia."

Numerous friends have had many things to say about this great soul. Her husband Mr. Arnulfo says, "Jeanne is a pure and special soul. She was extraordinary in every way, spiritual and full of compassion. She loved the entire human race, irrespective of colour, creed or nationality. For her, everyone was a member of her own family.  She always saw God's image in them.  She loved all and was equally loved by all. Throughout her life, she suffered very much in the path of God. When she was physically ill, she resigned to the will of God with no complain."  Arnulfo had been supportive of the Faith. When Jeanne was on the death bed, she had spoken much more to her husband about the Faith. Immediately after the funeral services, Arnulfo who was very impressed with the saintly life of Jeanne, officially signed up as a Bahá'í.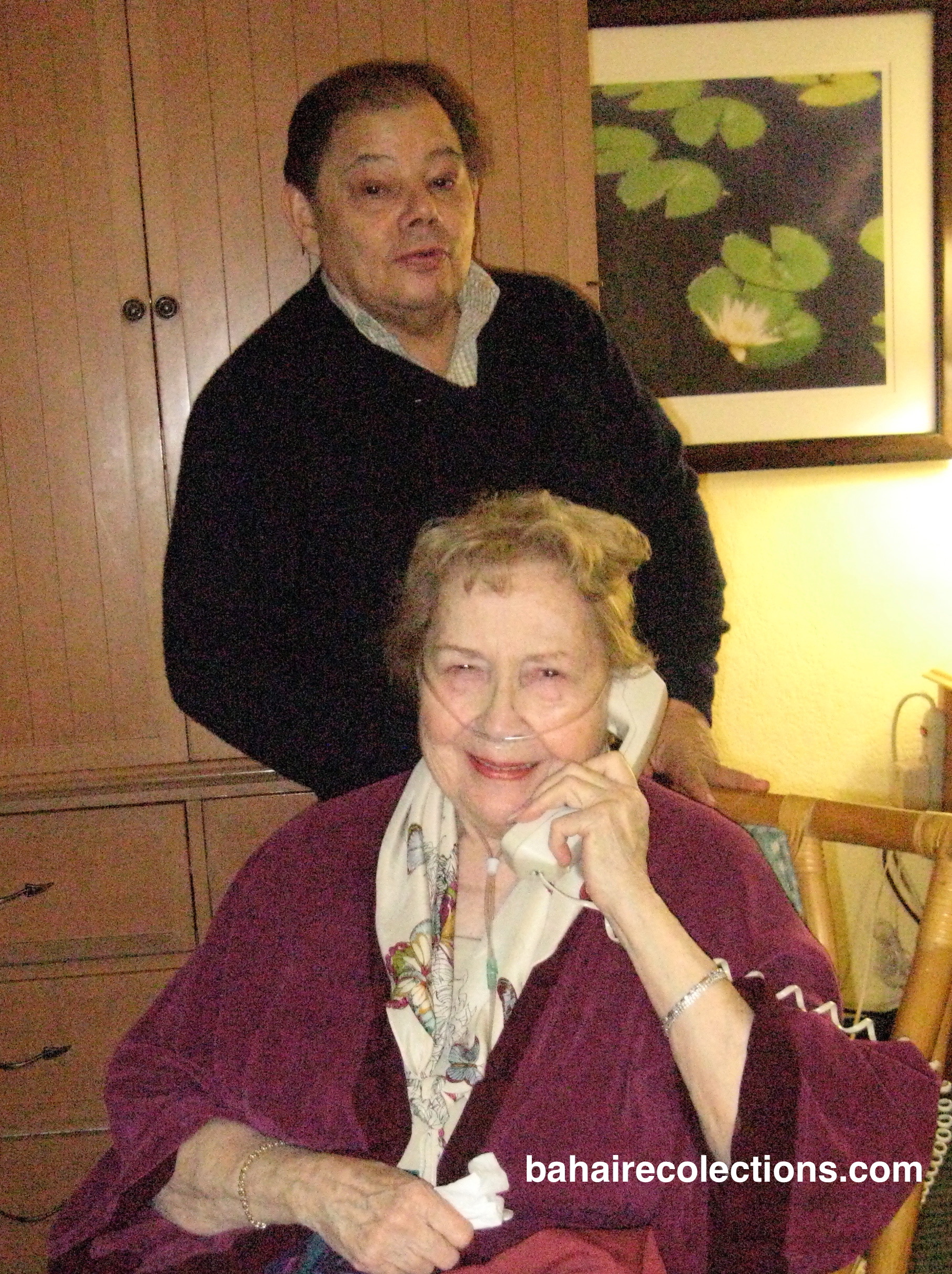 Jeanne with her husband Arnulfo, 2011
Raymond Peter, from Cambodia, recalls "Jeanne had a great charm, patience, and worked tirelessly to propagate the Faith, and the progress of the Faith in Malacca today is due to her tremendous work".
Lily Chinniah from Kuala Lumpur has this to say about Jeanne and her mother, "Jeanne was an excellent Bahá'í teacher. Anybody listening to her would be impressed by the way she spoke and became convinced in the Bahá'í teachings. She was a true lover of mankind. She was so loving and friendly to everyone, Bahá'ís  and non-Bahá'ís alike. Everybody was attracted to her spiritual personality."
Leong Ho San from Australia says , "Jeanne taught more with her love than her knowledge, although her knowledge was extensive and profound. She certainly made her mark in the community, taught by her example and spirit. She will always be remembered for showering so much of her love and spirit on every one of us, and her services will forever be remembered and treasured".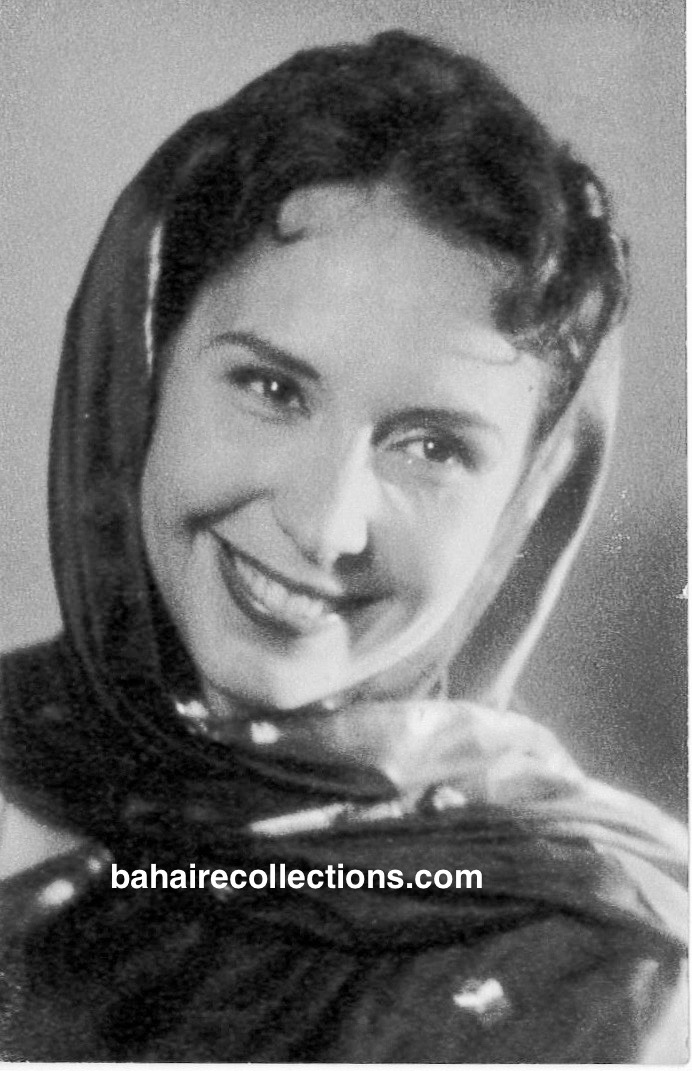 Jeanne was a multi-talented Bahá'í . She was at various times in her career a diplomat, a nurse, an actress in California and New York, an artistic dancer, and an accomplished author, having authored and published six books, and was working on her seventh when she ascended to the Abha Kingdom. Both Jeanne and her mother kept diaries of their travels, and their record gave birth to the book "Forget-Me-Not Nicobar" in 1992.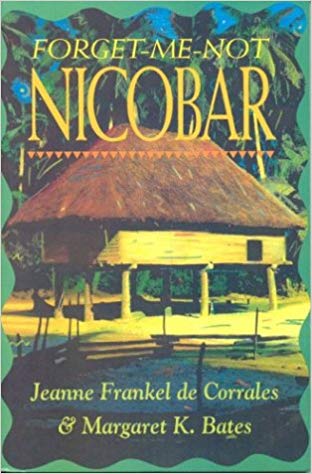 Memory of the notable services of both Jeanne and her mother shall ever occupy an imperishable place in the history of the Faith in Malaysia. Their services in early Malaya had been highly significant in laying a firm foundation during the formative days of the Faith in this country. At a time when Bahá'í literature was scarce, they were highly instrumental in sharing much knowledge on the Faith with the early Bahá'ís  in Malaya. Jeanne and her mother underwent much sufferings from the time they started their pioneering services in Nicobar. Jeanne especially underwent untold hardships, trials and tribulations, even before her accepting the Faith. These sufferings followed her right to her tomb. And yet she displayed a radiant disposition and an inner happiness,all because she made Baha'u'llah the very breath of her life.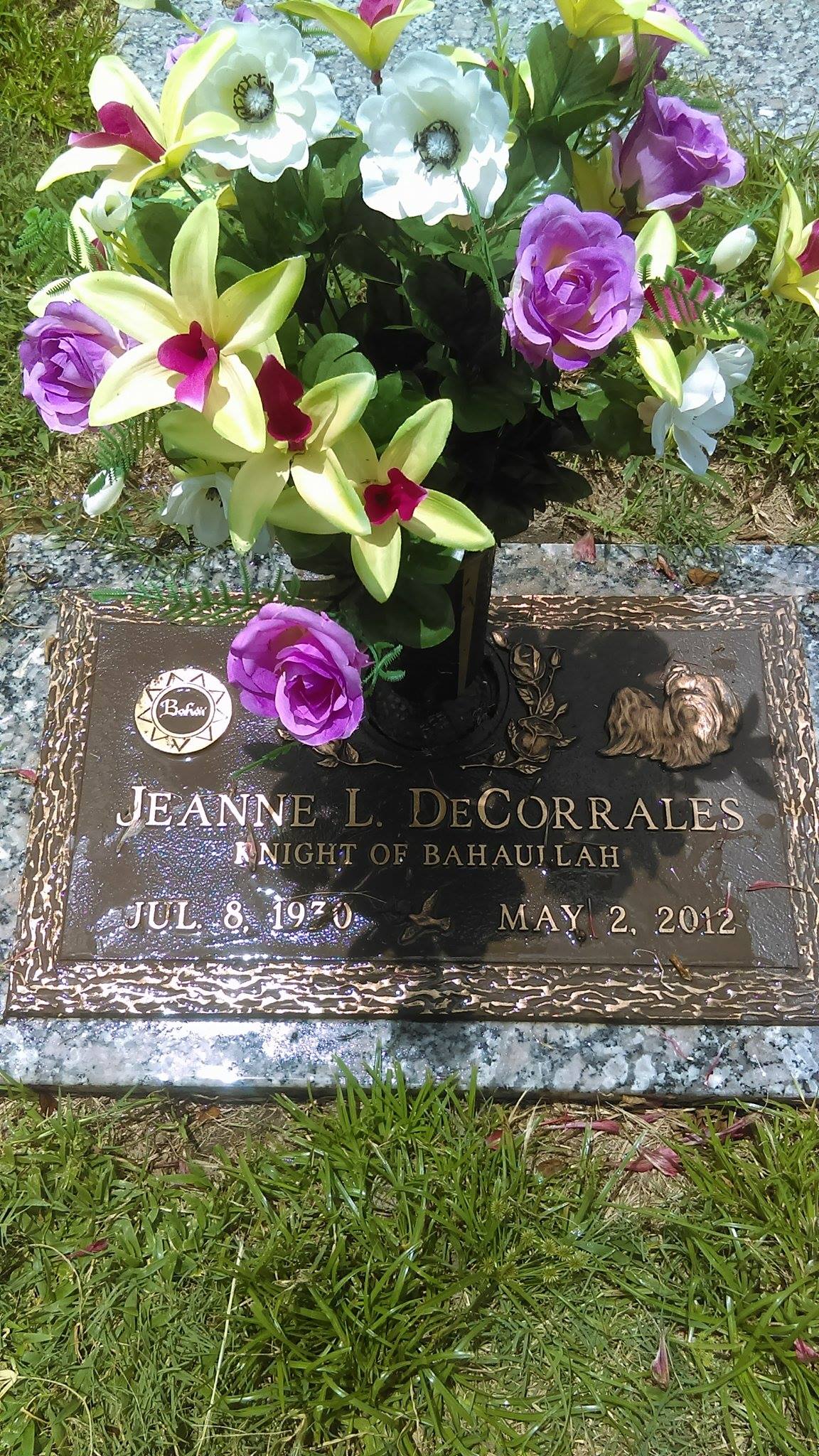 Resting place of Jeanne Frankel at Chapel Hill Cemetery, Orlando, Florida
Note:
This is abridged from the original story that was sent to the Bahá'í World Center. The author was privileged to have met Jeanne in 1968 at his residence in Sungei Petani town, which then served as a  Bahá'í Center.
A.Manisegaran
USA
15 August, 2017
©bahairecollections.com