MEMORABLE MOMENTS WITH AMATUL BAHA RUHYYIH KHANUM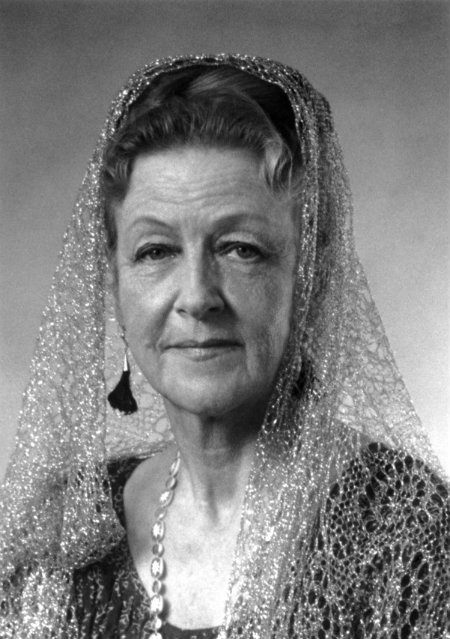 We are living at a time when the Hands of the Cause of God are no more with us. With the passing of the beloved Guardian in 1957, appointment of further Hands of the Cause of God has ceased.
Obviously, to read and learn about the lives and the services of those immortal Hands of the Cause of God is most moving, highly interesting, and uplifting to the hearts. To listen to their recorded talks and get a feeling of their presence in our midst is a blessing by itself, yet to meet the Hands of the Cause of God in person, converse with them and serve the Faith under their loving guidance is an experience that is beyond description. I thank the Blessed Beauty for for enabling this unworthy servant in attaining the presence of some of them, and conversing with them. I had the rare bounty to meet fourteen Hands of the Cause of God from 1955 onwards, since the time I was only fourteen. To explain the extent of influence, knowledge, insight and spiritual uplifting that I experienced by being in their presence is something beyond my ability to fully explain. I recall vividly some episodes and anecdotes that have been registered in my memory. I have already shared in this popular blog of my meetings with five Hands of the Cause of God – Mr. Taraz'u'llah Samandari, Mr. Ali Akbar Furutan, Mr. Abu'l Qasim Faizi, Dr. Rahamatu'llah Muhajir and Mr. Collis Featherstone. I would like to devote this story on my meeting with Amatu'l-Bahá Rúhíyyih Khánum.
I have to mention at the outset that the accounts, stories, details and events that are reflected in these pages are from my own personal observations and experiences. Any shortcoming in respect to the accuracy of dates and the details must be attributed to my old age and my fading memory.
Amatu'l-Bahá once said that before the passing of the beloved Guardian, he had told her that after his passing she should travel and visit communities in different countries and give all the encouragement and strength to them. She did exactly that after the election of the Supreme Body in 1963, including attending the International Conferences, opening of the Houses of Worship and visiting many Bahá'í communities across the globe. It was in the course of such journeys that many of us had the privilege of meeting her.
THAILAND
For years I had known about Amatu'l-Bahá only from her photographs and a few reports of her talks that appeared in Bahá'í magazines. But it was two years after I had left Iran for pioneering to Laos that I had the bounty of seeing her in person at the end of April 1964 in Bangkok. That was my first meeting with her. She was representing the Universal House of Justice at the first National Conventions of the Bahá'ís of Vietnam, Malaysia and Thailand. Amatu'l-Bahá arrived in Bangkok two days prior to the Convention date. A group of the delegates and guests went to the airport to welcome her. She was coming with Mrs. Violette Nakhjavani from Kuala Lumpur after attending the National Convention of Malaysia. The aeroplane arrived on schedule, but she was not on that plane. Not knowing what to do in the state of panic and confusion, Mrs. Shirin Fozdar, a pioneer to Thailand was concerned about the VIP room she had already booked at the airport  for Amatu'l-Bahá to speak in a press conference. She knew fully well it would be another nightmare to go through efforts to rebook the VIP room. We all resorted to prayers, and what a relief. The information monitor at the airport showed there was another plane due to arrive in half an hour. But we were not sure if Amatu'l-Bahá would be on that plane. We all waited with the hope that she will be on that plane. We observed another plane that just  landed. The plane taxied to the disembarkment  area. The plane was visible at a distance of about 200 meters from where we were waiting. In a  state of an uncontrollable excitement and urge of seeing her, I decided to walk to the airplane door to greet Amatu'l-Bahá . That was not a permitted act. But no-one stopped me, and soon I was at the airplane's staircase looking at the passengers that were walking down the stairs. Suddenly I saw Amatu'l-Bahá Rúhíyyih Khánum appearing from the door. I jumped a few steps up towards her and quickly greeted her with Amatu'l-Bahá. Responding in Persian, she said "Halle shoma chetowre", meaning "How are you?" She then continued, "Isme shoma Chiyeh, az koja miayee?", meaning "What is your name and where do you come from?". I said I am a pioneer from Laos. She very lovingly asked me go to the plane and accompany Mrs. Violette Nakhjavani, which I did right away.
Mrs. Shirin Fozdar, had arranged for a VIP limousine to transport Amatu'l-Bahá from the airport to the hotel. She had established excellent contacts with people of prominence in Thailand and used the contacts for the Faith. She arrived with another friend at the airplane's staircase to meet and escort Amatu'l-Bahá to the VIP hall. As soon as Amatu'l-Bahá , Violette Nakhjavani and Mrs Fozdar got seated in the limousine  Amatu'l-Bahá requested me to get into the car. As the car moved she said she was very happy with the first national convention that took place in Malaysia. She was happy with the election of mature believers on the first national body and spoke highly of the mature consultation. Amatu'l-Bahá felt the Malaysian community had a big destiny to play in the region. We drove to the VIP hall where a press conference was arranged. Several Bahá'ís, including some guests and delegates for the national convention had gathered at the VIP hall. As the press conference was about to start, an immigration officer came to inform me to get the passports of Amatu'l-Bahá and Violette Nakhjavani stamped. Violette Nakhjavani and I went to get the passports stamped and to collect the luggage. Therefore I missed the press conference. When all formalities were cleared at the airport, we drove to the hotel. As Amatu'l-Bahá was not feeling well, we took her to visit a doctor as soon as she had checked into the hotel. It was only then  we understood that Amatu'l-Bahá  had to take the next plane as she was not well.
Next evening, which was the eve of the Convention, an informal gathering was arranged at the Bangkok Bahá'í Center. In this meeting she asked for an update on the status and progress of the Faith in Laos. She told me she had never been to Laos. I related that we had been experiencing mass-teaching and mass declaration of the hill-tribes in Salabouly province in Northwest of Laos, and gave some other related information as well. Throughout the Convention that lasted three days I had the opportunity to meet Amatu'l-Bahá and converse on various issues, including the development and progress of the Faith. She lovingly enlightened me with the beloved Guardian's views on how the Faith must be served. That guidance came to me when I was merely a youth of 22. She really widened the horizon of my thoughts and expanded my vision of pioneering and serving the Cause. One could imagine the state of joy and ecstasy I was having while conversing with Amatu'l-Bahá, who was none other than a Hand of the Cause of God by herself and the wife of Shoghi Effendi, the Guardian and Sign of God on earth. I had read his writings and all the guidance the Guardian had given the Bahá'ís. But Amatu'l-Bahá was able to relate many things about the Guardian that I had never heard before.
After my conversation with Amatu'l-Bahá, I tried to record the content of the inputs she had lovingly given me for my future services for the Cause. Some of things she said are along the following lines:
In teaching the Faith, the tribal believers must be helped to learn how to share their beliefs and the knowledge with others. Everything we do in our lives will become useless unless they produces results. She was driving home the need to develop human resources wherever new localities are opened to the Faith.

We must train ourselves to have the vision for the future as to how the Faith should advance, and needs to be done in each stage of the development of the Faith. She said that was how Shoghi Effendi looked onto the future with clear vision that enabled him to make plans for the development of the Faith.

Sustainability is important for the work to continue smoothly. When we are tired and loose our energy because of the monotonous work, we must take a break and do something different to rejuvenate and get new energy to continue working.

People have experienced that through prayers and reliance on divine assistance they have gained confidence and discovered mysterious abilities within themselves in doing things that they could never dream of. This reminded me of Abdul Baha saying that we should never look at our weaknesses and limitations, but focus on the power of the divine assistance.

When we meet difficulties and obstacles in the path of service, we must turn to God seek His assistance, but remain content and patient with whatever He ordains. Should we face difficulties because of our own shortcomings and disobedience, we suffer the consequences. 

We are not expected to suffer unnecessarily in the path of service. We should not force ourselves to suffer as some ascetics do. But when severe tests come we should remove them prayerfully.
After the Convention Mrs. Fozdar arranged a reception in honor of Amatu'l-Bahá in the Bangkok Sport Club, where several Thai dignitaries were invited. That provided an opportunity for the believers to move into top circles in the country and deepen their friendship with them. The dignitaries were able to see for themselves believers from different countries such as Laos, Vietnam, Malaysia, United States and Europe.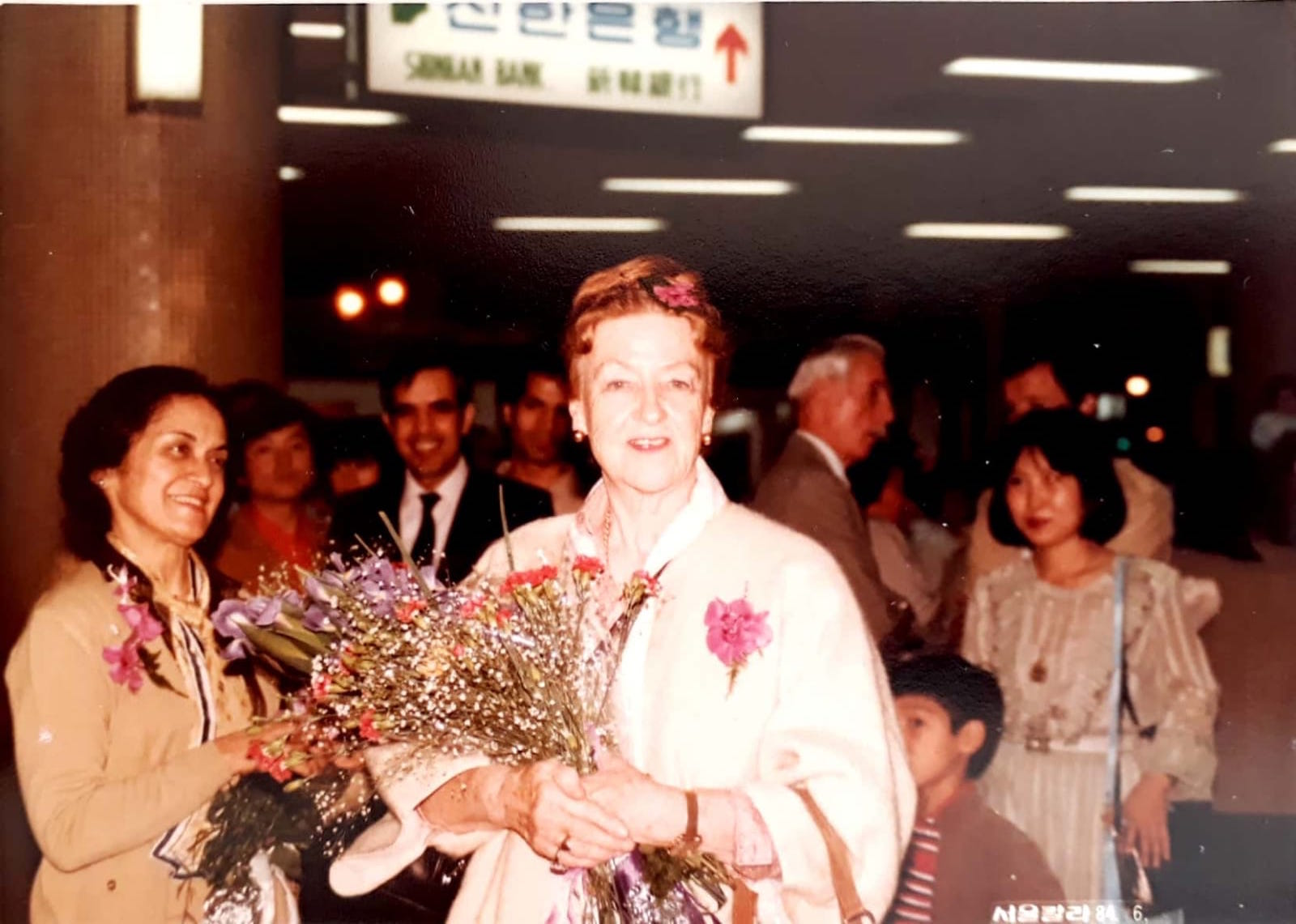 Mrs. Violette Nakjhavani at left and Amatul Baha at right in Thailand, 1984
Mrs. Fozdar mediated in arranging another reception in her honor in a prestigious hotel in Bangkok. There were local and foreign dignitaries who were present. This reception was given by the ambassador of Israel to Thailand, who knew her. The ambassador in his welcome address exalted the Bahá'í Faith and its teachings. He recalled his father telling his family members how he, as a child was a recipient of love and candies from Abdul Baha, a gesture that the family always felt proud of. Amatu'l-Bahá spoke briefly on the vitality of the oneness of mankind, while still accepting difference of cultures and religions.
In the very first meeting I found Amatu'l-Bahá to be a very loving person. But she could also be a very serious person, expressing things mostly directly, and sometimes blunt in her approach. Her direct approach in dealing with some matters was confined to protecting the Cause, which was her inescapable duty as Hand of the Cause of God.
It must be said Hand of the Cause Dr. Muhajir was also present at the national convention of Thailand. My meeting with Hands of the Cause of God Amatu'l-Bahá and Dr. Muhajir at the national convention in Thailand solved  an unbearable crisis going on within me. I had to turn to someone for some guidance. Just one month before the convention one member of the Regional Spiritual Assembly of South East Asia advised me to leave Salabouly province and move to Vientiane which is the capital of Laos to strengthen the Faith there. The thought of leaving Salabouly where one thousand new tribal believers had embraced the Cause within fourteen months and needed nurturing was difficult to digest. The suggestion to leave the tribal believers did not seem reasonable, especially when I had not received any official letter from the Regional Spiritual Assembly. I was not sure if the proposal for me to leave the tribal area was just from one member of the Regional Spiritual Assembly or from the Regional Spiritual Assembly itself. I prayed and decided to consult Amatu'l-Bahá and Dr. Muhajir separately. To my surprise both of them gave me the same advice, without they consulting with each other. They said that since the Regional Spiritual Assembly was no more in existence since 1964, and that Laos was directly supported by the newly elected National Spiritual Assembly of Thailand, I should write to this new national assembly explaining in detail my concern and seek its advice. I wrote to the National Spiritual Assembly of Thailand. The national body adviced me to stay on with the tribal believers as long as I was needed there. How much the hands are guided by God.
I was very impressed with the talks, guidance and advice given by Amatu'l-Bahá at the Convention. I had desired to have a photograph taken with her. But soon I realized that she was not comfortable taking pictures with individuals except in some special situations.  At  one instance when too many group photos were taken she remarked in jest "It is a social disease of our age".
MYANMAR
From the fifties to the eighties Burma's (now Myanmar) government policy did not permit the common Burmese people travel abroad freely. Owing to that the  Bahá'ís of Burma were deprived of going on pilgrimage to the Holy Land, and missed the spirit at  the World Centre. Therefore, in 1974 the Board of Counselors requested Amatu'l-Bahá to visit Rangoon and to attend their national convention on her way to Hong Kong and Macau to represent the Universal House of Justice at their first national conventions.
The  Board of Counselors tasked me to represent the Board in that convention. There was no way I could attend if not for the miracle that Bahá'u'lláh solved in His own invincible way.  About a month prior to that convention in Myanmar I had to make short trip to Iran. Since I had a travel agency and was the Air France sales agent in Laos, I traveled to Tehran on a free ticket. On getting the request from the Board of the  Counselors to be at the National Convention in Myanmar, I contacted the Air France office in Tehran to re-book my immediate return to  to Bangkok. But  I was shocked to learn  that the Air France staff  had gone on strike and all their flights had been indefinitely canceled. I was in a total dilemma. I resorted to prayers and prayed as never before. Two days  before the convention day in Myanmar, my heart-beat was racing and decided to buy another ticket bound for Bangkok. I made the booking by phone and called up the Air France office to inquire about the status of the strike. What a relief to be told that the strike was called off the previous night and  that flights had resumed that morning. I was further informed that there was a flight to Bangkok early next morning. I took that flight and arrived in Bangkok in the afternoon of just one day before the Convention, and went straight to the Burmese Airline counter in the airport and asked for a ticket to Rangoon. Another big relief as there was a flight to Rangoon at 5:15 pm. But they could not issue a ticket without a visa which I did not have. The man at the ticket counter said,"It is impossible for you to take flight today since today is Friday, and it is already is half past two. The consular section closes earlier on Fridays at 4 pm. You can do it on Monday." Trying on Monday would not serve any purpose as I have to be in Myanmar before  the Convention was over. I immediately called an Auxiliary Board member Mrs. Chusiri Faridian who worked in the ticketing office of a travel agency, and explained the dire situation and asked for her for urgent help, should she have any contacts. She responded that she will talk to her close friend working in the front desk of the Myanmar Consular Section. I hired a taxi and rushed from the airport to the Myanmar Consulate, which was half an hour away. I told the taxi driver to go as fast as he could and that I was prepared to pay extra money. Upon arriving at the Consulate the lady friend of Chusiri who was waiting for me gave me the application form to fill up. Then she asked me for two photographs which I did not have. To add shock further shock,  she informed me that  Consular had gone home, and requested me to take passport, photograph and  application form as well as the  Embassy stamps to his house and ask him issue the visa. She then wished me best of luck, as such arrangements were not common and could be a first time incident. I did exactly what was required, all in a hurry and with tension and stress. Finally I was issued a visa at the home of the Consular, and rushed to the airport by taxi, praying all the way  to be able to get on board that last flight. By the time I arrived the airport it was past five.  I approached the Burmese Airlines counter and asked for the ticket. The good news was that there was a delay and the bad news was that  the plane had just started to tax to the runway. I explained to the manager that I was on God's mission and it was a die or do matter of grave concern.  The manager, a prayerful man I supposed, called the  outbound security office to check out the possibility of halting the plane. After about ten minutes of calling the airport security and the captain in the cabin,  the airline manager rushed me to a van and was taken to the starting point of the runway where the plane was waiting to take off.  The staircase truck came along, touched the airplane, the door of the plane opened, I climbed the stairs and got in, sat down, fastened my seat-belt. As I ascended teh stairs the airline manager said with a smile, "Never before!" As I entered the cabin, everyone looked at me thinking I must be a very important person, not knowing that the most important person was already at the Convention ahead of me. Thus I flew off to Rangoon and attended the convention on time. I could not believe this miraculous episode. Amatu'l-Bahá  with Violet Nakhjavani had already arrived in Rangoon two days prior to the convention. At the convention Amatu'l-Bahá's noticed that I appearved tired and exhausted. She  spontaneously asked how my trip was. I smilingly replied. 'It was fine, except some flight delays." This is the episode that reminds me of two things- all insurmountable problems have tto be handled by priblems as He is the Remover of all difficulties, and that once He intervenes miracle after miracle is in store for you.
Thus Amatu'l-Bahá thus attended the national convention of Burma in 1974. It was held in Daidanaw (also known as Abdul Baha village) where Mrs. Shantha Sundram who was an Auxiliary Board Member in Malaysia and her daughter Padma were present. I represented the Board of Counselors at that convention. It was the cherished wish of Amatu'l-Bahá to visit this village of which she had heard so much. Amatul Baha as we all knew loved to be part of the local community wherever she went, and at  the convention  Amatu'l-Bahá  dressed up in native costume, and with flowers in her hair, mingled with the friends to get to know the customs of the place.
Amatu'l-Bahá addressed the Convention and the believers on two occasions. At the convention  Amatu'l-Bahá read the Five Year Plan. There were also moments when she met the believers in small groups. She gave a very moving talk where she placed so much praises and accolades upon the believers of Myanmar and drove home the special privilege and place they have in the history of the Faith.
Bahá'ís of Burma have existed from the time of the ministry of Bahá'u'lláh when a young a Persian Bahá'í had lived in that country. She spoke on the role that Jamal Effendi from Akka played when he was sent by Bahá'u'lláh Himself to take the Faith to this part of the world.  In a teaching trip to India Jamal Effendi met with Siyyid Mustafa Rumi from Iraq, who had settled in Madras in Tamilandu and took him along for teaching. She mentioned that Siyyid Mustafa Rumi won many victories for the Faith and finally became a martyr.  Following his martyrdom, the Guardian had posthumously appointed him Hand of the Cause of God. Today we have a beautiful shrine for Siyyid Mustafa Rumi in Daidanaw village. She said the believers of Myanmar have all the reason to be proud of their legacy for the Faith.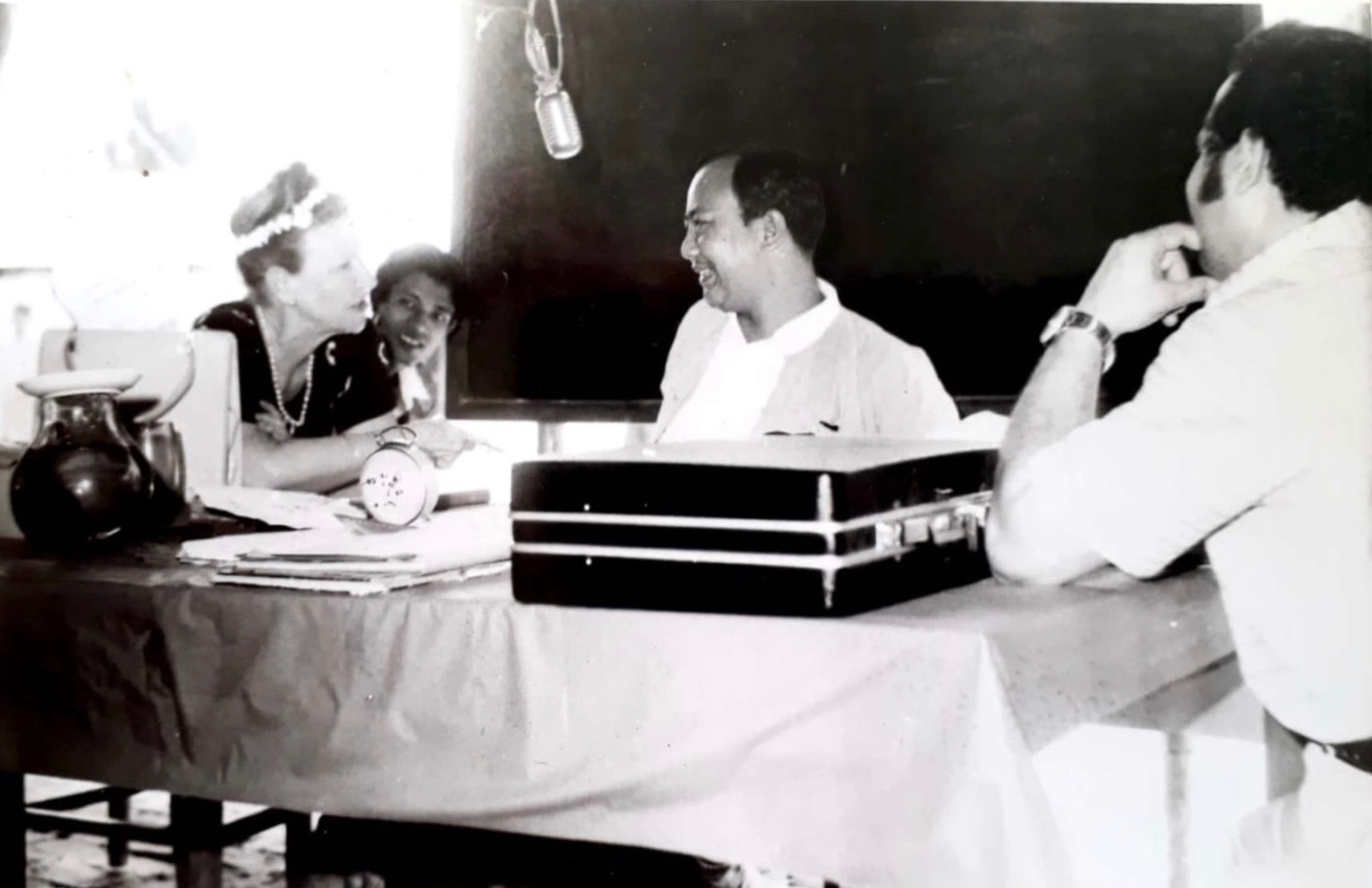 Amatul Baha at the National Convention of Myanmar. Firaydun Mithaq is seated at extreme right
She did go to the resting place of Siyyid Mustafa Rumi and offered prayers. Amatu'l-Bahá, when addressing the believers said, "Yesterday, when I went to the shrine of Siyyid Mustafa Rumi, I prayed and asked him to intercede with God and confirm the plans and teaching activities in this blessed land. We can follow the teaching examples of Siyyid Mustafa Rumi who led hundreds and hundreds of people into the Cause of God. We must carefully study the message of the Universal House of Justice and remember the things that we must do and can do. We must pay special attention to the spiritual education of children and youth and involve them in our activities and gatherings. Divine assistance and the concourse on high will come to our aid once we arise and work together with unity."
The convention came to a good ending with all the good words she had spoken and the encouragement and inspiration she had infused in the hearts of those gathered. When a convention group picture was taken I stood in the back row. Amatu'l-Bahá turned her head around and saw me in the back. She pointed her finger at me and signaled me to come to the front row to sit beside her, and next to Mrs. Shantha Sundram. I could not read her mind. Methinks she wanted the institution of the Counselors to be given the needed respect, not to me as an individual.
On the morning of the day after the National Convention I, as a Counselor had to meet informally with the members of the newly elected national spiritual assembly, the national youth committee and the Auxiliary Board Members to discuss several points concerning the continuation of the goals of the teaching plan given by the Universal House of Justice, and the required additional resources and to assure the commitments of friends to the steady progress of the Faith.
In the afternoon we were planning to leave Daidanaw village for Yangon in the car of the chairman of the National Spiritual Assembly. Since the car was already full with Amatu'l-Bahá, Violette Nakjhavani, Shantha Sundram and Padma I decided to take the public transport to Yangon the next day. However, Amatu'l-Bahá told me to hop into the car saying we could somehow manage. Therefore, the three ladies took the back seats while Padma and I took the front seat.
On the way we were passing by a farm house with a cart pulled by a cow. Amatu'l-Bahá asked the driver to stop. She got out with her camera and quickly took some pictures while the rest remained in the car. Violette Nakhjavani commented "Ruhiyyih Khanum is the lover of arts, culture and the nature. She has taken hundreds of pictures in her visits and teaching trips wherever she went". Amatu'l-Bahá got back into the car, and we reached her hotel in Yangon. When saying goodbye at the lobby of her hotel, she asked Shantha Sundram, her daughter Padma and me to come back to the hotel at 6 in the evening to join her for dinner. That evening we had a great dinner with Amatu'l-Bahá. After the dinner she got up and asked me to walk with her. I walked a short distance behind her. She was looking at the arts and crafts items in the shops of the lobby and appreciating them. Suddenly she spoke to me in Persian concerning a disunity that had occurred in one of the countries in the region because of acute misunderstandings. She asked me if I knew anything about that highly sensitive matter. I told her I was aware of that. She wanted to know about the real situation, as she was inquiring on behalf of the Universal House of Justice. I appraised her of the actual situation with full details. Soon after that a letter came from the Supreme Body addressed to the National Spiritual Assembly of that country, with copies to the Board of the Counselors. Thank God, with the letter of the Universal House of Justice everything went back to normal and that community kept progressing.
JAPAN
My next meeting with Amatu'l-Bahá was for a week in 1977 in Shimonoseki, Japan. That meeting was convenient for a large group of believers from Korea to join the friends in Japan and meet up with her. Here she talked about the importance of self-sacrifice in helping others, and bringing changes upon themselves and the communities in which they resided.
Amatu'l-Bahá said, "If you want to bring change in society begin with changing yourself". This is where self-sacrifice becomes a reality, especially when we begin to monitor and examine our thoughts and behaviors in the path of service. When someone in the audience asked why we need to sacrifice Amatu'l-Bahá explained that not until a grain of rice sacrifices itself by being buried under the soil that it can produce a bunch of rice to feed society. She quoted Bahá'u'lláh saying, "Until a being setteth his foot in the plane of sacrifice, he is bereft of every favor and grace; and this plane of sacrifice is the realm of dying to the self, that the radiance of the living God may shine forth."
At this point a guest to the Faith in the audience who claimed to be an atheist raised the question of how to believe in God Who is supposed to be loving, just and compassionate, and yet there was so much misery and oppression.
Amatu'l-Bahá a briefly answered, "If we wish to cavil at God for making the world the way He did is another matter. But it would be presumptuous to criticize a system so intelligent, so finely worked out as is the system of universe. The wisest thing for us to do is to do devote a certain amount of intelligent thoughts and contemplation to ourselves, our ways of living and our future expectations." She further said that we must accept the fact that there are some things in this life we are not going to understand while here. They are mysteries too complex for us to comprehend in this world.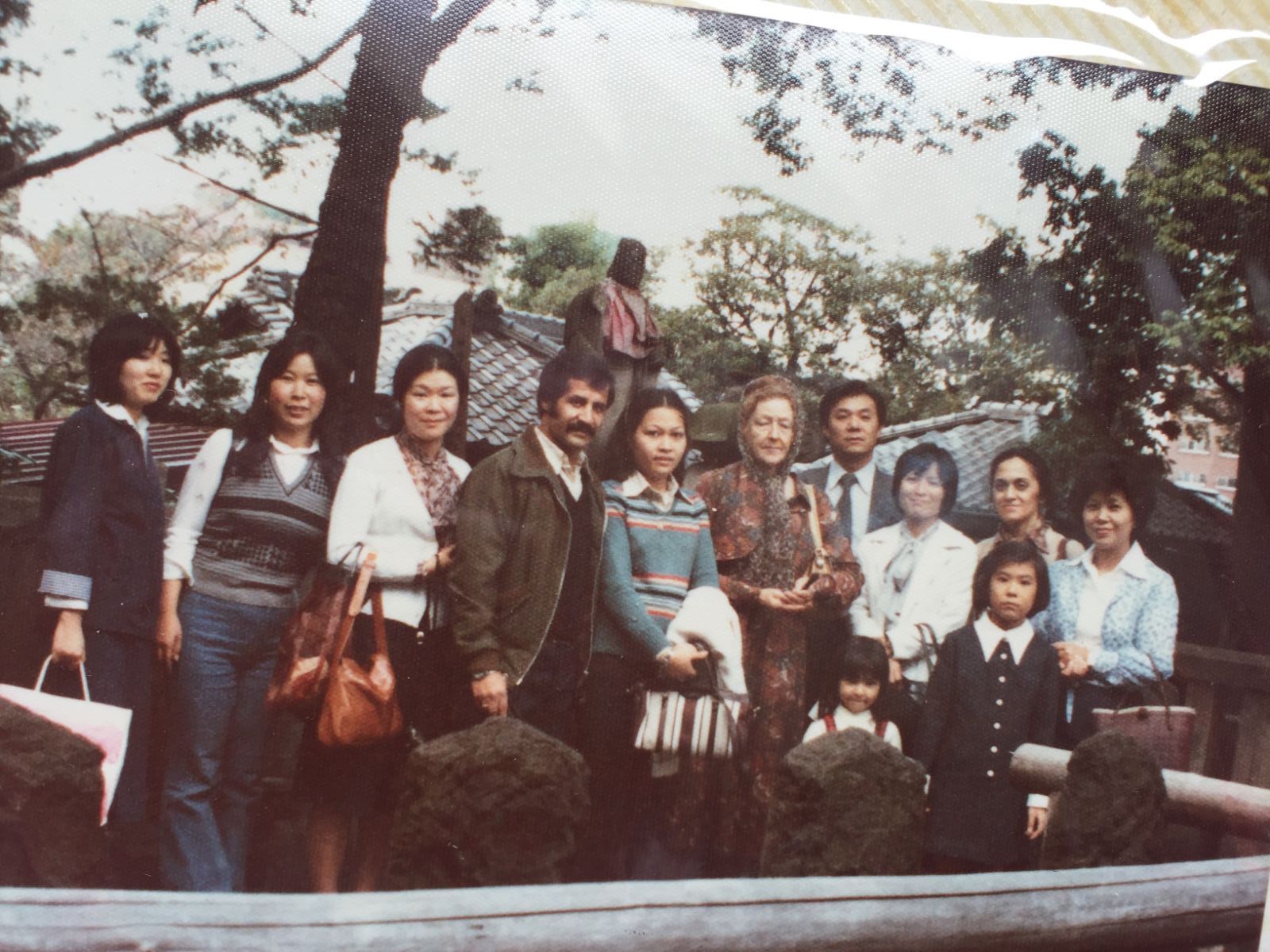 Amatu'l-Bahá with believers at the Ronin Shrine in Tokyo, 1978
Amatu'l-Bahá was fond of visiting places of worship of other religions as a mark of respect. She visited them to beseech God to open the hearts of the people to recognize the greatness of this age and His new Manifestation. I have seen her doing that in Thailand and Korea and has even talked about it. While in Japan she expressed her desire to visit an ancient shrine. The local believers gladly took her to the Ronin Shrine in Tokyo called Senkakuji. 
In this same trip Amatu'l-Bahá met the women and gave them much encouragement and guidance for them to rise up to greater heights of service.

Amatu'l-Bahá meeting the local Bahá'í women
KOREA
I had one more bounty of meeting her for two weeks in South Korea in September 1984. In this visit a group of friends from Japan came to Korea for a few days to meet her in Seoul and Anyang cities. She delivered two public talks, one in Anyang city and another in Seoul.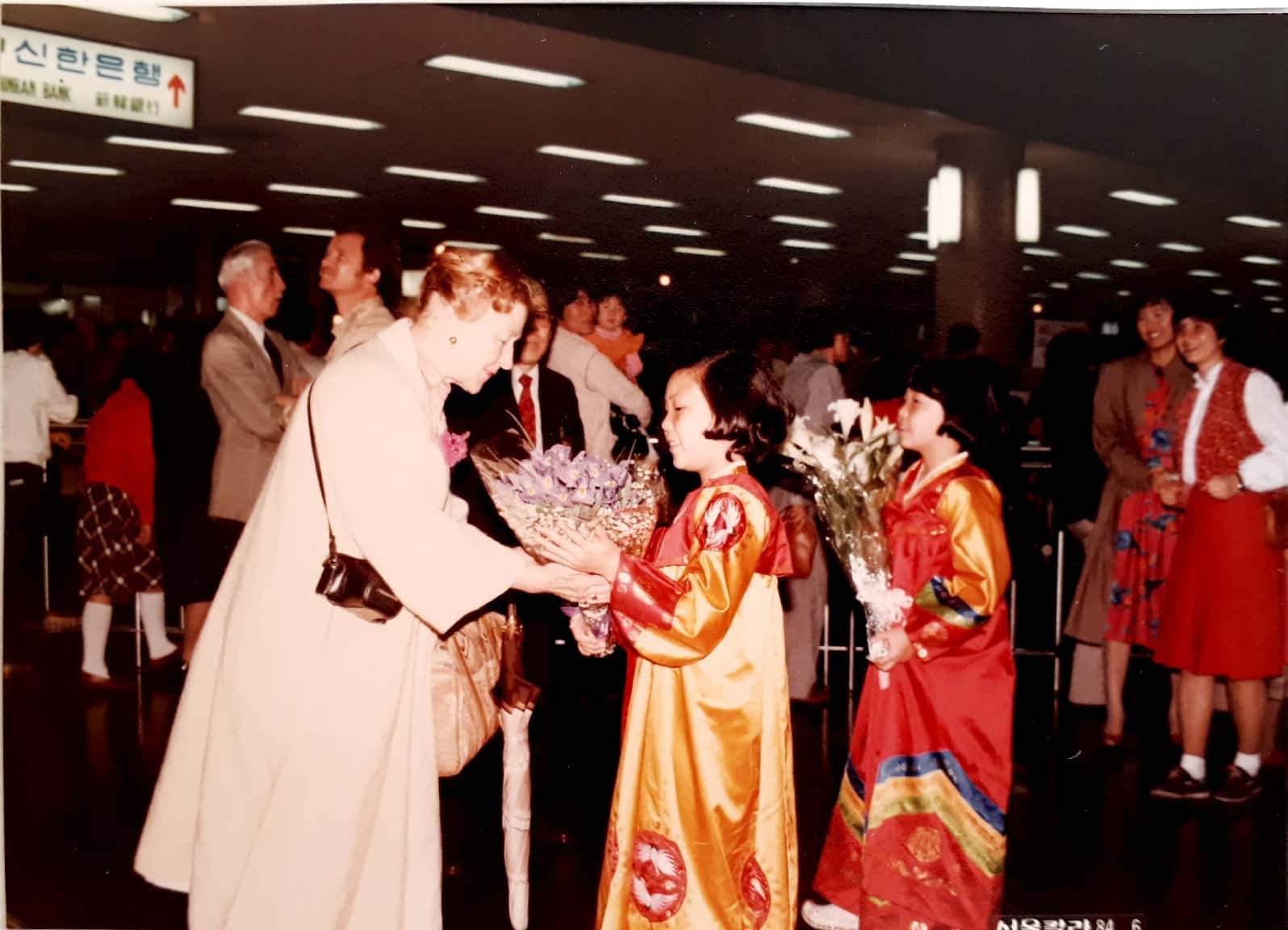 Amatu'l-Bahá is welcomed at Kimpo airport by two Baha'i girls- Mashiyyat and Ezzat Jeong. Sahba Mithaq in red dress is standing at extreme right
Prior to Amatu'l-Bahá's public talk in Anyang City she consented to come to our apartment in Anyang city and have supper with us together with a few local friends. My wife Giti cooked her favorite Persian dish of Khoresh-Bademjan (dish of fried eggplant and meat served with saffron rice). She particularly liked the Tahdig (buttered crispy bottom of rice). She jokingly said, "I would return to this world if there wasn't Khoresh-Bademjan in the world above." We took this opportunity to present her an antique ivory bracelet from Laos that we had kept for years. The experts said it was the kind of bracelet that was traditionally worn by influential tribal chieftains in Laos. Amatu'l-Bahá was not fond of receiving such gifts from believers, but she gladly accepted the humble gift of love since we had kept it for her for years.
After dinner she inquired if I had maintained any contacts with Laos and the Bahá'í community there. She remarked that my family must be missing Laos, since she knew we were pioneering there for thirteen years. I briefly explained that after the change of government of Laos in May 1975, the borders were closing and moving in and out of the country was becoming restricted and extremely difficult. I informed her that the Universal House of Justice instructed me to leave Laos in order not to get locked inside but be able to discharge my duties as a Counselor in the other countries in the region. That was how I moved with my family to Thailand, later to Hong Kong and finally to Korea. But the Universal House of Justice in cables and letters encouraged me to visit Laos as often as possible and to keep the Supreme Body informed of the status of the Faith and its development in that country. It was five years later in 1980 that I was able to visit Laos again in the capacity of short- term WHO consultant when I was given entry visas for official duties. I further informed her that ever since I had visited and spent about one month a year in Laos, and have sent reports to the Universal House of Justice. I then appraised the current status of the Faith in Laos.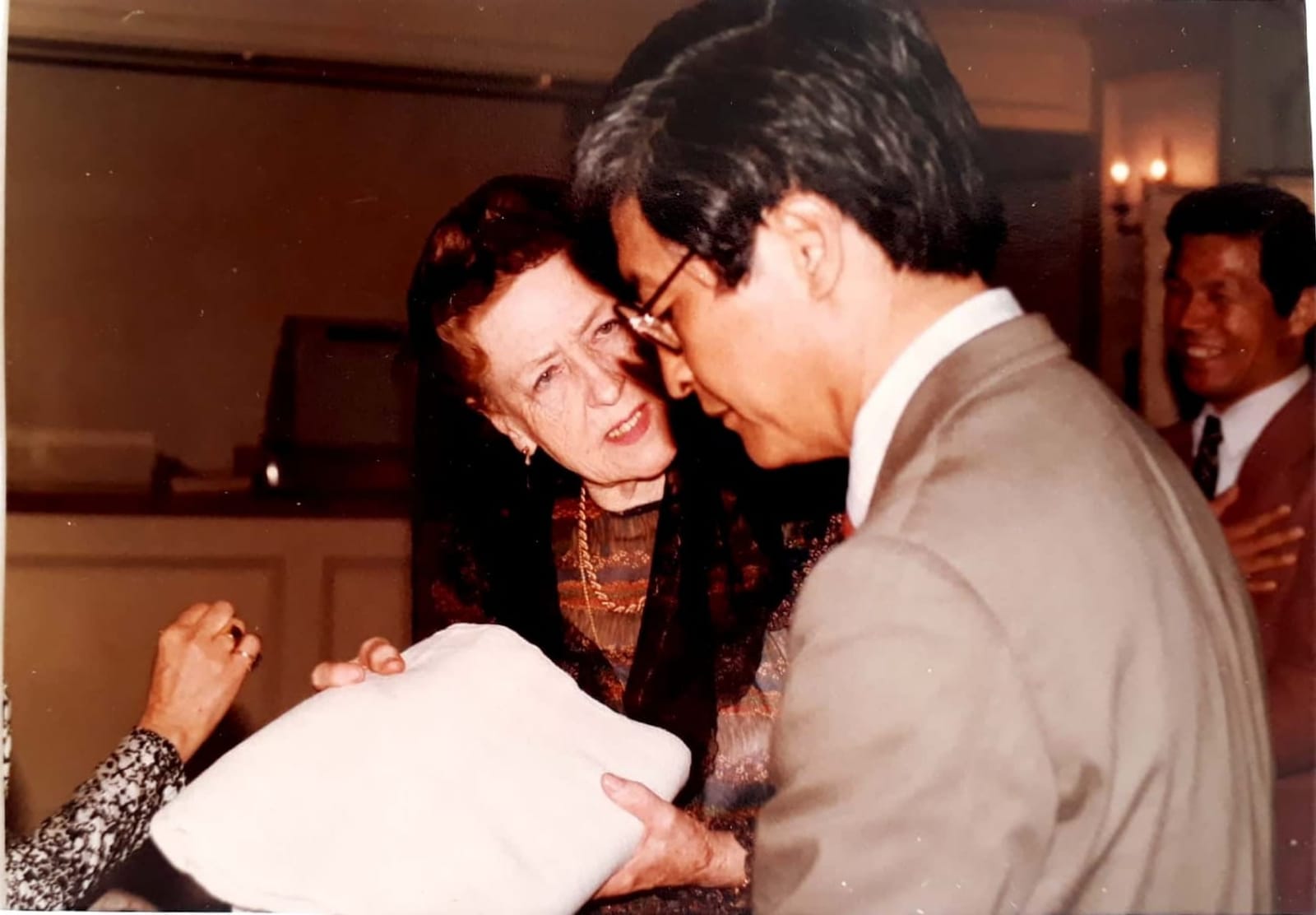 Amatu'l-Bahá discussing with a Korean believer Mr. Han Chang Ki at the public talk gathering in Chosan Hotel in Seoul
The public talk in the City Hall of Anyang city was very well organized. At the question and answer session someone asked Amatu'l-Bahá that while we help the rural believers through spiritual dimensions and education, how do we deal with the great majority of people in India and Africa who are materially destitute, poor in health and with numerous family problems. Amatu'l-Bahá paused a few seconds and said, "Understanding the plight of others, their difficulties and weaknesses is the first step in helping them… approaching others with open mind and listening to their viewpoints helps. This applies in the family relationships and in the relationship of the poor to the rich and the rich to the poor."
Another person asked,"I have a nice friend that accepts the Bahá'í teachings, but he says he cannot become a Bahá'í because he thinks he is not a good man and has bad habits. How can he be helped?"
Amatu'l-Bahá said, "If a man starts out in this life wrongly, but recognizes his errors and sets about correcting and righting them, he can still make amends and change. He can erase evil by good while he is still master of his fate."
One day a believer approached Amatu'l-Bahá for consoling and seeking guidance. She had been suffering from a painful and unfortunate circumstance in her life. Tears rolled down her face when she talked about it.  Amatu'l-Bahá explained to her, "Beauty can give joy; love can give happiness; knowledge can give peace of mind; pain can give strength, and sorrow can deepen the whole nature of man." This was totally a new explanation to the sufferings of man. Listening to her profound explanation I thought that when we are optimistic and a little detached all these elements would work to our advantage. Therefore, we have the choice as to how disadvantages could be turned into our favor.
Amatu'l-Bahámet the believers in eight larger Bahá'í communities in large and small gatherings across the country. That included the believers in Anja Island in the South Korean Sea. Violette Nakhjavani and my wife Giti traveled with her while I usually went a day earlier to each place for final checking to ensure the program and the logistics were well set  for Amatu'l-Bahá's arrival. Then I stayed on until the program was over. Then I moved to the next visiting community waiting for her coming.
Amatu'l-Bahá could see how fast Korea was on the verge of change. Her message to the Korean Bahá'í community was a clear warning of the speedy urbanization and the onslaught of prevailing materialism that was capable of consuming the whole country. Taking note of this she urged the Korean believers to strengthen their spiritual resources.
In visiting the Anja Island, about a hundred kilometers into the sea, a large gathering of several Bahá'í communities celebrated her coming and voiced their allegiance and devotion to Bahá'u'lláh with joy and happiness. Since they did not have a Bahá'í Center Amatu'l-Bahá was moved to make a financial contribution towards acquiring a local Bahá'í Center in Anja Island. She asked me what I thought about that idea. But as a feeble believer what could I say? I just appreciated her thought and welcomed it. I suggested consulting the idea with the National Spiritual Assembly.
When we were about to embark on the boat together with a group of accompanied believers, my wife Giti told me that its benches were of hard wood. She said in case the sea got rough, it might hurt Amatu'l-Bahá during the journey. Giti advised me to go and buy some cushions. I hurried out and found a small shop, and quickly bought two soft cushions. Giti gave one each to Amatu'l-Bahá and to Violette Nakhjavani. Upon seeing this Amatu'l-Bahá got upset, saying with a strong voice, "Why I should be treated differently from others? I am strong enough to make the journey just like others do". She refused using the cushions and that taught us a lesson that she preferred to be one among the masses, with no special privilege or treatment.
INDIA
Meeting Amatu'l-Bahá at the dedication ceremony of the Bahá'í House of Worship in New Delhi where she represented the Universal House of Justice was special. She addressed a large crowd of believers. Owing to the large numbers of believers who had gathered, it was difficult to get private moments with Amatu'l-Bahá. During one of the opening sessions a brave local lady-gust who was not a Bahá'í overcame by the spiritually charged environment stood up and talked in praise of Bahá'u'lláh for the unity He had generated in the hearts of the people who had assembled in the House of Worship. The organizers turned their faced toward Amatu'l-Bahá seeking her guiding signal as to what to do with this intruding lady. Out of her loving compassion Amatu'l-Bahá signaled to the organizers not to disturb, but allow her to continue expressing her feelings for a few minutes. The extent of Amatu'l-Bahá's  consideration for flexibility in the program was a good lesson for me. It appears that we have to accommodate feelings of everyone in any gathering.
HOLY LAND
Meeting Amatu'l-Bahá on numerous occasions in the Holy Land has been the source of great inspiration and encouragement. On one occasion we gathered at one of rooms on the first floor at the house of Abdul Baha in Haifa. This was the house where Amatu'l-Bahá, the Guardian and Amatu'l-Bahá had lived. She spoke about how the meeting of pilgrims and visitors who came to Haifa brought immense joy to the heart of Shoghi Effendi. Each brought a fresh fragrance of love and servitude from different lands and cultures. The tradition of meeting the pilgrims and visitors in Akka and Haifa was carried on since the time of Bahá'u'lláh, Abdul Baha and the Guardian and right to the present. How blessed we were to be in the very room that Abdul Baha and the beloved Guardian sat and talked to the pilgrims and inspired them.
While we were captivated by listening to interesting stories, one of the friends in the room requested of Amatu'l-Bahá to tell us more about our beloved Guardian. She bluntly replied, "I have written three books about Shoghi Effendi, which are 'The Priceless Pearl', 'The Desire of the World' and 'The Guardian of the Bahá'í Faith' and why don't you go and read them".
I would say the book Priceless Pearl is a real masterpiece. Shoghi Effendi has done so much for the Faith and yet he never highlighted them. But we need records of his matchless services and great achievements. This is one book in which we gather most of the details on the Guardian and no one else could have written such a detailed account on the life of the Guardian.
A LETTER FROM  AMATUL BAHA

I was fortunate to receive a letter from Amatu'l-Bahá that I shall ever cherish. The letter reproduced below is self-explanatory.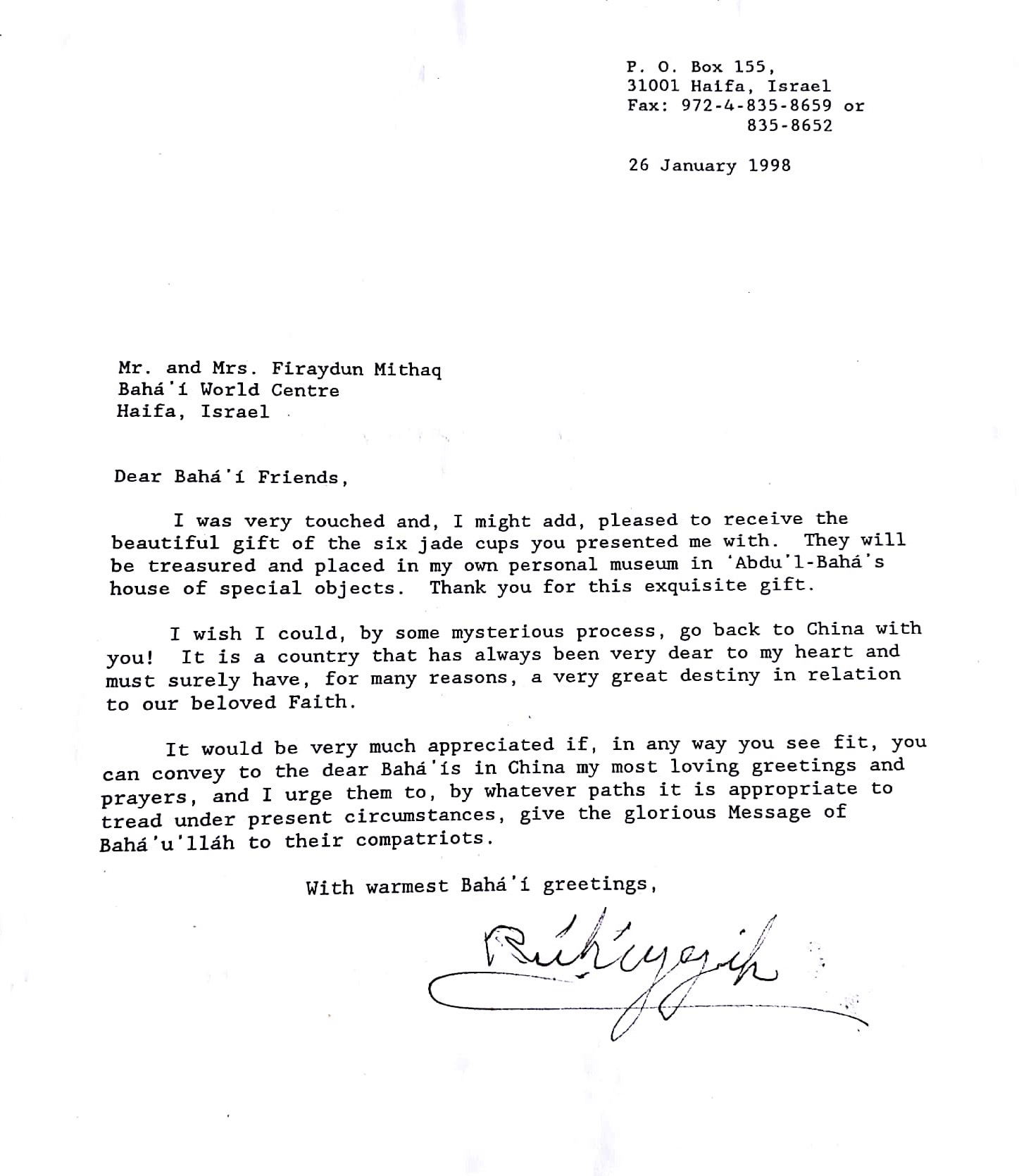 OUR LAST VISIT
When Giti and I were in Haifa at her house to see Amatu'l-Bahá was less than a year before her passing to Abha Kingdom, we desired to see her, but were advised against that idea. She was already frail and slowed down in meeting or receiving guests. We brought along a valuable and high quality silk dress as a present from a prominent lady in Korea. Since we could not meet Amatu'l-Bahá we had to leave it with her secretary. That prominent lady was one of her admirers in Korea who had met Amatu'l-Bahá in Seoul in her 1984 visit. Later we did receive a letter of thanks written on her behalf by her secretary. We conveyed our inability to meet Amatu'l-Bahá in person to the lady, and mentioned about the letter of thanks that was received.
Knowing her failing health we felt that she was not going to be with us in this world much longer. When the news of her passing reached me I was totally devastated, shocked and saddened. The unforgettable memories of associating with Amatu'l-Bahá and the words of advice and guidance she had given me flashed into my mind. I find myself unworthy in expressing my deep sorrow.
I reproduce below the message of the Supreme Body dated 19 January 2000 that was sent to the worldwide Bahá'í community, which sums up Amatu'l-Bahá's services for the Cause:
"In the early hours of this morning, the soul of Amatu'l Bahá Rúhíyyih Khánum, beloved consort of Shoghi Effendi and the á'í world's last remaining link with the family of 'Abdu'l-Bahá, was released from the limitations of this earthly existence. In the midst of our grief, we are sustained by our confidence that she has been gathered to the glory of the Concourse on High in the presence of the Abhá Beauty.
For all whose hearts she touched so deeply, the sorrow that this irreparable loss brings will, in God's good time, be assuaged in awareness of the joy that is hers through her reunion with the Guardian and with the Master, Who had Himself prayed in the Most Holy Shrine that her parents be blessed with a child. Down the centuries to come, the followers of Bahá'u'lláh will contemplate with wonder and gratitude the quality of the services—ardent, indomitable, resourceful—that she brought to the protection and promotion of the Cause.
In her youth, Amatu'l-Bahá had already distinguished herself through her activities in North America, and later, both with her dear mother and on her own, she had rendered valuable service to the Cause in Europe. Her twenty years of intimate association with Shoghi Effendi evoked from his pen such accolades as "my helpmate", "my shield", "my tireless collaborator in the arduous tasks I shoulder." To these tributes he added in 1952 his decision to elevate her to the rank of Hand of the Cause of God, after the death of her illustrious father.
The devastating shock of the beloved Guardian's passing steeled her resolve to lend her share, with the other Hands of the Cause, to the triumph of the Ten Year Crusade, and subsequently to undertake, with characteristic intrepidity, her historic worldwide travels.
A life so noble in its provenance, so crucial to the preservation of the Faith's integrity, and so rich in its dedicated, uninterrupted and selfless service, moves us to call for befitting commemorations by Bahá'í communities on both national and local levels, as well as for special gatherings in her memory in all Houses of Worship.
With yearning hearts, we supplicate at the Holy Threshold for infinite heavenly bounties to surround her soul, as she assumes her rightful and well-earned position among the exalted company in the Abhá Kingdom."
The Universal House of Justice
Dr. Firaydun Mithaq
Chiengmai
Thailand
15 May, 2018
©bahairecollections.com